Walt Disney World in 2015
By Dave Shute
2015 AT WALT DISNEY WORLD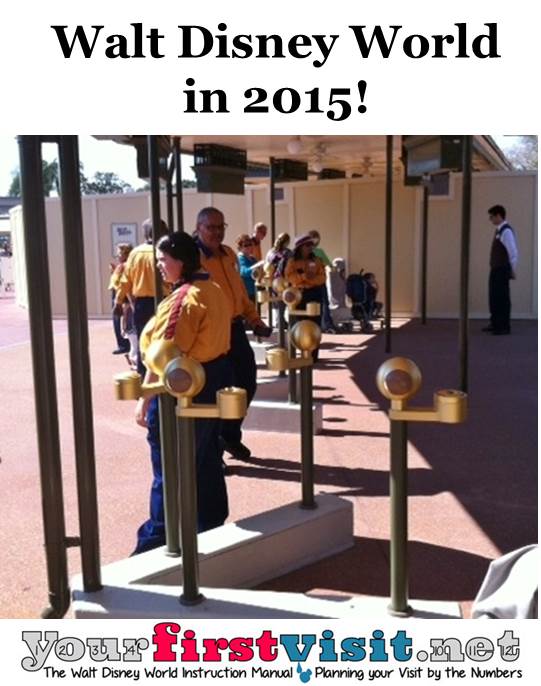 Questions about Walt Disney World in 2015 are starting to come in, so here's some preliminary observations on the year.
(They cover just some specific periods, and not the basics you'll find in Best and Worst Times to Visit Walt Disney World, so check that first if you haven't seen it yet.)
New Year's Eve is midweek in 2014, so the Disney World holiday season crush will last until Saturday January 3, 2015.
Mardi Gras 2015 is the day after President's Day.  Many northeastern school districts have the whole week of President's day off, which makes it a bad week to start with.  A few southern school districts have off around Mardi Gras, and they will add even more to the crowds this week.
President's Day itself, February 16, 2015, is almost as early as it can be.  This means fewer low-crowd early February days, but a few more good days in later February.
Easter, on April 5, 2015, is in the middle of its range. The weeks before and after Easter will be mobbed, as usual, but there will be good weeks in very early March, and April after the 11th should be great in 2015!
Memorial Day, May 25, 2015, is as early as it possibly can be.  This makes me think the week that includes it will be a little less crowded than usual, but it's still a week to avoid!
The Fourth of July in 2015 will be on a weekend, so it will be even more crowded than usual, and the weeks before and after it will be the worst ones in the summer of 2015 at Disney World.
Labor Day, September 7 in 2015, is as late as it can be.  Some states have school openings tied by law to after Labor Day, so the end of August will be a little more crowded than it is in years with an earlier Labor Day.  The end of August is still going to be a good time to go to Disney World crowd-wise–just not as good as years in which Labor Day is earlier.
Thanksgiving, November 26, 2015, is in the middle of its range.  The week that includes it will be as bad as usual, but there will then be three great weeks at Walt Disney World after it.  Pop Warner week in 2015 looks to be the week beginning December 5.
Christmas 2015 is on a Friday.  Some school districts will go on break Monday the 21st, and others Thursday the 24th.  Rough crowds will begin December 19, 2015, but New Year's week at Disney World–the 26th of December 2015 through January 2nd, 2016–will be a particular mess.
MORE ON DISNEY WORLD IN 2015
See the links below!
MORE ON WHEN TO GO TO WALT DISNEY WORLD
Follow yourfirstvisit.net on Facebook or Google+ or Twitter or Pinterest!!
RELATED STUFF