b. How Long to Stay
By Dave Shute
HOW MANY DAYS TO SPEND AT WALT DISNEY WORLD
Plan to spend 9 days in Orlando, ideally arriving late morning or early afternoon on a Saturday and departing in the late afternoon or evening of the following Sunday.
This amount of time balances the time needed to fully appreciate the 4 theme parks (7ish days) with time for breaks from the parks, while fitting into a typical "week off from work" (note that other travel days may yield less expensive airfare or hotel costs).
Magic Kingdom takes at least two days
Epcot takes a day and an evening
Animal Kingdom takes a a day and a half
Hollywood Studios takes two partial days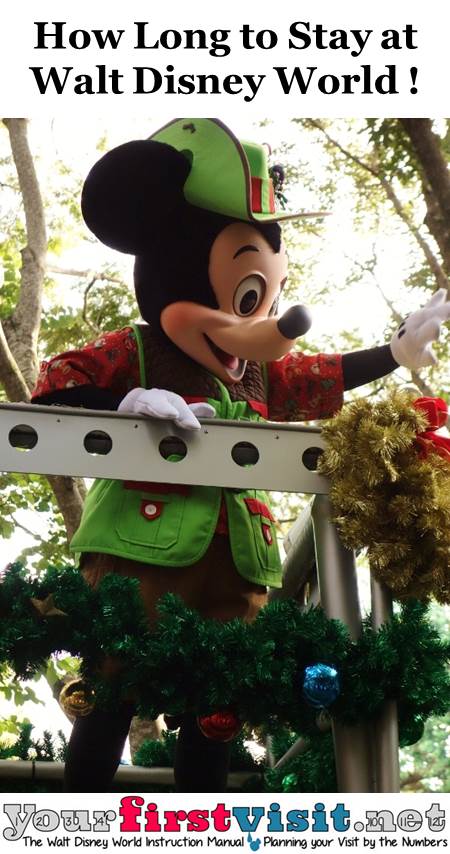 Shorter visits are of course possible. With five park days, about the minimum, with for example four full days and two partial days on your travel days, figure to spend the equivalent of two days at Magic Kingdom and one day in each of the other four parks.
I recommend nine days, but the time in Orlando can be shortened to 8,  7, or even 6 days: a late-morning arrival day, a late afternoon departure day, and 4 to 6 full days–but only at the cost of making what is already a steady pace a hectic one.


Follow yourfirstvisit.net on Facebook or Twitter or Pinterest!!