How Far in Advance Can You Book a Walt Disney World Vacation?
By Dave Shute
BOOKING WALT DISNEY WORLD FOR 2020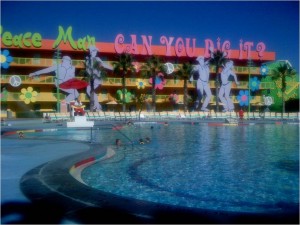 I can tell from my search traffic that people are already starting to plan their 2020 Walt Disney World vacations.
The Walt Disney World website currently only allows bookings through 2019…so how do you book for later dates? Do you have to wait?
The short answer is that you can book a Disney World resort room 499 days ahead…but it's a little complicated…
I asked my friend Allison, a travel agent at Destinations in Florida, to explain, and here's what she said!
BOOKING YOUR WALT DISNEY WORLD TRIP IN 2020 AND BEYOND
You can book rooms at Walt Disney World for 2020 up to 499 days in advance right now.  But there's a couple of tricks and complexities.

You can't do it on the Disney World website.  You can only do it by calling Disney directly, or through a travel agent like Destinations in Florida.
For dates beyond what are available on the Disney World website, you can only book rooms—not packages with tickets, the dining plan, and such. (You can add these to your reservation later.)
The prices you'll be quoted will be 2019 prices.  These will be wrong.  The prices for the next year are usually announced in the summer of the prior year–so 2019 prices likely will come out in summer 2019.  This is also when the website is opened to 2020 reservations.
You will have to pay a deposit to hold your reservation.  This deposit will increase when the final prices for 2020 come available. 
When final prices come out, your travel agent will help you fix your deposits…and if any discounts come out, your travel agent can also help you take advantage of those!  You can also add tickets and other parts of a package later, when final prices come out.
USING A TRAVEL AGENT FOR YOUR DISNEY WORLD TRIP
Thanks, Allison!
Since this site suggests you book your Walt Disney World trip at least 180 days in advance of your arrival date, and the Disney website likely won't allow that for 2020 dates until summer 2019 the earliest, knowing that there are ways to book out to 499 days ahead is really helpful!
Many people don't even consider using travel agents.  But for a complex trip to a place where discounts come and go, there's a lot to be said for using someone like Destinations in Florida and in particular Kelly B., the agent who for years has focused on the readers of this site.
To book your trip with Kelly B, use this form:
Travel agents are free to you to use—they are compensated by Disney, not by you—and the prices you end up paying are as good or even better as those you can book yourself!


Follow yourfirstvisit.net on Facebook or Twitter or Pinterest!!
RELATED STUFF