The Basics: Key Disney World Milestone Dates
By Dave Shute
KEY MILESTONE DATES FOR YOUR DISNEY WORLD TRIP
If you intend to dine at any of Disney's best-loved restaurants, or see Disney's most popular rides with low waits, there's two milestone dates to keep in mind:
Disney World restaurants start accepting reservations 180 days before the desired dining date (for those staying at a Disney-owned hotel, at 180 days before your check in date you can book both that date and the next ten). Booking open at 6a for on-line reservations and at 7a for phoned-on reservations.
Disney's FastPass+ reservations—which allow you to book a low-wait "appointment" to see certain rides—become available 60 days before planned use at 7a if you are staying at a Disney-owned hotel, the Swan or Dolphin, or (new in 2018) Shades of Green. the Four Seasons, and the Disney Springs Resort Area hotels, or (new in 2019) the Hilton Orlando Bonnet Creek and Waldorf Astoria Orlando–and 30 days at 7a for everyone else.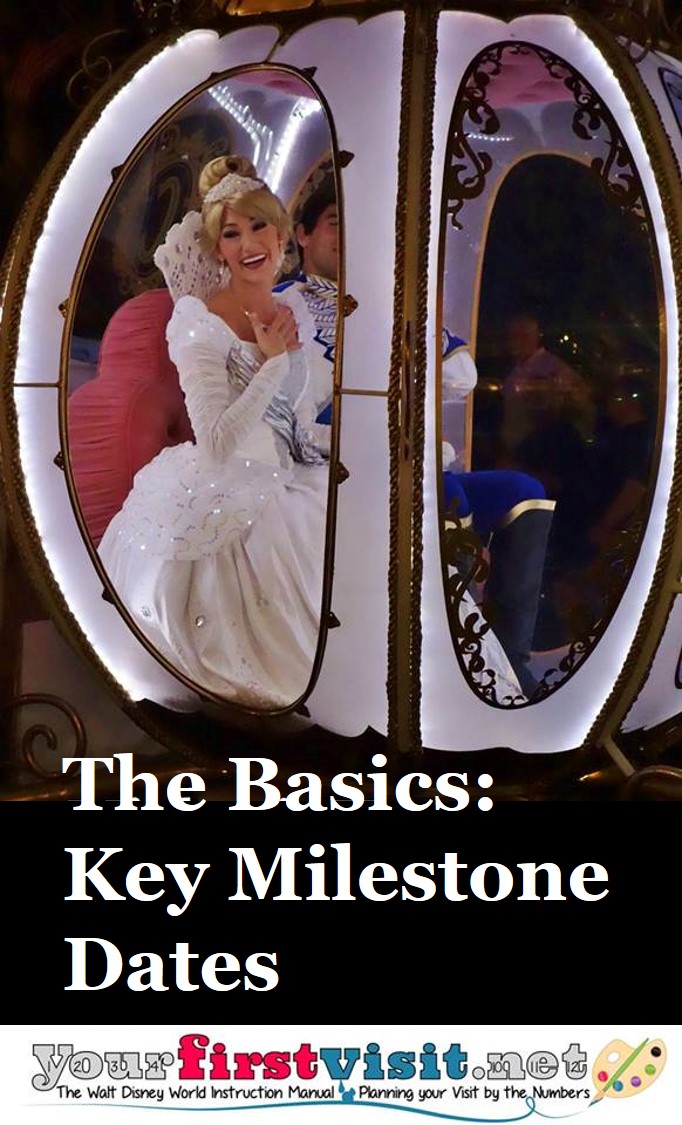 For an 180 day calendar, see this.
Taking advantage of either of these requires that you know where you plan to be during the days of your visit—because dining where you already are saves much travel time, and you need to know what park you plan to be in to know where to book your FastPass+.
My itineraries take care of that for you, or, if you are building your own itinerary, leave a comment on this page (down at the bottom.)
Other key milestones are detailed in all the To-Do Lists on this site. Each is designed for a specific itinerary, but the general steps on the To-Do Lists apply to everyone.
A few other points deserve mention here
If all you've reserved from Disney is a room, you can cancel it up to 6 days before check-in without a penalty
If you've reserved a package—a "package," basically, is a room plus anything else—you can cancel up until 31 days before check-in without penalty. (This used to be 45 days)
Note that if you've been shut out of a dining venue, start checking again at 31 days before your arrival, as some will get canceled around then from people cancelling their entire visit. Check again the day before, as there's a penalty for not canceling by the day before.
This all is more planning ahead than many wish for, or want.
But with the advent of FastPass+ in particular, there's never before been such a payoff to planning ahead at Disney World as there is today—and never before been such a penalty for failing to do so….


Follow yourfirstvisit.net on Facebook or Twitter or Pinterest!!
RELATED STUFF