Review: Counter Service Lunch at Be Our Guest in the Magic Kingdom
By Dave Shute
LUNCH AT BE OUR GUEST IN THE MAGIC KINGDOM'S NEW FANTASYLAND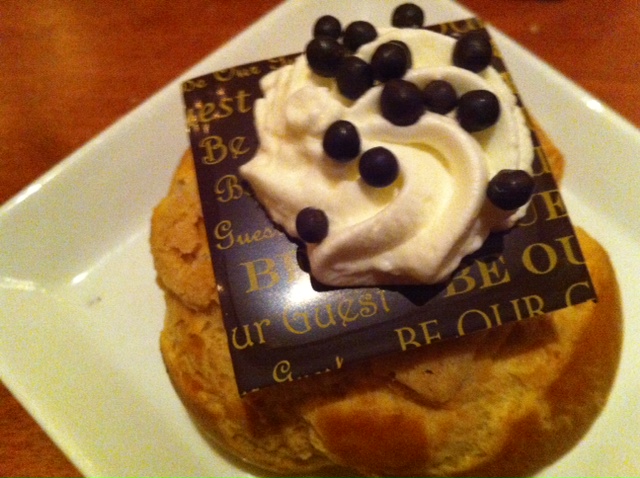 Update: Be Our Guest takes reservations for both breakfast and lunch, and reservations are highly recommended.
On our third trip to Walt Disney World after the restaurant opened, I finally had the courage to brave the lines and do counter service lunch at Be Our Guest.
Be Our Guest is the all-new Beauty and the Beast
-themed restaurant that opened late last year as part of the Magic Kingdom's New Fantasyland.
It's the second best thing in New Fantasyland–Enchanted Tales with Belle is the best of what's opened so far–but I remain concerned that menu limitations make it not a great choice for many first time family visitors with kids.
So I've chosen not to add counter service lunch at Be Our Guest to this site's itineraries…though Be Our Guest for lunch has enough positives that I am still thinking about suggesting it as an option.  Putting it in as an option works because you don't need–and can't get–lunch reservations, so families can make the choice on the day of a visit.
REVIEW: BE OUR GUEST QUICK SERVICE LUNCH
Be Our Guest is an innovative restaurant that opened at the Magic Kingdom in late 2012. It serves lunch as a "counter service" or "quick service" meal, and dinner as a "table service" meal.
For those who have eaten tons of counter service meals at Disney World, the distinction between table service and quick service is blurred by Be Our Guest.
Unlike almost all other counter service venues, you seat yourself before you have your food, your food will be brought to your table, and it will be served on real plates and eaten with real flatware.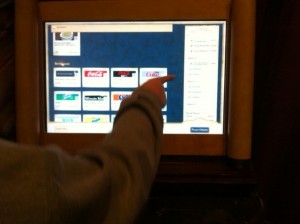 The way this works is that you order your food on a computer screen…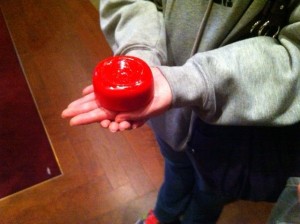 …have your order linked to your group via a red thingy that Disney calls a "rose"…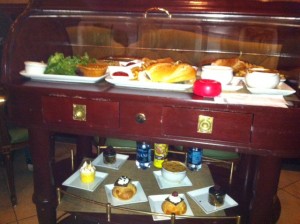 …then choose a table and put your rose on it–and your order will be rolled out and served to you by a cast member.
This works really well. In particular, not having to carry all your family's food around while looking with quiet desperation for an open table is a real boon for worn-out parents. (The staff won't let you order until they know a table will be available–part of the reason why the lines are so long here.)
Moreover, the menu is much more interesting and adventuresome than at any other quick-service option at the Magic Kingdom…or anywhere else at Disney World for that matter.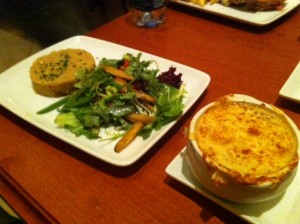 Rather than the standard fast-foodish offering that you'll find in many other settings, Be Our Guest serves for lunch a French-inspired selection of  seven entrees, ranging from Tuna Nicoise to Coq au Vin-style braised pork.
(Full menu here; displayed is the Quinoa Salad and French Onion Soup.)
There were four of us, and among us we tried both soups, four of the seven entrees, and four of the six desserts.
Compared to off-site dining at the same price, the soups and entrees were so-so.  They came out a little cool, and would have been much better were they hot.  But compared to other counter-service offerings at the Magic Kingdom, they were spectacular!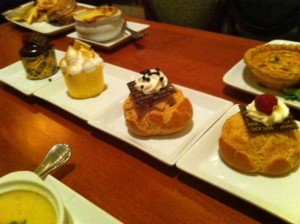 We each also ordered a dessert.  We didn't really want to, but I insisted we do so, for the benefit of you, dear reader.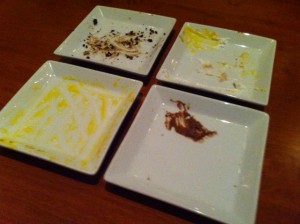 We kind of liked the desserts a lot.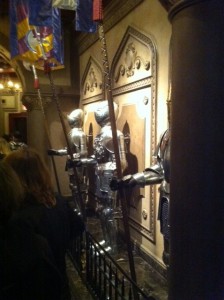 The setting is also spectacular.  You begin your journey to dessert in a room filled with comically muttering and snoring suits of armor…where you also get to review the menu.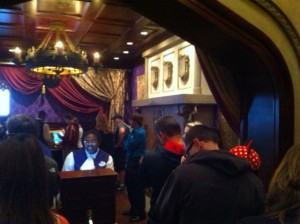 You then order in another lovely room–self-service, but with cast member help…
…and then find an open table in one of the three dining rooms.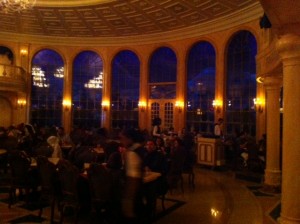 The dining rooms are starkly different.
The Ballroom (shown above) is lovely, and has charming snow effects outside the "windows," but is a little too large and busy for the tastes of some
The West Wing–which I was unable to adequately photograph even by my low standards–is intimate but very dark, and includes some fascinating effects with the Beast's Rose
The Library, where we ate–very photograph-able, but all my shots are blurry–is well-lit, with many charming Beauty and the Beast pieces of art on the wall, and Belle and the Beast dancing, music box style, in the center of the room
You need to see all three, and pick that which suits.
So what's not to like?  Why shouldn't Be Our Guest now be the lead counter-service option at the Magic Kingdom?
Well, a couple of things knock it down: a thin kids' menu, and long waits.
Lines for lunch at Be Our Guest have been over thirty minutes–and often much longer–since it opened, and show no signs of fading.
It seems to have taken on some of the flavor of Toy Story Mania. At Toy Story Mania, everyone who does any research learns that if they don't get fastpasses first thing, they'll be gone for the day, so everyone gets fastpasses first thing…and they are quickly gone for the day.
Ditto for Be Our Guest…everyone knows you have to get in line, so everyone gets in line.  This is why it took three trips for me to try it out…We got in line on a low-crowd Saturday in early March at 1.15p, and were at our table by 2p. Our food came out shortly after.
Forty-five minutes is a long time to ask your kids to wait in line for lunch…especially if there's not anything they want to eat.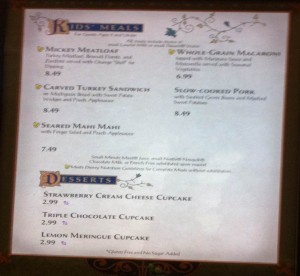 The kids menu will be a problem for some youngsters. (Click it to enlarge it.)  There's not a whole lot of familiar comfort food here–and even what looks like might be, the Macaroni, comes with Marinara sauce and veggies. Yuck.  This is not mac n' cheese.
Now that said, a lot of younger kids on the Dining Plan (who have to order from the kids' menu if one is available) become heartily tired of mac n' cheese, chicken nuggets, limp little burgers, and the like. They may welcome the different offerings.
So definitely check with your kids on a Magic Kingdom counter service lunch day, and show them the menu, including the details such as marinara and veggies. (Search for the kids menu online first, as it may change without notice…though likely not much so long as Be Our Guest is packed to the gills.)
If they are game, and your day allows you the waiting time in line, then absolutely give Be Our Guest a try!
Follow yourfirstvisit.net on Facebook!
RELATED STUFF