e. What to Budget for Walt Disney World
By Dave Shute
OVERVIEW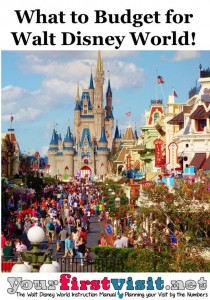 For the Basic Itinerary this site recommends, during the fall 2017 price season,  assuming you are a family of 4 with one child younger than 10 and one older, budget if you can
Add to this budget the costs of getting your family to and from Orlando, and some funds for contingencies and souvenirs.
OTHER OPTIONS
WHAT THIS INCLUDES
The budget figures include Walt Disney World Resort hotel accommodations, food, park tickets, and several separately priced meals and special events:
Transportation between your Walt Disney World Resort Hotel and other Disney World destinations is free.
If you are flying into Orlando International Airport (MCO), transportation back and forth between your Disney resort and the airport is also free on Disney's Magical Express, although you must sign up for it. Signing up is included in your To-Do List.
LINKS FOR WHAT TO BUDGET FOR WALT DISNEY WORLD
For the basic December trip recommended by this site
For help getting to much lower budget numbers,
For Walt Disney World price seasons,
For the Tightwad's Guideto Walt Disney World, see this
For the Comfortable Guide to Walt Disney World, see this