Review: Disney's Polynesian Village Resort
By Dave Shute
OVERVIEW: DISNEY'S POLYNESIAN VILLAGE RESORT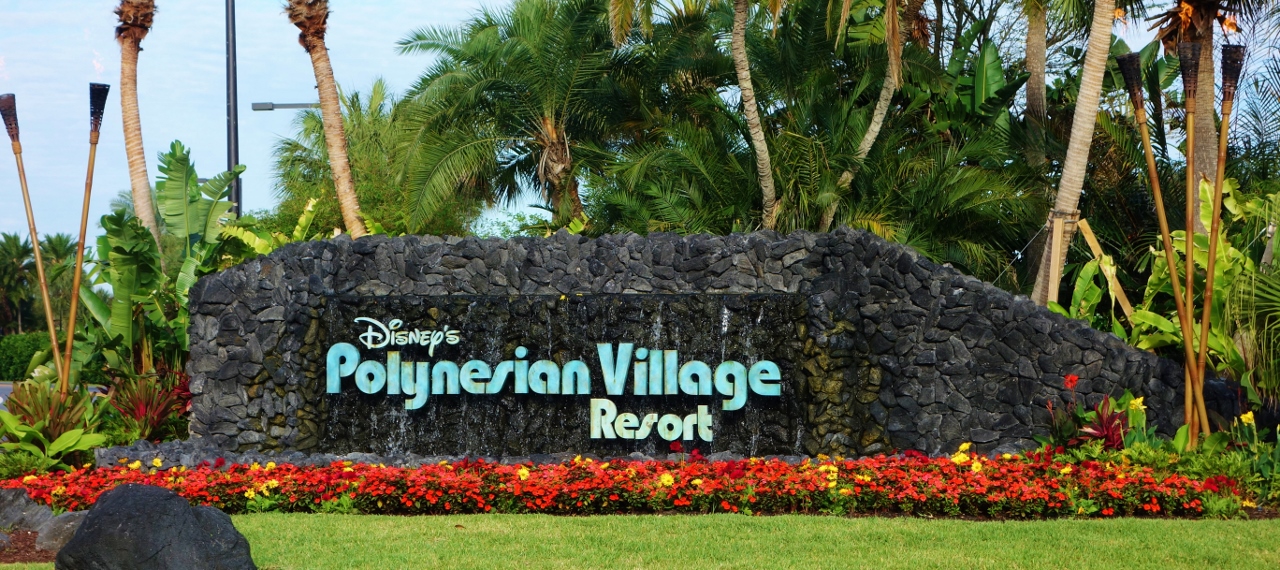 Our most recent stay in July (my sixth stay here out of my more than 160 stays in Disney World) confirms what this site has recommended since the day it was launched: for those who can afford it, Disney's Polynesian Village Resort, a monorail resort, is the best place for first time family visitors to stay.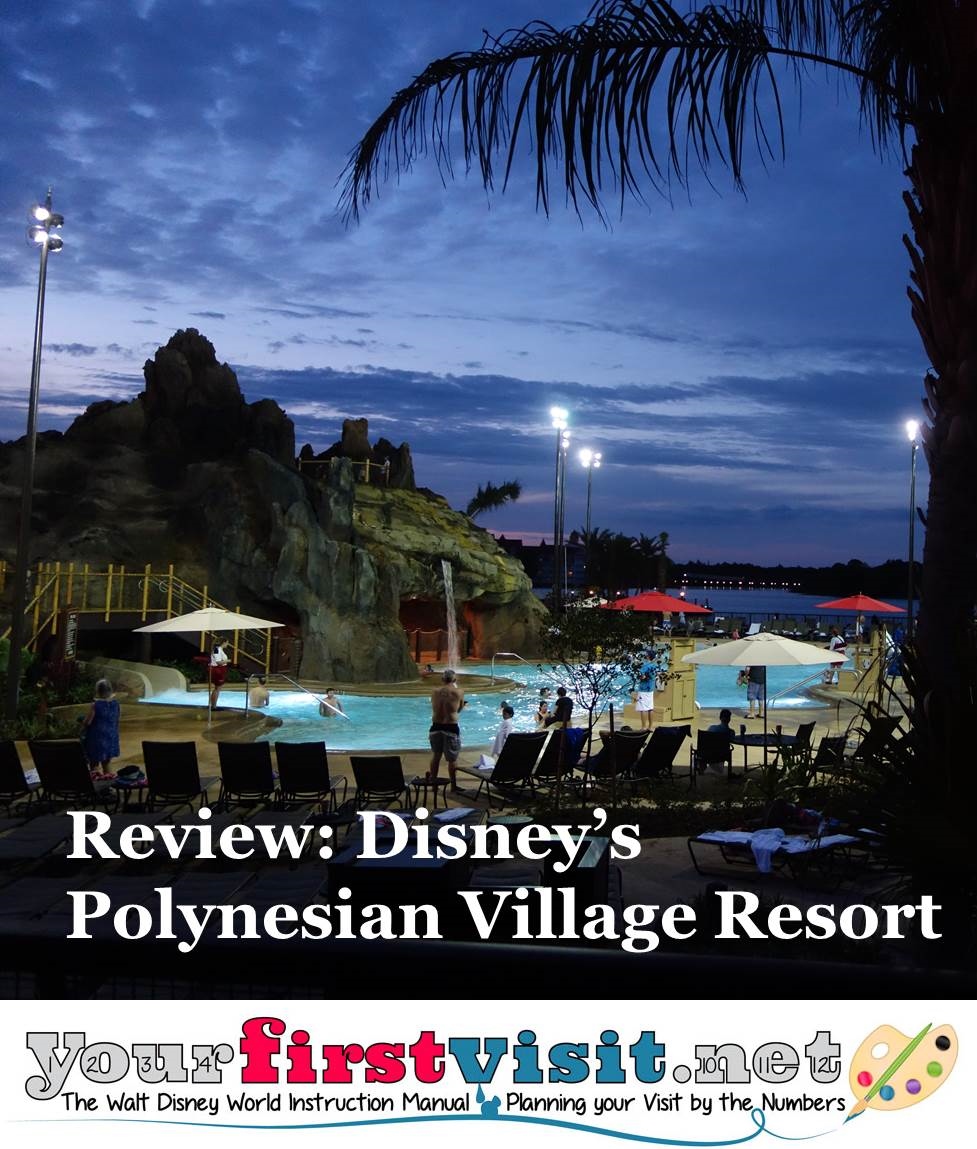 You can have a wonderful visit at any Walt Disney World resort hotel.
However, this site recommends that first time visitors to Walt Disney World who can afford it should stay at Disney's Polynesian Resort, a deluxe resort, and that those who can't should stay at Disney's Art of Animation Resort, a value resort.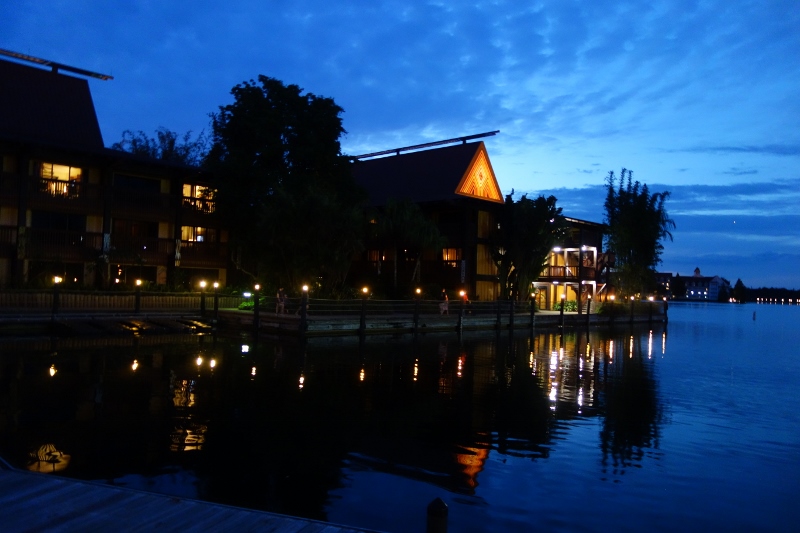 (It also suggests that first time visitors should avoid the moderate resorts, while noting that these resorts are wonderful for visits after the first. See this for why.)
Compared to other Walt Disney World owned and operated resorts, the deluxe  resorts are distinguished by having (on average)  the most amenities, nicest views, best dining options, best transport options, largest rooms, best service, and highest prices.
(See this for much more on resort distinctions by price class–value, moderate, deluxe, etc.)
This review of Disney's Polynesian Village Resort includes
This page, a summary and overview
ACCOMODATIONS AT DISNEY'S POLYNESIAN VILLAGE RESORT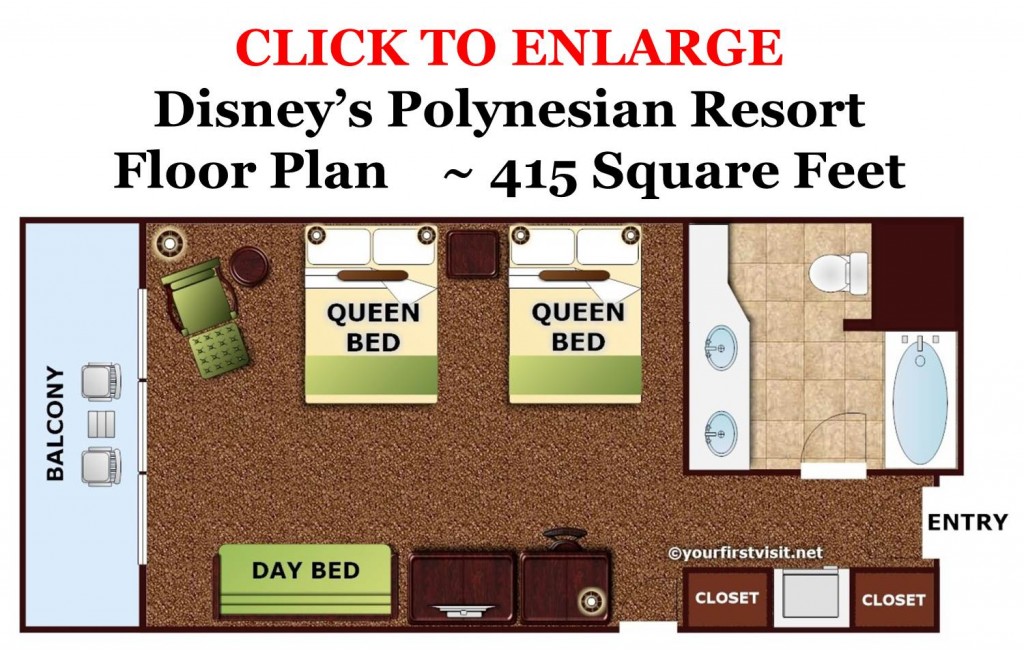 Standard rooms at Disney's Polynesian Resort are particularly nice.
The rooms sleep five–two each in two queens, and a fifth on the couch, which converts into a daybed.  You can add to this capacity of five a child younger than three who sleeps in a crib. A photo tour of one of these rooms begins here.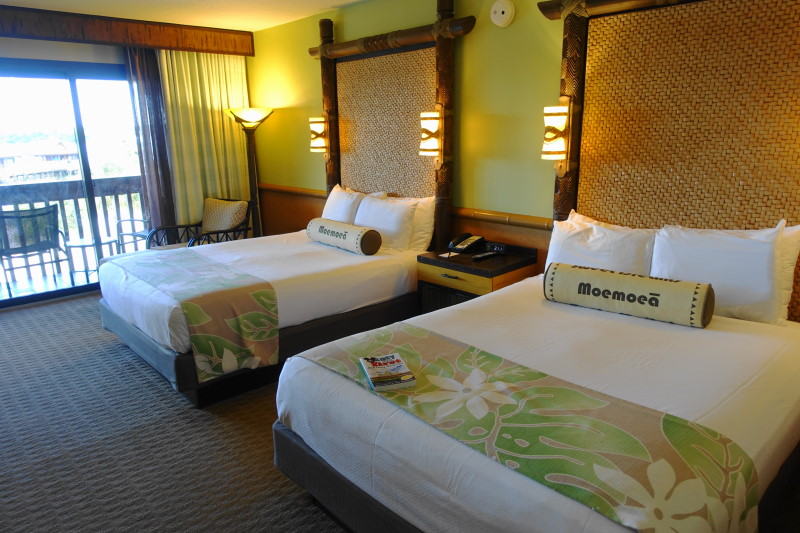 King bed rooms are also available. These rooms come with several view options, with "Standard" (e.g. parking lot) views the least expensive, and Magic Kingdom views the most expensive. Concierge rooms and suites are also available, as are Studios and Bungalows–part of the Disney Vacation offering here, but also bookable by anyone.
More on accommodations at the Polynesian Village is here.
THE POOLS AND BEACHES AT DISNEY'S POLYNESIAN VILLAGE RESORT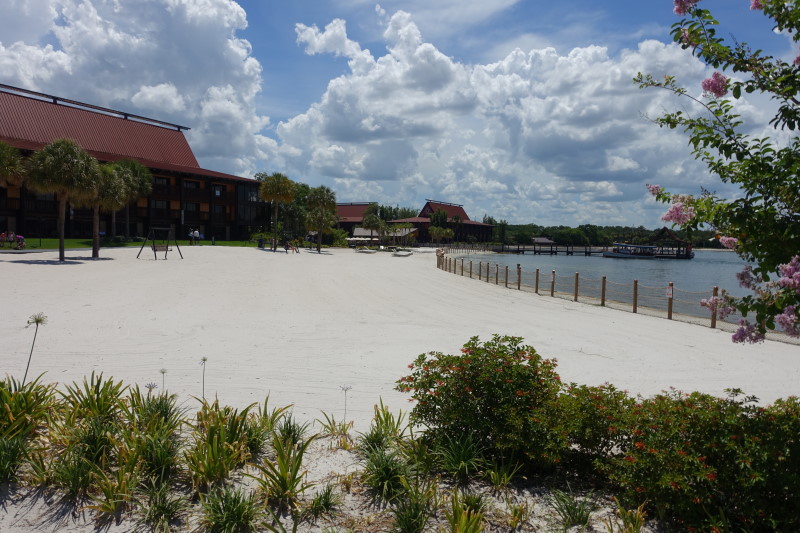 Both of the two pools here have had recent refurbs and emerged magnificently from them.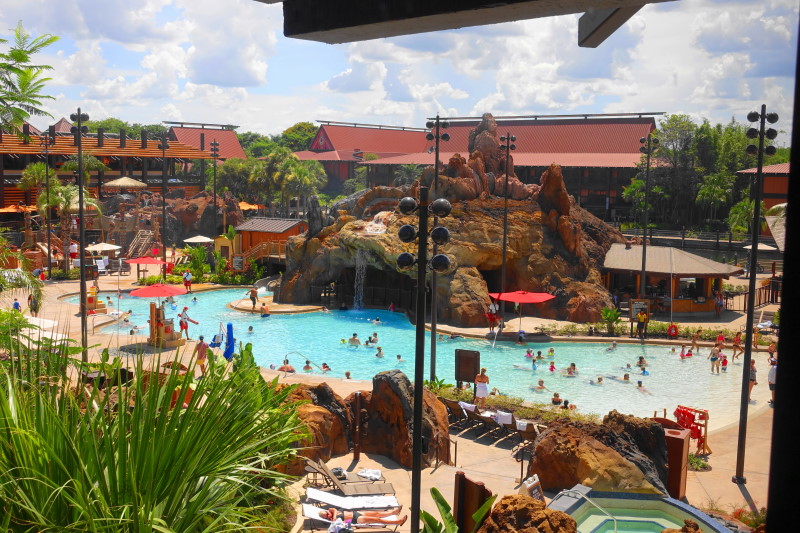 The main Lava pool (above) includes a hot tub, water slide and kids play area, and the smaller Oasis pool (below) has a bar and grill.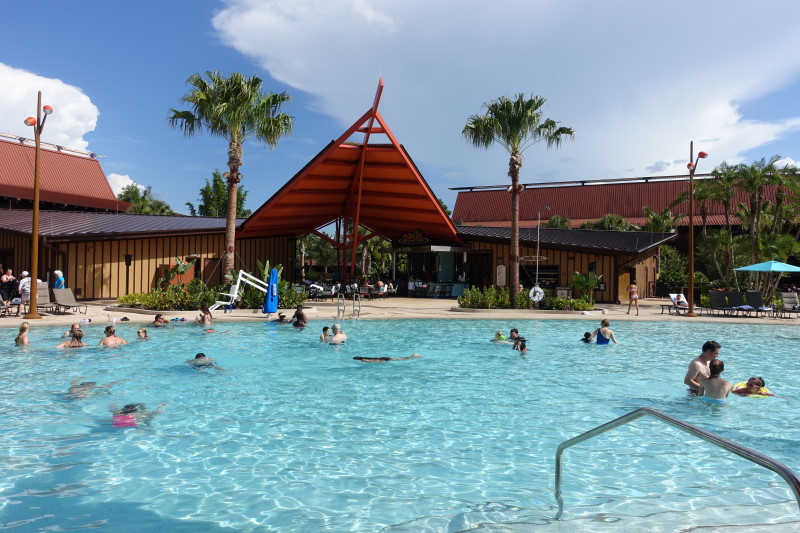 The refurbs bring these pools to among the best at Disney World. There's more on the pools and beaches at the Polynesian here.
DINING AT DISNEY'S POLYNESIAN VILLAGE RESORT
The Polynesian Village has three table service restaurant and several bars (including the remarkable Trader Sam's) and quick-service options. More great dining is a monorail ride away.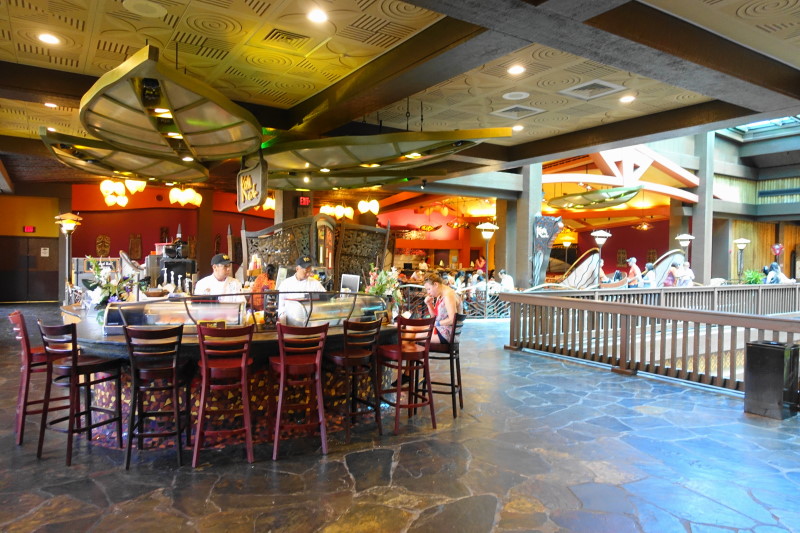 I'm not keen on the Luau, but the much-loved 'Ohana has strong family-friendly dining, and Kona Cafe, while not wildly distinctive, is one of the better Disney World dining venues.
There's more on dining at the Polynesian Village here.
KID APPEAL AND CONVENIENCE AT DISNEY'S POLYNESIAN VILAGE RESORT
Resorts are ranked on this site for first time visitors based first on their kid appeal, and then on their convenience.
On this basis, Disney's Polynesian Resort, a monorail resort, is far and away the best resort for first time family visitors to Walt Disney World. 
Kid Appeal.
The kid appeal of the Polynesian Resort comes from its sense of exotic adventure.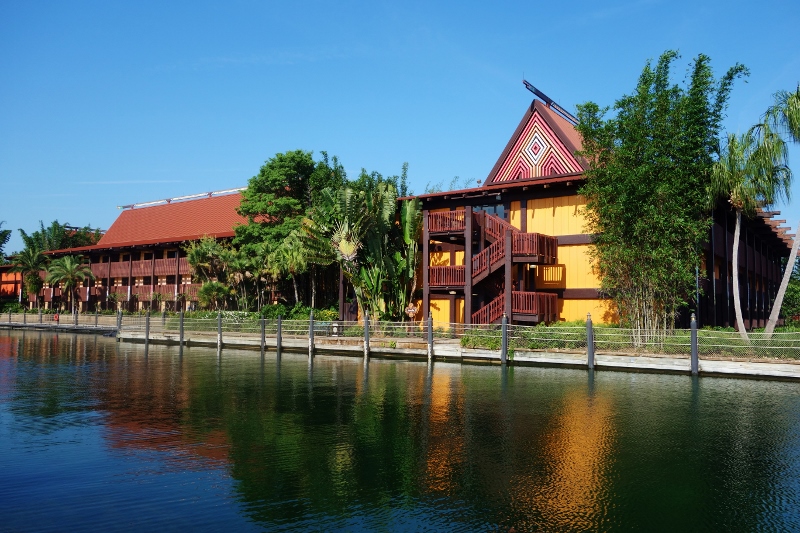 The architecture of the resort recalls the villages of the South Pacific, and is reinforced by touches such as flaming torches, spectacular gardens,  leis-festooned staff (and guests!), hula lessons,  etc.
Convenience.
Disney's Polynesian Resort is the most convenient of the Disney Resorts–at least for trips centered on the Magic Kingdom and Epcot, as they are on most first visits.
It is one of three "monorail resorts" on the Magic Kingdom resort monorail line.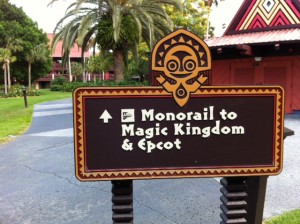 It is more convenient than the other two because it is also the only resort within easy walking distance of the Epcot and express monorails.
This means that the Magic Kingdom is two stops away when going there, via the resort monorail, and one stop back, via the express monorail.
This better than either of the Contemporary (4 stops to, 1 from) or Grand Floridian Resorts (1 and 4), the other two resorts on the resort monorail.
Moreover, at the Contemporary and Grand Floridian, going to Epcot means taking the resort monorail to the Transportation and Ticket Center (TTC), and then the Epcot monorail.
From the Polynesian, you simply walk to the TTC and the Epcot monorail.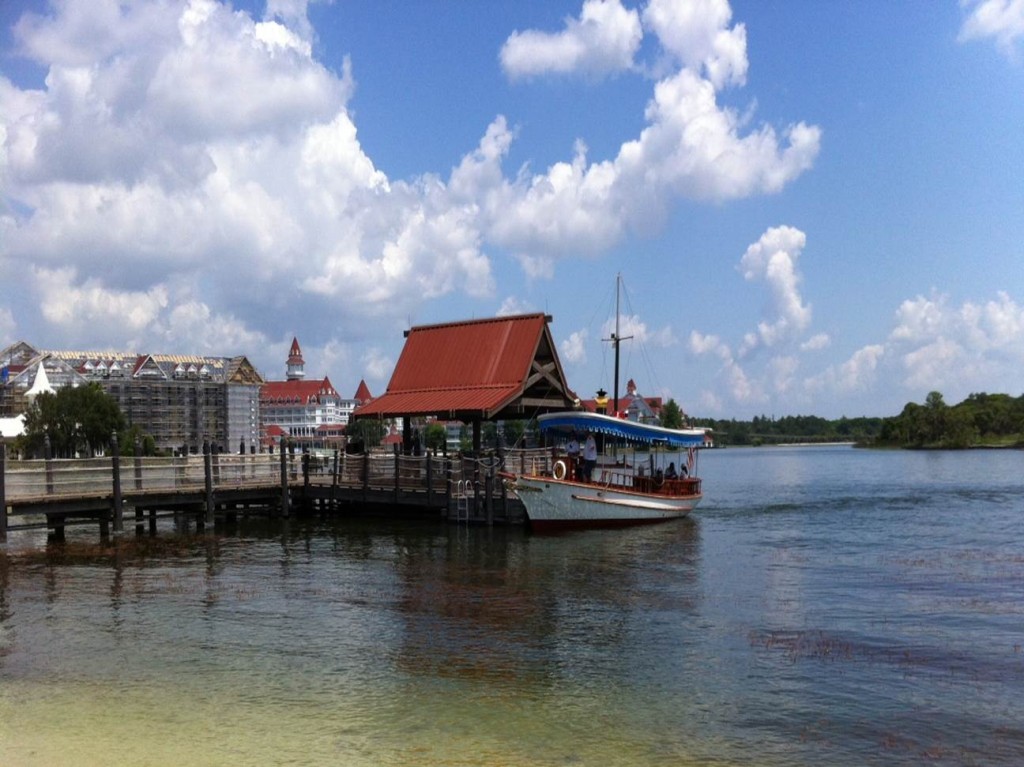 There's also a boat from the Polynesian to and from the Magic Kingdom. Shared with the Grand Floridian, it's more fun than fast.
BEST PLACES TO STAY AT DISNEY'S POLYNESIAN VILLAGE RESORT
This site suggests that first time visitors stay in standard rooms, not preferred rooms. This is because they won't be spending much time in their rooms. The single exception is visitors to the Animal Kingdom Lodge, who should always pay for savanna views.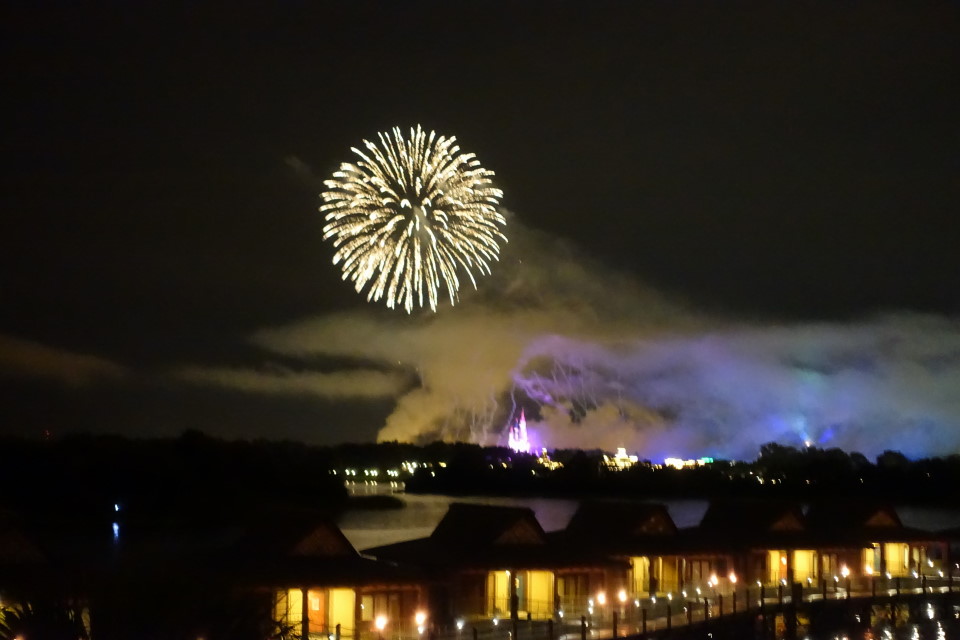 That said, theme park views at the Polynesian are worth the money if you can afford them…the image is of Wishes from the balcony of my theme park view room.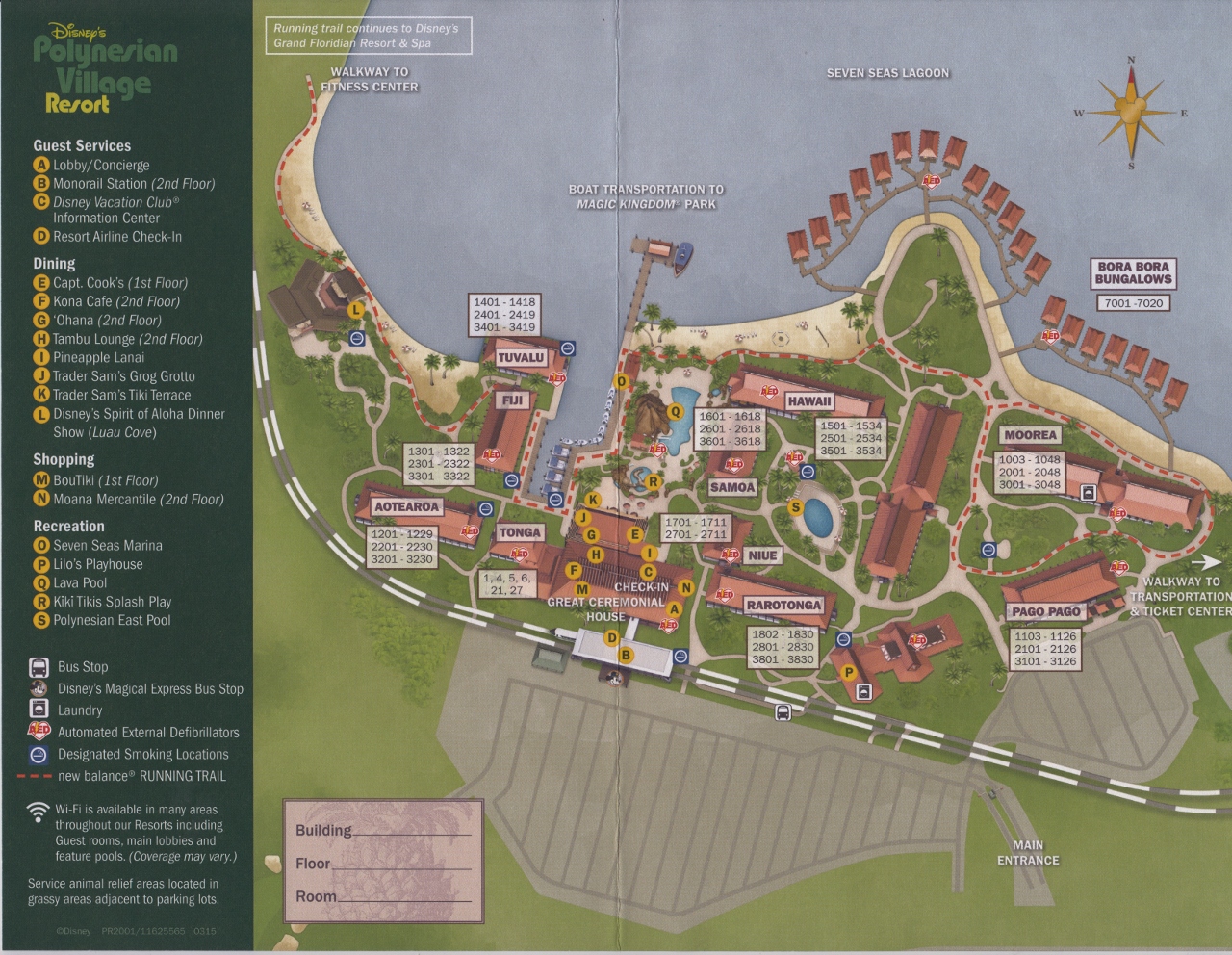 Rooms in Disney's Polynesian Resort are found in eleven 2 or 3 story "longhouses," each with an elevator (or access to an elevator in a nearby building). (See the map.)
What used to be the best options–Rapa Nui (now Pago Pago), Tokelau, and Tahiti (now Moorea)–are now DVC rooms.
Among the rest, the most conveniently located is Raratonga–close to the Great Ceremonial House and its restaurants, pool, and resort monorail, to the quiet pool, to the bus stop, and to the walkway to TTC and the Epcot monorail. Like the rest of the non-DVC longhouses, second floor rooms at Raratonga don't have balconies.  First floor rooms have patios, and third floor rooms have balconies.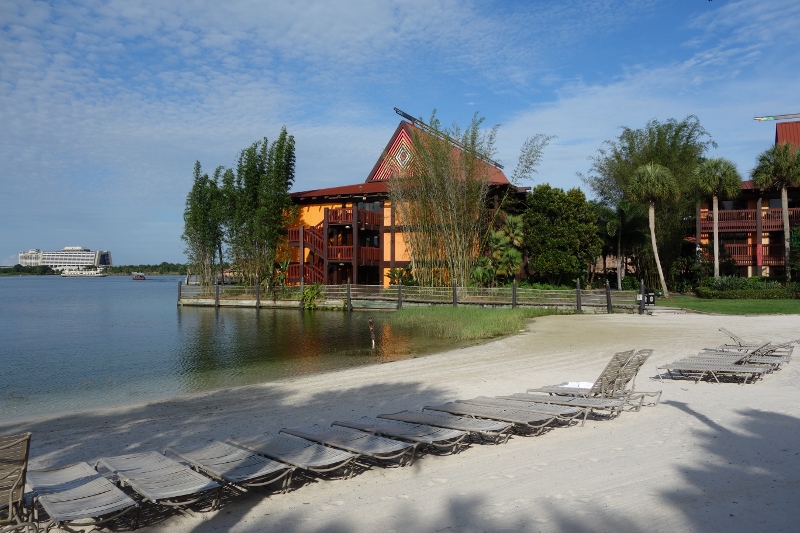 Next best are Niue and Samoa.
Ideally, you'd request a third floor room for the balcony, better views and more quiet.

BEST FOR:
Any first time family visitors who can afford it.
WORST FOR:
Families too large to fit into even its 5 person rooms. See this for more on large families at Walt Disney World.
This review continues here.
TOPICS IN THIS REVIEW OF DISNEY'S POLYNESIAN VILLAGE RESORT
OTHER KEY PAGES FOR WHERE TO STAY AT DISNEY WORLD


Follow yourfirstvisit.net on Facebook or Twitter or Pinterest!!
RELATED STUFF