The Basics: Dining at Walt Disney World
By Dave Shute
THE BASICS: DINING AT WALT DISNEY WORLD
Some of the best-loved Disney World experiences are dining in its more special venues. The basic decision to make about dining at Disney World is how much money and time you wish to devote to it, and after that which meals you wish to target.
Not only are there a lot of choices, but some also book up on or near the day they are available to book–180 days before, in most cases.
Disney World has a wide range of dining options, including distinctive and memorable family dining experiences, sophisticated and lovely "date night" options, a few venues that mix a bit of both, and multiple less special settings, including many options that essentially offer fast food.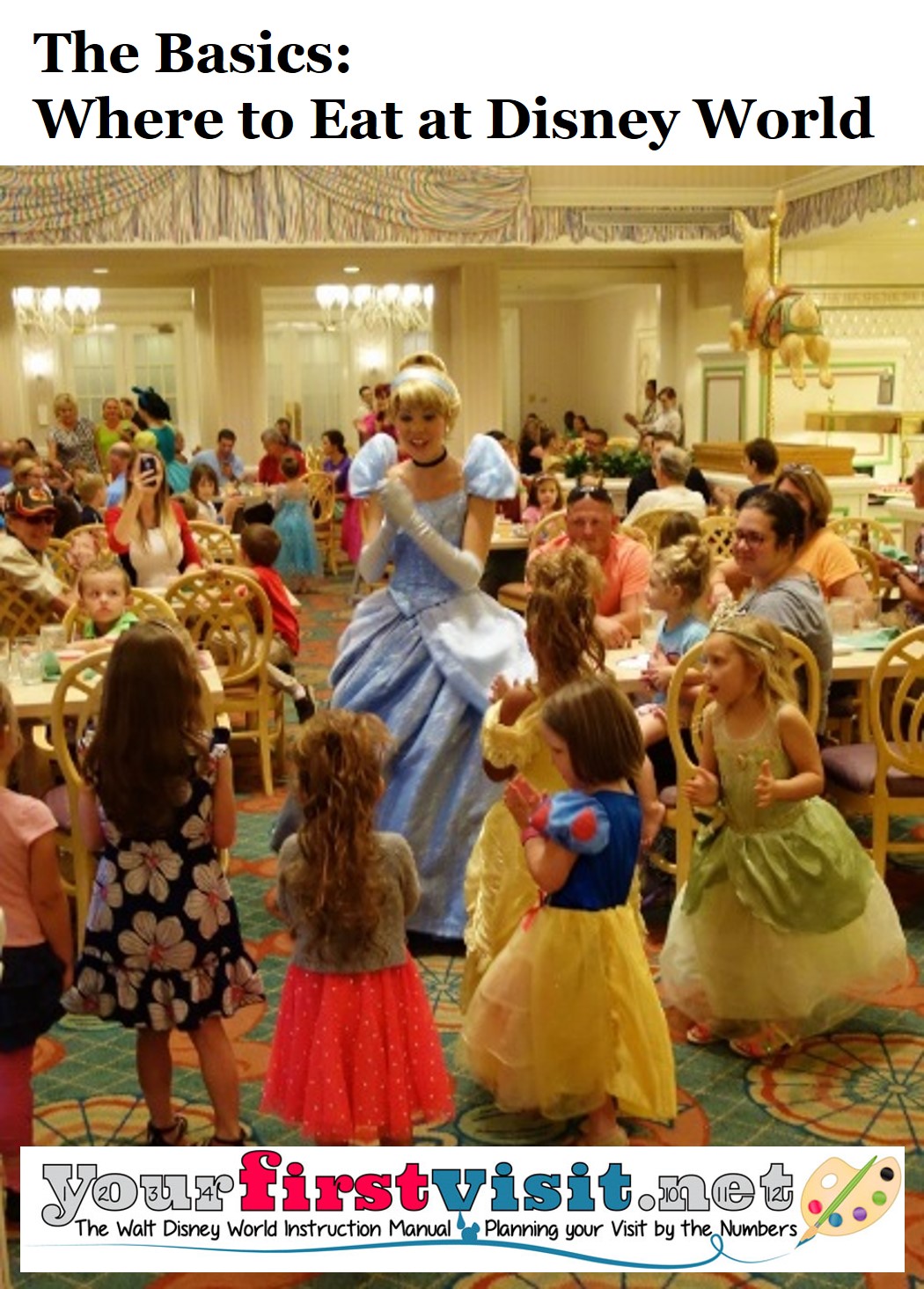 While prices vary tremendously, all Disney World options are more expensive than you'd pay at home.
Those on tight budgets will largely focus on the lower-priced fast-food-like venues which are found in all the parks and almost all the hotels—in Disney-speak, the "Counter Service" or "Quick Service" options. Eating off-property, and/or making some of your meals yourself is also an option, especially if you have a car, although doing so takes extra time. If you are paying cash for sit-down meals, dinner is almost always more expensive than other meals in the same venue. More ideas for saving on dining at Disney World are here.
Those who can afford more will likely find that dining becomes one of their favorite memories of their Disney World trip. Because of that, recommended dining is included in all of this site's Disney World itineraries.
DINING AT DISNEY WORLD: SOME BASIC CONCEPTS
Nothing at Disney World is as simple as we'd all like it to be, so here's some basic concepts (if you just want recommendations, skip to the next sections).
Types of meals
Besides the counter service dining mentioned above (also sometimes referred to as "quick service), there's other kinds of dining—regular dining with menus, tables and waiters; buffets; and family style dining, kinda like a mini-buffet at your table, as various options are brought to your table and you serve yourself from among them. All these "other kinds of dining" are commonly referred to as "table service" options.
Sub-types among the table service options are character meals, where at some point during your meal you'll get chance to meet, take pictures with, and get autographs from Disney characters; dinner shows, where in addition to your meal there's a show of some sort; and signature dining—Disney lingo for "even more expensive than the rest." These categories can get combined– Cinderella's Royal Table is a character meal that's also signature dining…
Reservations Open 180 Days Before—And Sometimes Close Then, Too
Table service dining reservations open 180 days ahead. (For those staying in a Disney World resort, they can book 180 days from their arrival date, and at the same time for the first ten days of their visit.) With the exception of Be Our Guest, quick service options neither offer nor require reservations.
The most popular family dining venues can book really quickly, so a key part of your To-Do List should be booking your dining 180 days ahead.
The Dining Plan
There are several Disney Dining plans, all of which are a way to pre-pay for some components of some of your meals. You have to be booked in a Disney-owned hotel to book a dining plan, and in turn you'll receive various credits.
The regular dining plan can save real money for kids three to nine years old at one credit character meals and buffets. Otherwise, saving much money on any Disney Dining plan is unlikely, although the addition of one alcoholic drink per meal for 2018 means some will see more value from it than recently.
Booking a plan, though, can provide the comfort of knowing that some of your dining expense are pre-paid, and as a result you can grab anything eligible on a menu for which you have available credits without worrying about its price.
A few key points on the dining plan:
Make sure you book your meals way in advance (the plan is of little value if the places you want to eat are sold out.)
You'll get the most value from using table service credits for dinner, and the least using them for breakfast.
The various meals that cost two credits are generally best paid for in cash (so long as you have good use of your remaining credits).
There's much more on the dining plan in this post.
Free Dining
Disney World offers lots of deals except during the most crowded weeks of the year. Most popular of these is "Free Dining" which the past few years has been offered for much of September, and bits of October, November and December.
There's much more on free dining on this page. But the key is that those who get the deal get one of the dining plans for free—the Quick Service plan if they are staying in a value or moderate resort, and the regular plan if staying at a deluxe.
DINING AT DISNEY WORLD: BEST CHARACTER MEALS AND DINNER SHOWS
See this for the Disney World character meals and dinner shows ranked in order.
Princesses. Three meals include princesses—Cinderella's Royal Table in Cinderella's Castle at the Magic Kingdom, Akershus with Belle and a half dozen other princesses in Epcot, and Cinderella and her family in the evenings at 1900 Park Fare at the Grand Floridian. Any can be a great choice. Cinderella's Royal Table has the best setting but is by far the most expensive; 1900 Park Fare is the most fun, especially for boys and dads, and has the best food; Akershus is a great choice if you are going to Epcot, and more affordable than the Royal Table.
Mickey. Meals with Mickey can be found both in a couple of the parks and several of the hotels. Chef Mickey's at the Contemporary is the most popular, and breakfast with Mickey (and Lilo and Stitch) at the Polynesian is another great choice. Tusker House in the Animal Kingdom is the best choice for in-park dining with Mickey.
Other Characters. Other meals focus on different groups of characters, of which the most notable is the Crystal Palace at the Magic Kingdom, with Pooh, Piglet, Eeyore and Tigger.
Dinner Shows. Of the three dinner shows, by far the best is the Hoop-Dee-Doo Revue.
DINING AT DISNEY WORLD: BEST DATE NIGHT OPTIONS
Your best date night choices are the California Grill atop Disney's Contemporary Resort, Jiko at the Animal Kingdom Lodge, and Artist Point at the Wilderness Lodge.
Also worth mentioning is the breathtakingly expensive but also breathtakingly good Victoria and Albert's at the Grand Floridian. Not suited for younger kids, it's best for celebrations—engagements, graduations, winning the lottery (so you can pay for it).
DINING AT DISNEY WORLD: BEST OF THE REST
Choices For Both Parents And Kids. Not many venues combine great kid appeal with date night quality and setting, but the California Grill and Be Our Guest (for dinner) come close. The California Grill combines great food with a view of the Magic Kingdom, and, if you time it right, its fireworks show Wishes. Be Our Guest at dinner combines a pretty good menu (and the only alcohol available in the Magic Kingdom) with a kid-pleasing setting and theme.
Picking Your Own Dining. I have a matrix here that sorts all the Disney World park and resort table service restaurants by kid and adult appeal. You won't find a lot of dining reviews on this site, but there are overviews of dining in each of the parks, and reviews of every table service option, in Chapter 7 of the Disney World guidebook I co-author, The easy Guide to Your Walt Disney World Visit. Here's an example of one of our reviews: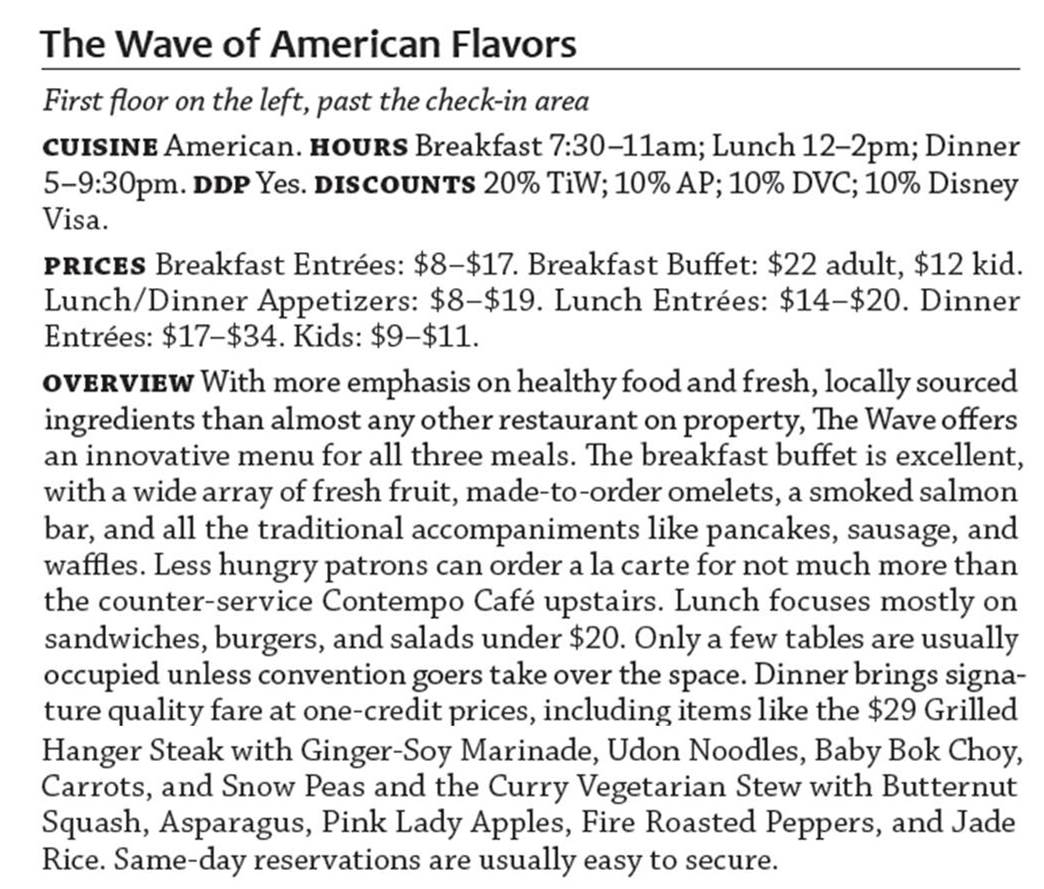 Follow yourfirstvisit.net on Facebook or Twitter or Pinterest!!
RELATED STUFF