Other Hotels in Disney World
By Dave Shute
STAYING IN A HOTEL THAT DISNEY DOES NOT OWN
The best reason to stay in a non-Disney hotel is to save money. (For the Disney-owned hotels, see this.)
Five non-Disney hotels are in the heart of Disney World, and offer deluxe-quality rooms and amenities for typically less than the Disney deluxes (at Shades of Green, much less).
They are the Swan and Dolphin. Swan Reserve, Four Seasons, and Shades of Green. (I've stayed in all these except the Swan Reserve multiple times–the links go to detailed reviews.)
All these participate in Disney's new Early Entry program.
All except Four Seasons in addition have early morning access to some components of Disney's new replacement of its former FastPass+ program.
Also, all but Four Seasons are eligible for Extended Evening Hours.
The Swan and Dolphin used to be part of Starwood, but are now part of the Marriott family.  These means many more folks will have points they can use to rent these, as they now go for both Marriott and Starwood points.
I'm not keen on any of these for first timers.
None has any distinctive Disney theming–you could be anywhere.
Shades and the Four Seasons have less than great transportation
The Swan, Dolphin and Swan Reserve have transportation more comparable to the Disney-owned resorts, but are inconveniently located for a Magic-Kingdom-centered trip–which most first visits are.
They can each be great choices for returning trips–Shades of Green for its prices, The Swan in particular for a lower-priced way to be close to Epcot (the Swan has queen beds and two sinks, making it a better family choice than the Dolphin with its full beds and one sink), and the Four Seasons for its stunning amenities, and in particular its pool complex–the best at Disney World.
Complete reviews:
Another group of hotels in the Disney Springs Resort Area are on Disney property but isolated from the main attractions at Disney World except for the shopping and dining at Disney Springs. All these also participate in Disney's new Early Entry program, but don't have access to early booking of ILL nor to Extended Evening Hours.
These have widely varying prices and amenities. Links to reviews are below.
Finally, two resorts of the five resorts in the Bonnet Creek area (near Caribbean Beach) also have access to Early Entry.   Reviews of each are at the links:
Which key time-saving perks guests at which hotels are eligible for can be confusing, so I created the table that follows: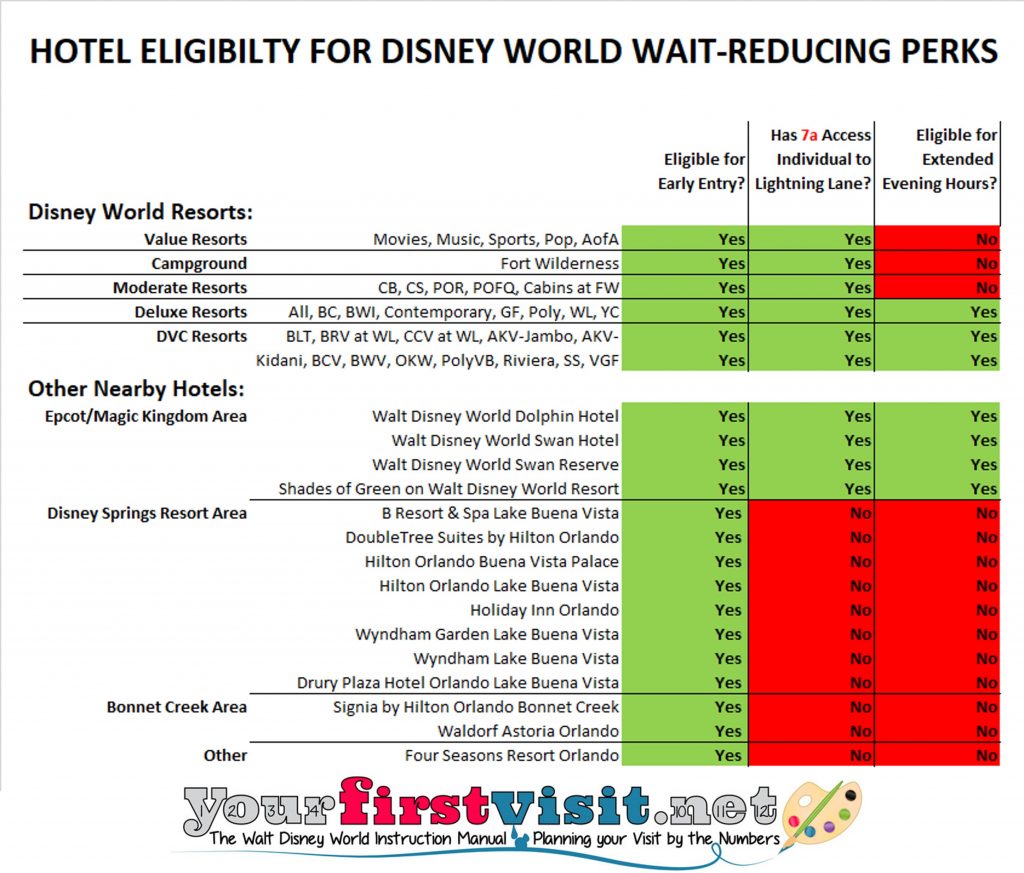 There are literally hundreds of other hotels and thousands of condos/villas/homes for rent off the property. The condos/villas/homes for rent will particularly save money for larger families or groups.
Be careful in your price comparisons to include added rental car costs, resort fees, and theme park parking.
Note that my friends at Destinations in Florida, the long-time travel agent partner of this site, can book you a room in any Disney or non-Disney hotel.  Contact them using the form below!
Follow yourfirstvisit.net on Facebook or Twitter or Pinterest!!
RELATED STUFF