Review: Storybook Circus at the Magic Kingdom
By Dave Shute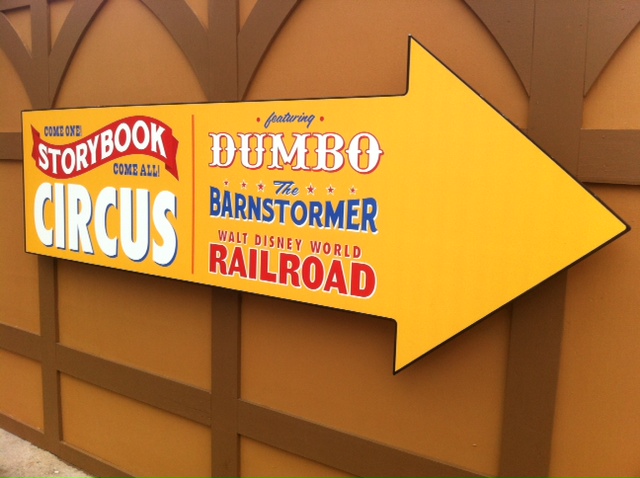 Everybody hurries to the circus grounds
Time for lemonade and Cracker Jacks
Casey Junior's back!
Casey Junior's back!
(Casey Junior, from Dumbo
, music and lyrics by Frank Churchill and Ned Washington)
STORYBOOK CIRCUS: GREAT FOR LITTLE KIDS, SO-SO FOR OLDER ONES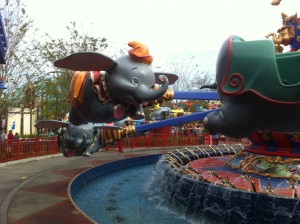 Storybook Circus is one of two areas that together make up New Fantasyland at the Magic Kingdom (the other is the Enchanted Forest).
Located in the space that used to house Mickey's Toontown Fair, it continues that former land's focus on little kids, through a re-themed ride, a moved ride, a character meet and greet area, and a play area.
However, the theming of Storybook Circus is much better than that of Mickey's Toontown Fair, and much more nicely tied to Disney's legacy.
REVIEW: STORYBOOK CIRCUS IN NEW FANTASYLAND AT THE MAGIC KINGDOM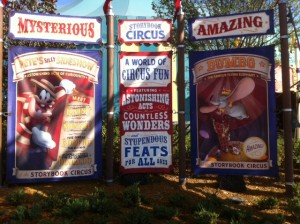 Storybook Circus has a rich and detailed circus theme based on the movie Dumbo.
(If your kids have not seen Dumbo recently, the theming here makes it worth watching again before your trip–it will have a greater impact.)
You'll find on the left of this new Fantasyland area the store Big Top Souvenirs and Pete's Silly Sideshow, an area to meet Donald, Daisy, Goofy and Minnie,
Also on the left, you'll find an area to get FASTPASSES for the two rides you'll find on the right, Dumbo and the Barnstormer.
In the center you'll find the Casey Junior Water Play area and the Fantasyland station of the Walt Disney World Railroad.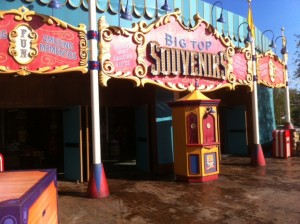 Big Top Souvenirs is my new favorite shop at the Magic Kingdom.  It has a wonderful assortment of stuff, and great circus theming–including circus wagon-based merchandise fixtures. (Watching Dumbo before you come will help with getting the theming of this space.)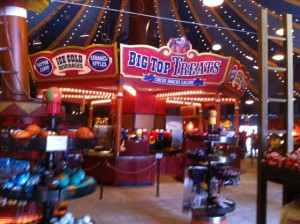 It also has a fun circus-based snack area.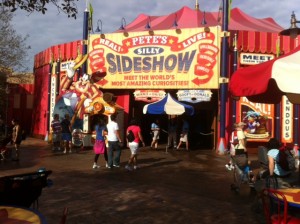 Pete's Silly Sideshow is the entrance to the character meet and greets that remain in this area. Most characters that used to be in Toontown are now found in other parts of the Magic Kingdom, but you can meet Donald, Daisy, Minnie and Goofy here.
Each is in an unusual circus or sideshow-themed costume that may put off some kids.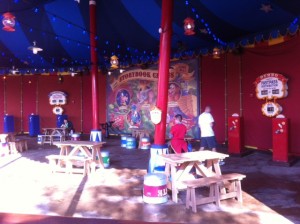 A third circus-tent themed spot here is where you get FASTPASSES for Dumbo and the Barnstormer.
The rides themselves are on the right side of Storybook Circus.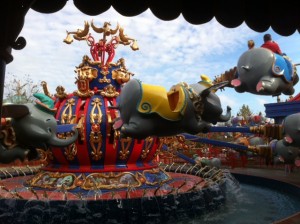 Dumbo has been moved from its former home, re-decorated, doubled, and had a play area added to its queue.
The result is a ride that retains its great appeal for little kids, but is much more comfortable to wait for. (For a full review of the new Dumbo, see this.)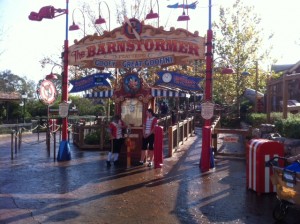 The Barnstormer featuring the Great Goofini is basically the same ride as the former Barnstormer, just re-themed a bit to better fit the new circus theming.
It remains fun for kids up to age 8 or so, but not worth much of a wait for anyone else. (For a full review of the new Barnstormer, see this.)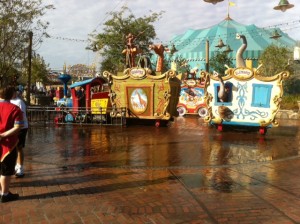 In the center of Storybook Circus you'll find a very cute Casey Junior-themed water play area.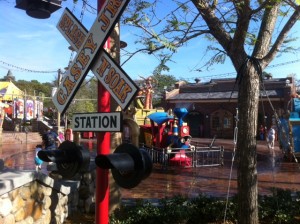 This area in particular will make more sense to your kids if they remember the movie Dumbo or have seen it recently.  Personally, I love both the character itself and the Casey Junior song, but wouldn't let my kids play there–wet shoes and socks don't fit well into a Disney World experience!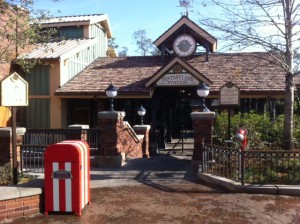 The Casey Junior area is nicely integrated into the theming of the Fantasyland station of the Walt Disney World Railroad–with Casey Junior and some circus cars on a turntable that's visually related to a roundhouse, and fake tracks linking the area to the main line itself.  Together, these nicely support the story of a circus train.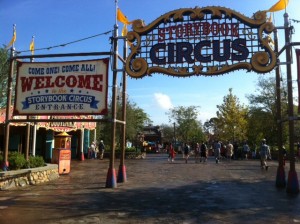 Storybook Circus overall is a wonderful expression of the circus theme of Dumbo, and as a result fits better into the Magic Kingdom than Mickey's Toontown Fair ever did.
However, like its predecessor, it remains focused on little kids, so families with older kids will find it worth a look, but likely not much of a stop.
Follow yourfirstvisit.net on Facebook!
RELATED STUFF