Introduction to The Value Resorts at Walt Disney World
By Dave Shute
The Value Resorts   Art of Animation   Pop Century    Movies    Sports   Music
OVERVIEW: DISNEY'S VALUE RESORTS
I've stayed at Disney's Value Resorts more than 30 times since I opened this site.
These stays confirm the order in which the value resorts are recommended.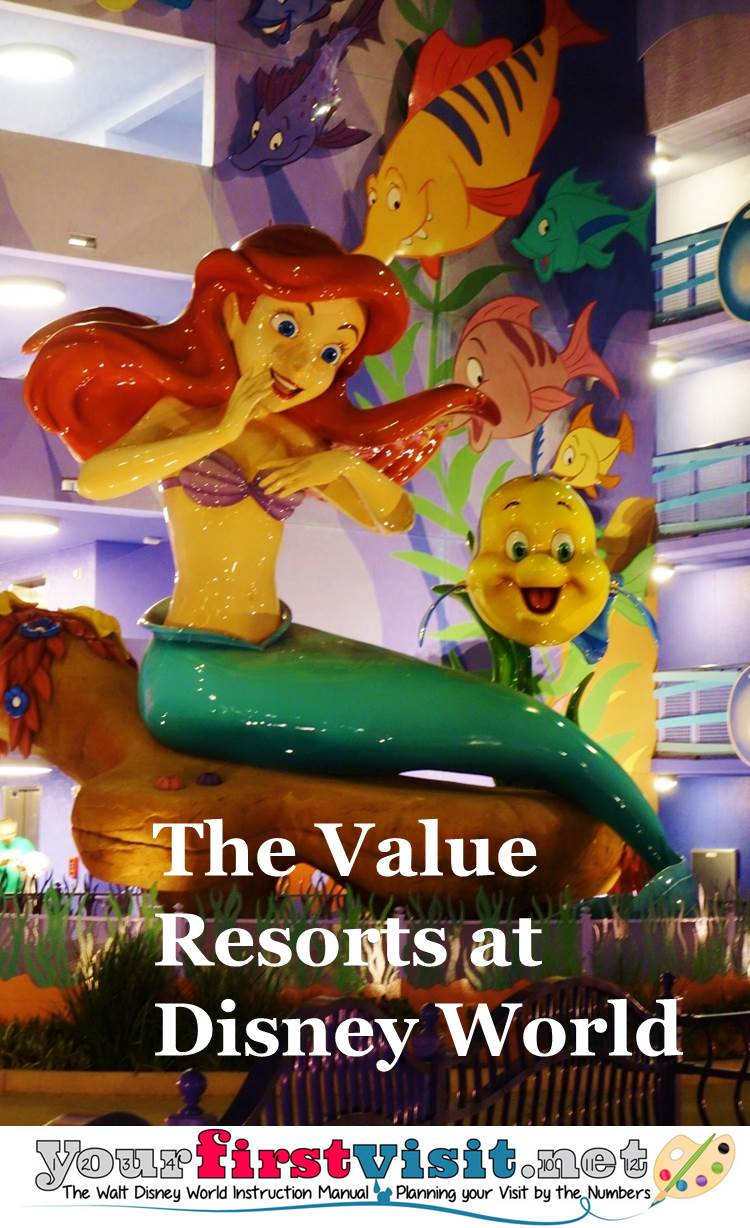 You can have a wonderful visit at any Walt Disney World resort hotel.
However, this site recommends that first time visitors to Walt Disney World who can afford it should stay at Disney's Polynesian Resort, a deluxe resort, and that those who can't should stay at Disney's Art of Animation Resort, a value resort.
THE VALUE RESORTS AT WALT DISNEY WORLD
There are currently 5 value resorts at Walt Disney World:
The value resorts are the most recent resort class to have opened at Walt Disney World.
They were preceded by the deluxe class, open at Disney World's own opening, the moderate class, which first opened in 1986, and the Disney Vacation Club resort class, first opened in 1991. See this for what you get by Disney World price class.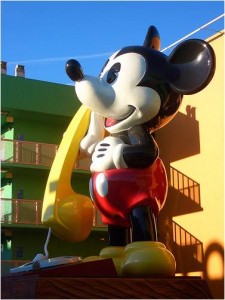 In the case of its launch of both the moderates and the values, Disney was concerned not only to successfully compete with off-site hotels (not hard, and devastatingly successful) but also to not lose revenue from guests trading down from the next higher resort price class.
Hence it tried to make pretty sharp lines between resort classes.
The sharp lines at the values–their most distinctively different features–are their larger than life statues of toys, Disney characters, and such, their absence of coffeemakers (except in refurbed rooms in Pop Century and All-Star Movies, and, soon, All-Star Music), and their just barely life-sized rooms.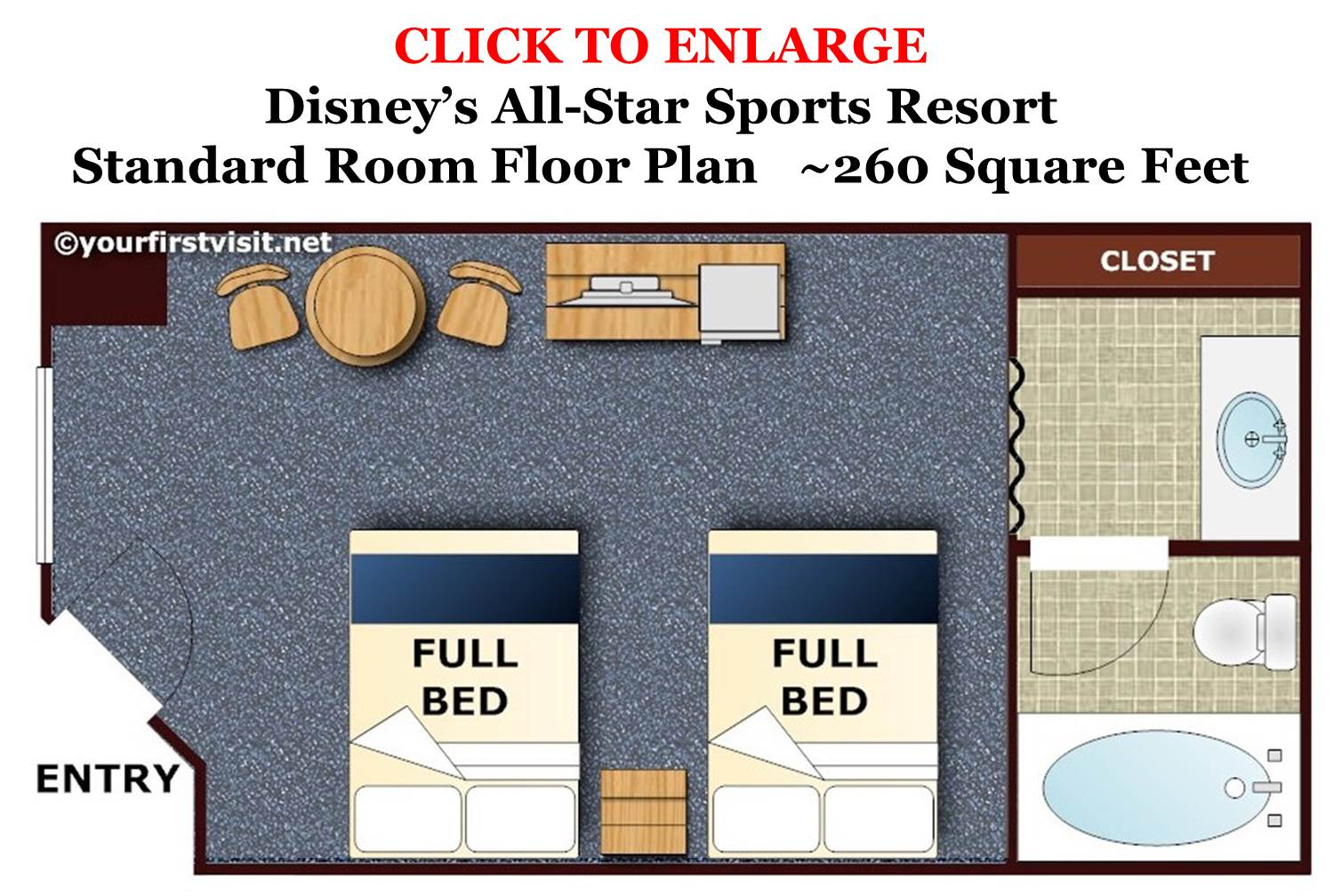 You may never stay in a two-bed hotel room smaller than the rooms in the value resorts.
Standard rooms at the value resorts have ~260 square feet.
While this may not seem like much less than the moderates space of 314 square feet, almost all of the difference is in the living space.
The living space of the values is about 80% as big as that of the moderates. Most of this missing space comes from the part of the room you are in when you aren't in bed!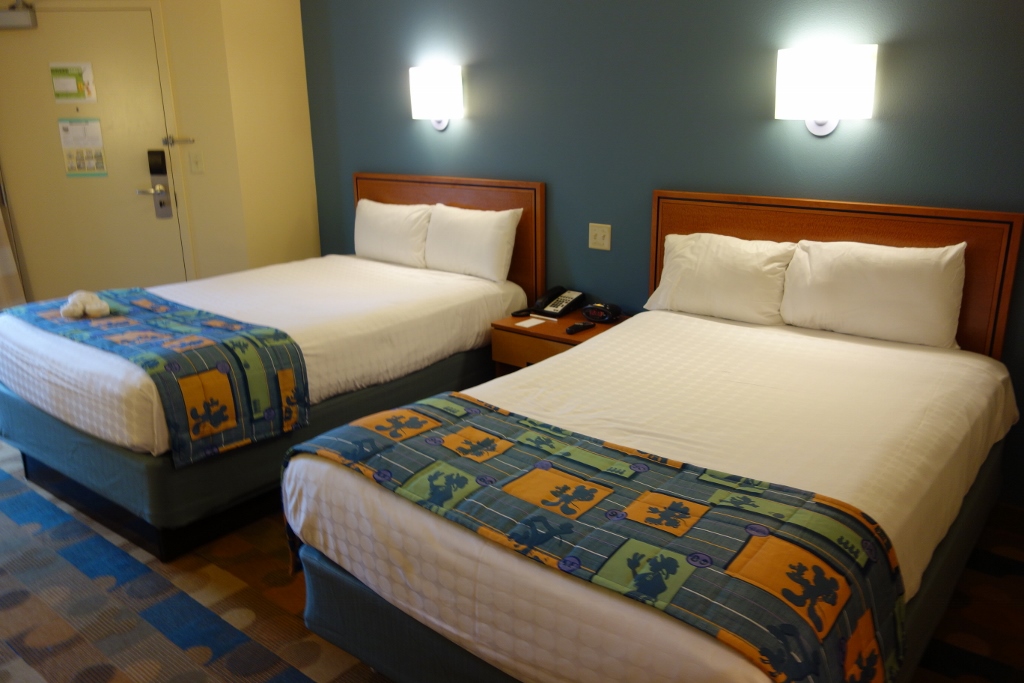 Some of this is from a narrower room, but most is from a shorter room.
These rooms are fine for first time family visitors who can't afford a deluxe, as they won't be spending much time in them other than sleeping.
I can't recommend them for returning visitors–who are more likely to spend more time goofing off in or near their rooms–unless they have stayed in a value before and hence know exactly what they are in for, or their kids are really little, or their party size is only 3 people.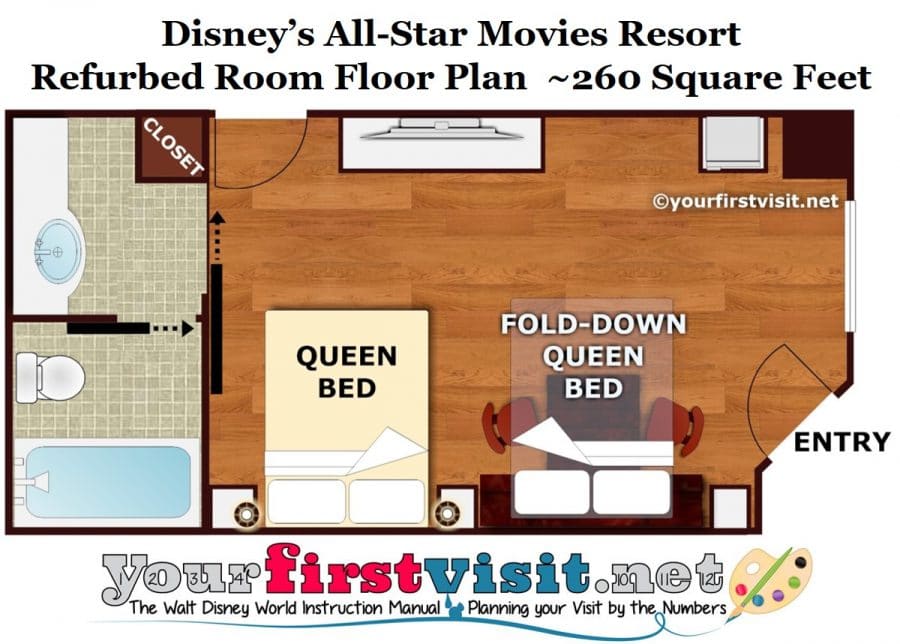 Most standard value resort rooms have two full beds. However, refurbed rooms at Pop Century and All-Star Movies have queens! All-Star Music has now begun this refurb, which I imagine will yield similar amenities in its refurbed rooms.
For more on comparative room sizes, see this.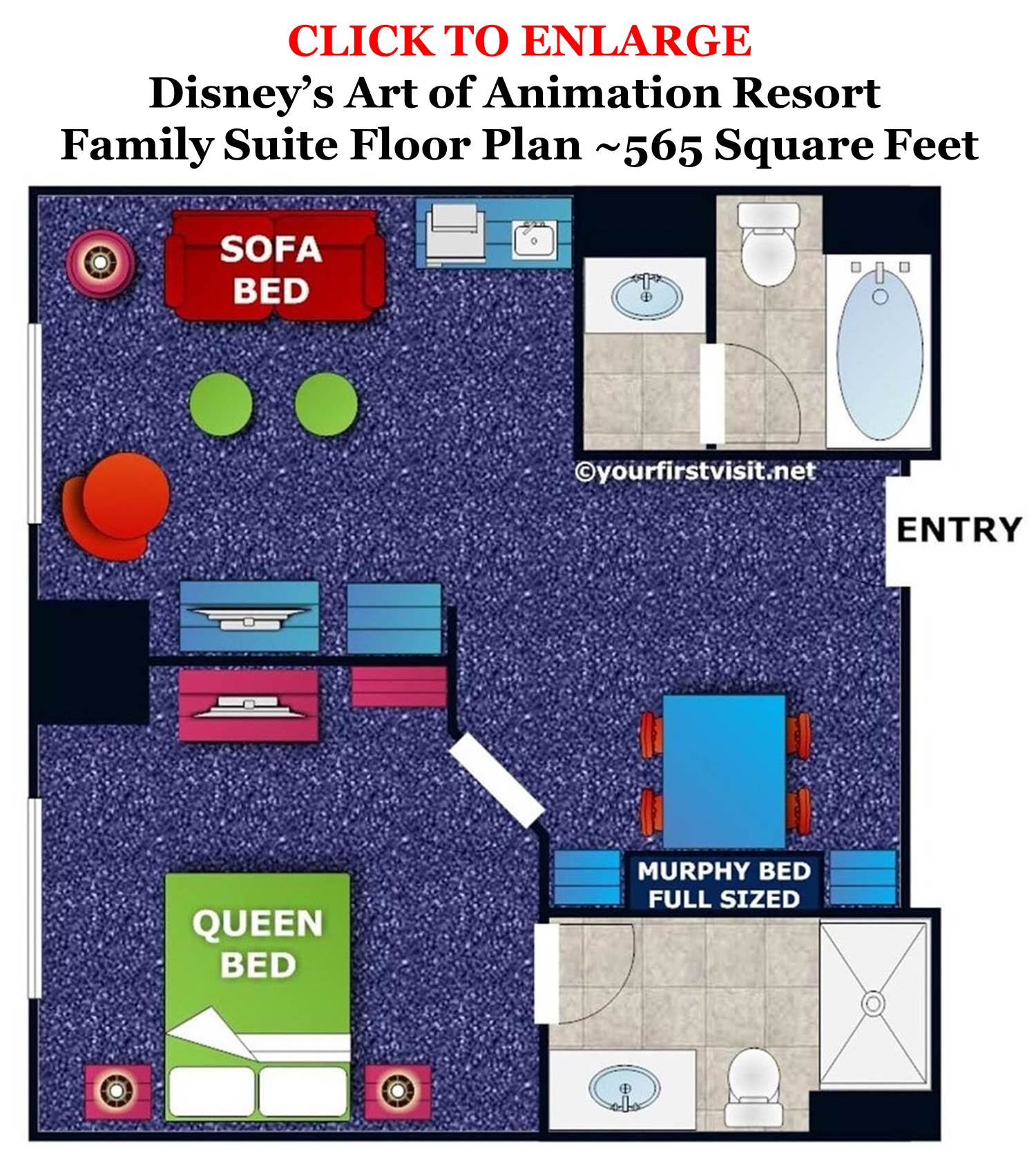 The family suites at All-Star Music and at Art of Animation are a different story.
They sleep six in two connected spaces the size of two standard rooms, and are quite comfortable. Art of Animation has more comfortable beds, while Music suites are more flexible.  Music suites are also much less expensive.
Compared to staying off-site, the value resorts are distinguished by their higher kid appeal, their convenience, and their access to certain key perks that off-site hotels can't provide.
Kid Appeal. Several of the deluxe resorts–notably, the Wilderness Lodge, Animal Kingdom Lodge, and Polynesian Resort–have spectacular kid appeal. None of the moderates do.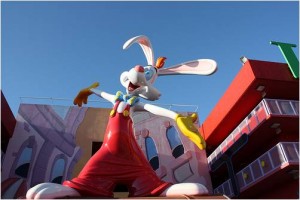 All of the value resorts–Disney's All-Star Sports, All-Star Music, and All-Star Movies, and its Pop Century and Art of Animation Resorts–have terrific kid appeal.
This appeal comes from the approach to theming they all share: bright and vibrant exteriors, framing much larger than life objects of interest to kids.
These objects reinforce that these resorts were designed for the sake of kids…and not necessarily for adults!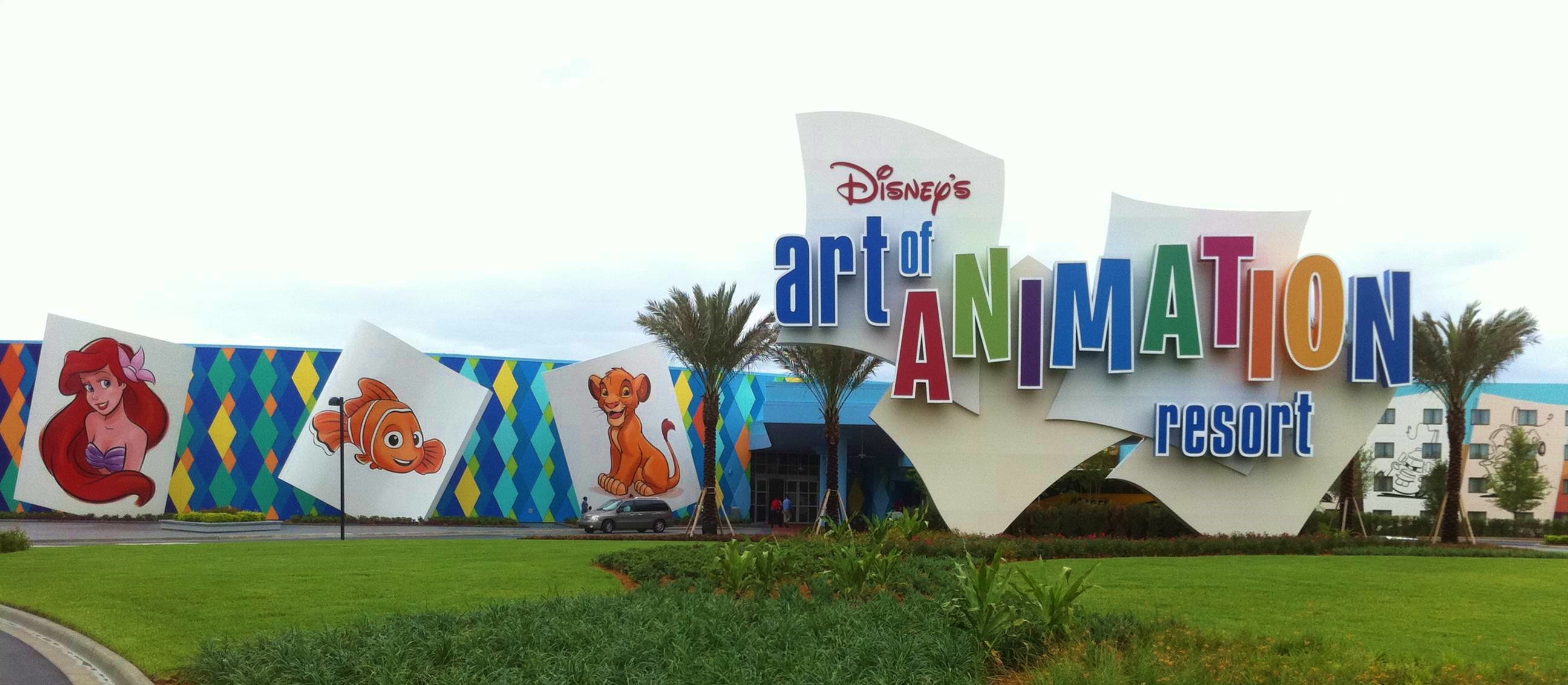 Prices vary over the course of the year, but Art of Animation rooms are always the most expensive, and the All-Stars the least expensive.
Room basics are about the same except for refurbed Pop Century and All-Star Movies rooms (and soon All-Star Music)–you are paying more at Pop Century and Art of Animation for a more central location, and at Art of Animation for deeper and more pervasive Disney theming. Bus service is a little better at Pop and Art of Animation, as they don't share buses as the All-Stars at times do. The new Disney Skyliner has its only stop among the values at Art of Animation and Pop Century, making them even better choices.
Detailed reviews of each option can be found at the links; the hotels are listed in order of how strongly I recommend them.
Standard 4-person rooms:
Six-person "Family Suites"
The long-time travel agent partner of this site, Kelly, can book your Disney vacation into one of these value resorts–or any other Disney World option!  Contact her using the form below.


Follow yourfirstvisit.net on Facebook or Twitter or Pinterest!!
RELATED STUFF