f. When Your Plans Need to be Firm
By Dave Shute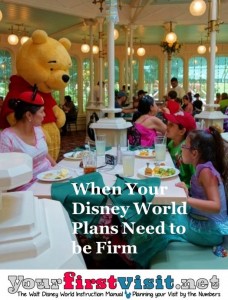 Your plans should be firm–that is, you should be able to commit to all required Walt Disney World reservations–more than 180 days in advance of your arrival date.
If it's already fewer than 180 days from your arrival date, see this.
WHY SO FAR AHEAD?
The specific driver of this timing is the need to make what Walt Disney World calls "Advance Dining Reservations."
Dining reservations can be made up to 180 days in advance of your arrival date.

Many of the recommended dining events and shows are signature Disney events, and have their capacity filled very quickly.
Other reservations need narrow time windows during your visit to properly fit them around scheduled events in the parks (such as parades and fireworks), and these windows are popular with others for the same reason.
To guarantee the right meals at the right times, you have to have your plans set in stone more than 180 days before your trip, so that you can be on Disney's online dining reservation system exactly at 6am EST 180 days before your arrival date. All required steps are on the To-Do List.
Scan down to your dates, or click the image to open it.
If you click it, when open, click it again to enlarge it!


Follow yourfirstvisit.net on Facebook or Twitter or Pinterest!!