Review: Enchanted Tales with Belle
By Dave Shute
AN ENCHANTING ATTRACTION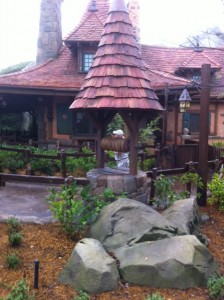 Enchanted Tales with Belle, a New Fantasyland attraction that had its formal Magic Kingdom opening in early December 2012, is by far the best recent Disney World offering.
Described by some as a "character meet," it is so much more–and in one way a little bit less–than the routine character meet and greet at Walt Disney World that it deserves to be classed as an attraction.
Enchanted Tales with Belle is as charming and fun an attraction as you will find in the Magic Kingdom.  While little kids who volunteer to appear in the "show" (more on that later) will have the most fun, all ages will be delighted by the overall experience.
Even if your kids are in their 20s, there's wonderful magic here, and watching the little ones put on the show is more than half the fun.
REVIEW: ENCHANTED TALES WITH BELLE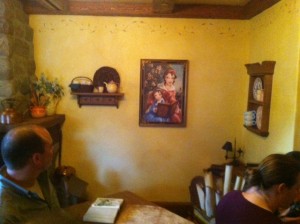 Enchanted Tales with Belle happens over a sequence of four spaces, each more magical than the last.
You begin in Maurice's cottage–really just an extension of the queue.
Here you'll find not much going on, but lots of fun stuff from Belle's youth to look at–including a bittersweet portrait of her and her mom.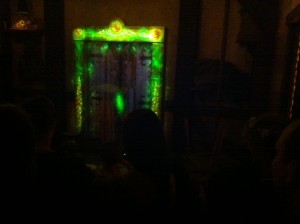 From there you will be invited into Maurice's workshop, where after a bit a magic mirror will help you transport yourselves to the Beast's castle.
In the first space in the castle, a cast member and very well-done Wardrobe will work together to recruit guests to play various roles in a re-enactment of the meeting of Belle and the Beast.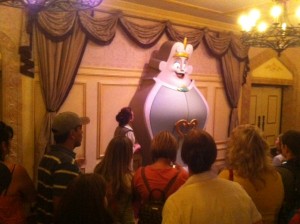 It isn't explained here–to keep the story clean–but only those who volunteer to be part of the reenactment will actually get to meet Belle.
(The rest just watch; this is the way in which this attraction is actually a little less than a meet and greet.)
Various roles will be cast–including many for which adults can volunteer–and at the end the cast member will ask if anyone else wants to be a part of the show.  This last bit is how you insert yourself (or a family member) into the meet and greet if you've not already been signed up for a role.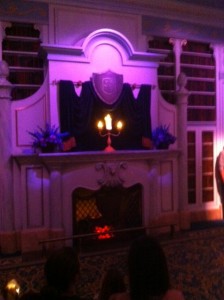 You then move further into the castle to the final scene, the Beast's library, where a stunningly well-done version of Lumiere becomes your host.
Those who volunteered to be part of the show are collected and positioned, Belle enters, and the show begins!
The show itself is fun, rollicking, brief, and drop dead cute–as cute as Turtle Talk with Crush or the Wand Choosing the Wizard at Ollivanders at Harry Potter–and ends with the chance for all those in the show to get a hug from and a photo with Belle.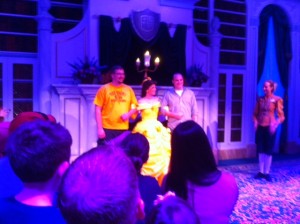 (Sorry about the lousy image–I could not get a good shot in the library.)
I can't think of a better example of the full range of the magical capabilities of the Disney creative team at their best than Enchanted Tales with Belle, and suspect that this attraction will become, for no small number, their absolute favorite experience at Walt Disney World.
The only problem–and it's a big one–is low capacity.  This is an attraction with Splash Mountain appeal but (old) Dumbo capacity.
I'm not sure what the hourly throughput of the attraction is, or even if there's more than one set of show spaces after Maurice's Cottage, but think not.
I'd guess capacity is around 600 people per hour. Rumors are out there about FASTPASSES being added, but I don't see an obvious place for a FASTPASS return line.
As a result, lines build early and are long most of the day–and will get even longer as the word about the quality of this experience spreads, and Under the Sea draws few re-rides. So see it first thing!
Follow yourfirstvisit.net on Facebook!
RELATED STUFF