The Basics: Visiting the Disney World Theme Parks and FastPass+
By Dave Shute
Note: FastPass+ has been replaced by a new, multipart program for accessing rides, some parts requiring payment.
For more on this new program, which will start later in 2021,

see this.
As more details come out on the new program, I will replace the specific FastPass+ material below.
The best visits to Walt Disney World are built from four key choices: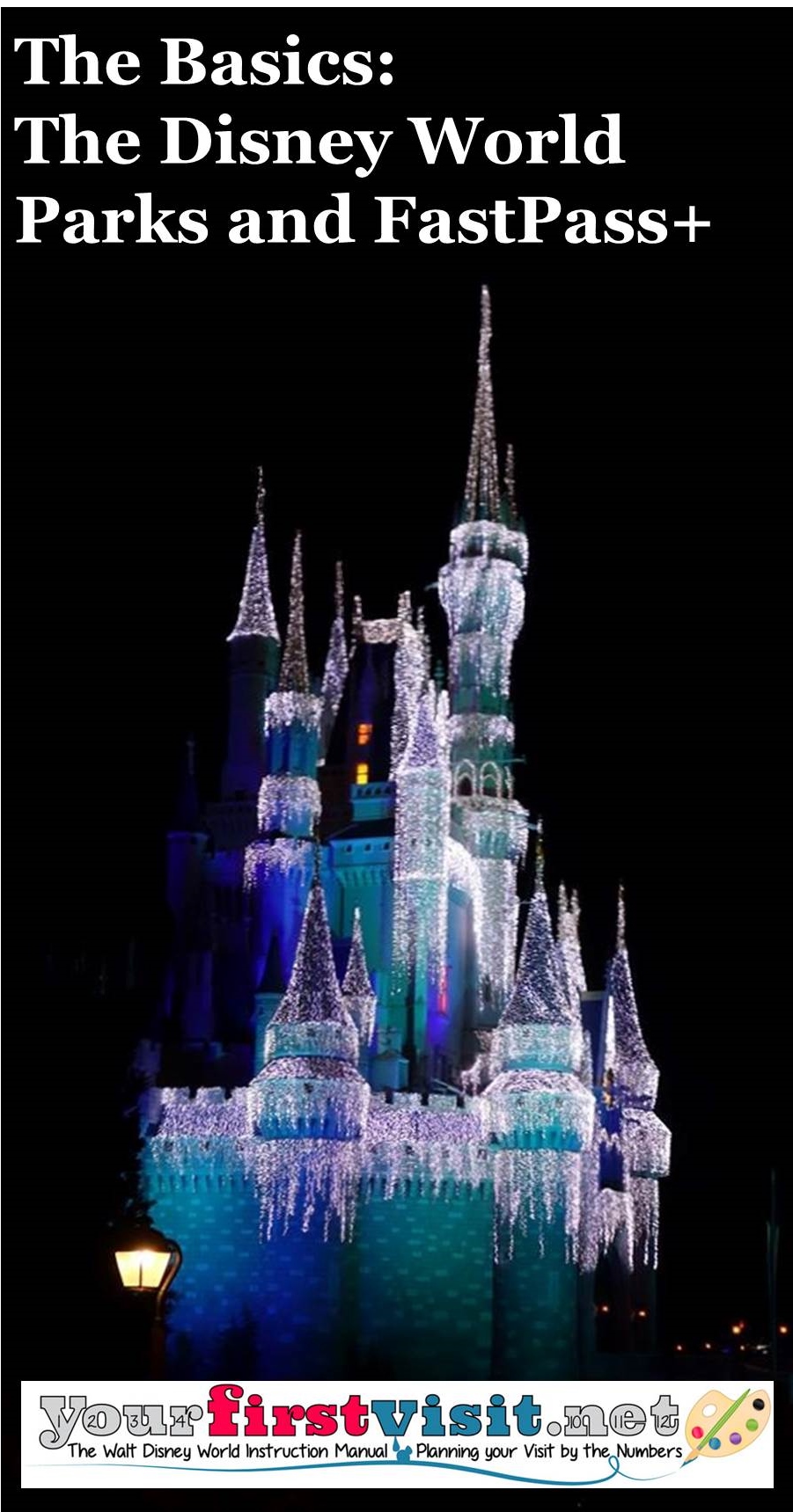 Disney World's FastPass+ program, new in 2014, is particularly important.
Because of FastPass+, more so than ever before there's a huge payoff to planning ahead for your Disney World trip–and a huge penalty to not doing so. 
AN INTRODUCTION TO WALT DISNEY WORLD AND ITS FOUR THEME PARKS
Walt Disney World occupies about 40 square miles southwest of Orlando Florida, making it just a little smaller than San Francisco and almost twice the size of the land area of Manhattan.
It contains hotels, shopping, waterparks, a campground, and most significantly, four theme parks: Disney's Animal Kingdom, Epcot, Disney's Hollywood Studios, and the Magic Kingdom.
The Magic Kingdom is the quintessential Disney theme park and the heart of Walt Disney World.
Inspired by the original Disneyland, it presents iconic attractions ranging from Space Mountain to the Haunted Mansion. Loved by the young and old, it is particularly suited to younger guests.
For those tall and mature enough to enjoy everything in the park, all its best can be seen in two long days or three more comfortable ones—shorter days will suit the youngest visitors. Magic Kingdom's Fantasyland recently completed a major expansion.
Think of Epcot as being two parks combined into one: Future World explores ideas, technology, and the planet Earth; World Showcase suggests a permanent World's Fair.
The favorite Disney park of many adults, new and newly-reimagined attractions that opened in 2016—Soarin', Frozen Ever After, and a Frozen Meet and Greet—increased its attractiveness to the youngest (always Epcot's weakest feature) while disappointing those who insist that Arendelle is not a real country. (Hint: what Disney calls "France" isn't real either…)
In 2o21, a new major ride, Remy's Ratatouille Adventure, will open October 1, 2021, and a new evening show, Harmonious, will also debut October 1. Each of these will add to Epcot's kid appeal.
Epcot repays attention and exploration, and for those old enough to get it, takes more than a day to appreciate. The youngest visitors may wish to devote half a day to it.
Disney's Hollywood Studios celebrates movies, music, TV and other popular entertainments via rides and shows.
Recently completing a major expansion that includes new Toy Story and Star Wars lands,  it now takes more than a day to see, especially since most days of the year you cannot see both of the evening shows (Fantasmic and Star Wars: A Galactic Spectacular) on the same night.
Many of its best rides are thrill rides, so the youngest visitors will have only half a day or so's worth of appropriate things to do, even with the opening of Slinky Dog Dash,  a "family friendly" roller coaster with a 38 inch height requirement, and Mickey and Minnie's Runaway Railway, an all-ages dark ride.
For folks old enough for its thrill rides, the combination of the awkwardly scheduled evening shows and FastPass+ tiering will make Hollywood Studios best seen over two partial days.
Disney's Animal Kingdom combines the all-ages appeal of the Magic Kingdom with the repayment to intellectual curiosity of Epcot.
Its rides and shows appeal to almost everyone, but the park best showcases itself to those who also bring an interest in animals—real, imagined, and/or blue.
Before then an easy day, Animal Kingdom visits lengthened with the opening of an entirely new land, Pandora: World of Avatar with two new rides, Na'vi River Journey and Flight of Passage, in 2017.
Animal Kingdom is now an easy two day park and a hard one day park. Only a few of its attractions are inappropriate for the youngest, so target it for more than half a day with the littlest ones.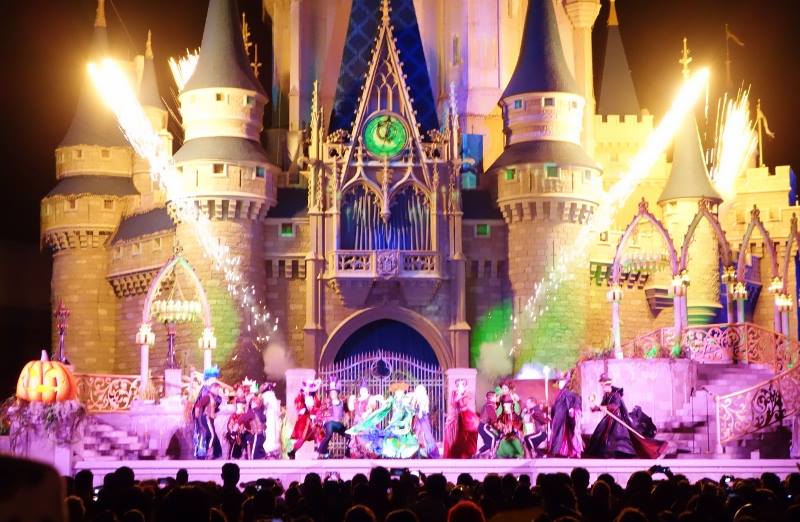 Those first timers who are able to return for another trip later may come on their first visit with younger kids for just a few days at Magic Kingdom, returning later to both see more of that park and see the other three parks as the kids grow and develop.
First time visitors tall and mature enough to see everything on a once in a lifetime trip should budget the equivalent of seven full days in the parks—two plus at the Magic Kingdom, two minus at the other three parks.
These park days ideally should be spread across a nine day trip (including travel time) to fit in the partial days and to multiply the opportunities to book FastPass+, the most important tool you have for reducing waits.
THE BASICS OF FASTPASS+
To use FastPass+, you need a My Disney Experience account and valid park tickets linked within it.
Then, beginning 60 days before check-in if you are staying at a Disney-owned resort (or the Swan or Dolphin,, Shades of Green, Four Seasons, the Disney Springs Resort Area resorts, the Hilton Orlando Bonnet Creak, or the Waldorf Astoria) or 30 days before use if you are staying anywhere else, you can book one hour windows for up to three rides with minimal waits in one park. (Three different rides—no repeats.)
At Magic Kingdom you can pick your three from any of the FastPass+ rides offered.
At Animal Kingdom, you can pre-book only one of Pandora's two rides, Avatar: Flight of Passage and Na'vi River Journey, but can otherwise pick any available ride.
At Epcot and Disney's Hollywood Studios you pick one ride from a short "Tier One" list and the second and third from a longer "Tier Two" list.
Many rides that offer FastPass+ are unwise to choose, and the Pandora choices at Animal Kingdom and tiering at Epcot and Hollywood Studios makes it hard to see everything in one day.
In effect, you have a reservation for the rides you book via FastPass+, and choosing your FastPass+ well is the single most important component of having an easier, lower wait visit. Make good FastPass+ choices and you will save hours of waiting in lines. Make poor ones, don't book them at all, or wait too long and book them too close to your trip, and you'll wait hours more than you needed to.
Honestly, the easiest way for first-timers to do this is to follow the suggested itineraries that already exist on this site or the more comprehensive ones in the book  that I co-author with Josh Humphrey, writer of easyWDW.com, The easy Guide to Your Walt Disney World Visit—the only major Disney World guide book written from scratch for using FastPass+.
But even if you follow one of my itineraries or one from the book, you may need to fine tune it to the situation of your own family or group. Moreover, returning visitors may want to have a more sharply-defined trip than the "see almost everything" of the pre-designed itineraries.
Here's some things to think about:
Are you willing to get up early in the morning and be at the parks 45 minutes before they open?
If so, FastPass+ becomes a little simpler for you. By arriving that early, you'll be able to get on at least one or two attractions without much wait—at Magic Kingdom, two to four attractions—that you would otherwise need to spend FastPass+ on to avoid long waits.
Are there some attraction classes that you know you are going to skip?
One way to think about the attractions is to class them into character meets, thrill rides, and everything else.
If you are avoiding thrill rides, then you'll have a much easier time picking your FastPass+, because many of the most popular rides that build the biggest lines most quickly are thrill rides that won't even be on your to-do list.
And if you don't have to meet Ariel, or Elsa, or Mickey, that'll take some other potential options off your list. (Another way to save time in meeting characters is to meet them at meals—that's the approach my itineraries take.)
People like my sister who avoid thrill rides and avoid character meets have the simplest set of choices.
Are you willing to bet on more FastPass+ being available for key attractions?
Once you've used the FastPass+ that you pre-booked, you can then add, one at a time, more FastPass+, but only subject to availability.
However, the rides you might most want to book as your later FastPass+ may be the same ones everyone else wants to book, and thus may not be available. So you should always try for more FastPass+, and keep refreshing, but not assume they will be available.
Another thing to think about is how many days you have for each park. Each additional day gives you three more FastPass+, and one more opportunity to arrive early.
Under current ticket prices, while the actual price varies by date, typically each additional ticket day—after you've already bought four days—is on average about about $9-$17/person/day for days 5-10
That means for about three to five bucks each you each get to book at least three more great rides with low waits! See one of my itineraries for an example of how multiple partial days can work well.
The best FastPass+ for you.
The best FastPass+ for your group will thus vary by what you want to see and what you are sure you want to avoid, whether or not you can arrive in the parks well before they open, whether you are willing to bet on more FastPass+ being available that day, and how many days (and thus FastPass+) you have for each park.
FASTPASS+ PRIORITIES AT THE MAGIC KINGDOM
So to take the Magic Kingdom as an example, you will save the most time by targeting the following attractions (in alphabetical order, based on the prioritized lists in our book) for FastPass+
Ariel's Grotto Meet
Big Thunder Mountain
Buzz Lightyear Space Ranger Spin
Enchanted Tales with Belle
Haunted Mansion
Jungle Cruise
Peter Pan's Flight
Pirates of the Caribbean
Princess Fairytale Hall Meet Cinderella
Princess Fairytale Hall Meet Rapunzel
Seven Dwarfs Mine Train
Space Mountain
Splash Mountain
Tomorrowland Speedway
Town Square Meet Mickey
Note that four of these (Ariel's Grotto, Fairytale Hall Cinderella, Fairytale Hall Rapunzel, and Town Square Mickey) are character meet and greets, and four (Big Thunder Mountain, Seven Dwarfs Mine Train, Space Mountain and Splash Mountain) are thrill (or thrill-ish) rides. Some will not be interested in the first group, some not be interested in the second, and some not be interested in either group.
Moreover, most days of the year it's pretty straightforward if you get to the tapstiles at least 45 minutes before the scheduled open to be able to knock off several of these priority rides first thing with low waits and no need for FastPass+. In Tomorrowland, you should be able to do Space Mountain, Buzz Lightyear, and a third ride in Fantasyland without much wait. In Frontierland, the same goes for Splash Mountain and Big Thunder Mountain, and in Fantasyland you should be able to do three or four of the shorter-duration rides before long lines build.
So if you have three days at the Magic Kingdom, with two early mornings, you could ride all the rides in the list with low waits—nine via FastPass+ and the rest via early arrivals! And if because of the nature of your group you can eliminate either the thrill rides or the character meets, then you can see all the priority rides with two days at Magic Kingdom—two early mornings and the rest via FastPass+.
FASTPASS+ PRIORITIES AT DISNEY'S ANIMAL KINGDOM
At Disney's Animal Kingdom, the following attractions (again in alphabetical order) are the key FastPass+ priorities:
Adventurers Outpost Mickey and Minnie Meet
Animation Experience at Rafiki's Planet Watch
Avatar: Flight of Passage (T1)
DINOSAUR
Expedition Everest
Festival of the Lion King
Kali River Rapids
Kilimanjaro Safaris
Na'vi River Journey (T1)
Rivers of Light
The first is a character meet, and most of the rest except the Animation Experience, Kilimanjaro Safaris, Na'vi River Journey, and Rivers of Light are thrill rides—although Kali River Rapids is not that thrilling.
With the opening of Pandora, a one day visit Animal Kingdom has become quite hard. Flight of Passage is the hottest FastPass+ at Disney World, and Na'vi River Journey is not far behind–but you'll only be able to pick one of them as a pre-booked FastPass+.
You can plan to see the other at rope drop, but so will thousands of others, so arriving well before rope drop is the approach to take.
If you want to see it, Rivers of Light, with its limited capacity, is the natural second priority, and the third should come from Expedition Everest, Kali River Rapids (especially if you are going during a hot weather time), and Kilimanjaro Safaris.
Among these last three, Kali is the most skippable, and Everest has a single rider line with reduced waits.  So for many Kilimanjaro will be the best choice.
A two day visit to Animal Kingdom is much simpler. Book one of the Pandora rides each day. Divide your other four FastPass+ among Rivers of Light, Adventurer's Outpost, DINOSAUR, Expedition Everest, Festival of the Lion King, Kali River Rapids (especially if you are going during a hot weather time), and Kilimanjaro Safaris.
The day you don't do Rivers of Light, compress all your FastPass+ as early in the day as you can, to maximize your opportunity for scoring additional FastPass+.
See at rope drop whatever on the list above that you have not booked as a FastPass+
FASTPASS+ PRIORITIES AT EPCOT
Epcot is also complicated.
One complexity Epcot shares with Disney's Hollywood Studios and Animal Kingdom is that at these parks, FastPass+ is divided into two tiers, and you can only pre-book one attraction from Tier One and two from Tier Two.
The following are the Epcot attractions to consider spending FastPass+ on:
Frozen Ever After (T1)
Journey into Imagination
Living with the Land
Mission: Space
Soarin' (T1)
Spaceship Earth
Test Track (T1)
Turtle Talk with Crush
Of these eight, two—Mission Space and Test Track–are classed as thrill rides, although Test Track is not that thrilling. Knowing you want to skip this type of ride will simplify your choices.
But if you want to see all these attractions and meet and greets with low waits, then two days with one early morning will be your best bet. Pre-book as your Tier Ones Frozen Ever After and one of Test Track and Soarin'. See the other of these two at park open.
FASTPASS+ PRIORITIES AT DISNEY'S HOLLYWOOD STUDIOS
At the moment, FastPass+ will not be available for the rides in Star Wars: Galaxy's Edge–you can't pre-book them for Millenium Falcon: Smugglers Run (already open) or Rise of the Resistance (opening December 5, 2019). The presence of FastPass+ tiering among the other rides also complicates matters at the Studios.
The following FastPass+ options (again in alphabetical order) will save the most time.
Alien Swirling Saucers (T1)
Beauty and the Beast Live on Stage
Frozen Sing-Along  (full name "For the First Time in Forever: Frozen Sing-Along Celebration")
Indiana Jones Epic Stunt Spectacular
Rock 'n' Roller Coaster (T1)
Slinky Dog Dash (T1)
Star Tours
Tower of Terror (T1)
Toy Story Midway Mania (T1)
None of these are character meets, and three— Rock 'n' Roller Coaster, Star Tours, and Tower of Terror—are thrill rides. Moreover, Slinky Dog Dash is a roller coaster–it is family friendly, but verges on being a thrill ride.
Because of what's in Tier One, it's hard to do everything with low waits at the Studios in a single day's visit.
Once FastPass+ for the Star Wars rides do become available–I am forecasting 2020 for that–they will become the highest priority.
ADDITIONAL "DAY OF VISIT" FASTPASS+
Once you've used your pre-booked FastPass+, you can book any available FastPass+ one at a time. Availability varies wildly, and FastPass+ for the most popular rides will often be gone by the time you have used your pre-booked ones.
Your chances are better the earlier in the day your first three are used, and the smaller your party. They are also better at the Magic Kingdom than anywhere else, but wherever you are, keep refreshing–people do cancel!
Because of availability issues, good itinerary design does not assume you will get a particular day-of-visit FastPass+. Rather, just view it as a good thing if it happens!


Follow yourfirstvisit.net on Facebook or Twitter or Pinterest!!
RELATED STUFF