Review: The Campsites at Disney's Fort Wilderness Resort
By Dave Shute
(For the first page of this review of Disney's Fort Wilderness Resort, click here.)
THE CAMPSITES AT DISNEY'S FORT WILDERNESS RESORT
Note: guests staying at the campsites at Disney's Fort Wilderness Resort are eligible for Disney World's Early Entry program, and for early access to its paid individual system for access to certain rides, but NOT for its Extended Evening Hours.
Fort Wilderness opened in November 1971, just a month after Walt Disney World itself opened, and has been expanded and rehabbed multiple times since.
The entire Fort Wilderness resort comprises not only the campsites, but also cabins, group campgrounds, and shared resources—such as a beach, marina, dining areas, stores, stables, pools, boat docks for transport to the Magic Kingdom (and two other Disney Resorts—the Wilderness Lodge and the Contemporary Resort), etc.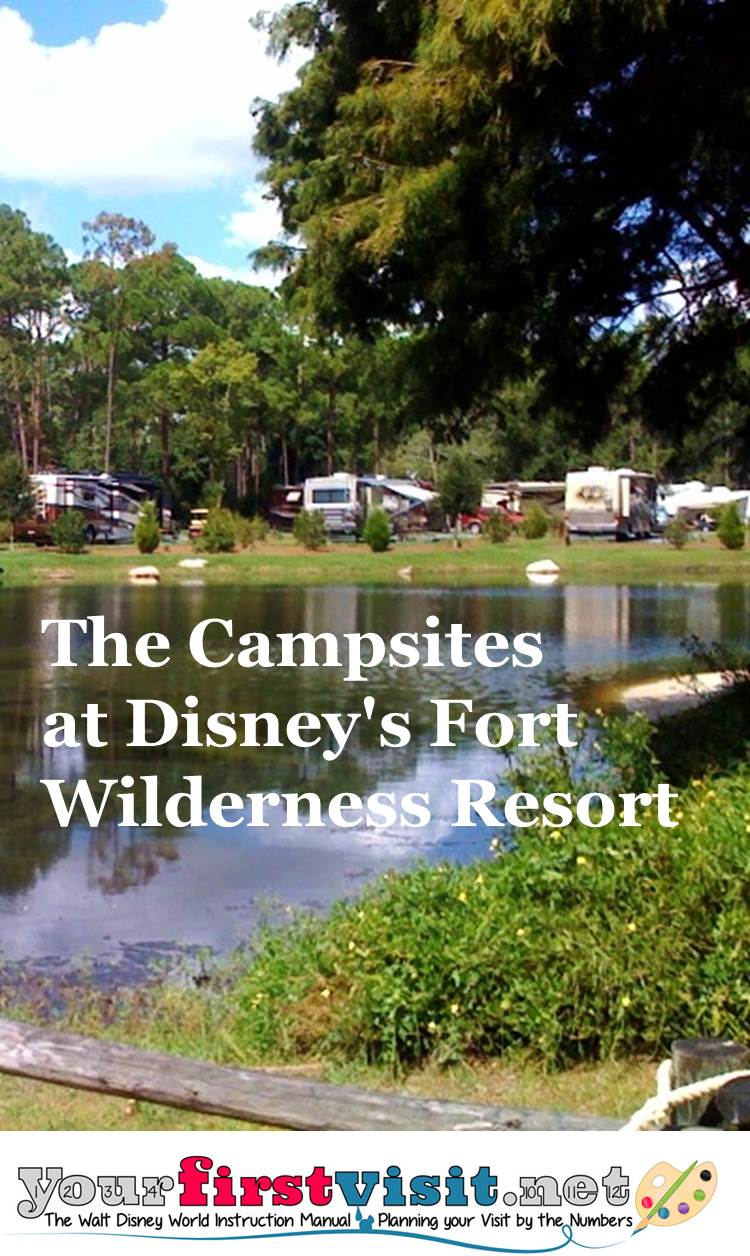 At the Campsites at Disney's Fort Wilderness Resort, according to Walt Disney World's website,
"…you'll find family fun as big as the great outdoors. Nestled on 750 wooded acres of lush pine and cypress trees, the fully-equipped campsites let you camp out in comfort. Time seems to slow down while you wander the quiet trails, and roaming ducks, deer and rabbits add to the sense that you are far away from the bustle of modern civilization."
The 800 or so campsites occupy the bulk of the resort and are grouped in 20 loops, numbered 100 through 2100.
Because…
Different areas of the campground have different amenities
Fort Wilderness is sprawling and inconvenient to get around, and
Some loops are optimized for particular types of gear, and
…picking the best loop for the specifics of your trip is a key decision.  
I'll start with the different areas of the resort and then move on to loop types. For the areas of the resort, follow along on the map (click it to enlarge it).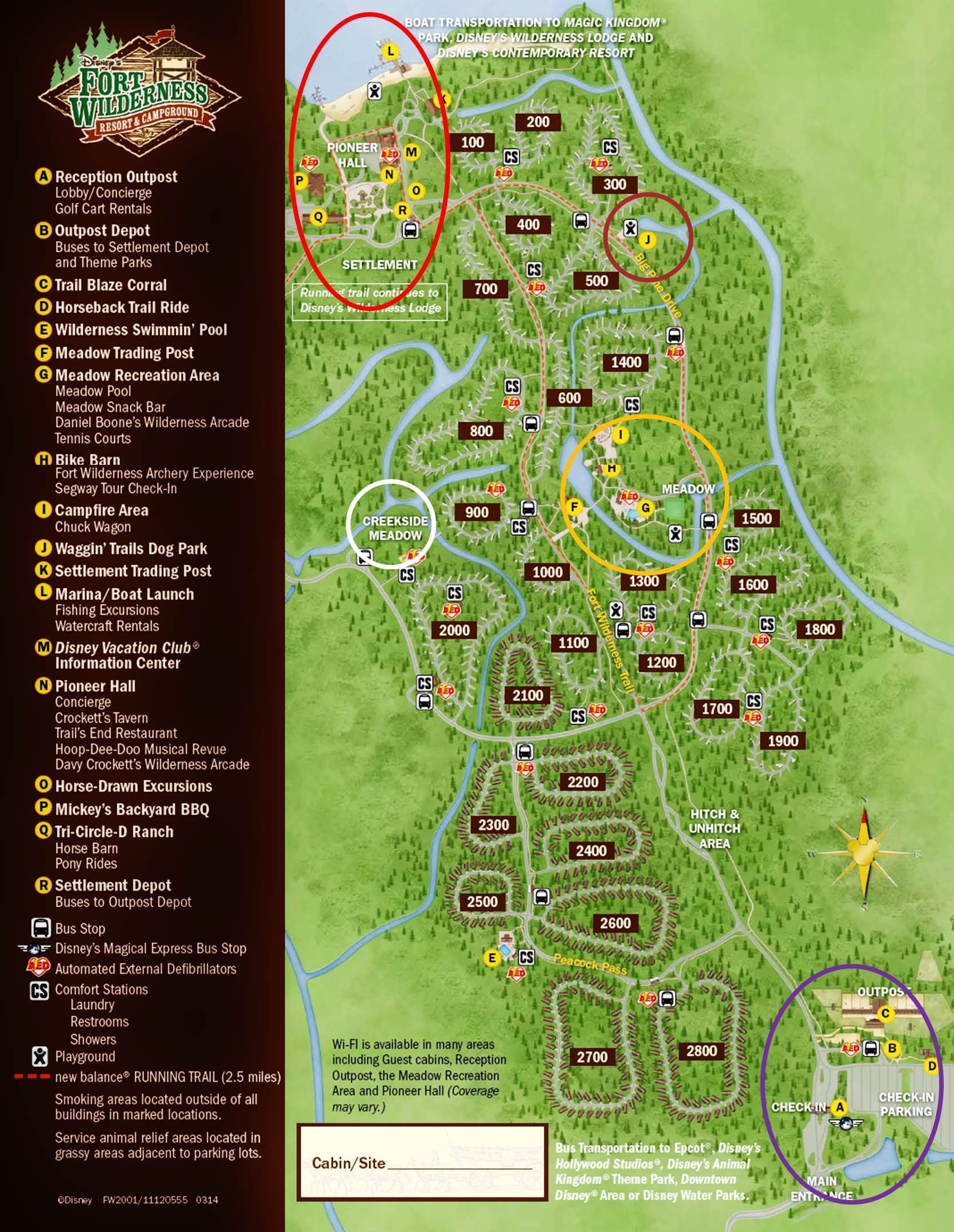 Check-in is at the southern section of the resort. This area, called the Outpost, is circled ("ovalled"??) at the bottom right in purply-blue. Here you'll find trail rides and all park, water park, and Disney Springs transport except to the Magic Kingdom (Magic Kingdom transport is via boats from the Settlement, at the far north end of the resort). Internal buses also stop here.
As you head into the resort, you'll pass the loops with cabins on your left. A quiet pool is in this area as well, open to all Fort Wilderness guests, not just those staying in cabins, but there's no camping loop it's particularly convenient to.
Ahead you'll find a four-way stop sign.  Go left and you'll get to Creekside Meadow, the group camping area, circled in white.  When full, Creekside Meadow can hold more than 160 happy, boisterous youth…a point we will return to.
If instead you go straight, you'll pass the Meadow area, circled in yellow on the map, where you'll find the main themed pool, a shop, bike rentals and boat rentals, the campfire program area, playgrounds, sports areas, and other amenities.
Keep heading north and you will run into the Settlement area, circled in red at the top of the map. Here you'll find docks for boat transport to the Magic Kingdom, and also to the Contemporary Resort and the Wilderness Lodge. Also here is a bus stop to the Wilderness Lodge, another shop, all dining except the offering at the main pool, a marina, the beach, and other amenities.
Also worth noting is the location of the dog park, circled in brown on the top right.
THE FIVE CAMPSITE TYPES AT FORT WILDERNESS
Disney sells five different campsite types: Tent or Pop-Up, Full Hook-Up, Preferred, Premium, and Premium Meadow.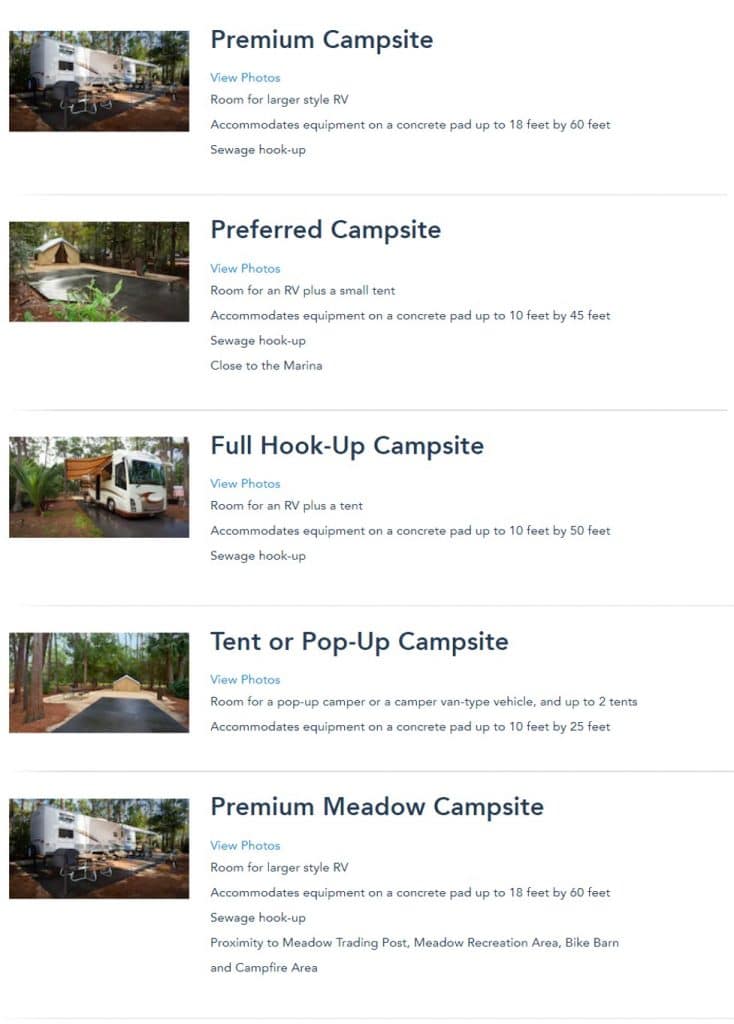 While all campsites allow one rig or tent, plus also a second tent (and can be booked for up to ten people) there are profound differences among the types, plus other points worth noting.
TENT OR POP-UP SITES AT FORT WILDERNESS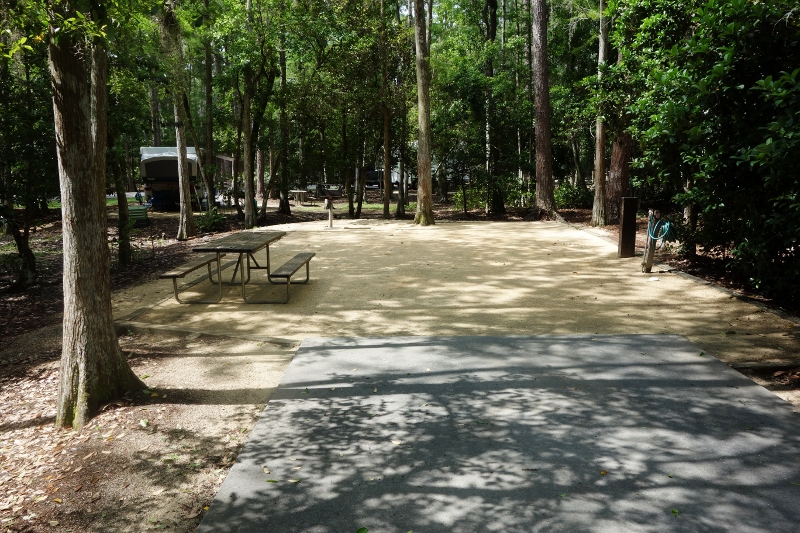 Some loops are optimized for tent camping and have small asphalt areas and large sand (technically coquina) tent pads.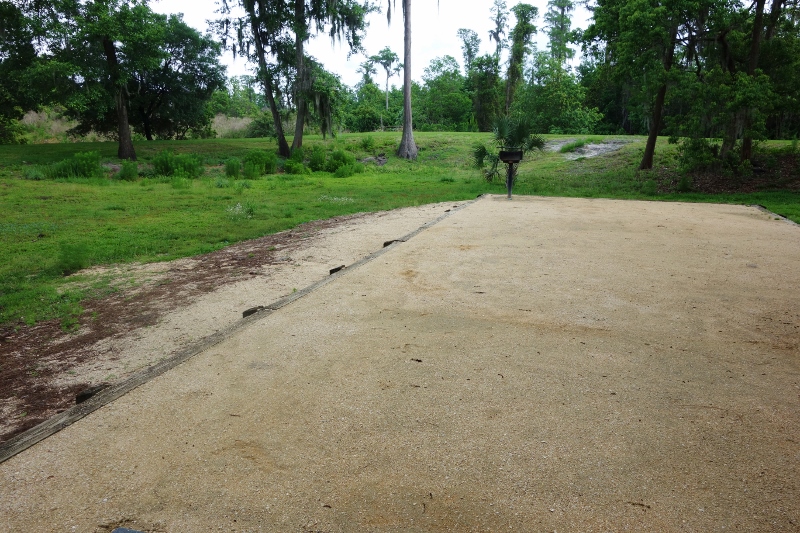 Disney used to call these "Partial Hook Up" sites, and is now more commonly calling them "Tent or Pop-Up Sites."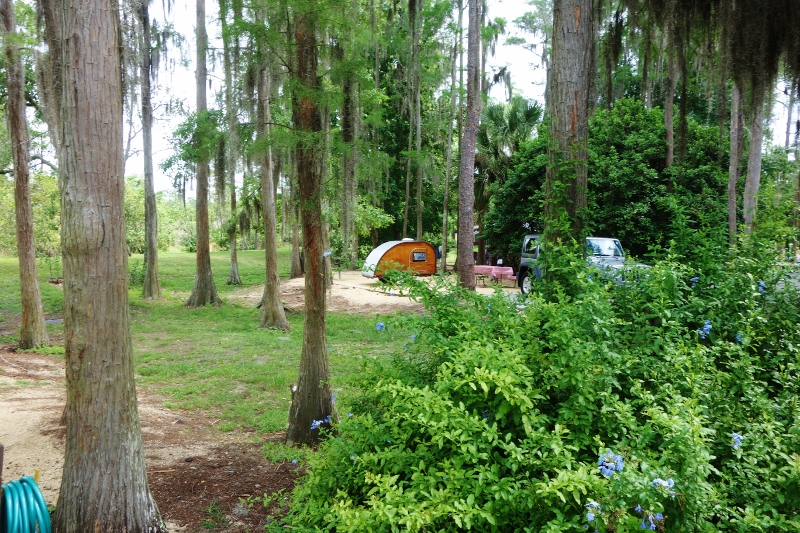 You can book them for tent camping or for a pop-up or camper van. The images are from the 1500 loop. Note that teeny tiny trailers are also permissible.
These sites all have a picnic table, charcoal grill, water and electricity, and internet access is available via a modem kit campers need to pick up (and put a deposit on). Tent campers also need to know some key stuff about gear and weather, which I cover later in this review.
There's two "Tent or Pop-Up" loops, 1500 and 2000. Loop 1500 is the better choice on almost any dimension, as it is closer to the Meadow area, while 2000 is not only a hike from any amenities, but is also right next to the sometimes-noisy Creekside Meadow group camping area.
PREMIUM AND PREMIUM MEADOW SITES AT FORT WILDERNESS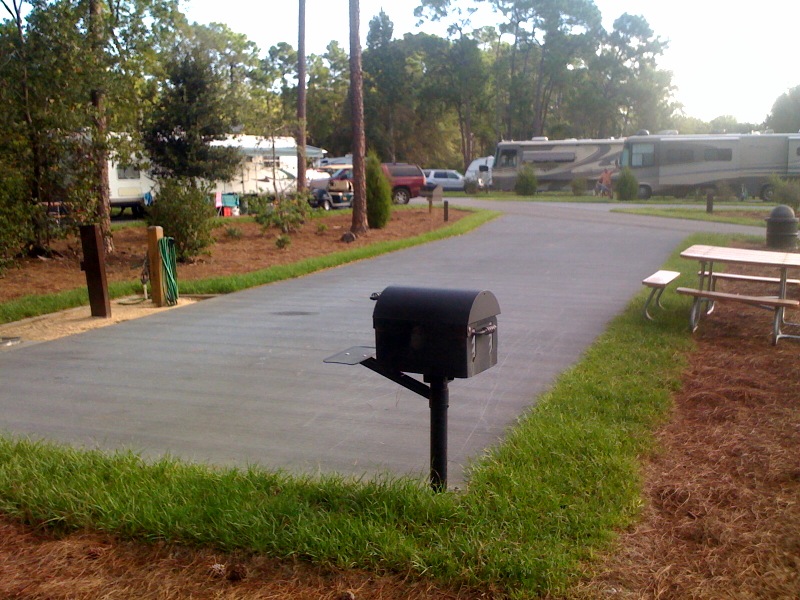 Some loops have asphalt optimized for 45 foot big rigs and (essentially) no tent pads–loops 400-1400.  These sites have longer and wider asphalt, and enhanced shoulder curves to help with the back-in (all Fort Wilderness RV sites are back-in).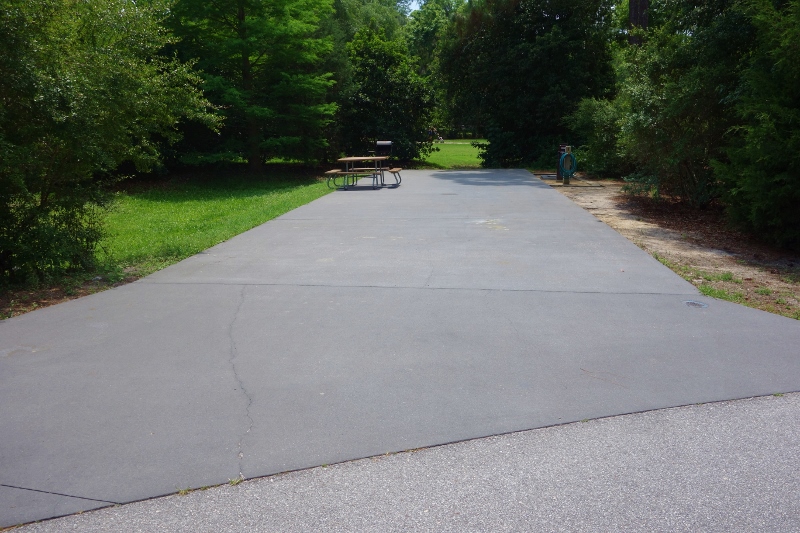 You can add a tent too, but it is very likely to be on the asphalt, have no staking ground, and limited guying options. Disney calls these "Premium" or "Premium Meadow" loops. The images are from the 600 loop.
These loops come with a picnic table, charcoal grill, water, electricity, sewer, cable, and available internet access.
More than half the sites at Fort Wilderness are "Premium" sites, so you can find loops tuned to almost any way you plan to camp at the Fort.
For a Magic Kingdom, dining, or water-sports focused trip, premium loops 400, 500 and 700 are near the Settlement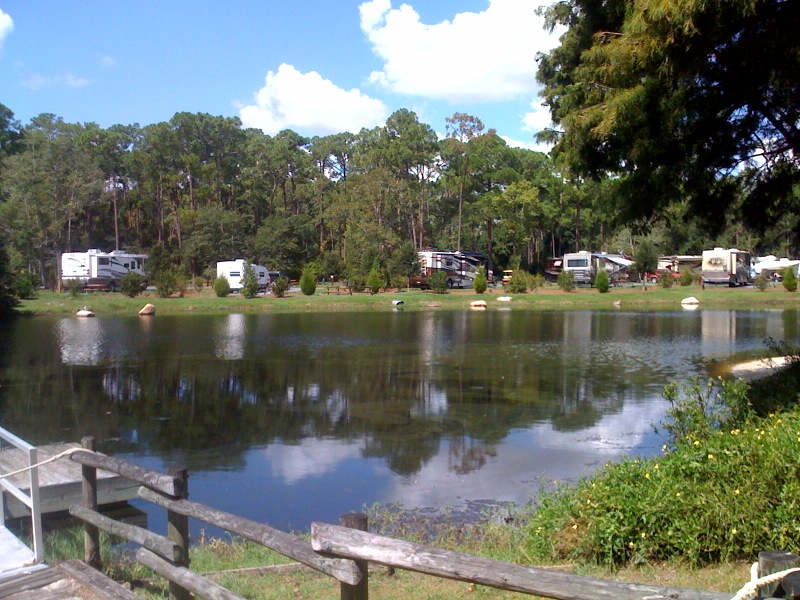 For a pool or sing-along/movies focused trip, premium loops 600, 1000, 1300, and 1400 are closest to the Meadow. 600 and 1400 are on the north end of the Meadow area, and hence closest among these four to the Settlement. In my view, for families not certain how they will use Fort Wilderness, 600 and 1400 are thus the best Premium sites.
Premium loops 1100 and 1200 are not far from the Meadow area, but not as close as the four just discussed.
Premium loops 800 and 900 look pretty good on the map until you notice how close they are to the potentially noisy Creekside Meadow–especially loop 900, which is connected to Creekside Meadow via a bridge, so tons of youth campers may walk through 900 on their way to the Meadow area.
Recently, Disney has split these Premium loops into two, and offered a new booking class, "Premium Meadow," for those loops it considers close to the Meadow. Now "Premium Meadow are 600, 800, 900, 1000, and 1400
FULL HOOK-UP SITES AT FORT WILDERNESS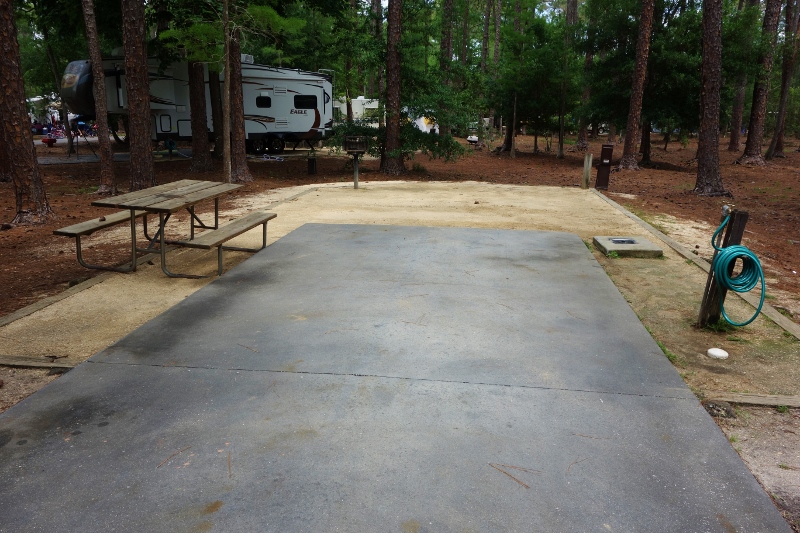 Some loops combine good-sized asphalt with a medium tent pad, and are best for those planning both an RV and a tent, or an RV smaller than the very largest sizes.  They are fine for tent-campers who don't mind camping in a sea of RVs, as well. Disney calls these "Full Hook-Up" loops.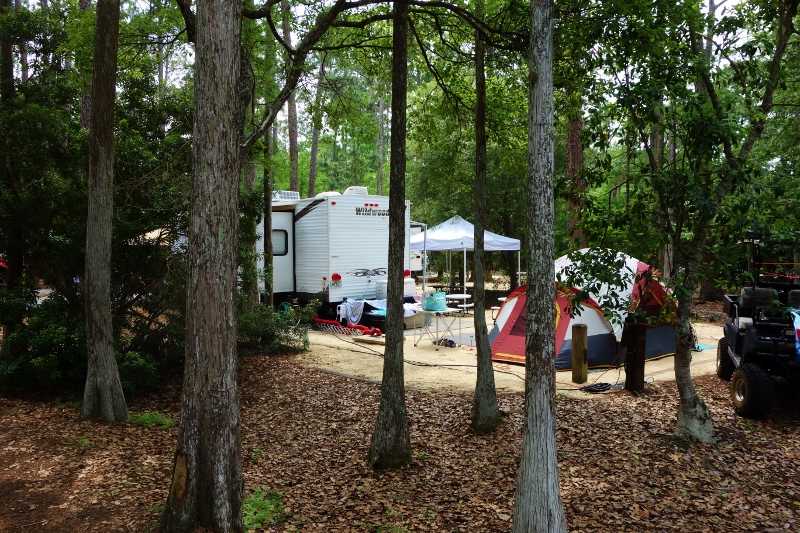 These loops come with a picnic table, charcoal grill, water, electricity, sewer, cable, and available internet access.
The full hook-up loops are loops 1600-1900.  Loop 1600 is closest to the Meadow area and best among these for first-timers.  The two images are from loop 1600. Loops 1800 and 1900 are among the most isolated loops at the Fort and a bit of a hike from the bus stop, or anything else for that matter.
Also classed by Disney as a full hook-up loop is Loop 2100.  Sand pads here are smaller than those in other full hook-up loops. It seems to be designed more for RVs than for campers with both tents and RVs. See this for more on Loop 2100.
PREFERRED LOOPS AT FORT WILDERNESS
Preferred loops have the same characteristics as full-hook up loops–that is, they have both extensive asphalt for rigs plus a sand pad for a tent.
These loops come with a picnic table, charcoal grill, water, electricity, sewer, cable, and available internet access.
What makes the three preferred loops–100, 200 and 300–"preferred" is how close they are to the Settlement. Loop 100 is so close that it can be noisy.  Loop 300 is next to the dog park. Loop 200 is probably the best choice overall, although loop 300 is just a bit closer to the Meadow area and to the bus stop.
PICKING YOUR FORT WILDERNESS CAMPSITE
The online check-in form for the campsites lets you directly request a loop, and describe certain features of your rig. Filling this in carefully is particularly important if you have a long and/or slide out rig, and are aiming for any  loop other than a premium or premium meadow loop.
CAMPFIRES AT FORT WILDERNESS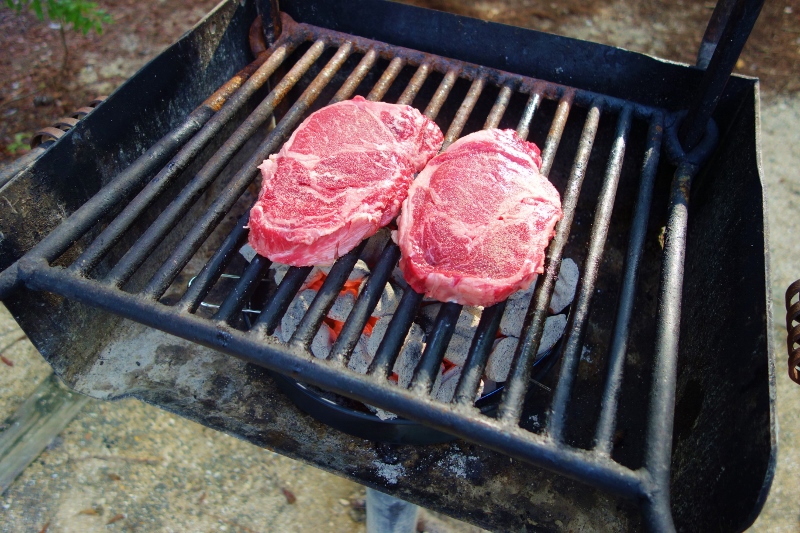 Each campsite comes with a charcoal grill.
Don't count on a campfire at your site otherwise.
If there is no local fire hazard at your campsite during the time you are there, Disney will permit campfires, but only in fully enclosed portable fire pits with solid (not metal mesh) tops and legs that bring them off the ground. See the image for examples of approved and not-approved fire pits. You have to bring these yourself.
In extreme fire conditions–not uncommon in the spring until the rainy season starts in later May–you may be precluded from using your charcoal grill as well.
ODDS AND ENDS
You don't have to own an RV to do RV camping at Fort Wilderness.  Plenty of RV rental sites are located in the Orlando area. Some will even set up your RV at the campground for you!
Tents and cots are available for rent from Fort Wilderness itself. Strictly, they are only for use at one of the group campsites.  But call Fort Wilderness–if they are not claimed by groups, they may be made available to you.
Fort Wilderness is a huge favorite and a family tradition for many.
It's not uncommon for RV owners to camp there for weeks, perhaps cycling in different sets of grandchildren.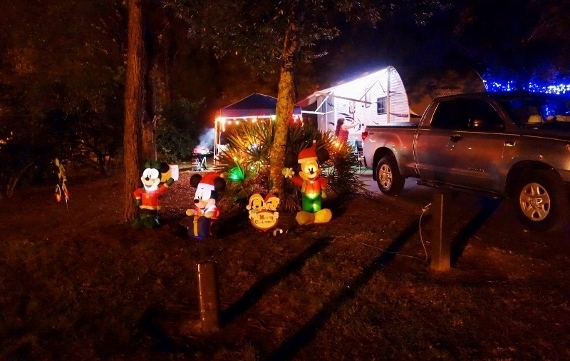 Halloween and Christmas decorations put up by campers have become ever more elaborate each year, and make the resort particularly charming and silly at these times of the year–to the extent that the overflow parking can be closed to those without a reservation because of all the sightseers!
The campsites' biggest negatives are their lack of visual kid appeal, the resort's sheer size, and its internal bus system, which no matter how well it runs, adds time to every theme park visit.
Returning visitors often find the Campgrounds at Disney's Fort Wilderness to be a favorite, particularly if they have or rent a car to avoid some of the buses, need space for a large family, and want to enjoy some of the distinct amenities of Fort Wilderness—one of America's best campgrounds.
This review continues here. 

TOPICS COVERED IN THIS REVIEW OF DISNEY'S FORT WILDERNESS
OTHER KEY PAGES FOR WHERE TO STAY AT DISNEY WORLD


Follow yourfirstvisit.net on Facebook or Twitter or Pinterest!!
RELATED STUFF