Frozen's Anna and Elsa meet, chat and sign autographs at Princess Fairytale Hall at the Magic Kingdom.
The encounter with Anna and Elsa is as chatty and leisurely as you'd like it to be, with lotsa photographs–and the Disney photographers will take pictures with your own cameras as well.
What it isn't is easy to get into.  Stand-by waits for Anna and Elsa of 3 hours plus have been common.  Use FastPass+, or skip it.
You will see other advice:
Arrive at the park well before opening and get to the first group to be admitted to the park (on either the far right or left) so that you are first in line
Do the same, but during morning Extra Magic Hours
Book an early breakfast at Cinderella's Royal Table or Crystal Palace, wolf down your food and head toward the area
–but none of these reliably work. Capacity is so low that the other people with the same idea, who may be ahead of you, can quickly put you into a two hour line.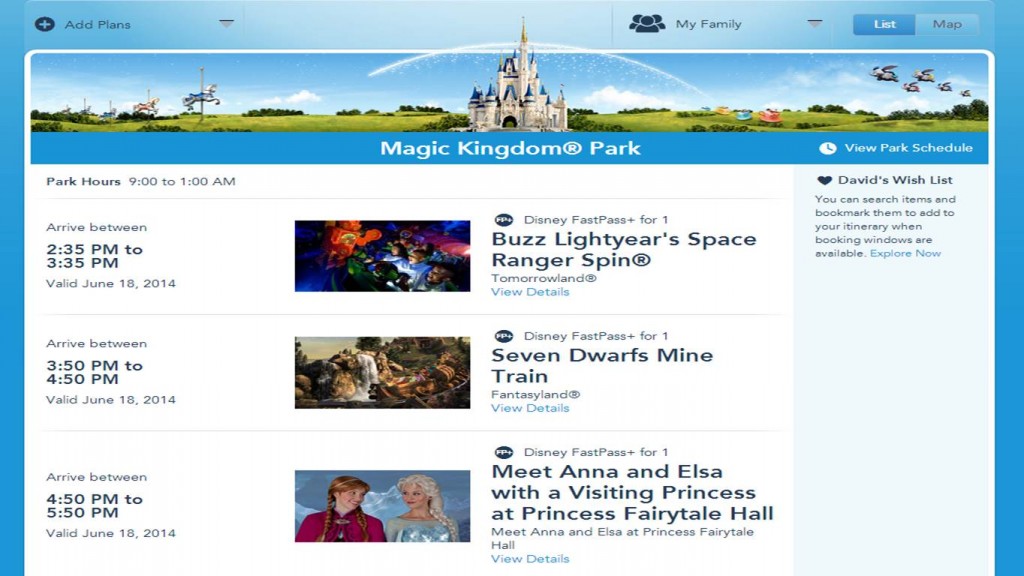 So to meet Frozen's Anna and Elsa, get FastPass+ or skip it.
MEETING ANNA AND ELSA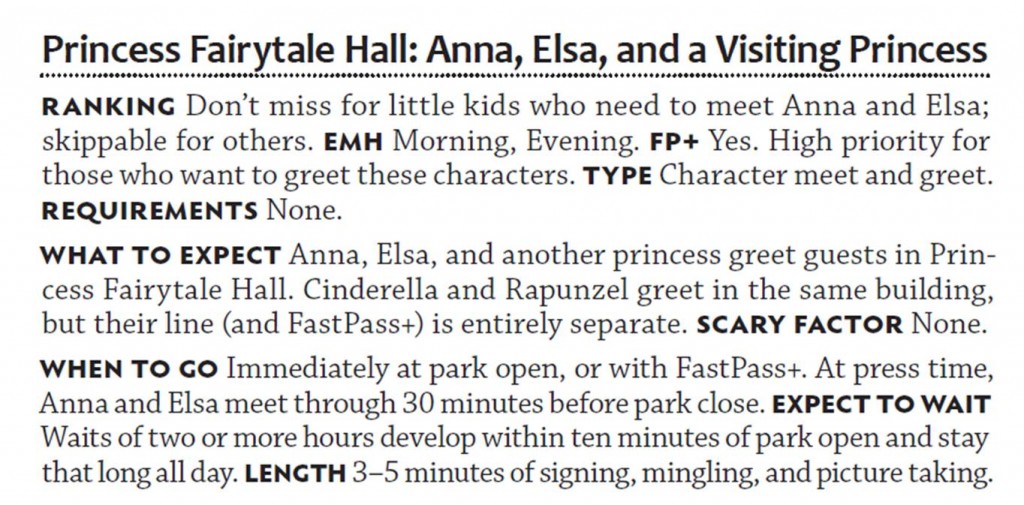 Frozen's Anna and Elsa meet and Princess Fairytale Hall in the Magic Kingdom from park open through 30 minutes before close. See the review from our book above. Less than a month old, it's already a little outdated as the "visiting princess" no longer visits.  This has the effect of increasing capacity, but lines are still overwhelming.
Using FastPass+ means you will miss much of the lovely interior queue of Princess Fairytale Hall–other than a brief glimpse–but instead will be brought quickly into the space.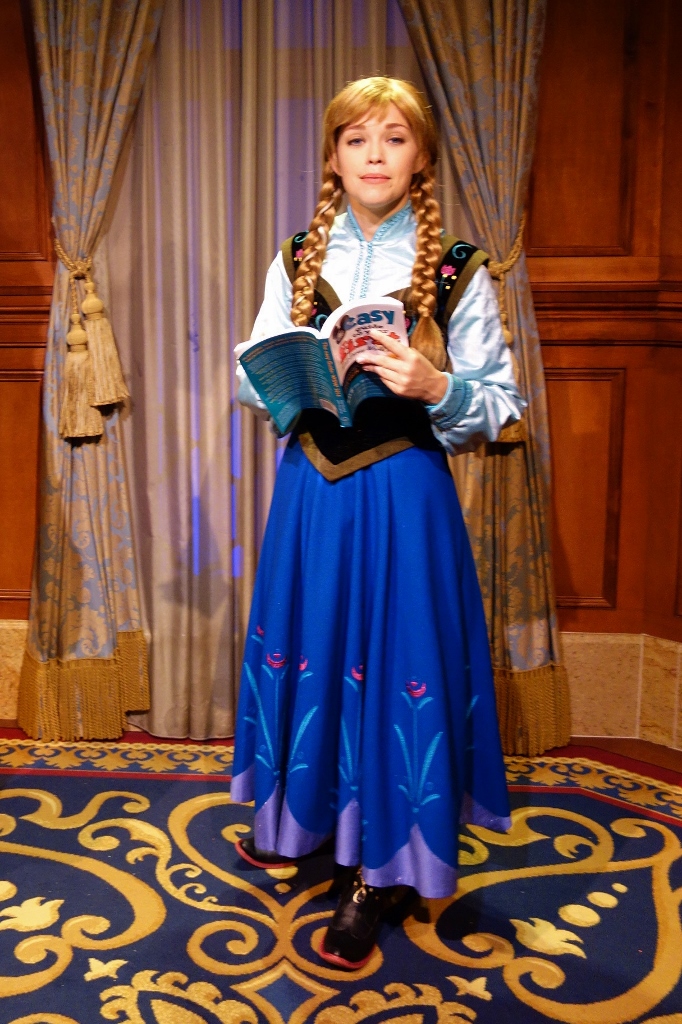 You meet Anna first, as she acts as Mistress of Ceremonies.  Anna is delightful, down to earth and chatty.
For crass awareness-building reasons, I'd brought a copy of our book for them to autograph. (They will autograph anything, but perhaps after my visit, guidebooks will be restricted…)
Anna leafed through the book, found Josh's cheat sheets, found the one relevant to that moment (just a little before 5p), and read aloud from page 187 that my next step was to ride the Carrousel at 5.07p!  (After I met Elsa and was about to leave, Anna called across the room to remind me about the Carrousel!)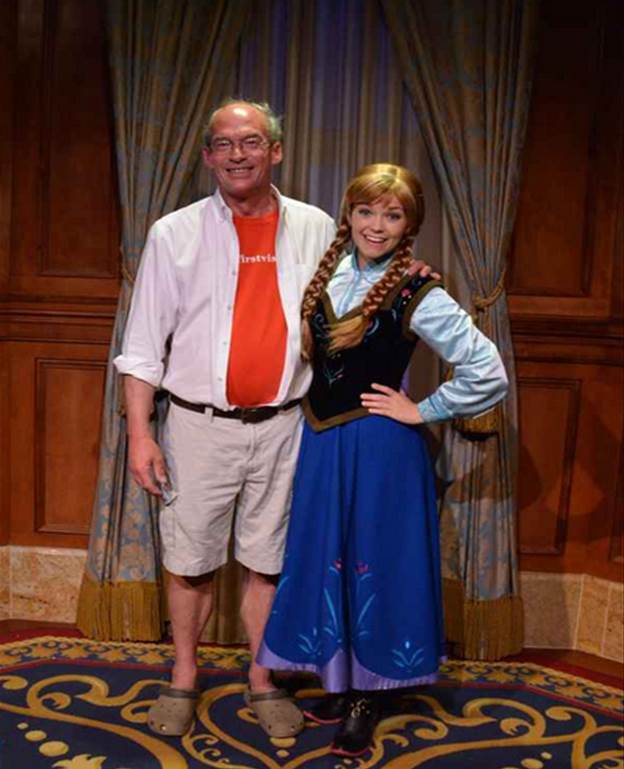 After the autograph, we got the photo above, and I moved on to Elsa.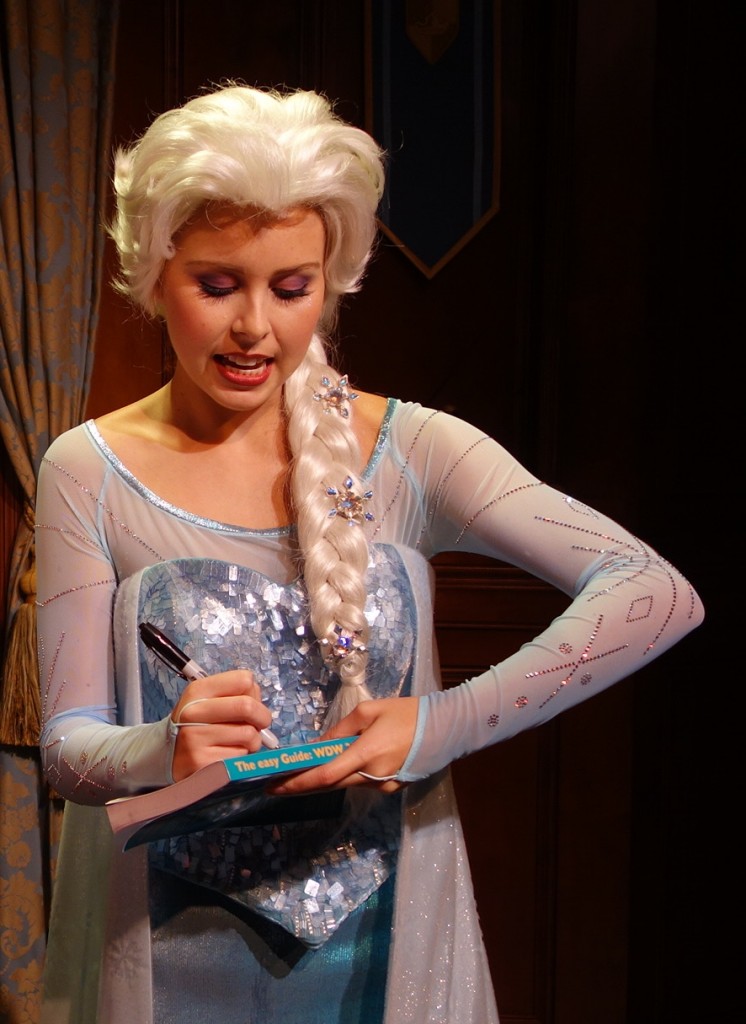 Elsa was friendly, but much more regal. She gladly signed the book, but was unwilling to use her special powers to cool off the sweltering afternoon at the Magic Kingdom. Snob.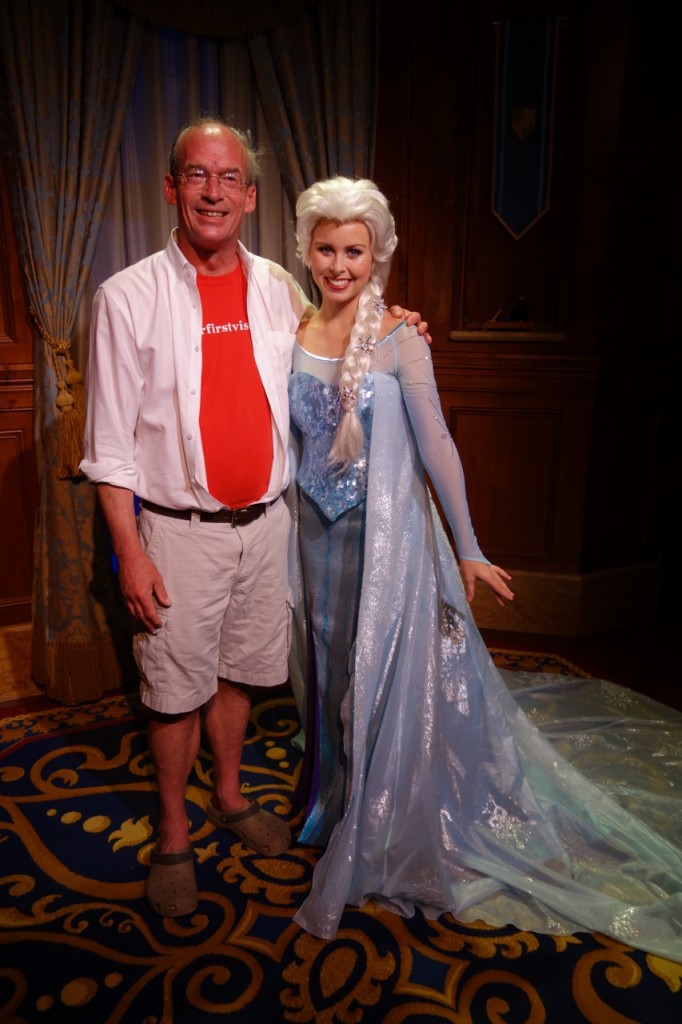 A photo with Elsa…that makes me look fat. Oh well, so does the one with Anna, so I suppose I am…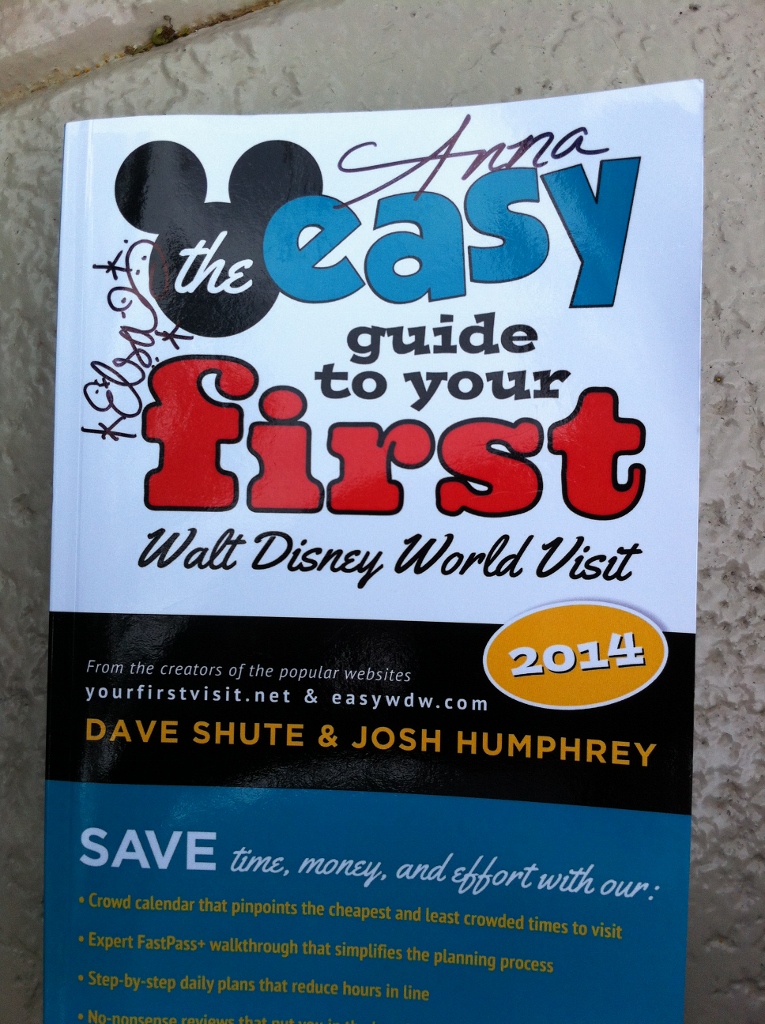 …and then I was done, with an heirloom copy of the first-ever easy Guide signed by the two of them in hand!
Anna was darling, Elsa charming, and with FastPass+ this was an easy and wonderful experience. Without FastPass+, not so much. You can see Anna and Elsa in the afternoon parade as well, and Disney has just announced a bunch of Frozen-related stuff at the Hollywood Studios for the summer–most of which looks like fun, but none of which includes a meet.
Follow yourfirstvisit.net on Facebook or Google+ or Twitter or Pinterest!!