Review: Disney's Caribbean Beach Resort
By Dave Shute
OVERVIEW: DISNEY'S CARIBBEAN BEACH RESORT
Disney's Caribbean Beach Resort has always suffered from strong pros and almost equally strong cons. Its loveliness, playfulness, great main pool and kid appeal have been offset by its overly complex bus stop set up, the distance of some rooms–especially the Pirate rooms in Trinidad South–from central services, and average dining.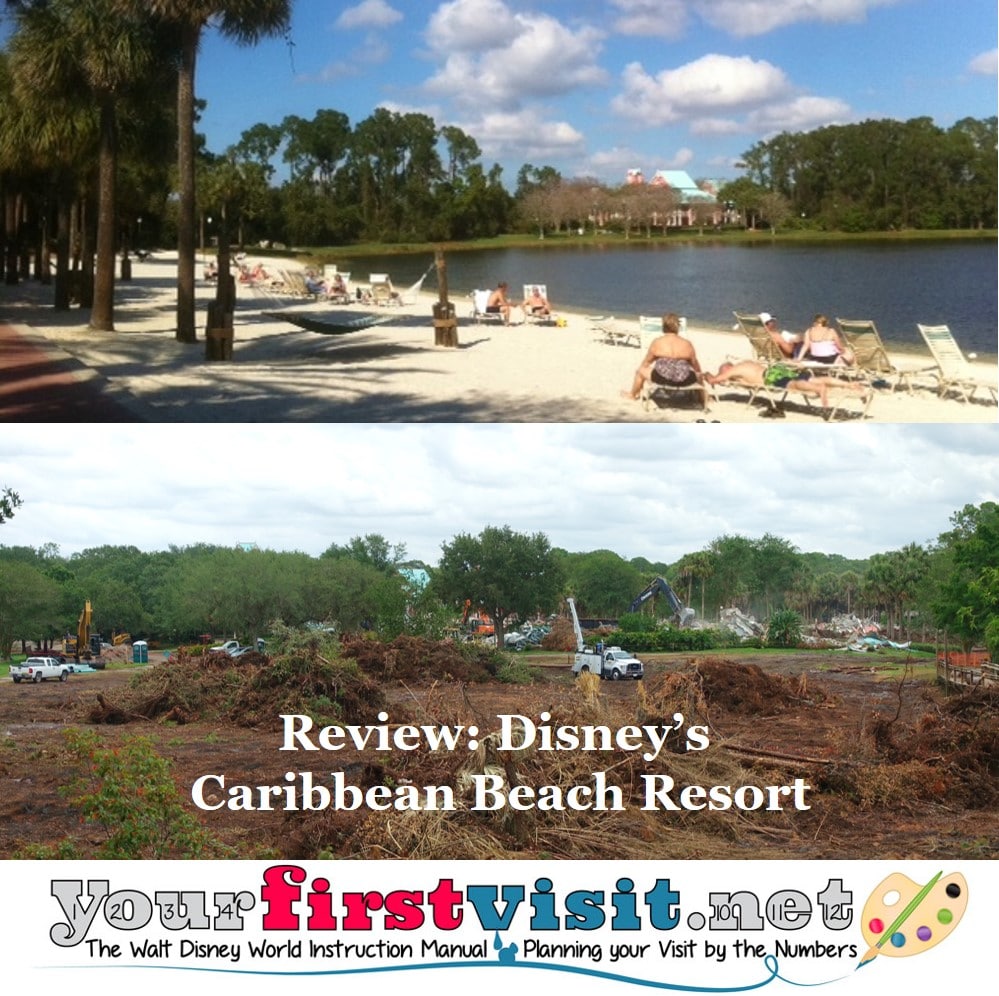 A major construction project kicked off here in May 2017.  It holds the promise of eventually fixing many of the resort's more negative aspects, but in the meantime adds some visual blight and a weak set of temporary replacements for the now-closed permanent dining.
Even so, for those who care little about dining at the resort, and understand fully what they are getting into, Disney's Caribbean Beach Resort is the best Disney World moderate resort for first time family visitors who may never return, especially those who avoid the Trinidad South ("Pirate rooms") area.
You can have a wonderful visit at any Walt Disney World resort hotel.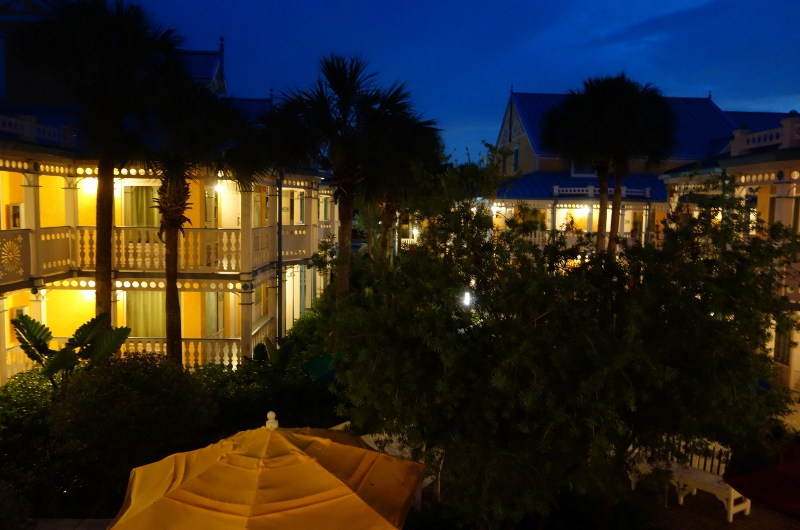 However, this site recommends that first time visitors to Walt Disney World who can afford it should stay at Disney's Polynesian Resort, a deluxe resort, and that those who can't should stay at Disney's Art of Animation Resort, a value resort.
It also suggests that first time visitors should avoid the moderate resorts, while noting that these resorts are wonderful for visits after the first. See this for why.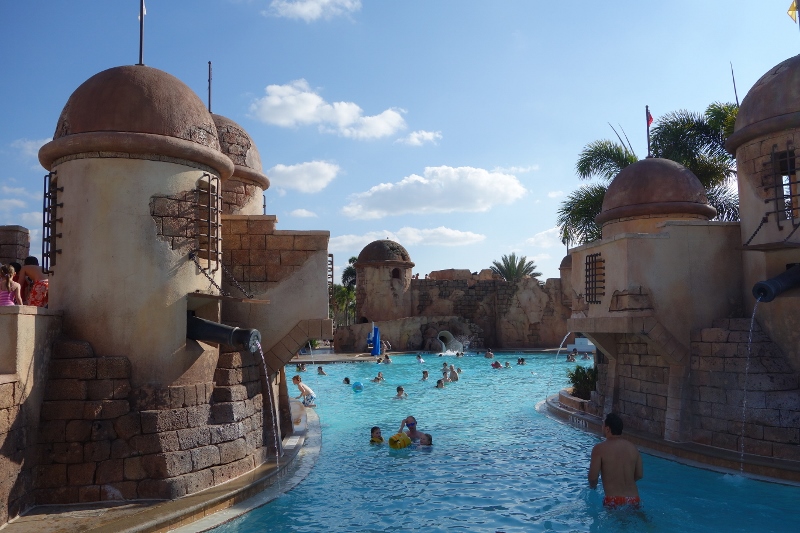 Compared to other Walt Disney World owned and operated resorts, the moderate resorts are distinguished by having nicer settings and landscaping, nicer pools, and much bigger rooms, than the value resorts, while being less comfortable than and having not nearly as good dining as the deluxe resorts.
Among the moderate resorts, for those who don't plan much dining at the hotel itself, Disney's Caribbean Beach Resort's positives in kid appeal outweigh its negatives in convenience, and give it the first ranking among the moderates for first time family visitors.
(Disney's Coronado Springs Resort is second, Disney's Port Orleans Riverside is third, Disney's Port Orleans French Quarter is a very close fourth, and The Cabins at Disney's Fort Wilderness Resort are last. The rankings of the first four are very close, and sensible people can differ on them. See this for much more on resort distinctions by price class–value, moderate, deluxe, etc.)
Because of the construction, the consequent dining situation, and the three very different room types at Caribbean Beach, this review has nine pages:
The Caribbean Beach overview page you are on now
THE CONSTRUCTION PROJECT AT DISNEY'S CARIBBEAN BEACH RESORT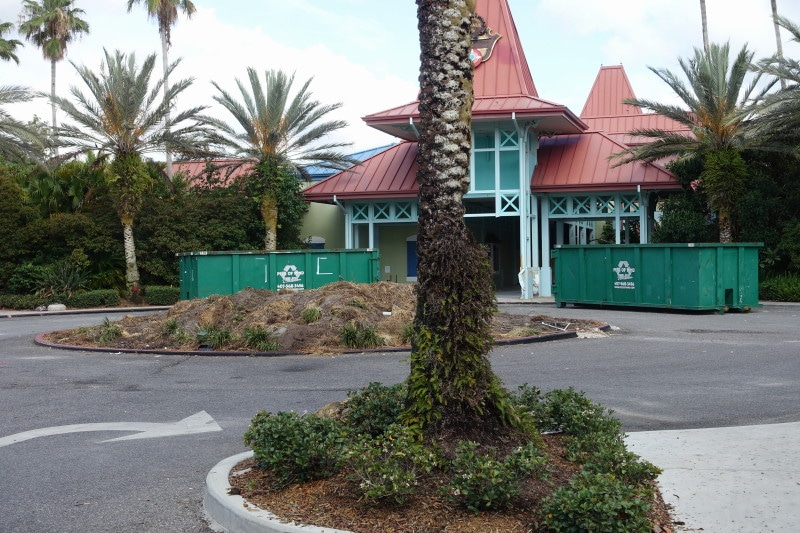 Disney's Caribbean Beach resort is undergoing a major redo. Nine out of what were 33 accommodations buildings have closed and are surrounded by construction fences. The shops, concierge services, table service restaurant, quick service restaurant, and other amenities at Old Port Royale are closed. They will be rebuilt near the same area but along the water.
Temporary replacements for this closed dining are available See this for much more on the dining options during the refurb at Caribbean Beach, but the summary is as follows
Breakfast: Fine. Supplies for cold in-room dining are easily available, and the hot buffet and food truck offerings are entirely adequate.
Lunch: Weak. Both hot and cold offerings are limited. The quality of the hot food is good, but options and capacity are each slim. Cold food is widely available in limited options and while the fruits and salads are OK, the cold sandwiches are weak.
Dinner: Adequate for a meal or two.  Between the buffet, food truck, room service, and other options, most will find something to like, but the offerings at each option are limited, and capacity is tight except at the buffet.
My advice? Well, unless you have a pin code, effective prices go down, or dining options are strengthened,
If you have any qualms, change your resort. The potential for you to second-guess yourself is too high.
If you never felt strongly about staying at Caribbean Beach anyway, change your resort.
If you picked Caribbean Beach for its tranquility, consider how construction noise might affect that.
If you plan more than one or two lunches or dinners at the resort, consider changing your resort
For more on the construction at Caribbean Beach and its implications, see this.
ACCOMMODATIONS AT DISNEY'S CARIBBEAN BEACH RESORT
Disney's Caribbean Beach Resort has 24 two story (no elevators) accommodations buildings divided into five villages–Jamaica, Aruba, Martinique, Trinidad South, and Trinidad North.
While there are some variants (like a few king bed rooms), most room are one of three basic room types–four person queen bed rooms, five person queen and Murphy bed rooms, and four person full bed Pirate rooms.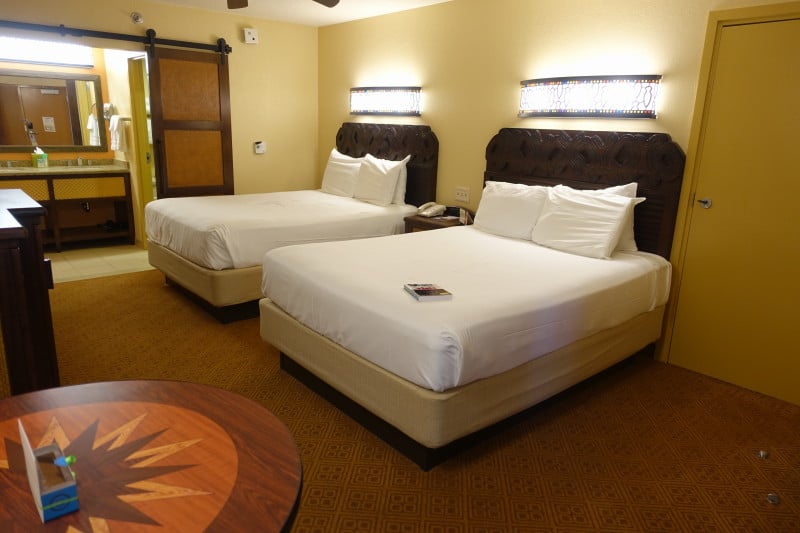 While many websites and books (but not all) claim that these rooms have 340 square feet, every room I have measured at the Caribbean Beach has come out at pretty close to 314 square feet–nearly the same size as the rooms of the other moderate resorts (except the cabins.)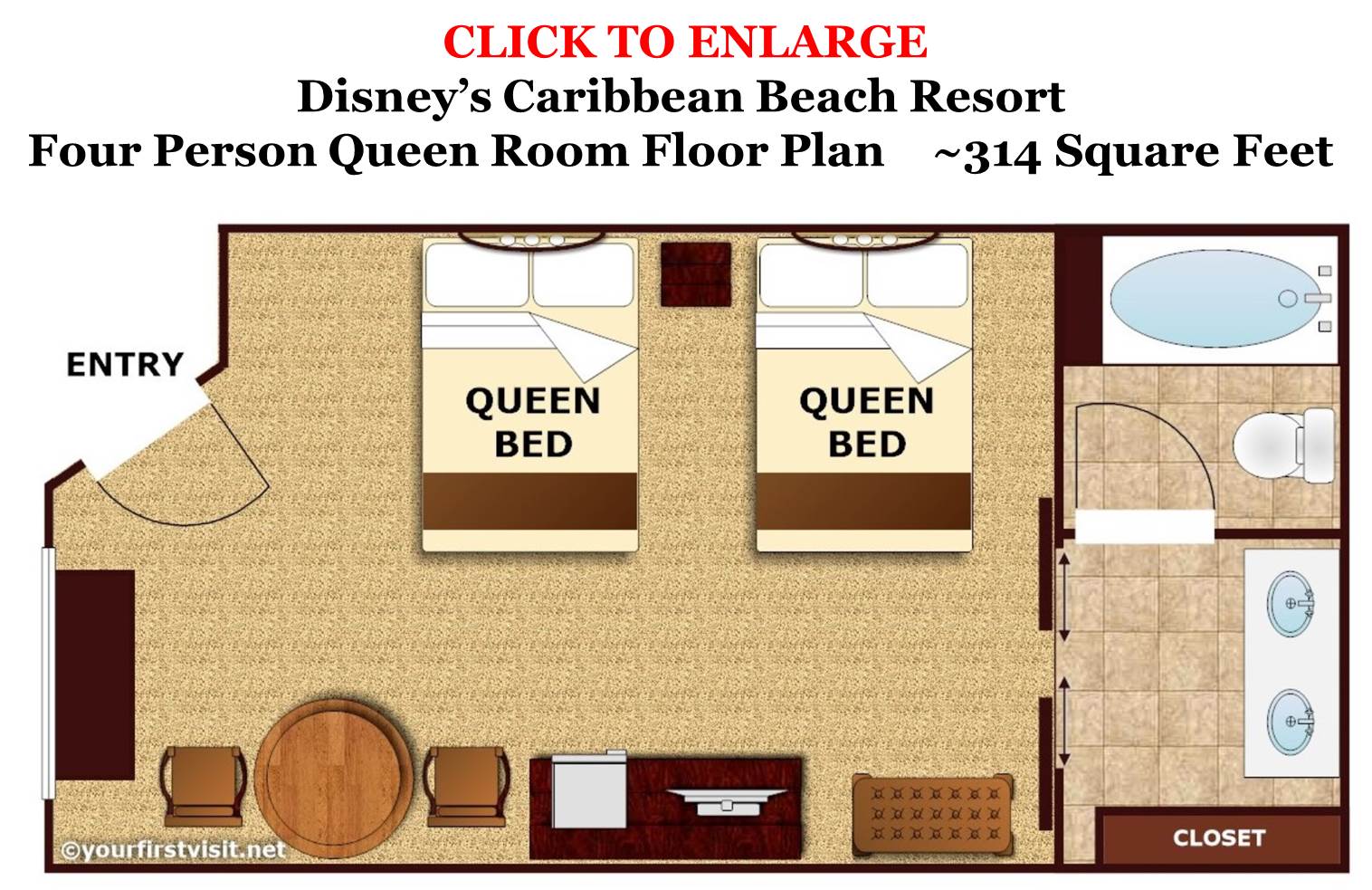 Even so, Caribbean Beach rooms are quite spacious.  The bedroom area is particularly ample, and is bigger than the bedroom spaces at several of the deluxe resorts. (See this.) The floor plan above is for a two queen refurbed room…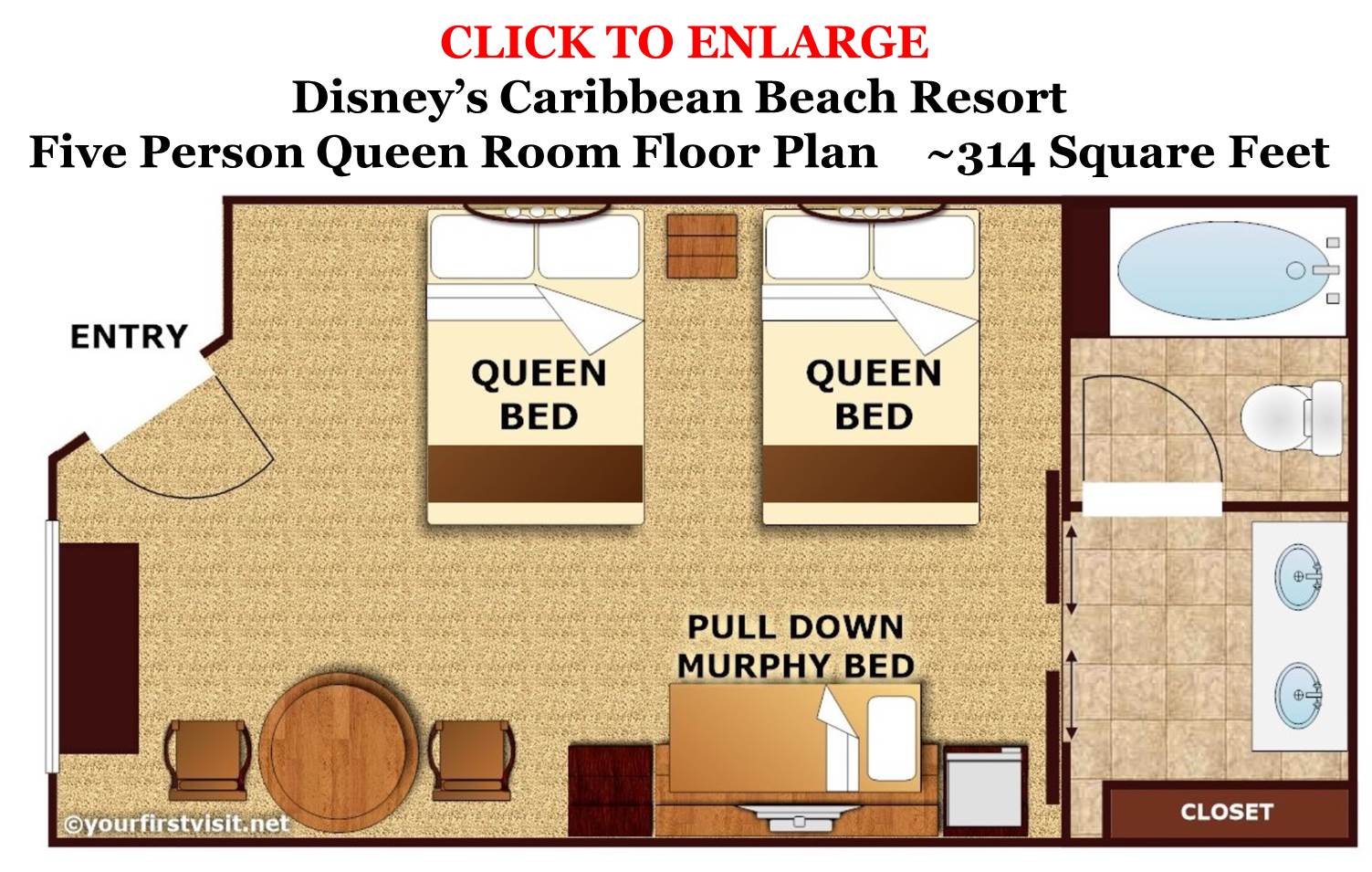 …and this is for a five person two queen and Murphy Bed room.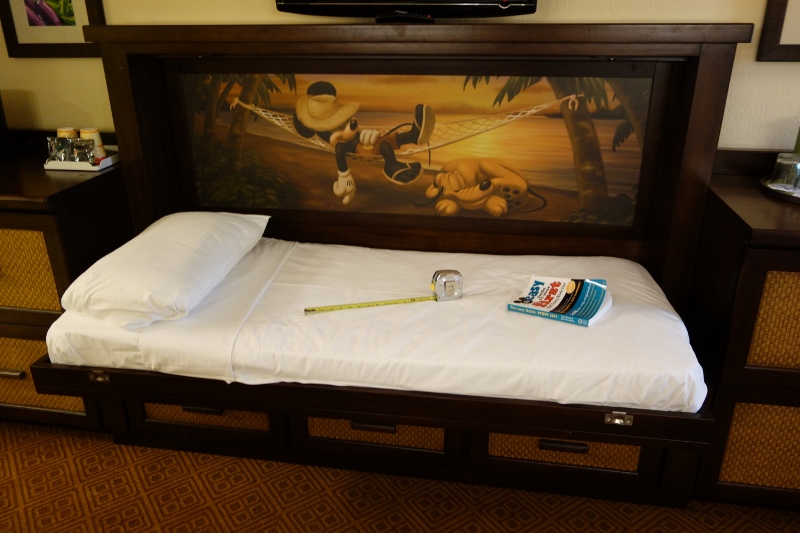 I measured the Murphy Bed mattress as 30″ wide by 64″ long.  The way it is positioned on top of the bed frame and related to the back framing means that, unlike many such beds, it does not sleep shorter than this. I'd put a five foot tall kid on this and expect great results. The cushion is 5 inches deep.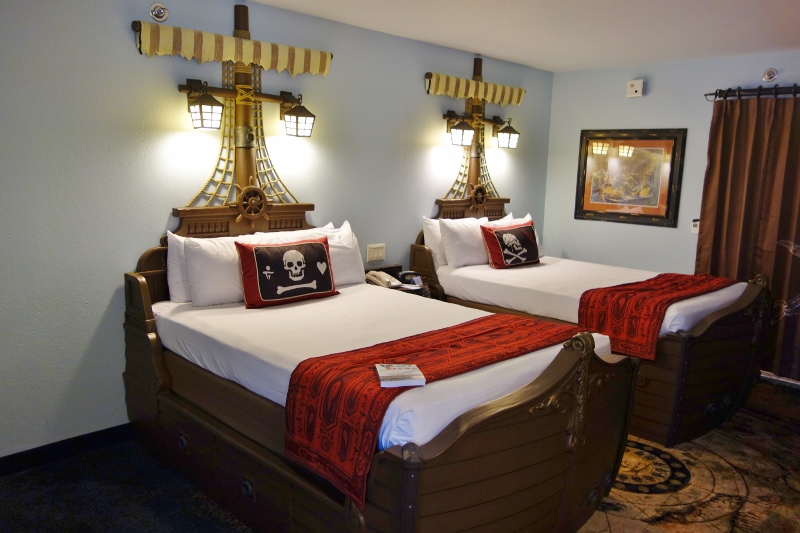 Pirate rooms have full beds and a cloth curtain between the bedroom and bath areas, rather than a sliding wooden door, and sleep four. The beds of a refurbed Pirate room are above.
A photo tour of a four person queen room is here; a photo tour of a five person queen and murphy bed room begins here; and a photo tour of a four person full bed Pirate room begins here.
DINING AT DISNEY'S CARIBBEAN BEACH RESORT
The principal dining options at Caribbean Beach during its refurb are at Centertown.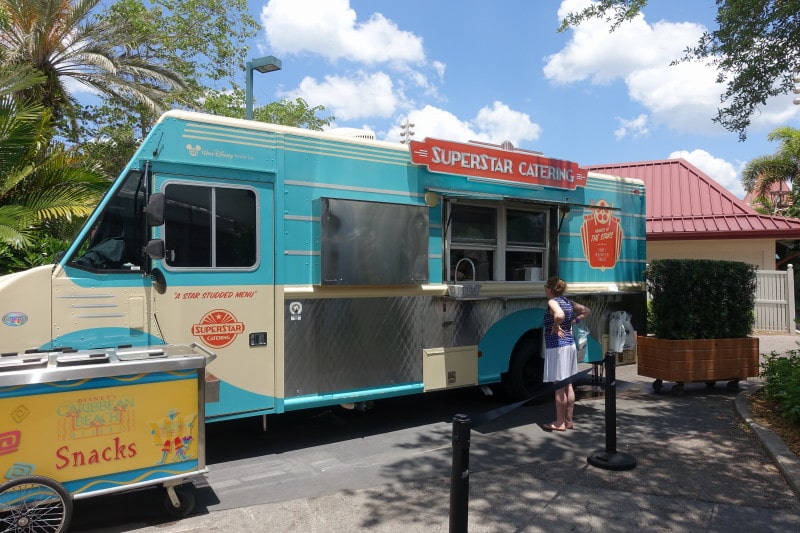 Here you'll find a food truck with a limited breakfast, lunch and dinner offering…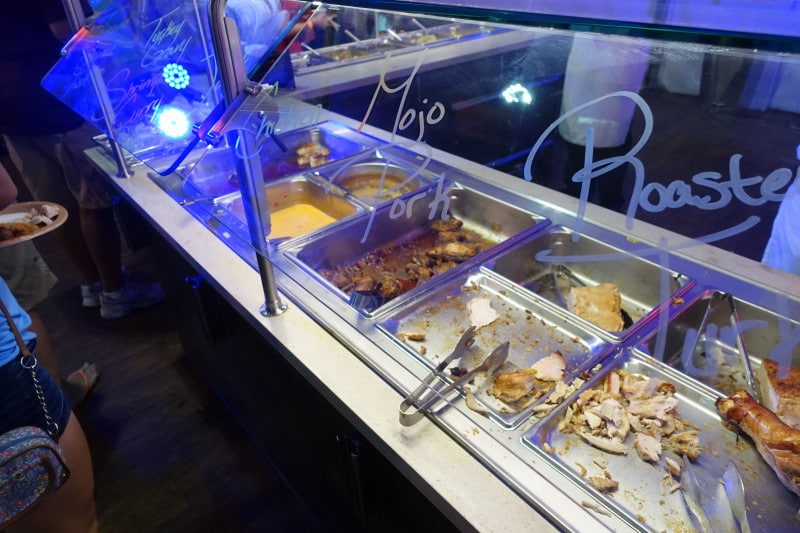 …and a buffet serving breakfast and dinner.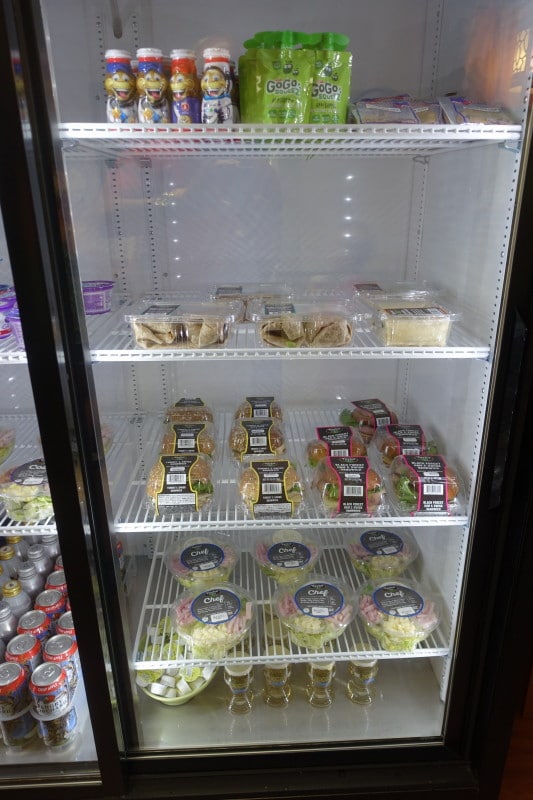 Additional options elsewhere are in-room dining, a second food truck that may be available in Trinidad South, and snacks and shelf stable and cold breakfast offerings and sandwiches in three "Island Markets" in Aruba, Jamaica and Martinique.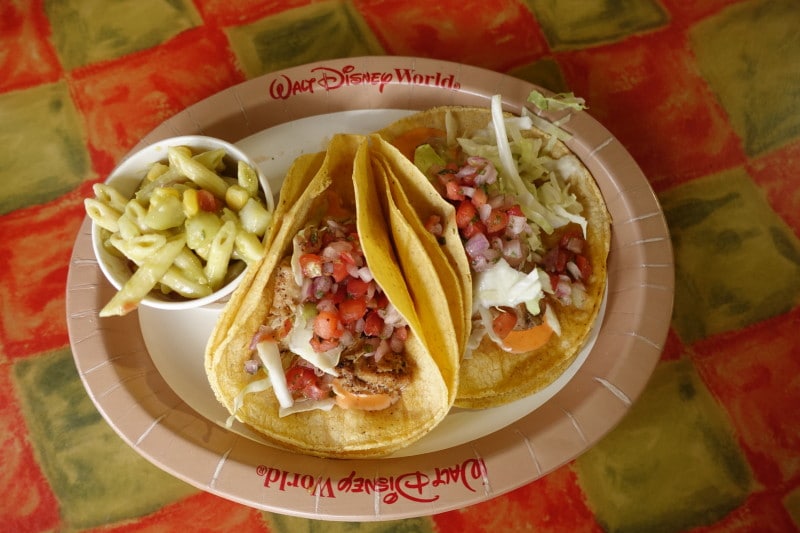 The overall situation–in good weather–is fine at breakfast, weak at lunch, and barely adequate at dinner. A hard rain interferes with most of the principal options.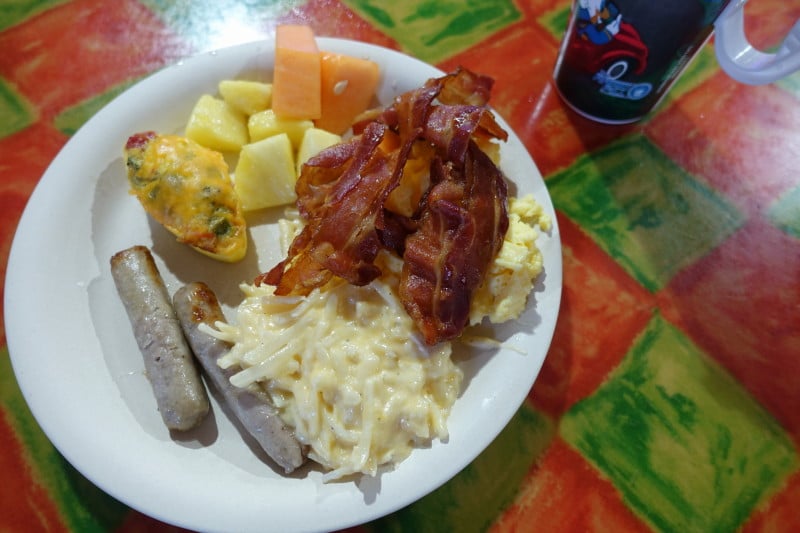 Guests planning just one or two lunches or dinners at the resort should find something that works, but guests expecting more out of dining should avoid Caribbean Beach until dining gets better, unless they can get a great deal.
No one really knows when dining will come out of refurb.  There may be a hint in Disney's 2018 prices for Caribbean Beach, which unlike most other resorts, show next to no increases until August 2018, then go up quite a bit for the "Fall" price season–which begins August 26, 2018.
There's much more on dining at Caribbean Beach during the construction here.
THE POOLS AT DISNEY'S CARIBBEAN BEACH RESORT
Each of the villages has a small quiet pool within easy walking distance of guest rooms.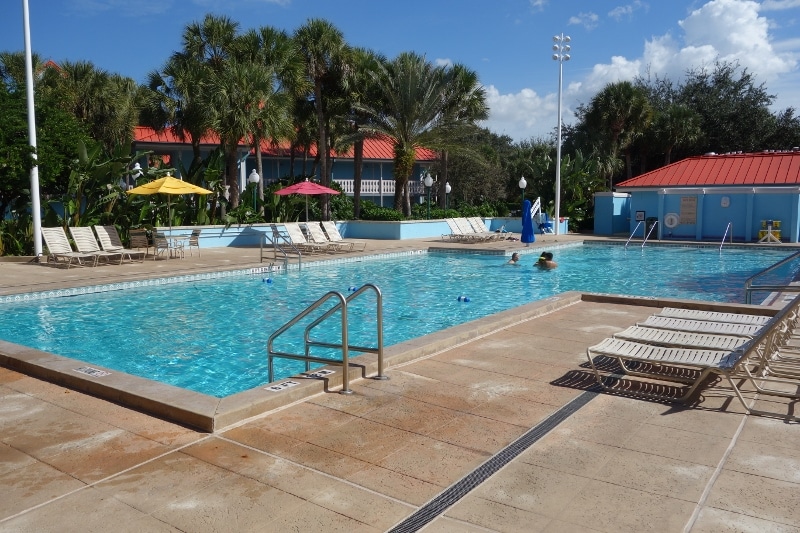 They are almost identical–above is the small pool at Martinique.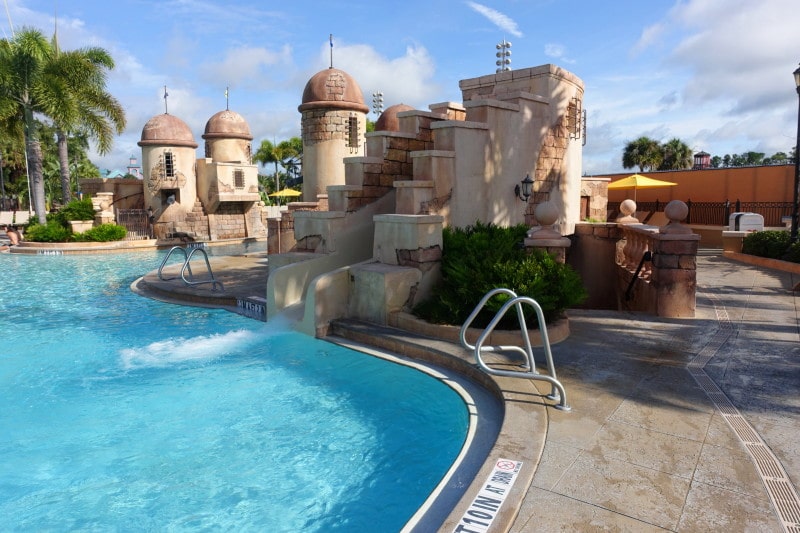 In addition in Centertown is the main pirate-themed Fuentes Del Morro pool.
The main pool at Caribbean Beach is the best at the Disney World moderates, and its adjoining kids water play area (below) is bested among the moderates only by the water play area at Port Orleans French Quarter.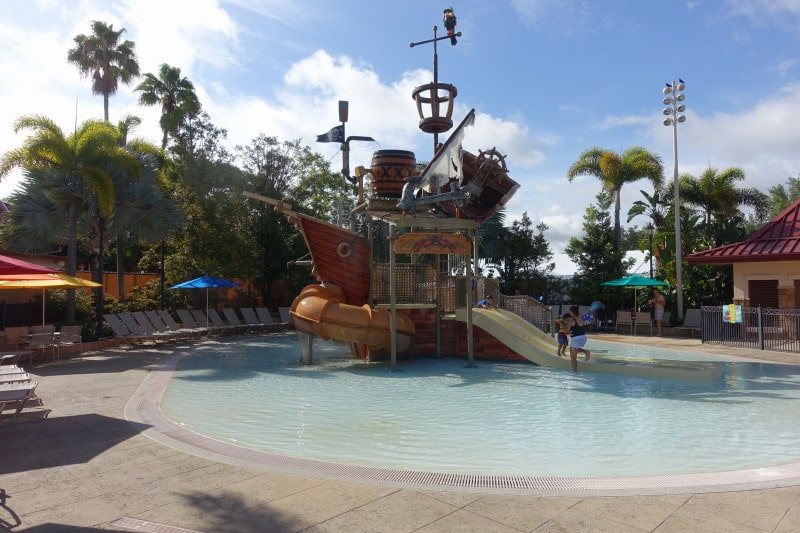 For more on the Fuentes Del Morro pool at Disney's Caribbean Beach Resort, see this.
KID APPEAL AND CONVENIENCE AT DISNEY'S CARIBBEAN BEACH RESORT
Resorts are ranked on this site for first time visitors based first on their kid appeal, and then on their convenience.
On this basis, based on my nine stays here, most recently in June 2017, Disney's Caribbean Beach Resort is the best moderate resort for first time family visitors to Walt Disney World–but only for those who don't care much about dining at the resort during their visit.
Kid Appeal.
The kid appeal of the Caribbean Beach Resort comes from
The vibrant and playful colors that form the basis of its Caribbean theme (the other moderates are dull to a kid's eyes)
The beaches that ring the lake it is built around (Coronado Springs is the only other "traditional" moderate with any beaches, and those in only one of its three sections; the Cabins at Fort Wilderness also have a beach, about a mile away)
The kid friendly theming of many of its rooms, with Mickey and Pluto in the five person refurbed rooms, and rooms in the not-recommended (because too distant) Trinidad South section themed around pirates. No other moderate has theming designed to appeal to kids in so many of its rooms
The quality of its main pool, the best among the moderates
Convenience.
This distinctive level of kid appeal is sufficient to make up for the resort's inconvenience—among the moderate resorts, only the Cabins at Disney's Fort Wilderness Resort are more inconvenient.
The Caribbean Beach Resort was Walt Disney World's first moderate, and Disney made one mistake that led to this inconvenience: designing the resort with too many bus stops. While one has disappeared because of the refurb, there's still a lot, and the number in effect doubles the amount of time it takes for buses to get around the resort compared to the other large moderates which, designed later, have 4-5 bus stops.
Moreover Trinidad South is quite a hike from the main central services, and the check-in building the Custom House isn't really convenient to anything.
Other distinctive features.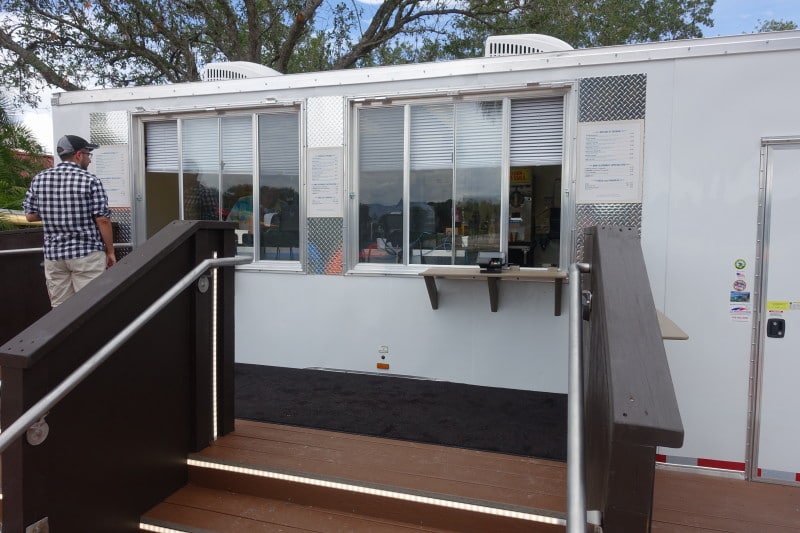 The Caribbean Beach Resort is the only moderate with no elevators at all, and with no indoor bar/lounge (there's a temporary outdoor bar in Centertown).
BEST PLACES TO STAY AT DISNEY'S CARIBBEAN BEACH RESORT
This site suggests that first time visitors stay in standard rooms, not preferred rooms (because they won't be spending much time in their rooms, or going to the main resort food area often; the single exception is visitors to the Animal Kingdom Lodge, who should always pay for savanna views).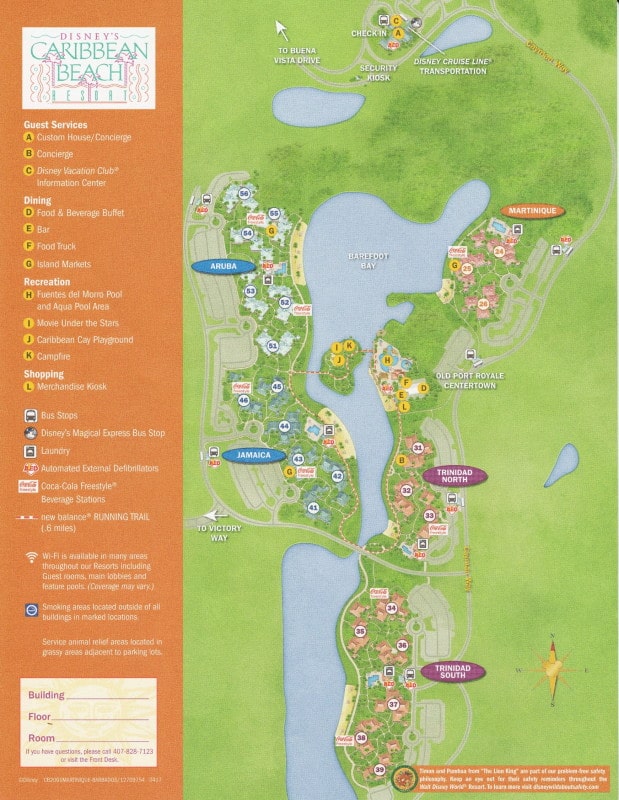 See the map (as always on this site, click it to enlarge it.)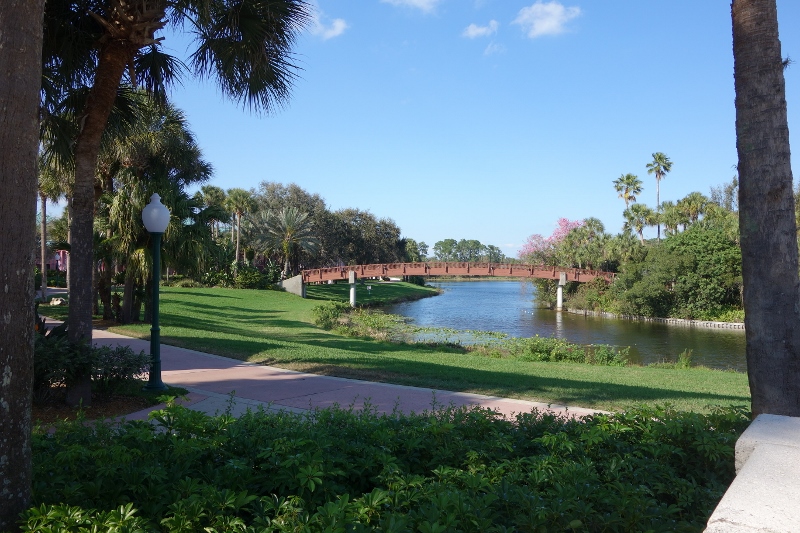 Standard rooms on the ground floors (because no elevators) in the southern part of the Aruba section (buildings 51-53) and the northern part of the Jamaica section (buildings 44, 45 and 46) are the best balance between cost, tranquility, and closeness (via the Caribbean Cay bridge) to the main pool and food area.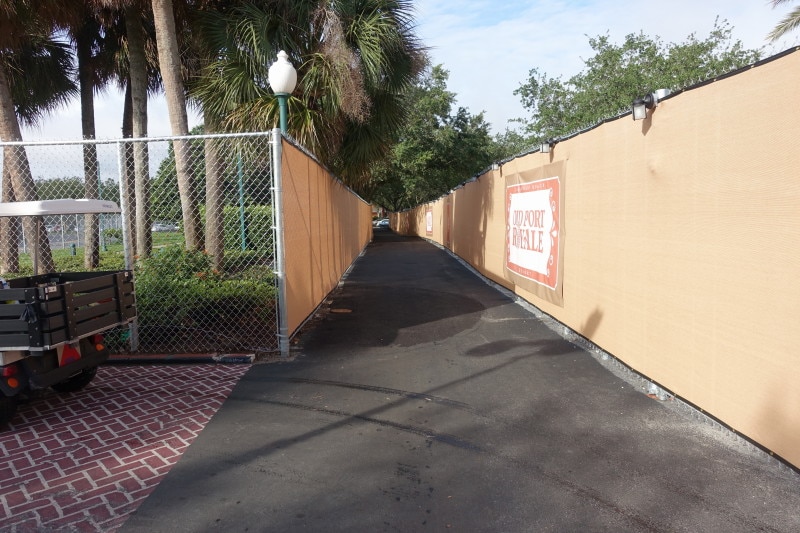 Avoid Trinidad South (too distant) and Martinique, which has construction at both ends and access to the rest of the resort only through an un-lovely walkway.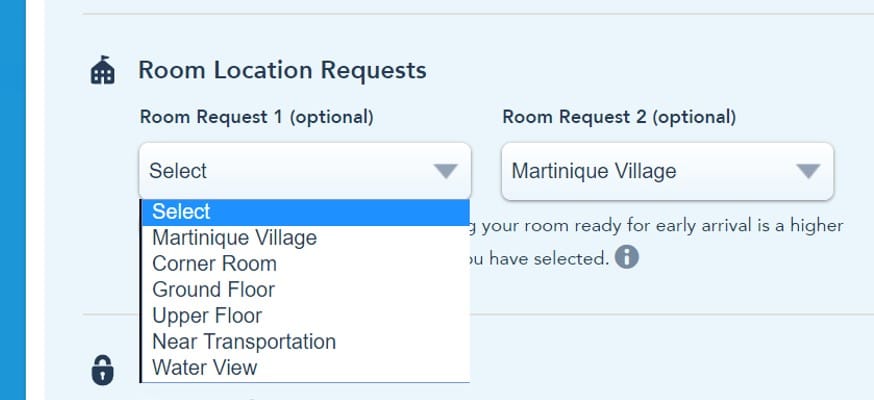 Here's the current online check in form. It's not much help, as it offers only Martinique as a village to be selected.  You are better off calling in your requests (407-939-7675 ). And look at the map carefully before you click "Near Transportation." At Aruba, that will put you distant from the bridge; at Martinique, it's not necessary as there's two nearby bus stops.
BEST FOR:
Any typical first time visitors who insist on staying, or only can stay, in a moderate, and don't mind the issues created by construction–especially the limited dining.
WORST FOR:
Families with mobility issues (lack of elevators, spread out; multiple bus stops).
This review continues here.



Follow yourfirstvisit.net on Facebook or Twitter or Pinterest!!
RELATED STUFF