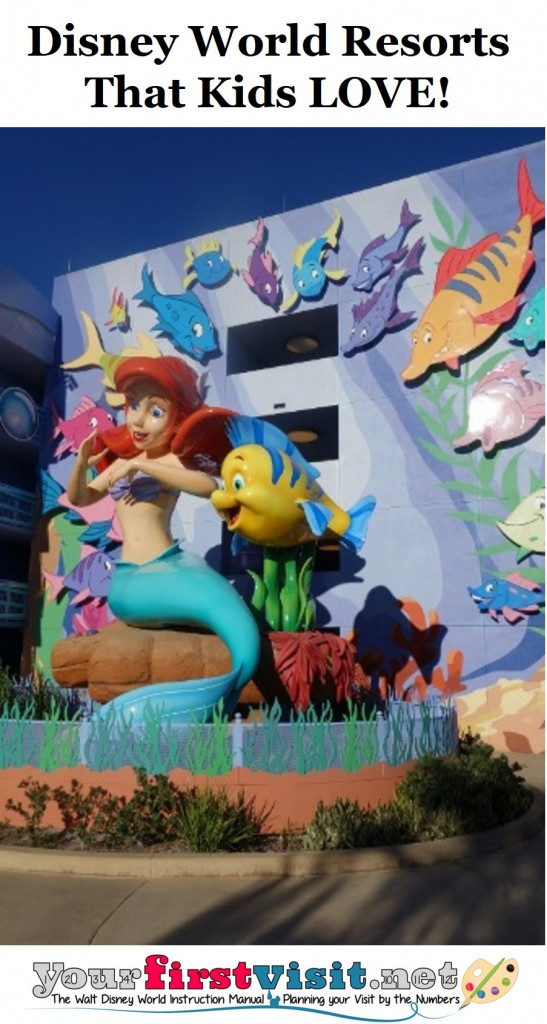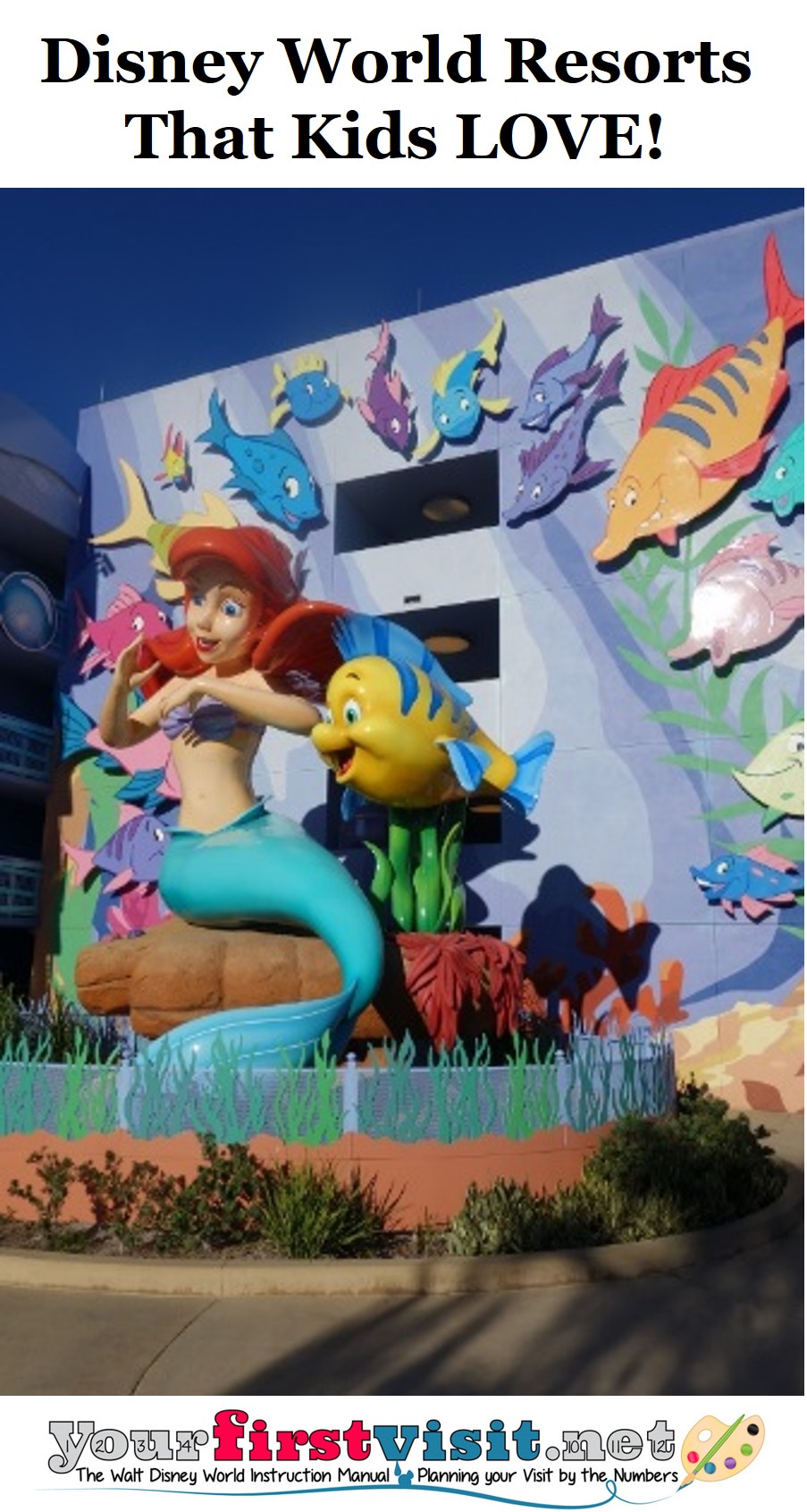 OVERVIEW: DISNEY RESORT KID APPEAL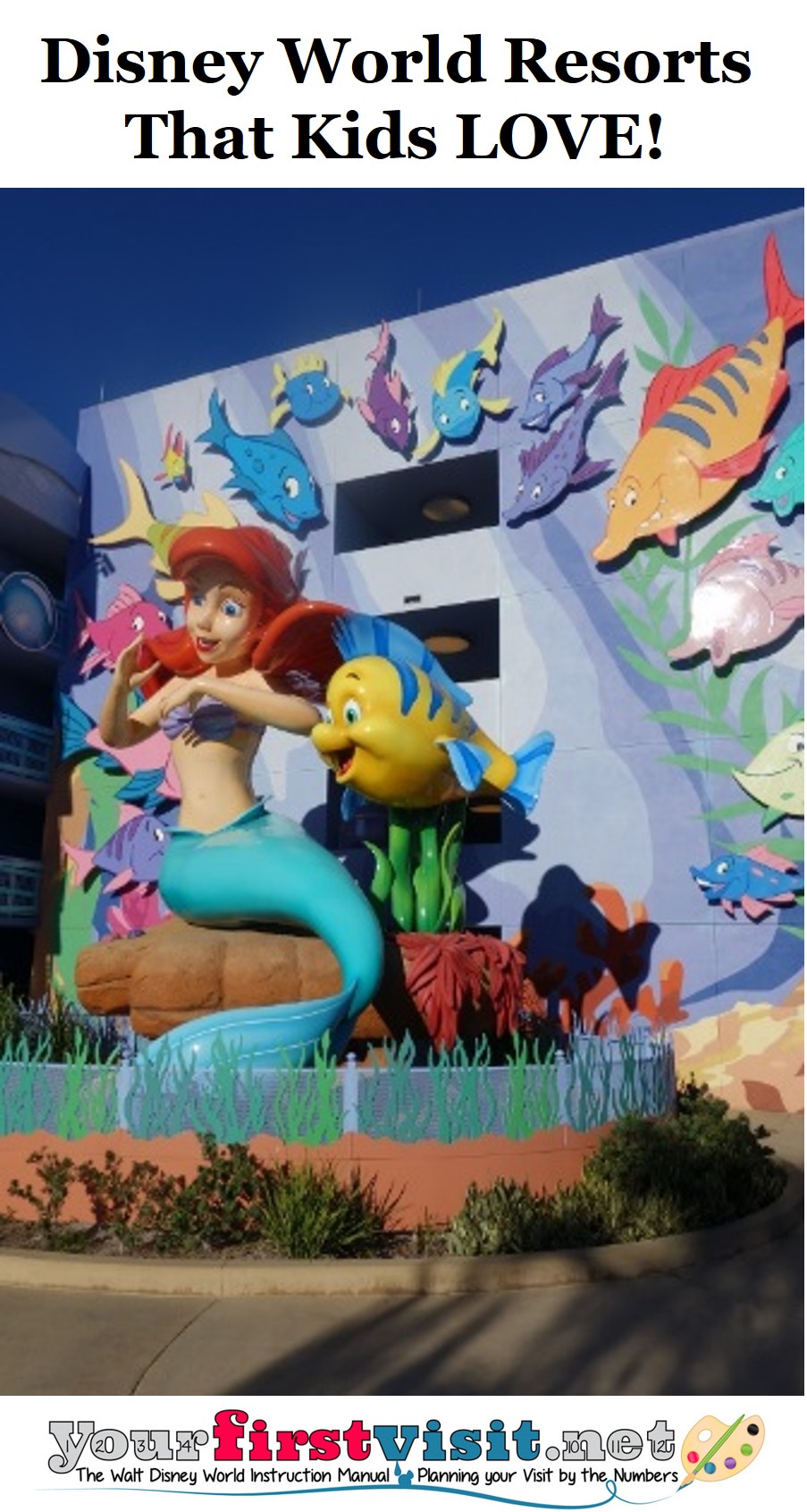 You and your kids can have a wonderful vacation at any Walt Disney World resort.
However, you will have the best first family Disney World trip if you go to a distinctively kid-appealing resort.  Because of this, and travel convenience, this site recommends Disney's Polynesian Resort for those who can afford it, and Disney's Art of Animation Resort for those who can't.
You may not be able to follow this direction.  For such families, listed below are the Disney resorts ranked in order of their kid appeal.
They are coded by price category as D for Deluxe, M for Moderate, V for Value, and DVC for Disney Vacation Club Resorts. (See this for details on what you get by price category.)
DISNEY WORLD RESORT HOTELS WITH GREAT KID APPEAL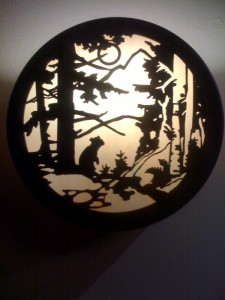 1. Disney's Wilderness Lodge  (D) and Villas (DVC) was designed to evoke the outdoorsy majesty of the great American National Park Lodges—buildings as glorious, exciting, and as promising of adventure as the great parks they serve, such as the Old Faithful Inn in Yellowstone, and the Ahwahnee at Yosemite.
It succeeds spectacularly, indoors, outside, and in its hot spring/geyser themed pool area, and brings out in kids a sense that they are back in a larger-than-life old west, but one also of grace and beauty, where any adventure is possible.
2. Disney's Animal Kingdom Lodge (D) and Villas (DVC).  The Lodge was designed by Peter Dominick, the architect behind the Wilderness Lodge, and has many of the same wonderful effects on kids.
It evokes safari adventure in Central Africa rather than the American wilderness, and adds to the architecturally-inspired sense of grand adventurous possibilities a glimpse of the exotic artifacts and architecture of sub-Saharan Africa, and actual views of wild animals in the savannas that surround most of the building.
3.  Disney's Polynesian Resort (D) is designed to make the visitor think they are engaging in the lush, tropical, welcoming environment of the Pacific Islands, and was intended to be an appropriate backdrop to Adventureland in the Magic Kingdom.
"Polynesia" was a more powerful adventure concept in the early 70s, when the resort first opened, and American culture was still influenced by the World War II romance of the South Pacific.
Even so, children still immediately understand that they are in an imitated world like no other they have every seen, bringing its own new and exciting things to see: dramatic and adventurous roof lines,  unusual tropical plants and trees, and exotic decorations.  Plus the flaming torches that line the pathways at night are really cool!
4. Disney's Art of Animation Resort (V). As deeply themed as any resort on property, and more "Disney" themed than any other.
Sections evoke the settings and characters of Finding Nemo, the Lion King and Cars (all family suites) and of Little Mermaid (all standard rooms).  The section themes are deeply carried into the rooms themselves.
5,6,7,8 (All V) Disney's Pop Century Resort, and Disney's All-Star Movies,
Sports, and Music Resorts. The appeal of these four value resorts to kids often utterly escapes their parents.  Essentially they are standard three (All-Stars) and four story (Pop) concrete motel blocks, painted in uncommon colors, surrounded by sculpture.
But to a kid, what colors, and what sculpture!  A 40 foot Roger Rabbit!  Equally large sculptures of Buzz Lightyear, Baloo, Dalmations (fewer than 101!), cowboy boots, a Big Wheel, and footballs!  Dozens more huge icons!
Kids will have seen nothing like this anywhere else, and they both get the immediate joy that kids always receive from either miniatures or larger than life figures, and understand that these objects were meant for their entertainment, and not for the pleasure of anyone else.
Among these four, the 40-foot tall character sculptures make Pop Century more "Disney-like" than the All-Stars. John Hench, a Disney Legend, noted in his book Designing Disney
that "these beautiful sculptures [at Pop Century] are astonishing, unforgettable, and … have proven immensely popular."
SOME KID APPEAL, FOR SOME KIDS
9. Disney's Contemporary Resort (D) was, along with the Polynesian, one of the original two resorts to open when the Magic Kingdom opened, and was intended to complement the Tomorrowland section of the park.
The hotel's atrium, traversed by the monorail, can be jaw-droppingly spectacular on first view.  The drama quickly fades, however, and the architectural experience reverts to its core sterile brutalism.
Bay Lake Tower, a DVC property adjacent to the Contemporary, is not so brutal, but to kids still uninteresting.
10. Disney's Caribbean Beach Resort (M) can also be initially exotic for children, perhaps from Boston, who have never seen buildings in so many vibrant colors before. The strong scattering of beaches around the property also intrigues kids. The recently renovated pool (including the only themed baby pool at WDW!) is now as attractive to kids as any at WDW except for the Yacht and Beach Clubs. The recently redecorated rooms include strong pirate theming in Trinidad South (not recommended; too distant) and light Nemo theming elsewhere.
11. Disney's Coronado Springs Resort (M) can be architecturally exotic for children with no familiarity with southwestern or Mexican architecture. Nothing is as dramatic or adventurous as the resorts listed in the first group.
NO KID APPEAL
This discussion continues on this page.
=

Follow yourfirstvisit.net on Facebook or Google+ or Twitter or Pinterest!!