Little Mermaid and Caribbean Beach Room Sizes
By Dave Shute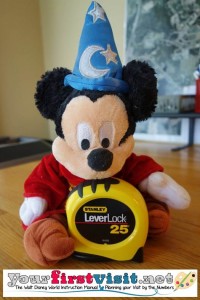 The weakest parts of Disney World guidebooks and websites tends to be their material on the Disney World resort hotels.
This makes sense, as it takes both time and money to stay in and carefully assess them (and all their major room variants), which most aren't willing to commit.
A common claim is that Little Mermaid rooms at Art of Animation are larger than standard rooms in other value resorts, and another that Caribbean Beach rooms are much larger than those in the other moderate resorts.
Both these claims are wrong, but you'll see them all over the place on sites and even prominent guidebooks. Since I've had my tape measure with me in almost all my stays in nearly a hundred different Disney World rooms, I don't make those particular errors—although I make plenty others!
I've stayed in–and measured–all the moderates and all the values about a million times, but not until last week was I in Caribbean Beach and then another moderate, and Art of Animation and then another value, on the same trip with my 25 foot tape measure in hand. So instead of measuring these on different trips with different tape measures, it was all on the same trip and the same measure.
Here's the results.
CARIBBEAN BEACH ROOMS ARE A TEENY BIT LARGER THAN OTHER MODERATE ROOMS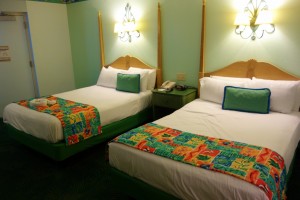 Rooms at Caribbean Beach (CB) are 12 feet 9 inches wide. Rooms at Port Orleans French Quarter (POFQ) are the exact same width. (I'm accurate to within half an inch or so.)
The bath of each has a depth of about 71 inches.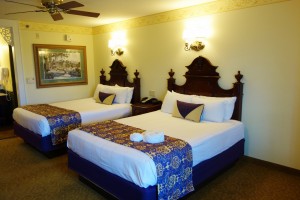 The depth of the main bedroom area at POFQ is 19 feet 7 inches along the longer wall. The same dimension at CB is 19 feet, 11 inches—about 4 inches more.
Averaging the impacts of my possible  measurement errors, CB rooms may have 5 more square feet than POFQ rooms—an un-noticeable distinction.
LITTLE MERMAID ROOMS HAVE NEAR IDENTICAL DIMENSIONS TO OTHER VALUE ROOMS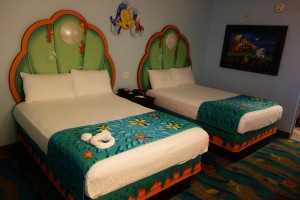 I got identical measurements* in both my Pop Century and Art of Animation Little Mermaid rooms.
Each came out as 11 feet 9 inches wide, with a bathroom depth of 66 inches and a sleeping space depth of 18 feet 2 inches along the longer wall.
I did notice for the first time one material difference among the layout of these rooms.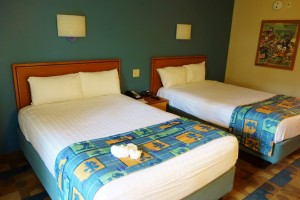 Pop rooms are laid out with the first bed much closer to the entry door—seven inches closer–than Little Mermaid rooms, and as a result the far bed was seven inches further from the bath wall at Pop than at Little Mermaid.
The Little Mermaid rooms were laid out more like the All-Stars, with more space at entry and less by the bath. I prefer the layout of the Little Mermaid and All-Star rooms, as at Pop the first bed crowds the entrance.
*Since two of the three Little Mermaid buildings were built at the same time that Pop was built, and those buildings were then planned to be the other half of Pop, this is of course utterly predictable…
Follow yourfirstvisit.net on Facebook or Google+ or Twitter or Pinterest!!
RELATED STUFF