Review: The Disney Skyliner
By Dave Shute
THE DISNEY SKYLINER—A SECONDARY TRANSPORTATION OPTION TO EPCOT AND DISNEY'S HOLLYWOOD STUDIOS
The Disney Skyliner, a new and groundbreaking (at least in theme park resort use) gondola transportation system, opened at Walt Disney World in late September 2019.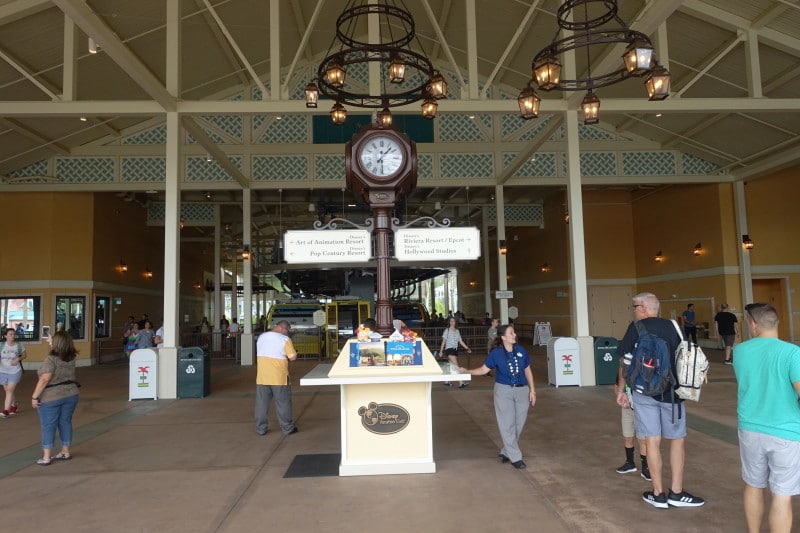 From a transfer station at the south end of Disney's Caribbean Beach Resort, it offers lines to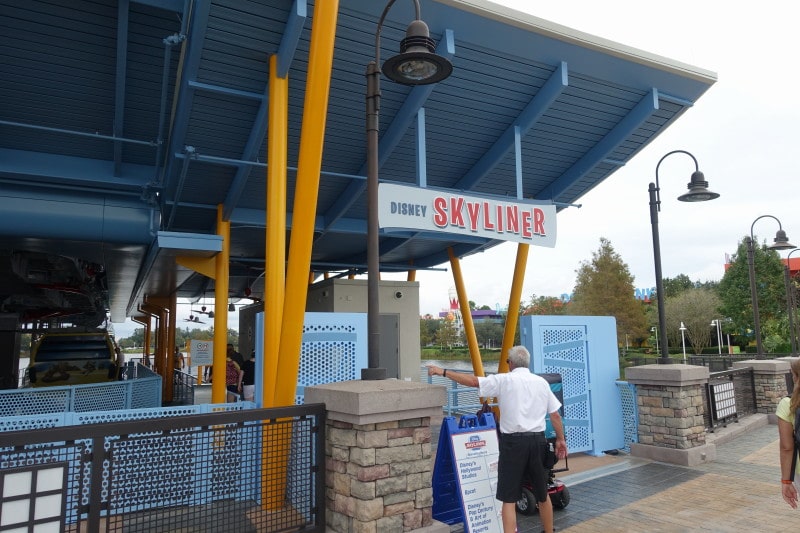 …A shared station at Disney's Pop Century and Art of Animation resorts,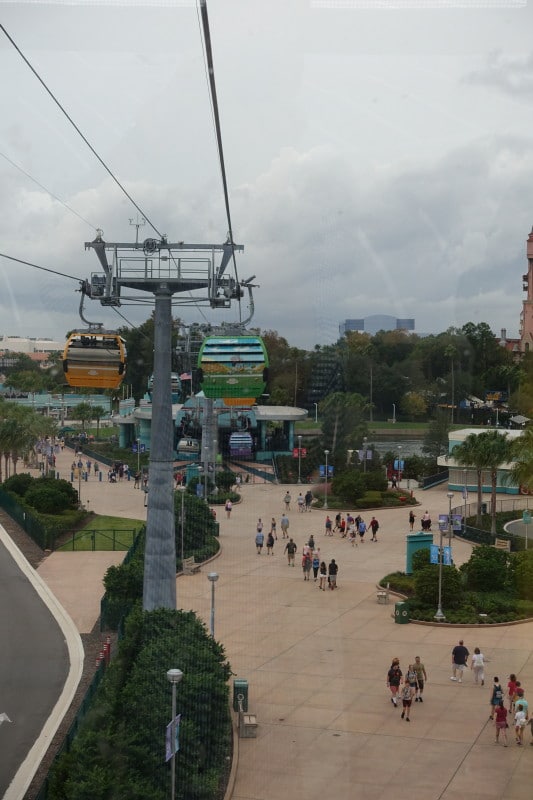 …Disney's Hollywood Studios theme park, and,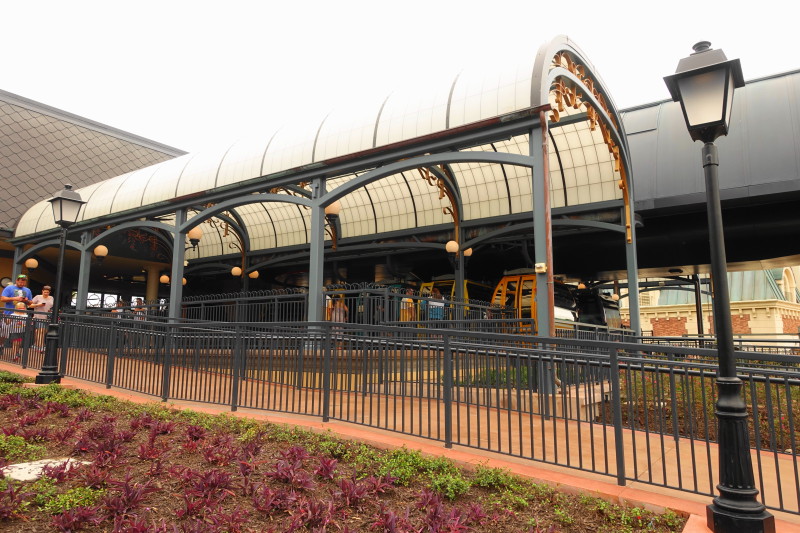 …via a station that the north end of Caribbean Beach (closest to Aruba) shares with the soon-to-open Disney's Riviera Resort, to Epcot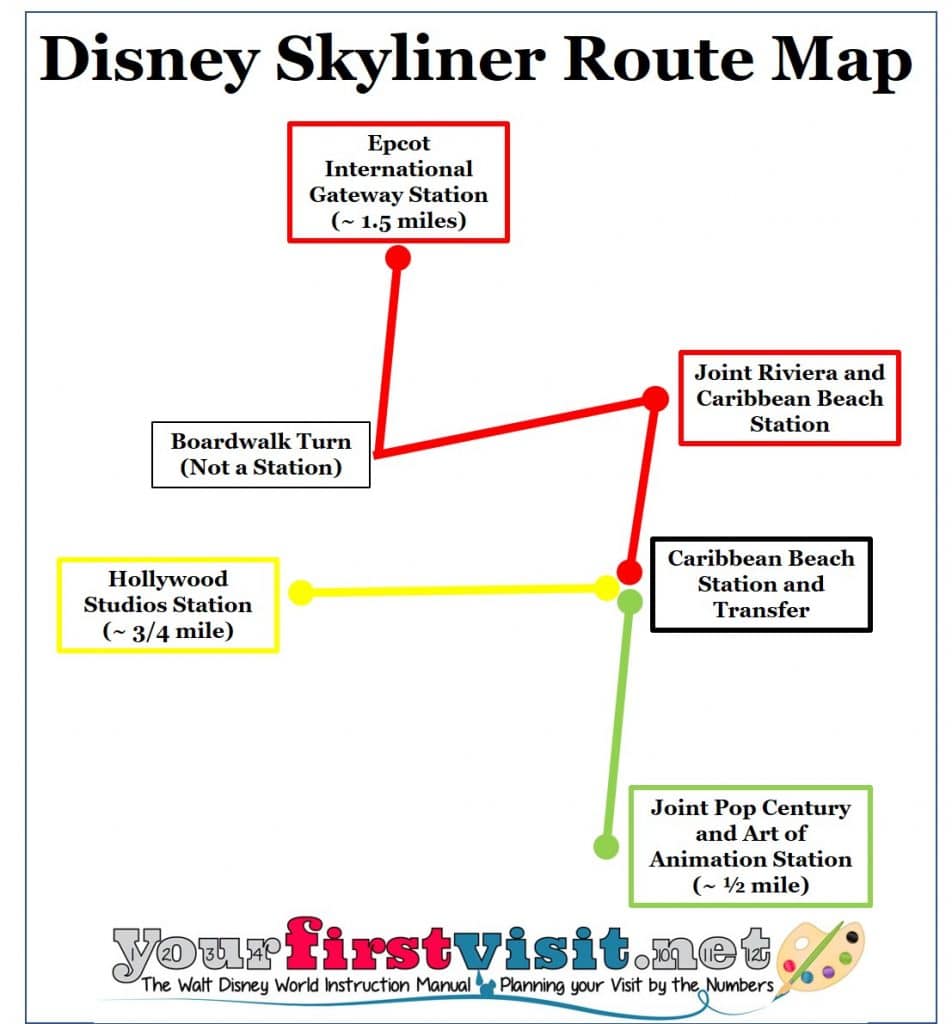 At every station except the Riviera/Caribbean Beach north station, guests must get off and re-board. So a trip from Pop Century to Disney's Hollywood Studios means a trip to the southern Caribbean Beach station, then getting off and getting on the Studios line.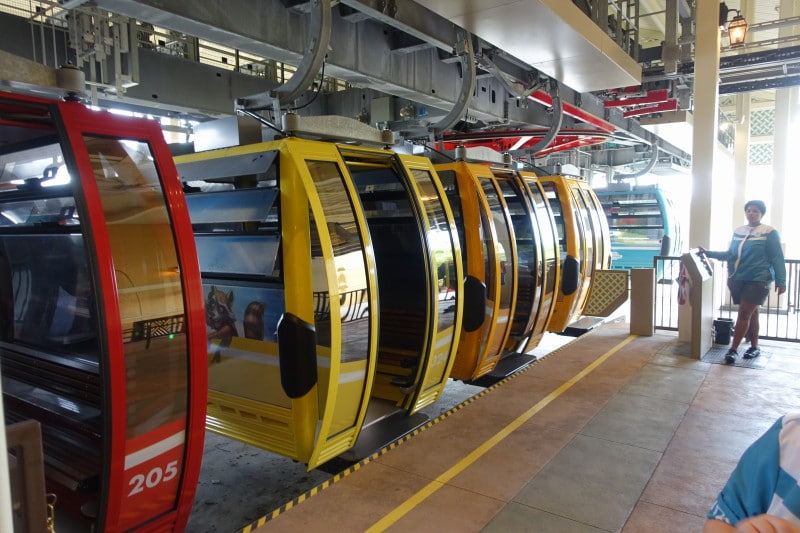 While not for everyone—and I'll come back to that—for those it is suited to, it presents a fun alternative to the buses that folks would otherwise use to get among these various points, and is in particular a fun and easy way to get
From these resorts to Hollywood Studios and Epcot
From one to another of the pairs of resorts—e.g. for Pop Century guests to try out the yuca bowls at Caribbean Beach's Spyglass Grill
From Epcot to the Studios and vice versa, if the boats look backed up and you aren't in the mood to walk.
That said, at the moment I would consider the Disney Skyliner to be for some folks and some circumstances a secondary transportation system, and not the lead way to think about traveling from these resorts to these parks. Others should avoid it entirely.
CONDITIONS THAT SHOULD HAVE YOU AVOID THE DISNEY SKYLINER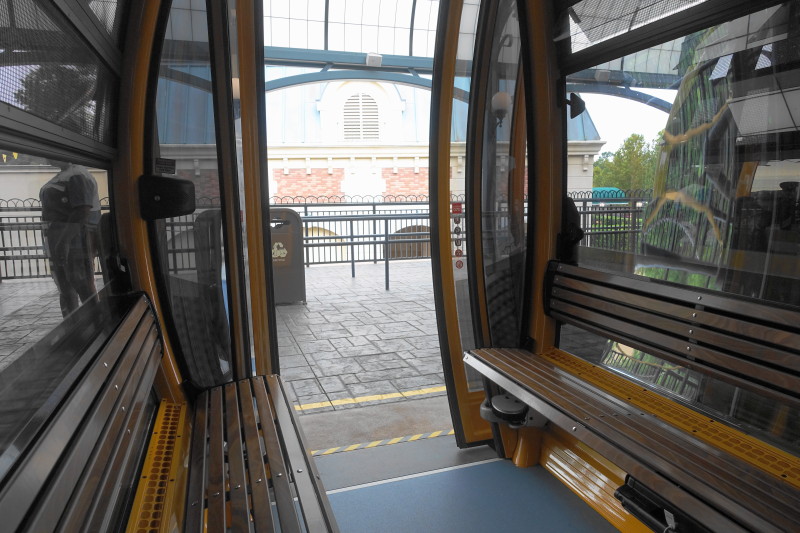 The Skyliner cabins, while not tiny, are small, and you likely will share them with other parties.
While moving, the passive ventilation system in the cabins presents a substantial breeze, but if they stop—not uncommon—on a hot and humid day discomfort can build.
The cabins swoop and sway in normal operation, and a breeze will yield even more swaying.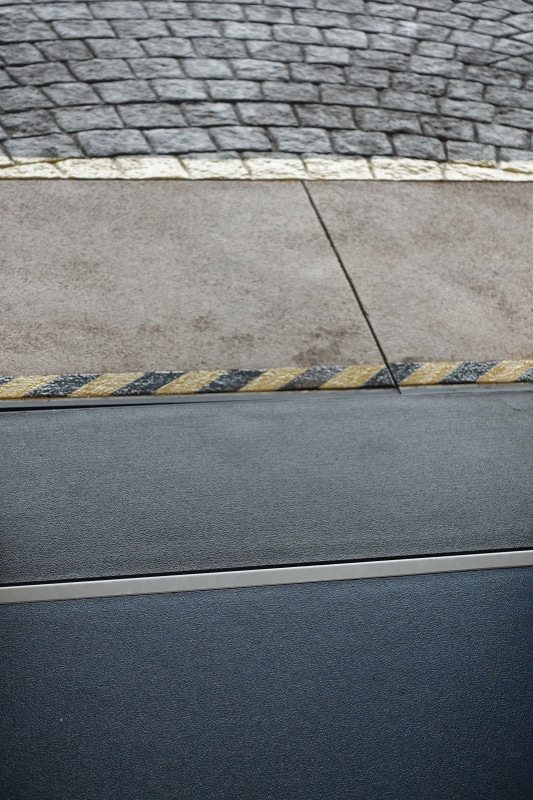 All boarding at the Riviera/Caribbean Beach north station requires entering the narrow door of a moving car—the car is moving very slowly, and the gap between the cabin and the stationary platform is very tight, but it is still a moving target. All other stations have a separate loading area where those who need the extra stability—and all ECV folks—can board a stationary car.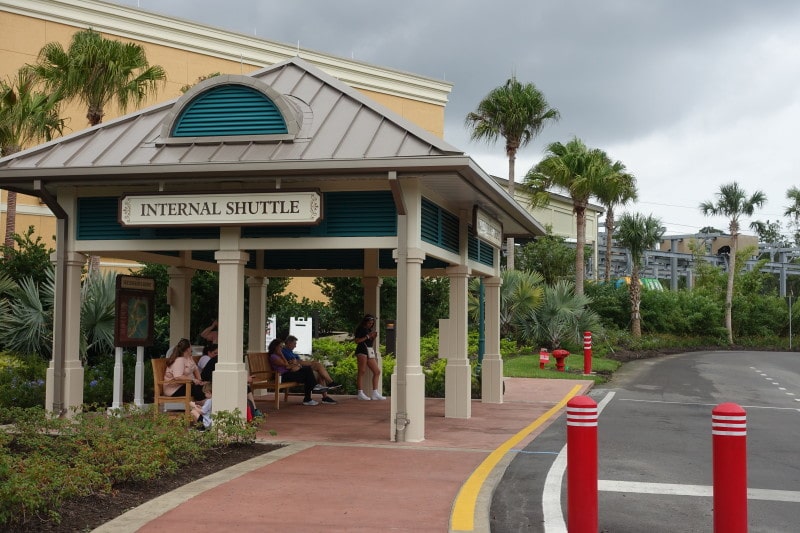 The system may stop, for brief or lengthy periods of time, for any number of reasons. If there is lightning in the area, it will close, with guests being required to exit the gondolas at the station Disney assigns. If this station is Caribbean Beach, Disney will add buses that duplicate the Skyliner routes, but this might not happen immediately, and the various buses may take time to arrive.
Those with claustrophobia, fear of heights, motion sickness, or any medical condition that might be exacerbated by either a lengthy stop with no real clarity as to what's happening, or the possibility, on hot and humid days, of stop-related heat buildup, especially if combined with a higher degree of anxiety, ought to avoid the Skyliner.
So should those with time-sensitive plans…
CIRCUMSTANCES THAT SHOULD HAVE YOU AVOID THE DISNEY SKYLINER
So far material Skyliner stops have not been common, but have happened—with the most famous being a ~three hour stop shortly after it opened that got a lot of publicity, resulted in a multi-day shutdown,  and at least to some indicated a lack of preparedness on the part of Disney to deal with various contingencies.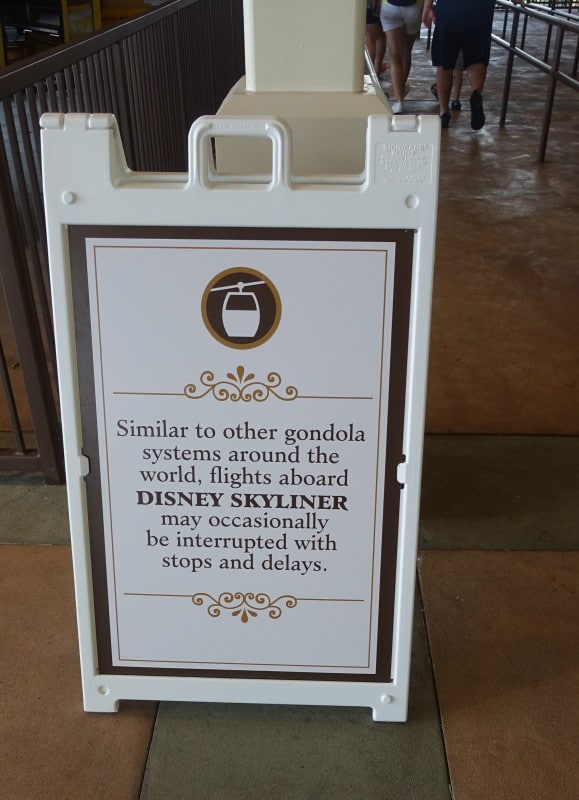 As a result, it's hard for me to recommend the Skyliner for anyone on a time-sensitive schedule. Allowing extra time in your schedule will help, but I still would not take it if you are trying to get to Epcot or the Studios before they open, for a soon-approaching FastPass+ or dining (or other) reservation which is particularly important to you, or at a time when an unexpected delay might get in the way of something else important–for example, your travel plans. In each of these circumstances, take the Disney buses (or Uber/Lyft/Minnie Vans) instead.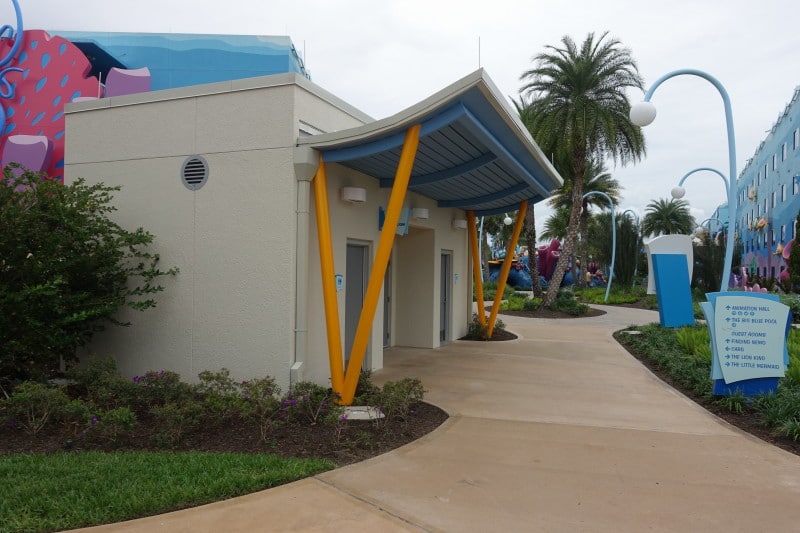 I would also suggest taking a bathroom break before boarding (there's a bathroom at the south Caribbean Beach station, and a new bathroom between the station and the first set of Nemo buildings at Art of Animation), bringing bottles of water, and having a well-charged phone.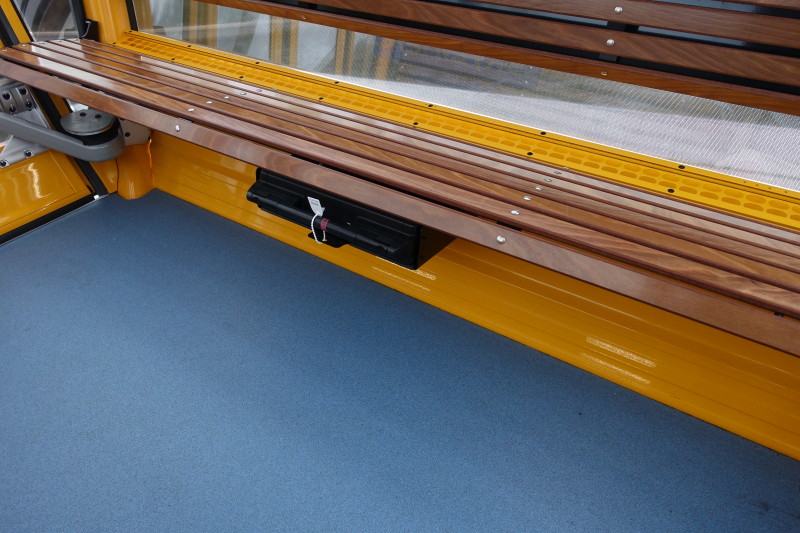 There are various sorts of emergency supplies under a seat in each cabin, and also an intercom system, but none has yet proven to be soundly reliable.
My estimates are that of the more than a million folk who have already ridden the Skyliner, fewer than a thousand have suffered a severe stop, and fewer than 5,000 have suffered a material stop. That's less than 1%. Moreover, from what I have seen the Epcot line seems to be the one most at risk (there's no central tracking, so take this with a grain of salt). If true, this may be related to the length of the Epcot line (twice as long as any other), its two sharp turns, and/or the absence of a dedicated ECV loading spot in its mid-line Riviera/Caribbean Beach north stop.
Both the inappropriateness of the Skyliner for those with some conditions, and the possibility of stops, perhaps long stops, making it not the best choice for some circumstances, are why you should view it as a secondary system.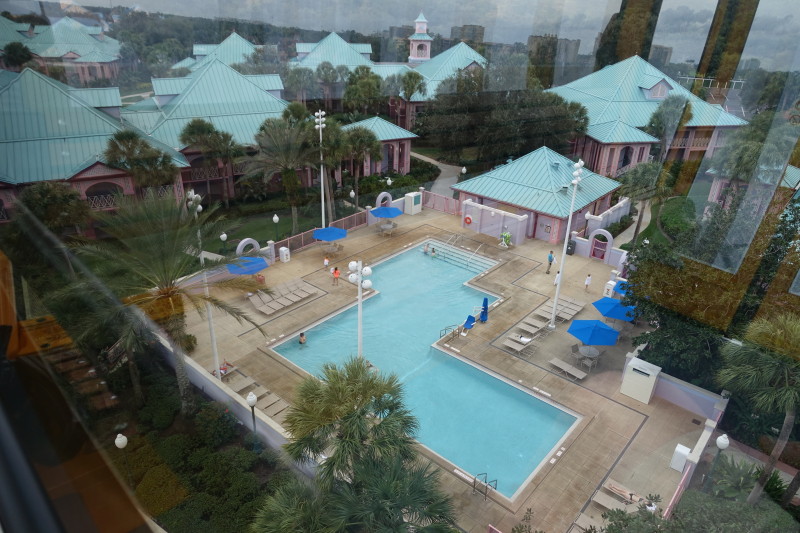 That said, over time operating reliability will only get better, which will ameliorate some of the concerns about missing something important because of a delay (though keep your weather eye out for lightning). The cabins won't be getting bigger though, nor will they sway less, get climate controls, or get lower to the ground.
Those staying at one of the Skyliner resorts concerned about whether their personal conditions might yield a disappointing experience could try (depending on where they are staying) either the Caribbean Beach south to Riviera/Caribbean Beach north route, or the Pop Century/Art of Animation to Caribbean Beach south routes, as a lower risk way to test how they will react to the system.
BUSES AND THE DISNEY SKYLINER
Many folks postulated that once the Skyliner opened, bus service from the relevant resorts to the relevant parks would be reduced. We have not seen this, so far, although once operations become more stable, I could see it happening in a limited fashion. After then, I still expect buses to go on the Epcot and Studios routes on average every 20 minutes, but we will likely see fewer at peak opening and closing times, as the Skyliner has vast potential to pick up much of this travel.
The incremental operating and depreciation expenses presented by the Skyliner won't be paid back out of bus driver savings—instead, they will be paid back from increases in the prices of the affected resorts. I calculated earlier this year that the "extra" 2020 price increases at these resorts (compared to increases at comparable non-Skyliner resorts) would yield on the order of $60 million annually in incremental revenues.
To get to this number, Disney World will have to resolve most of the reliability concerns this system has so far given rise to.
WHAT'S NEXT FOR THE DISNEY SKYLINER
Before the Skyliner opened, there was much speculation about future routes—for example, a western version was chatted about, connecting (perhaps) the All-Stars, Animal Kingdom Lodge, and Epcot and Hollywood Studios via a Caribbean Beach-like hub at Coronado Springs. An eastern line connecting the Port Orleans resorts, Old Key West, Saratoga Springs, with Disney Springs has also been talked about.
For now, until Disney proves to itself it can sell rooms at higher rates—and sell the DVC points at Riviera—I would not expect to see much further Skyliner development for a while. And I also note that there's room at the south Caribbean Beach hub to add one more route, which could easily go east or north…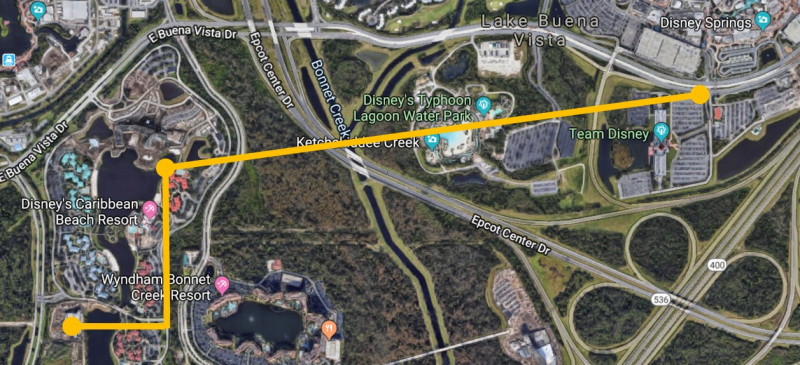 The long-time travel agent partner of this site, Kelly B., can help you book your Disney World vacation in a Skyliner resort or anywhere else–contact her using the form below:

Follow yourfirstvisit.net on Facebook or Twitter or Pinterest!!
RELATED STUFF