Extended Evening Hours at Walt Disney World
By Dave Shute
DISNEY WORLD'S NEW EXTENDED EVENING HOURS PROGRAM FOR GUESTS AT DELUXE, DVC, AND A FEW OTHER HOTELS
Disney World has separated its former Extra Magic Hours (EMH) program into two new programs.
One is Disney World's new Early Theme Park Entry program, in which every park is open early every morning for guests at some 45 different hotels with ~37,000 rooms. Disney World's Early Entry program is covered here.
The second new program is known as Disney World's Extended Evening Theme Park hours, and is much more limited than Early Entry—at least so far:
In parks offered—just Magic Kingdom and Epcot, not all four;
In frequency—each of the two parks just one evening per week, not daily;
In total hours offered per week–four hours, compared to fourteen for Early Entry; and
In eligible guests—permitted to use this perk will be ONLY guests at Disney World deluxe resorts, at Disney Vacation Club/deluxe villa resorts, and at four other on-property resorts—the Swan, Swan Reserve, Dolphin, and Shades of Green. These total about 13,000 rooms—about a third of the rooms eligible for Early Entry.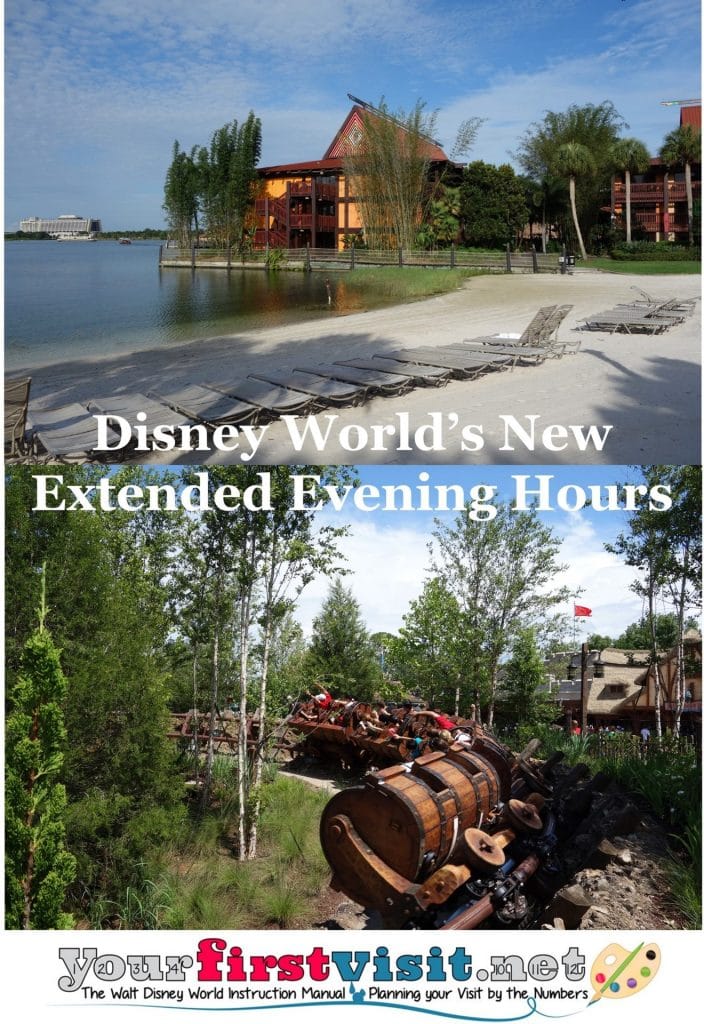 To participate in Extended Evening Theme Park hours, guests must have
–Proof that they are staying at an eligible resort hotel,
–A valid park ticket for the day, and
–Either
A park reservation for the Extended Evening Hours park, or
A park hopper ticket, a reservation for a different park, and entry earlier that day into that other park
The way Extended Evening Hours is likely to work, based on how EMH worked in the past, is that at a certain point (typically 10p at Epcot and 9p at Magic Kingdom in October (when they begin) and November, with times subject to change), for the rides that remain open, only guests who can prove they are staying at an eligible resort will be able to enter lines.
The first guests to take advantage Extended Evening Hours thus will be entering a line that already has people in it (i.e., those who entered lines before the Extended Evening Hours kicked off).
This is one of two reasons why the former evening EMH in the FastPass+ era was less valuable—access to rides that are popular enough to have already have long standby lines is not that time efficient.
The way to handle this is to save the most popular rides for late in the Extended Evening Hours time window. So at Magic Kingdom you'd delay Space Mountain and especially Seven Dwarfs Mine Train; see a couple of rides in the middle of the Extended Evening Hours window that are popular, but not with lines as long, like Big Thunder Mountain, Pirates of the Caribbean, and Haunted Mansion (these three in particular because they are not offered during Early Entry); and see a minor ride or two at the beginning of the in the middle of the Extended Evening Hours window.
The second reason the former evening EMH was less valuable in the FastPass+ era was that it was more popular than morning EMH. Except for families with small children, it is easier to stay in the parks later than to arrive early—a point particularly true during the FastPass+ era at Magic Kingdom, as the more efficient use of time that FastPass+ permitted led Disney World to be able to close the parks earlier than it had in prior eras. An earlier close makes a special evening offering more accessible.
However, in the FastPass+ era almost three times as many hotel rooms were eligible for evening EMH than are now eligible for Extended Evening Hours (2.8x to be precise.) This suggests just on the simple room math that Extended Evening Hours will be only about a third as crowded as the former evening EMH.
However, I expect that the drop in attendance at Extended Evening Hours will not be as severe as that, I'd expect, for two reasons.
First is that most rooms eligible for Extended Evening Hours have more capacity than the rooms that are eligible for Early Entry, but not for Extended Evening Hours. So I expect these rooms ot have a higher occupancy than excluded rooms, thus leading to greater than room-proportionate attendance.
Second is that a big part of the eligible guest pool for Extended Evening Hours will be DVC owner families, who know better than average how to work the parks and know how much time the last hour of Extended Evening Hours could potentially save them.
THE VALUE OF DISNEY WORLD'S EXTENDED EVENING HOURS
Even so, it is reasonable to predict that folks with a good plan will be able to see during Disney World's Extended Evening Hours with little wait three to five high priority rides at Magic Kingdom, and two to three at Epcot (fewer at Epcot because there are far fewer rides to spread the crowds around, and not many high priority ones…)
The list of attractions planned to operate during Extended Evening Hours is here.  It includes pretty much everything most would want, with the exceptions of Remy's Ratatouille Adventure at Epcot and Splash Mountain at Magic Kingdom (both of which are not included in Early Entry, either).
It's unclear how all this will interact with the paid components of Disney World's new line access systems.  But a couple of Early Entry mornings and one Extended Evening Hours could obviate the value of paying for anything at Magic Kingdom, saving a family of four potentially a couple of hundred dollars in Genie+ and individual attraction purchases. On the other hand, combining Early Entry, Extended Evening Hours, and paid access could yield remarkably efficient touring. You pays your money and you takes you choice.
Access to Extended Evening Hours improves the value of staying at a deluxe resort, DVC resort, or one of the other four hotels in the program, and diminishes the value of staying anywhere else, especially offsite but also at the values, moderates, Disney Springs Resort Area  hotels, and other hotels eligible for Early Entry but not for Extended Evening Hours.
All the Disney World-owned hotels are overpriced, and the deluxes are especially so. Adding Extended Evening Hours could improve guest satisfaction at eligible hotels, and go a bit towards building occupancy at the deluxes in particular, which will otherwise suffer from the loss of their convention business (five of the eight deluxes are convention hotels) which is greatly diminished, some likely permanently.
THE FUTURE OF DISNEY WORLD'S EXTENDED EVENING HOURS
Both the Extended Evening Hours program and the Early Entry program are opening about as thin as they can be. Early Entry was introduced as being "at least thirty minute long" but since has been described only as 30 minutes. And Extended Evening Hours, with only two parks one evening a week each, can clearly be expanded. Both Animal Kingdom and Disney's Hollywood Studios had at times evening hours under the former EMH program during the era of FastPass+–Animal Kingdom less frequently than the Studios.
I would predict expansion of either or both during high-attendance holiday periods—particularly over Christmas break and the week before Easter. A broader expansion at other times is also possible, depending on how Disney World's new line access systems  work, and on emerging numbers coming from resort occupancy.

Follow yourfirstvisit.net on Facebook or Twitter or Pinterest!!
RELATED STUFF