Amenities at Disney's Caribbean Beach Resort
By Dave Shute
(For the first page of this review of Disney's Caribbean Beach Resort, see this.)
AMENITIES AT DISNEY'S CARIBBEAN BEACH RESORT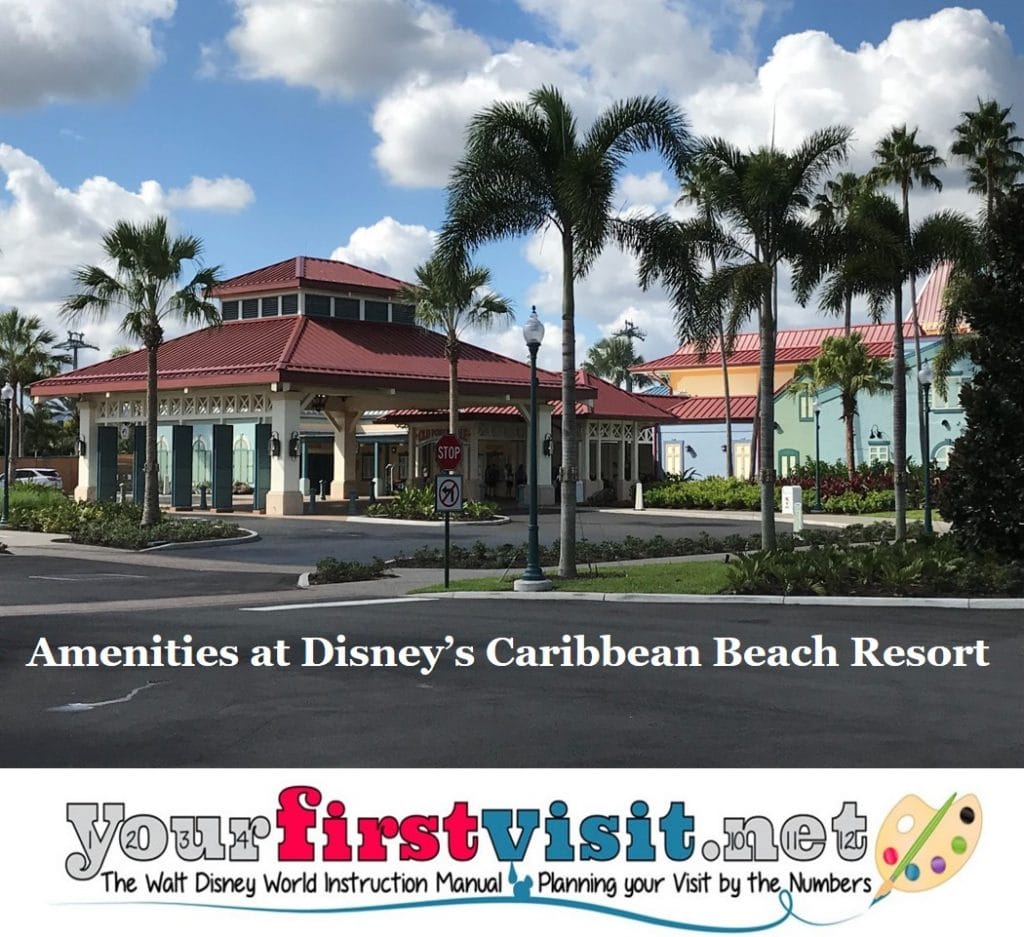 In early October 2018, Disney's Caribbean Beach resort (mostly) emerged from an almost 18 month long construction project that has greatly improved the layout and usability of the resort, and added new and easier-to-access amenities.
Since then, the new Disney Skyliner gondola system has opened, adding fun transportation options to Epcot and Disney's Hollywood Studios, and in December 2019 the new next door Riviera Resort will add more easy to access dining options.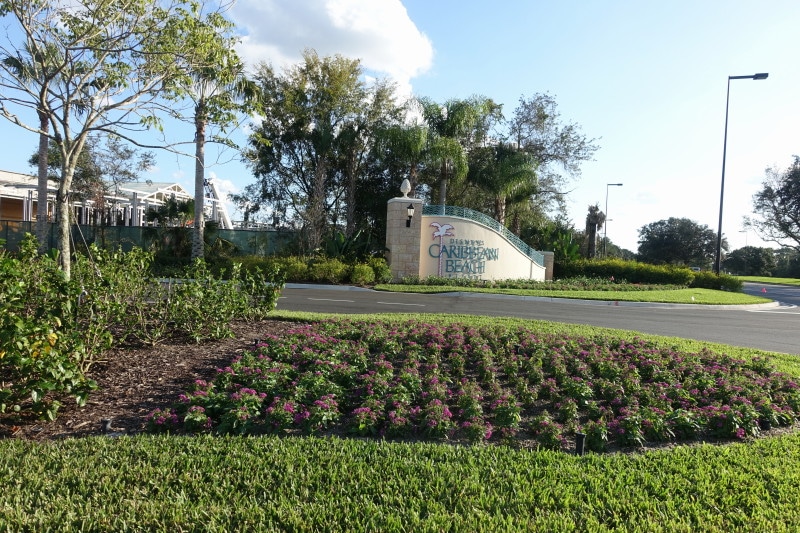 The entrance to Caribbean Beach is now off Victory Way…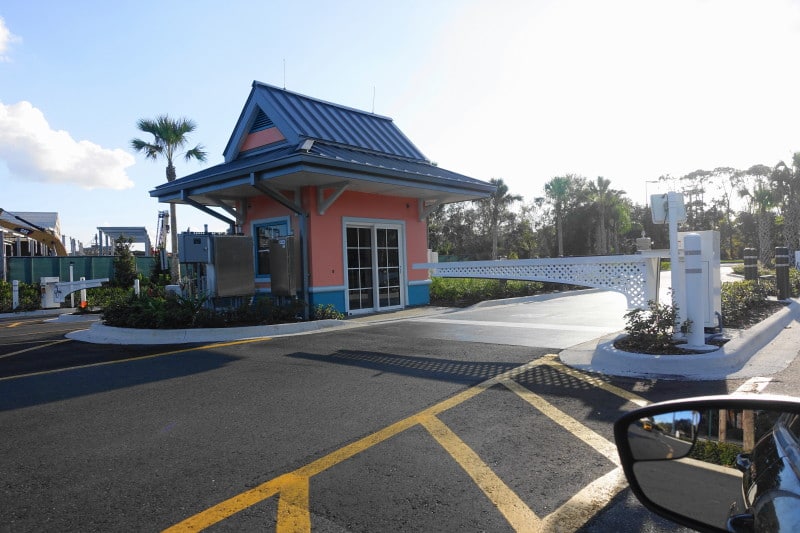 …near Jamaica.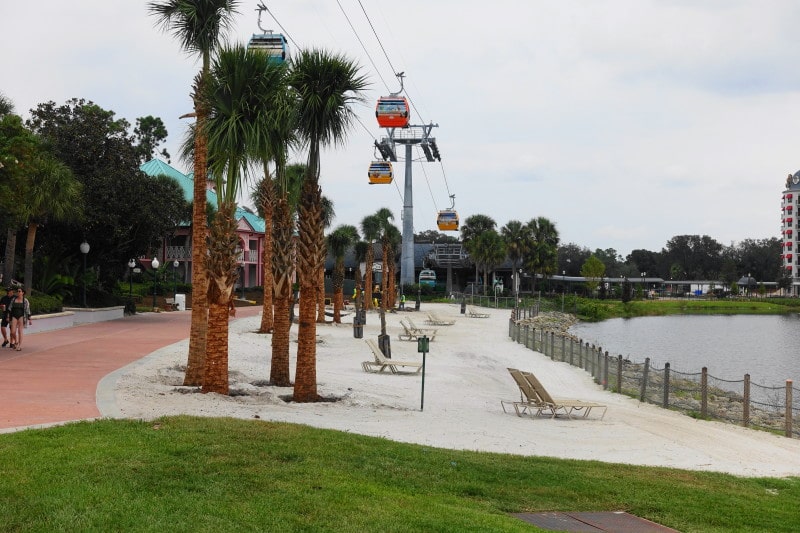 Note that this is also where the hub of the Disney Skyliner is located, with line to Epcot, Disney's Hollywood Studios, and Pop Century/Art of Animation.  A second Skyliner station, between Aruba and Disney's Riviera Resort, is on the Epcot line.
Anyway, if you are driving, turn right the entry, then left at the next intersection, and look for Old Port Royale on your left. The old stand-alone check in location, the Custom House, is no longer in use–simplifying things considerably.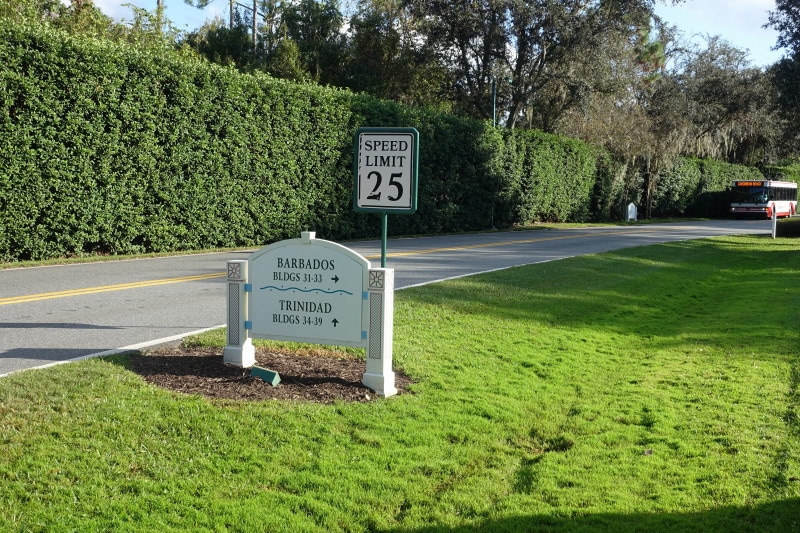 Returning visitors might be confused by a  bit of village renaming–the old Trinidad South is now plain Trinidad, and the old Trinidad North is now Barbados.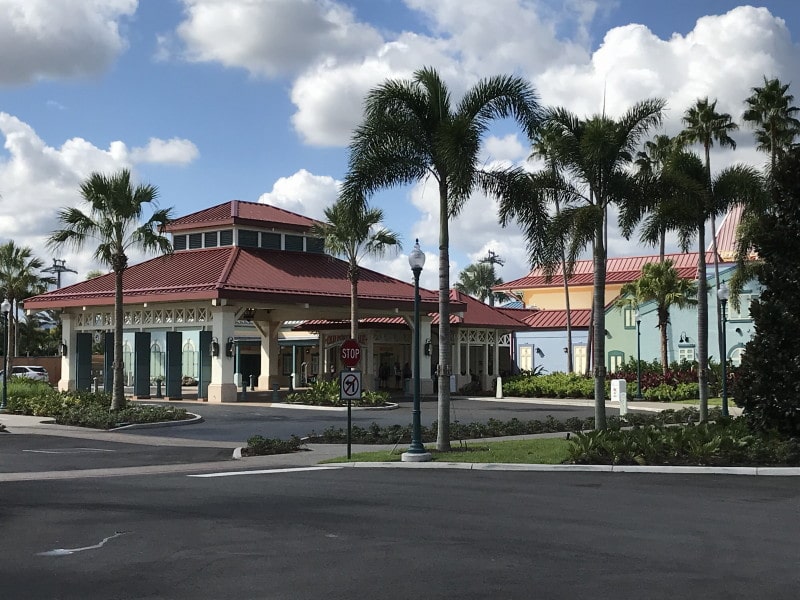 Old Port Royale now has a port cochere.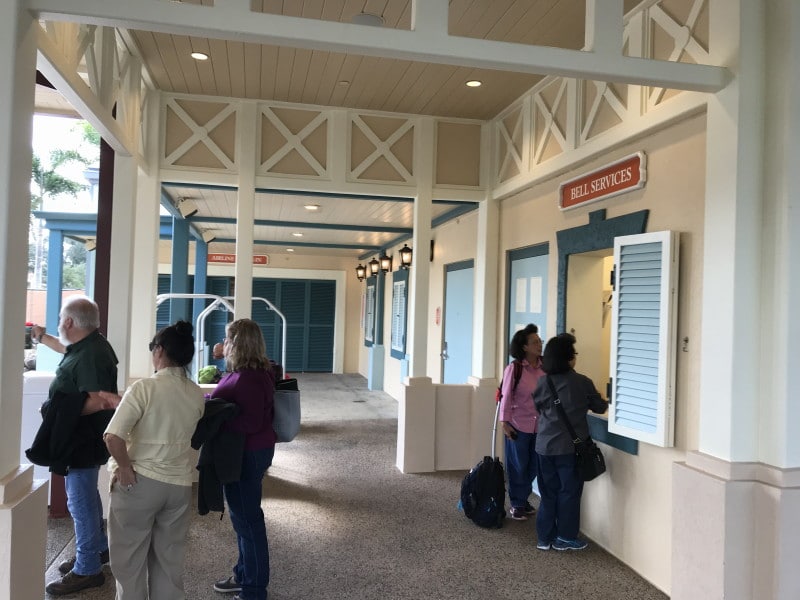 Also in this area is bell services…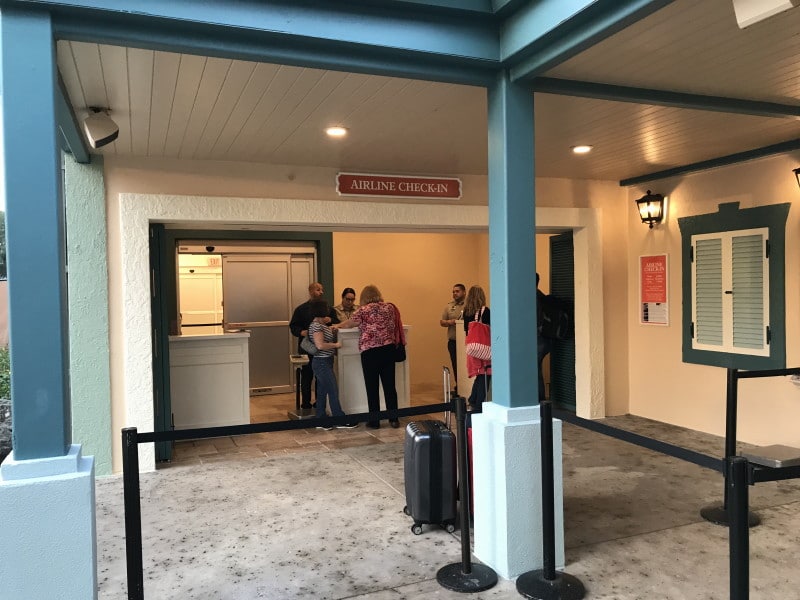 …and. for your departure, airline check in.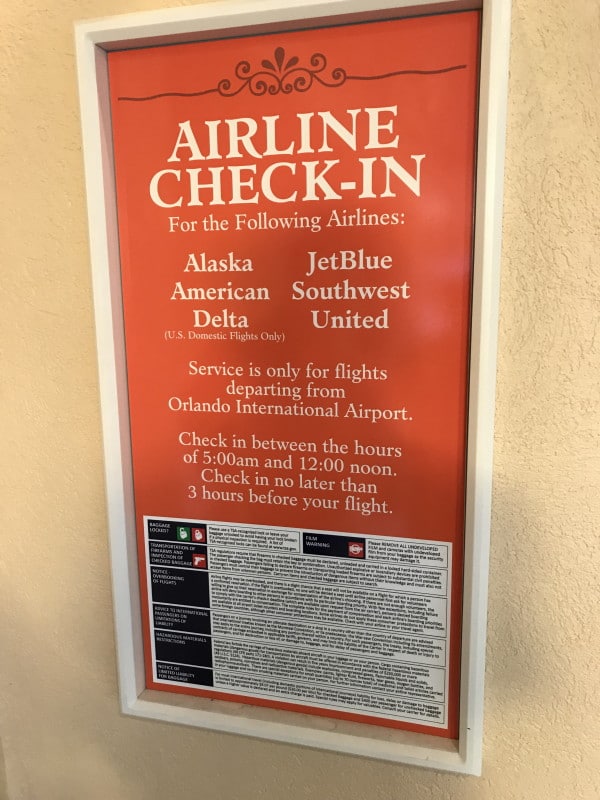 Not all carriers are served here, but if you are using one of them, and on your last day heading to the parks and then to the airport, it can be handy to first check in for your flight and drop your bags here.  Note that this is a tip-based service. (Note also that the Magical Express is a totally different operation.)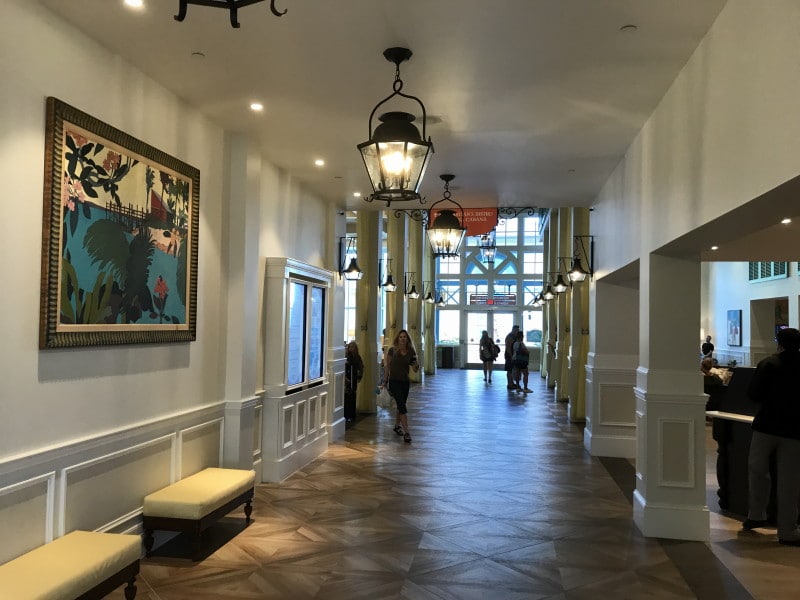 Inside you'll find this bright hallway…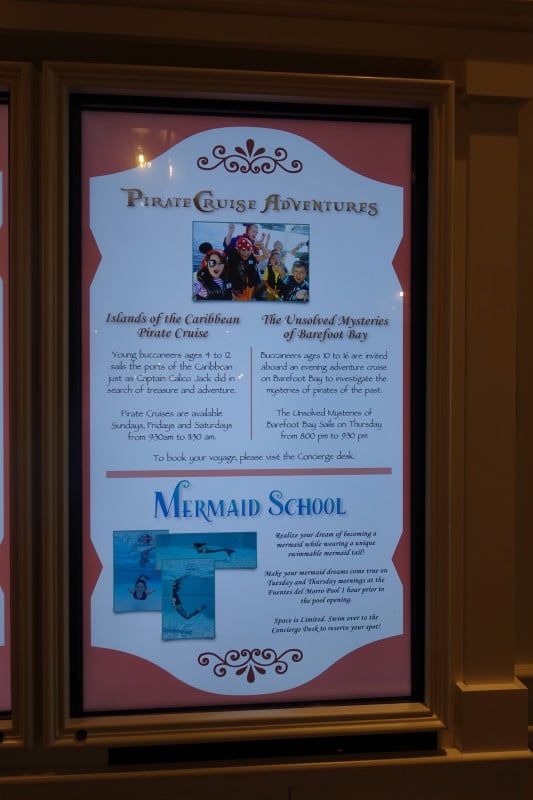 …with on the left a poster highlighting a couple of activities at Caribbean Beach.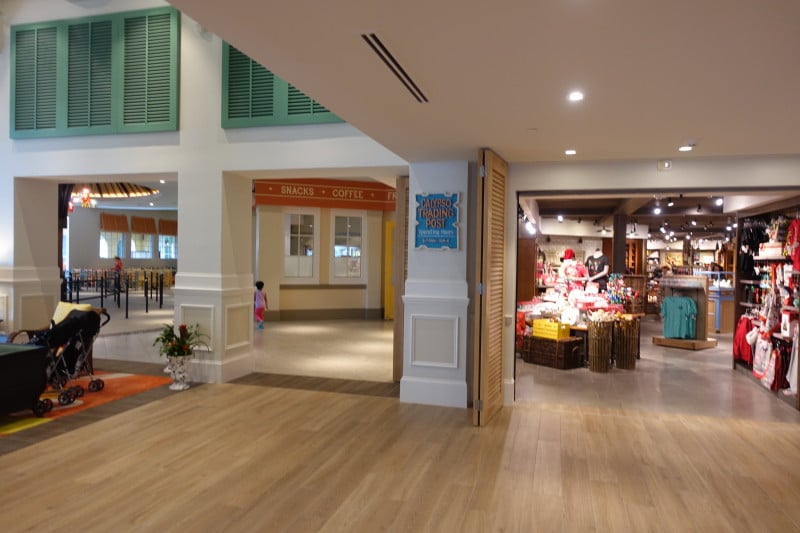 On the right you'll find the gift shop…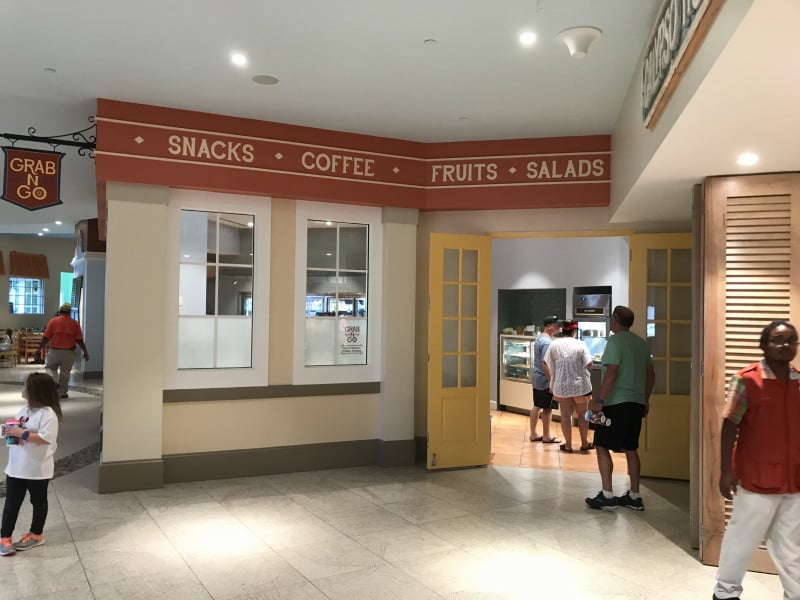 …and the grab and go shop and food court. I'll get to the gift shop in a minute, and the grab and go shop,  food court, and all other dining at Caribbean Beach are covered in detail here.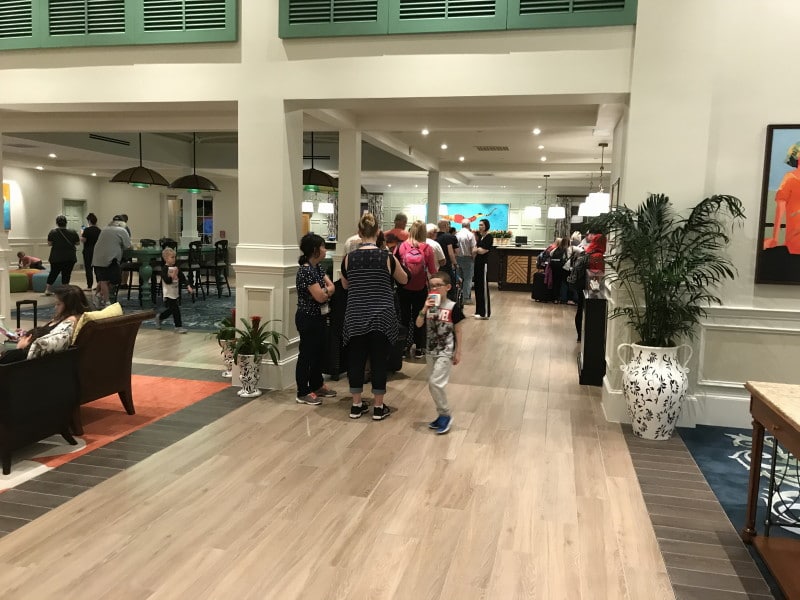 Further down on the left you'll find the check-in area. You may be served from the line itself…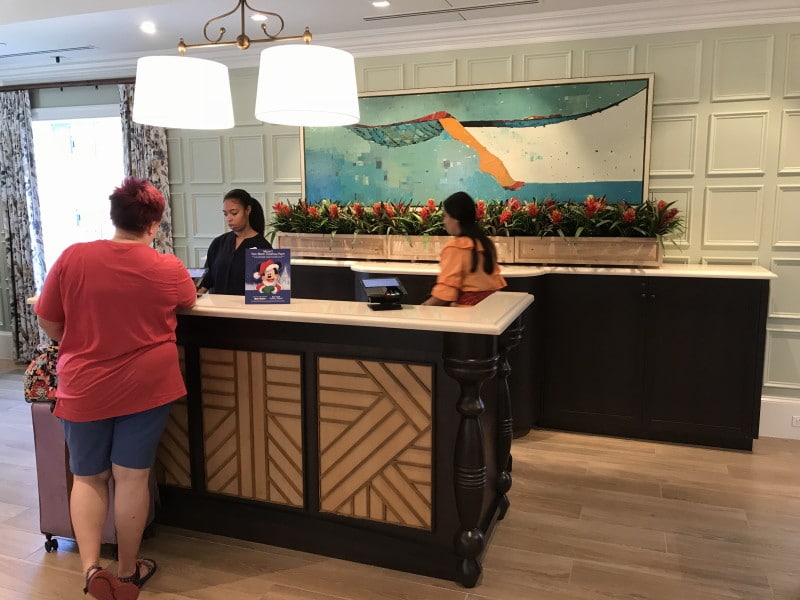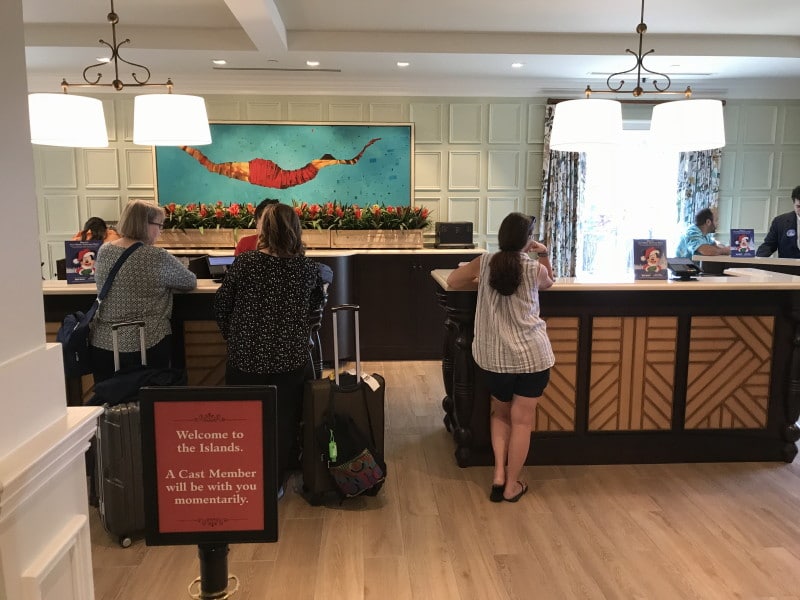 …or at a series of desks.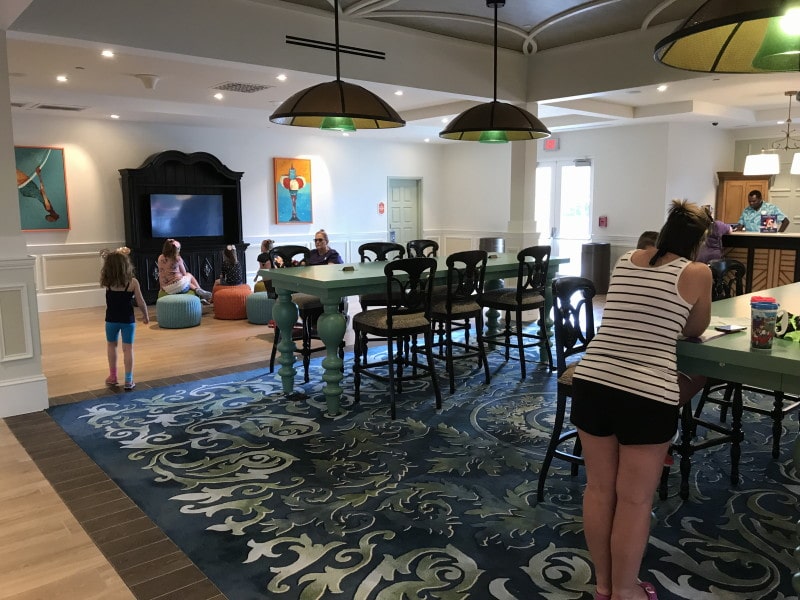 You'll also find a table with powerpoints…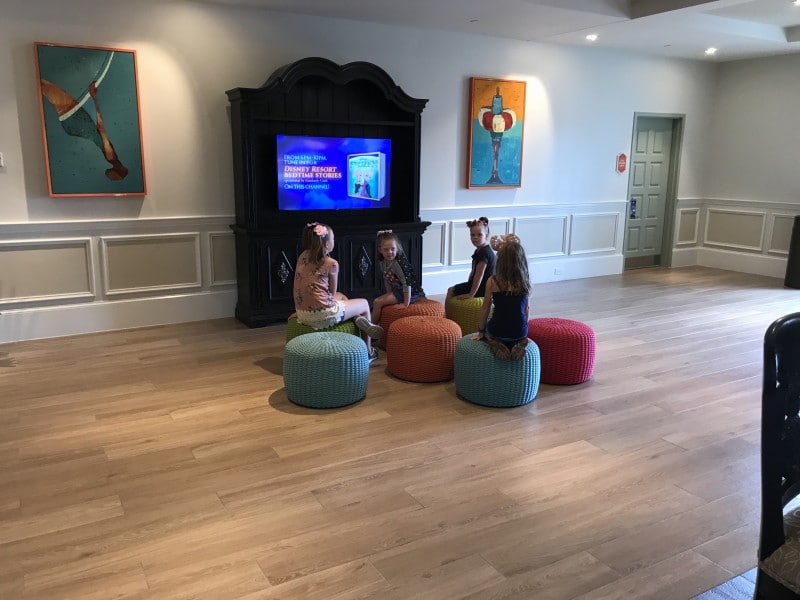 …and beyond it a kids' waiting area.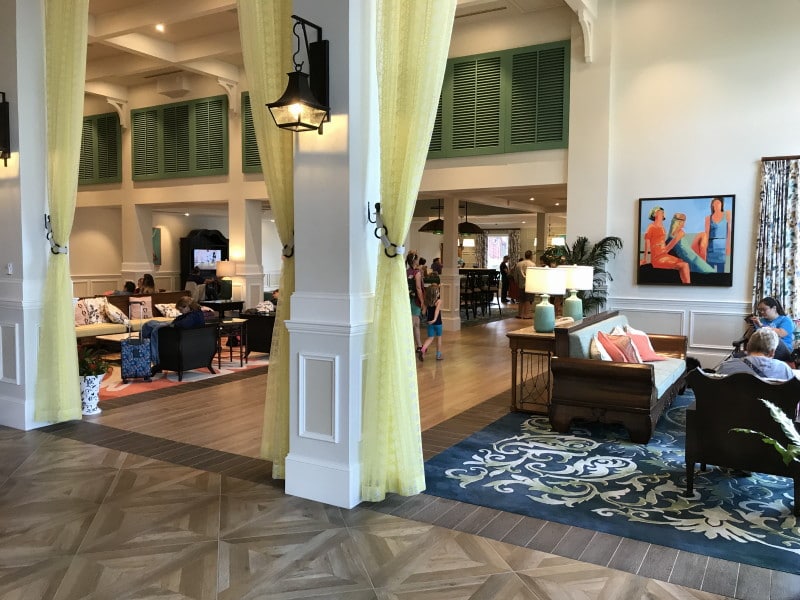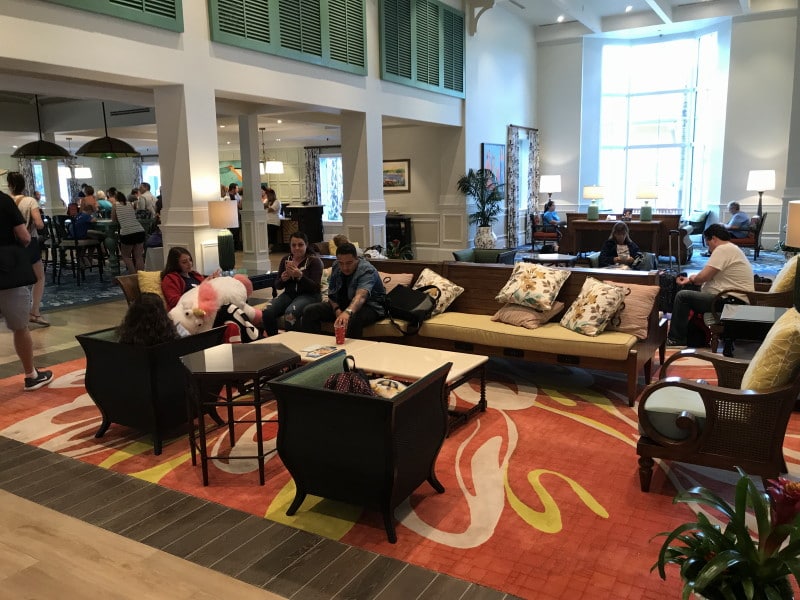 Multiple other seating options are in the lobby area.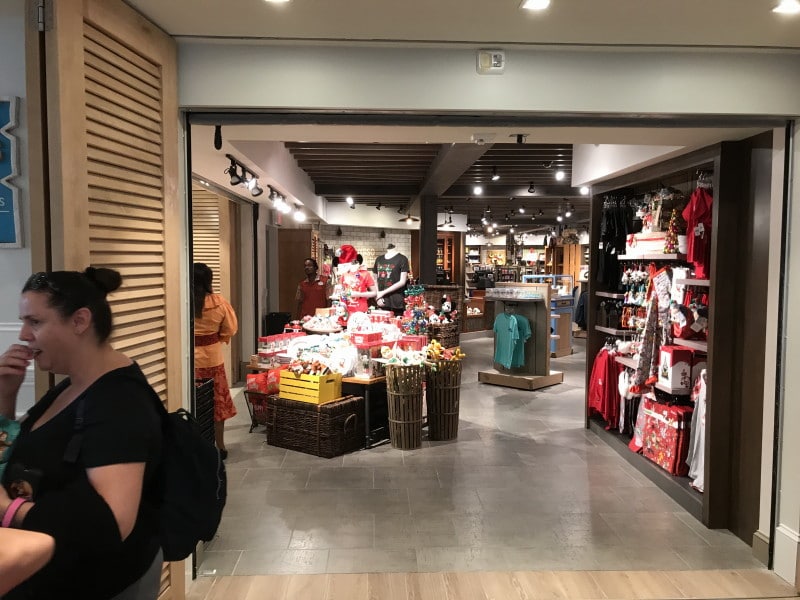 Back towards  the port cochere on the other side you'll find the gift shop.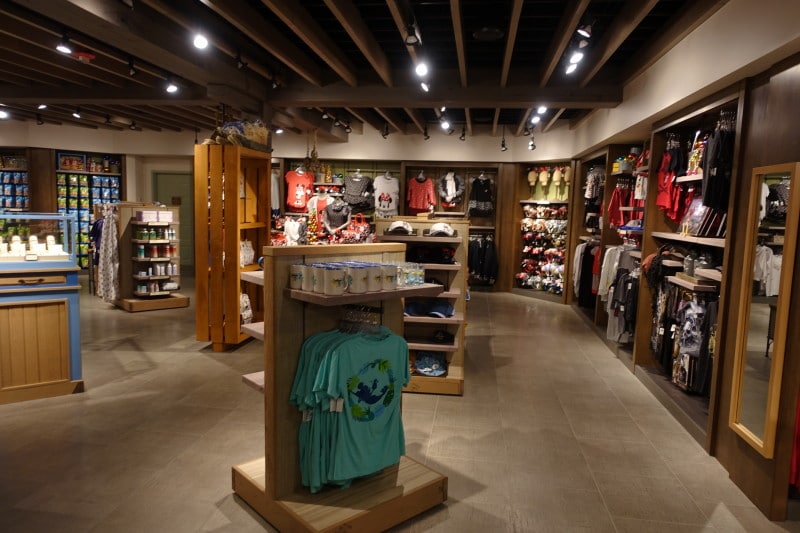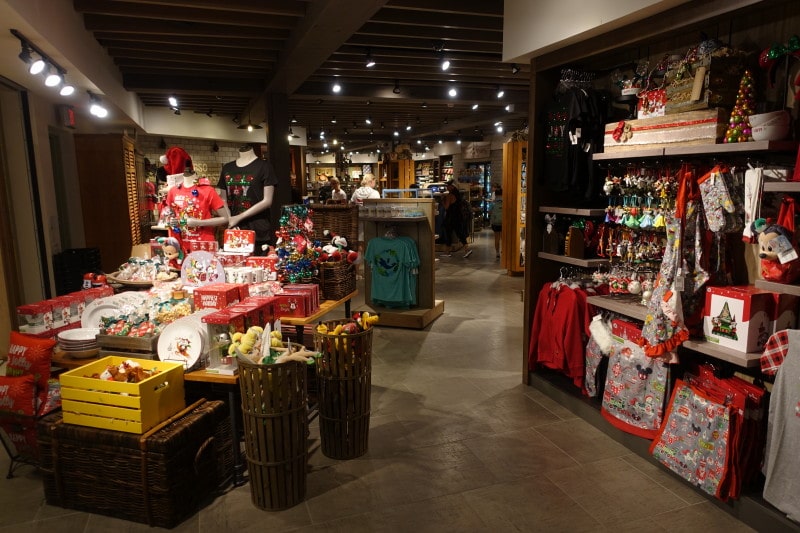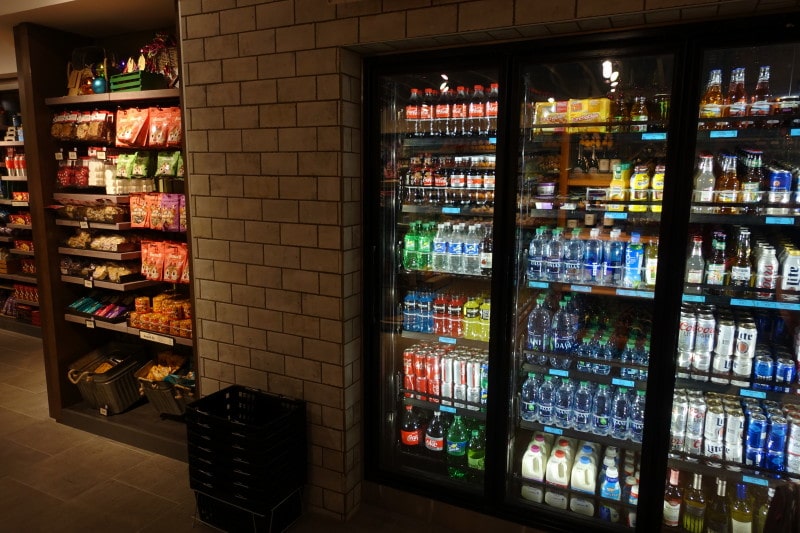 You'll find here gifts, clothes, souvenirs, snacks, drinks and sundries.
Just outside is the pool. The main Caribbean Beach pool is covered here, and the minor pools in Caribbean Beach's villages are covered here.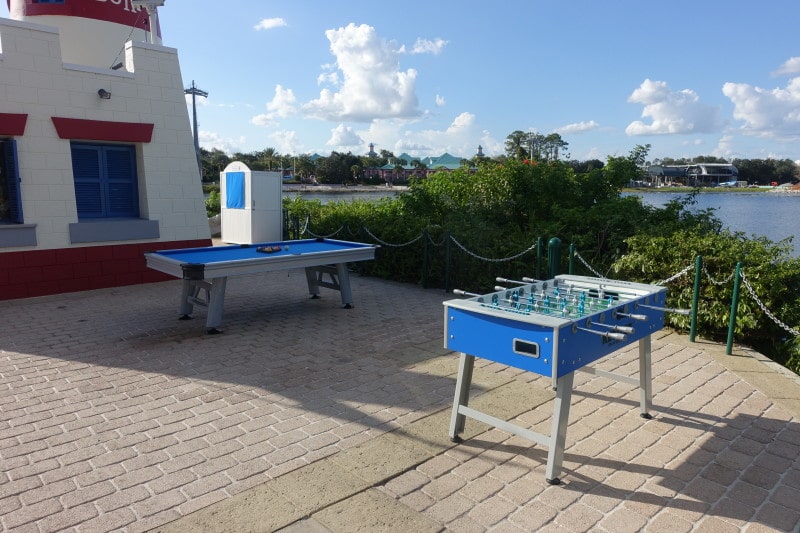 Outside by the lighthouse you'll find a pool table and a foosball table.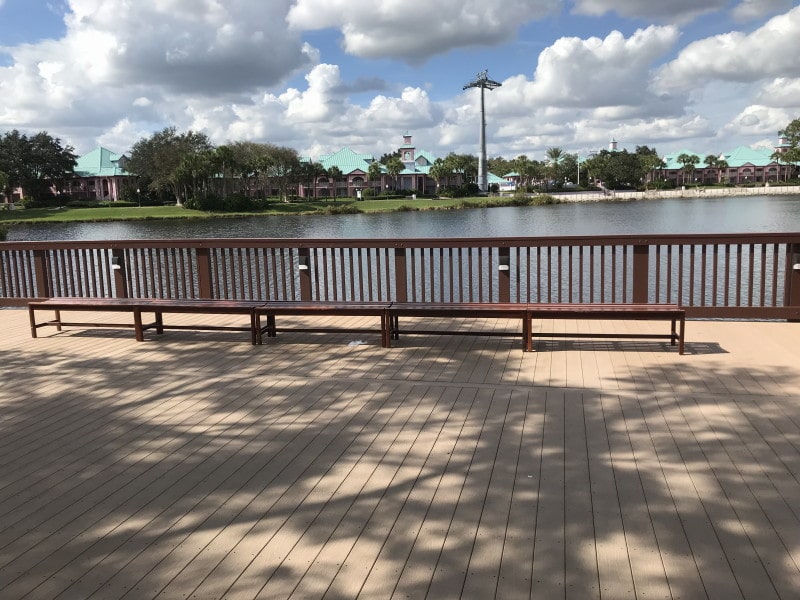 Back towards the pool, on the way to the bridge between Old Port Royal and Jamaica and Aruba, is a seating area from which you can see some of Epcot's fireworks show. Not a substitute for seeing these in the park, it's still a fun option to have.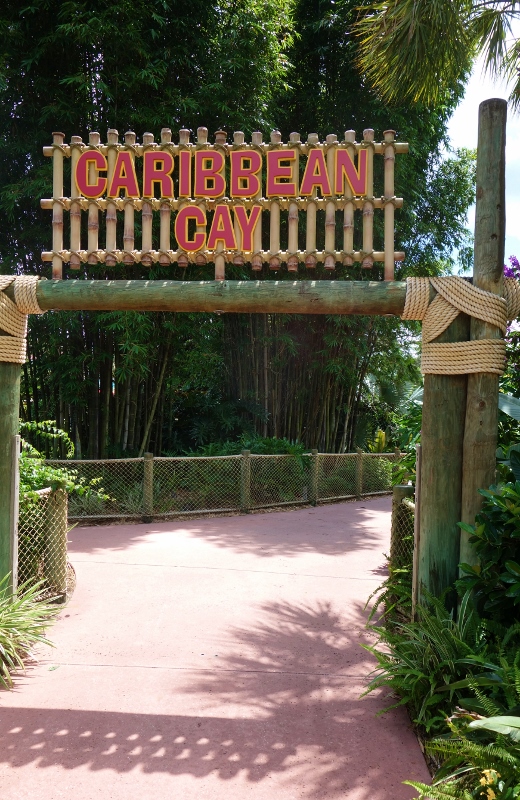 On the bridge you'll find Caribbean Cay…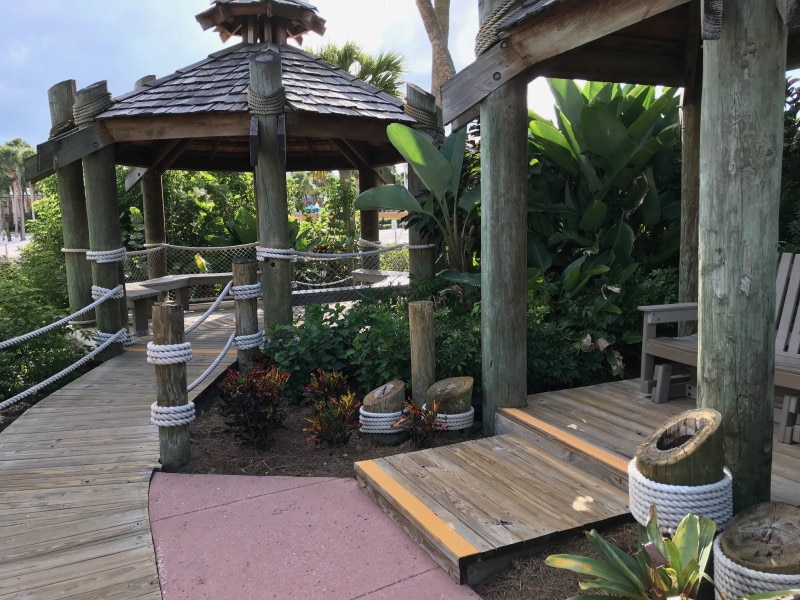 …with a lot of nice private seating areas on one side and several play areas on the other.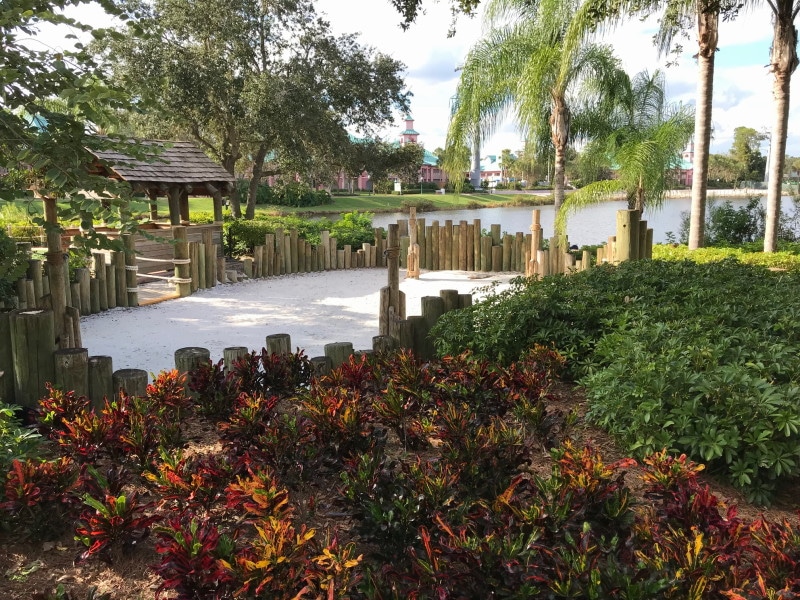 You'll find on the other side a sand play area…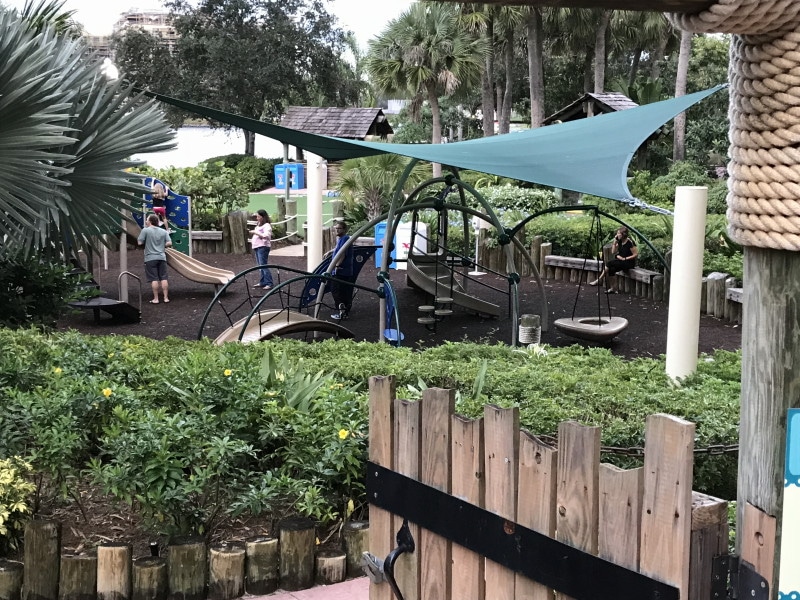 …a playground…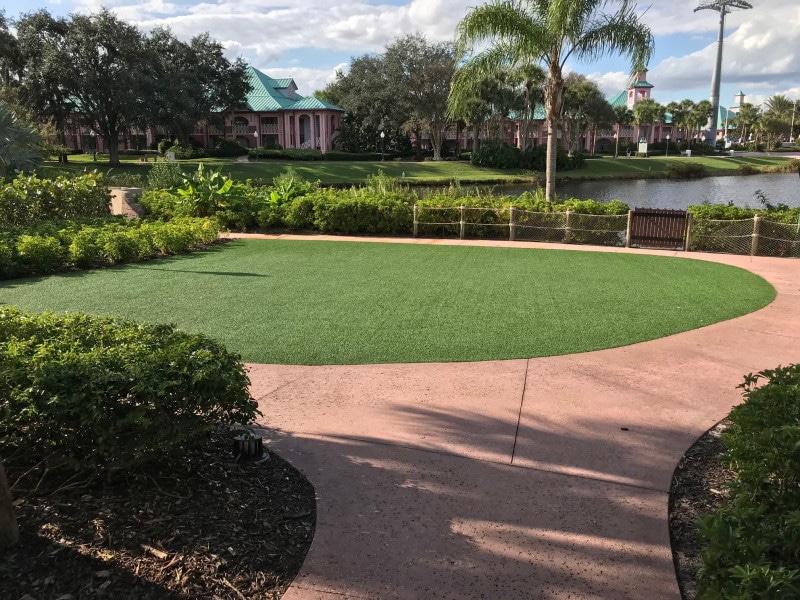 …and an astroturf lawn…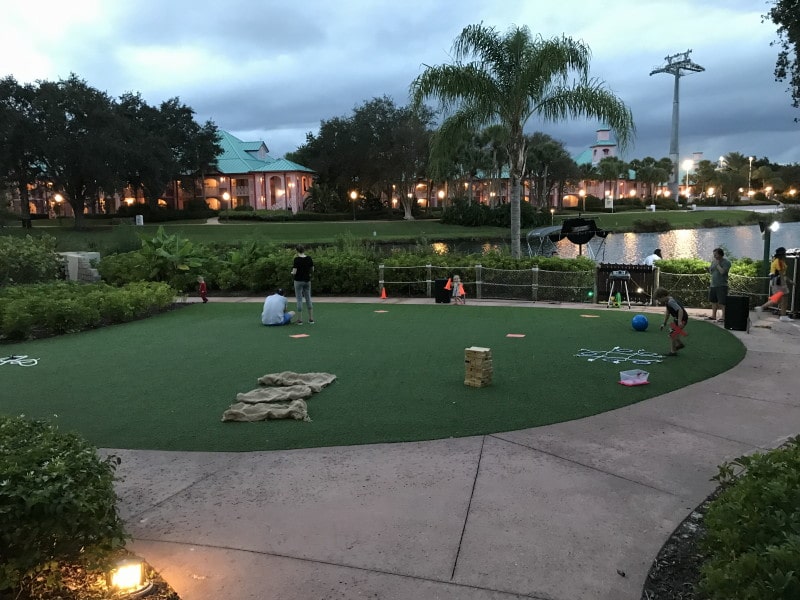 …which gains games in the evenings…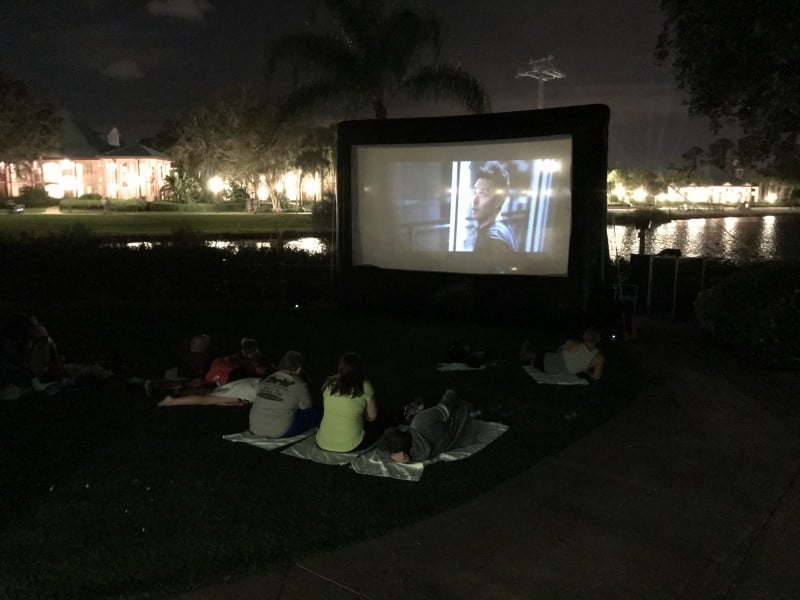 …just before the evening movie is is shown here.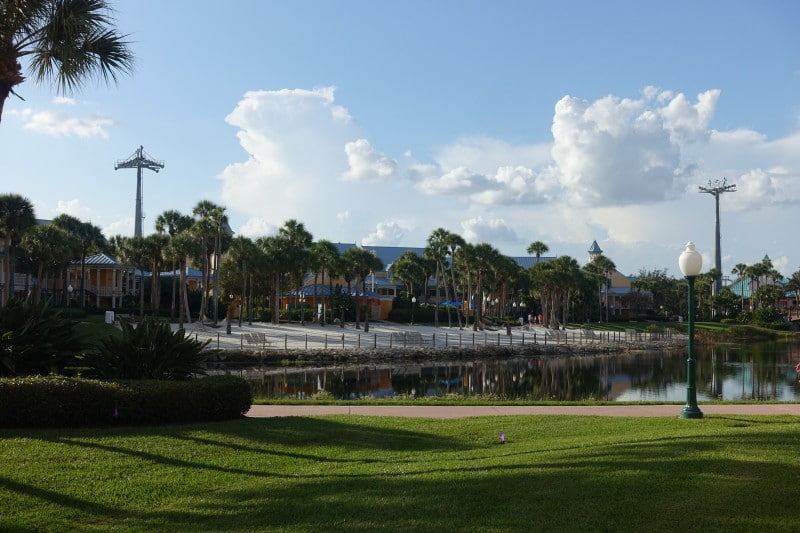 All Disney transport to Magic Kingdom and Animal Kingdom is via buses.  Folks going to Epcot or DIsney's Hollywood Studios can take a bus or the new Skyliner.
Each village has its own bus stop, and there's another at Old Port Royale.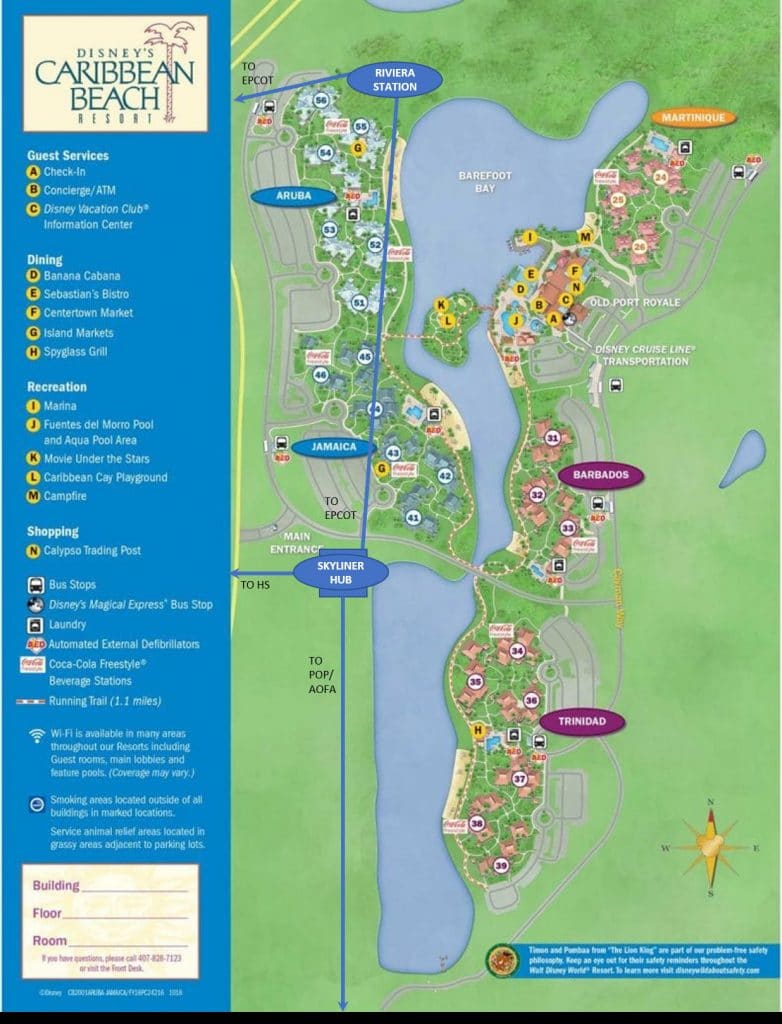 Once you are settled, check the map.  At Aruba and Martinique a different bus stop than "yours" may be closer to your accommodations building–for some Aruba buildings, the Jamaica stop is closer, and for some Martinique buildings, the Old Port Royale stop is closer.
The Skyliner goes to Epcot and the Studios from the hub at the bottom left of the map, closest to Jamaica, Trinidad and Barbados.  Another stop, on the Epcot line, is accessible at the top of the map.  See this for more on the new Disney Skyliner gondola system.
This review continues here. 
PAGES IN THIS REVIEW OF DISNEY'S CARIBBEAN BEACH RESORT
OTHER KEY PAGES FOR WHERE TO STAY AT DISNEY WORLD


Follow yourfirstvisit.net on Facebook or Twitter or Pinterest!!
RELATED STUFF