Disney World's Early Theme Park Entry Program
By Dave Shute
EARLY THEME PARK ENTRY AT WALT DISNEY WORLD
Walt Disney World has kicked off its new "Early Entry" program.
This program, which replaces the previous Extra Magic Hours offering that was cancelled in 2020, allows folks staying at any Disney World owned resort, or at any of fourteen other hotels on (or almost on) the Walt Disney World property (full list here) to enter any of the four Disney World theme parks at least 30 minutes before anyone else can enter these theme parks. (Contrary to some claims from others, the list of eligible hotels is exactly the same as the list of hotels eligible for EMH before the March 2020 close.)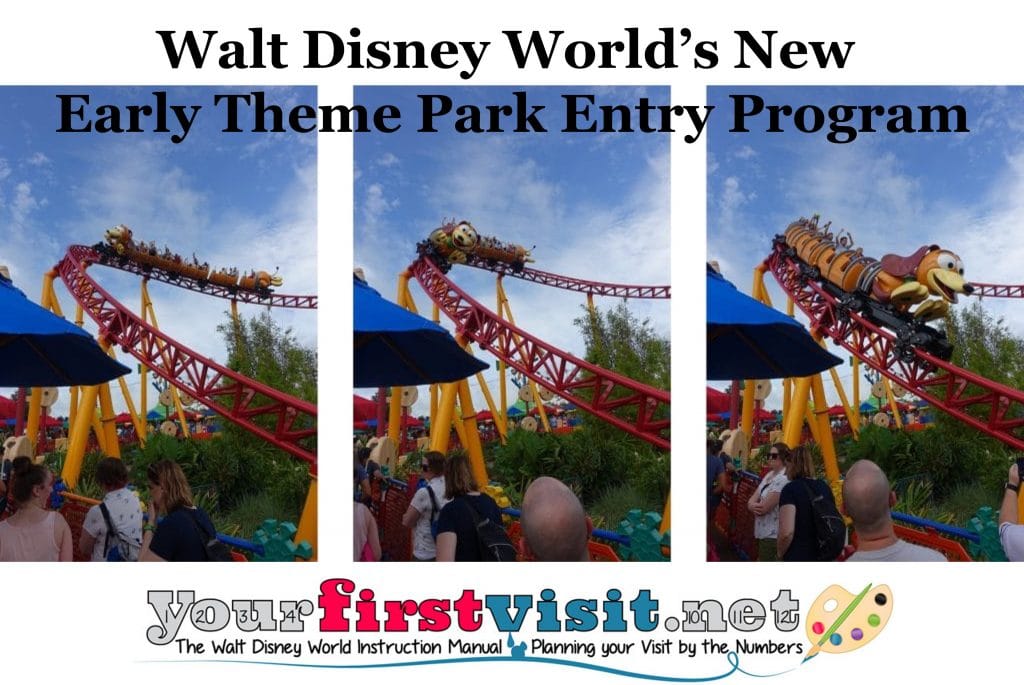 There is no extra cost to taking advantage of Early Entry. However, each person entering a park early will be required to have a valid ticket, a valid reservation, and proof that one is a guest at an eligible resort hotel.
There has been much dismay that the Extra Magic Hours ("EMH") replacement Early Entry program offers no evening hours, as EMH did—extra evening hours will likely be reserved for those staying at the equivalent of a deluxe resort (I'll write more about that later) or for those paying extra for after-hours events. The absence of evening hours penalizes those from other time zones, those who prefer to sleep in in the mornings, etc. That said, in the FastPass+ era with its early park closes—especially at Magic Kingdom—compared to previous eras, there was not all that much value to evening EMH.
There has also been dismay that that the Early Entry period is only 30 minutes. (Disney's initial messaging about this was that it would be "at least" 30 minutes. I expect longer periods may show up—especially over high crowd holiday weeks, and/or as Disney learns more about the impact on this program on guest satisfaction and on occupancy rates at eligible hotels.) However, I expect that this shortening will be more than offset—way more than offset—by the fact that every park will have Early Entry every day. Each week each park will have at least 210 minutes of early entry.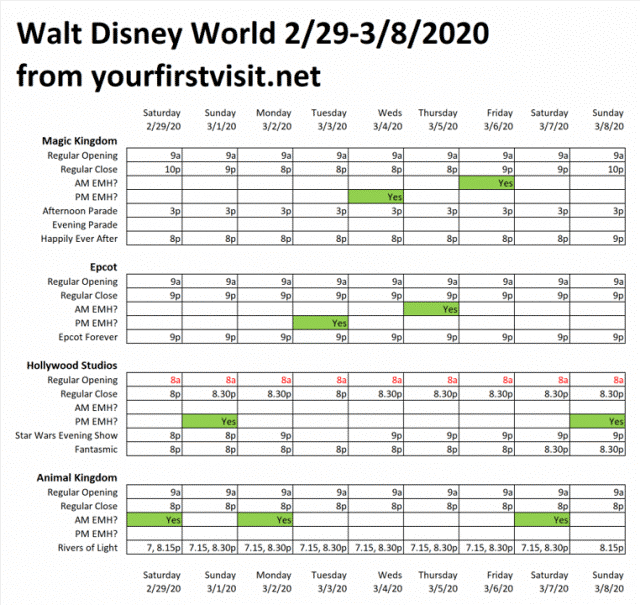 Common non-holiday EMH patterns before Disney World closed for COVID had 180 minutes a week of EMH at each of Epcot and Magic Kingdom, (one 60-minute morning and one 120-minute evening session at each), 120 minutes at Disney's Animal Kingdom (two morning sessions), and 60 minutes a week at Disney's Hollywood Studios. See the image above (note that it is for a nine-day period, and the figures above for a seven-day period; weekly history of EMH back to early 2012 is here.) That nets to a more than 50% increase in minutes/week of exclusive access.
At the parks, Early Entry eligibility, a well-planned itinerary and an arrival at least 30 minutes before Early Entry opens ought most time of the year to put eligible guests through at least one ride (more in Fantasyland) and in line for a second before anyone else can make their way into the lines. This, when combined with the possibilities created by Disney World's replacement for the FastPass+ systems, will put eligible guests who can take advantage of both three to six steps ahead of everyone else—which will yield much lower waits over the course of a day than what guests who can't, or won't take, take advantage of these offerings
Even more important is that Disney World Early Access happens every day at every park. In the EMH period, having EMH at each park most weeks of the FastPass+ era only once or twice a week, and most commonly just one park offering EMH on any given day, meant that guests on shorter stays might have missed the EMH most valuable to them entirely, and that some parks could be more crowded all day from the draw to it of morning EMH among the ~75,000 guests in the eligible hotels.
Having Early Entry every day at every park means that not only can eligible guests with any length of visit take advantage of Early Entry at any park they have reservations for, but also that every day eligible guests will be divided over four parks, rather than just one.
Finally, some have noted that the 30-minute Early Entry reduces the perks of staying in an eligible resort compared ot the 60 or 120 minutes of exclusive period during the FastPass+ part of the EMH era.
I suspect that in contrast, Early Entry will be the most valuable perk Disney World has offered to eligible resorts in the time I have covered it. The value of the perk is not just the advantage it offers to eligible guests, but also the disadvantage it confers on ineligible guests.
For the first time, every time ineligible guests enter the parks, they will face already existing lines from eligible guests, every day, at every park. The ability of those staying at an ineligible hotel, or coming from home on annual pass, to enter the parks on equal terms to everyone else five or six days a week is just gone.
The current list of rides available during Early Entry is here—it is near identical with the stable of offerings during the last iteration of morning EMH.
A related program, for guests at a a much narrower set of resorts, is the Extended Evening Hours program.

Follow yourfirstvisit.net on Facebook or Twitter or Pinterest!!</p
RELATED STUFF