Dining at Disney's Caribbean Beach Resort
By Dave Shute
(For the first page of this review of Disney's Caribbean Beach Resort, see this.)
After a lengthy refurb, permanent dining options reopened at Disney's Caribbean Beach Resort in early October 2018. In total, dining at Caribbean Beach is now the best among the moderates. I had the chance to try all the new stuff in my early-November stay at Caribbean Beach.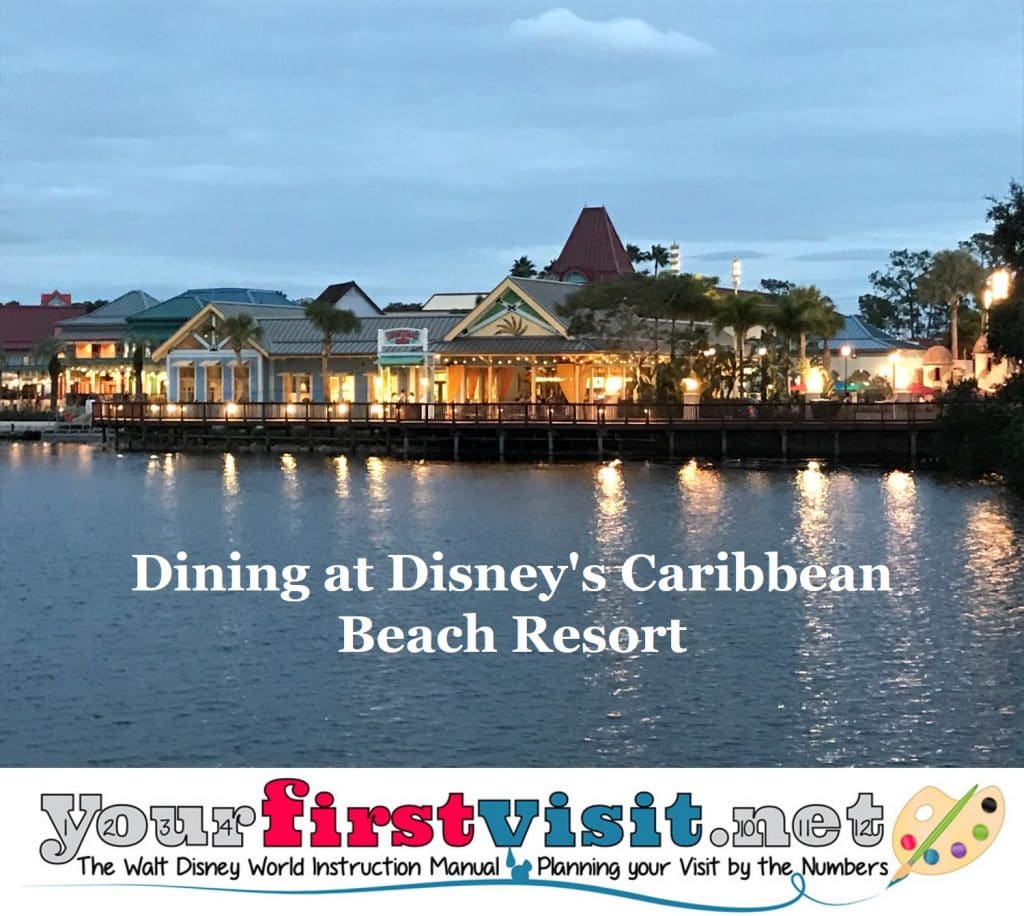 Dining at Caribbean Beach now includes snacks and such at a grab and go in Centertown, quick-service dining at Centertown (now including lunch) and the Spyglass Grill in Trinidad, and table service in Old Port Royale at the re-imagined bar Cabana Banana and at next door Sebastian's.
Taking them in reverse order…
SEBASTIAN'S BISTRO AT DISNEY'S CARIBBEAN BEACH RESORT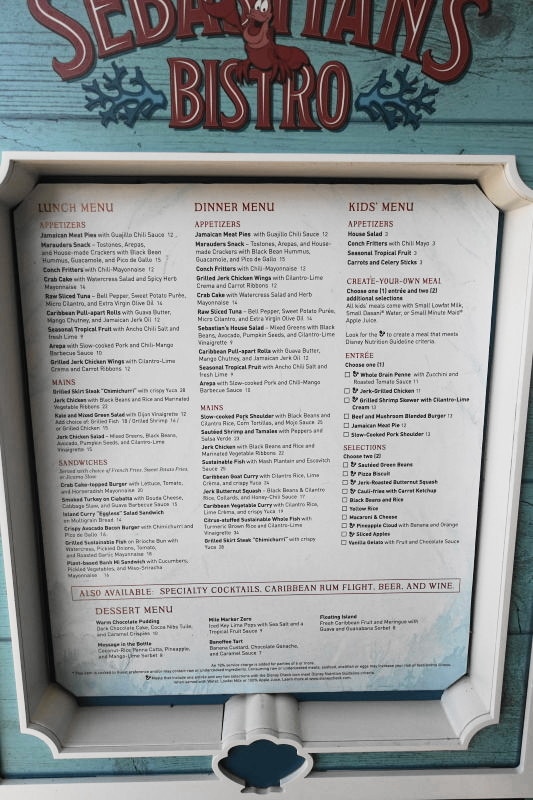 The all-new waterside table service venue Sebastian's Bistro is open for lunch and dinner. The menus are here, and you can also see the lunch and dinner menus above.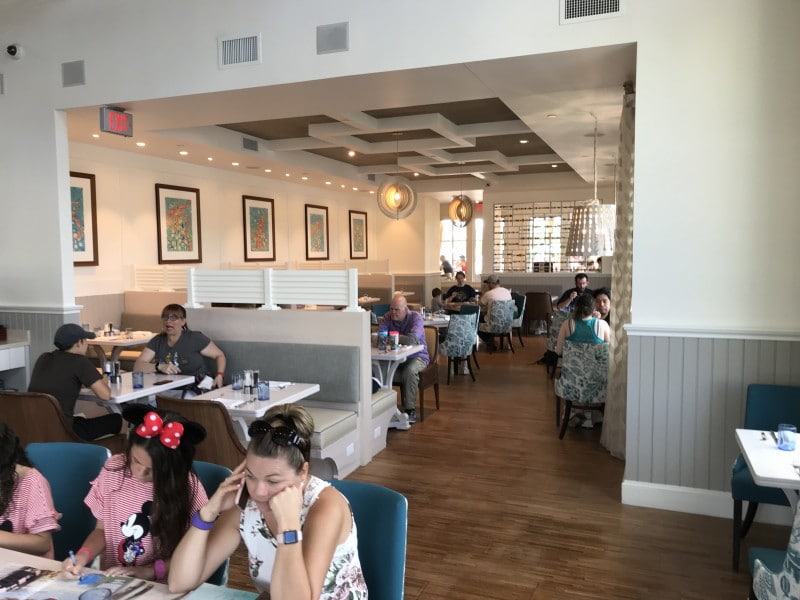 Sebastian's Bistro is a small, informal place..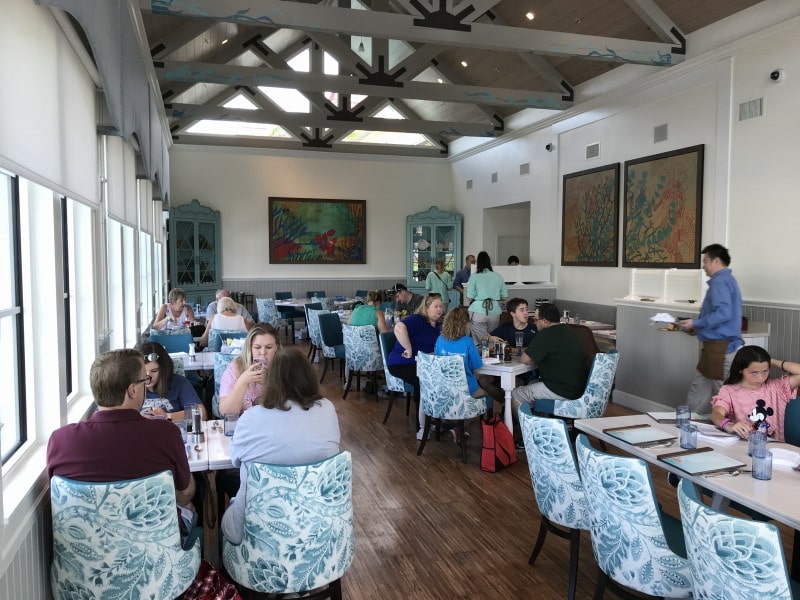 …with dining in two rooms.
The food has a Latin/Caribbean flair to it, and my server warned me that since it was all made in house to order, it might come out slower than at other Disney World table service restaurants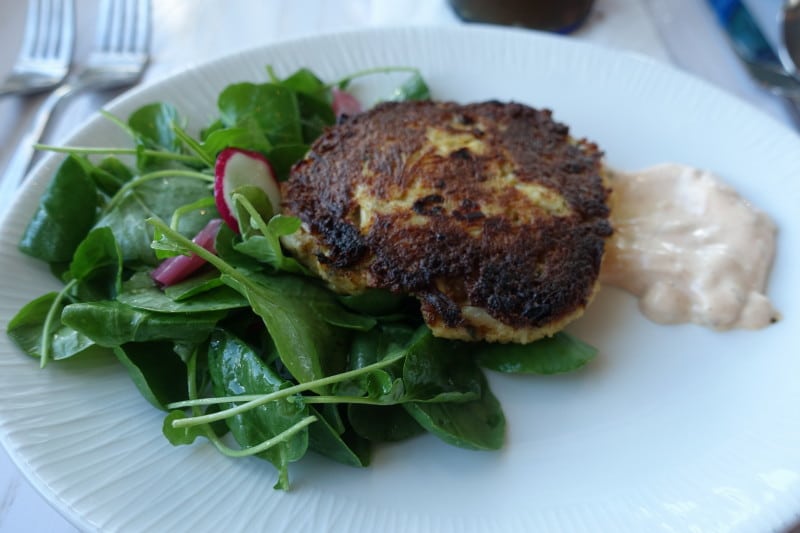 The service, by the way, was delightful at both my meals here. At my first–both were lunches–I started with a crab cake. My parents lived between Baltimore and Annapolis for more than 30 years, so I am qualified to judge a crab cake, and this was as good as any I have ever had. As a nice plus, the greens were in sufficient quantity, and dressed, to serve as a small salad.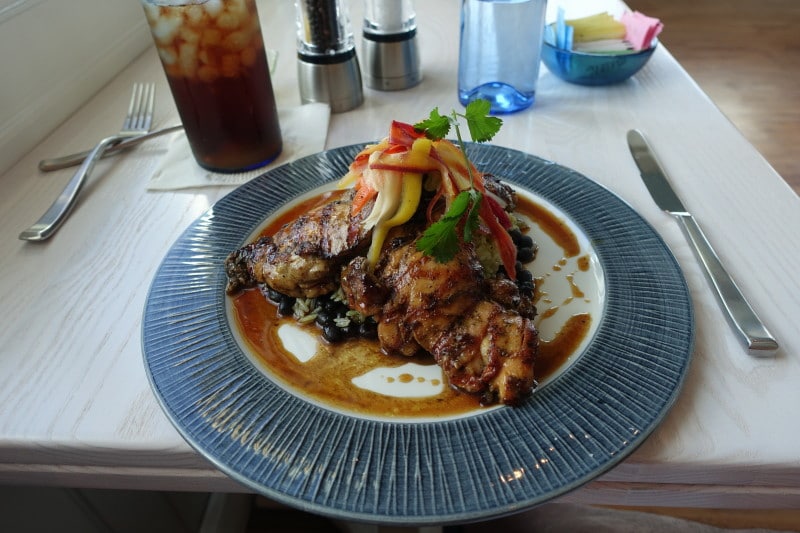 My entree was the jerk chicken, an enormous serving even before you go to the beans and rice it was served on.  It was fine–I'd recommend it to anyone who likes barbecued chicken.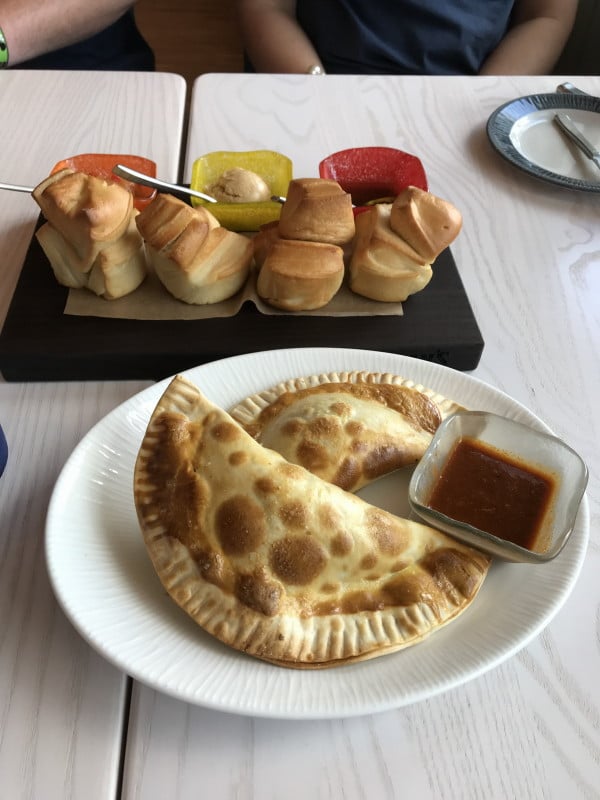 At my second meal, with Josh and Erin, the table got Jamaican meat pies and Caribbean pull-apart rolls as appetizers. The meat pies I was indifferent to, but the rolls with their sauces were terrific.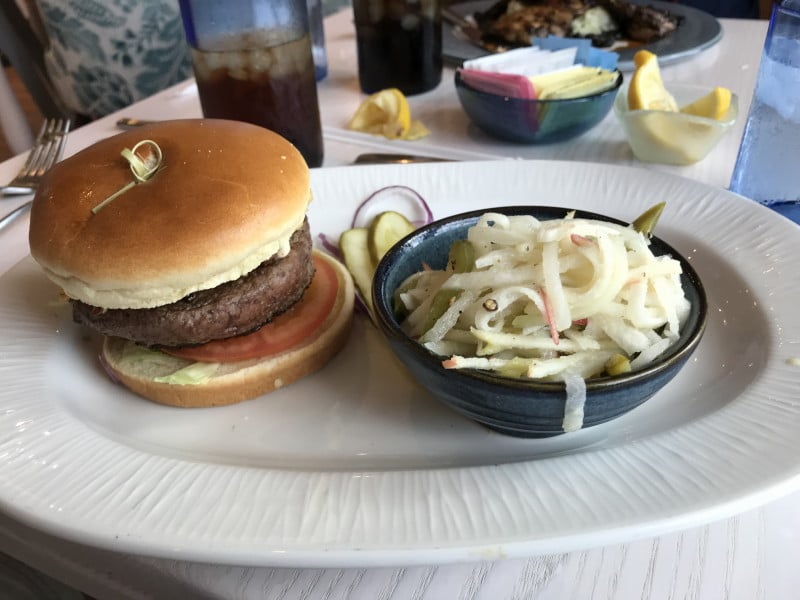 I got the Crab-cake topped burger, which is an indifferent combination–a burger, with a crab cake on the side, would be a better choice.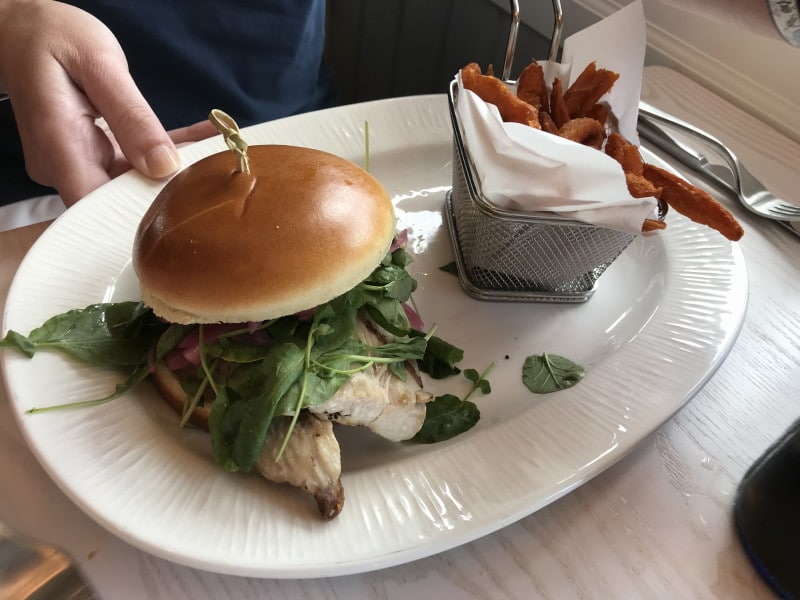 Josh got the Jerk chicken, and Erin the Grilled sustainable fish of the day–another huge portion.
There's next to no theming–kids looking for Sebastian will need better eyes or better luck than I had.
But even so, overall, Sebastian's is a great choice for folks staying at Caribbean Beach, and is closer to being destination dining than the table service offerings at any of the other moderates (though I have high hopes for the new venues at Coronado Springs that will be opening next year).
BANANA CABANA AT DISNEY'S CARIBBEAN BEACH RESORT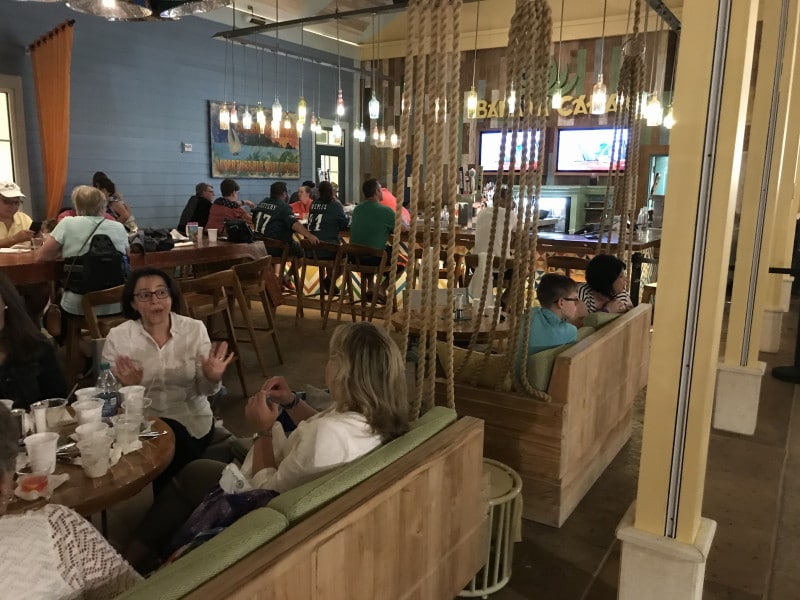 Banana Cabana, which does double duty as the general bar and poolside bar at Caribbean Beach, opened at the same time.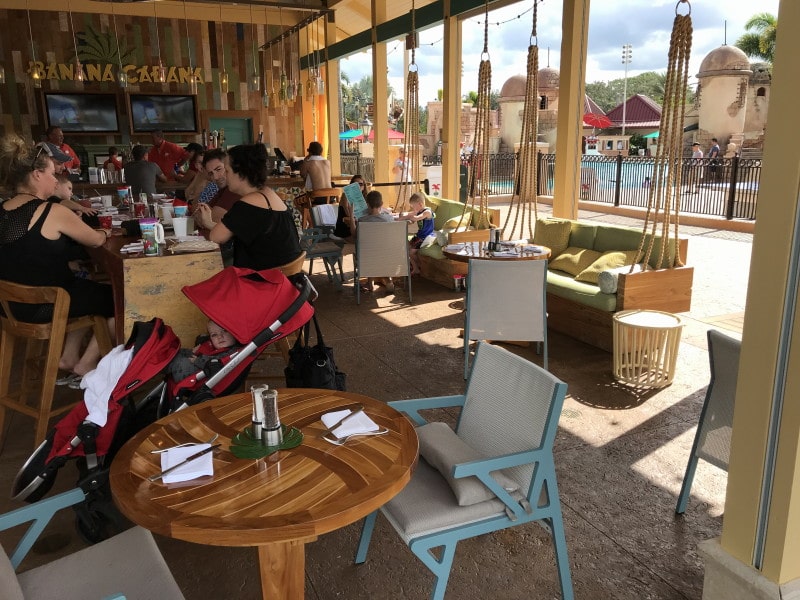 Much improved over its previous instantiation, it's now a place where you can comfortably sit and toss back a drink or two…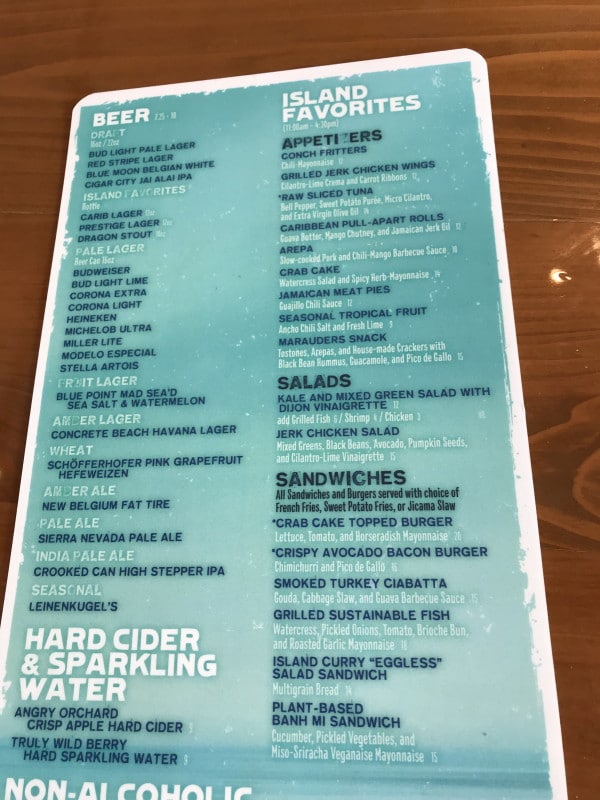 …while also dining.  Its menu is heavily shaped by the next-door Sebastian's Bistro.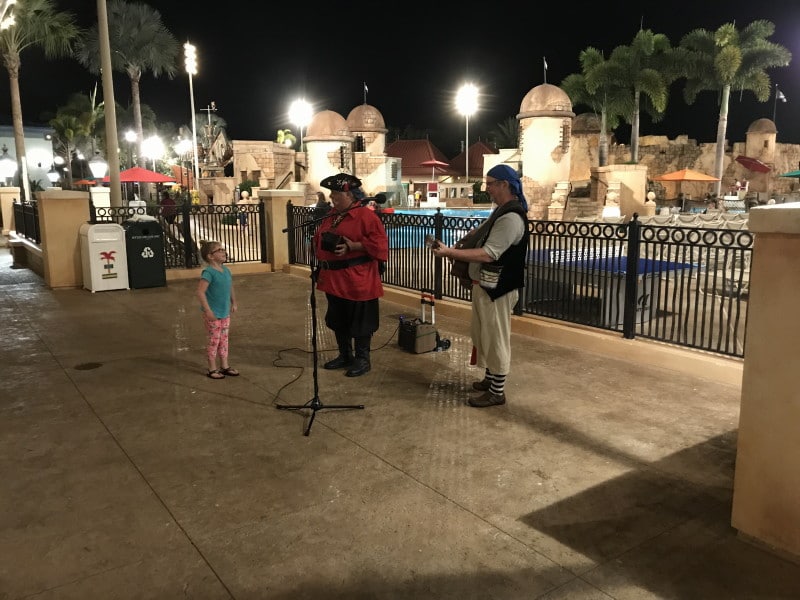 At least one evening, there was live entertainment on the walkway between Banana Cabana and the pool…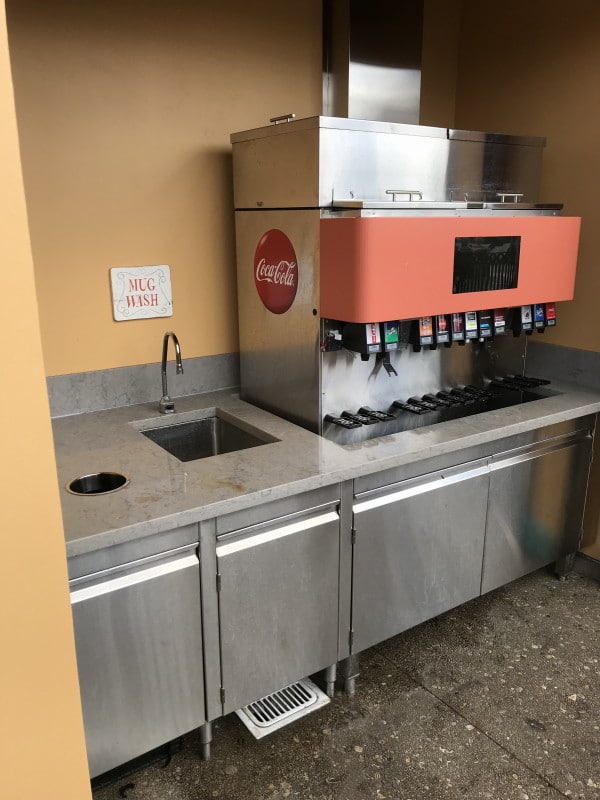 …and perhaps more broadly enjoyable, there's also a refill station for refillable mugs on the same walkway.
While I did not try it, the geometry of Banana Cabana suggests that guests seated at the far end, away from the bar, likely will have distant views of the Epcot fireworks.
THE CENTERTOWN MARKET AT DISNEY'S CARIBBEAN BEACH RESORT
The Centertown Market is the principal quick service venue at Caribbean Beach. It opened to a bit of fuss, for two reasons. First, it did not initially serve lunch–lunch was added recently. Second, the ordering to delivery process has been re-engineered, and some felt, especially early on, that it was all taking way too long. My experience suggests these excess waits have been fixed.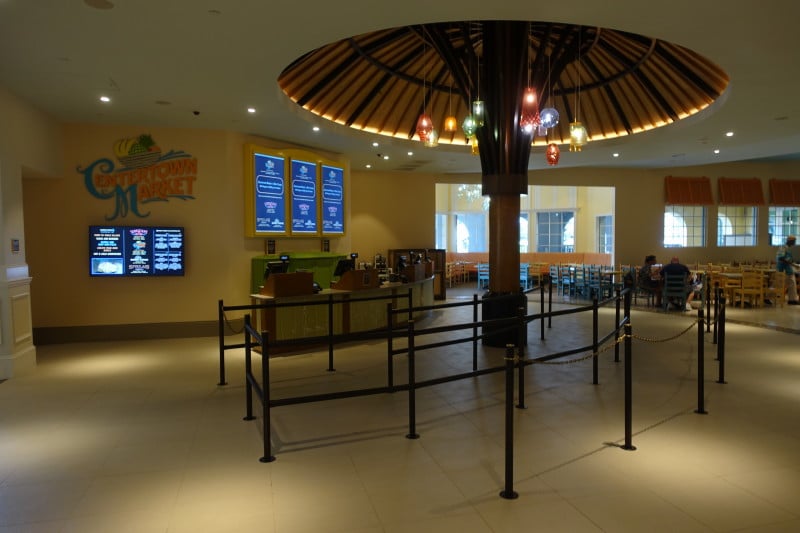 Unlike many other quick services at the moderates and values, with their multiple ordering stations…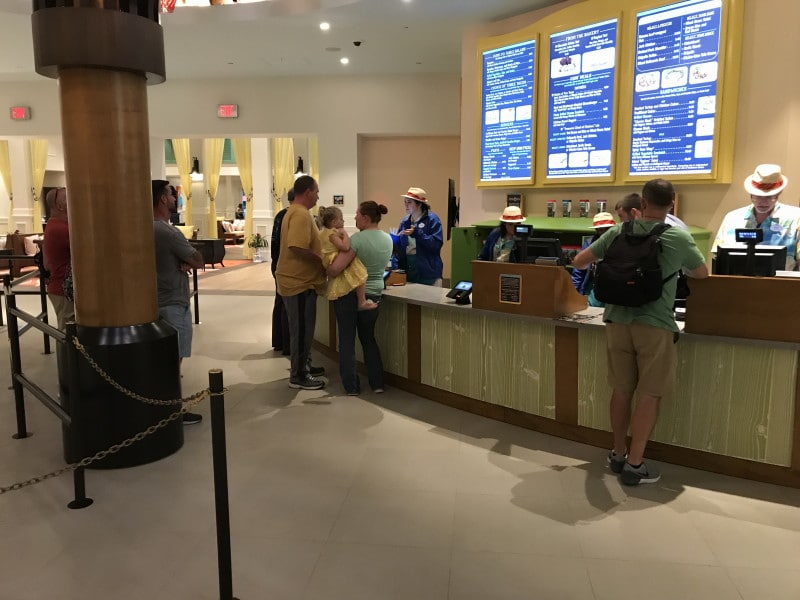 …all ordering at Centertown Market is done from a single point.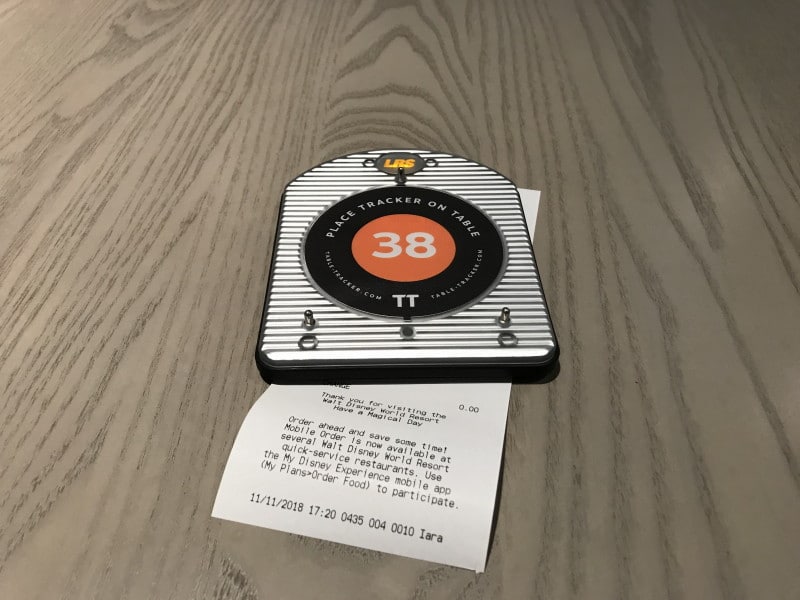 With your meals ordered and paid for, you then pick a table and put this thingy on it.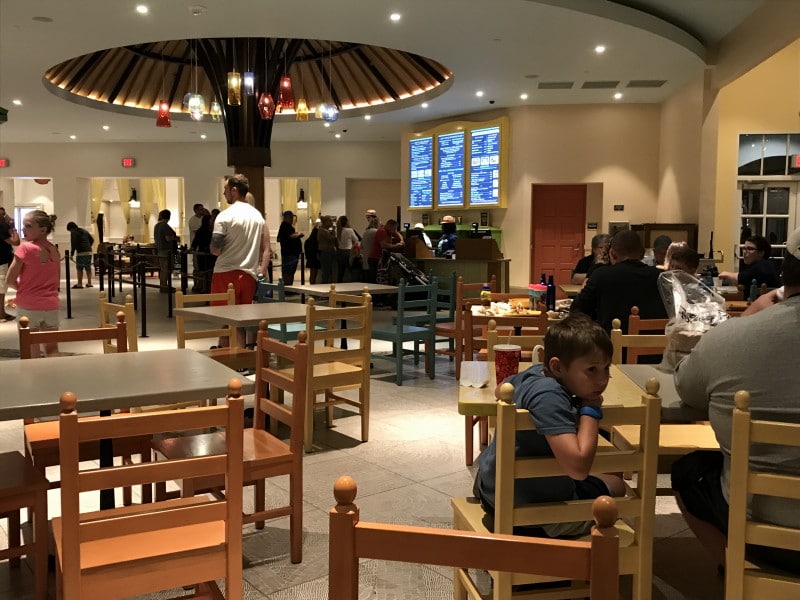 Tables are both inside (and thus air-conditioned)…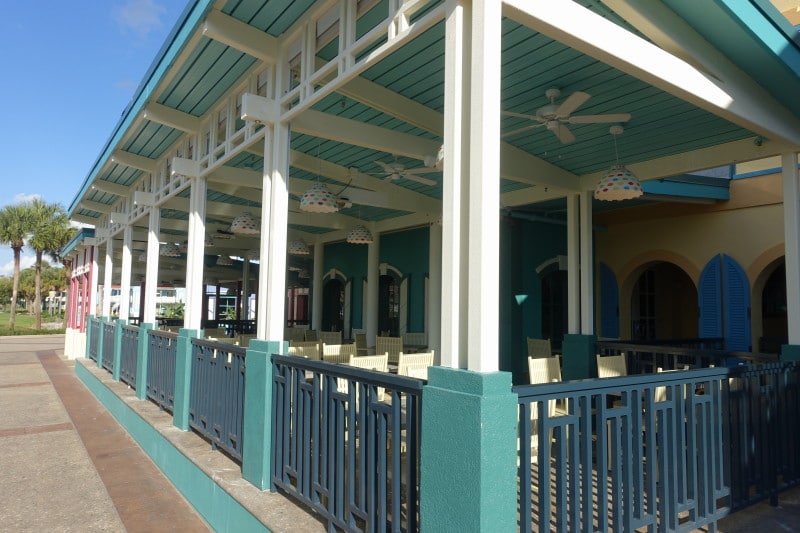 …and outside.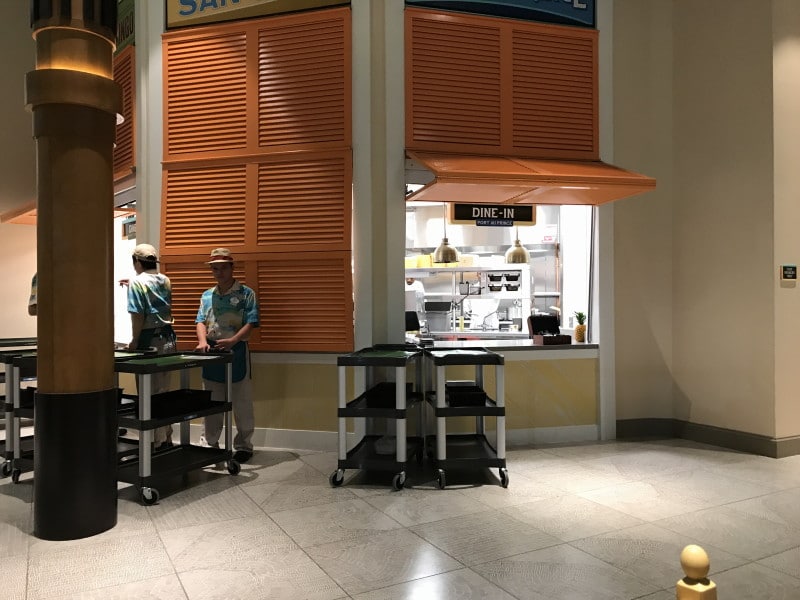 Cast members will then bring you your food and drinks on one of these rolling carts.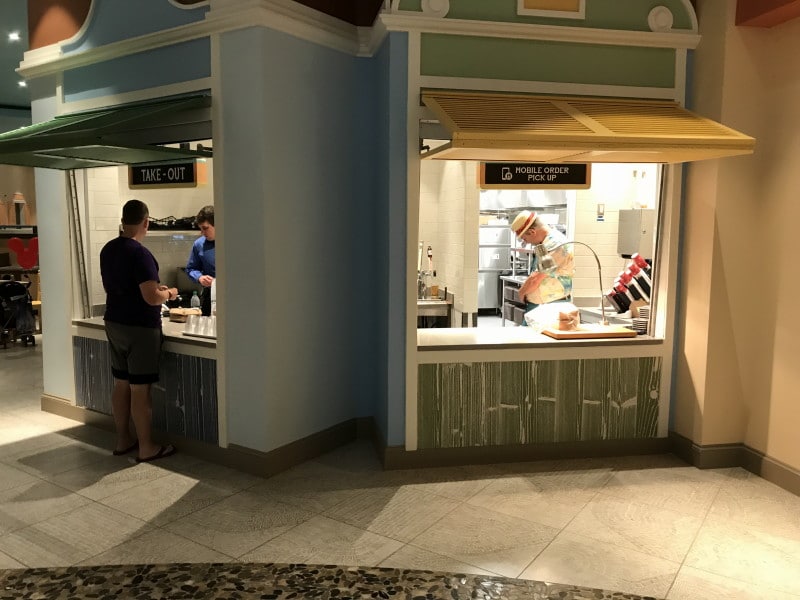 If you get your food to go, you'll go to a dedicated window for it once your thingy goes off–there's also a dedicated window for mobile orders, which I highly recommend if you are walking from your village to the Market–order your food on your walk, pick it up when you arrive.
The new process cuts multiple steps out of the old process, especially for families that commonly went to several stations, one after another, before they ended up with all their food. But it does make the wait between order and delivery much more visible, so it may well feel long–especially to those without a stopwatch.  My waits for my three meals were six minutes or less each, but more complex orders, at busier times of the day, may see longer waits.
All told though, you will spend less time from entering the order line to getting your food than you would at almost any other value or moderate food court.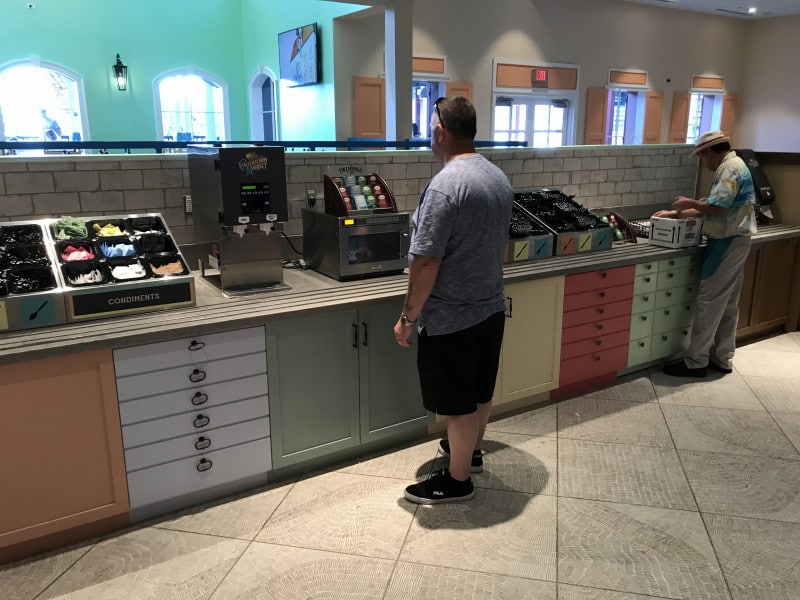 There's also an extensive condiments set up…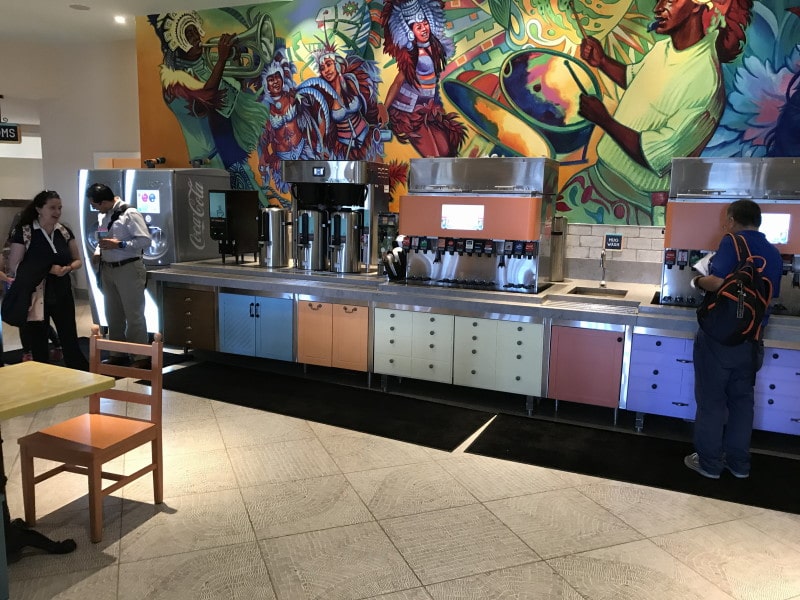 …and a station for drinks. (There's two more freestyle coke machines and some more coffee reservoirs out of view to the right.)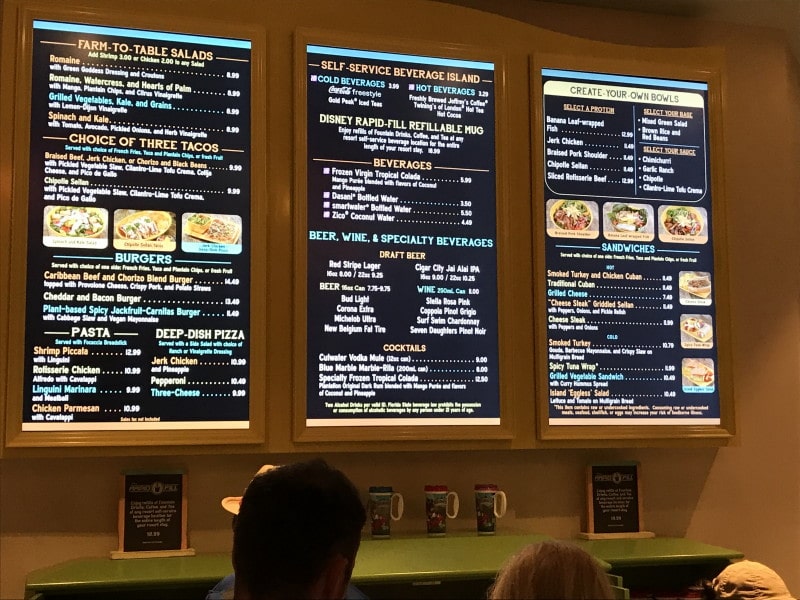 I tried two dinners: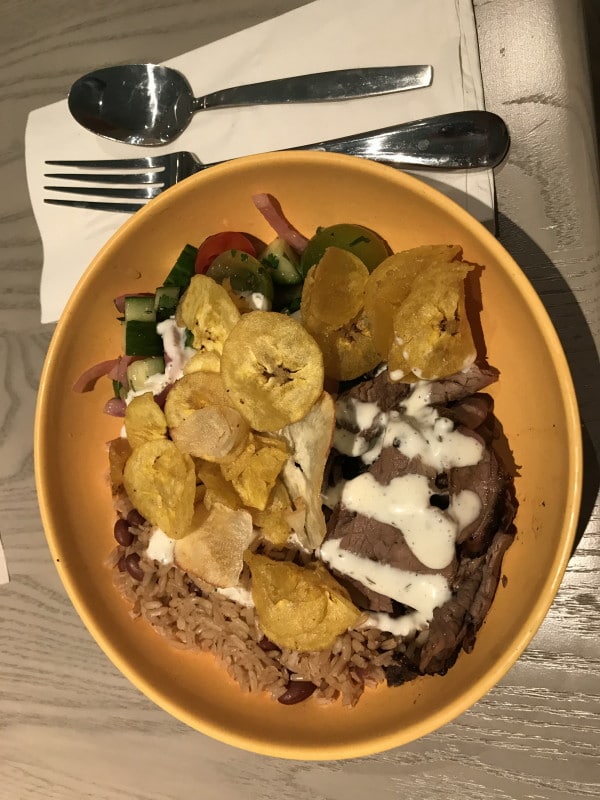 …a bowl that I ordered with beef, rice and beans, and ranch sauce (5 minutes from completed order to delivery)…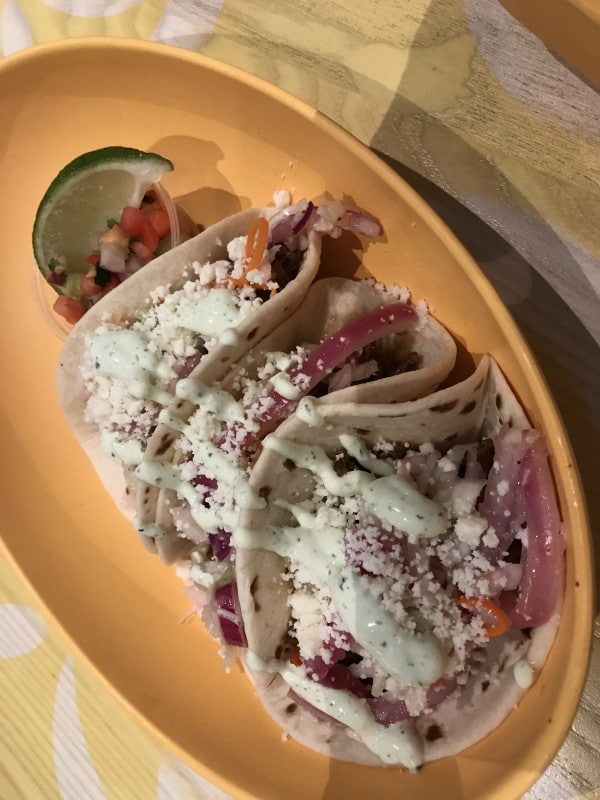 …and then tacos…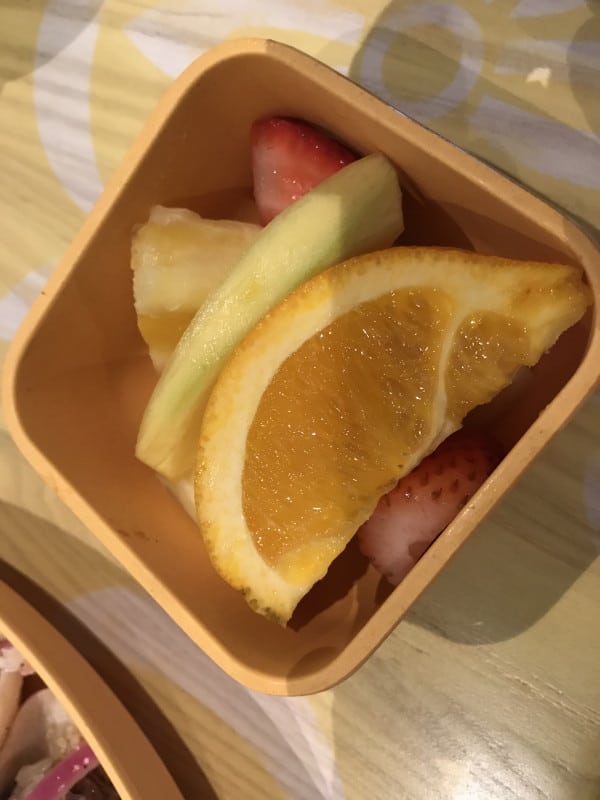 …with fruit salad (6 minutes from completed order to delivery).
All were fine–fast, fresh, hot (except the fruit), and tasty. The rice and beans base for the bowl need more beans. I would also have appreciated more sauce options for the bowls–on offer is Chimichurri, Garlic Ranch, Chipotle, and Cilantro-Lime Tofu Crema– but other than those points this is an adequate offering, better than most.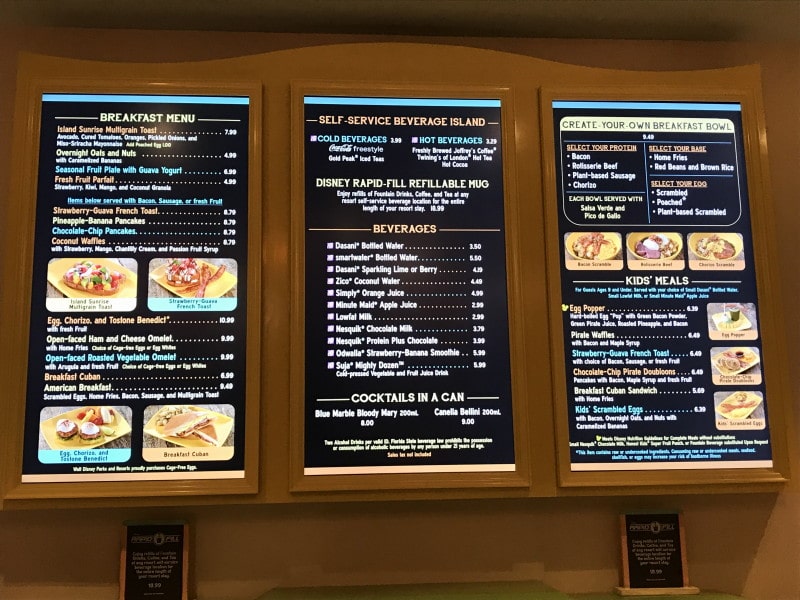 Bowls are also on offer at breakfast, and I was tempted to have one, as I am so three-years-ago-trendy, but instead had the Centertown Market equivalent of the "Breakfast Platter" (those with frequent stays at the moderates and values will know exactly what I mean)…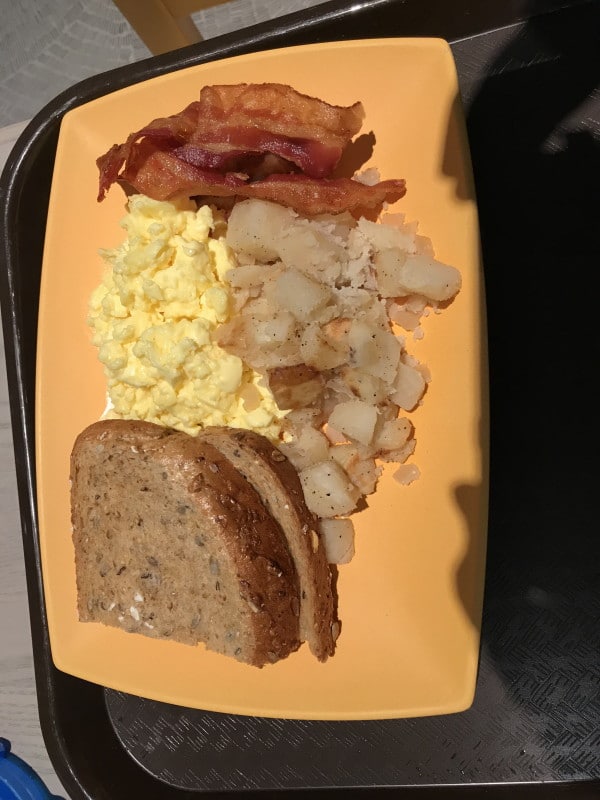 …the "American Breakfast." Three minutes from completed order to delivery. This was nice–fresher and hotter than what you'd get at other more complex food courts (the scrambled eggs, for example, were properly silky, rather than dry), and with particularly fine bread.
It's missing the waffle you'll find at the buffet-style stations that serve Breakfast platters, but those in the know avoid waffles from a buffet-style service anyway–you want one made in front of your eyes.
You can find the full Centertown Market menu here.
THE SPYGLASS GRILL AT DISNEY'S CARIBBEAN BEACH RESORT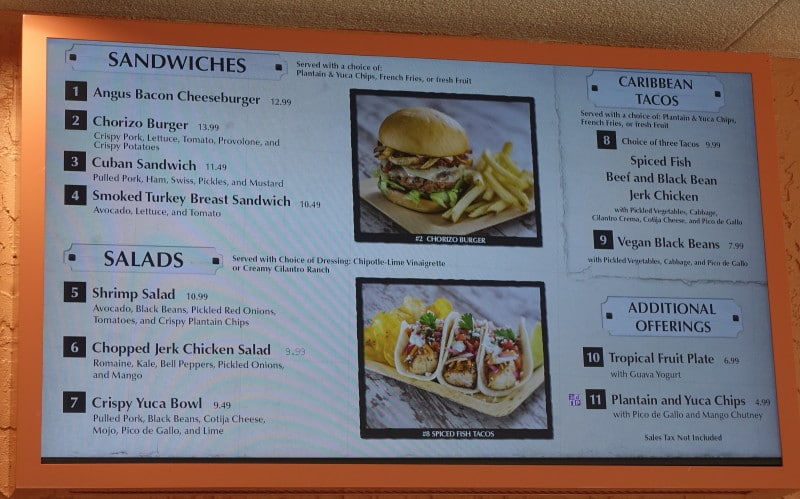 The Spyglass Grill is the other quick-service option at Caribbean Beach.
It opened in Trinidad in March 2018, and I posted earlier this year a full review here.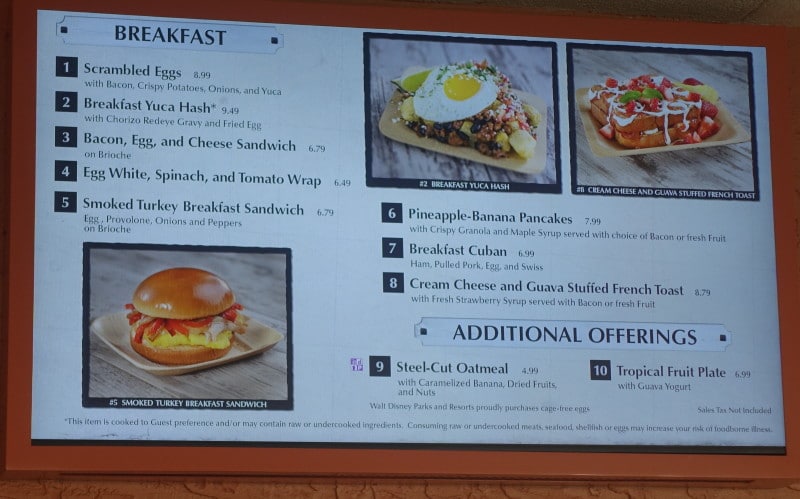 It offers an interesting and well-received, though limited, menu for breakfast, lunch and dinner.  It does not have a lot of capacity, and is a bit of a hike from areas outside of Trinidad.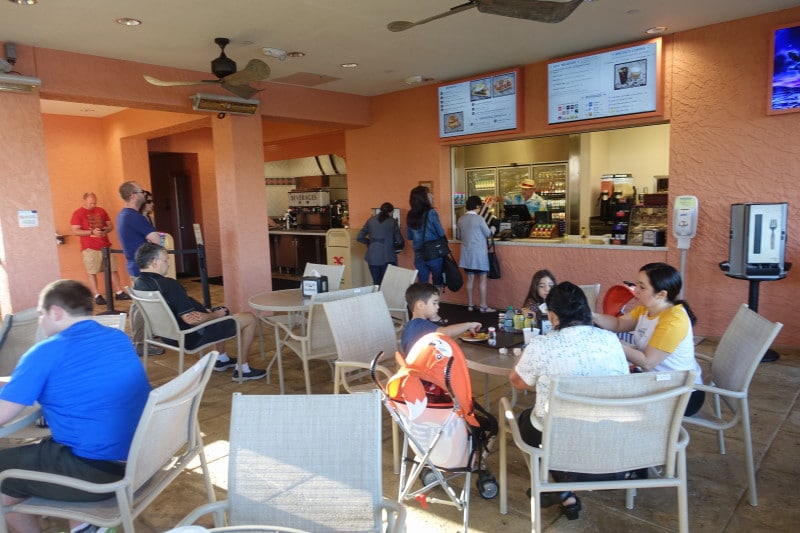 But it's a handy option for those staying in the otherwise distant-from-food Pirate Rooms in Trinidad.
THE CENTERTOWN MARKET GRAB AND GO VENUE AT DISNEY'S CARIBBEAN BEACH RESORT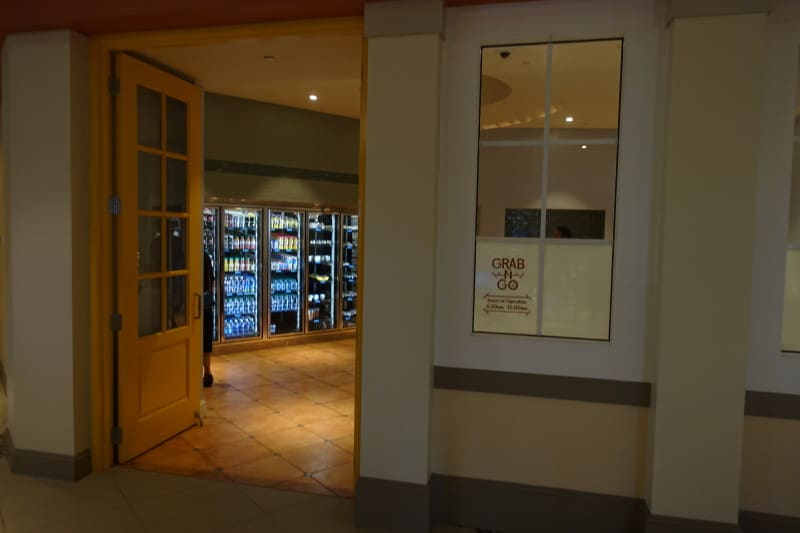 The grab and go offering at Caribbean Beach opened with the other new dining venues. It is open all day, which was important when Centertown Market was not open for lunch, but is less important now that it offers lunch as well.  The menu for Centertown Grab and Go is here,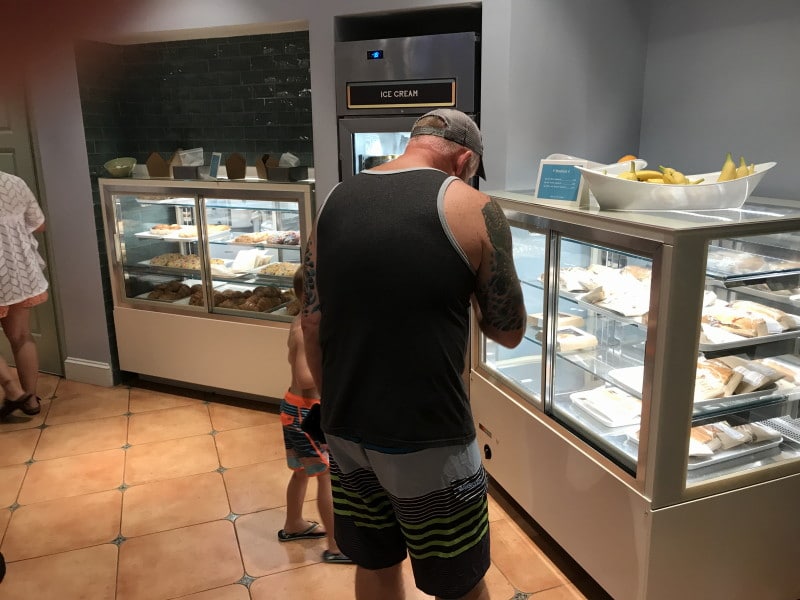 Here you can get the kind of refrigerated and shelf stable items that other food courts offer on shelves and cold cases in the back.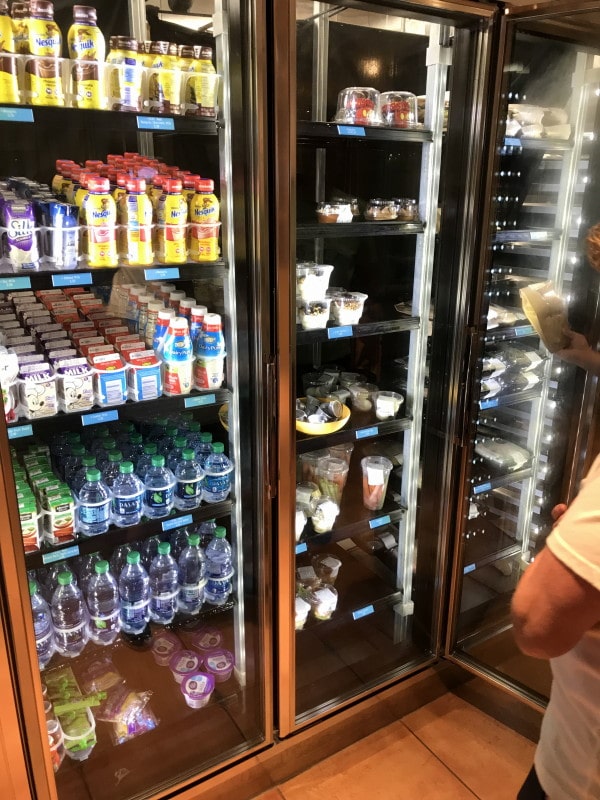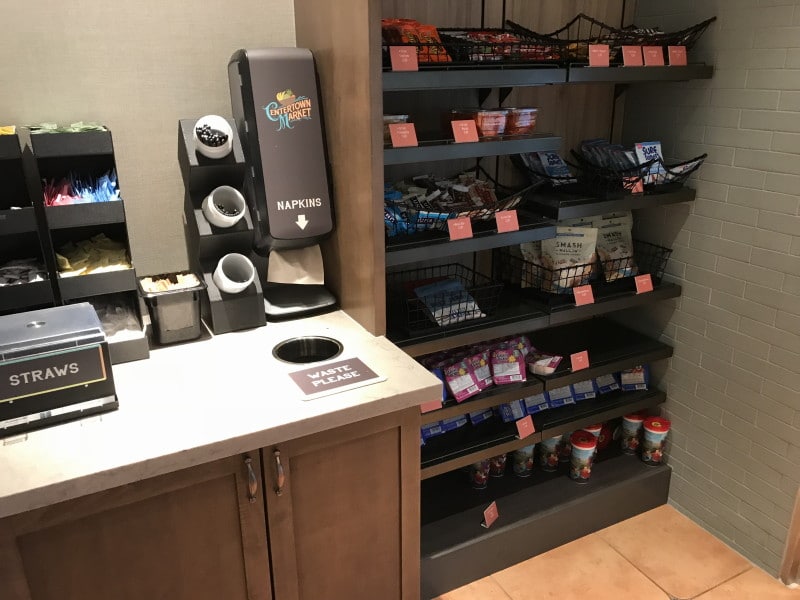 Some more of what's on offer here.
THE ISLAND MARKETS AT DISNEY'S CARIBBEAN BEACH RESORT
(The Island markets are now closed)
OTHER DINING OPTIONS AT DISNEY'S CARIBBEAN BEACH RESORT
THE FREESTYLE COKE MACHINES
Refillable mugs can be refilled in freestyle coke machines—where you get to design your own drink, like my favorite, peach Sprite.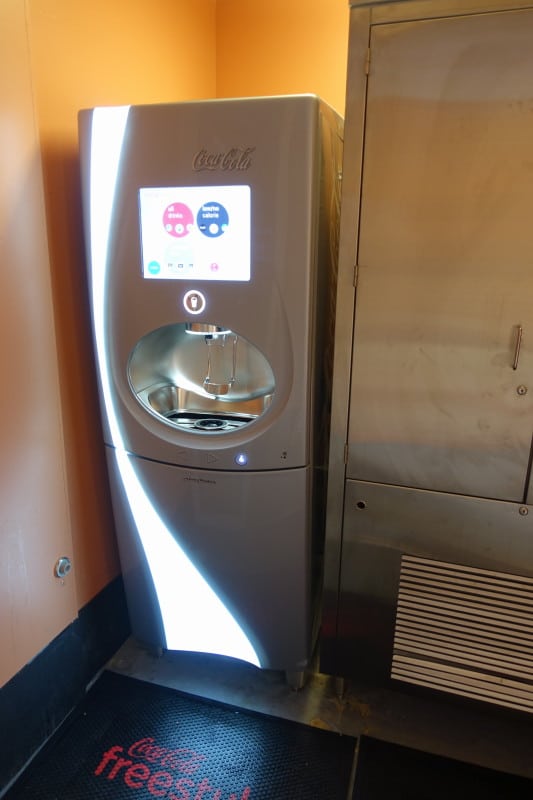 These machines are available in one or two buildings in each village, replacing in those buildings the old-style Coke machines—which remain in the rest of the buildings. Find the right building, then follow the signs for Ice and Vending.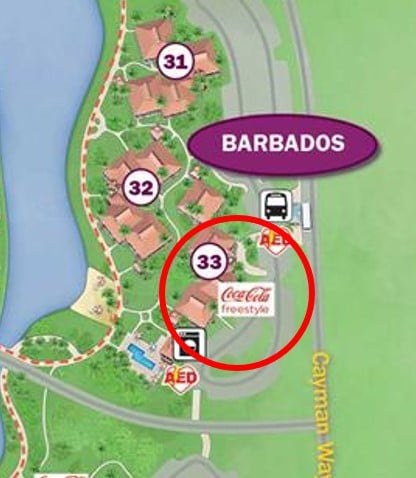 Buildings with the freestyle machines are marked on the resort map.
IN-ROOM DELIVERY OF PIZZA AND SUCH
Another option is ordering off of the limited delivery menu, which features, pizza, wings and such. The menu (click to enlarge):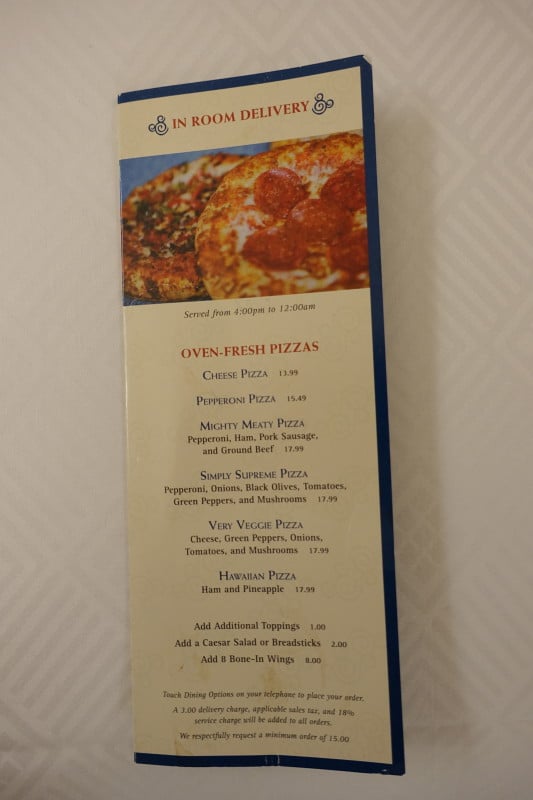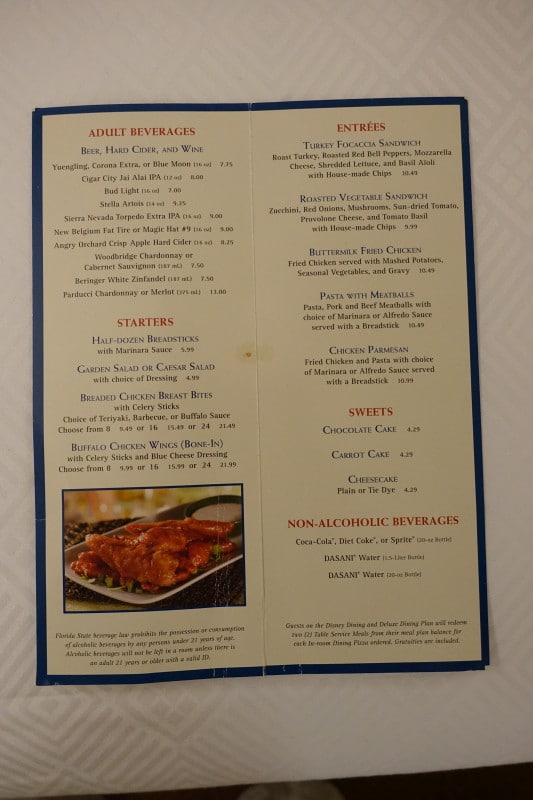 I've never had delivery pizza at Disney World. I tried to order one once, but a lizard-drowner of a storm meant everyone was sheltering in their rooms and ordering pizza, so after 15 minutes on hold I gave up and got a salad from an Island Market instead.
This option is available from 4p till midnight. Don't use the dining plan for these options–way too many credits will be charged.
THE VENDING MACHINE IN THE QUIET POOL LAUNDRIES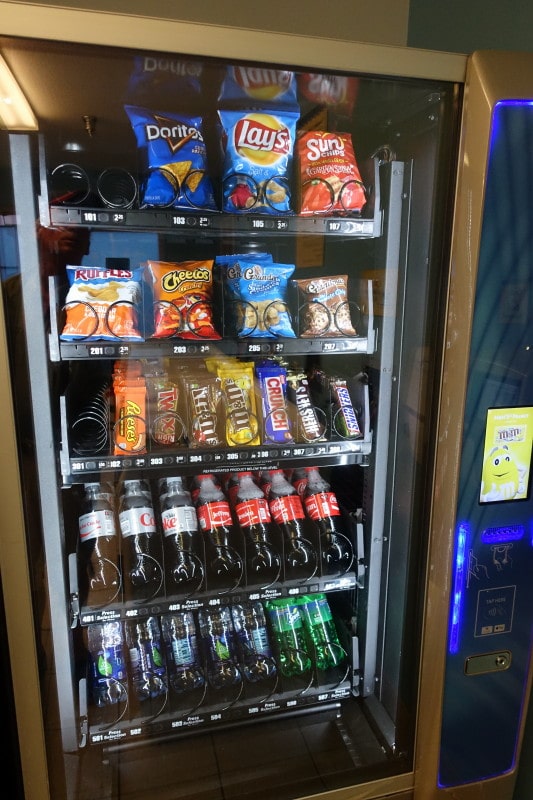 Finally, a post on the disboards Caribbean Beach thread reminded me that there's a vending snack machine in the quiet pool laundry rooms!
This review continues here.
PAGES IN THIS REVIEW OF DISNEY'S CARIBBEAN BEACH RESORT
OTHER KEY PAGES FOR WHERE TO STAY AT DISNEY WORLD


Follow yourfirstvisit.net on Facebook or Twitter or Pinterest!!
RELATED STUFF