Review: Disney's Port Orleans Riverside Resort
By Dave Shute
DISNEY'S PORT ORLEANS RIVERSIDE RESORT
Note: guests at Disney's Port Orleans Riverside Resort are eligible for Disney World's Early Entry program, and for early access to its paid individual system for access to certain rides, but NOT for its Extended Evening Hours.
With more than 2000 rooms sprawling in two different sections around Disney's (man-made) Sassagoula River, Port Orleans Riverside is probably Disney World's best-loved moderate resort, and has inspired a great fan site.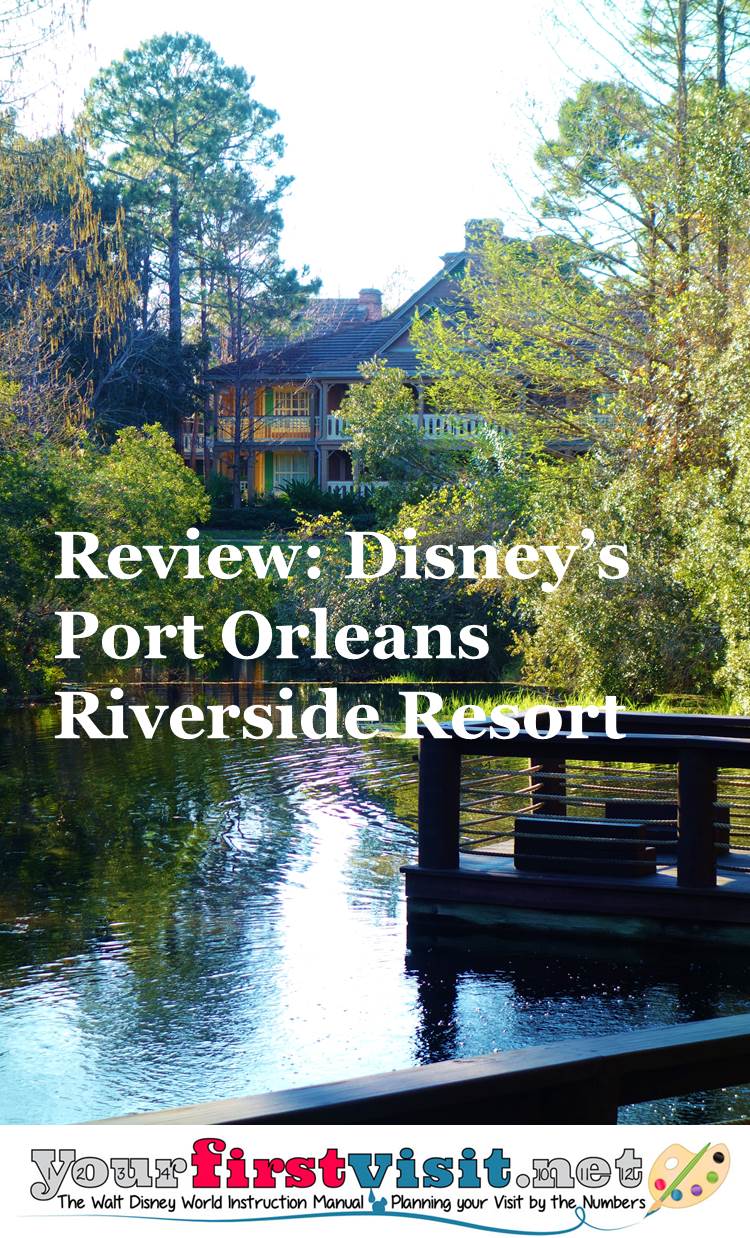 I've stayed at Riverside eleven times since I started this site, most recently in September 2019. These visits confirm that Disney's Port Orleans Riverside Resort remains the third best of the moderate resorts for first time family visitors.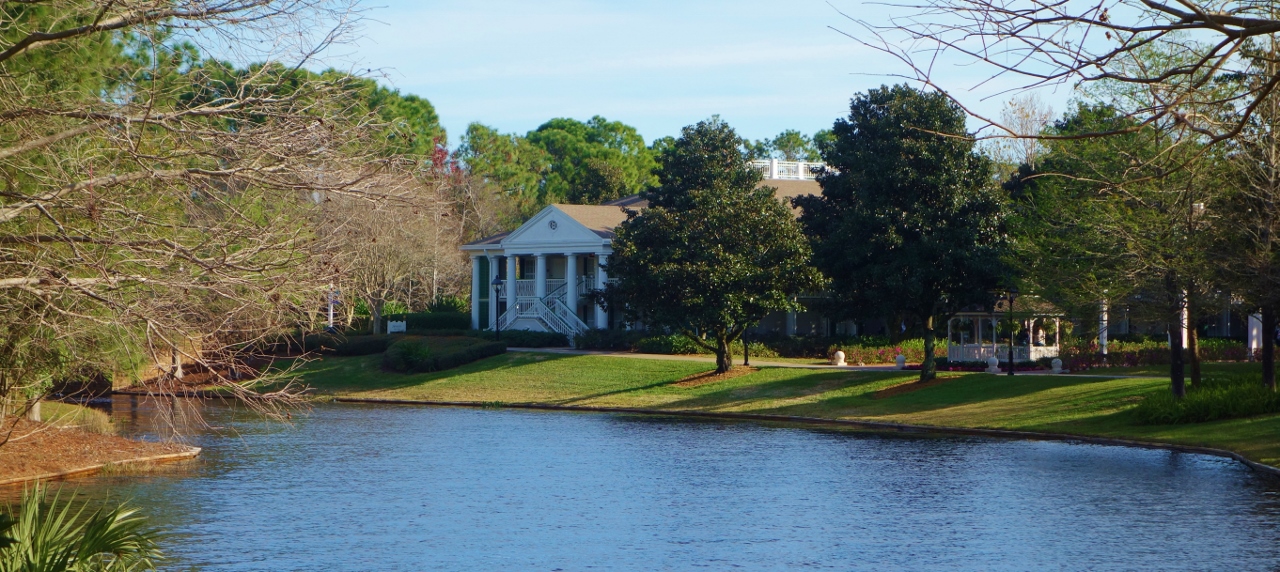 (For what the moderates provide, and how they compare to the other Disney World resort classes, click here)
You can have a wonderful visit at any Walt Disney World resort.
However, this site recommends that first time visitors to Walt Disney World avoid the moderate resorts, while noting that these resorts are wonderful for visits after the first. (See this for why.)
That said, the moderates represent ~30% of the rooms of Walt Disney World, and will be sought by some because this site's recommended resorts are sold out, because you are on return visits, or because–sensibly–you're just not that into my rankings!
So I stay in them all–in 40+ different moderate rooms, eleven of them at Port Orleans Riverside–and publish reviews of each.
This review has nine pages
OVERVIEW: DISNEY'S PORT ORLEANS RIVERSIDE RESORT
Resorts are ranked on this site for first time visitors based first on their kid appeal, and then on their convenience.
On this basis, Disney's Port Orleans Riverside resort is the third best moderate resort for first time family visitors.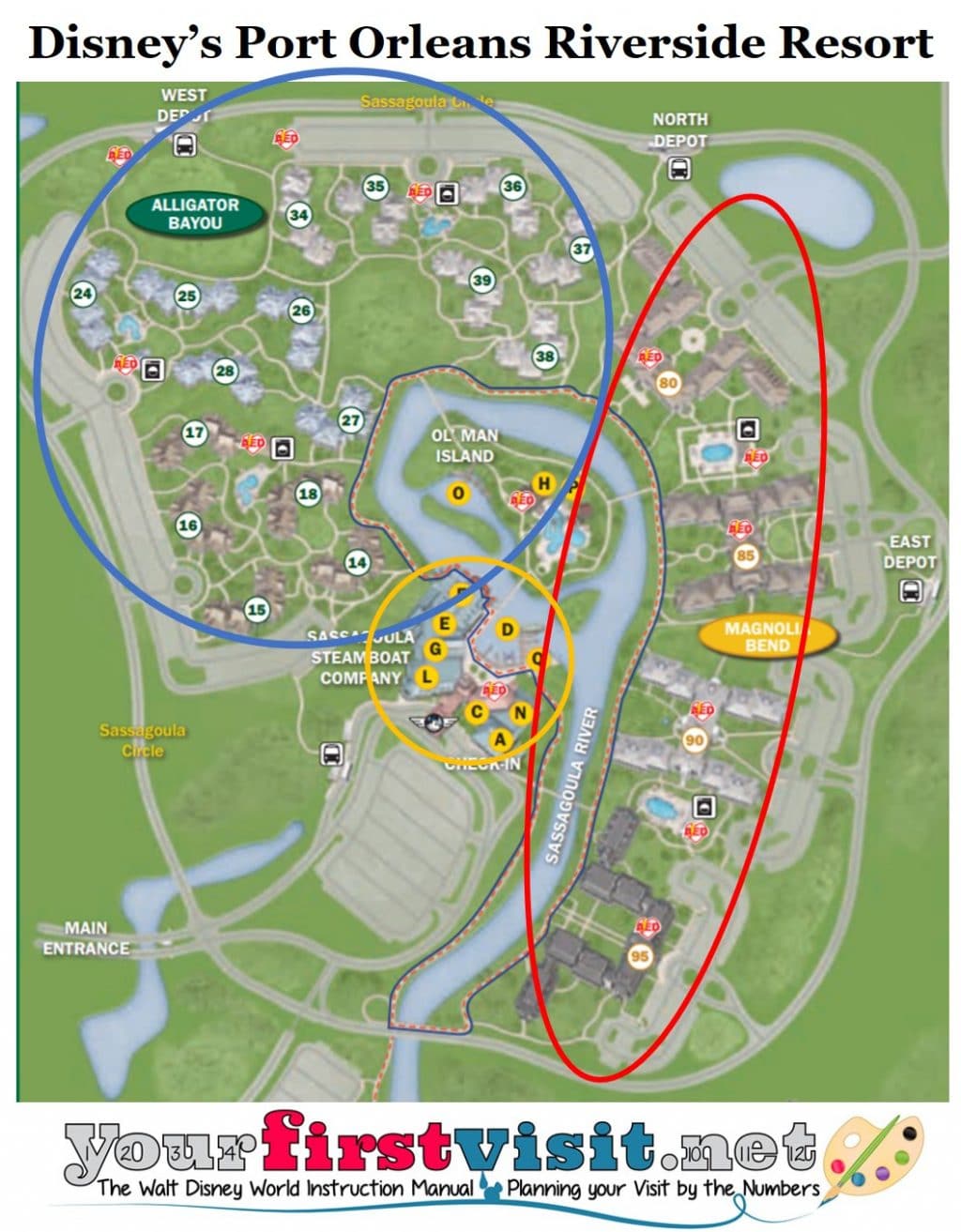 (Disney's Caribbean Beach Resort is first; Disney's Coronado Springs Resort second; and Disney's Port Orleans French Quarter is fourth; these results are very close.  The Cabins at Disney's Fort Wilderness Resort are ranked last, and this is not close.)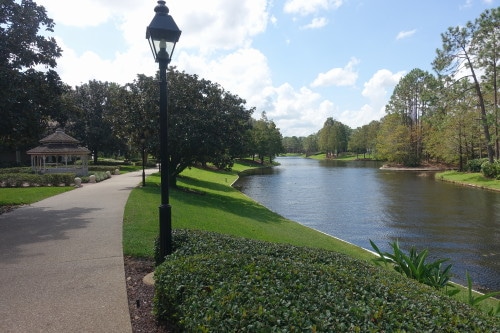 Themed to the riverine rural south, Port Orleans Riverside combines sweeping riverside vistas, manicured gardens, and accommodations themed as stately homes in its Magnolia Bend section (red oval on map)…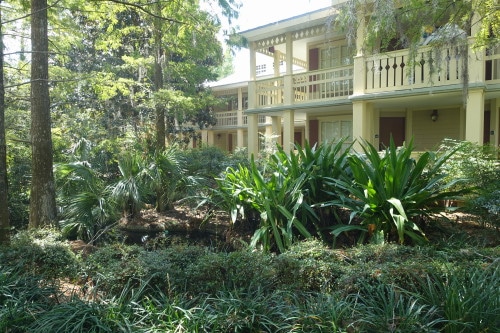 …with a more backwoods and wetland-themed area in Alligator Bayou (blue circle on map).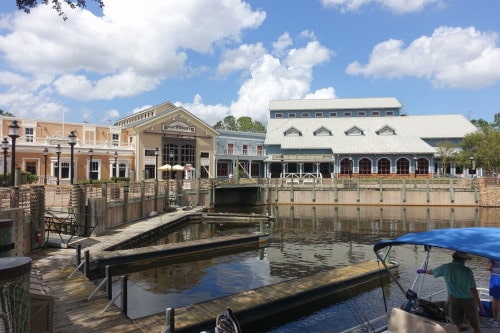 Joining the two, and containing most amenities, is the river-port themed area Sassagoula Steamship Company (gold circle on map).
ROOMS AT DISNEY'S PORT ORLEANS RIVERSIDE RESORT
More so than most of Disney World's other moderate resorts, Port Orleans Riverside has distinct areas and room types, with varied pros and cons.
There's two areas–Alligator Bayou and Magnolia Bend–and three different room types.
Port Orleans Riverside is undergoing a building-by-building minor room refurb project. This refurb is complete in its Alligator Bayou section, and refurbs in the Magnolia Bend section are complete in the standard rooms. WHat's next for the Royal Rooms is unclear.
STANDARD AND ROYAL ROOMS IN THE MAGNOLIA BEND SECTION OF PORT ORLEANS RIVERSIDE
The Magnolia Bend section of Port Orleans Riverside contains four large buildings themed as graceful southern plantation homes, with courtyards, porticoes, grand stairs, and fountains.
The northern-most of these buildings are Acadian House and Magnolia Terrace. These are the best-located of the Magnolia Bend options, being closer to the resort's central amenities and more convenient to bus stops than the two more southern buildings.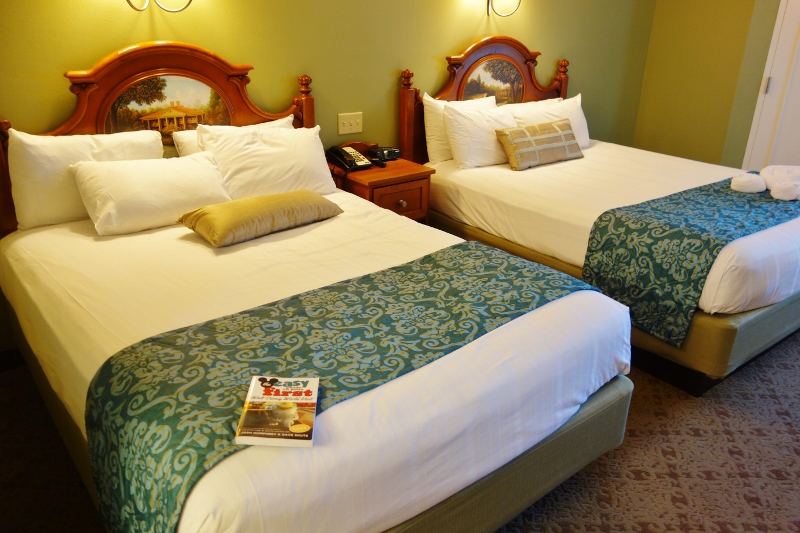 Rooms here sleep four in two queens (and a few two person king bed rooms).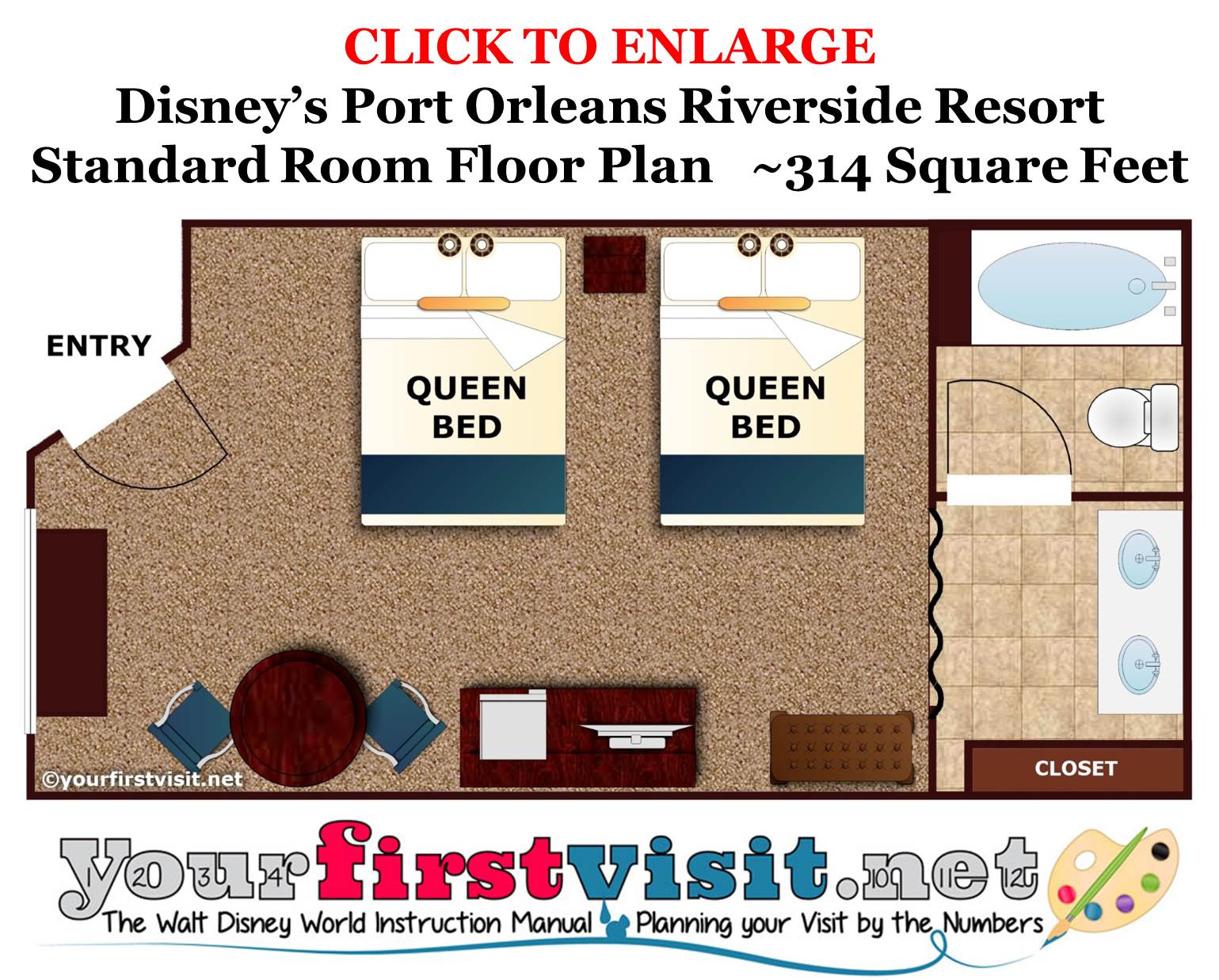 Their floor plans are typical of the moderates. For a full review of this room type, see this.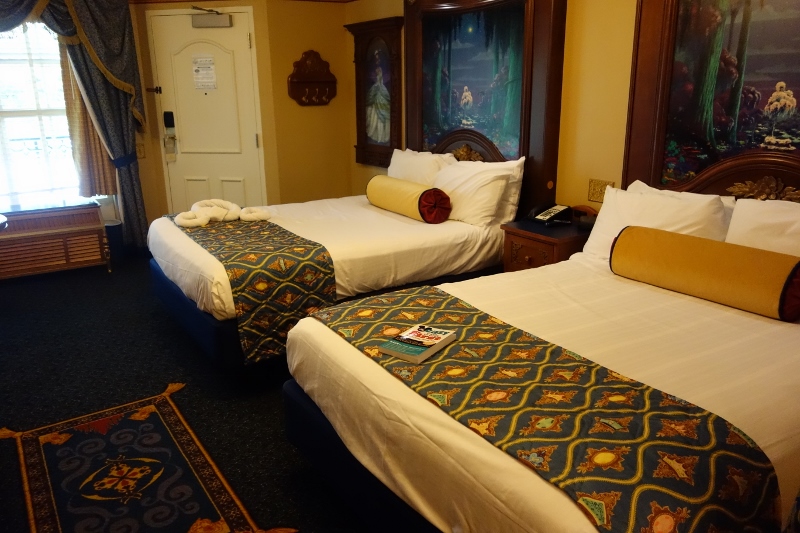 The two southern Magnolia Bend buildings, Oak Manor and Parterre Place, are where you'll find Riverside's Royal Rooms.
Royal Rooms are distinctively decorated to a Disney Prince and Princess theme, and are higher cost than the other options at Port Orleans Riverside. Their floor plans are very similar to those in the two other Magnolia Bend buildings. They sleep four in two queens–no king bed rooms are in the Royal Room buildings.
Families who find the added theming worth the extra ~$50-$100 per night these rooms cost may find them quite pleasant. The buildings themselves, however, are distant from the main pool and from bus stops.
A detailed review of the Royal Rooms is here.
FIVE PERSON ROOMS IN THE ALLIGATOR BAYOU SECTION OF PORT ORLEANS RIVERSIDE
The Alligator Bayou section of Port Orleans Riverside is on the northern and western sides of the resort. The two-story, no-elevator buildings here are themed as backwoods cabins.
These rooms are among the few "traditional" moderate rooms at Walt Disney World that can sleep 5–the only other ones are at Caribbean Beach.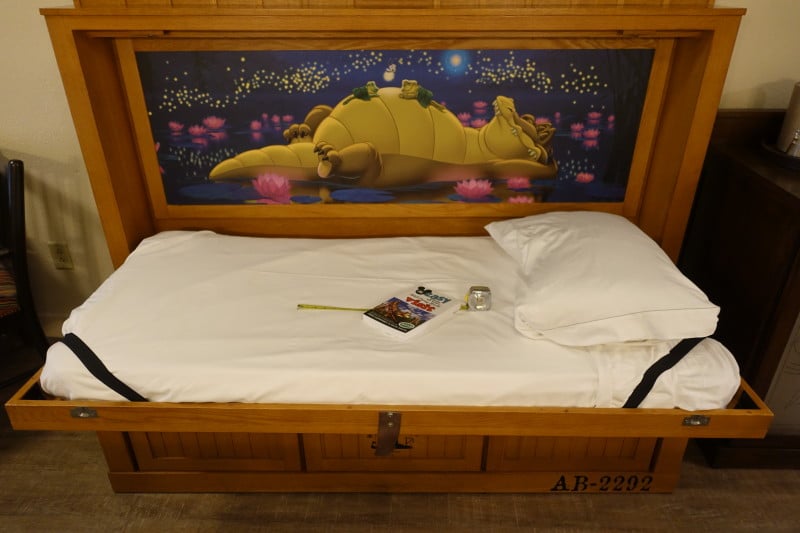 The fifth sleeping spot is in a short (66″) Murphy Bed that drops down from the TV/dresser object. (There's also a few king rooms, also with the Murphy Bed.)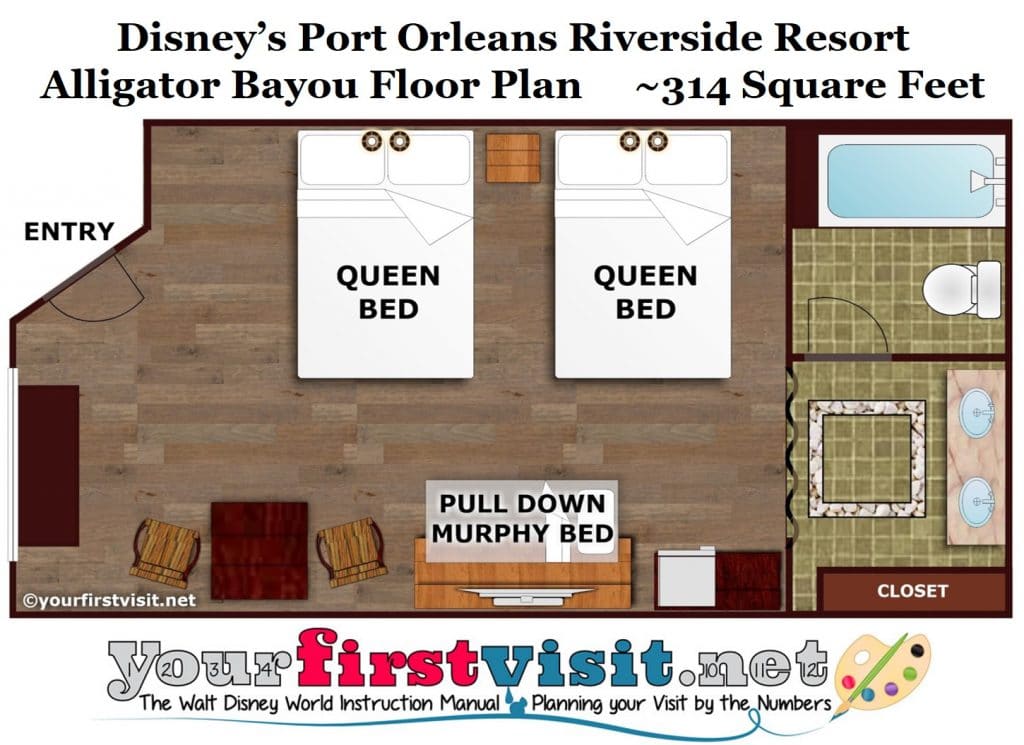 The geometry of the object containing the Murphy Bed means that these rooms have both less drawer space to start with, and also that the drawers are a little hard to access if the Murphy Bed is in use. So for families that don't need the extra bed, a room in the Magnolia Bend section at either Acadian House or Magnolia Terrace is a better choice.
See a full review of these Alligator Bend rooms here.
There's much more on accommodations and theming at Port Orleans Riverside here.
AMENITIES AT DISNEY'S PORT ORLEANS RIVERSIDE RESORT
Disney's Port Orleans Riverside has almost as wide a range of amenities as you'll find at any Disney World moderate resort, falling short compared to the rest only in dining compared to Coronado Springs, which is much better, in spa services and workout facilities, found among the moderates only at Coronado Springs, and in its kids pool, where you'll find much better ones at Port Orleans French Quarter and Caribbean Beach.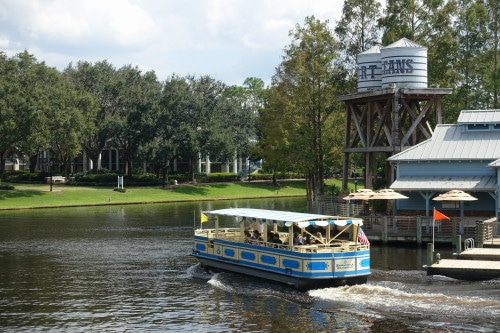 Distinctive amenities here–shared with sister resort Port Orleans French Quarter–include boat service to Disney Springs and horse-drawn carriage rides.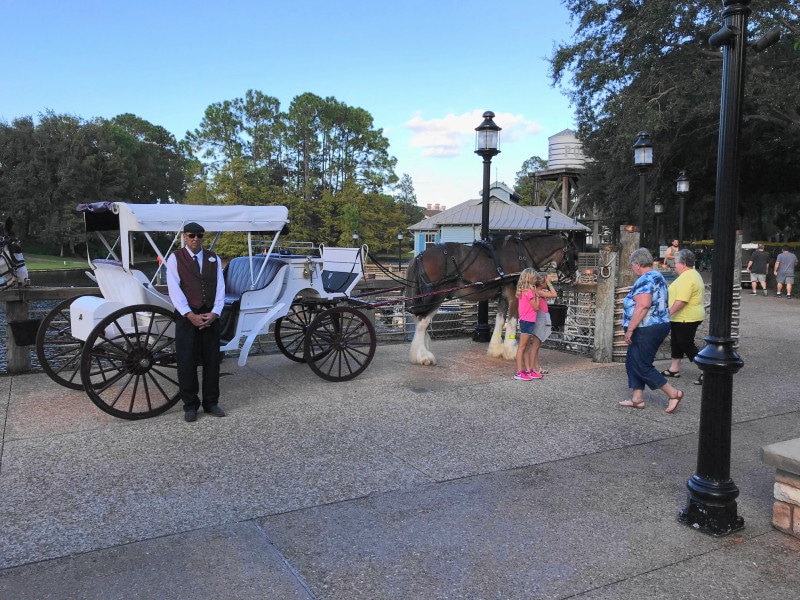 Details on the amenities at Port Orleans Riverside begin here.
DINING AT DISNEY'S PORT ORLEANS RIVERSIDE RESORT
Port Orleans Riverside has an indoor bar with a limited menu, a poolside bar with chips and such, a table service restaurant, Boatwright's, and a quick-service venue, the Riverside Mill.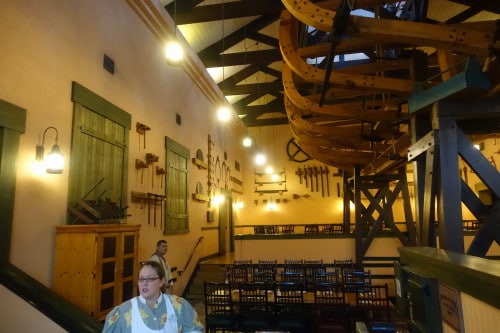 Each has its fans–especially the indoor bar, River Roost, with its common live entertainment from Yehaa Bob— but collectively they are about average among the moderates, and are particularly bested by Coronado Springs with multiple bars and multiple restaurants.
For more on dining at Port Orleans Riverside, see this.
THE POOLS AT DISNEY'S PORT ORLEANS RIVERSIDE RESORT
Port Orleans Riverside has six pools–the main pool with a fun slide, pool games, and sawmill theming at Ol' Man River, and five smaller, un-themed "leisure" pools scattered among the accommodations buildings.
Six pools is either a feature or a bug, depending on your perspective.  There are so many because the main pool is too small to serve all who might wish to use it, and is a hike from many outlying rooms. You'll find the same feature/bug at Caribbean Beach and Coronado Springs.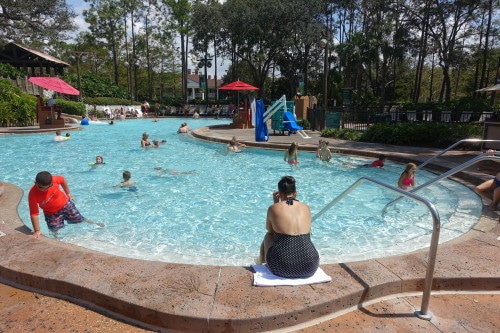 The main pool, though much loved, is uninteresting compared to those at Caribbean Beach and Coronado Springs, and the kids pool next to it is quite weak compared to the alternatives at Caribbean Beach and French Quarter.
There's more on the pools at Port Orleans Riverside here.
KID APPEAL AND CONVENIENCE AT DISNEY'S PORT ORLEANS RIVERSIDE RESORT
Kid Appeal. The southern bayou and plantation theming of this resort, while charming to many adults (especially the Magnolia Bend section, whose Georgian architecture is quite lovely), will miss most kids entirely.
That said, its extra amenities bump it slightly ahead of its sister resort Disney's Port Orleans French Quarter. (French Quarter visitors are encouraged to use these amenities; the difference is that for Riverside guests, they are immediately present.)
Moreover, the Royal Rooms will have great appeal to some kids–though they are more expensive, and less convenient, than alternatives.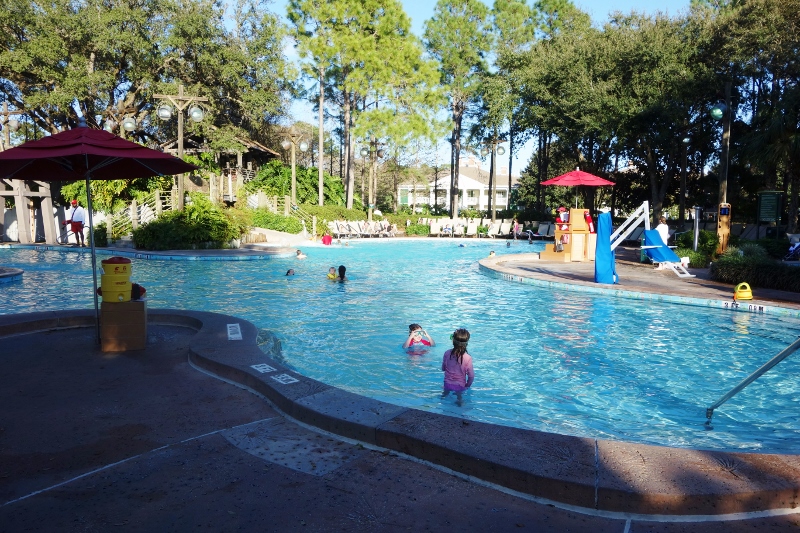 Now, I get comments all the time along the lines of "We stayed at Riverside and it had great appeal for my kids!" Of course it did. All the Disney resorts have great kid appeal. My point is that some have even more than others…
Convenience. Disney's Port Orleans Riverside is in the middle of moderates in convenience.
While often thought of as out of the way, it is in fact just across the street (or two) from Epcot, and along with Port Orleans French Quarter is the closest of the "traditional" moderates to Magic Kingdom. It also shares with French Quarter a slow boat to Downtown Disney.
The principal convenience frustration is that, since it sometimes shares buses with Port Orleans French Quarter, it can have in effect 5 bus stops. The Magic Kingdom bus is the exception–it has only four stops, as it always skips Port Orleans French Quarter.
Buses sometimes fill before they get to their final stop (although this is much less common than it used to be), and the first day or two of a visit, it can be hard to identify from inside the bus whether one is at the West, North, or East Bus Stop.
Getting off at the wrong stop matters, because Port Orleans Riverside is pretty darn big, and can be a challenge to get around.
While at my pace no room is more than a ten minute walk from the central service area and pool, this is assuming you take the most direct path, and don't get lost. Getting lost–especially at night–in the far reaches of the Alligator Bayou section is easy. Or at least it is for me…
It's not widely noticed, but the texture of the concrete paths in the Alligator Bayou section is meant to help with wayfinding. Where there are groups of buildings, the main path through them is textured to look like a plank road.
The texturing is meant to indicate to you that you are on a main path, and keep you from wandering off accidentally onto a building-specific path.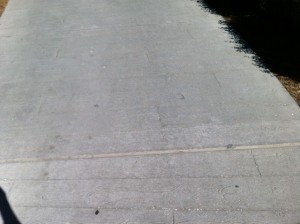 The image on the right side shows the texture of such a plank road.
As a final convenience point, the two story buildings in the Alligator Bayou area have no elevators.
Other distinctive features. One of only  two traditional moderates that can sleep five, in the Alligator Bayou section. (Caribbean Beach is the other, and its five person rooms are slightly more livable.) These Alligator Bayou rooms provide two queen beds and a short Murphy bed. With Port Orleans French Quarter, the only moderate with no lake, and with the French Quarter the only moderate with boat transport to Downtown Disney.
BEST PLACES TO STAY AT DISNEY'S PORT ORLEANS RIVERSIDE
This site suggests that first time visitors stay in standard rooms, not preferred rooms (because they won't be spending much time in their rooms, or going to the main resort food area often; the single exception is visitors to the Animal Kingdom Lodge, who should always pay for savanna views.)
Unless you need the bed for the 5th person, stay in a top floor (quieter) standard room in building 85– "Magnolia Terrace" –in the Magnolia Bend section. This area is much lovelier than the other section, Alligator Bayou, and the storage is more convenient. And of the non-Royal options, Building 85 is the best choice–lovely, closer to the pool and central services, and with a nearby bus stop.
If you do need the fifth person bed in Alligator Bayou, shoot for a ground floor room (no elevators) in buildings 16, 17 (close to the amenities and bus stop at Sassagoula Steamship Company) or 38–better views, close to the main pool.
Room request forms for Riverside are particularly thin on options. If you booked a Royal Room you'll automatically be put in Oak Manor or Parterre Place, the buildings that include them; if you booked five people three or older, you'll automatically go into one of the Alligator Bayou rooms.  Beyond this, call to express your preferences.
The long-time travel agent partner of this site, Kelly B., can help you book your Disney World vacation at Port Orleans Riverside or anywhere else–contact her using the form below:
This review continues here.
TOPICS IN THIS REVIEW OF DISNEY'S PORT ORLEANS RIVERSIDE RESORT
OTHER KEY PAGES FOR WHERE TO STAY AT DISNEY WORLD

Follow yourfirstvisit.net on Facebook or Twitter or Pinterest!!