Review: The Little Mermaid Area and Rooms at Disney's Art of Animation Resort
By Dave Shute
For the first page of this review of Disney's Art of Animation Resort, see this.
LITTLE MERMAID ROOMS AT DISNEY'S ART OF ANIMATION RESORT
Disney's Art of Animation Resort has two very different types of rooms.
One room type, Family Suites, fills the seven most convenient buildings at Art of Animation.
These spaces sleep six in over 500 square feet, and cost (2018 Fall season weeknight) $434-$4446 a night including tax. See this for more on these Family Suites.
The other room type, standard rooms in the Little Mermaid, is the subject of this page.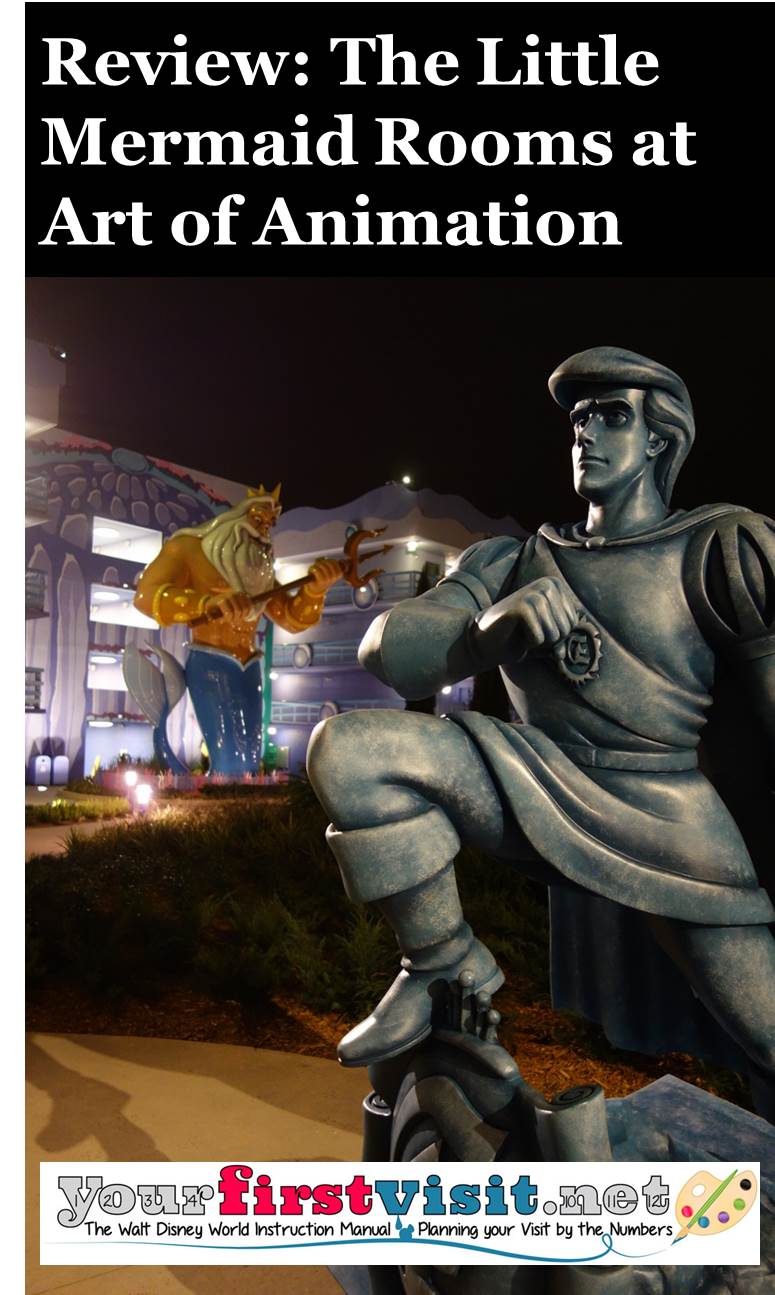 Standard rooms at Art of Animation are found in its three least convenient Little Mermaid buildings, and sleep 4 in full beds in about 260 square feet. On the same 2018 fall season weeknight, these rooms cost $190-$201 a night including tax—less than half of what the Family Suites are going for.
These two room types are profoundly different—anyone reserving one but expecting the other is in for a shock.
And you can't really compare them to each other.  The relevant comparison for standard rooms at Art of Animation is standard rooms at the other four Value Resorts: Pop Century, All-Star Movies, All-Star Sports, and All-Star Music.
Based on this comparison, standard rooms at Art of Animation outshine the alternatives, (except possibly refurbed rooms at Pop Century, with their queen beds) and are this site's most highly recommended value resort standard rooms.  They have the highest kid appeal of any value resort—for both boys and girls—and this kid appeal outweighs for almost all families their slight deficits in convenience.
Note that the long-time travel agent partner of this site, Kelly B., can help you book your Disney World vacation at Art of Animation or anywhere else–contact her at at KellyB@DestinationsInFlorida.com or 980-429-4499.
REVIEW: LITTLE MERMAID STANDARD ROOMS AT DISNEY'S ART OF ANIMATION RESORT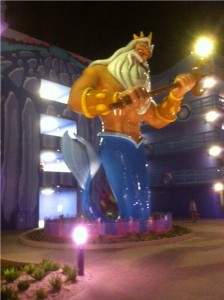 Resorts are ranked on this site for first time visitors based first on their kid appeal, and then on their convenience.
On this basis, Disney's Art of Animation Resort is the best value resort for first time family visitors.
Kid Appeal. Several of the deluxe resorts–notably, the Wilderness Lodge, Animal Kingdom Lodge, and Polynesian Resort–have spectacular kid appeal. None of the moderates do.
All of the value resorts–Disney's All-Star Sports, All-Star Music, and All-Star Movies,  its Pop Century Resort, and Art of Animation–have terrific kid appeal.
This appeal comes from the approach to theming they all share: bright and vibrant exteriors, framing much larger than life objects of interest to kids. These objects reinforce that these resorts were designed for the sake of kids…and not necessarily for adults!
While Art of Animation has taken this theming to a whole new level, both in exteriors and interiors, the exterior theming in the Little Mermaid area is similar in scope and scale to what you will find at the other value resorts.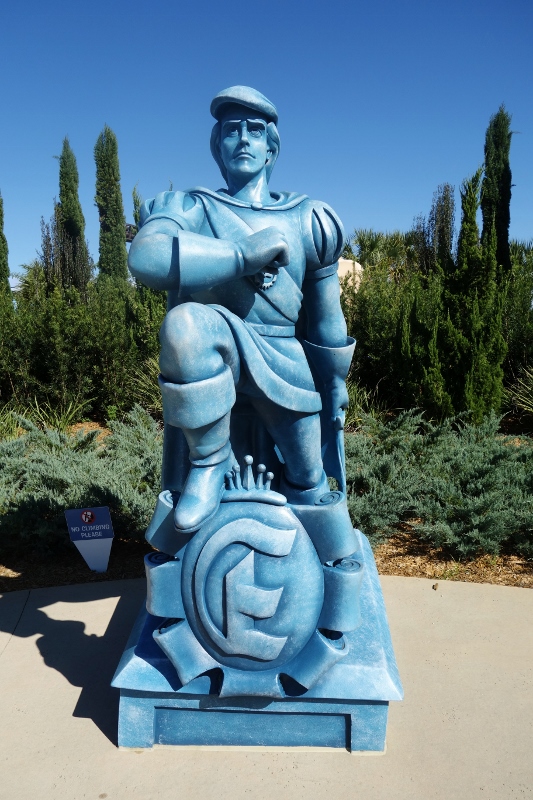 As you walk into the Little Mermaid area, you are greeted by Prince Eric.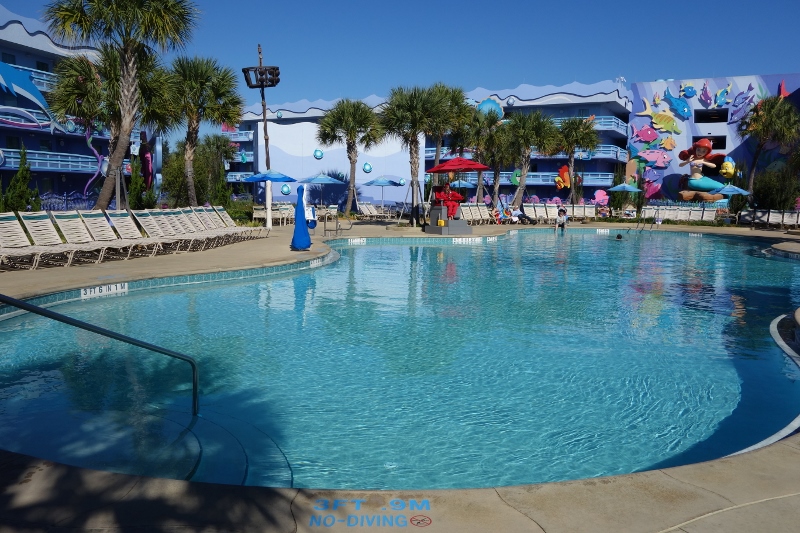 Then you'll find three large accommodation buildings surrounding a pool.
Outside of each of the three buildings there's a four-story statue of a character from the movie: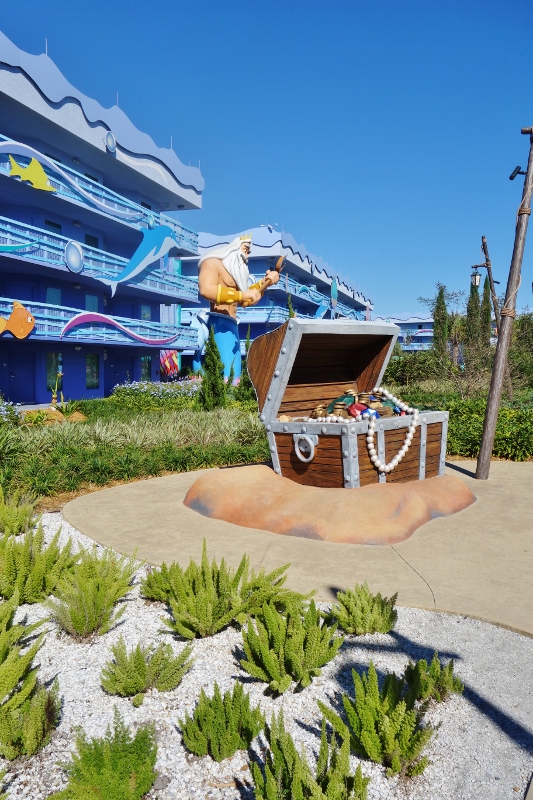 Triton outside of Building 9…
…Ursula outside Building 7…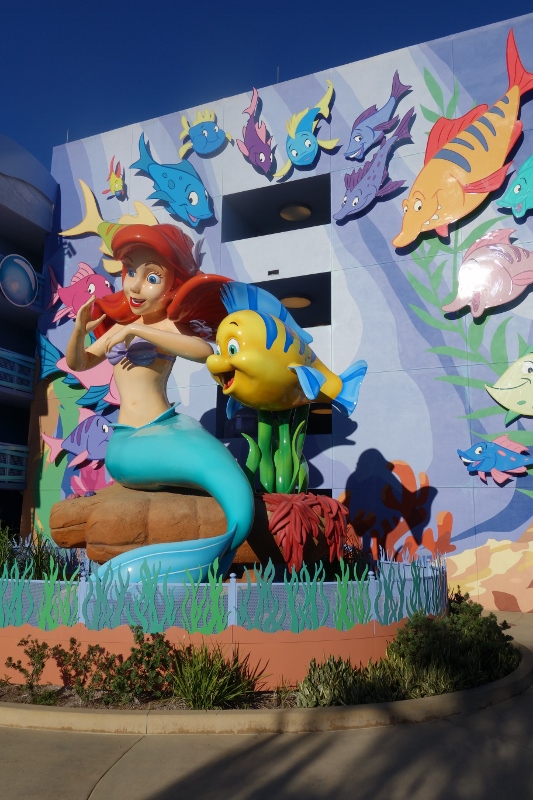 …and Ariel herself outside of Building 8.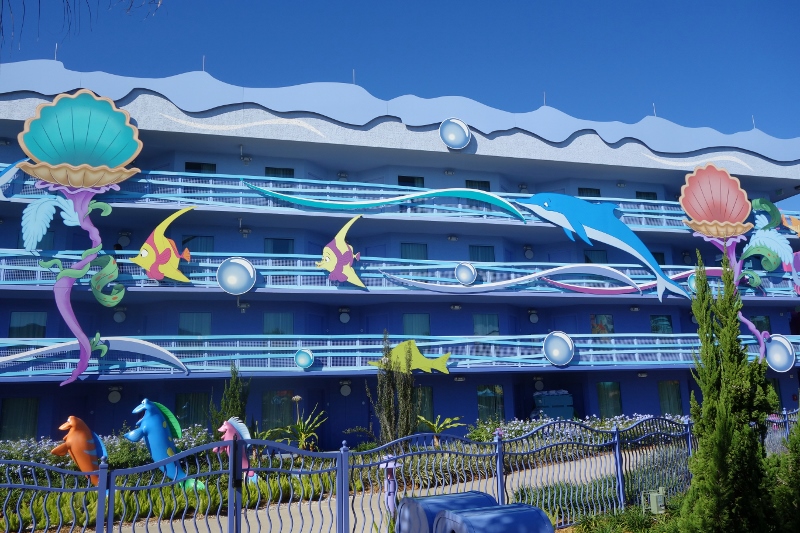 As at the other value resorts, attached to the facades of the buildings are other reminders of the theming.
What distinguishes the Little Mermaid area form the other vlaue resort standard room areas is the pervasive theming inside the rooms themselves.
For example, the Little Mermaid Standard rooms are meant to be "under the sea."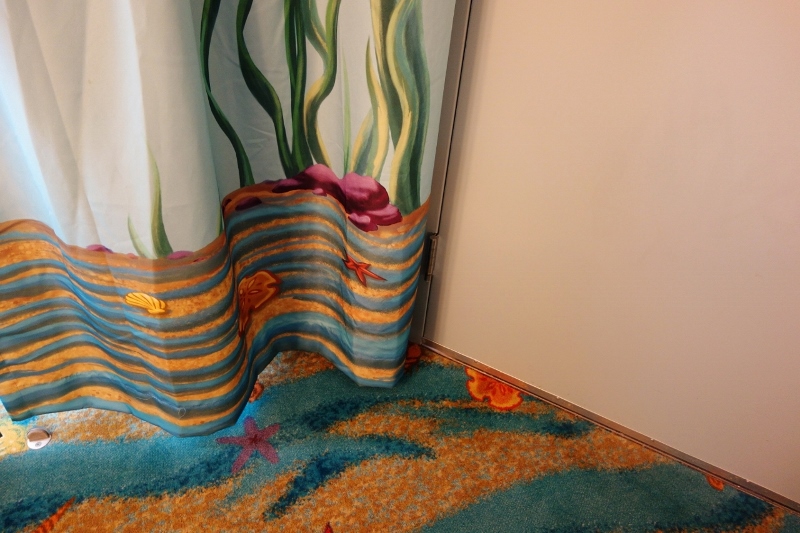 So the carpet mimics the sea floor, and the window curtain extends the sea floor and brings undersea plants to it…
As a result, Art of Animation has the deepest level of Disney theming ever created in a hotel. If your kids like the movies it represents–Nemo, Little Mermaid, Lion King, Cars–they are going to love this place.
Convenience.  Convenience on this site means transportation convenience in carrying out its itineraries. By that standard, Art of Animation overall is tied with Pop Century Resort for being the most convenient value resort.
However, the standard rooms at Art of Animation are the least convenient of all this hotel's offerings.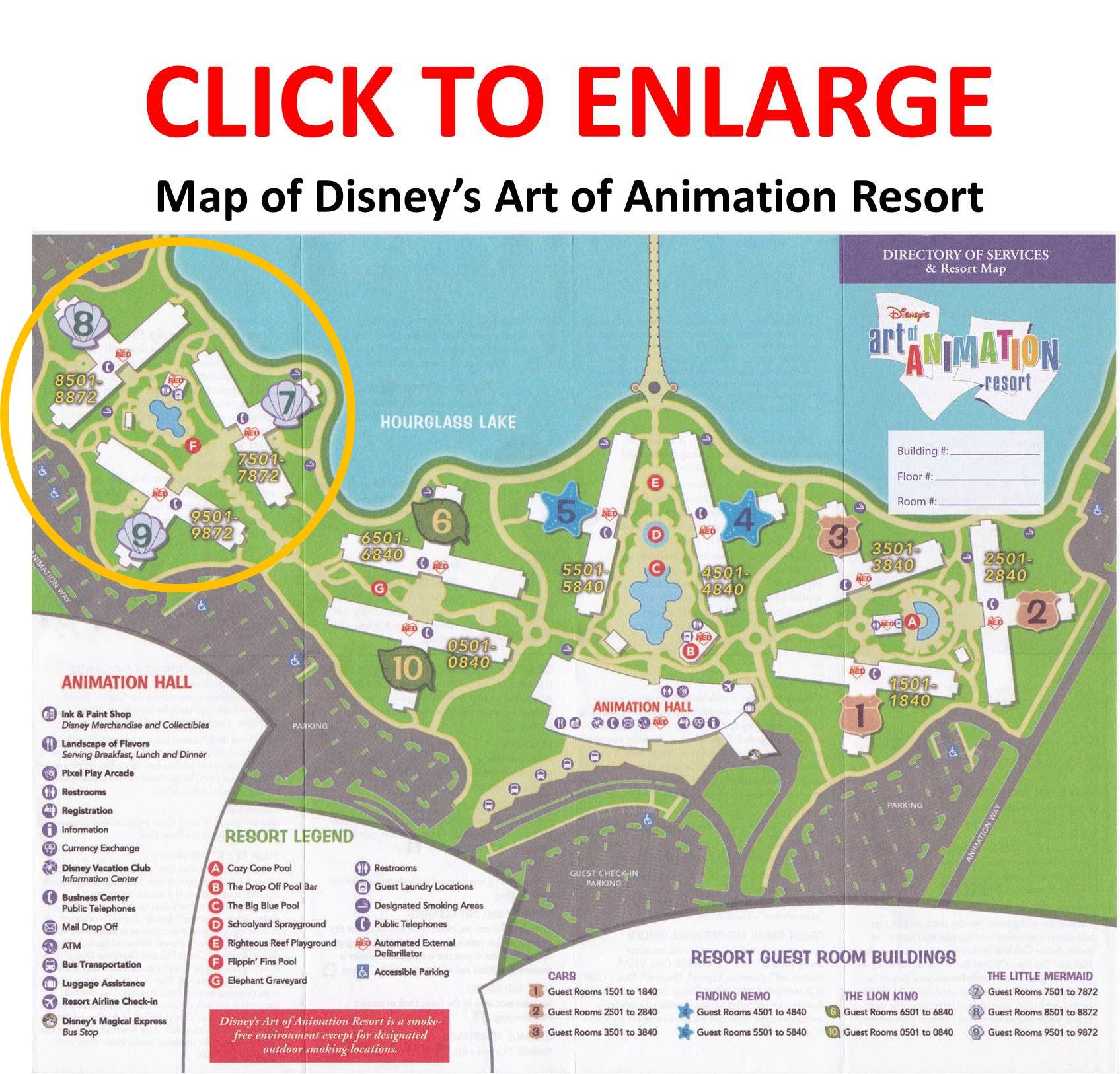 See the map.  The standard rooms at Art of Animation are all in the Little Mermaid section, highlighted with the orange circle.
These rooms are by far the least convenient offerings at Art of Animation, at their worst being five minutes further away from the central pool, food court and bus stop than other (Family Suite) Art of Animation options.
For most families, this extra few minutes won't matter; but those with mobility issues might want to consider Pop Century, the next most highly ranked value resort, especially if they are targeting a summer visit or need the queen beds or coffeemakers found in its refurbed rooms.
At Pop, as at the other value resorts, rooms can be found that are much more convenient to the central resort services.
THE LITTLE MERMAID ROOMS THEMSELVES
Little Mermaid room layouts at Art of Animation are pretty much identical to standard rooms in the other value resorts, except for the refurbed rooms at Pop Century.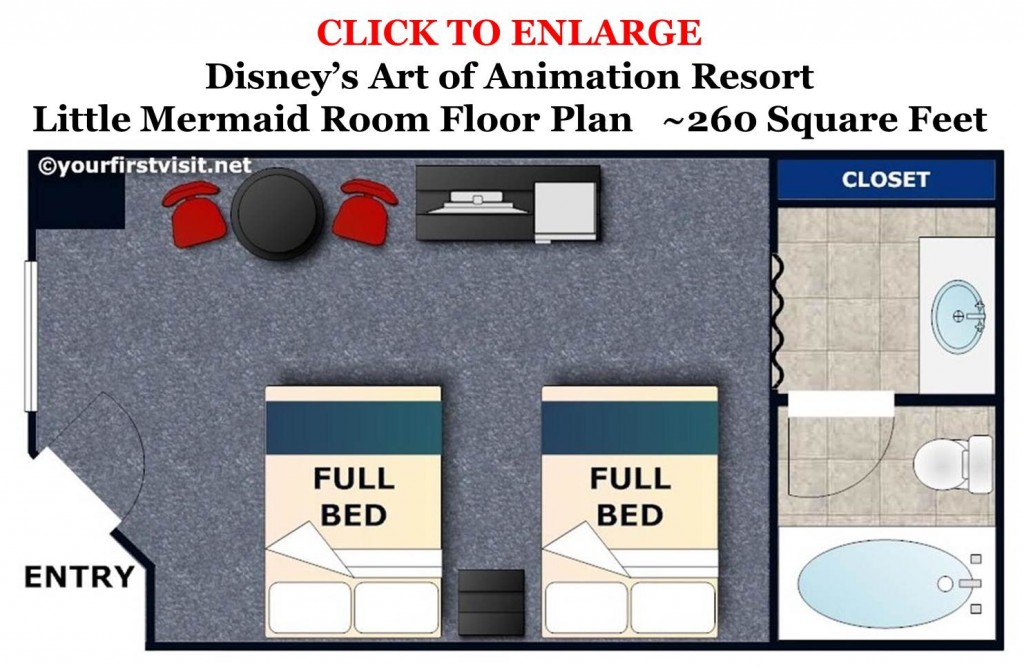 See the floor plan. These rooms have two full beds, a table and chairs, a dresser with a TV on top and a mini-fridge inside, and a divided bath. And no coffee-maker (Family Suites do have a coffeemaker, as do refurbed Pop rooms.)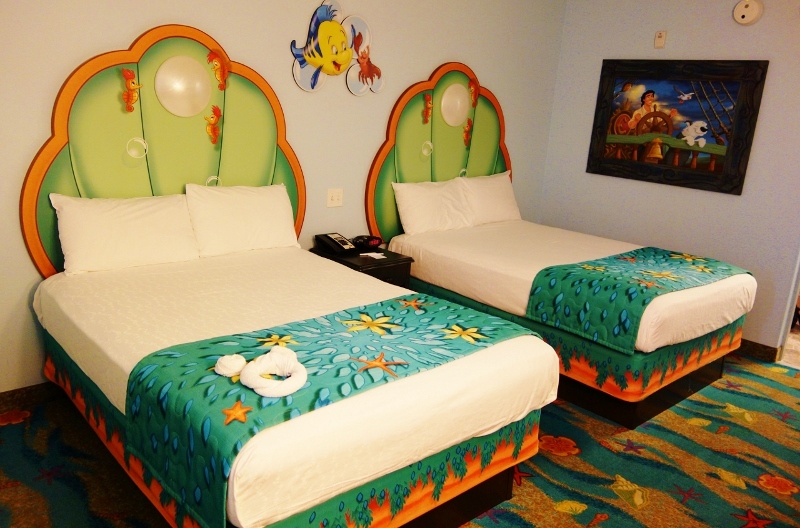 And as in the other value resorts, this room is about as small as it can be and still fit two beds.
Note that some says that these rooms are slightly larger than other value resort rooms, at 277 square feet, rather than 260.
In fact, these rooms are no bigger than those at the other value resorts.  
My tape measure got all the major dimensions as within an inch or so of those at Pop Century.   For this room to have 17 more square feet, it would need to have been a foot and a half longer, or nine inches wider, or 6 inches more in both dimensions, or some such, than All-Star Music.
My measuring isn't perfect, but I would have noticed that big a dimensional difference…so I've got it as 260 square feet, same as the other value resorts.
BEST AND WORST PLACES TO STAY IN THE LITTLE MERMAID AREA OF ART OF ANIMATION
The Little Mermaid Section of Art of Animation has three buildings, numbered 7, 8 and 9.
Seven is the best, and 8 the worst.  Specifically, ask for an Hourglass Lake view room in building 7 closer to the Lion King area.  This will give you the shortest walk, least pool noise, and best views.
Distance. Building 8 is furthest from the central services and bus stop, Buildings 7 and 9 closer.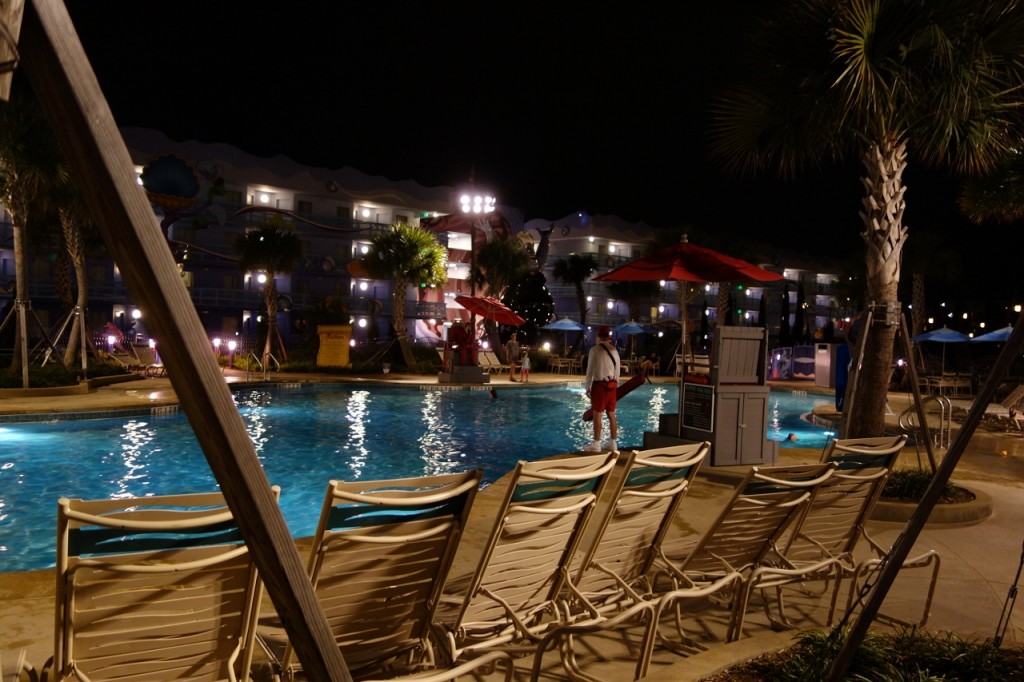 Noise.  Unlike in the Family Suites at Art of Animation, corridor noise is not much of an issue in the Little Mermaid section. This is because there are twice as many corridors, none is walled on all sides, none is air conditioned, and thus none has a real draw as a pathway to  the resort's central services.
Noise, to the extent it is an issue, comes from the pool.  One-third of rooms in building 8, and one-sixth of rooms in each of 7 and 9, face the pool.
Views. Two thirds of the rooms in both buildings 8 and 9 have parking lot views; there are no bad views in building 7, though as noted above the pool-view rooms in 7 can be noisy.
Art of Animation and Pop Century are the only value resorts on a lake—Hourglass Lake separates the two.  While there may be some obtuse views of Hourglass Lake from a few of the pool-facing rooms of building 8, a third of building 7 rooms have a view of the lake.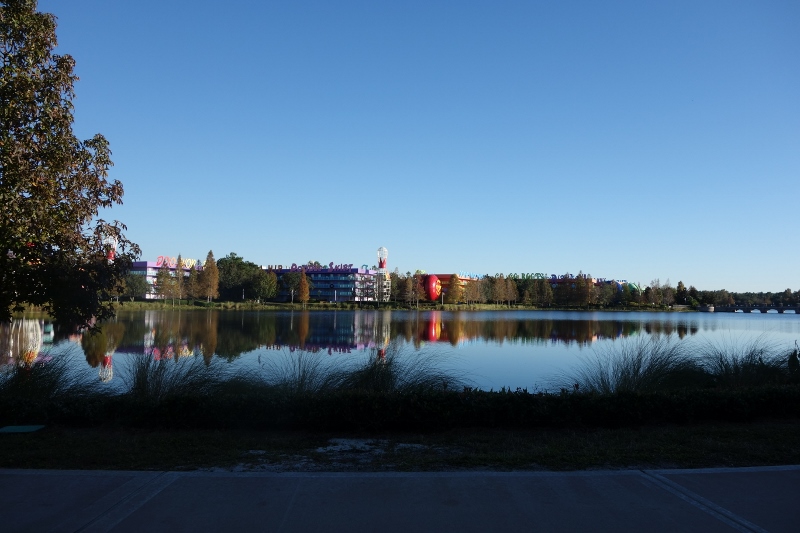 All in, building 7 is the best and 8 the worst of the Little Mermaid buildings.  So ask for a lake-facing building 7 room, as near the Lion King area as possible.  This will give you the shortest walk, least noise and best view!
The best rooms specifically are 7513-7524, 7613-7624, 7713-7724, and 7813 to 7824.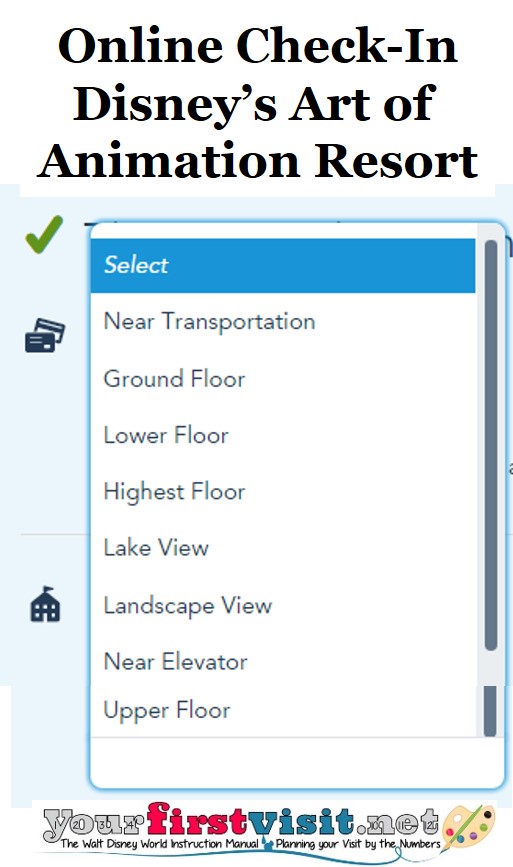 On the online check-in form, click "Lake View" and "Near Transportation."
The long-time travel agent partner of this site, Kelly B., can help you book your Disney World vacation at Art of Animation or anywhere else–contact her using the form below:
A PHOTO TOUR OF A STANDARD LITTLE MERMAID ROOM
This review continues here.
MATERIAL IN THIS REVIEW OF DISNEY'S ART OF ANIMATION RESORT
OTHER KEY PAGES FOR WHERE TO STAY AT DISNEY WORLD


Follow yourfirstvisit.net on Facebook or Twitter or Pinterest!!
RELATED STUFF