Review: The New Spyglass Grill in Trinidad South at Disney's Caribbean Beach Resort
By Dave Shute
In mid-March the Spyglass Grill, a new counter-service option at Disney's Caribbean Beach Resort, opened in Trinidad South.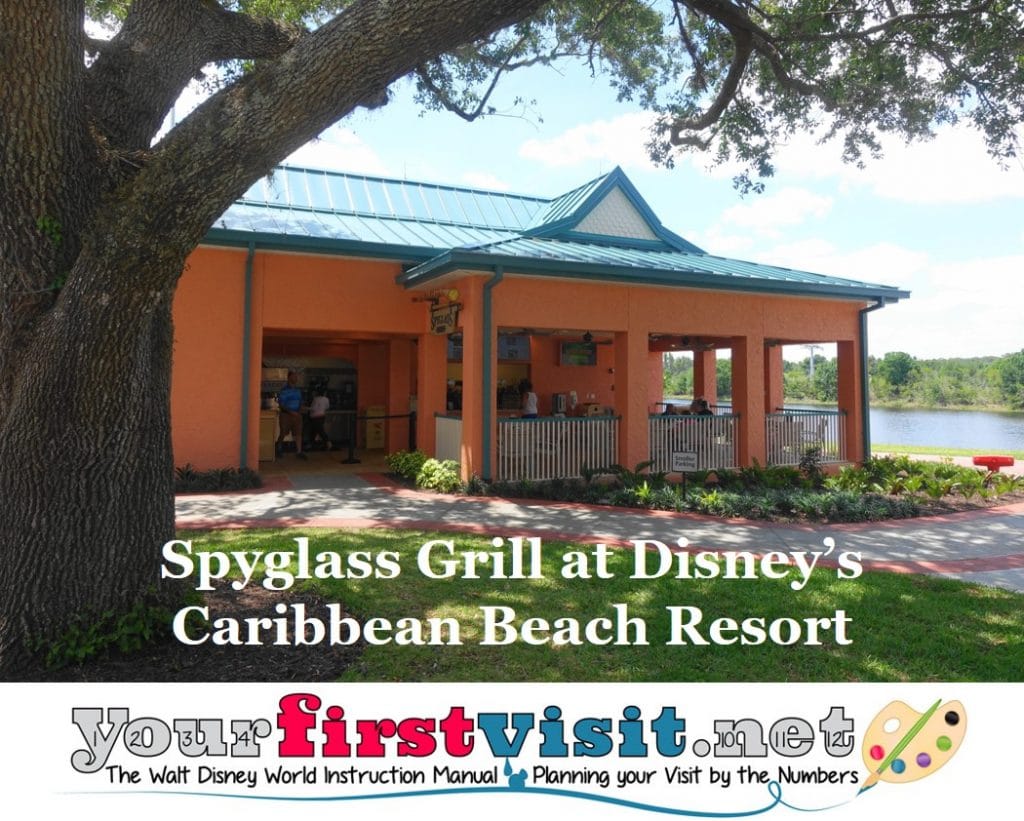 This is a bit of a big deal, for a couple of reasons:
It's the first real fruit of the massive re-do of Caribbean Beach that's been underway for about a year (and is expected to be mostly complete at the end of this year, although the gondola will take longer)
In particular, while limited, it's the first permanent dining to open/re-open here, and is for some Caribbean Beach guests a welcome alternative to the temporary dining they can find elsewhere in the resort. The menu, while slight, has both routine and interesting options.
Finally, it greatly lessens the extent to which the Trinidad South Pirate Room area is an awkward stepchild at Caribbean Beach. Yes, this area remains the only one at Caribbean Beach with full rather than queen beds, and yes it remains a bit of a hike from the main pool. But the new Spyglass Grill option greatly simplifies guests in this area  getting a quick bite for breakfast, lunch and dinner. Trinidad South will become even less of a stepchild after the Disney Skyliner gondola system opens in 2019, as the Skyliner's Caribbean Beach station will be just across the bridge, south of Jamaica.
On the other hand, Skyglass Grill is small, has limited seating, and—that I could see—has limited protection against weather, particularly blowing rain.
It's also distant from the rest of Caribbean Beach—other than a couple of accommodations buildings in Jamaica and Trinidad North, the offerings at Centertown/Old Port Royale will be more convenient to most not staying in Trinidad South.
I had the chance to try it out in my late April visit, and here's the scoop.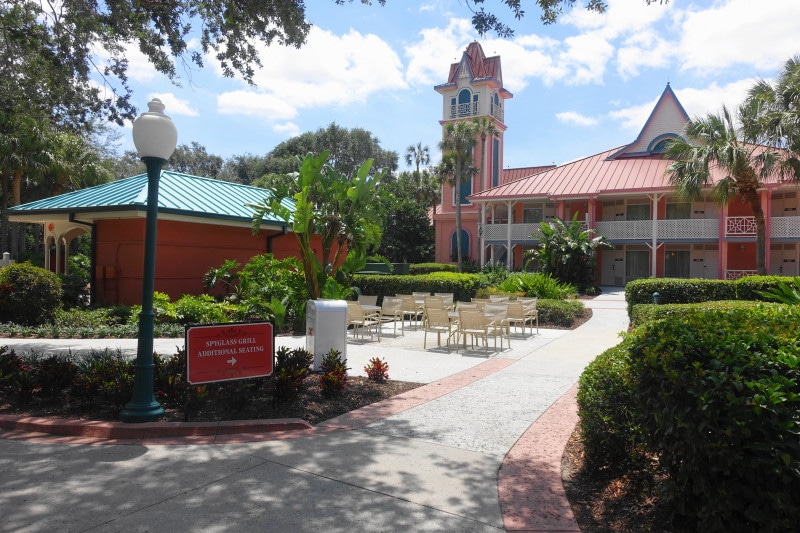 The Spyglass Grill is located near the water by the pool in Trinidad South. Besides some indoor seating, there's also outdoor seating between the pool and the bus stop, and also some picnic tables between buildings 35 and 36.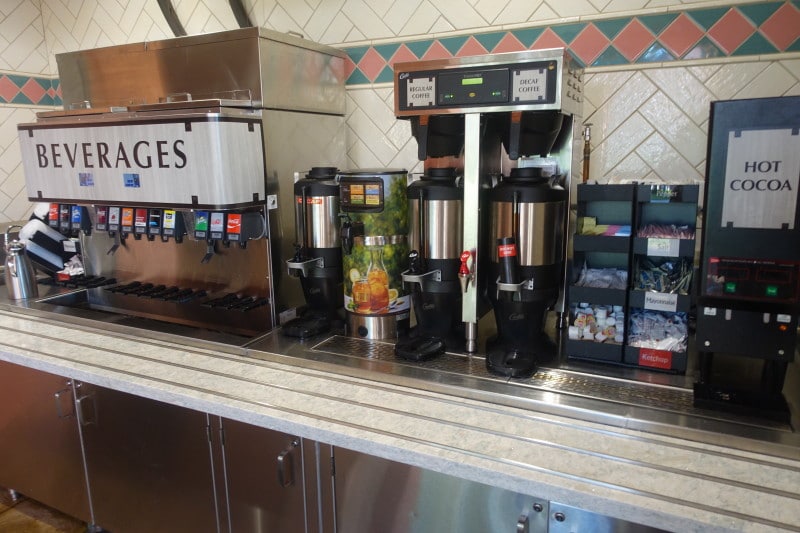 The grill itself has a drinks station (you can both use and pick up your refillable mug here)…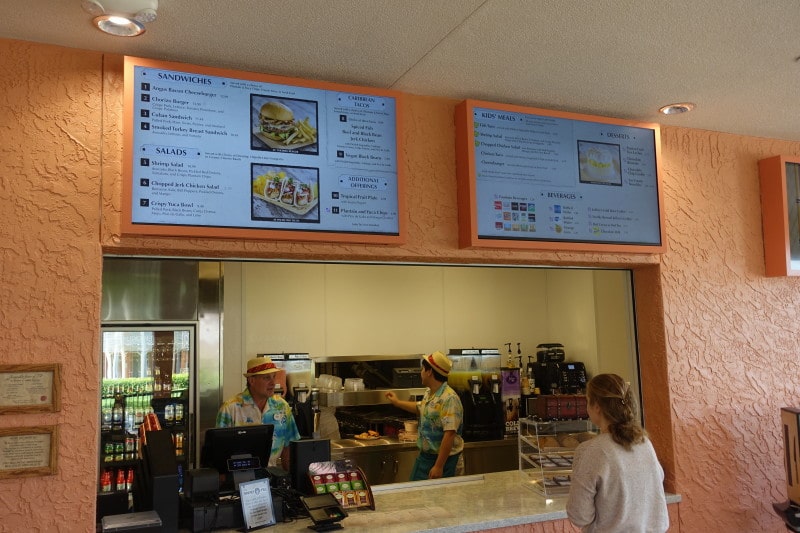 …ordering area…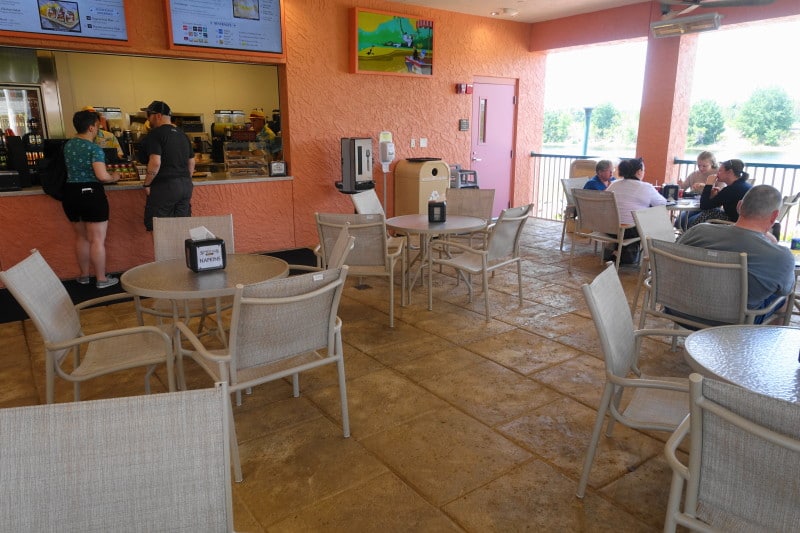 …and a few tables, roofed over and with ceiling fans above, but no particular protection that I could see from weather that might be blowing outside.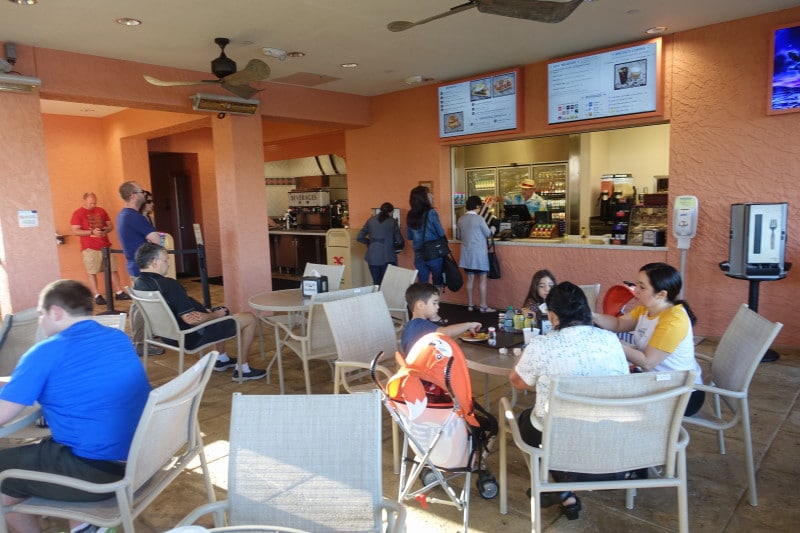 The seating from another angle.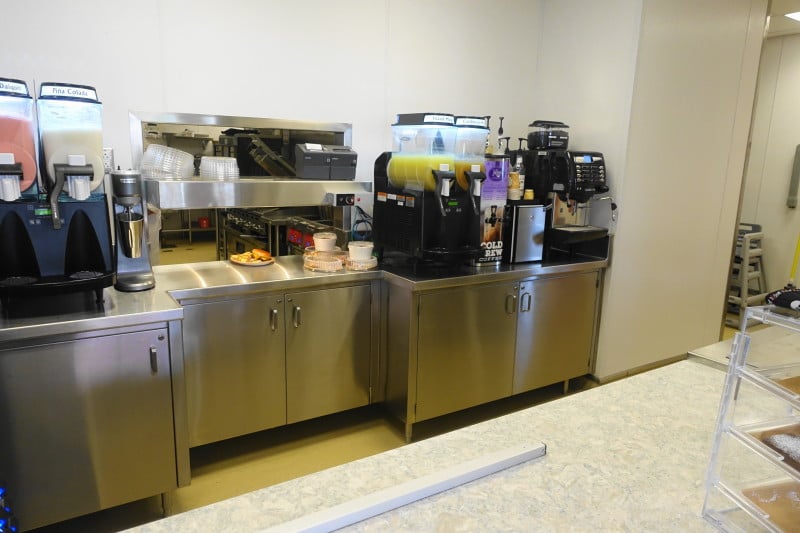 Behind the ordering station is a prep area, with another prep area back behind it.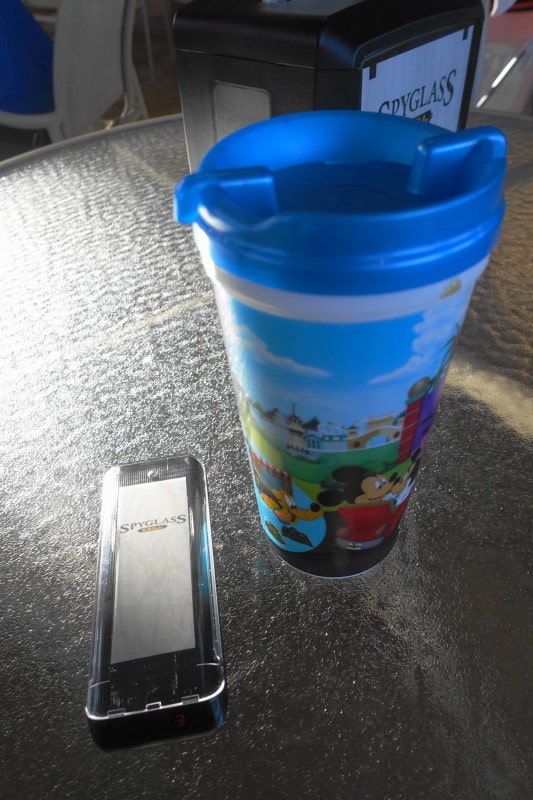 After you order, you'll get a pager—handy if you are in one of the outdoor seating areas or at the Trinidad South pool.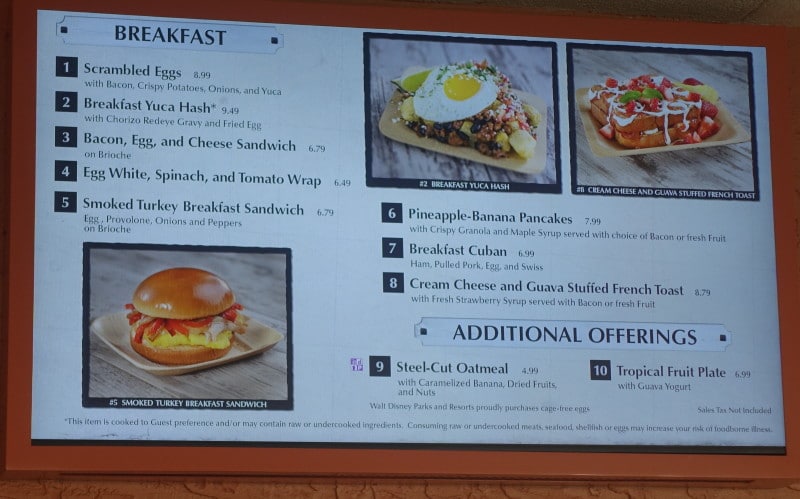 Reportedly open from 7a til 10p  (I'm not convinced it will stay open that late forever), the Spyglass Grill offers two menus, one for breakfast…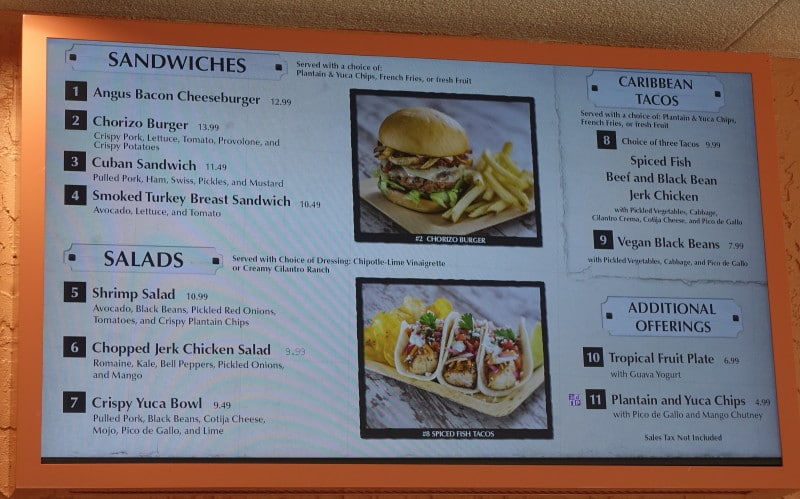 …and one for lunch and dinner.
Note the interesting mix at lunch and dinner of standard burgers and Caribbean tacos and Cuban sandwiches, and the breakfast options ranging from a scrambled egg platter to a pretty interesting looking "Cream Cheese and Guava Stuffed French Toast."
I tried several of the more likely broadly appealing options, the bacon cheeseburger and the scrambled eggs platter.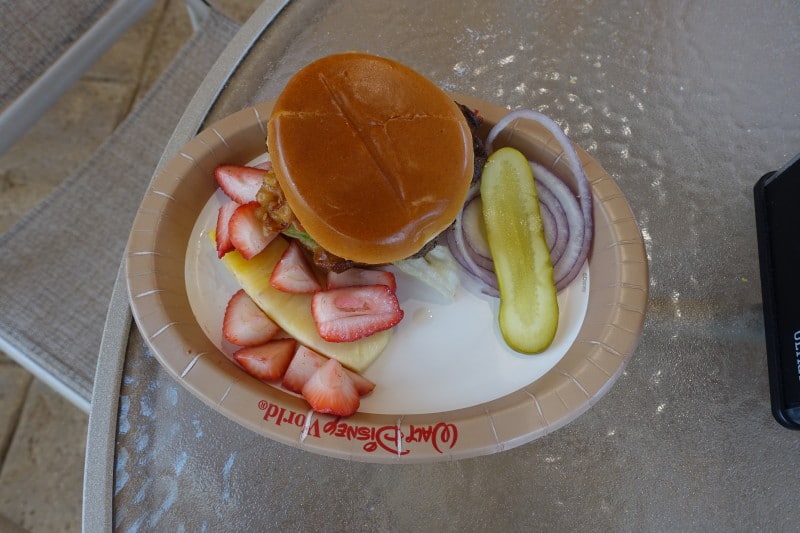 The burger was fine, and I appreciated the onions and pickle on the side (it comes with lettuce and tomato) , as (not surprisingly) there's no fixin's bar, and your other options are limited to the usual mustard, ketchup, and mayo packets. It was also nice to get fruit that was not in a cup—fresher.
The scrambled eggs platter was even better. Oddly, the toast was the highlight. I am skeptical of overengineered breads, but the "yuca and sunflower multigrain toast" was nicely light, not wooden, and subtly flavored.
Varied and adventuresome Disney World menus have a way of getting dumbed down, so if you plan to patronize the Spyglass Grill, check the current menu here, and ask at check-in what the operating hours will be.


Follow yourfirstvisit.net on Facebook or Twitter or Pinterest!!
RELATED STUFF