Five Person Queen and Murphy Bed Rooms at Disney's Caribbean Beach Resort
By Dave Shute
(For the first page of this review of Disney's Caribbean Beach Resort, see this.)
PHOTO TOUR OF A QUEEN AND MURPHY BED ROOM AT DISNEY'S CARIBBEAN BEACH RESORT
Most rooms at Caribbean Beach sleep four on two queens, five on two queens and a fold down bed, or, in the Pirate rooms in Trinidad, four on two fulls.
This photo tour is of a five person room with two queens and a fold down bed. (For four person queen rooms, see this, and for four person full bed Pirate rooms, see this.)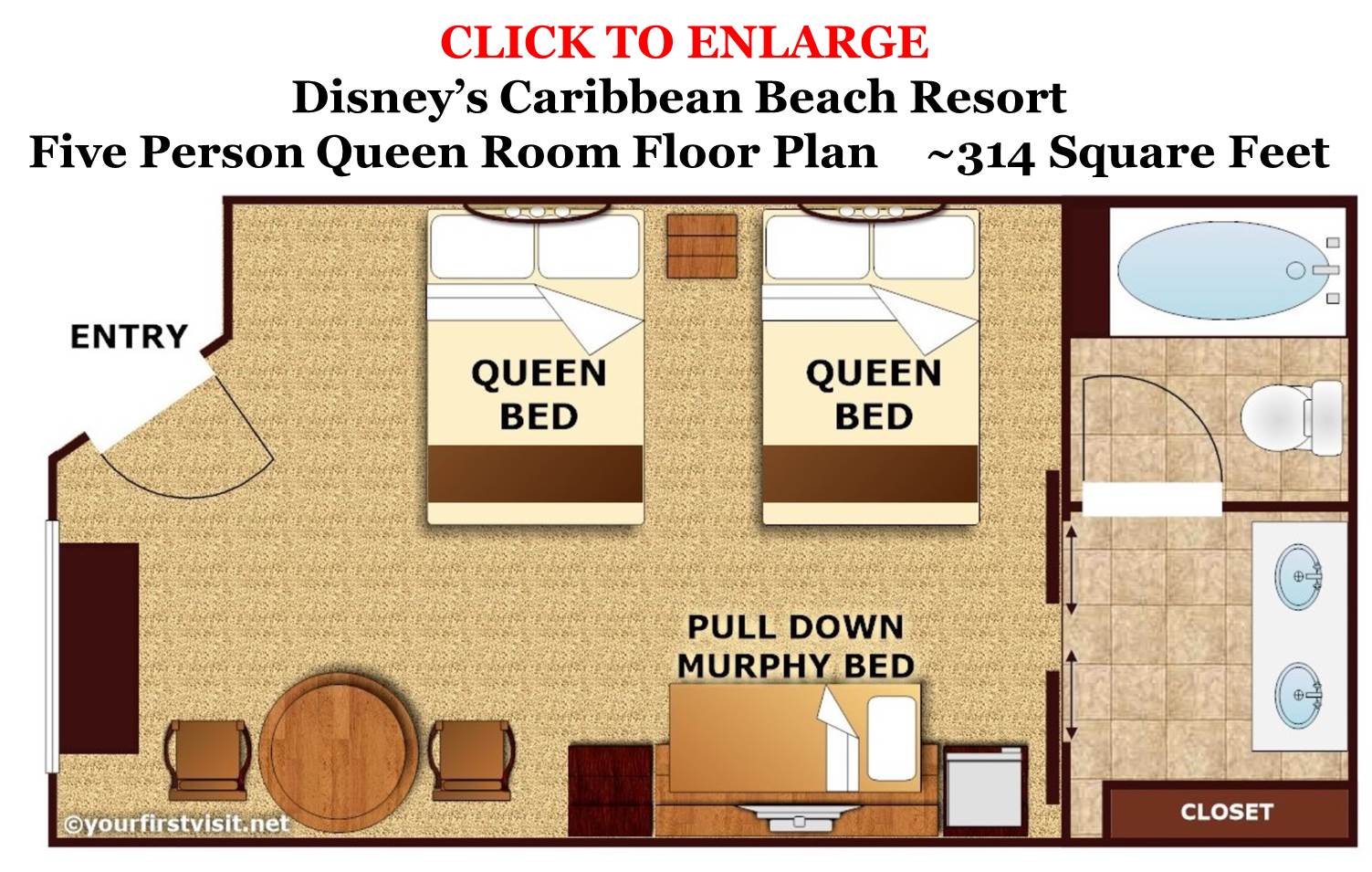 Five person rooms at Caribbean Beach have queen beds, and a Murphy Bed as well.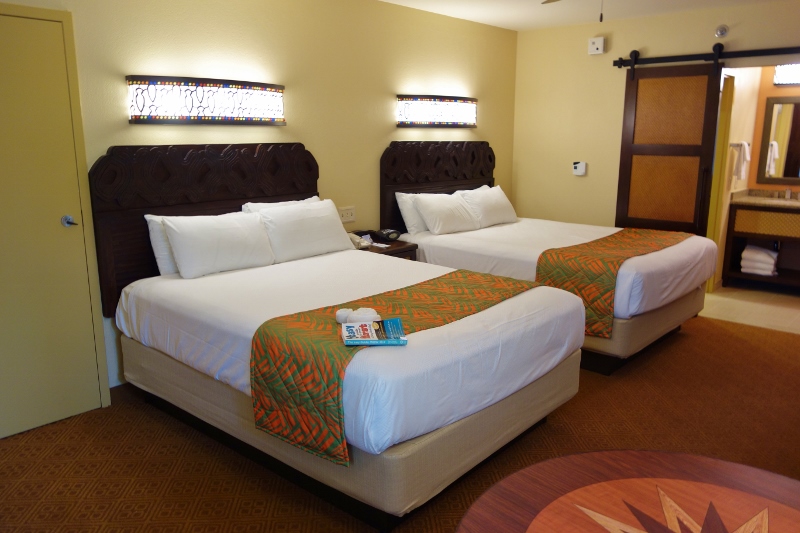 The bed side of the room has the queens and a small bedside table between them.
This side will also have the connecting door (at left) if present, and a coat rack near the door.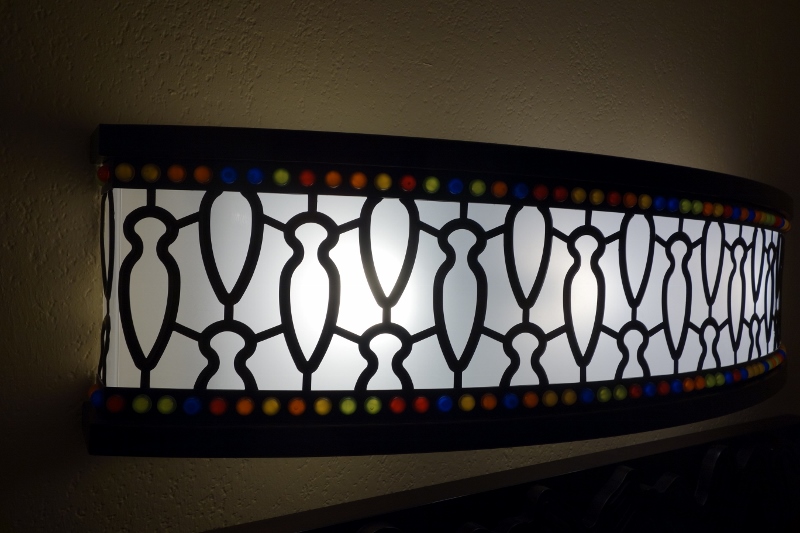 The fun light fixtures.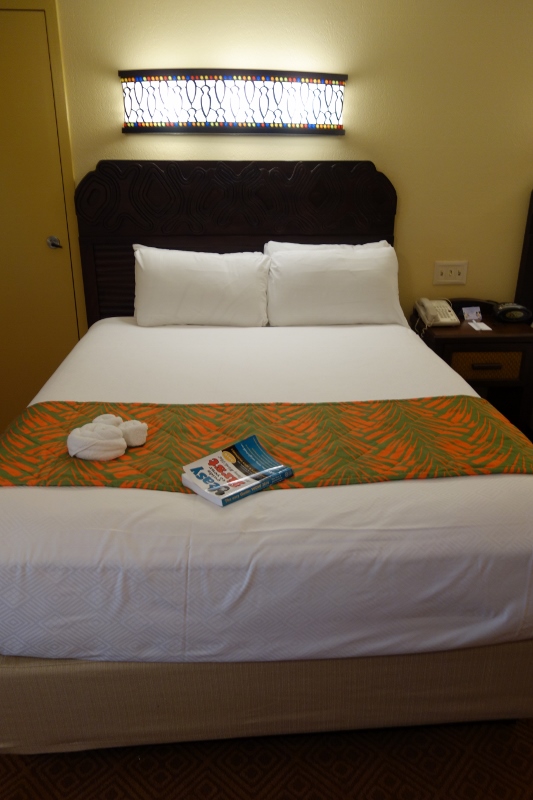 A closer view of a queen.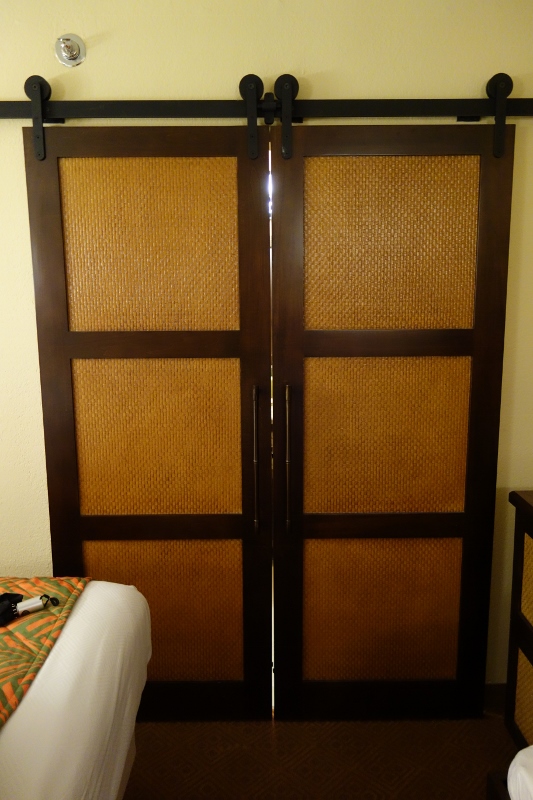 Further back is the bath. The sink area of the bath is separated from the rest of the room by sliding solid doors–rather than the fabric curtain you will find at Port Orleans Riverside and French Quarter. The sliding doors improve the trapping of both light and noise from the bathroom, plus make it feel more private.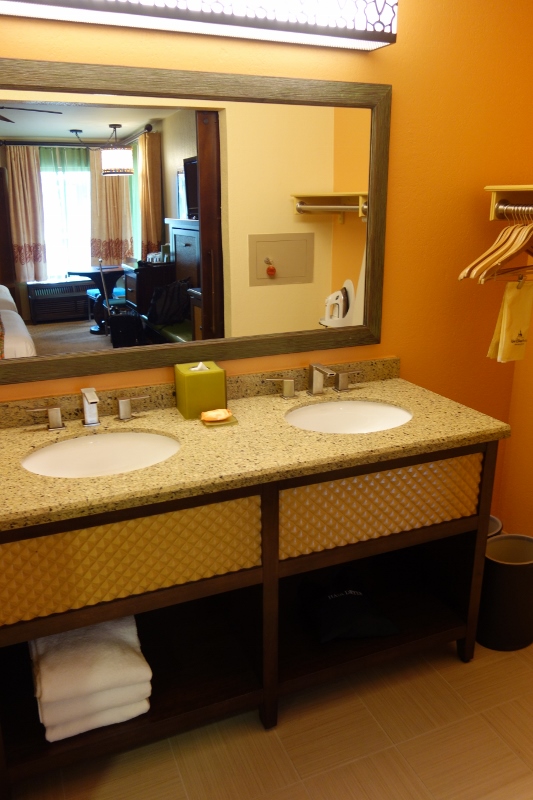 Here's the sinks themselves…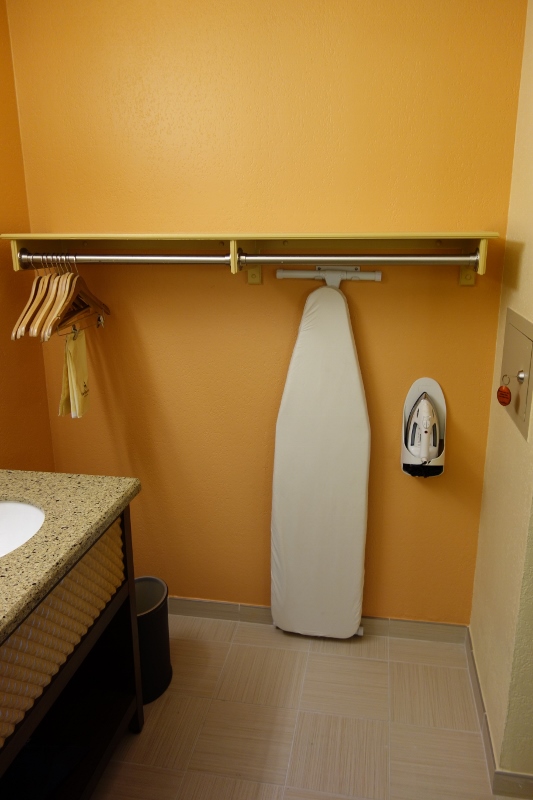 …and next to them the clothes hanging area.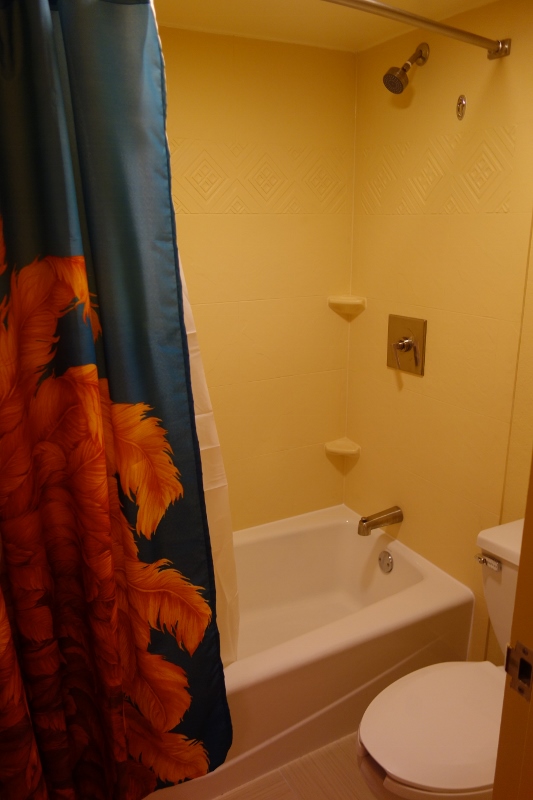 In their own separate space you'll find the toilet and tub/shower combo.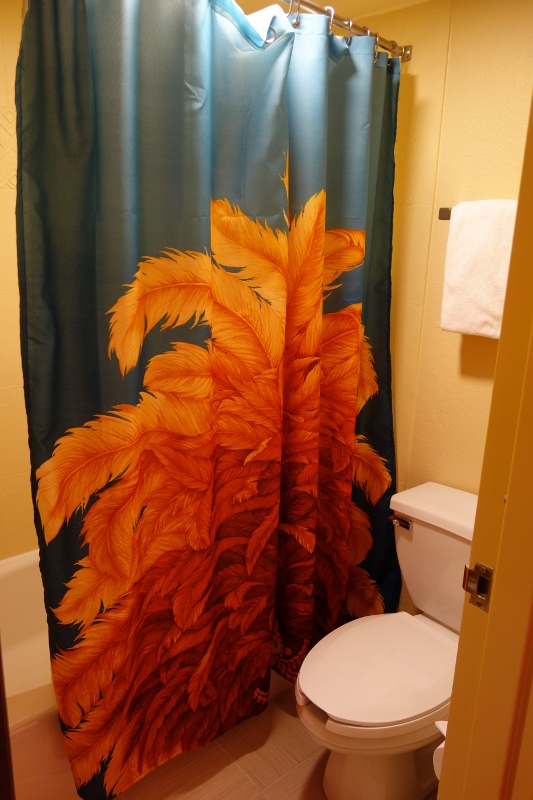 More of the shower curtain.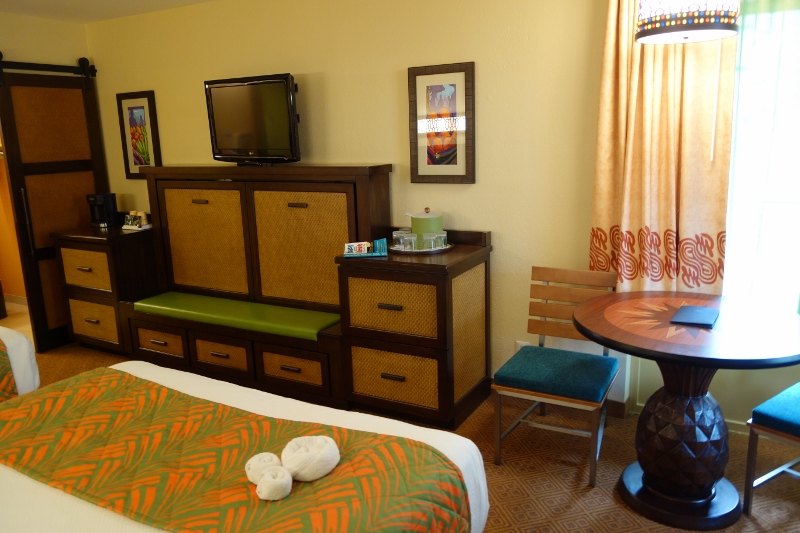 The other side of the room has a table and chairs and a TV/dresser/bench/Murphy Bed/mini-fridge combining thingy.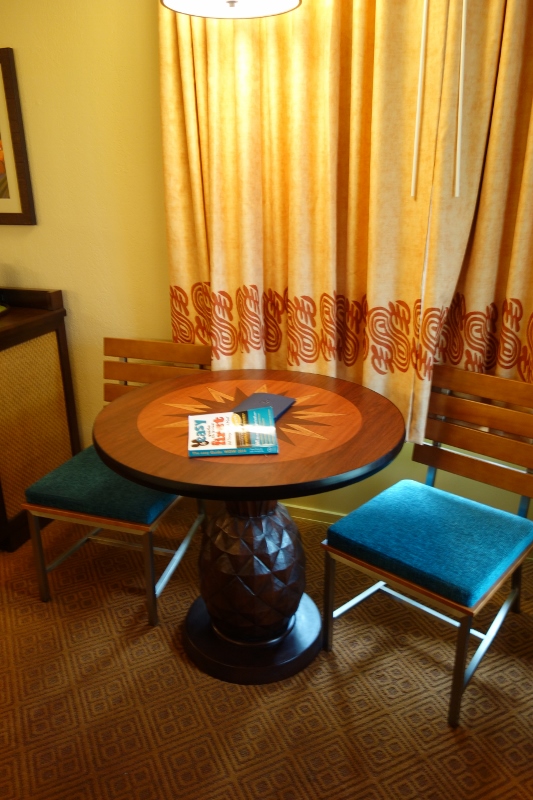 A closer view of the table and chairs…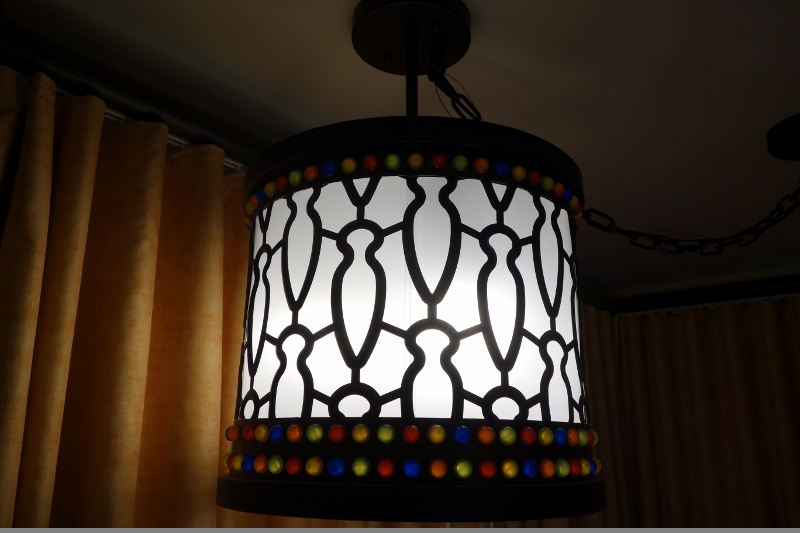 …the lamp overhead, styled like the ones at the heads of the beds…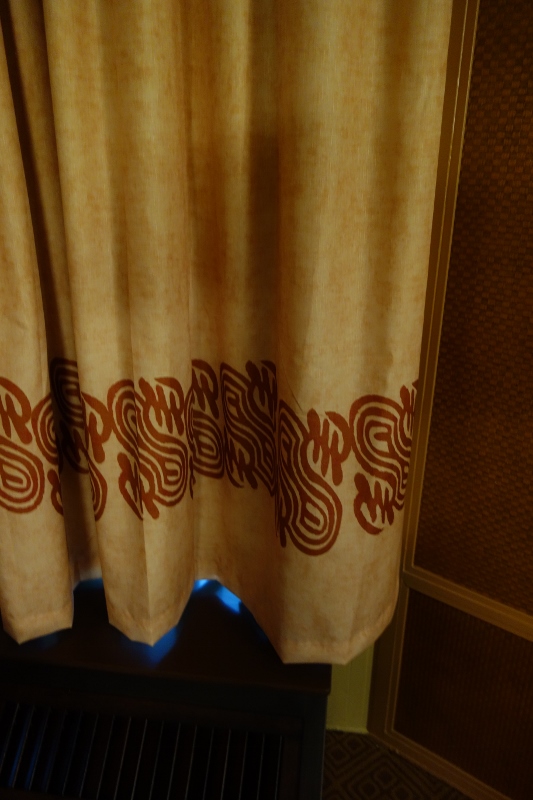 …and the window curtains.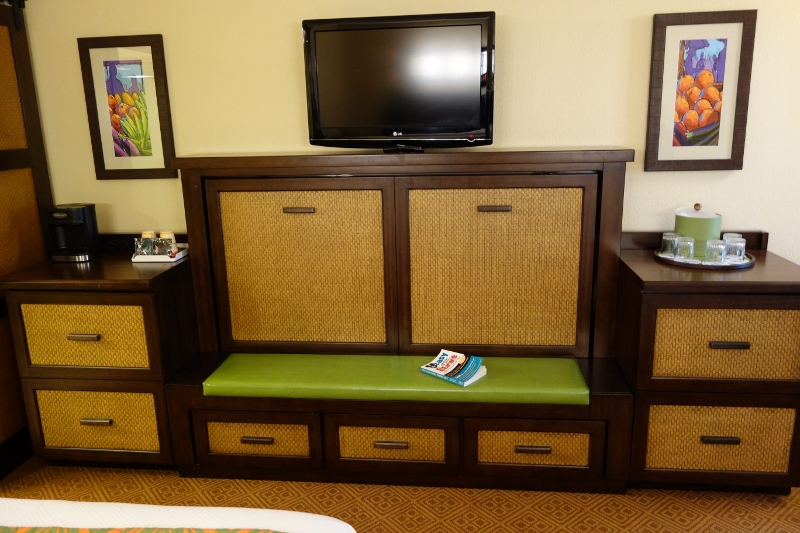 And then there's the thingy…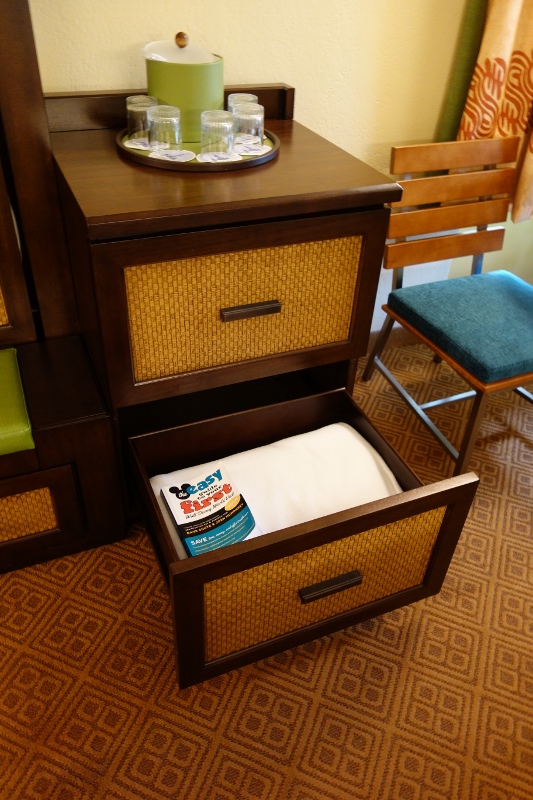 The right side has a couple of drawers.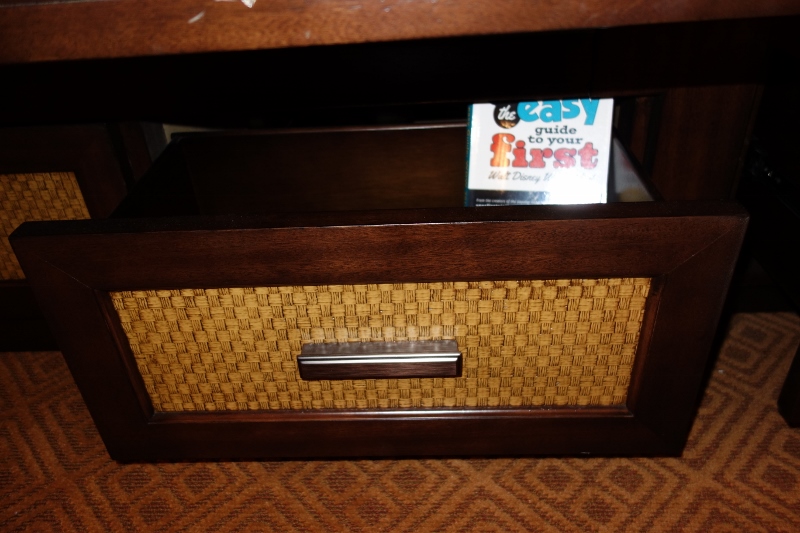 There's three more drawers underneath the green bench.  These are basically inaccessible when the bed is down, as it is shown here.  Even so, this is a much better design than the Murphy Bed rooms at Port Orleans Riverside, where all the drawers in the room are inaccessible when the bed is down.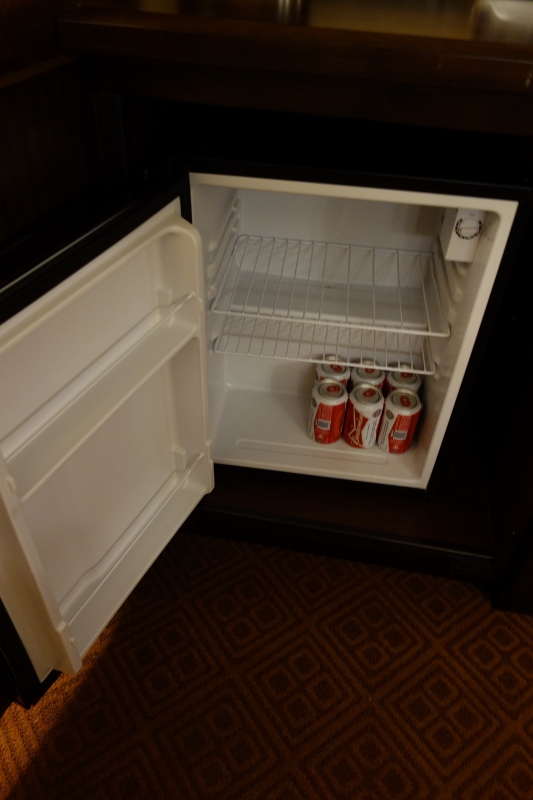 The object at the far left that looks like two more drawers is in fact the mini fridge.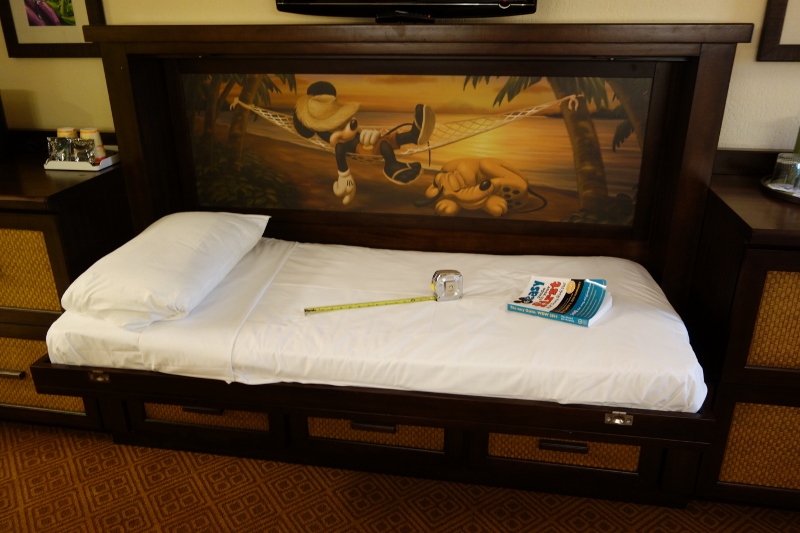 And then there's the Murphy Bed…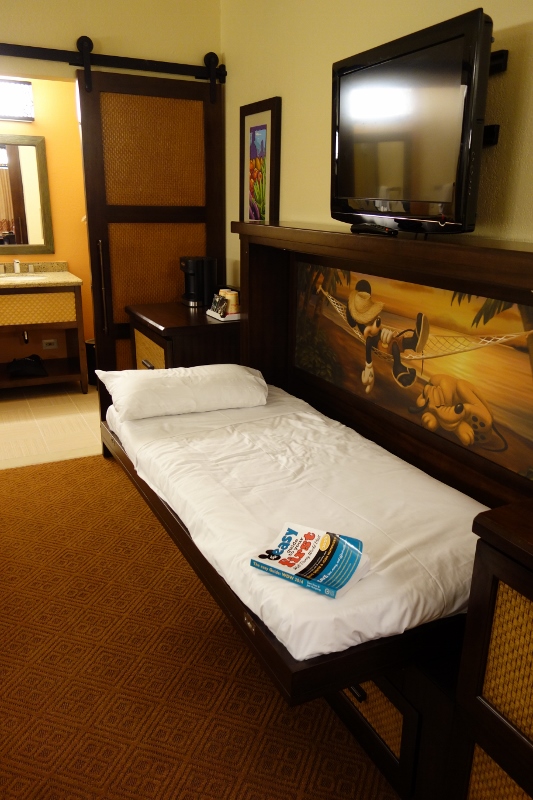 …another angle.
I measured the Murphy Bed mattress as 30″ wide by 64″ long.  The way it is positioned on top of the bed frame (rather than inside it) and related to the back framing means that, unlike many such beds, it does not sleep much shorter than this. I'd put a five foot tall kid on this and expect great results. The cushion is 5 inches deep. Note also Mickey and Pluto!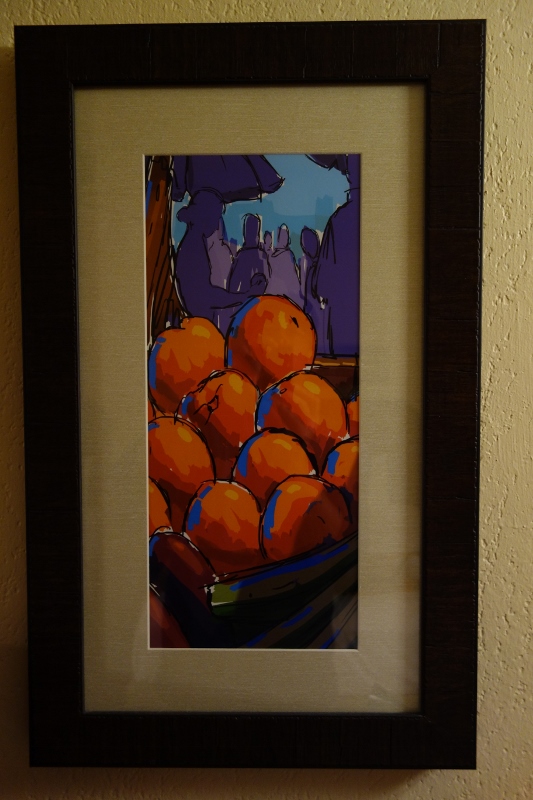 There's not much in the way of decoration–the textures, lamps and curtains already noted, and just a couple of fruity art things (with, I think, some Hidden Mickeys) on either side of the TV object–see them above and below.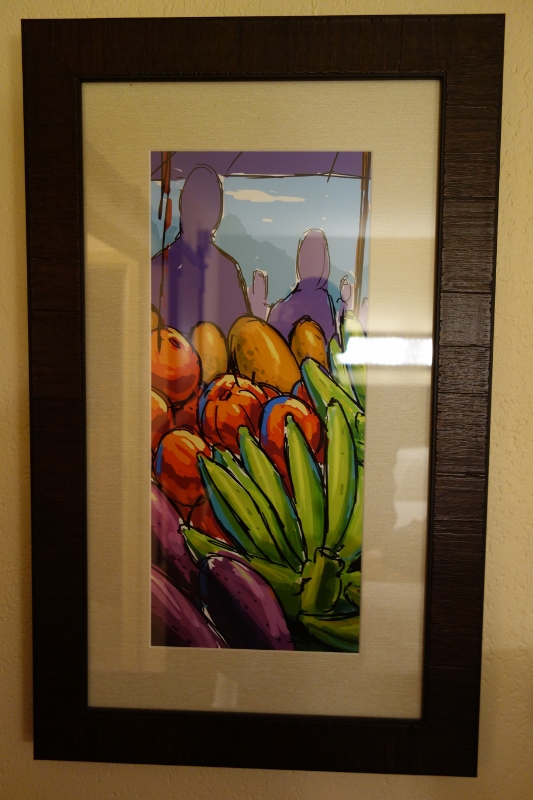 This review continues here.
PAGES IN THIS REVIEW OF DISNEY'S CARIBBEAN BEACH RESORT


Follow yourfirstvisit.net on Facebook or Twitter or Pinterest!!
RELATED STUFF