Review: The Villas and Bungalows at Disney's Polynesian Village Resort
By Dave Shute
(For the first page of this review of Disney's Polynesian Resort, see this)
THE DISNEY VACATION CLUB AT DISNEY'S POLYNESIAN VILLAGE RESORT

Note: Guests in the Disney Vacation Club spaces at Disney's Polynesian Village Resort are eligible for Disney World's Early Entry program, for early access to its paid individual system for access to certain rides, and for its Extended Evening Hours.
Disney Vacation Club Studios and Bungalows at Disney's Polynesian Village Resort opened to the general public in April 2015.
There's two types of spaces here, Studios and Bungalows. These spaces can be booked by anyone like any other DIsney World offering–you don't have to be a DVC member to book them.
Studios at the Polynesian are a little different than other DVC studios.  The Bungalows are unlike anything else except the Cabins at Copper Creek.
There's no traditional one or two bedroom villas present at the Polynesian or in any announced plans.
I have photo tours of both Polynesian Village offerings on this site, so you could just skip to those:
Otherwise, here's some thoughts on them.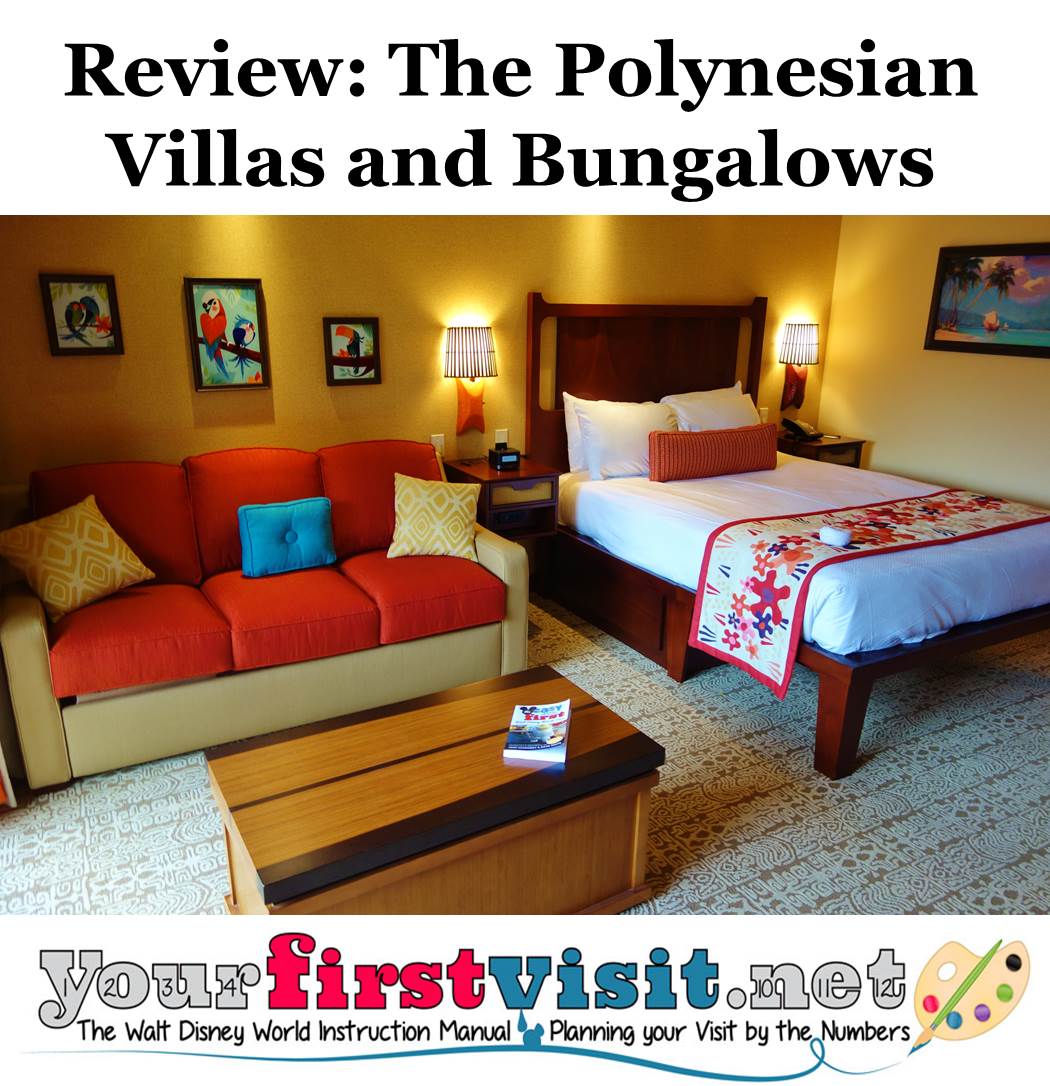 STUDIOS AT DISNEY'S POLYNESIAN VILLAS & BUNGALOWS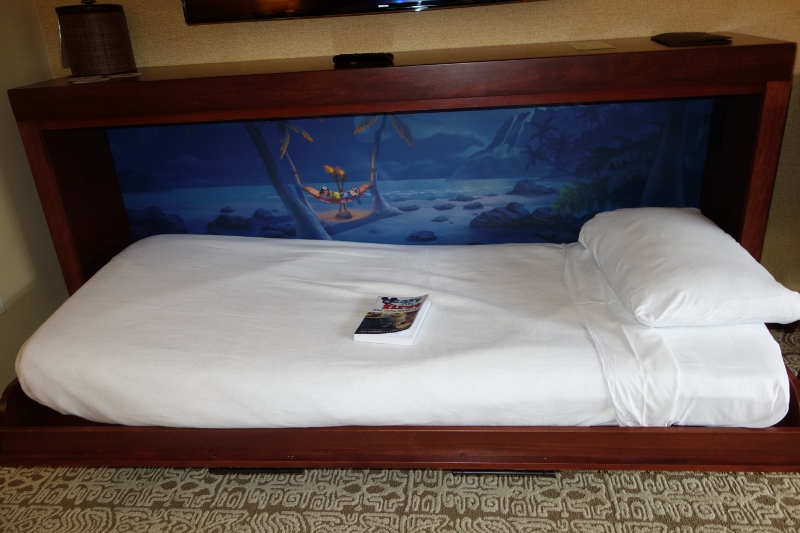 Studios at Disney's Polynesian Villas & Bungalows ("PVB") sleep five in a queen bed, fold-out couch, and fold-down bed.
Besides normal deluxe room accoutrements, they—like other DVC studios—also include a mini-kitchen, with the same coffee-maker and mini-fridge as in other deluxe rooms, but also with a small sink, toaster, microwave, and a few eating utensils.
There's a couple of distinctive features of these studios compared to other DVC studios.
First, you can book them as connecting rooms—most other DVC Studios only connect to (more expensive) One Bedroom Villas.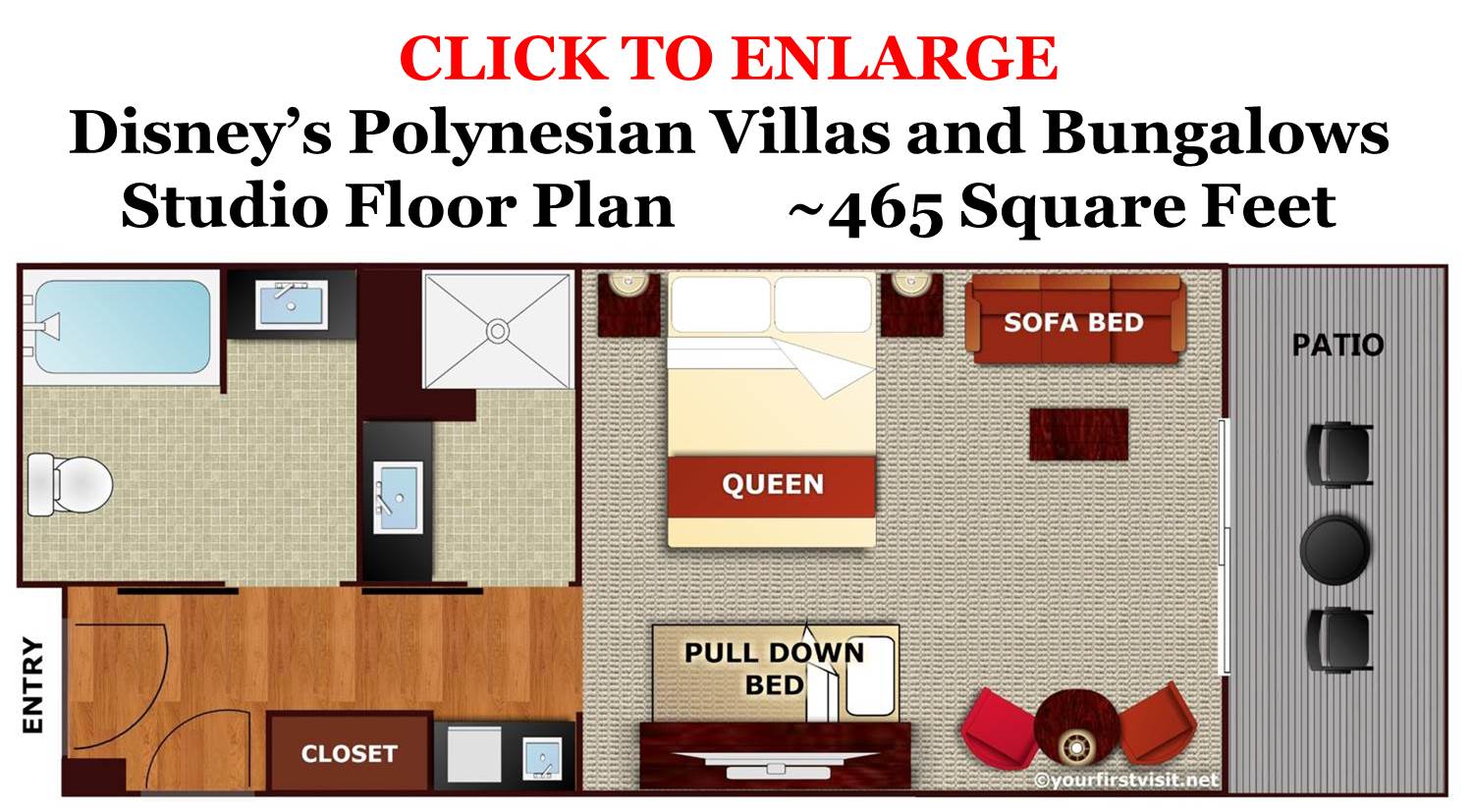 Second, their capacity for five is currently rare among studios—but becoming more common. Right now, only Studios at Disney's Riviera Resort, the Villas at the Grand Floridian, BoardWalk Villas, Beach Club Villas, and Boulder Ridge Villas at the Wilderness Lodge also sleep five.
Third, the baths are distinct. Like the Studios at the Grand Floridian and Riviera, there's both a sink and shower space and also a separate tub and toilet space. However, the baths at PVB add a sink to the tub and toilet space, yielding one full bath and a second bath with shower and sink. Add the third sink just outside in the mini-kitchen area, and your family will have every chance to be very clean.
Fourth, at 465 square feet (the size of the rooms they were converted from), these Studios are the largest among the DVC Studio offerings.
This is a mostly a function of extra width—about 14' 3" compared to, for example, the Studios at Grand Floridian at 12' 9" wide. About 50 square feet comes from that difference.
Much of the rest of the extra space is dedicated to the bath and hallway, rather than to the living space, which is wide but short.
As a result of these and other design choices, there's no room for a dresser. Work at it and you can find probably enough storage in various points across a Studio…but less bath and more dresser would have been a good choice.
So who should stay in these rooms? Well, those renting points should definitely consider them.
Families paying cash instead will find prices most nights of the year in standard view Studios between 102% and 110% of what a standard view room at the Poly those nights would cost.
The Studios are in what used to be my most highly recommended longhouses at the Polynesian—Pago Pago (which most recently was Rapa Nui), Moorea (recently Tahiti) and Tokelau (whose name has not changed).
I used to recommend these longhouses for three reasons: balconies or patios in every room (standard second floor rooms at the rest of the Poly are missing balconies), nice positioning between the Magic Kingdom resort monorail and the walkway to the Epcot monorail, and an extra 50 square feet compared to rooms in the rest of the Poly longhouses, which extra space used to be all dedicated to the living area.
The first two reasons still hold. However, since now most of the extra square footage is now dedicated to the bath and mini-kitchen area, the third reason morphs a bit—at the Studios, for nearly the same amount of money you get a divided bath and the microwave/toaster, and a smaller overall living space.
I  go with Tokelau as the best standard view choice among the Studios at the Polynesian.
A full photo tour of a Studio at The Polynesian is here.
BUNGALOWS AT DISNEY'S POLYNESIAN VILLAS & BUNGALOWS
Bungalows in the Polynesian DVC offering are unlike any other accommodations at Disney World except the Cabins at Copper Creek. They hold eight people in two bedrooms—like many DVC Two Bedroom Villas. But the differences are so profound that they should be thought of as their own thing, not as an option among the standard two bedroom choices.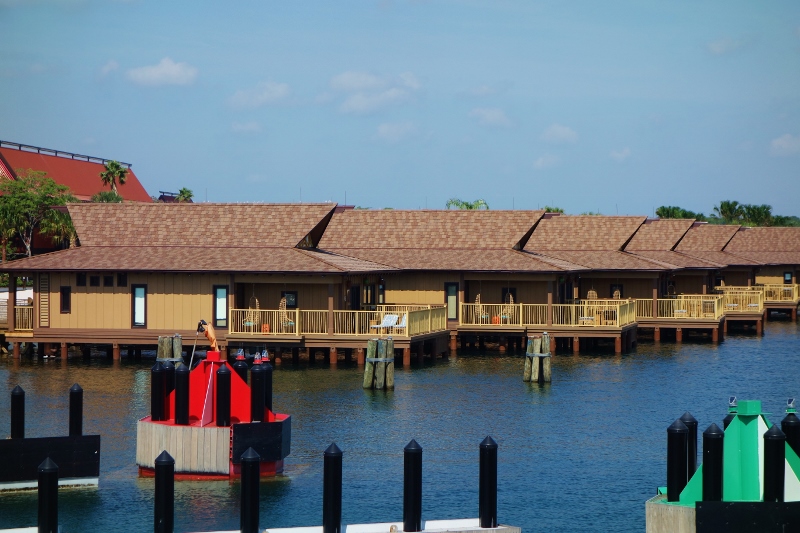 I'm tempted to start with prices, but let's first focus on the positive.
Each bungalow is its own little building built on pilings in the Seven Seas Lagoon, just away from the Polynesian beaches, and reached from over-water walkways. There's twenty in all—collectively, the "Bora Bora" area.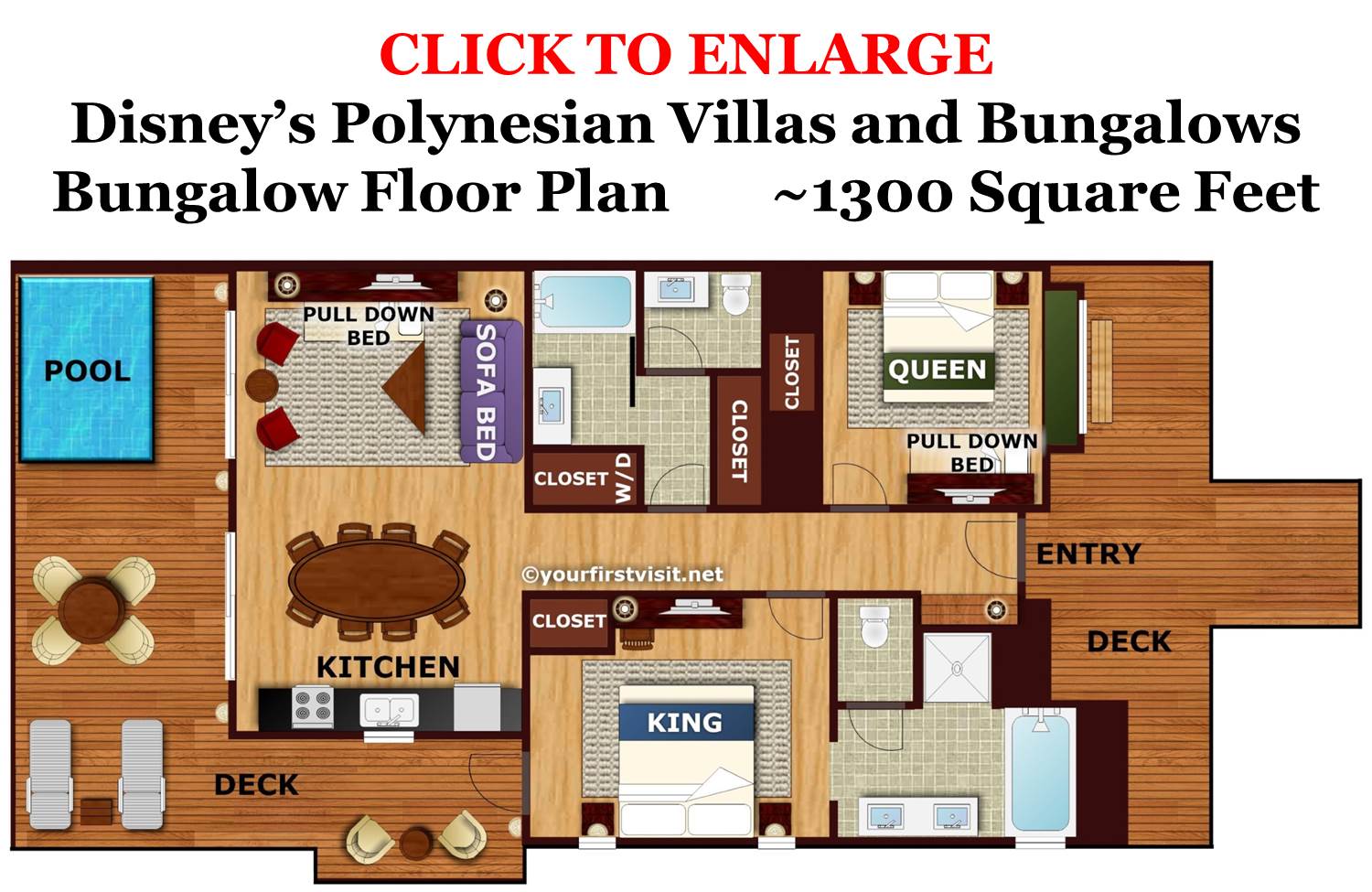 You enter into the bedroom wing (on the right of the floor plan) and at the far end (on the left) is a deck with views of the Magic Kingdom and its fireworks, sunbathing spots, and a little "cold water" pool in which to refresh yourself on hot sunbathing days.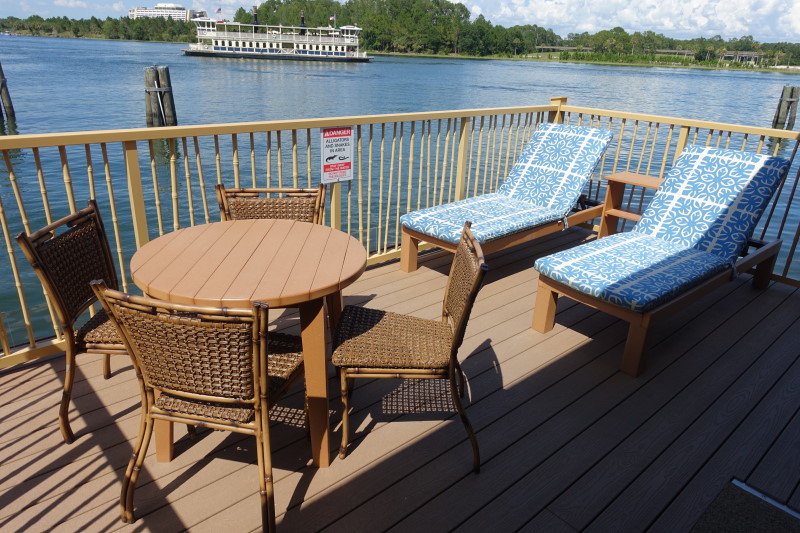 Note on this deck lounge chairs, table and chairs (shown above), and the smaller set of chairs  accessed from the master bedroom (shown on the floor plan). There's nothing like this outdoor space anywhere else at Disney World.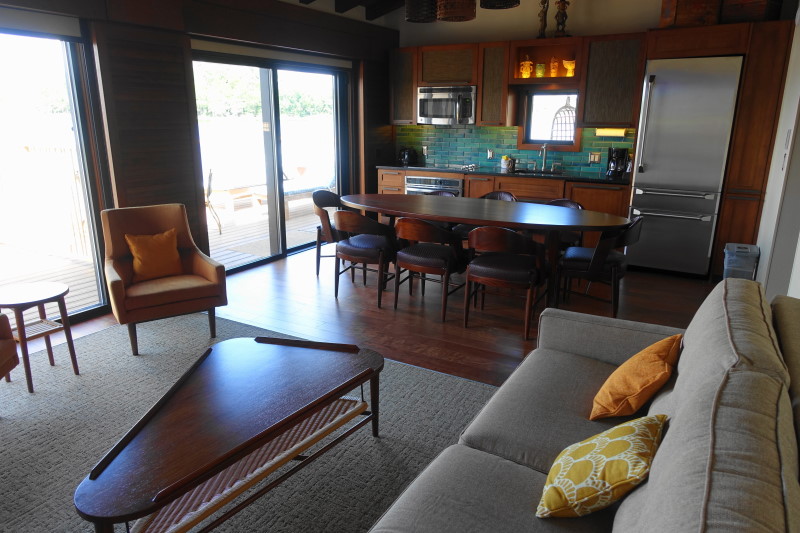 Just inside, accessed from two sets of sliding glass doors, is a great room with a full kitchen and dining area on one side, and a living room on the other. The dining area seats all eight this room will sleep—something you won't find at other two bedroom villas—but the living area, as is common, seats fewer. There's room here to drag some dining room chairs over.
The living room sleeps three—two on a fold-out couch, and one on a fold-down bed.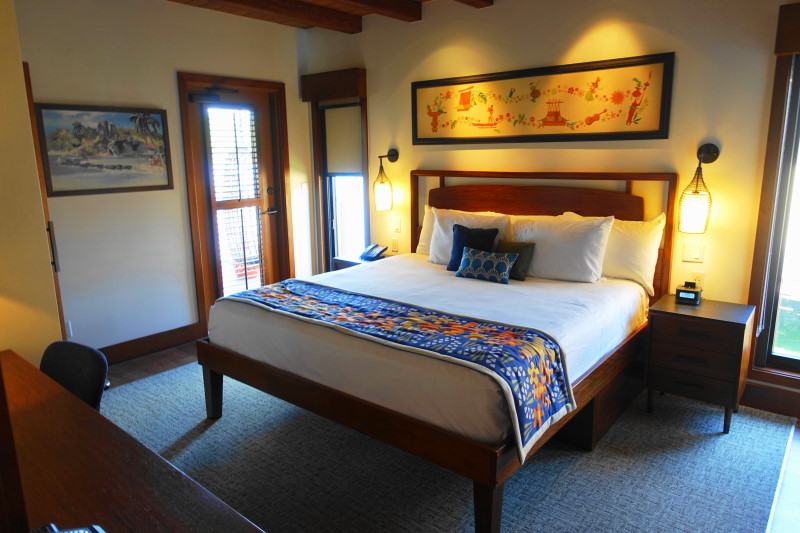 Back down the entry hall on the right you'll find the master suite, with a king bed and private bath. It's similar to what you'll find in other DVC master rooms.
Across the hall from the master bedroom is the bath for everyone else, which, after the washer/dryer and closet, is divided into two areas.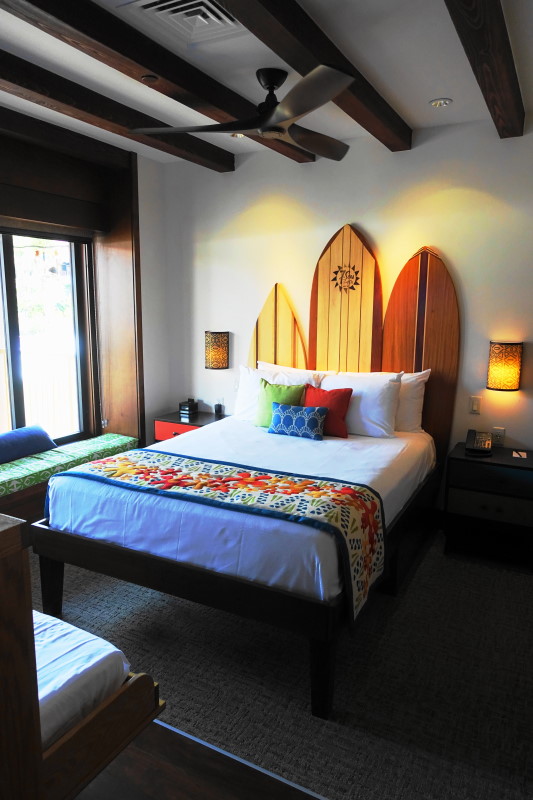 Beyond it is the second bedroom, sleeping three on a queen and a fold-down bed. Other second bedrooms at DVC villas are much bigger than this, and typically sleep four on two queens.
So what have we got?
For this you will pay (including tax) between $3,000 and $5,200 a night.
That number is so big it makes my head hurt. This is around twice what a Two Bedroom Villa at the Villas at the Grand Floridian would cost, and comparable to what a Grand Villa at the Villas at the Grand Floridian—which sleeps four more in almost twice the space…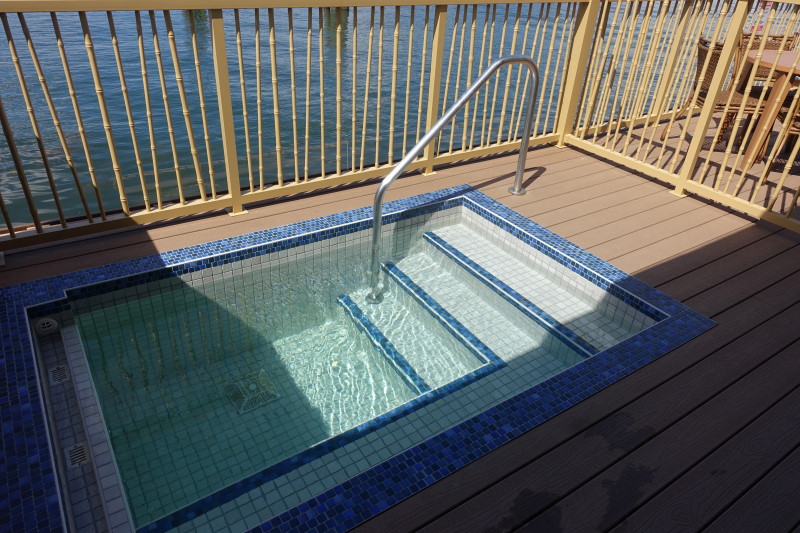 So Disney is clearly attributing a lot of value to that deck and little pool…or seeing the Bungalows as an alternative not to Two Bedroom Villas elsewhere, but rather to suites at the Polynesian or the Four Seasons.
Most of the highlights of a Bungalow have been covered, but for a full photo tour of a Bungalow at the Polynesian, see this.
This review continues here.
TOPICS IN THIS REVIEW OF DISNEY'S POLYNESIAN VILLAGE RESORT
OTHER KEY PAGES FOR WHERE TO STAY AT DISNEY WORLD

Follow yourfirstvisit.net on Facebook or Twitter or Pinterest!!
RELATED STUFF