The Most Comfortable Place to Stay at Walt Disney World: 2. Recommendations
By Dave Shute
This is part of The Comfortable Guide to Walt Disney World
OVERVIEW: THE MOST COMFORTABLE PLACE TO STAY AT WALT DISNEY WORLD: RECOMMENDATIONS
This site provides precise instructions elsewhere on where to stay at Walt Disney World. These instructions are designed for typical first time family visitors who are not sure whether or not they will ever return.
This page continues the discussion that begins here of where to stay at Walt Disney World for a subset of first time visitors: those seeking the most comfortable visit.
It is part of a series about the most comfortable way to visit Walt Disney World.  Its companion series is about the most inexpensive way to visit Walt Disney World,
I am publishing both series at the same time so that they also help those who are looking for bargains and deals on some things, so that they can spend more on others!!  Links to everything in these two series are at the bottom of the page.
MORE ON THE MOST COMFORTABLE PLACE TO STAY AT WALT DISNEY WORLD: RECOMMENDATIONS
This site suggests elsewhere a standard room at Disney's Polynesian Resort for first time visitors who can afford it. The Polynesian is one of the three most kid-appealing Walt Disney World resorts, and is far and away the most convenient.
There are more expensive Walt Disney World resort hotel standard rooms, but not better ones for first-time family visitors.
However, for some families, even rooms as large as those at the Polynesian—and the rooms in its newer section are the largest standard Walt Disney World resort rooms—may be crowded, cramped, or short on privacy.
The two basic options—suites and Disney Vacation Club villas—are detailed in the material that begins on this page.
The most important differences are these:
Suites are available in small numbers at all Walt Disney World deluxe resorts, are often more spacious, do not have complete kitchens, and always come with concierge services.
Disney Vacation Club Villas are available in much greater numbers, are present at most, but not all, deluxe resorts, don't* provide concierge services, and have full kitchens.
Different families will view the tradeoffs in different ways, but the essential choice is concierge service versus a full kitchen.
THE MOST COMFORTABLE WAY TO STAY IN A WALT DISNEY WORLD SUITE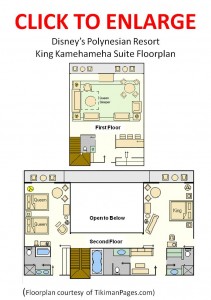 If concierge service is important to you, get a suite at the Polynesian–the King Kamehameha Suite at the Polynesian Resort Resort if you can afford it, another otherwise.
Click the image for its floorplan, courtesy of  Tikimanpages.com.
You can find details of suites at Disney's Polynesian Resort on this page.
If you are set on the most comfortable of suites and King Kamehameha is sold out, your next best high-end choices are the Royal Asante Presidential Suite at Disney's Animal Kingdom Lodge, and the Presidential Suite at Disney's Contemporary Resort. (The Wilderness Lodge does not have super-comfortable suites; if it did, it would be second on this list after King Kamehameha.)
If you are targeting a regular suite, and the Polynesian is sold out, try the Wilderness Lodge, then the Animal Kingdom Lodge, and then the Contemporary Resort.
You target these resorts, in this order, because they combine the highest level of kid appeal and convenience among deluxe resorts. See this for more on resort ranking by kid appeal and convenience.
THE MOST COMFORTABLE WAY TO STAY IN A DISNEY VACATION CLUB VILLA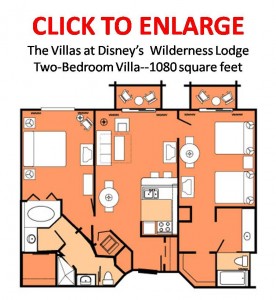 If a full kitchen is more important to you, or if the suites are sold out, then reserve a Disney Vacation Club villa.
Picking your villa type. Most families will be more comfortable in a Two-Bedroom villa than a One-Bedroom.
A Two-Bedroom villa—see the example Villas at Disney's Wilderness Lodge floorplan to the right—provides one private bedroom with either two queens or a queen and a full sleeper couch, plus a bath, for the kids, and also a private master bedroom with a king and a master bath for the parents.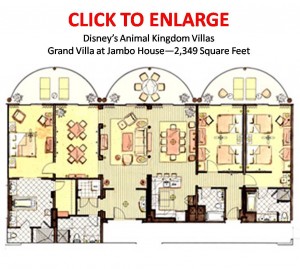 If you wish for a third bedroom, your most comfortable option is a Grand Villa (see the Animal Kingdom Villas Jambo House example).  
Grand Villas double the square footage available to you in a Two-Bedroom, and add a third private bedroom and bath, with two queens.
A less comfortable three bedroom option is the Treehouses at Disney's Saratoga Springs Resort and Spa. These spaces have square footage comparable to other DVC two-bedroom villas, but have two bedrooms beyond the master—one with a queen, and the other with two bunk beds.
(See this for more on beds and sleeping spaces at Walt Disney World.)
Picking Your Disney Vacation Club Resort. Based on kid appeal, and then convenience, your best choices are:
Disney's Animal Kingdom Villas–Jambo House
Disney's Animal Kingdom Villas–Kidani Village
Bay Lake Tower at Disney's Contemporary Resort
At the Animal Kingdom Villas, be sure to get a savanna view, and at Bay Lake Tower, a Magic Kingdom view.
If you are willing to put up with a bit of chaos, a particularly luxurious trip would include a split stay—beginning your visit at one of these resorts, and halfway through shifting into another.
Because of the gap between check out and check-in times (at DVC resorts, typically 11a and 4p), the most comfortable way to do this would be to be double-booked for one night—that is, to book the first resort for nights one to five, and the second resort for nights five through eight. The double booking of night five allows you to shift into your second resort without being homeless between 11a and 4p.
*A few of the villas at the Animal Kingdom Lodge's Jambo House provide concierge level services, but these are usually snapped up by Disney Vacation Club members, making them unavailable to the general public.
Home   Donate   Sitemap   FAQ   Travel Agents
RELATED STUFF