The Tightwad's Guide to How to Eat at Walt Disney World
By Dave Shute
(This page is part of the series The Tightwad's Guide to Walt Disney World)
EATING ON THE CHEAP AT WALT DISNEY WORLD
This site recommends here that families following one of its itineraries purchase the Disney Dining Plan, and has other suggestions here for those who can't, or won't.
This page addresses a different group: those trying to spend the least possible on food at Walt Disney World.
It's part of the The Tightwad's Guide to Walt Disney World, a series about the most inexpensive way  to visit Walt Disney World.
BASICS OF DISNEY WORLD DINING
The basic dining plan can be quite expensive unless you were going to buy the same number of sit down meals anyway.  The quick service dining plan is much less expensive, and, particularly if your kids are younger than 10 when they visit, can be hard to beat.
But even so, neither of these plans will cover everything you eat, and some may wish to spend even less than the cheaper dining plan costs.
The only way to do that is to gather and assemble meals and snacks in your room, taking some of them into the parks with you to eat there.  This works very well for breakfasts, sandwiches—which can be either lunch or dinner—and snacks.
Doing so will cost you time, both gathering your foodstuffs, and preparing them.
The rest of this page has some suggestions on how to gather your supplies.
HOW TO GET CHEAP FOOD AT WALT DISNEY WORLD WITHOUT SPENDING HOURS DOING SO
Families driving to Walt Disney World can pack a cooler, and/or stop at a grocery on the way to their resort.
Those flying used to be able to pack a suitcase with non-perishables and supplies—paper plates, mustard, napkins, etc—but these days of bag fees will make this difficult for some families.
(Note that if you are taking an empty suitcase anyway to fill with souvenirs, you can use this to pack food and supplies down.)
The upshot is that these families will need to do some shopping in Orlando.
You have basically five options:
Ordering over the web and having your food delivered to your resort
Buying stuff at your resort
Buying stuff at a nearby resort with a bigger selection
Going to the most convenient Hess
Going to one of the nearby grocery stores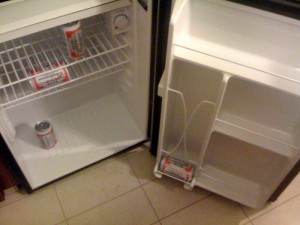 Note that you will need a refrigerator.
All Disney resorts except the campsites at Fort Wilderness come with at least a mini-fridge.
See photo for the rough size of the mini-fridge.
Not all mini-fridges are as nice as this (this one is from a studio at Bay Lake Tower), but all are about this size.  Note that the objects inside are for scaling purposes only.
ORDERING YOUR STUFF FOR DELIVERY OVER THE WEB
You can order your stuff before your trip (or during, which you may have to do for alcohol) and have it delivered to you.
I have not used such services (I always have a rental car), but offer them based on positive comments on disboards.com:
BUYING STUFF FROM THE GIFT SHOP IN YOUR RESORT
Disney groceries—depending on what you buy—are not as expensive as you might think.
As a test, I bought last week the same four things—an 11oz bag of chips, a half gallon of milk, a pound of donuts, and a certain number of 16oz Budweisers —at each of the Wilderness Lodge's Wilderness Lodge Mercantile, at the Downtown Disney Hess, and at the Winn-Dixie on Apopka-Vineland road.
Excluding the beer, the cost was basically the same—within 2.5% from highest (Disney) to lowest (Winn-Dixie).
Adding the beer made a huge difference—per beer, Disney was 3.5+ to 3.75 times more expensive.
I have also heard that smoking material is unavailable in some resorts, and very expensive in those resort stores that sell it.
FINDING A RESORT WITH A BETTER STOCK THAN YOURS
Some resorts have very limited selections of groceries.  Ask at guest services where the nearest Disney Vacation Club resort is, or how to get to Fort Wilderness.  Because both at DVC resorts and Fort Wilderness people have stoves and such, the selection at their stores is much better than at other resorts.
Remember that you can get to Fort Wilderness by boat from the Magic Kingdom.
This material continues here.
RELATED STUFF