The Tightwad's Guide to Where to Stay at Walt Disney World: 3. Deluxe Resort Hotels at Rock Bottom Prices
By Dave Shute
This page is part of the series The Tightwad's Guide to Walt Disney World
THE TIGHTWAD'S GUIDE TO GETTING WALT DISNEY WORLD DELUXE RESORT ROOMS AT ROCK BOTTOM PRICES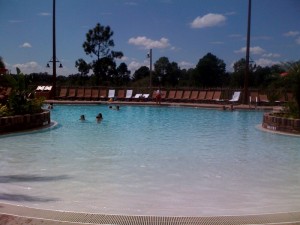 I am writing this from a one-bedroom standard view villa at Disney's Animal Kingdom Kidani Village.
As I write this, it is one of the times of the year that it is value season, the lowest price period at Walt Disney World.
During the value season, this room costs, including tax, $540 a night.
I'm paying $297. That's 45% off. And—with a little more advance planning—I could have paid about $250. And I might have been able to pull off a trickier way to get it for even less.
Anyone could do this. Here's how to get Walt Disney World Deluxe resort rooms at rock-bottom prices.
MORE ON GETTING WALT DISNEY WORLD DELUXE RESORT ROOMS AT ROCK BOTTOM PRICES
There's a couple of different ways to get deluxe resort rooms at Walt Disney World at rock bottom prices.
First—and simplest—is to take advantage of any discounts that might be out there for anyone to use. See this page for more on resort deals and discounts.
(Note that any deals are always related to the price season you are in. See this for more on price seasons at Walt Disney World.)
Second is to buy an Annual Pass, and take advantage of resort discounts that you can get because you have one.
An annual pass gives the passholder admission to any Walt Disney World theme park for 365 days from the date you bought it. Currently, buying one costs (including tax) about $611.
This seems quite expensive, but is only about $245 more than buying the most common Walt Disney World adult theme park ticket recommended in this site's itineraries—a seven day park hopper ticket.
But for this extra $245, you get access to incredible deals that Walt Disney World makes available from time to time. Deluxe hotel rooms—and Disney Vacation Club studios and villas—are routinely made available for 30-45% off.
That's how I'm paying $297 rather than $540 a night right now. That's a difference of $243 a night. Over the eight night itineraries recommended by this site, that would be a savings of almost $2,000. Take out the $245 extra for the annual pass, and you are still almost $1,600 ahead.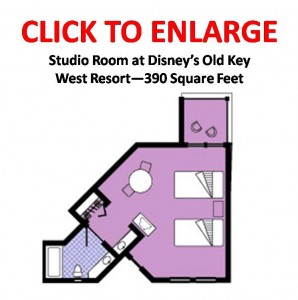 A more fair comparison for many people would be savings you can get on a studio room—a one space, 4 person deluxe room—at a Disney Vacation Club resort.
The cheapest DVC resort is Disney's Old Key West Resort. The normal rate for a studio there during the fall season is, including tax, $388. Getting 45% off would save you about $175 a night. You'd pay back the extra costs of your annual pass in just two nights. Over an 8 night trip, your net savings (room savings minus extra pass costs) are almost $1,050.
Third is to rent Disney Vacation Club "points." Disney Vacation Club ("DVC") members access rooms using points they are allocated each year. Various DVC studios and villas at the various DVC resorts cost a certain number of points during the seasons of the year.
DVC members who can't use their points during the year rent them to members of the general public. The going rate is about $12 a point. If I had rented points for the room I am staying in now, it would cost me about $250 a night—with no extra Annual Pass cost involved.
You can rent points from Disney Vacation Club members on websites like SellMyTimeshareNOW.com, a sponsor of this site.
Back to the Old Key West Studio example, you can get one from a Sunday through Thursday during the DVC equivalent of the fall season for 10 points at night. That's $120 at $12 a point. That's a savings of more than $250 a night off of list…
Because DVC charges more points for weekends than weeknights, the savings aren't quite as good for the 8 night trips this site recommends. Eight nights including three weekend nights would cost about $1,116 at $12 a point. This same room would cost $1,675 at Passholder savings of 45% (including the extra cost of the pass) so renting points saves you $550 compared to the passholder approach.
To sum up, using the Old Key West studio example, for an eight night visit:
List price during the value season would be $2,665
Discounts available to the general public might save you 30-45% of this
Passholder discounts might save you 30-45%
Renting points saves you almost 60%.
MORE WAYS TO GET WALT DISNEY WORLD DELUXE ROOMS AT ROCK BOTTOM PRICES
(This page continues here.)
RELATED STUFF