The Tightwad's Guide to How Long to Stay at Walt Disney World
By Dave Shute
This page is part of the series The Tightwad's Guide to Walt Disney World
OVERVIEW: HOW LONG TIGHTWADS SHOULD STAY AT WALT DISNEY WORLD
I have noted elsewhere in the instructions for typical families visiting Walt Disney World for the first, and perhaps only, time, that they should plan to be there for 8 nights and 9 days to see all of its best, while also building in sufficient time to relax and rest.
I have also noted elsewhere that to save money on a trip to Walt Disney World, you will find more promise in optimizing when you go and where you stay than in shortening your trip.
However, this page provides some thoughts on a minimum length trip to Walt Disney World.
MORE ON HOW LONG TIGHTWADS SHOULD STAY AT WALT DISNEY WORLD
Doing the parks right takes about 6 days—about two days each at Epcot and the Magic Kingdom, and about one each at the Animal Kingdom and Hollywood Studios.  Adding in a half day of rest and travel time for each day in the parks, and you get to the 9 days this site recommends.
By shortchanging Epcot a day, and eliminating most of your time off, you can cram your trip into 5 nights and six days.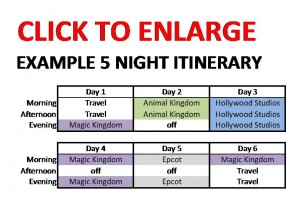 See the image for an example of how this might work.
The example likely won't work in any specific week, as you should tie your evenings at the Magic Kingdom, Epcot, and Hollywood Studios to the Magic Kingdom's fireworks show Wishes, Epcot's Evening Extra Magic Hours, and Fantasmic at the Studios.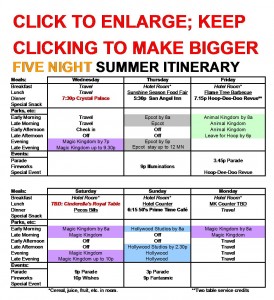 As an illustration of this, I recently designed a 5-night itinerary for a family with a Wednesday arrival in June.
Because of the timing of Fantasmic, evening extra magic hours at Epcot, and morning extra magic hours (to be avoided) at the other parks, the material on the right resulted–but I would not recommend this itinerary for a Tuesday arrival.
See Designing Your Own Walt Disney World Itinerary for suggestions on how to fit these various events and days together.
One more note: older, or second-rate, guidebooks and websites spend some time worrying about whether you should spend "expensive" theme park tickets on travel days.
However, for several years now Disney World has used a ticket pricing model in which the first three days are very expensive, and days after the first three cost next to nothing—$5 per person per day.  (See this for more on Walt Disney World admission ticket prices.)
With these pricing changes, it makes perfect economical sense to spend partial days in the theme parks so long as your tickets are for more than three days.
For example, an adult could spend three full days in the theme parks for $233.  Spending an extra two days–the evening of arrival day, and the morning of departure day–increases the ticket price by only $10–$5 per extra day!! (See this for more on Walt Disney World admission ticket prices.)
The Most Comfortable

Place to Stay

at Walt Disney World:
The Most Comfortable Way to

Tour the Theme Parks

at Walt Disney World:
Home   Donate   Sitemap   FAQ   Travel Agents
RELATED STUFF