The Tightwad's Guide to Staying Off-Site at Walt Disney World
By Dave Shute
This page is part of the series The Tightwad's Guide to Walt Disney World
THE TIGHTWAD'S GUIDE TO STAYING OFF-SITE AT WALT DISNEY WORLD: OVERVIEW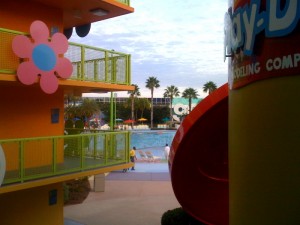 I'm fairly firm elsewhere that you should stay at an "official" Walt Disney World resort. (See this for a list of these.)
There are many reasons for this instruction. For tightwads, the most relevant are that
Staying in an official resort lets you use Disney's Magical Express for airport to resort transportation, and Disney's transportation system for on-site transportation, and thus avoid ground transportation and rental car costs, and
If you do all the meals in the suggested itineraries of this site, you will save a little money by signing up for the Disney Dining Plan, which is only available if you stay in such a resort
However, some of you will pay no attention to my advice, and others will have really good reasons to save money by staying offsite.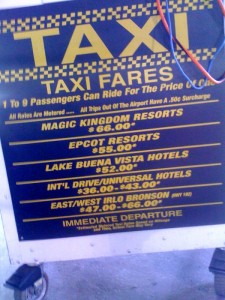 Particularly good reasons would include
Those who both are driving to Walt Disney World, so will have no use for the Magical Express, and have no intention of doing anything close to the number of recommended meals of this site, and thus won't benefit from the Dining Plan
And/or large families who can't find affordable enough choices among this site's options for large families looking for low-cost accommodations at official Walt Disney World resorts
Given that, below I share some thoughts on staying off-site.
THE TIGHTWAD'S GUIDE TO STAYING OFF-SITE AT WALT DISNEY WORLD: OFF-SITE HOTELS
1. Target your search in the Highway 192 and/or the Downtown Disney Resort Areas.
You can find great hotels all over the place in Orlando, with hundreds within a reasonable distance of Walt Disney World.
The value of targeting these two areas is simple: from almost any place in Walt Disney World, you can find directional signage to 192, and directional signage to Downtown Disney.
Walt Disney World is much more complicated than many first time visitors imagine, and your first few days of finding your way around will be made simpler by this signage.
The street address of hotels on 192 will include either "Highway 192" and/or the words "Irlo Bronson Highway."
The street address of hotels in the Downtown Disney Resort Area will include "Hotel Plaza Boulevard."
2. Expect to pay half to a third less than what you would pay for  roughly) comparable official Walt Disney World resorts
"Comparable" here means in terms of room quality.
The more inexpensive off-site hotels are likely to be older, less impressive, less delightful, and much less well landscaped than the Walt Disney World resorts. That said, they are quite a bit cheaper.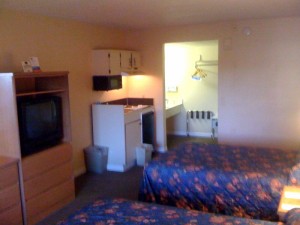 For example, I am writing this from an efficiency room at the Howard Johnson Maingate East (see photo).
For $42.50 a night I have much more space than at Disney's Pop Century resort, which had a value season rate of $82 a night the other night when I stayed there (both rates weekday pre-tax).
My efficiency also includes a mini-fridge, a two-burner stove, a microwave, a sink, and utensils to support the kitchen, none of which comes in a room at Pop Century. (Rooms at this Howard Johnson without the kitchen are going for $32.50 a night…)
Now, to be clear, the rooms at Pop, while quite a bit smaller, look much better, have better pools, landscaping, and overall delightfulness, and come with the benefits of staying on-site.
But for many, and especially those with cars, half the price will win!
3. Buy and use Testa and Sehlinger's The Unofficial Guide to Walt Disney World 2014 to more closely target your hotels.
This book includes the most comprehensive guide anywhere to off-site hotels at Walt Disney World. The material beginning on page 222 (in my edition; pagination of its "Hotels Outside Walt Disney World" section may vary by printing) alone are worth the price of the book for intending to stay offsite.
Use its material on prices, quality, distance etc., to develop a target list of hotels in the 192 and/or Downtown Disney Resort Area geographies.
4. Work at finding a discount.
You will almost certainly be able to find a discount for one or more of the hotels on the list you created in step 3.
If your list is large, start looking for good rates at kayak.com or hotels.com.   The Unofficial Guide lists a number of additional internet resources that focus specifically on the Orlando area.
Once you have narrowed your list and found some reasonable rates, check the individual websites of the hotels you are interested in. These days you will often find the best rates often on the hotels own website.
You do not need to call the hotel for its best rate. Almost all hotels provide better rates on the internet than over the phone—to encourage internet booking, which is much less costly for them than phone booking.
5. Get some help for when it's ok for you to stop looking for good rates.
One of the more frustrating parts of looking for a deal is knowing when it's ok to stop—that you are not likely to find a better deal than what you have found so far.
One way to find out how good your deal is is to buy a subscription to the paid part of TouringPlans.com (page down to "The Best Hotel Deals on the Net") and use their Disney World hotel rate comparison tool.
As they describe it, the tool will "… tell you how good the rate is as compared to other times of the year, and we'll predict whether the rate is likely to go up or down during the next week."
THE TIGHTWAD'S GUIDE TO STAYING OFF-SITE AT WALT DISNEY WORLD: OFF-SITE HOMES FOR RENT
You can find multiple-bedroom vacation homes available for short-term rentals in the Orlando area for a fraction of the price of what you'd have to pay to stay in some of the large family options at Walt Disney World, even counting your rental car costs.
Use The Unofficial Guide for key tips and tricks to start your search.
Then go to WDWvacationhomes.com, and to AllStarVacationHomes.com, vrbo.com, and other sites recommended by the Unofficial Guide to search and book.
The Most Comfortable

Place to Stay

at Walt Disney World:
The Most Comfortable Way to

Tour the Theme Parks

at Walt Disney World:
Home Donate Sitemap FAQ Travel Agents
This material continues here.
RELATED STUFF