This is part of The Comfortable Guide to Walt Disney World
OVERVIEW: THE COMFORTABLE GUIDE TO HOW LONG TO STAY AT WALT DISNEY WORLD
I have noted elsewhere in the instructions for typical families visiting Walt Disney World for the first, and perhaps only, time, that they should plan to be there for 8 nights and 9 days to see all of its best, while also building in sufficient time to relax and rest.
These instructions are designed for typical first time family visitors who are not sure whether or not they will ever return.
This page addresses how long to stay at Walt Disney World for a subset of first time visitors: those seeking the most comfortable visit.
It is part of a series about the most comfortable way to visit Walt Disney World.  Its companion series is about the most inexpensive way to visit Walt Disney World,
I am publishing both series at the same time to help those who are looking for bargains and deals on some things, so that they can spend more on others!!  Links to everything in these two series are at the bottom of the page.
MORE ON THE COMFORTABLE GUIDE TO HOW LONG TO STAY AT WALT DISNEY WORLD
Doing the parks right takes about 6 days—about two days each at Epcot and the Magic Kingdom, and about one each at the Animal Kingdom and Hollywood Studios. Adding in a half day of rest and travel time for each day in the parks, and you get to the 9 days this site recommends.
You can do this and have a comfortable, although busy, visit.
However, seeing the rest of the key offerings in Orlando–Universal's Islands of Adventure and Studios,  Sea World, plus a waterpark–adds another four days or so of touring, plus a couple more days of rest and relaxation, bringing the total to 15 days or so on site.
Below are provided example itineraries for two different ways to have 15 days on site (click them to enlarge them).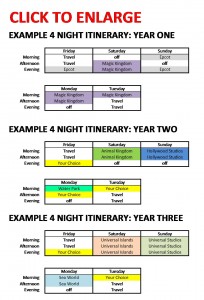 The first example itinerary, on the right, sends you to Orlando over long weekends for three years.
It's perfect for those who have difficulty fitting longer trips into their other travel plans, or not willing to bite off on two weeks for their first visit to Walt Disney World.
The second example, below, has you spending 16 days–two weeks and the weekends around them–traveling to and from, and enjoying, Orlando.
It's best for those willing to bet on two weeks in Orlando. 
It's especially good for overseas visitors–e.g. first time visitors to Walt Disney World from Britain–who are facing such time zone challenges and/or travel expenses that a longer trip makes much more sense for them.

The examples themselves likely won't work in any specific weeks, as you should tie your evenings at the Magic Kingdom, Epcot, and Hollywood Studios to the Magic Kingdom's fireworks show Wishes, Epcot's Evening Extra Magic Hours, and Fantasmic at the Studios, and Walt Disney World's schedules for these vary.
See Designing Your Own Walt Disney World Itinerary for suggestions on how to fit these various events and days together.  See Minimizing Planning Time for thoughts on how to get help with this work.
Home   Donate   Sitemap   FAQ   Travel Agents