Introduction to the Tightwad's Guide to Walt Disney World
By Dave Shute
THE TIGHTWAD'S GUIDE TO WALT DISNEY WORLD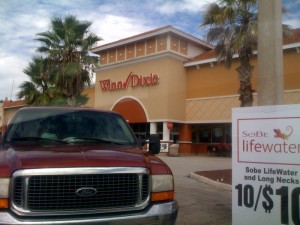 I've been publishing material in the series The Tightwad's Guide to Walt Disney World for months now–giving alternatives to this site's main guidance on key topics such as when to go, how long to stay, where to stay, how to eat, etc.
But I've never properly introduced this series.
So here's the formal introduction! 
INTRODUCTION: THE TIGHTWAD'S GUIDE TO WALT DISNEY WORLD
This site is intended for first time family visitors to Walt Disney World, and is designed so that they can plan their trip as quickly as possible.
The home page reflects that design–it gives all the basic guidance on just one page.
For families who can't follow this guidance, the next best options are just a click away from the home page, and are ranked in order.
However, the home page and next best options are designed for the "average family," and many families don't perfectly reflect that "average."
As a result, there's other planning tools that supplement the "exact instructions, next best options" architecture of the site.
One example, designed to help answer when to go, is the week picker.
Another, designed for those looking to save a buck, is The Tightwad's Guide to Walt Disney World.
The Tightwad's Guide is a series of pages and posts on money saving or value-enhancing ways to deal with Walt Disney World.
The most important page is this one on thinking about your Walt Disney World Budget.
Additional pages cover
Because many families want to save money on some things so that they can spend more on others, I've also been publishing a companion series to the Tightwad's Guide on the most comfortable way to visit Walt Disney World.  You can find the pages in The Comfortable Guide to Walt Disney World collected here.
I hope this helps–and add your own money saving tips by using the comment form below!


Follow yourfirstvisit.net on Facebook or Twitter or Pinterest!!
RELATED STUFF