Caribbean Beach Refurb Causes Some Qualms
By Dave Shute
(Note: the $75/night gift card offer is over for new bookings.)
Disney's Caribbean Beach Resort will be going into a major refurb beginning around May 1. The scope of the refurb has led some to suggest avoiding the resort or changing your reservations if you are staying there.
(Coronado Springs is also seeing a less extensive but still major refurb, so Port Orleans Riverside and French Quarter are filling up fast. Kelly can help you get a room in one of these–she's the designated Destinations In Florida travel agent for yourfirstvisit.net, and is at Kellyb@destinationsinflorida.com.)
However, Disney will be providing guests booked there May 1 and later a $75 gift card, per night, as a compensation for the awkwardness.
At least until Columbus Day, which is as far as I want to speculate, this is a discount of 27-35% off the rates of a standard room. Some will find this an entirely adequate payment for the awkwardness.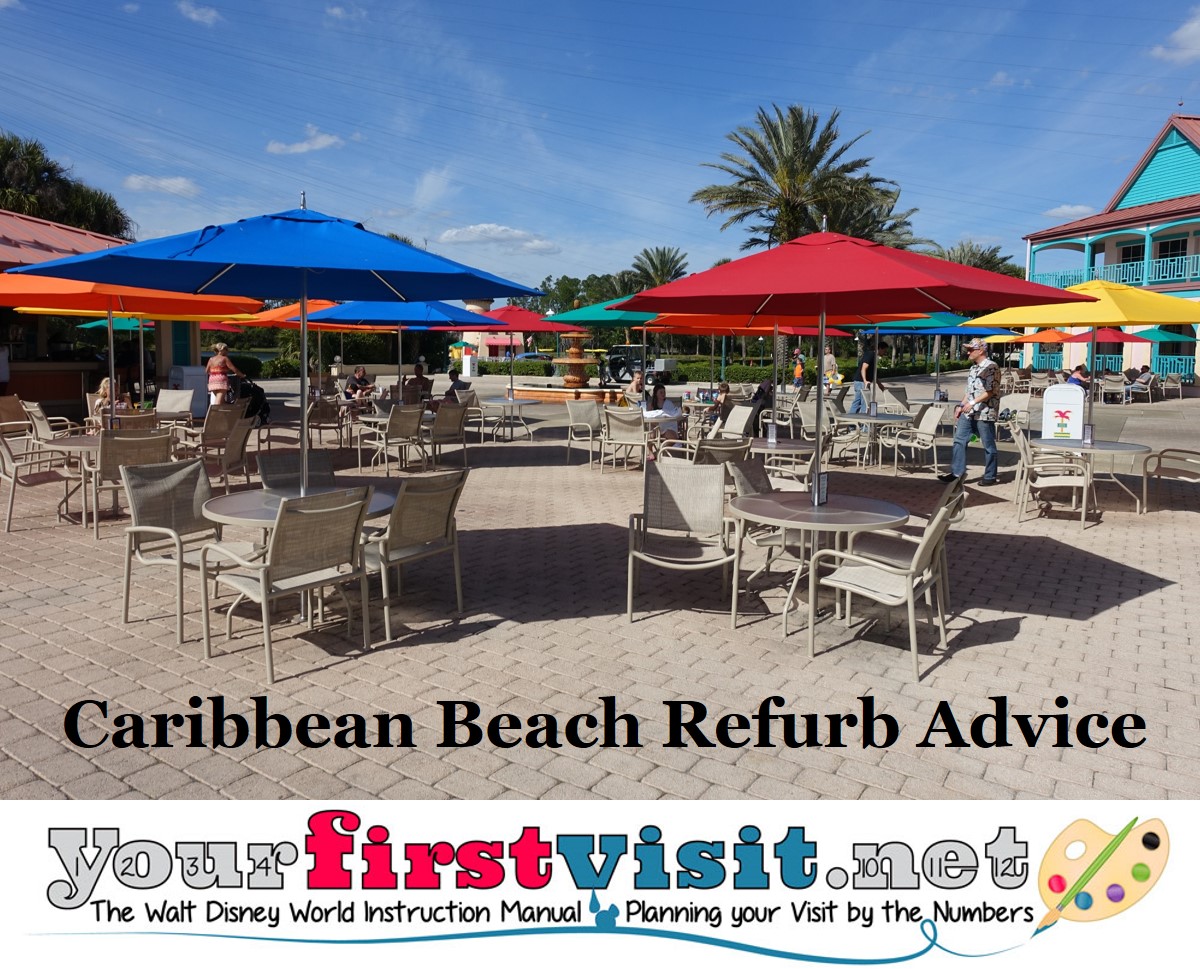 My advice?
If you have any qualms, change your resort. The potential for you to second-guess yourself is too high.
If you are one of the seven people worldwide who chose Caribbean Beach specifically for Shutters or the food court, change your resort.
If you never felt strongly about staying at Caribbean Beach anyway, change your resort.
If you picked Caribbean Beach for its tranquility, consider how construction noise might affect that.
If you picked it for the kid appeal/the beaches/the pool/the colors, for most I think the $75 per night gift card will be sufficient compensation for you to stay—but avoid Barbados and perhaps Martinique (for reasons I'll get into below).
THE REFURB AT CARIBBEAN BEACH
The refurb seems to have two parts.
One is a shut-down of the food court, table service restaurant Shutters, gift shop Calypso Trading Post, and pool-side bar Banana Cabana.
These will be somewhat replaced by a new breakfast buffet and menu of dinner offerings from new (presumably temporary) facilities in "Centertown," which is the broad area that includes the pool and former dining and shopping areas. My guess is that these will be centered on the old bar Banana Cabana, since it has power, water, etc. Also available will be some new grab and go locations in Aruba, Jamaica and Martinique, and, I suspect, a food truck in Trinidad South.
Here's Disney's words about this: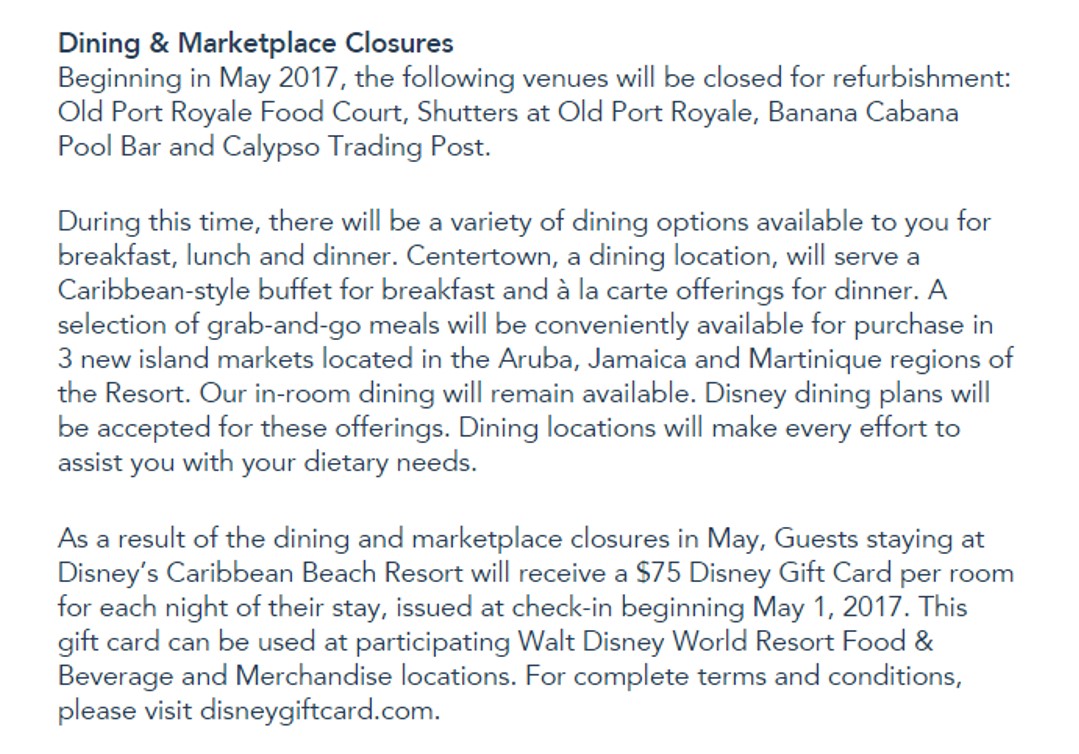 Closure for refurb of food areas is pretty routine at Disney World—Port Orleans French Quarter just went through this, and there was not much panic. This, however, is a more extensive closure, including the bar and gift shop as well.
Frankly, I expect the (temporary) supplemental replacements to be largely adequate—even after the closures, there will likely still be more counter service available at Caribbean Beach than in all of the BoardWalk Inn, Beach Club and Yacht Club combined (at least until the new counter service-ish area opens in the Yacht Club gift shop).
But we won't know for sure until the supplemental options open. I have a stay booked here in early June—gonna catch me some Pandora, and the new fireworks show at the Magic Kingdom—and will report on specifics then.
The second thing that seems to be going on is construction, possibly even demolition, in the Barbados and Martinique areas.
Katherine Schutte (part of the German branch of my otherwise English family, I guess) posted in her Magical Castle Facebook Group on 2/27 that
"a new notice issued today indicates that buildings within Martinique and Barbados areas of the resort will be closed since they will be disrupted by the construction."
It's been widely speculated that a new Disney Vacation Club building will be going into the footprint of Barbados and perhaps some of Martinique—and, it is to be hoped, the Custom House check-in area as well.
And Disney has already communicated that "Disney's Caribbean Beach Resort will be reimagined with new additions to the resort's current marketplace, Centertown, including new waterfront dining and retail shopping areas. This centralized location will offer the resort's guests more convenient access to services, amenities and dining."
As I'd noted here, my guess and hope is that as part of this project, the current building housing dining and retail will be converted (or demolished and rebuilt) as the check-in area for Caribbean Beach.
This, when combined with the to-be-hoped for demolition of Barbados and perhaps the northern (non-preferred) part of Martinique, will much reduce the complexity and number of bus stops at Caribbean Beach, diminishing what has always been its biggest negative. (Especially if the current bus stops at Trinidad North and the perhaps truncated Martinique are replaced with just one at New Old Port Royale.)
If so, then the sequence of events could be something like this:
Install temporary alternative dining and close Old Port Royale
Build new waterfront dining and retail and convert/rebuild Old Port Royale as the new check-in area
Open the new dining/retail/check in facilities
Demolish the current check in facilities at the Customs House, Barbados, and perhaps some of Martinique
Build a DVC facility on the footprint freed by step 4 (this could begin even before the Customs House comes down—if it is even coming down. Bay Lake Tower is about 400 feet across, and the longest extent at Barbados is almost three times longer—there's a lot of land at that end of the resort…)
If my guesses are true, then there will be a lot of construction noise around Barbados and Martinique in particular, so for sure I would avoid rooms there…even the preferred rooms in Martinique, because of the Centertown construction noise.


Follow yourfirstvisit.net on Facebook or Google+ or Twitter or Pinterest!!
RELATED STUFF