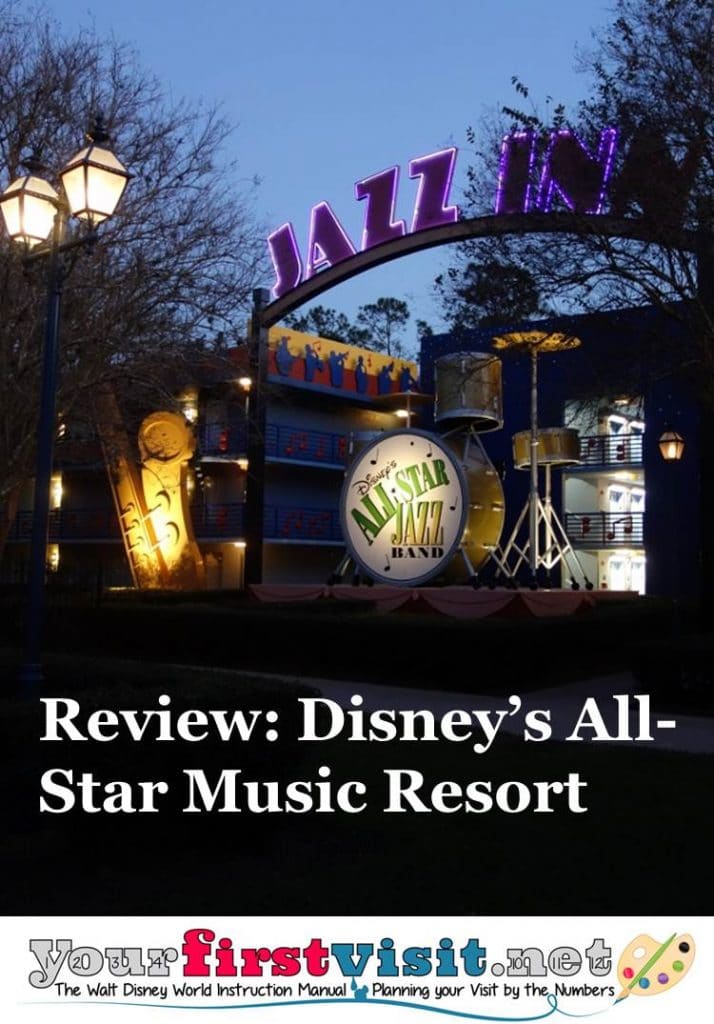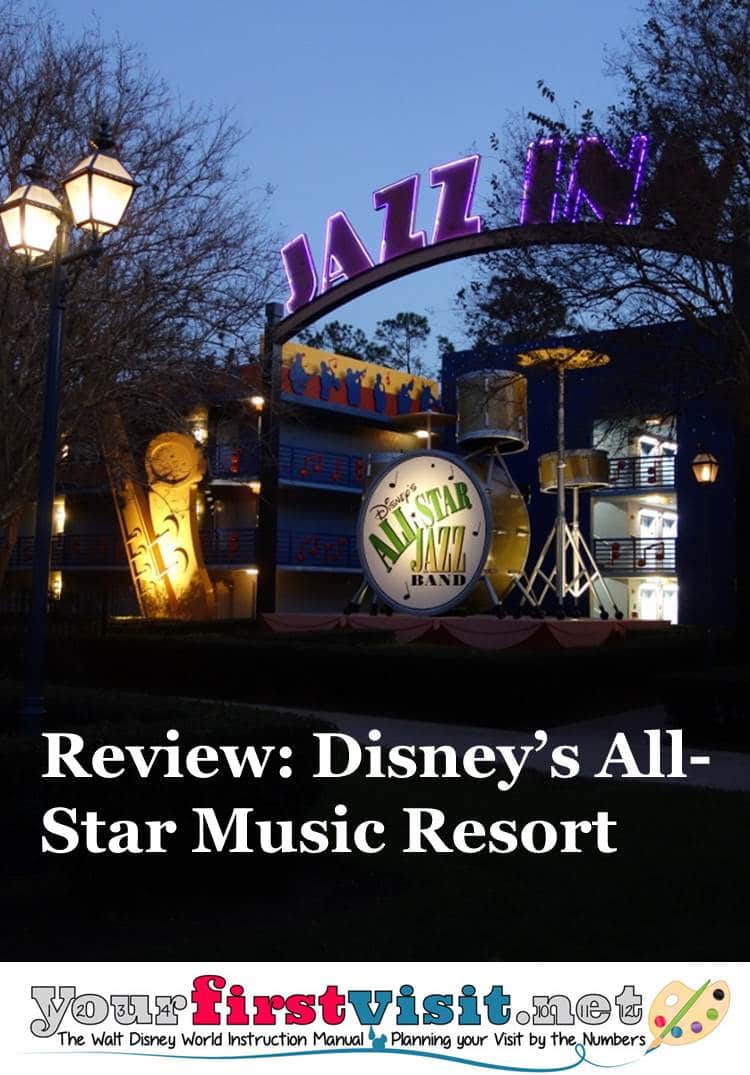 The Value Resorts   Art of Animation   Pop Century    Movies    Sports   Music
OVERVIEW: DISNEY'S ALL-STAR MUSIC RESORT
Note: Guests at Disney's All-Star Music Resort World are eligible for Disney World's Early Entry program, and for early access to its paid individual system for access to certain rides, but NOT for its Extended Evening Hours.
I've stayed at Disney's All-Star Music Resort seven times among my 30+ stays at Disney World's value resorts (so far), most recently in January.
These stays confirm that All-Star Music, although it's my own personal favorite among the value resorts, is the lowest-ranked value resort for first time family visitors to Walt Disney World.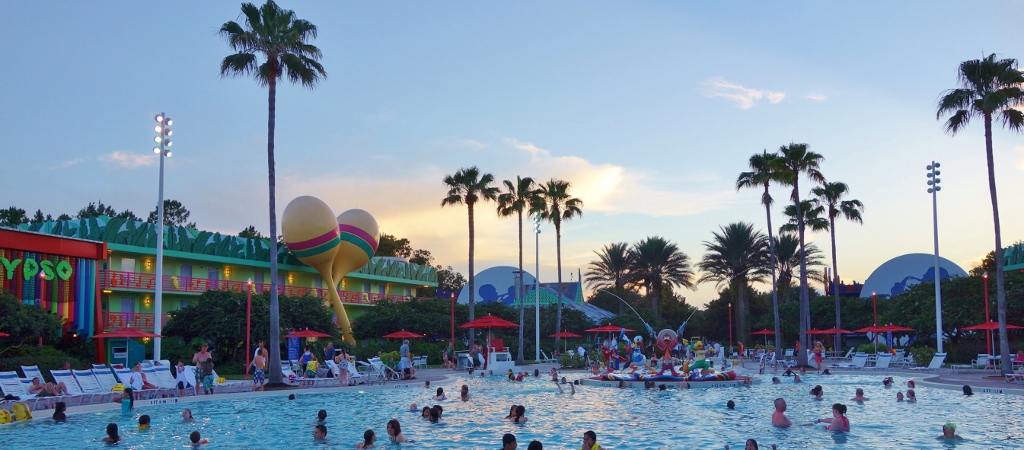 This review has six pages:
DISNEY'S ALL-STAR MUSIC RESORT
You can have a wonderful visit at any Walt Disney World resort hotel.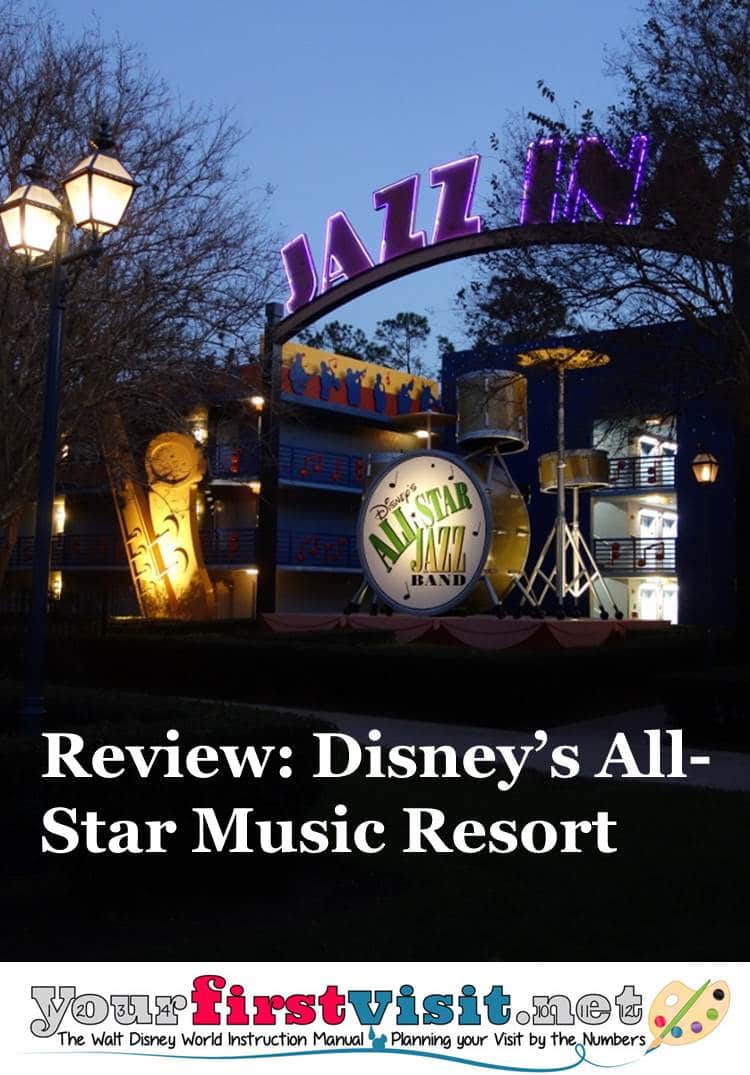 Compared to staying off-site, the value resorts are distinguished by their higher kid appeal, convenience, and access to certain key perks that off-site hotels can't provide.
Resorts are ranked on this site for first time visitors based first on their kid appeal, and then on their convenience.
On this basis, Disney's All-Star Music Resort is the fifth-best value resort for first time family visitors.
ACCOMMODATIONS AT DISNEY'S ALL-STAR SPORTS RESORT
Compared to other Walt Disney World owned and operated resorts, the value resorts are distinguished by having the lowest prices and smallest standard rooms. All-Star Music and Art of Animation are distinctive among the values for having not only standard rooms, but also larger (and more expensive) Family Suites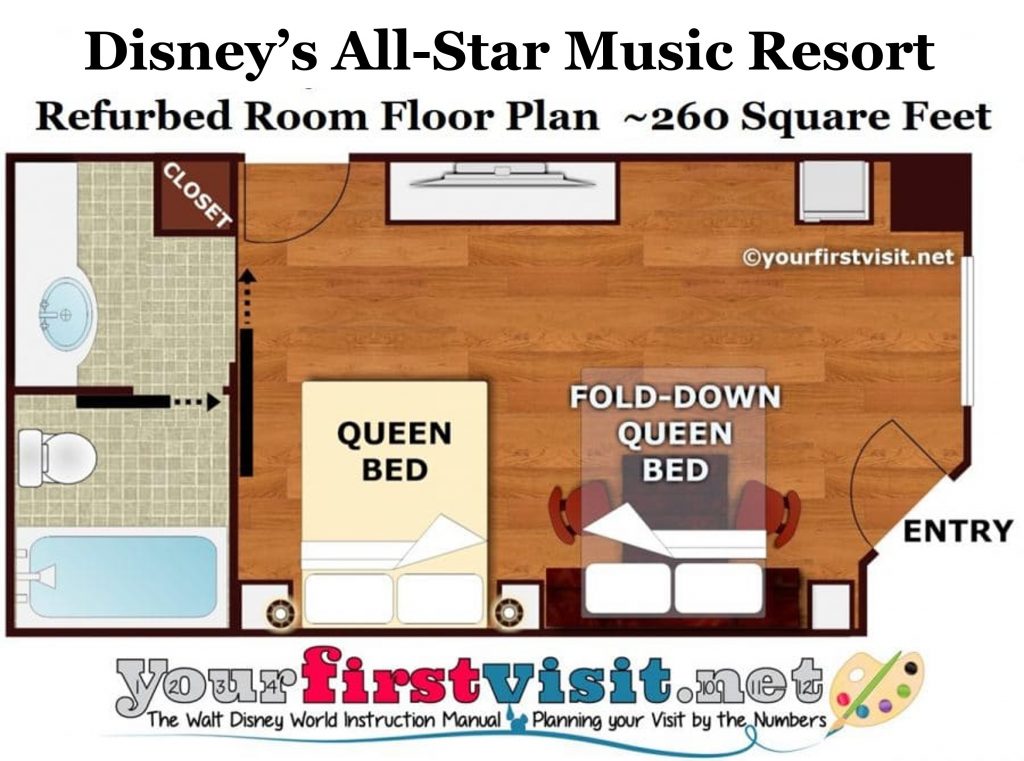 You likely will never stay in a hotel with smaller 2-bed rooms.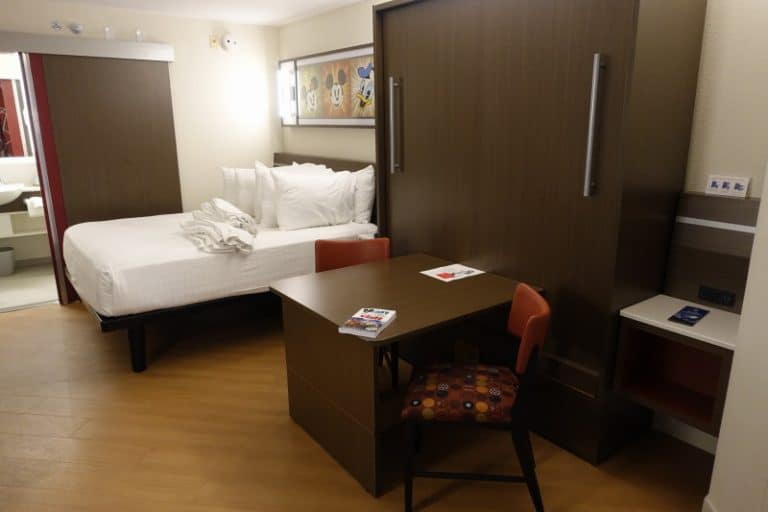 Like most other standard rooms at the value resorts, most standard rooms in All-Star Music sleep four in two queen beds, plus one more, younger than three, in a crib; the crib fits best between the dresser and the closet wall.
If your family will fit, Disney's All-Star Music resort, like the other value resorts, has much more kid appeal than the moderate resorts, the next higher price class (about twice as expensive, but with much bigger rooms and nicer landscaping).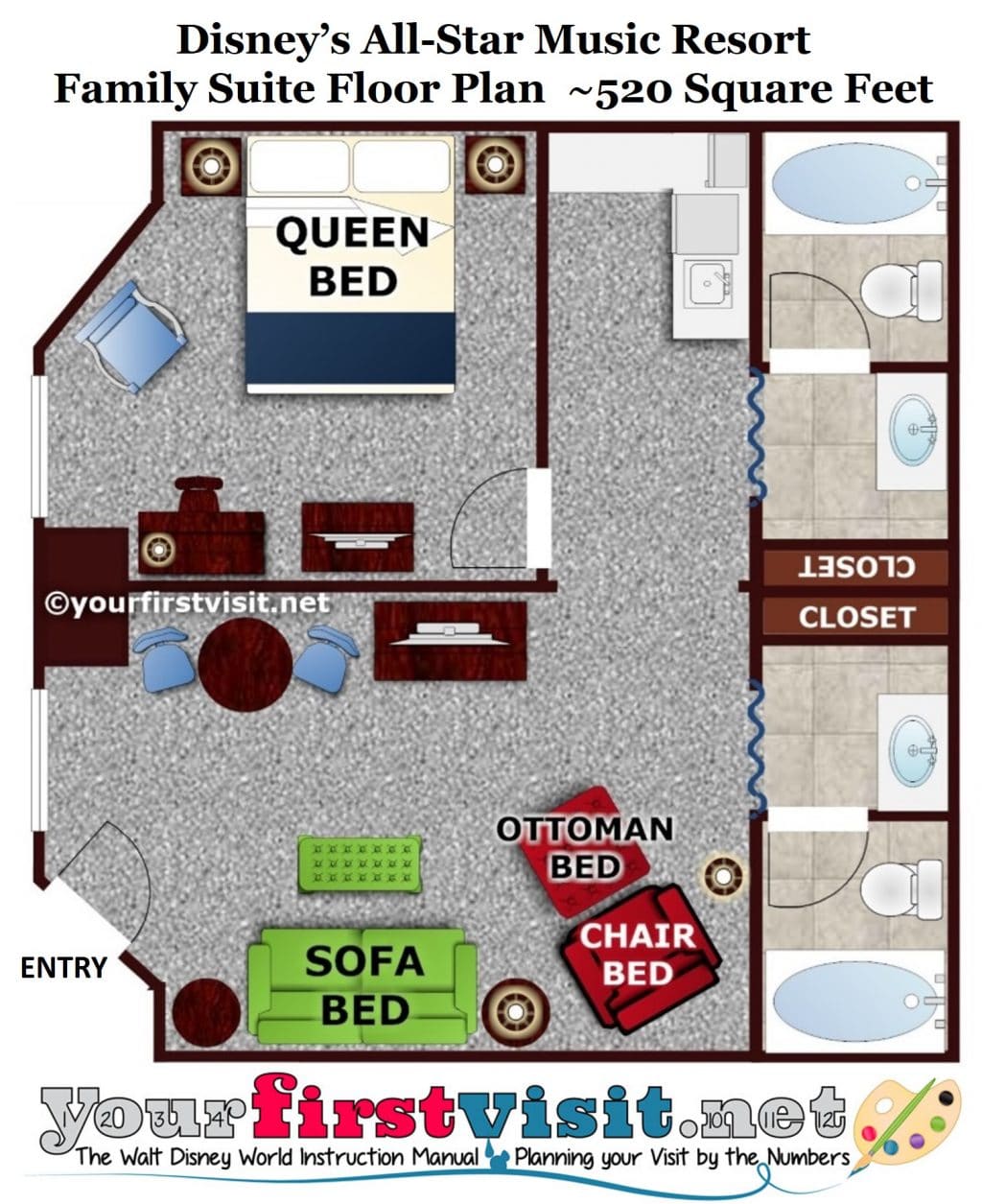 Moreover, All-Star Music is one of two value resorts (Art of Animation is the other) that also offers family suites–spaces twice as big as standard rooms that sleep 6.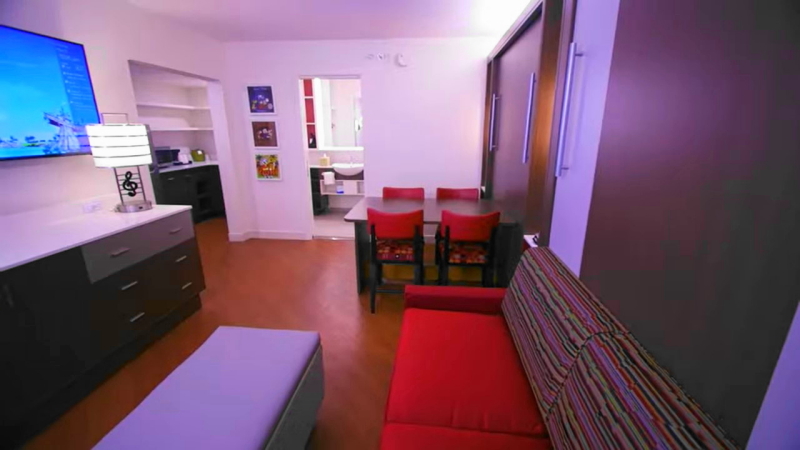 The family suite floor plan shown above is out of date since the recent refurb–I'll have an updated floor plan soon. Key changes are that the living room now has two fold-down queen beds, and the locations of the kitchenette and bath next to it have been swapped, so that the second bath there is now directly connected to the master bedroom.
For more on accommodations at All-Star Music, see this.  For a photo tour of a standard room at All-Star Music, see this.  For much more on the Family Suites at All-Star Music, see the material that begins here.
AMENITIES AND DINING AT DISNEY'S ALL-STAR MUSIC RESORT
All of the value resorts are slim on amenities and limited in their dining offerings.
Other than the pools, you'll find most of All-Star Music' amenities and all of its dining in the central Melody Hall area.
The food court here is average among the All-Stars and too small to deal with peak dining time crowds.
For more on amenities and dining at All-Star Music, see this.
THE POOLS AT DISNEY'S ALL-STAR MUSIC RESORT
All-Star Music has two pools.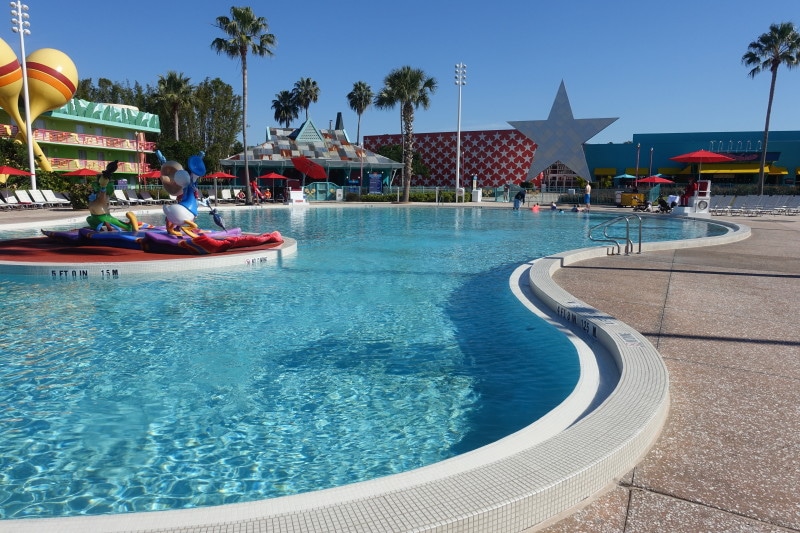 The main Calypso pool (above) near Melody Hall offers pool games, a kids pool, and, on many evenings, movies.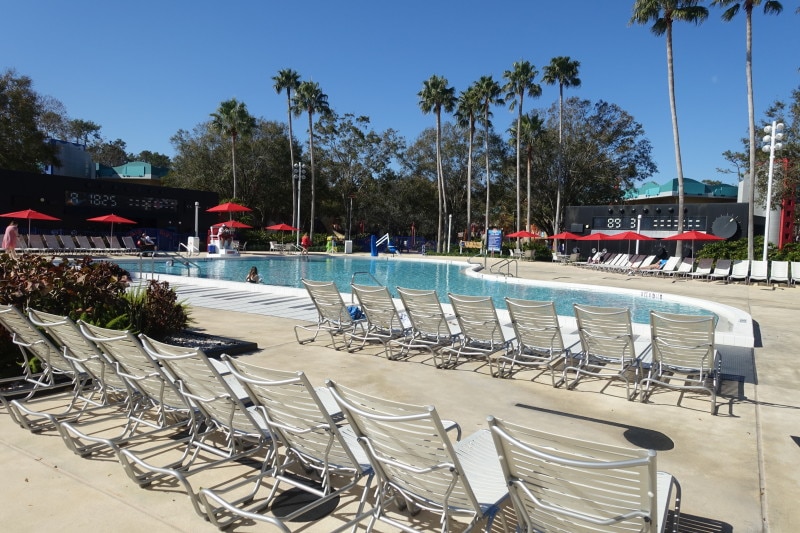 The second pool, the Piano pool, is smaller and less fun, but more convenient to many rooms.
For more on the pools at Disney's All-Star Music Resort, see this.
KID APPEAL AND CONVENIENCE AT DISNEY'S ALL-STAR MUSIC RESORT
Kid Appeal. Several of the deluxe resorts–notably, the Wilderness Lodge, Animal Kingdom Lodge, and Polynesian Resort–have spectacular kid appeal. None of the moderates do.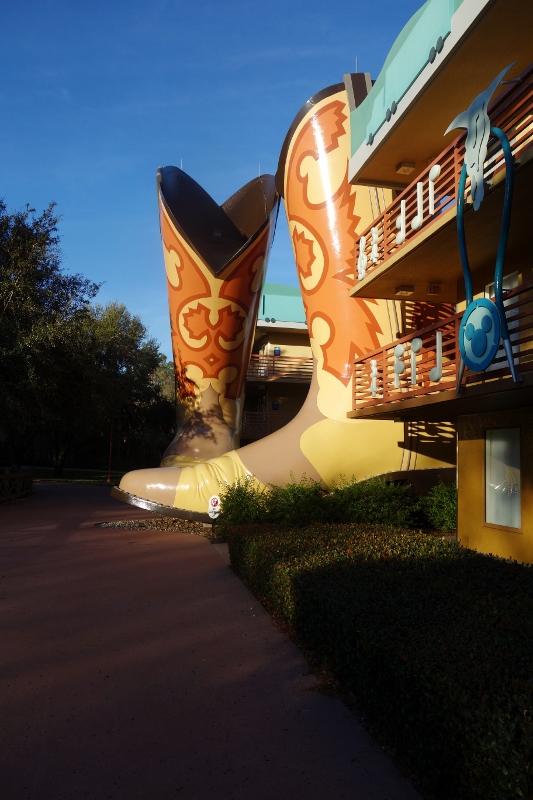 All of the value resorts–Disney's Art of Animation resort, Disney's All-Star Sports, All-Star Music, and All-Star Movies, and its Pop Century resort–have terrific kid appeal.
This appeal comes from the approach to theming they all share: bright and vibrant exteriors, framing much larger than life objects of interest to kids–like the cowboy boots in the image above from the Country Inn area of All-Star Music
These objects reinforce that these resorts were designed for the sake of kids…and not necessarily for adults!
Of these, Disney's All-Star Music is the least kid appealing. (Art of Animation has the most kid appeal.)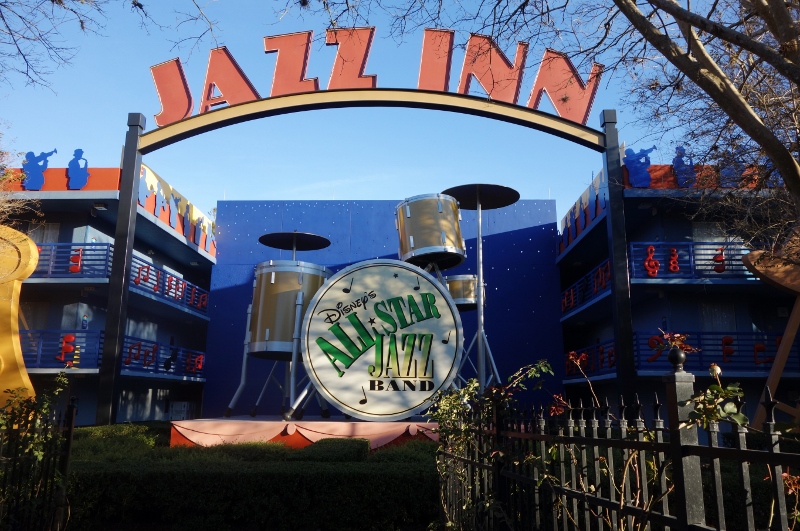 All-Star Music's theme is…music.
Its ten three-story buildings (all with elevators) are grouped into five areas, each area themed after a musical genre (two buildings each): rock, jazz, calypso, Broadway, and country.
This musical theme is less about Disney than the movies theme at All-Star Movies, and less broadly interesting to kids than the sports theme at All-Star Sports.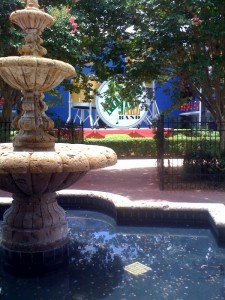 (I do have to note that All-Star Music overall has the simplest layout among the values. Moreover, the area between the two pools, flanked by the Jazz buildings, is the loveliest space in the values. The photo at right hints at this, but does not do it justice.)
Convenience. Disney's All-Star Music Resort is the least convenient of the Value resorts.
During some slower periods, the three All-Star Resorts share buses, except for the Magic Kingdom, to which each has its own bus.
When operating, shared buses stop first at Sports, second at Music, and last at Movies.
What this means for Music is that other than to the Magic Kingdom, all your buses in both directions have at least one more stop besides Music itself.
For shared buses, at Sports, you are the first stop back; at Movies, the last stop out.  At Music, neither.  This is why I rank it least convenient.
Best places to stay at All Star Music. This site suggests that first time visitors stay in standard rooms, and not specially seek preferred rooms (because they won't be spending much time in their rooms, or going to the main resort food area often).
The single exception is visitors to the Animal Kingdom Lodge, who should always pay for savanna views.
Disney's All-Star Music Resort is divided into five areas.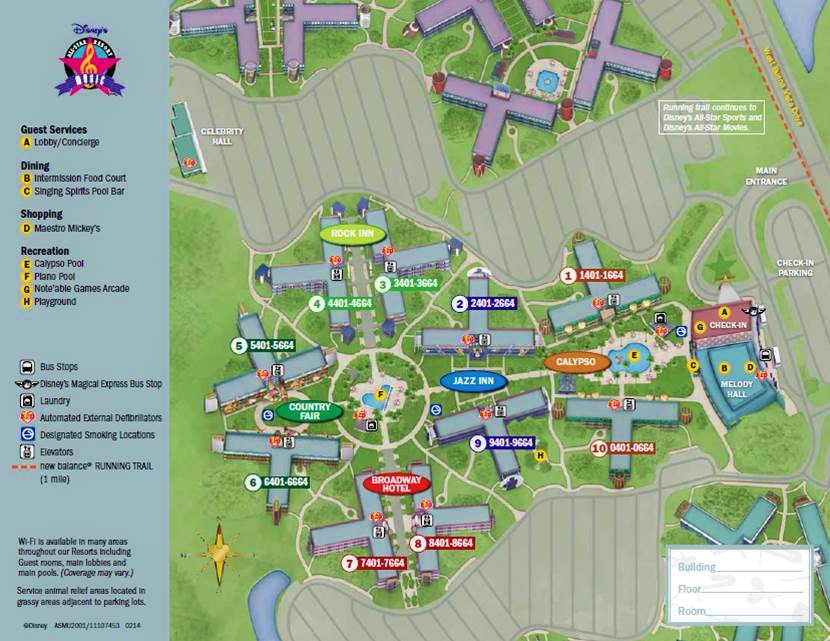 See the map for the general layout.
Of these areas, a third floor room in buildings 7 or 8, the Broadway Hotel, is the best place to stay.
Music has the same problem the other All-Stars have: it can be packed with teenagers who are at Walt Disney World as part of a tournament or other sports event.
As a result, the resort can be very loud and boisterous. Buildings around the pools are particularly so.
At All-Star Music, buildings 1 and 10 (the Calypso area) frame the main pool, and should be avoided.  These are also two of the four "preferred" buildings–the other two are the two Jazz Inn buildings, 2 and 9.
Because of the layout of All-Star Music, no other buildings frame a pool, but many rooms are close to pools.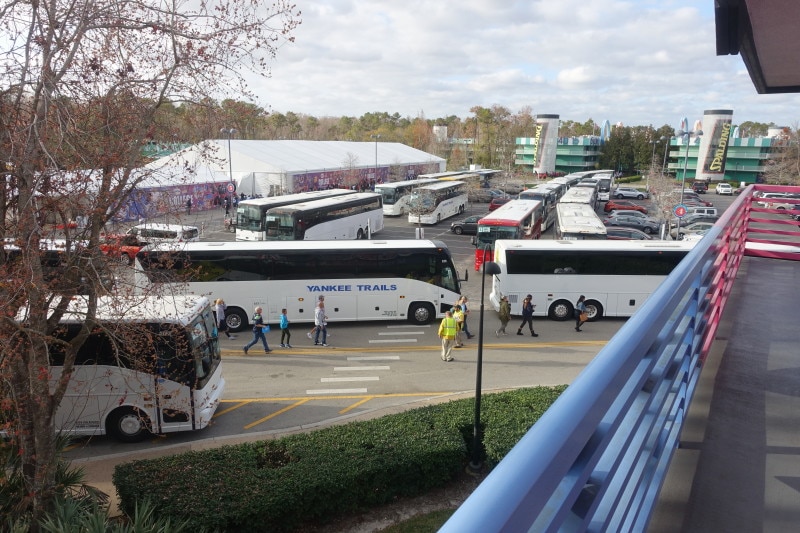 Of the six non-preferred buildings, all are about an equal walk from the shops, dining, transportation and main pool. The Broadway Hotel and Rock Inn have more convenient parking, but the parking lot near the Rock Inn is commonly used as a staging area for noisy youth groups (see above, taken from outside my room at the Rock Inn). So pick the Broadway Hotel if you have a car, and either it or the Country Fair if  you don't.
Ask for the third floor because it is also the top floor, which makes it quieter.
BEST FOR:
Standard rooms: Families than cannot afford a deluxe resort, or who are otherwise on a tight budget, who can fit into its small rooms, and find music noted an attractive theme.
Family suites: Families who find these rooms better suit them, or are more affordable, than those at Art of Animation.
WORST FOR:
Standard rooms: Families who have more than two adult-sized people, or who will be using a crib.
Family suites: Families looking for family suites with richer theming and access to the Disney Skyliner.
The long-time travel agent partner of this site, Destinations in Florida, can help you book your Disney World vacation at All-Star Music or anywhere else–contact them using the form below.
This review continues here. 
MATERIAL IN THIS REVIEW OF DISNEY'S ALL-STAR MUSIC RESORT
OTHER KEY PAGES FOR WHERE TO STAY AT DISNEY WORLD
Follow yourfirstvisit.net on Facebook or Twitter or Pinterest!!