Theming and Accommodations at Disney's All-Star Music Resort
By Dave Shute
For the first page of this review of Disney's All-Star Music Resort, click here.
ACCOMMODATIONS AT DISNEY'S ALL-STAR MUSIC RESORT
Disney's All-Star Music Resort is one of 5 value resorts at Walt Disney World:
For most families Art of Animation is the best choice, followed by Pop Century. For first-time visitors who may never return, All-Star Music comes in last among the values.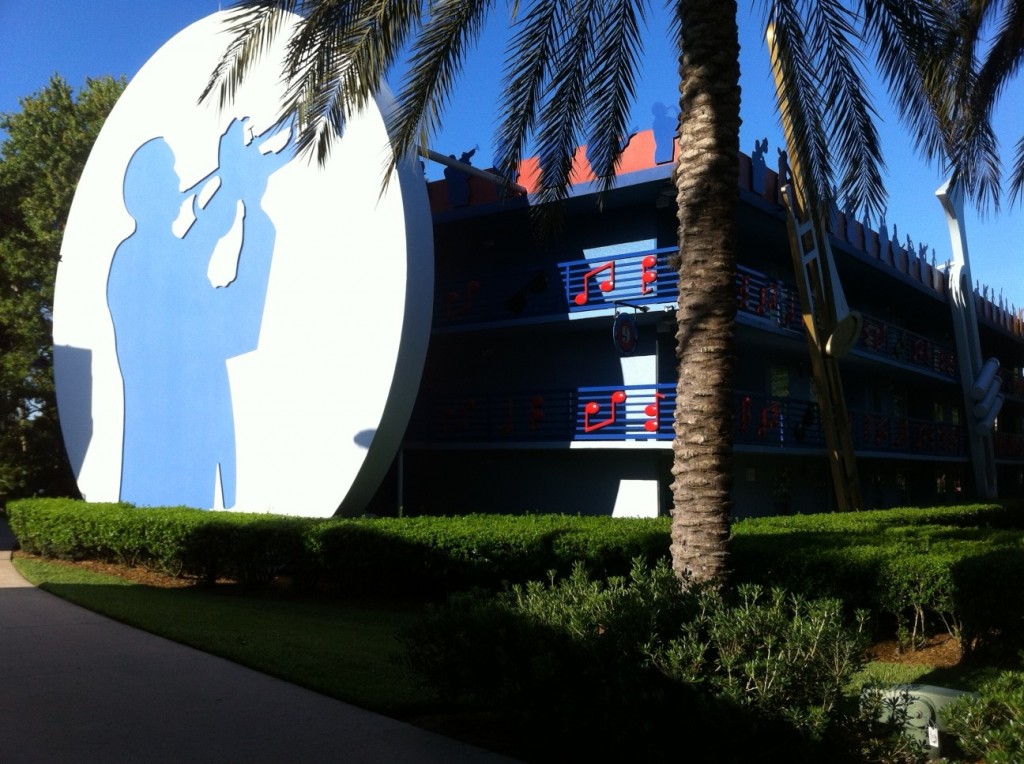 Two value resorts also have six-person family suites–
–and for family suites, too, for most families, Art of Animation is the best choice, although in some circumstances those at Music are the better choice.
Art of Animation rooms are the most expensive, and next Pop Century.  Standard rooms at all the All-Stars have the same, lowest pricing, on average $40 less per night than Pop Century, and $80 less per night than Art of Animation. Family suites at All-Star Music are much less expensive than Family Suites at Art of Animation, on average $160 per night less.
All-Star Music began a room refurb project in late 2019. Standard rooms are being converted to having queen beds rather than full beds.  This project began in Calypso Building 10 and should be complete in 2021(Queen beds are already fully available in values Pop Century and All-Star Movies.)
All-Star Music Family Suites are also being refurbed.  They appear to be gaining two queen beds in the living-dining area, which will make the beds in this space much more comfortable.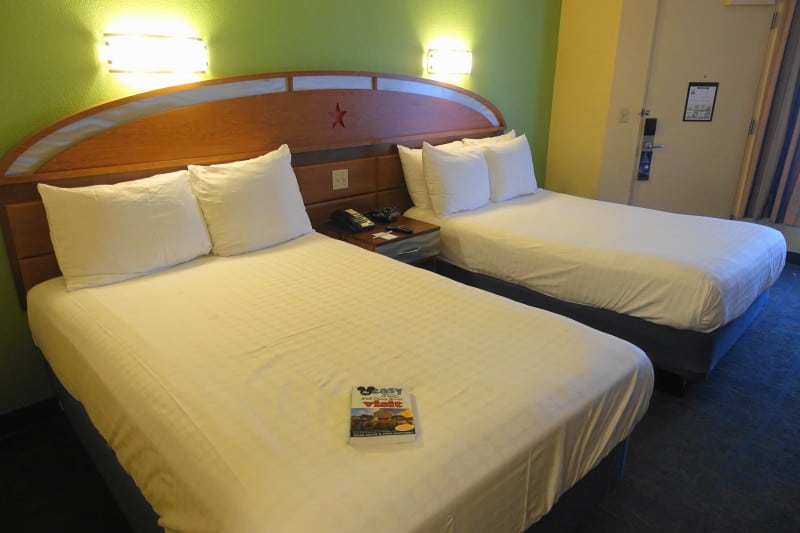 Four person room sizes are similar across all five value resorts.  Art of Animation has the best theming, and All-Stars Sports and Music the weakest (unless your family particularly resonates with the depicted themes at these two). Until recently, all four person value resort standard rooms offered two full beds (the beds at Music are shown above), but you will now find queen beds in Pop Century, All-Star Movies, and in refurbed rooms in All-Star Music.  .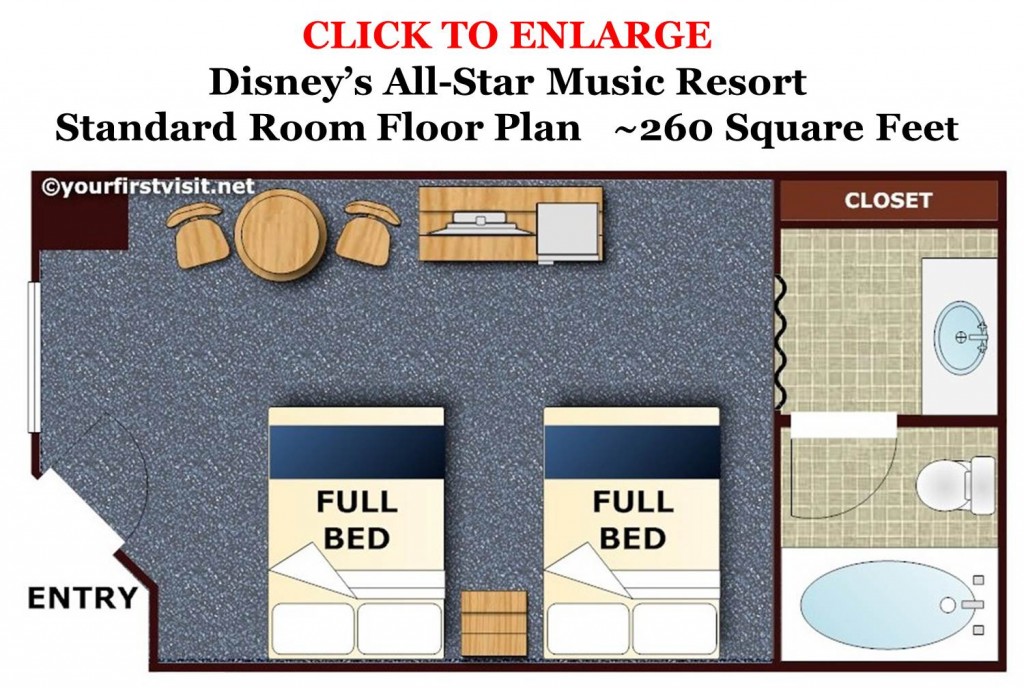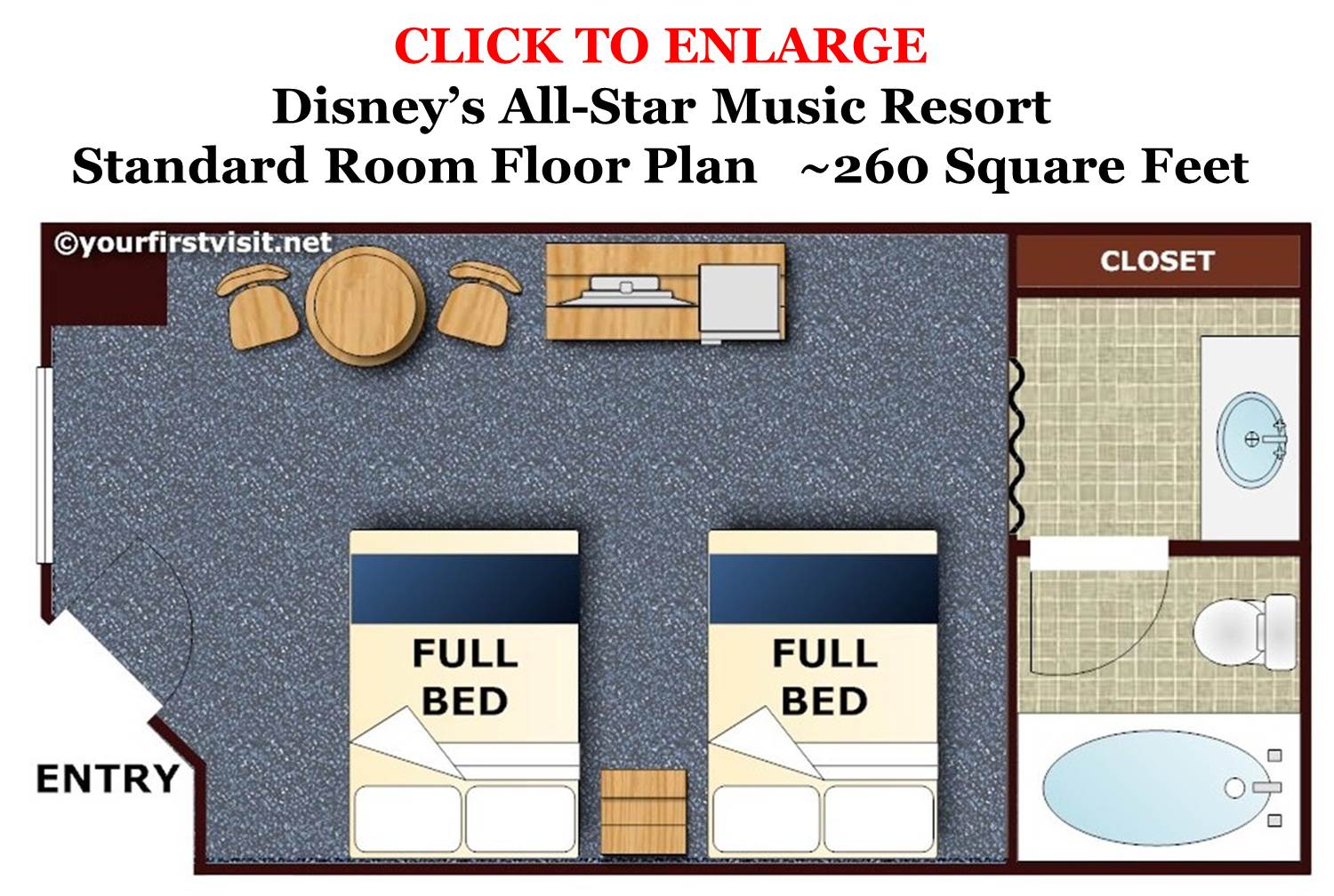 Above is the floor plan of a standard four person room at All-Star Music. There's a full photo tour of a standard room at All-Star Music here. There are also a few king bed rooms at All-Star Sports–I believe they are all in accessible rooms–but king bed rooms are not a separately bookable class, though you can call and request one.
For what refurbed rooms here should look like, see this photo tour of a refurbed queen bed room in sister resort All-Star Movies.
There's two price classes of four person rooms here–preferred rooms and standard rooms. Preferred rooms are closer to the main pool and the central services in and bus stop outside Melody Hall.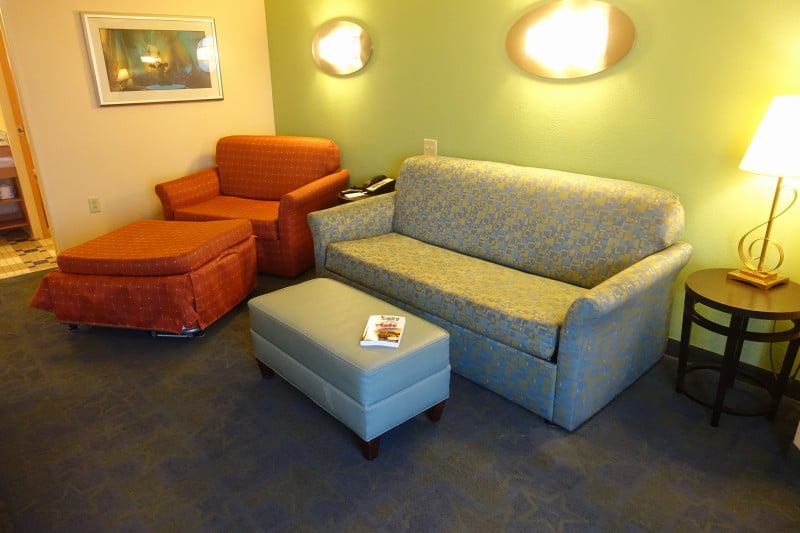 Family Suites at All-Star Music accommodate six in a space twice the size of a standard four person room.  Half the space is a living area and bath that includes various fold-out beds. An image of the couch side of this space is above. The couch folds out into a two person bed; each of the red chair and red ottoman also folds out to a one person bed.
As noted above, a current refurb to these spaces is likely to replace these three uncomfortable beds with two queen beds.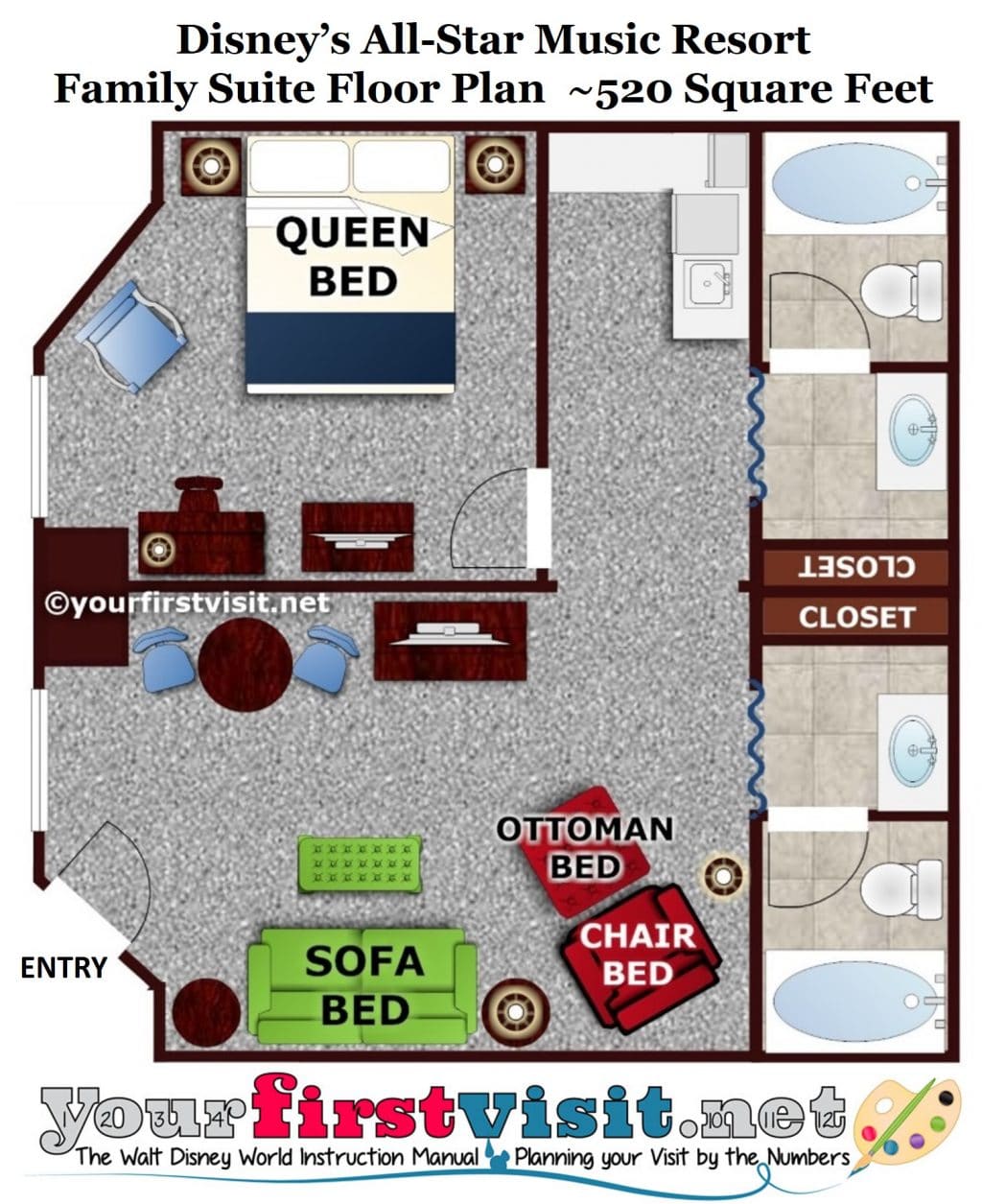 The other half of the All-Star Music Family Suite  space includes a second bath, a kitchenette, and a master bedroom with a queen bed. See the floor plan above.
Family Suites are available in the Calypso and Jazz areas of All-Star Music. A detailed review of an All-Star Music Family Suite begins here.
THE THEMED AREAS AT DISNEY'S ALL-STAR MUSIC RESORT
Disney's All-Star Music Resort officially pays homage to "classic music genres—including Broadway show tunes, calypso, country, jazz and rock n' roll…Guest rooms are divided into 5 pairs of 3-story buildings—each bright, whimsical pair is themed after one of the featured music genres and decorated with massive musical instruments."
Disney's All-Star Music Resort has 1604 rooms in ten identical three-story buildings, all with elevators.
These buildings are in five areas, each themed with external decorations and structures about a different musical genre:
Buildings 1 and 10, Calypso
Buildings 2 and 9, the Jazz Inn
Buildings 3 and 4, the Rock Inn
Buildings 5 and 6, Country Fair
Buildings 7 and 8, Broadway Hotel
The buildings don't distinctly draw fans of their genres.  Line dancing does not spontaneously break out at Country Fair, nor is there the equivalent of the Notting Hill Carnival at Calypso.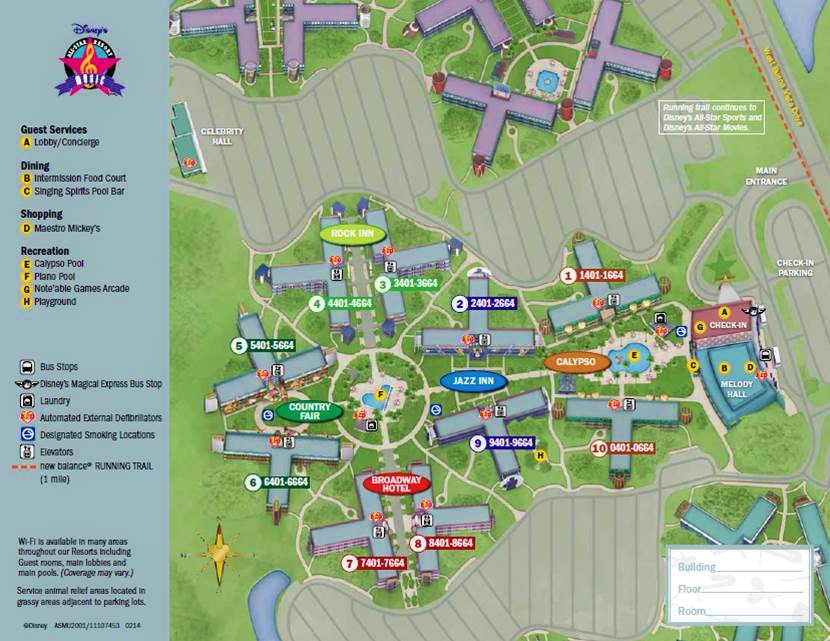 Rather, the distinction among these areas is the tradeoff of distance from the main services at Melody Hall versus peace and serenity.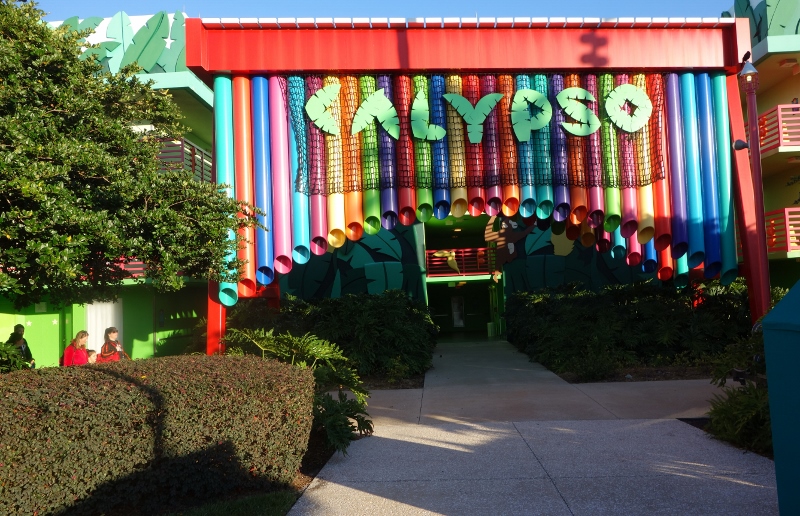 Calypso is closest to the main services, and is thus sold as "preferred" rooms.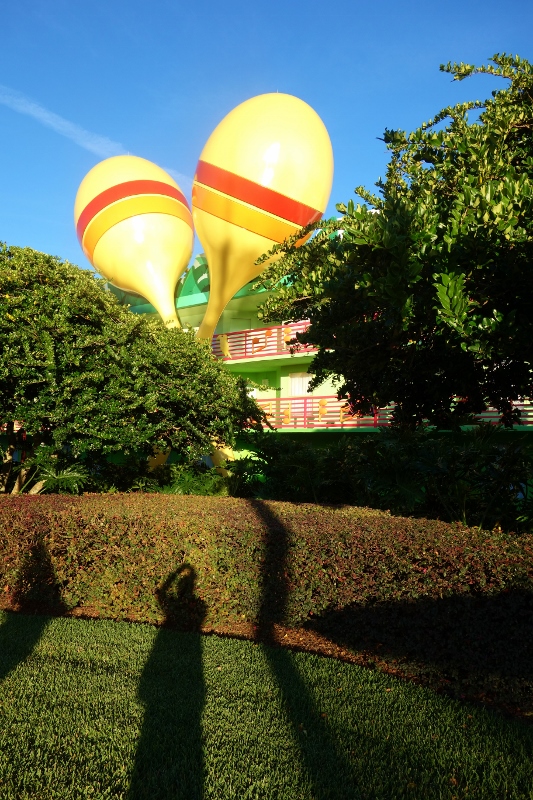 It offers both standard rooms and family suites. I don't recommend Calypso for two reasons:
Unless your family has mobility issues, the nearness to Melody Hall isn't worth the extra money
About a third of the rooms in each building face the main pool, and hence suffer from noise issues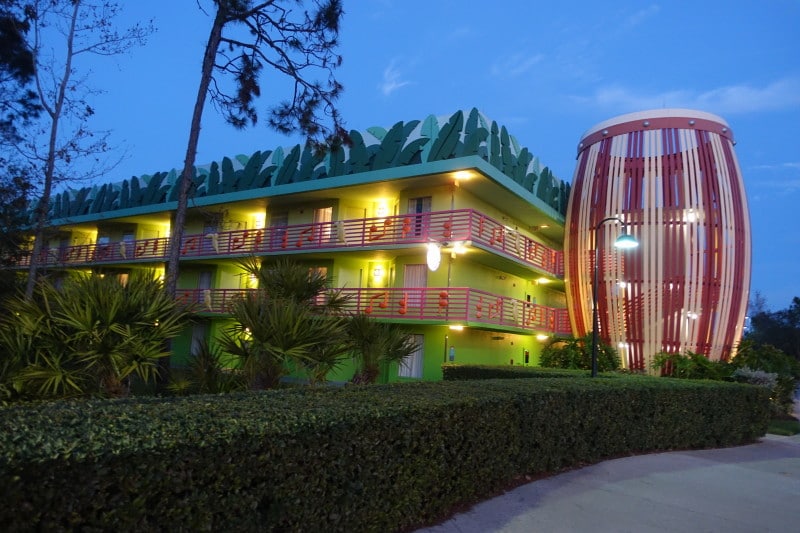 All-Star Music (and the other values) is often dinged for being "too large and spread-out." This is an inaccurate criticism, as each of the values fits into a much smaller footprint than any of the three larger moderates, leading to much less walking than at the moderates.
Moreover, All-Star Music has a particularly compact and charming layout.
The Country Fair area is the most distant from Melody Hall–see the map. It and the rest of the building areas other than Calypso are symmetrically built around the lovely walkway from Melody Hall to Country Fair, and equally surround the smaller Piano Pool.
This design leads to a more understandable layout, and also yields a strong central axis to the resort that makes it feel more coherent than the other All-Stars.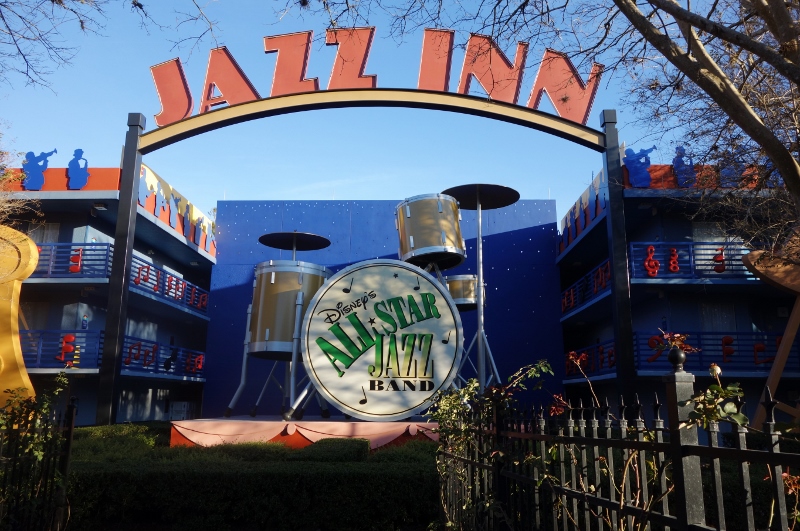 The Jazz Inn is the first set of buildings along this axis after Calypso.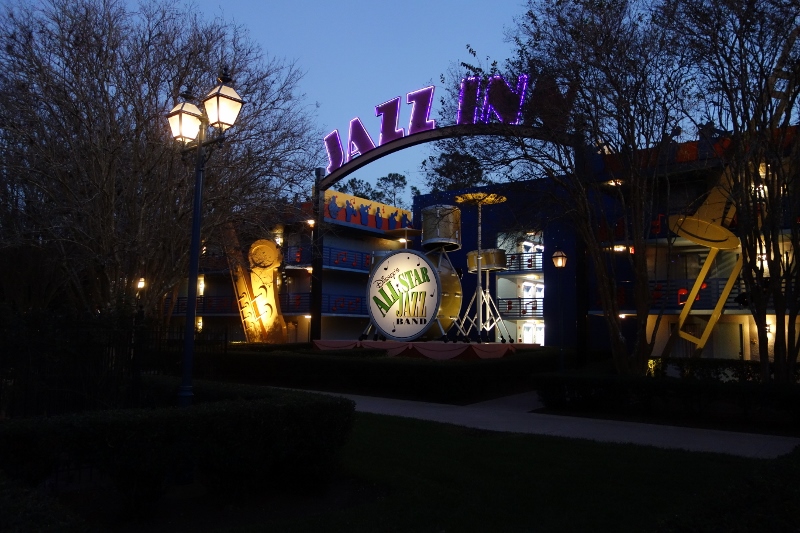 It combines the loveliness of its courtyard, nearness to Melody Hall, and distance from pool noise into the better choice among the two preferred areas here. Like Calypso, you'll find both standard rooms and family suites here.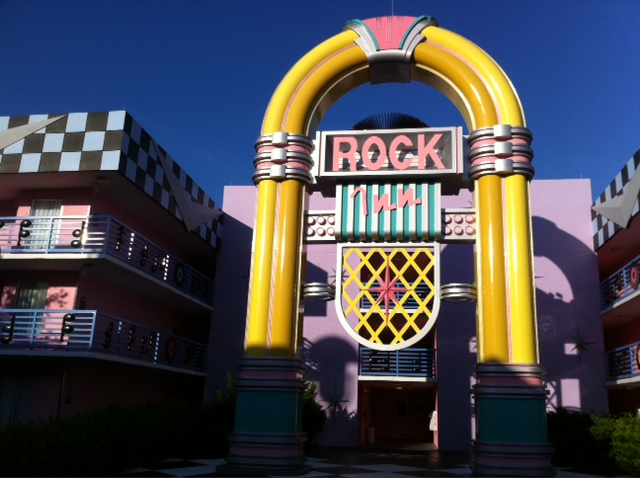 After the Jazz Inn, you'll see the Rock Inn on your right.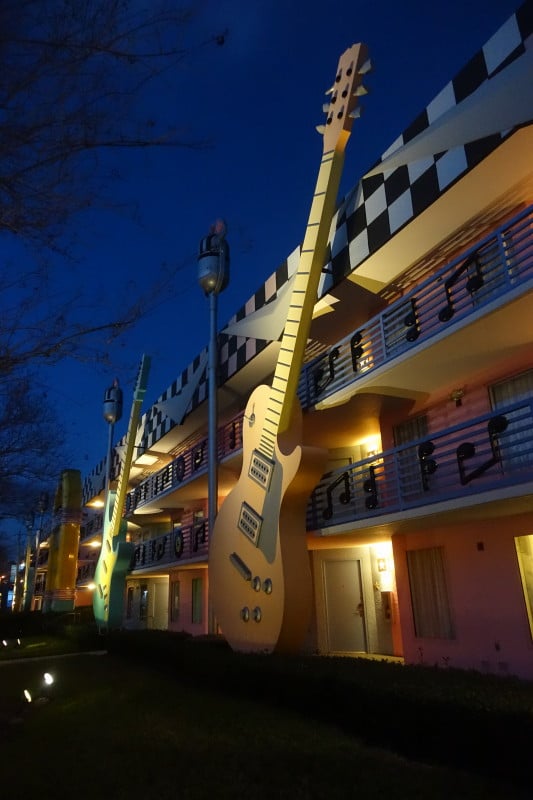 Rock Inn guitars.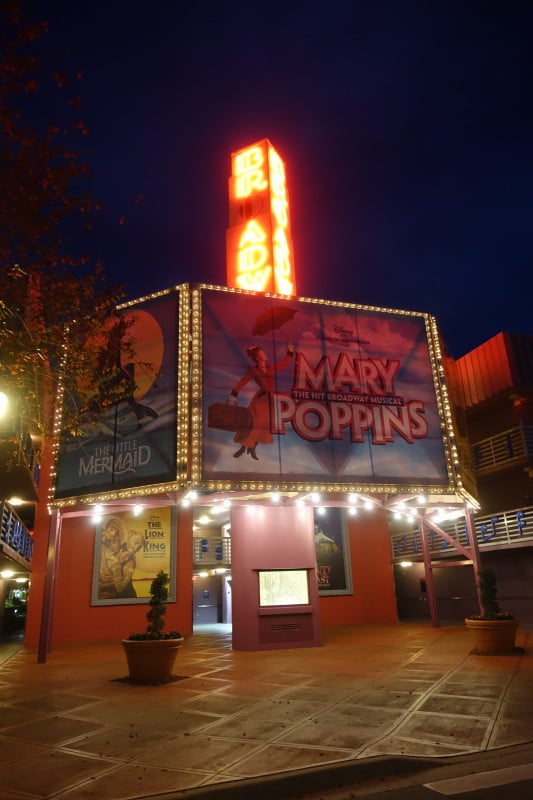 On your left is the Broadway Hotel.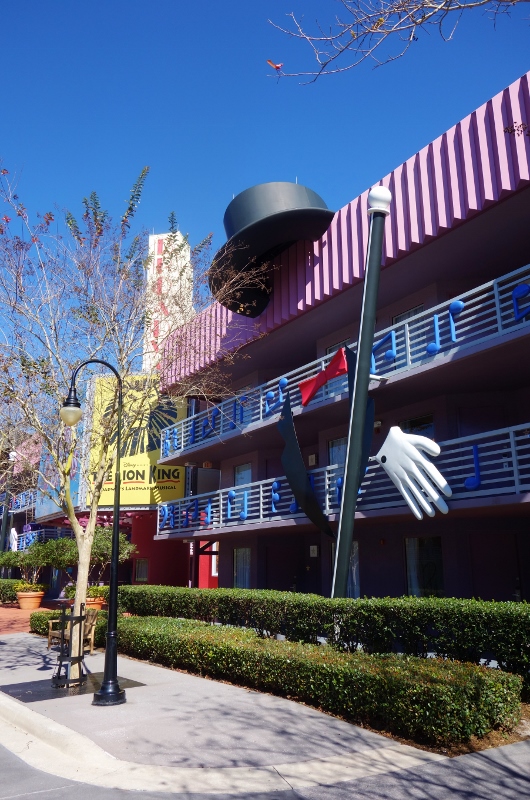 It has a charming little garden right at the edge of the parking lot.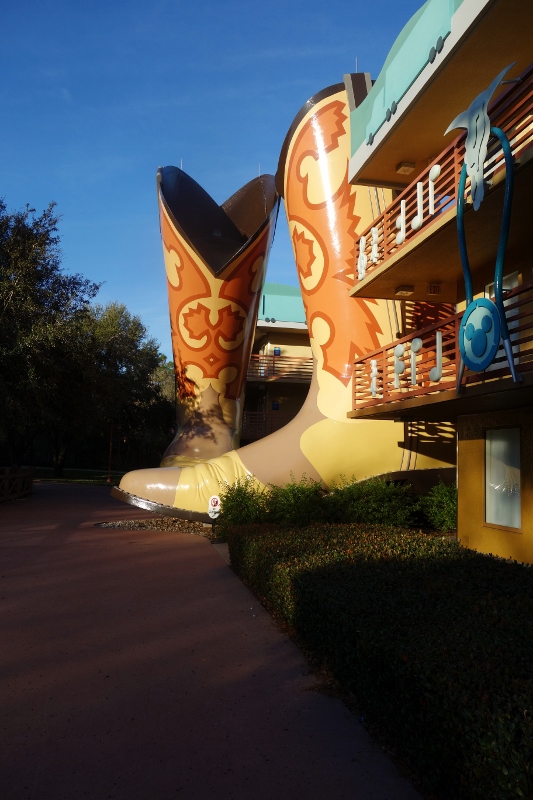 Country Fair is ahead…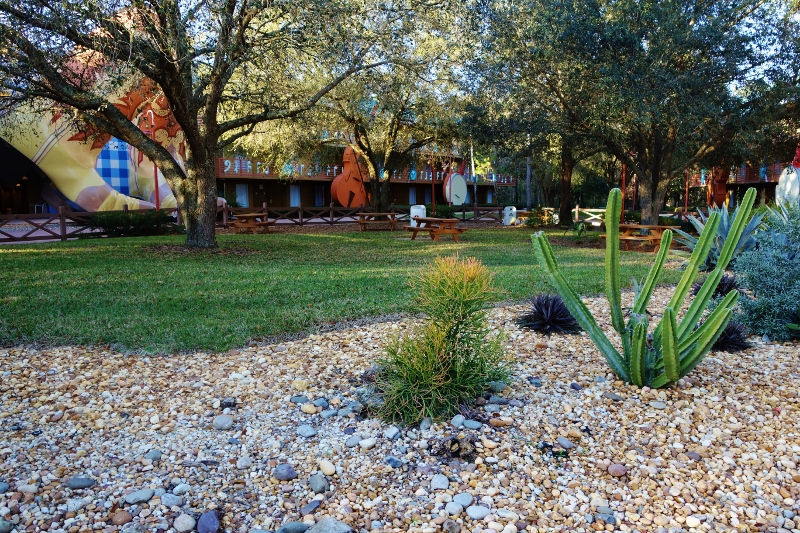 …with a large cactus-garden area separating its two buildings…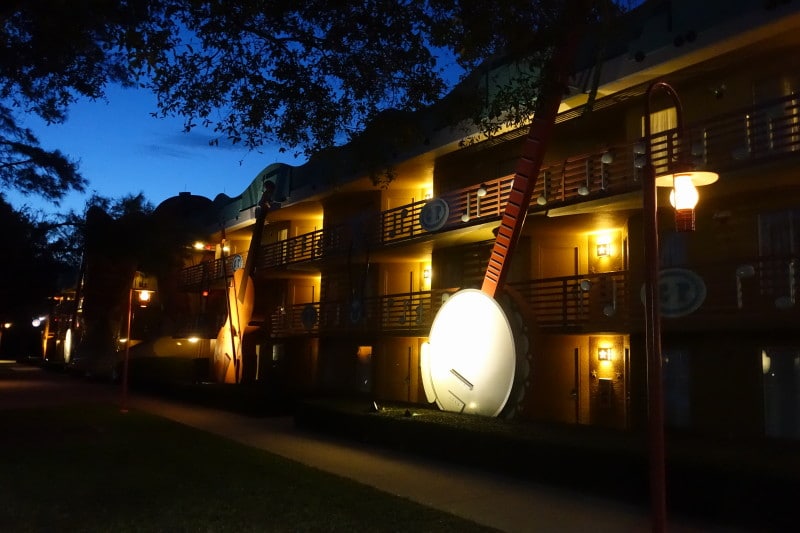 …and banjos.
The symmetry of these three sets of buildings around the Piano Pool makes them about equally preferable. Country Inn feels more remote–particularly its woods-facing rooms in the back–but the rooms in Rock Inn and Broadway Hotel nearest to the parking lots are only a little bit closer to Melody Hall. The Rock Inn parking lot can be subject to noise from youth groups that stage here, making Broadway Hotel a better choice than it.
Because of the family suites, All-Star Music can hold a slightly smaller number of people than the other two All-Stars.  This can make it a tad less crowded.
Moreover, its lower kid-appeal, and higher adult-appeal, can make it a tiny bit less noisy and boisterous than the other All-Stars.
Among the All-Stars, Music's strength for first time family visitors is the availability of family suites.
Its negatives compared to the other values include less broadly interesting theming and sometimes inconvenient transportation.
This review continues here.
MATERIAL IN THIS REVIEW OF DISNEY'S ALL-STAR MUSIC RESORT
OTHER KEY PAGES FOR WHERE TO STAY AT DISNEY WORLD

Follow yourfirstvisit.net on Facebook or Twitter or Pinterest!!
RELATED STUFF