Review: The Family Suites at Disney's All-Star Music Resort
By Dave Shute
For the first page of this review of Disney's All-Star Music Resort, click here.
FAMILY SUITES AT DISNEY'S ALL-STAR MUSIC RESORT
Among the value resorts, six-person Family Suites are available at two hotels—Disney's All-Star Music Resort and Disney's Art of Animation Resort.
While in the past, the differences between these were quite stark, all to the disadvantage of Family Suites at All-Star Music, after the recent refurb at Music spaces at Music became much more comparable. Key changes at Music that make these items now comparable to Art of Animation include
Much more comfortable queen beds
A second bath that is now private to the master bedroom
A dining table that has room and chairs for four
If money does not matter, Art of Animation is still the better choice, as it has insuperable advantages in
Theming, both inside and outside the Family Suites
Transportation, with Skyliner access to Epcot and Disney's Hollywood Studios, and not-shared buses to the other parks (Music sometimes shares some buses with the other All-Stars at off-peak times)
Food quality in its food court, with Pop Century's almost equally good food court not far way
For this, you will pay for Family Suites at Music on average $185/per night less than you'll pay at Art of Animation. Over my recommended eight-night stay, that's almost $1,500 less…
PHOTO TOUR OF A FAMILY SUITE AT DISNEY'S ALL-START MUSIC RESORT
Note: the images of a Family Suite at Disney's All-Star Music Resort that follow are screenshots from a Disney YouTube video.
I'll add many more photos—and an updated floor plan—after my September visit.
Family Suites at Disney's All-Star Music Resort sleep six in an area combined from two standard rooms. This means that they have more square feet per possible person and also more bath capacity per possible person than standard four-person value resort rooms. At a stroke, this solves the major problem of such rooms, their small size.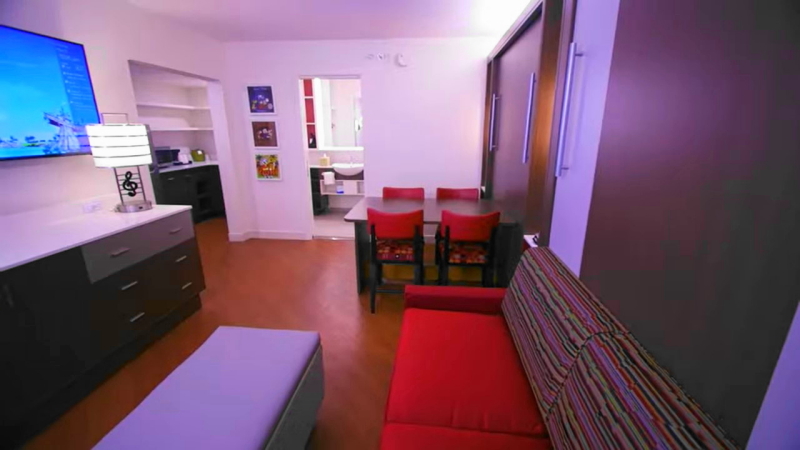 What used to be one entire standard room is the living dining area for all, with a common bath in the back.
You'll note that neither the seating area nor the dining table will comfortably seat this six people this space can hold—the same is true at Art of Animation.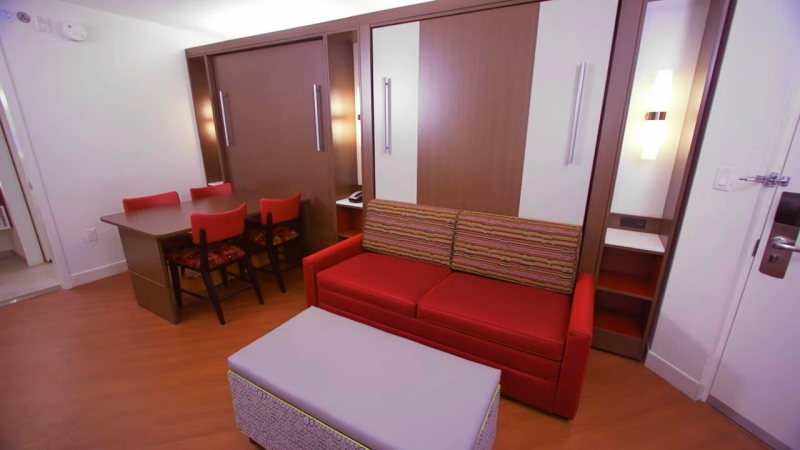 The prior Rube-Goldberg-esque set of sleeping arrangements has been replace by two queen beds that fold down from the walls, taking away as they do so the couch and dining table.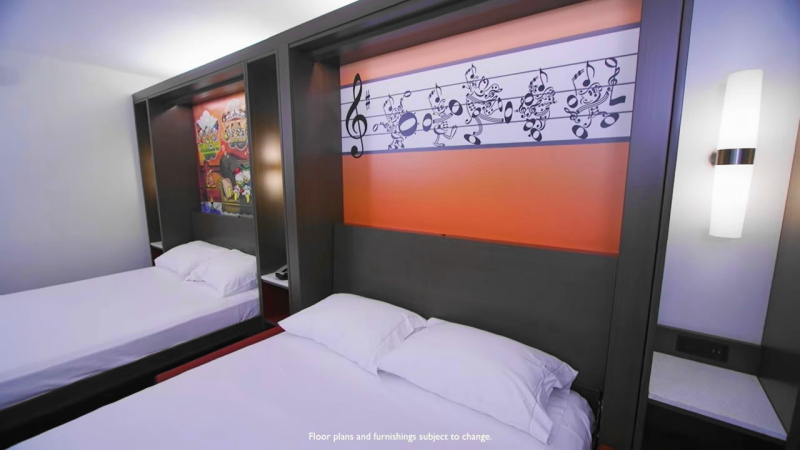 The beds folded down.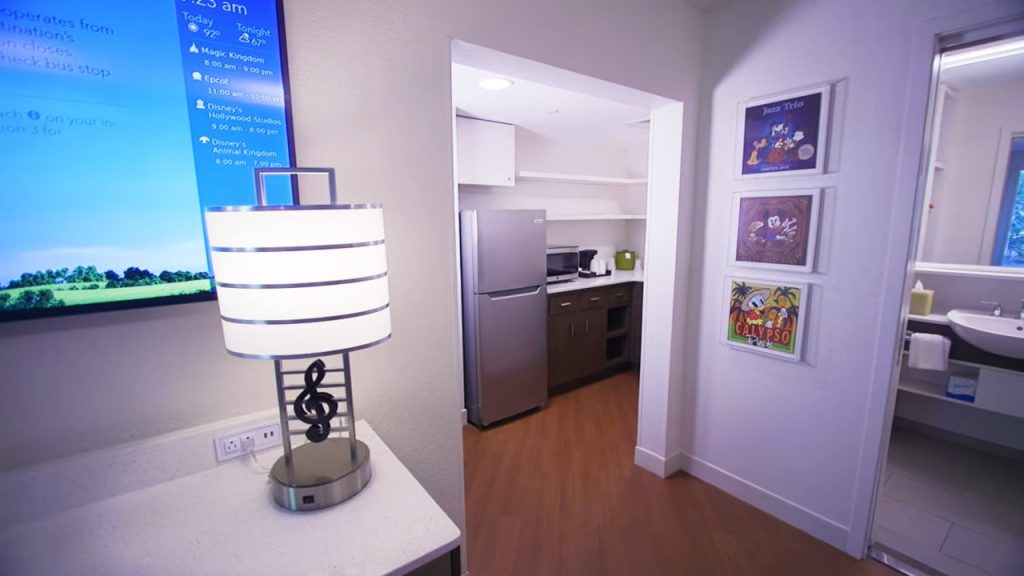 The other half of the space includes a kitchenette (with a fridge, microwave, and coffeemaker), the master bath, and the master bedroom.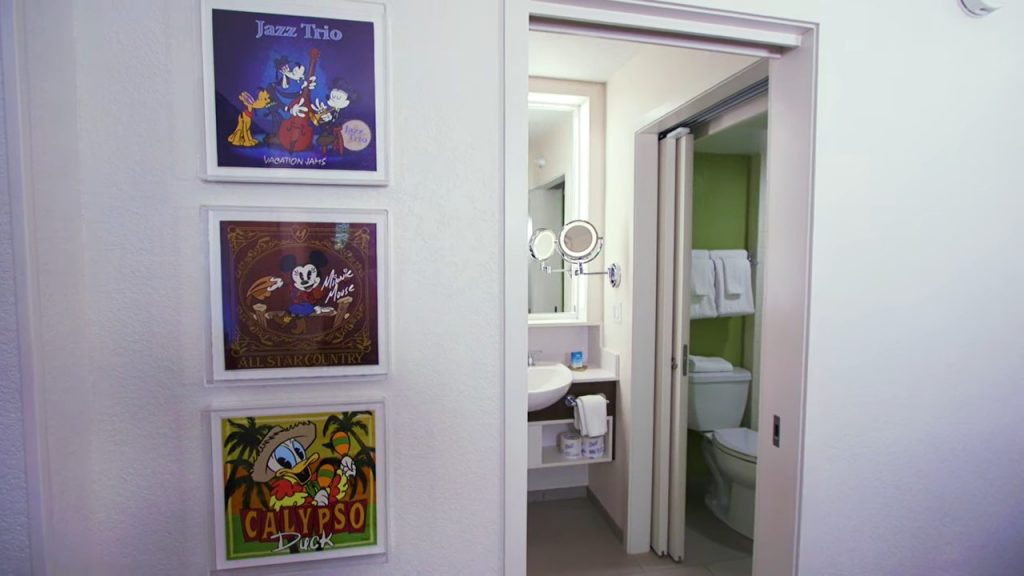 Compared to the old floor plan at Music, the master bath and kitchenette have been flopped, making the master bath now accessible only from the master bedroom.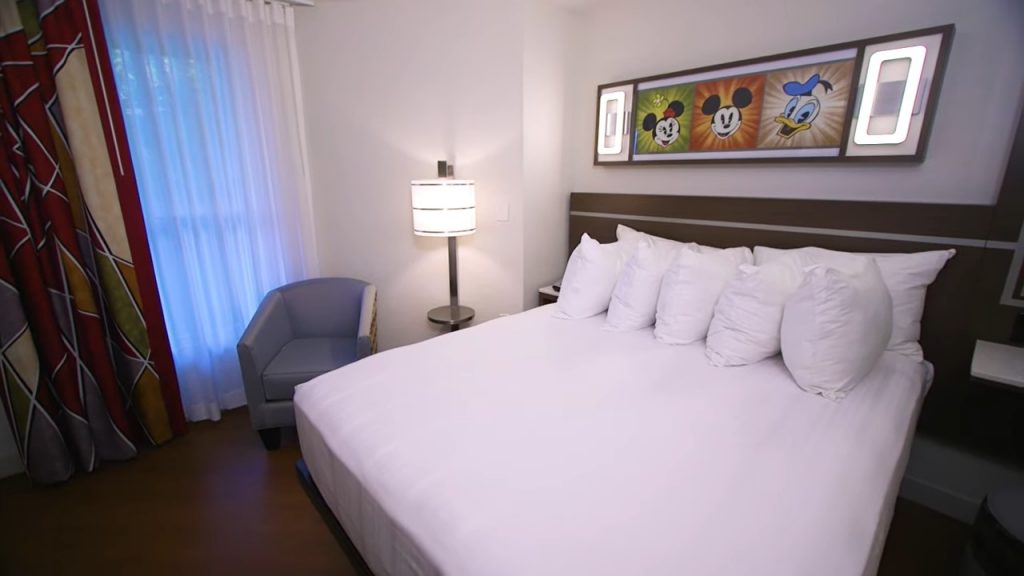 The master bedroom keeps its upholstered chair—although many families will carry it into the living room—and loses the old desk, as most Disney rooms have lost whatever desks they had over the most recent set of refurbs.
All in this set of changes is a great improvement, and Family Suites at Disney's All-Star Music Resort are now a much mor livable and competitive option than they were before.
This review continues here.
MATERIAL IN THIS REVIEW OF DISNEY'S ALL-STAR MUSIC RESORT
OTHER KEY PAGES FOR WHERE TO STAY AT DISNEY WORLD
Follow yourfirstvisit.net on Facebook or Twitter or Pinterest!!
RELATED STUFF