Personal Favorites: The Value Resorts
By Dave Shute
Where to Stay    Resort Features by Price    Kid Appeal    Large Families
The Value Resorts   Pop Century    Movies   Sports    Music   Art of Animation
THE PERSONAL FAVORITES SERIES
This is the first in a new series about personal favorites.
The advice on this site—when to go, where to stay, what to do, etc.–is aimed at the typical family visiting Walt Disney World for the first time, unsure if they will ever return.
It is based not on personal favorites or my own taste, but rather on a combination of facts, analysis, inference and judgment about what would be best for such a family. 
My personal favorites can be quite different from my advice for these families–particularly because I'm older and hence traveling with twenty-year-olds, not little kids; have been to Disney World more than thirty times; and know I'll be coming back!
I thought at least some might be interested to hear about some favorites…if for no other reason than so that they can argue, using the comment form below!
This site's ranking of Value Resorts for first time visitors puts Art of Animation first and All-Star Music last.
However, All-Star Music is my personal favorite among the values.
Why? 
First, it is the loveliest of the values–and this one point would be enough to make it a favorite.
This loveliness comes from the courtyard between the two Jazz buildings–see photo above.
The courtyard creates a graceful garden in the middle of the resort.  Moreover, because of the layout of the resort, guests in eight of its ten buildings will experience this garden as they move from their rooms to the main pool, bus stop, or food court.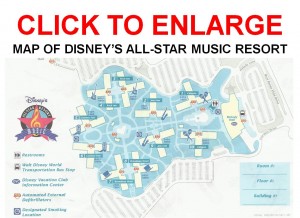 Second, it is the easiest of the values to comprehend.
The layout of the resort is simple and symmetrical, with a strong central axis linking the food court and the pools–see map.
Once you have looked at the map once, you don't need to think again about where you are, or how to get from where you are in the resort to where you are going.
This is not true of any other value resort…or for that matter, most Disney World resort hotels of any price class.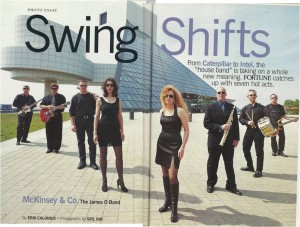 Third, the negatives of All-Star Music don't matter to me.
I rank it as the least convenient of the values, and the least kid appealing–unless your kids are into music, and even then it is much more music than Disney.
The difference in convenience among the values is not that big, and the absence of kid appeal doesn't matter much to ancient old me!
The music theme also resonates a bit with me, as I used to play bass in a rock band…see photo (that's me on the far right).
NEAR FAVORITES AMONG THE VALUES
I also love Art of Animation and Pop Century.
MORE ON WHERE TO STAY AT DISNEY WORLD
blank
blank
blank
blank
blank
blank
blank
Home    Donate    Sitemap    FAQ    Travel Agents
RELATED STUFF