Disney's Magical Express at Walt Disney World
By Dave Shute
OVERVIEW: DISNEY'S MAGIC EXPRESS AT WALT DISNEY WORLD
(This page is one of a new series explicating Walt Disney World lingo, abbreviations, and FAQ for first time family visitors to Walt Disney World.)
Disney's Magical Express is usually described as one program, but it is actually two, plus it shares in a third:
1.  Free bus transport between Orlando International Airport and your Walt Disney World resort hotel, both ways (you can schedule it for one way trips as well, if more convenient for you) and
2.  If you ride the bus, you can also get free transfer of your baggage, if you checked it, from your arriving plane to your hotel room (that is, you do not need to claim it at Orlando baggage claim, or schlep it around).  
Your carry-ons will also be transported for free, but you need to get them from the plane to the bus, and from the bus to your room
3. A separate, but related, program that is available to all Walt Disney World resort hotel guests, whether or not they are using Disney's Magical Express, is free resort airline check in services for domestic flights at the hotel
Using this service, you can check your bags and get your boarding pass before your return to Orlando International Airport—whether on Disney's Magical Express or through other means.
Only certain airlines participate in this separate resort check in program (you can use ANY airline flight that lands at or departs from Orlando International Airport–MCO–for the Magical Express program.) See this page for more on airlines that participate in the separate resort check in program.
These services are available only to guests staying at Walt Disney Word owned and operated hotels.  See this for which they are. 
Disney's Magical Express is not available, therefore, at Shades of Green, the Swan, the Dolphin, or the hotels of the Downtown Disney Resort Area.
To use the Disney Magical Express between the Orlando International Airport and your hotel, you need to sign up in advance.  You can do this over the web or at 407-939-7675. You can sign up in advance to use it for your return to the airport, or sign up from the resort itself.
These programs save money and reduce complexity.
MORE DETAIL ON DISNEY'S MAGIC EXPRESS AT WALT DISNEY WORLD
Using it from Orlando International to your Walt Disney World resort hotel.
To use Disney's Magical Express, you need to sign up for it for it ahead of time.  You need to have a Walt Disney World resort hotel resort reservation when you sign up.  You can sign up either when you reserve your room, or later over the phone at 407 939-7675.
You will receive in the mail tags to attach to your checked baggage, and tickets to use to get yourself on to the buses themselves.
If you are checking bags, and do not intend to pick the bags up yourself at Orlando International Airport baggage claim, attach the Disney-mailed tags to your bags before you check them in at your originating airport.
If you intend to collect your bags yourself at baggage claim, do not use the Disney tags.
(Why would you want to collect them yourself?  If you leave them for Disney to deliver, they may not get to your room for hours after you arrive.  If you collect them yourself, you can have them loaded under the bus, collect them at your resort, and they'll be with you as you check in and enter your room.)
When you arrive at Orlando International, if you did not use the Disney tags, collect your bags.  Next, find the "Disney Welcome Centre."  Follow the directions in your mailing–or ask someone where it is—even the Disney Magical Express FAQ on the Walt Disney World website doesn't help much with this—implying in consecutive responses that it is located in Terminal B and Terminal A.*
Check in at the Welcome Centre, after which you will be directed to a line for a bus.  It can take an hour or two between when you check in and when you get to your resort—the buses can take a while to begin loading and a while to load, are slow on the road, and make multiple stops at Walt Disney World resort hotels.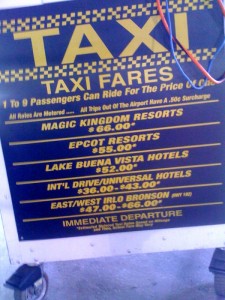 A taxi, in contrast, would get you to your Walt Disney World resort hotel within 30-40 minutes…but would cost a bundle!
When you arrive at your resort, you can only collect the bags from the bus that you brought to it yourself—that is, not and checked bags tyou put the Disney tags on.  These will come via separate transport, directly to your room, usually three hours or more later.
Using Disney's Magical Express from your Walt Disney World resort hotel to Orlando International
The day before your departure, you will be notified of the bus departure time. 
On your day of departure, you will need to get your bags from your room to the check in area near the front desk of your hotel
If you wish to use the resort bag check and boarding pass service,
You will need to have completed this before your bus departure time
Moreover, if you are using this service, and your airline charges bag fees, you will need to have paid these before you can check your bags.  The bag check/boarding pass desk does not accept such payments—you have to call 407-284-1231 instead.
See this Walt Disney World website page for more information, or for other topics—eg for international travel, mobility issues, pets, etc.
* Here's the two consecutive FAQs, the first saying it is on the B side, the second telling you to go to the A side…
"Q. What are the hours of operation and location of the Disney Welcome Centre?
A. The Disney Welcome Centre is in the Main Terminal Building of Orlando International Airport on the B Side on Level 1. The hours are 6:00 a.m. to 11:00 p.m., but we will be happy to extend those hours if you have booked Disney's Magical Express Service and your flight is scheduled to arrive after 11:00 p.m.
Q. Where do I go if I arrive on the B side of Orlando International Airport?
A. Proceed to the A side before taking the elevator or escalator down to Level 1 of the Main Terminal Building."
RELATED STUFF