Alternatives to Disney's Polynesian Resort During Construction
By Dave Shute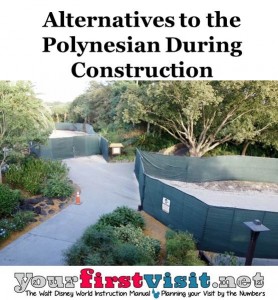 Many have written with concern about the ongoing and expected upcoming construction at the Polynesian, wondering if another resort is a better choice.
Known construction issues at the Polynesian are
Construction activity in the lagoon and around Tahiti related to Disney Vacation Club work
Major work in the Great Ceremonial House that began in 2014
Rehab and closure of one of the two pools (and the larger and more fun of the two) from late July 2014 into spring 2015. (To keep up with this, check TikimanPages.com and its Facebook page.)
Despite the construction, I'm still keen on the Polynesian for first time visitors, as the construction will only moderately diminish its combination of kid appeal and convenience—which is what this site ranks resorts on.
But sensible people differ on this, so here's some thoughts on the next most highly ranked deluxe resorts.
After the Polynesian, the next three highest-ranked deluxes for first time family visitors who may never return are, in order
The differences among these three are stark: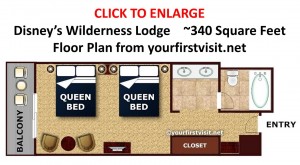 Wilderness Lodge kid appeal is spectacular, convenience is moderate, and rooms are small—fitting only four.
Prices are low—at least for a deluxe!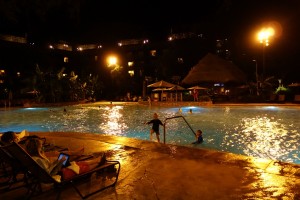 Animal Kingdom Lodge kid appeal is almost as strong as that of the Wilderness Lodge, but convenience is low.
Like the Wilderness Lodge, rooms are small—fitting only four.
Because at the Animal Kingdom Lodge you should always get a "Savanna View," prices are higher than standard-view rooms at the Wilderness Lodge.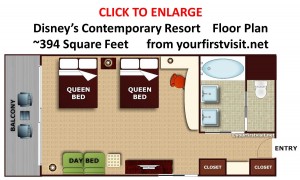 Contemporary Resort kid appeal is moderate, but its convenience is high, and it's the only one of these three on the monorail.
Prices are high but the rooms are large and sleep five, on two queens and a daybed.
So what's best for your family?
If you need to sleep five—or three beds—pick the Contemporary
If a smaller room works for you, and convenience is important, pick the Wilderness Lodge
If a smaller room works, and convenience doesn't matter, pick whichever of the lodges has the theme that appeals to your family more.
For other deluxe options see this, and for more on pros and cons of the deluxes see this.
Follow yourfirstvisit.net on Facebook or Google+ or Twitter or Pinterest!!
RELATED STUFF