Review: Bay Lake Tower at Disney's Contemporary Resort
By Dave Shute
OVERVIEW: BAY LAKE TOWER AT DISNEY'S CONTEMPORARY RESORT FOR FIRST TIME VISITORS
Most room options at Bay Lake Tower at Disney's Contemporary Resort (a Disney Vacation Club resort) are wonderful places for returning visitors to Walt Disney World to stay.
For typical first-time visitors, I don't recommend the Disney Vacation Club resorts. That said, these "DVC" resorts can be a great choice for first time visitors with large families, needing extra sleeping spaces, or looking for a more comfortable place to stay.
Among the Disney Vacation Club resorts, Bay Lake Tower ranks fourth overall for first-time visitors, but specifics vary by room type.
Note: for a review of Disney's Contemporary Resort itself, click here.
THE DISNEY VACATION CLUB RESORTS
You can have a spectacular visit at any Walt Disney World resort. However, this site recommends that typical first time visitors to Walt Disney World avoid the Disney Vacation Club resorts, while noting that these resorts are wonderful for visits after the first. (You can find extensive detail on the DVC resorts here.)
The recommendation comes from the simple fact that the distinguishing feature of these resorts–extra space and full kitchens–will not be of much value to first-time visitors following one of the itineraries on this site, as they won't be used much.
That said, the Disney Vacation Club resorts represent more than 10% of Walt Disney World's total rooms, and are very appropriate for first time visitors with large families, needing extra sleeping spaces, or looking for a more comfortable place to stay.
Because of this, I'm providing a series of up-to-date reviews.
BAY LAKE TOWER AT DISNEY'S CONTEMPORARY RESORT
Resorts are ranked on this site for first time visitors based first on their kid appeal, and then on their convenience.
On this basis, Bay Lake Tower at Disney's Contemporary Resort comes in fourth overall of the Disney Vacation Club resorts. (See this for resort rankings.) However, there's a little variability here depending on room type and family size. You'll find more detail on this below, but the upshot is this:
Kid Appeal. Disney's Contemporary Resort itself has moderate kid appeal based largely on the monorail running through the main building of the Contemporary Resort.
While the monorail does not run through Bay Lake Tower, families staying there will be in the Contemporary often enough to share in this kid appeal.
Convenience. Bay Lake Tower and the Contemporary are the second-most convenient of the Walt Disney World resort hotels, beaten only by the Polynesian.
This convenience comes from several points:
It's the only resort from which one can walk to and from the Magic Kingdom–a godsend on busy days, as this permits avoiding the line for the resort monorail
On the resort monorail, it's the first stop when returning from the Magic Kingdom
The Epcot monorail is the first stop from the Contemporary
OTHER DISTINCTIVE FEATURES OF BAY LAKE TOWER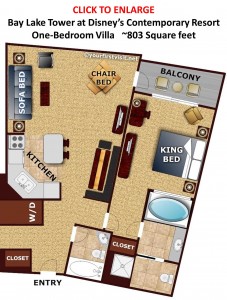 Bay Lake Tower has a number of very strong positives.
It is one of only a few Disney Vacation Club resorts that can fit 5 people in a One-bedroom villa, or 9 into a Two-Bedroom although, as noted below, fitting 9 is a not-recommended tight fit in lock-off two bedrooms. (See this for more on large families, and this for more on beds and sleeping spaces at Walt Disney World resorts.)
Note that there is a difficult-to-figure-out but way cool 3-D floorplan viewer on the DVC Bay Lake Tower website–hover your mouse over the "floor plan" box on the right middle of this page. Once the floor plans start to play, options to pick room types for viewing will show up.
Changes it reflects to the recent layout of the typical Disney Vacation Club villas makes it among the most livable of DVC one bedroom villas.

The kitchen/dining/living room area has been both widened and deepened.
This space has been used to add both a second full bath to One-bedroom villas, and enough living space in the living room that it can be used even if the fold-out sleeper sofa is being used.
(These kitchen/dining/living room features carry over to two bedroom villas as well.)
Compare the Bay Lake Tower's One-Bedroom Villa floorplan (above) with that of a similar villa at Disney's Saratoga Springs Resort and Spa (below, orange).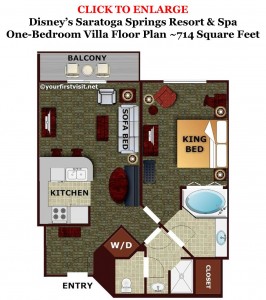 (Click the images to enlarge them.)
Bay Lake Tower also has some distinctive negatives.
Most significant of these is the layout of the studio room.
The larger bedroom of lock-off two-bedroom villa (which uses a studio floorplan for its larger bedrooms) also has issues.
The studio room is small in general.
At about 339 square feet (rooms size vary a bit at Bay Lake Tower), it is smaller than any other deluxe room.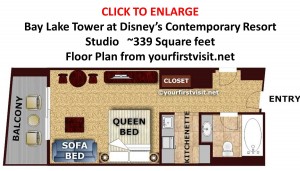 More of an issue, the bedroom component, at about 180 square feet, not only is far smaller than those any comparable resort, but also has so little space along the wall with the beds that it is remarkably cramped if the sofa bed is opened.
The wall with the beds is two to three feet too short for comfort.
I measured about 12″ between the queen bed and the wall, about 16″ between the queen and the fold-out couch, and about 6″ between the couch and the balcony wall.
These measurements should be (at least) 15″, 30″, and 15″.  With the narrow spacing, the room is remarkably tight when the fold-out couch is open.
If you are fitting just three in the room, and the third can sleep lengthwise on the couch (4'6″ of space is here) this is a great room.
Otherwise, tower rooms at the Contemporary are about the same price, and, at 394 square feet–with two queens and a daybed–much more livable.  All you really lose is a microwave and a toaster.
Because the two bedroom lockoff villas share in their larger bedroom the layout of the Studio, this option has the same issues, ameliorated somewhat by the fact that there are other spaces here to go than the bedrooms.
BEST AND WORST ROOMS AT BAY LAKE TOWER
For those seeking a Bay Lake Tower at Disney's Contemporary Resort Disney Vacation Club experience, it is best–by far–to reserve a Magic Kingdom view room, and to request a higher floor. The Magic Kingdom view gives much more kid appeal, and avoids noise from the pool. The higher floor improves views and reduces noise even further.
The north elevator is more convenient to most Bay Lake Tower parking, and to the walkway to and from the Magic Kingdom.  The south elevator is more convenient to the bridge between Bay Lake Tower and Disney's Contemporary Resort.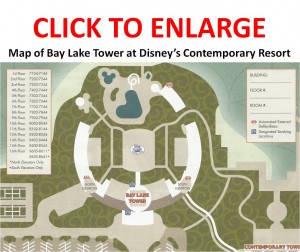 Click the image to open a map of Bay Lake Tower.
BEST FOR:
Larger families, families seeking a bit of extra privacy or more beds, families looking for a more comfortable place to stay, families looking for particularly convenient DVC space.
WORST FOR:
Families looking for a DVC studio or two-bedroom villa (with the exceptions noted above), families on a budget, families looking for a particularly kid-appealing place to stay.
RELATED STUFF