Theming and Accommodations at Bay Lake Tower at Disney's Contemporary Resort
By Dave Shute
(For the first page of this review of Bay Lake Tower, see this.)
THEMING AT BAY LAKE TOWER AT DISNEY'S CONTEMPORARY RESORT
Bay Lake Tower is one of many Disney Vacation Club options at Walt Disney World. These resorts are available not only to DVC members, but also to everyone else, just like any other Disney World offering, through the regular Walt Disney World website or resort reservations phone number at 407-939-7675.
Kelly, the long-time travel agent partner of this site, can also book them for you. See the form near the bottom of this page for how to contact her.
They also are sometimes available to the general public at a discount through renting points from a Disney Vacation Club member or point broker.
Because the two sets of options at the Wilderness Lodge, Animal Kingdom Lodge and Saratoga Springs are so different, for review purposes I count thirteen options among the Disney Vacation Club resorts at Walt Disney World.
The overall ranking among them for first time family visitors is as follows:
The next DVC offering to open will be Reflections, located on grounds that were formerly part of Fort Wilderness.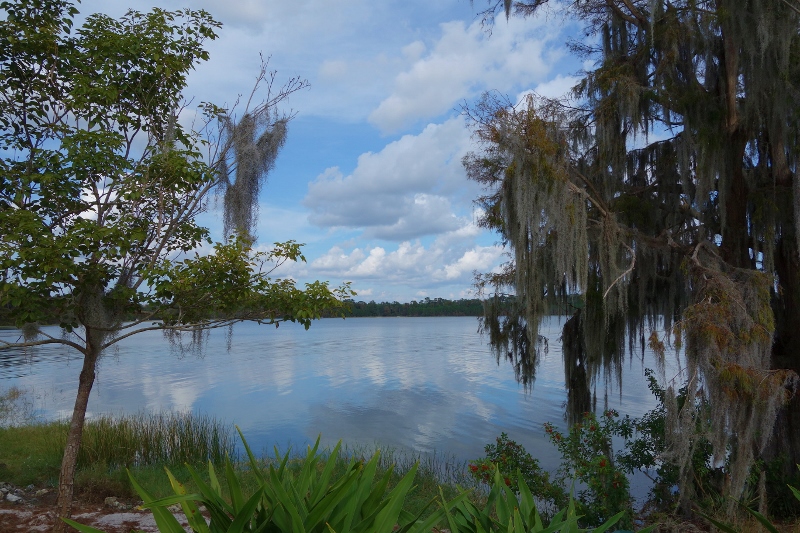 According to Walt Disney World's website,  "Bay Lake Tower at Disney's Contemporary Resort…has been designed to complement the fabled styling of the classic Disney's Contemporary Resort building and promises to deliver some of the most dramatic views available anywhere at Walt Disney World Resort."
Bay Lake Tower opened in August 2009. Like Kidani Village at the Animal Kingdom Lodge, which also opened in 2009, it features larger kitchen/living/dining rooms in its one and two bedroom villas, allowing both one more person in occupancy, and a much more livable space, even when the fold-out beds in this area are opened.
Views from Bay Lake Tower are indeed spectacular.
See the photos for a view of the Magic Kingdom fireworks from my most recent stay here, when I had a second-floor theme standard view room–about as bad as views get.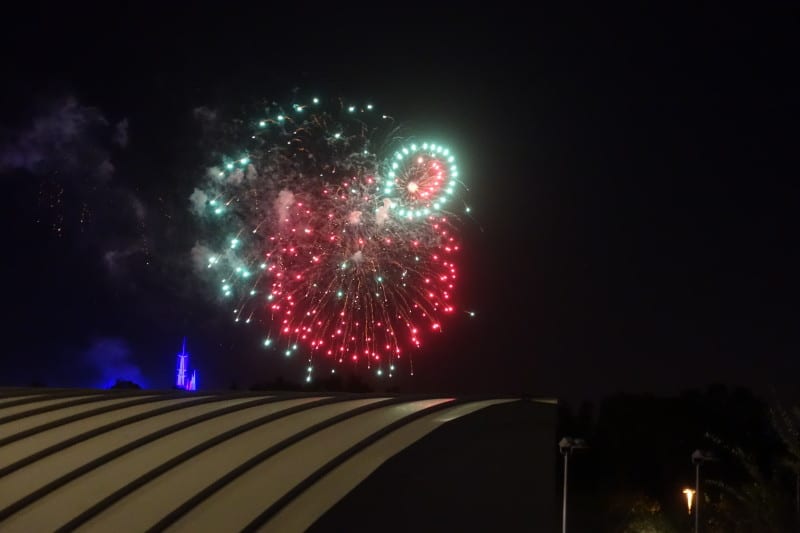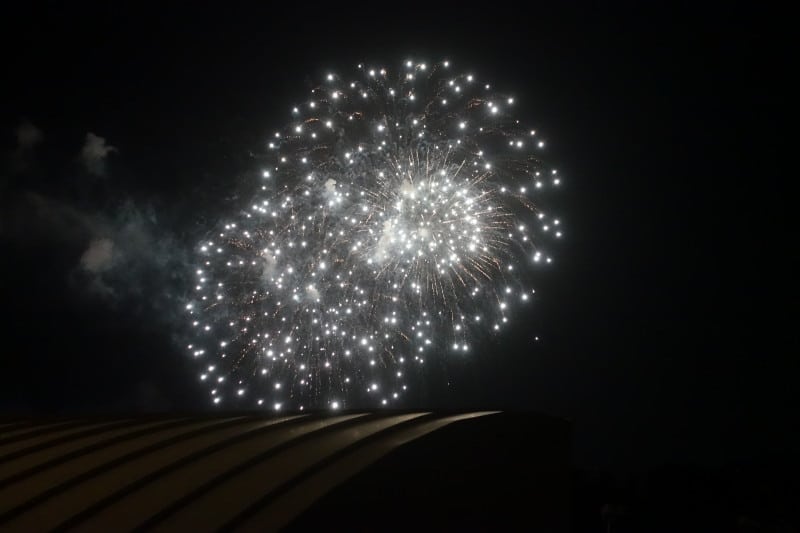 Otherwise, like Disney's Contemporary Resort, Bay Lake Tower is essentially un-themed.
While its design and look are not as dated and brutal as those of the Contemporary Resort, neither are they interesting, playful, or kid-appealing.
Like many other Disney Vacation Club resorts co-located with a deluxe hotel, Bay Lake Tower relies on Disney's Contemporary Resort for many services.
Bay Lake Tower has no shopping or dining options of its own–for these, one walks to the Contemporary, either outside or via a fifth-floor walkway that links to the Contemporary's fourth floor.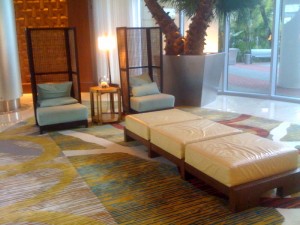 In the lobby of Bay Lake Tower is a dedicated check-in area, and also a guardian of its top-floor "Top of the World Lounge"–which, after 5p, is reserved for Disney Vacation Club members who are paying for a Bay Lake Tower stay using DVC points.
The lobby also has a small but distinguished collection of funny looking chairs. See photo above.
As oddly shaped as they are, more commonly than not they were draped with kids–so they must be comfortable!
Bay Lake Tower guests are welcome to use all of the facilities of the Contemporary, including its pool, beach, and water sports options.
Bay Lake Tower also has its own nice-sized pool, surrounded by the wings of the C-shaped building. See this for more on the pool.
Between the pool area and the main lobby are shuffleboard and boules courts.
Bay Lake Tower's principal negatives are the small size of its studio and the studio area of its two bedroom lock-off villas, and its lack of kid appeal.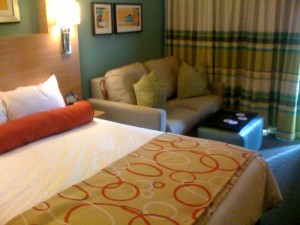 The bedroom component of its studio rooms is smaller than those of Disney's value resorts, and smaller than the VIP suites at Disney's pet center, Best Friends Pet Care!
Returning visitors will likely find Bay Lake Tower to be a favorite. The views from the higher floors are indeed spectacular, and in convenience it is second only to the Polynesian Resort.
ACCOMMODATIONS AT BAY LAKE TOWER
All Disney Vacation Club resorts except the Polynesian Villas and Bungalows have studio rooms, One-Bedroom Villas, and Two-Bedroom Villas. Most have Grand Villas as well.
Bay Lake Tower has rooms of all types.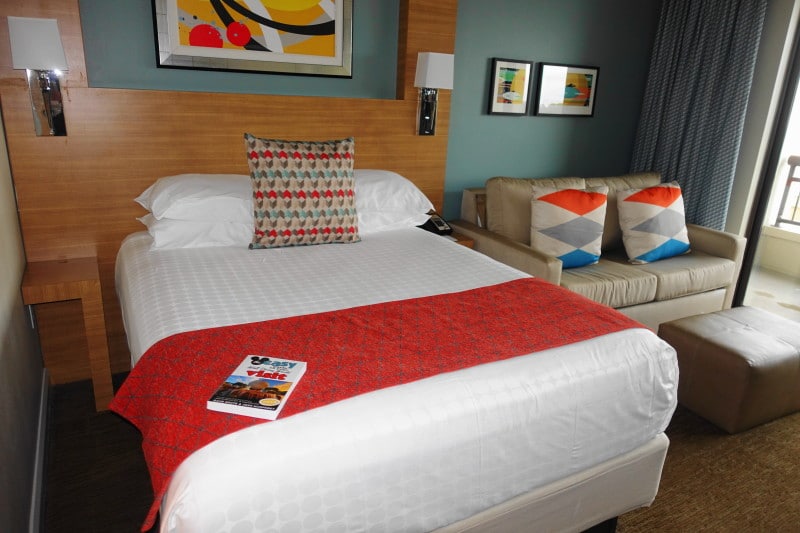 At Bay Lake Tower, Studios sleep four on a queen and a fold-out couch, and have a microwave, toaster, utensils, and a mini fridge.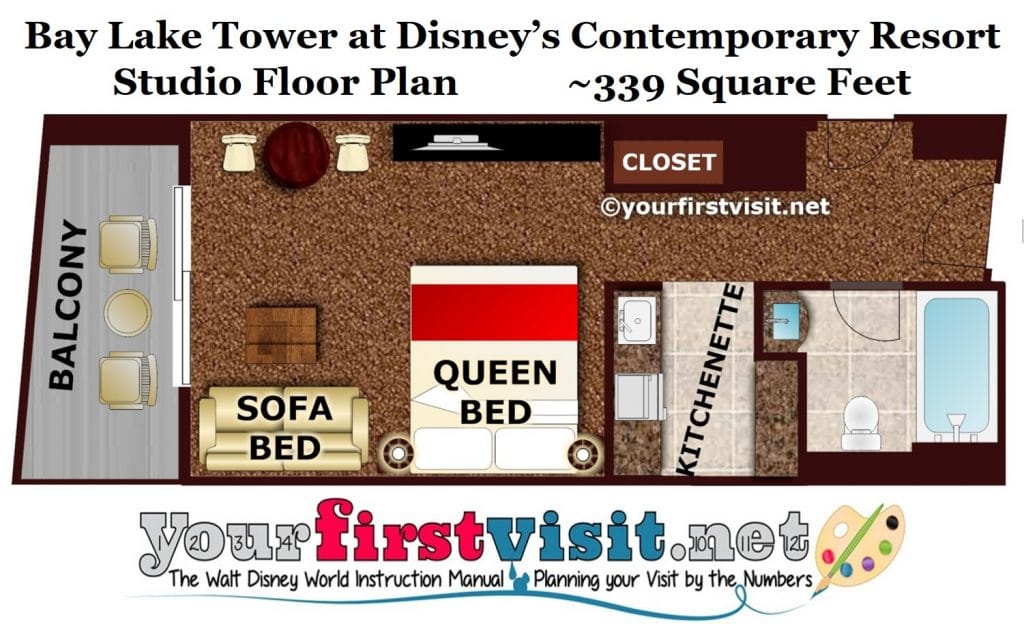 Bay Lake Tower studios are so short along the bed wall that I recommend them only for three person families, with the third person short enough to sleep on the couch un-opened–the couch cushions are ~4′ 4″ long in this dimension.  Otherwise, tower rooms at the Contemporary Resort are a much better choice.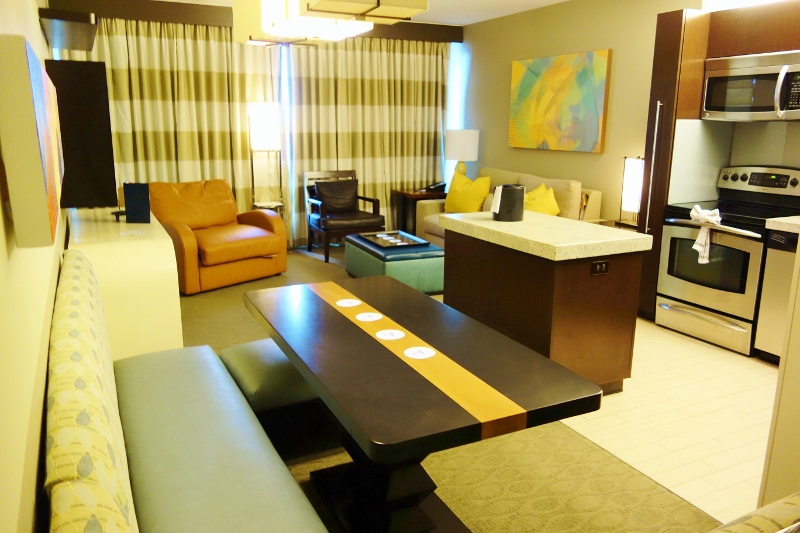 One-Bedroom Villas have a master bedroom with a king and a private master bath, a particularly livable full kitchen/dining/living space with a second bath, and sleep 5.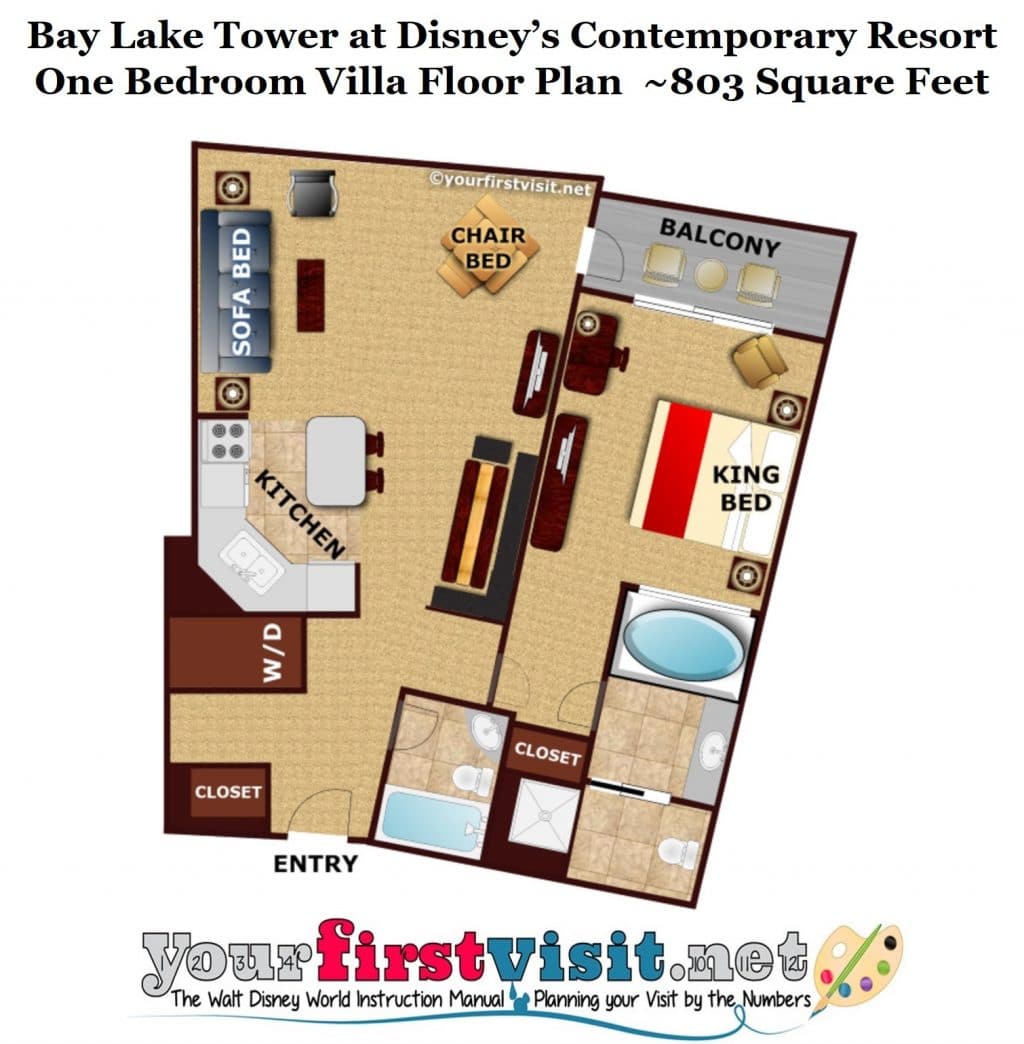 Two-Bedroom Villas add a second bedroom with a queen and a full sleeper sofa, or two queens, to the amenities of a One-Bedroom, and sleep 9.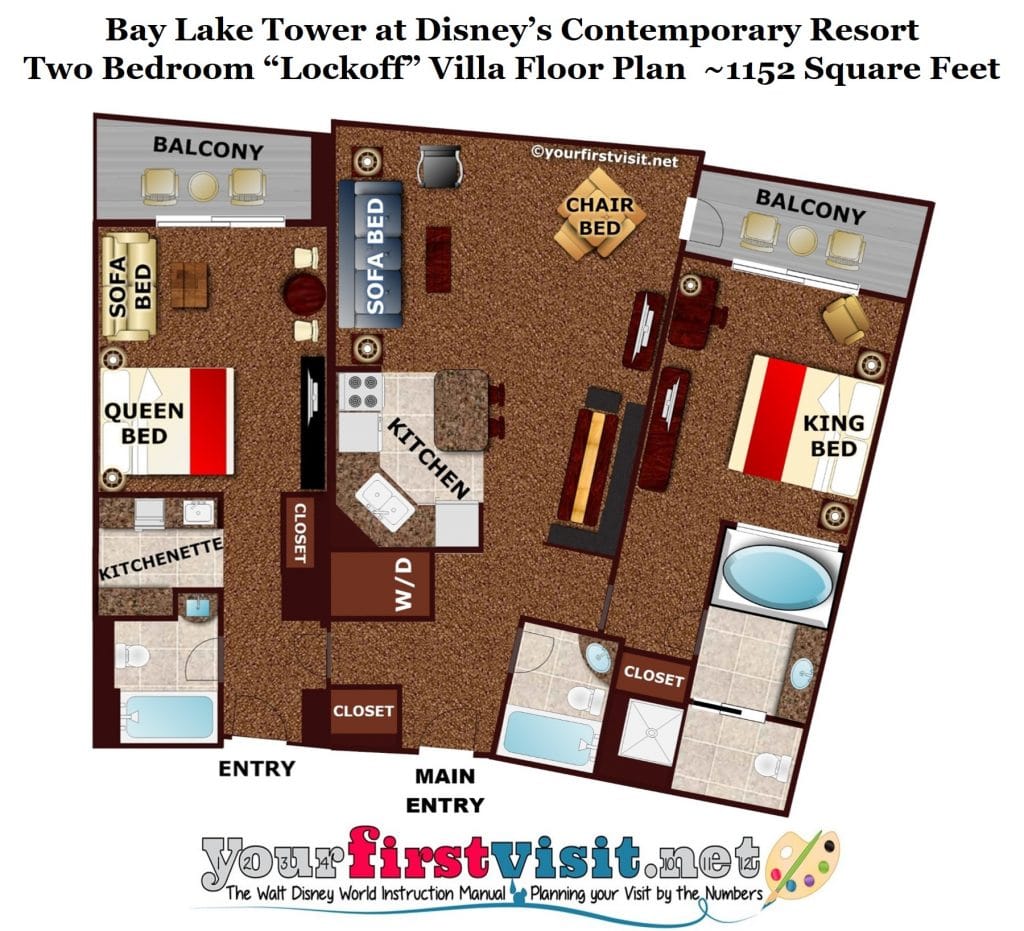 Some Two-Bedroom Villas are "lock-offs."  This means that they combine a One Bedroom Villa and a Studio via a connecting door.
Such lock-offs will have the same space problems in the studio bedroom that studio rooms do, but the extra space of the combined living/dining/kitchen space may make them sufficiently comfortable for smaller groups.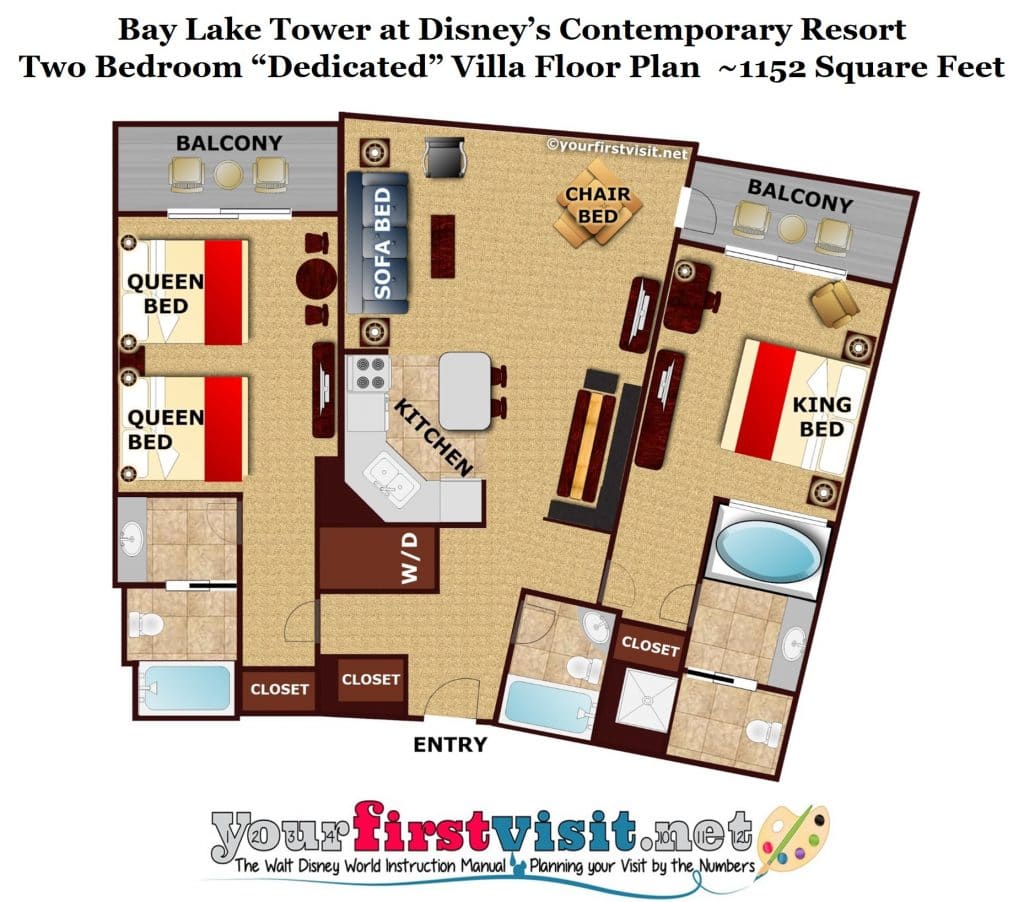 "Dedicated" Two Bedroom Villas were designed as two bedroom spaces from the start, and have a much more livable second bedroom with two queens and no fold-out sofa.
Grand Villas at Bay Lake Tower sleep 12 in three bedrooms (one with a king, and two with two queens) plus sleeper sofas.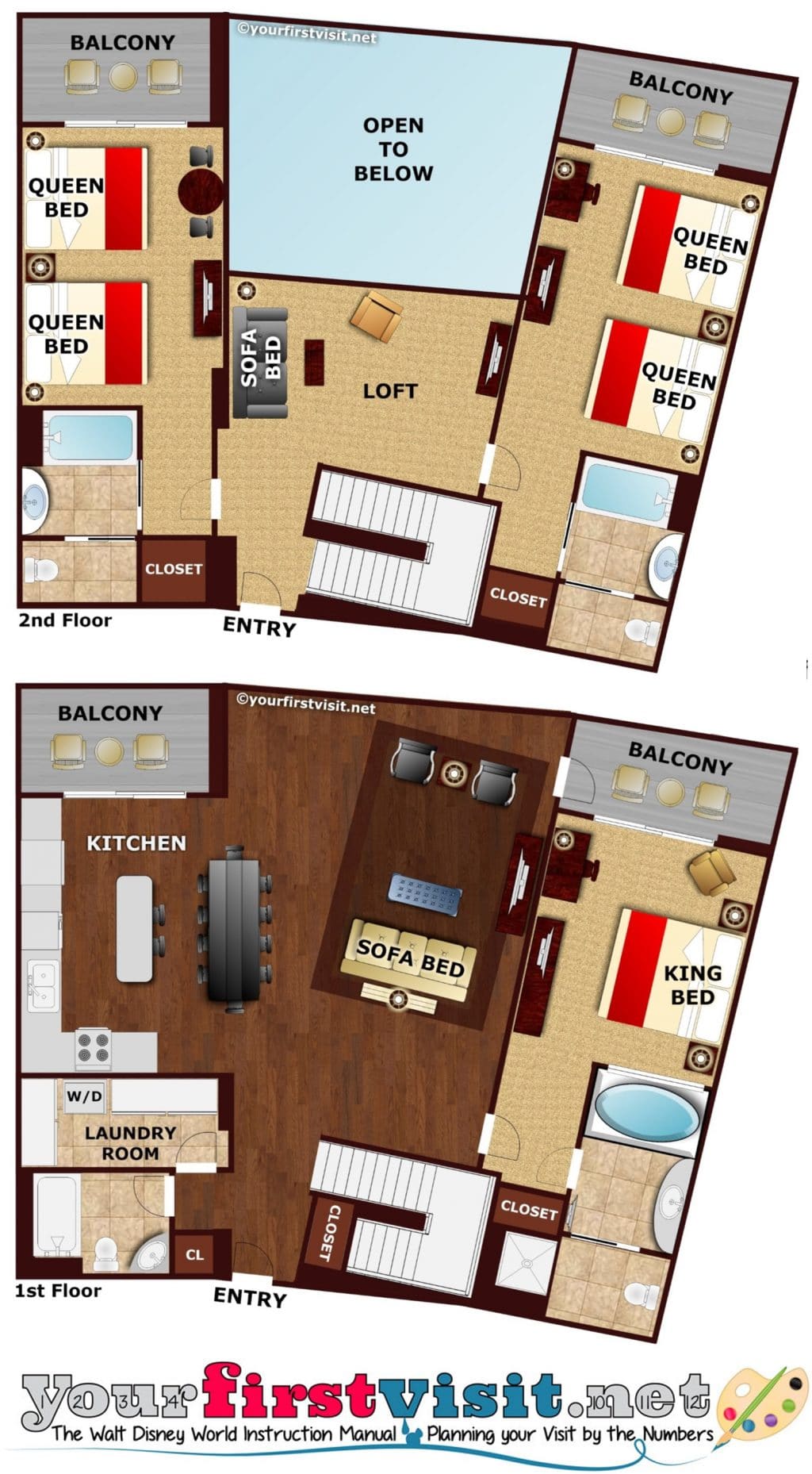 At Bay Lake Tower, Grand Villas are two-story spaces, fronted with a two-story window.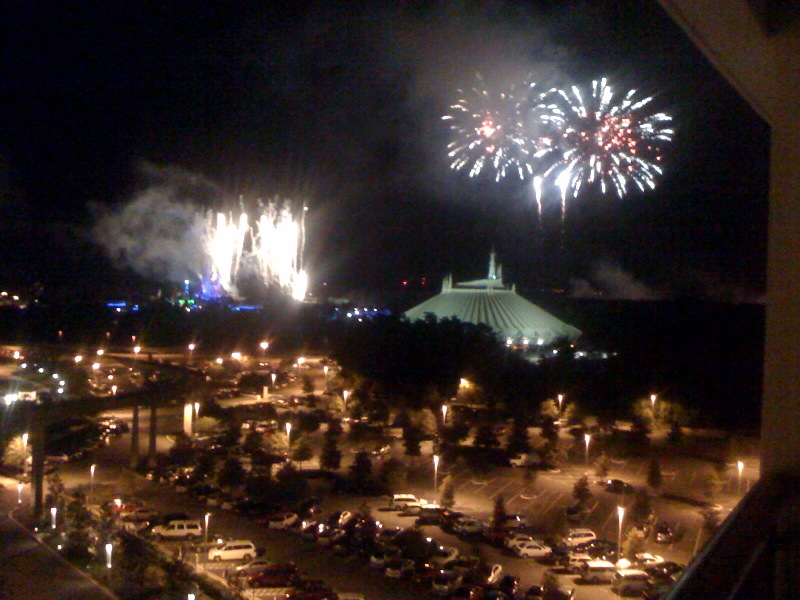 Magic Kingdom views through these windows are particularly spectacular.
The master bedroom, small living room, dining room, and kitchen are on the first floor, and the two other bedrooms are on the second.
The second floor has a small loft sitting area–welcome, given how small the living area on the main floor is.
Although you'll note only 5 beds, there are also two sleeper sofas–one on each floor.
(To each of the capacity figures above, you can add one more kid under 3 at time of check in who sleeps in a crib.)
EXPANSION OF BAY LAKE TOWER?
There's been speculation over the years that another DVC building might be added to the Contemporary Resort, on the grounds of the current South Garden Wing.
The issue with this is that a design symmetrical with the current Bay Lake Tower would mean weak Magic Kingdom views.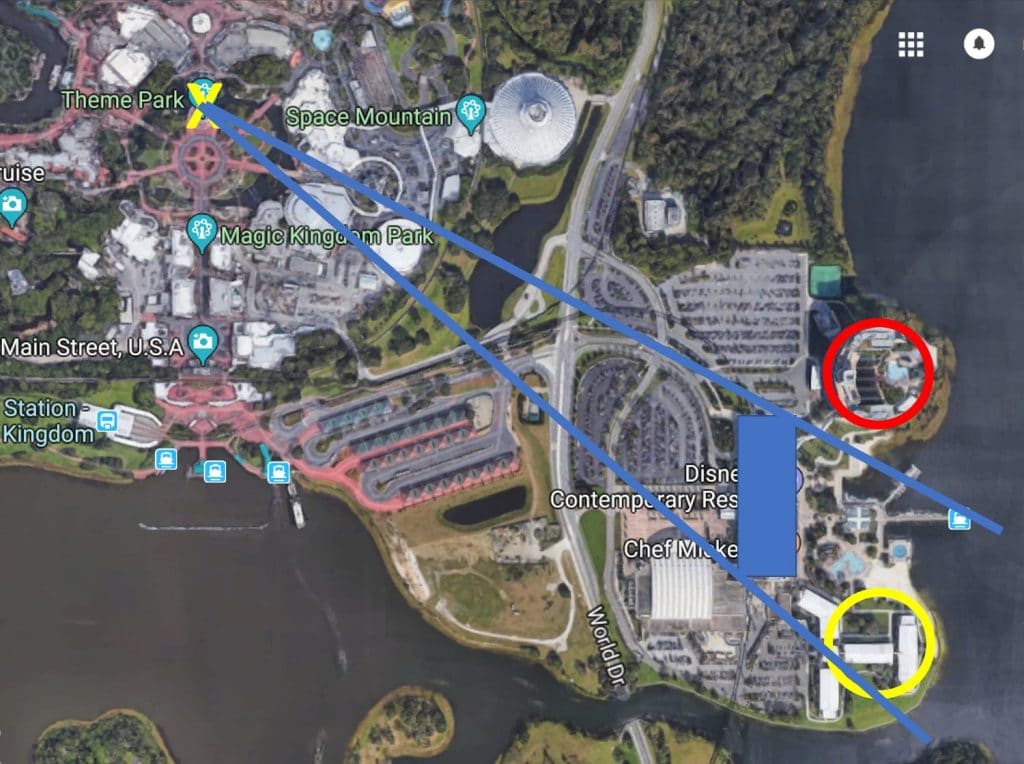 See the image. The current Bay Lake Tower is outlined in red, a symmetrical south addition is in yellow, and the main Contemporary Resort tower is blue. The blue lines show the blocking of views (centered on the castle, marked with an X) by the main building.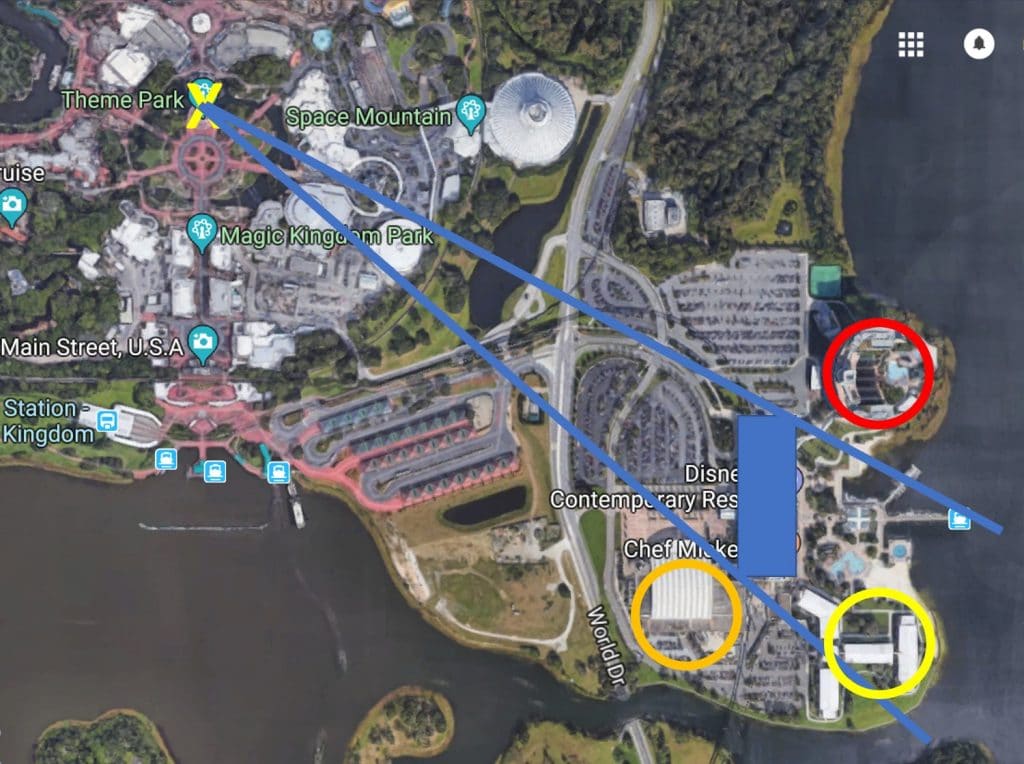 A spot with better views but that would be geometrically odd would be on the current dedicated convention space. That spot is marked in orange above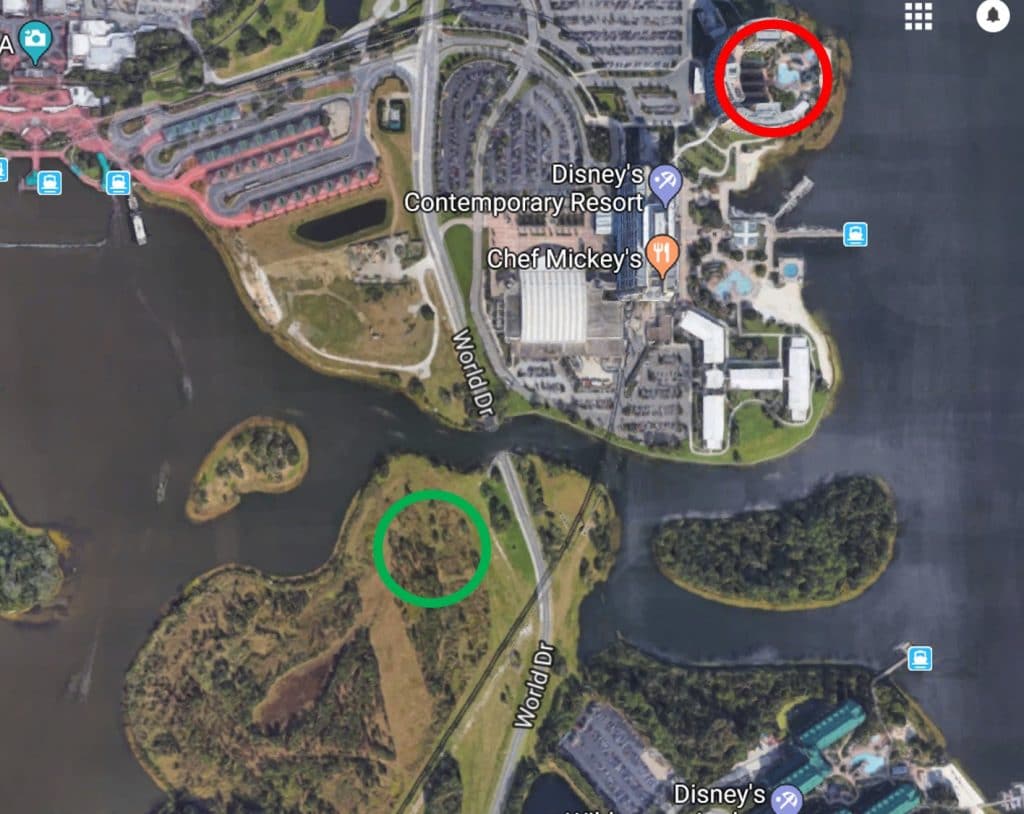 However, if it were my money I'd put my capital instead into a new monorail DVC resort on the hotel pad on the Seven Seas Lagoon just to the southwest of the Contemporary, across the canal from the lagoon to the lake. I've marked it with a Bay Lake Tower-sized green circle, but am actually imaging a much bigger resort.
Disney has had its eye on this spot for years, but every time it thinks seriously about it the extra construction costs of the bad land here gets in the way. But by making the site DVC, those construction costs can then be re-sold to DVC buyers.
This review continues here!
The long-time travel agent partner of this site, Kelly, can book you at Bay Lake Tower or anywhere else at Disney World.  Contact her using the form below!


Follow yourfirstvisit.net on Facebook or Twitter or Pinterest!!</p
RELATED STUFF