Review: Bay Lake Tower at Disney's Contemporary Resort, Page 5
By Dave Shute
(For the first page of this review of Bay Lake Tower, see this.)
MORE ON ACCOMMODATIONS AT BAY LAKE TOWER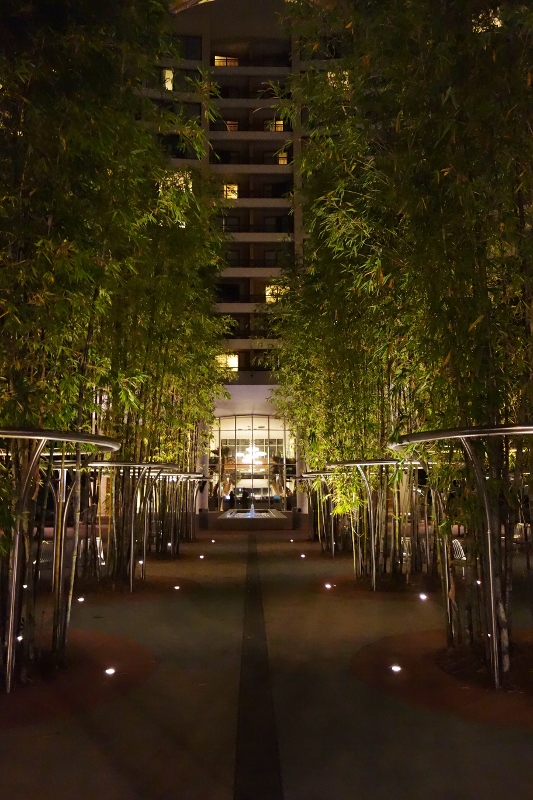 Because the two sets of options at the Wilderness Lodge, Animal Kingdom Lodge and Saratoga Springs are so different, and the Polynesian offering is so distinctive, for review purposes I count a total of twelve resorts, but rank only eleven.
Their overall ranking for first time family visitors is as follows:
My rankings exclude the Polynesian Villas and Bungalows, as it does not offer one or two bedroom villas. If the ranking were based solely on studios, the Polynesian offering would be near the top.
These resorts are available to anyone to reserve through the regular Walt Disney World website or resort reservations phone number at 407-939-7675.
They also are available to the general public at great discounts through renting points from a Disney Vacation Club member.
ROOMS AT BAY LAKE TOWER
All Disney Vacation Club resorts except the Polynesian Villas and Bungalows have studio rooms, One-Bedroom Villas, and Two-Bedroom Villas. Most have Grand Villas as well.
Bay Lake Tower has rooms of all types.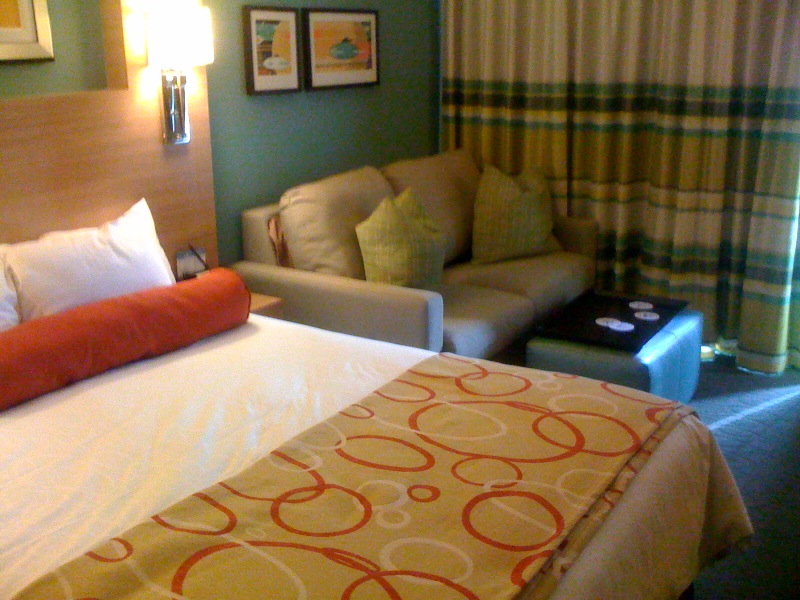 At Bay Lake Tower, Studios sleep four on a queen and a fold-out couch, and have a microwave, toaster, utensils, and a mini fridge.
Studios are recommended only for three person families, with the third short enough to sleep on the couch un-opened–the couch cushions are 5′ 4″ long in this dimension.  Otherwise, tower rooms at the Contemporary Resort are a much better choice.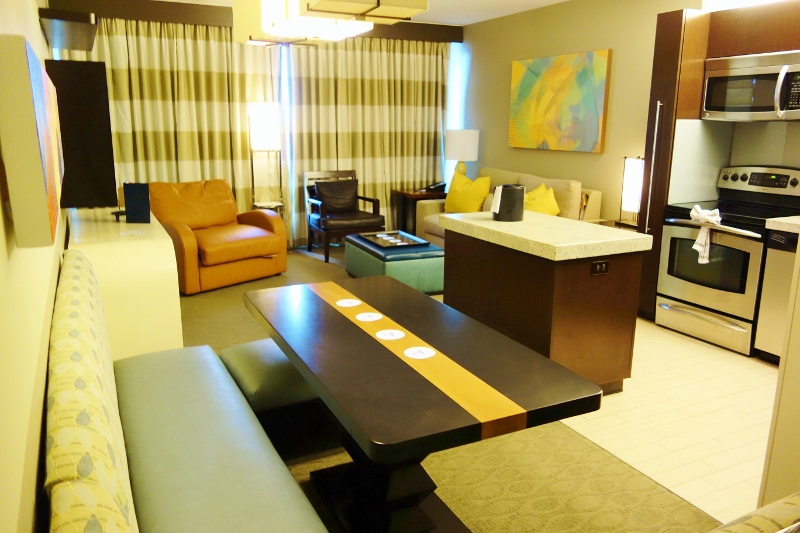 One-Bedroom Villas have a master bedroom with a king and a private master bath, a particularly livable full kitchen/dining/living space with a second bath, and sleep 5.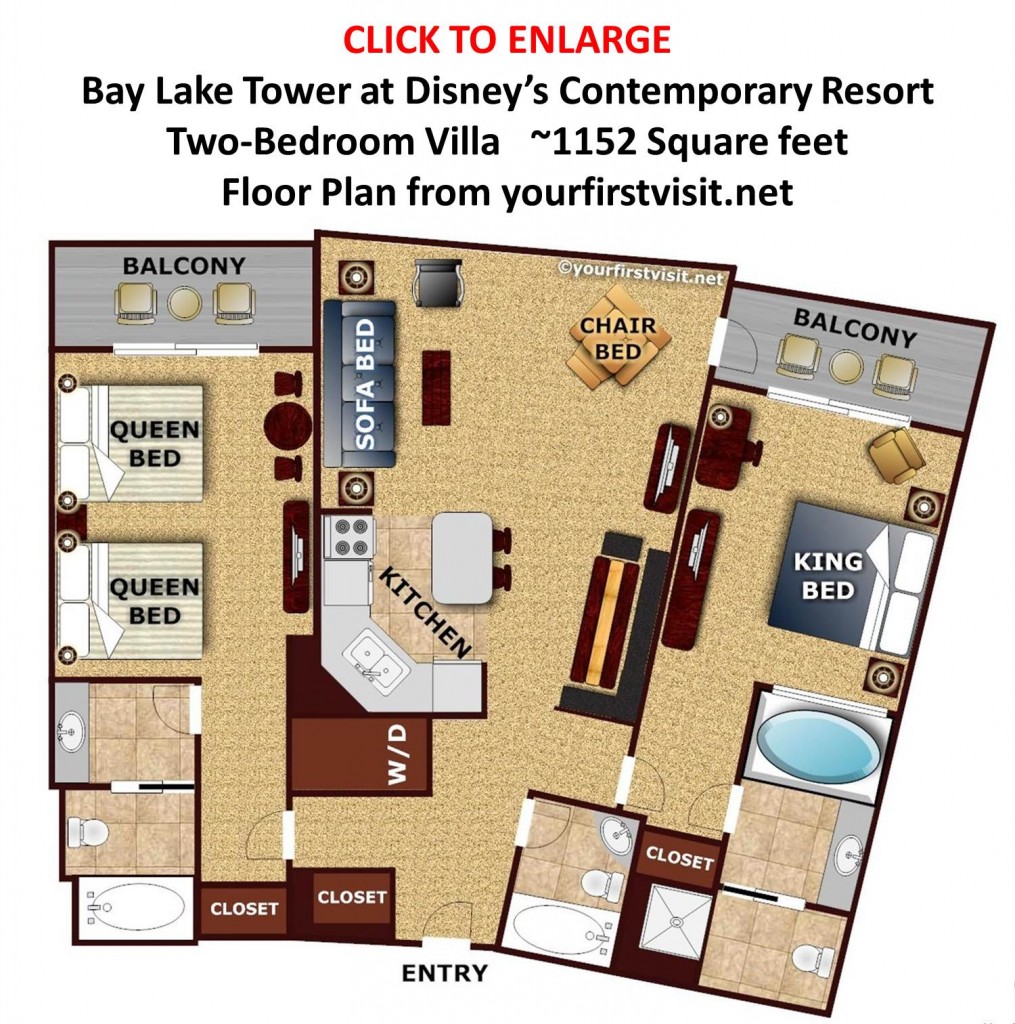 Two-Bedroom Villas add a second bedroom with a queen and a full sleeper sofa, or two queens, to the amenities of a One-Bedroom, and sleep 9.
Some Two-Bedroom Villas are "lock-offs."  This means that they combine a One Bedroom Villa and a Studio via a connecting door.
Such lock-offs will have the same space problems in the studio bedroom that studio rooms do, but the extra space of the combined living/dining/kitchen space may make them sufficiently comfortable for smaller groups.
Grand Villas at Bay Lake Tower sleep 12 in a little less than twice the space of a Two-Bedroom Villa, in three bedrooms (one with a king, and two with two queens) plus sleeper sofas.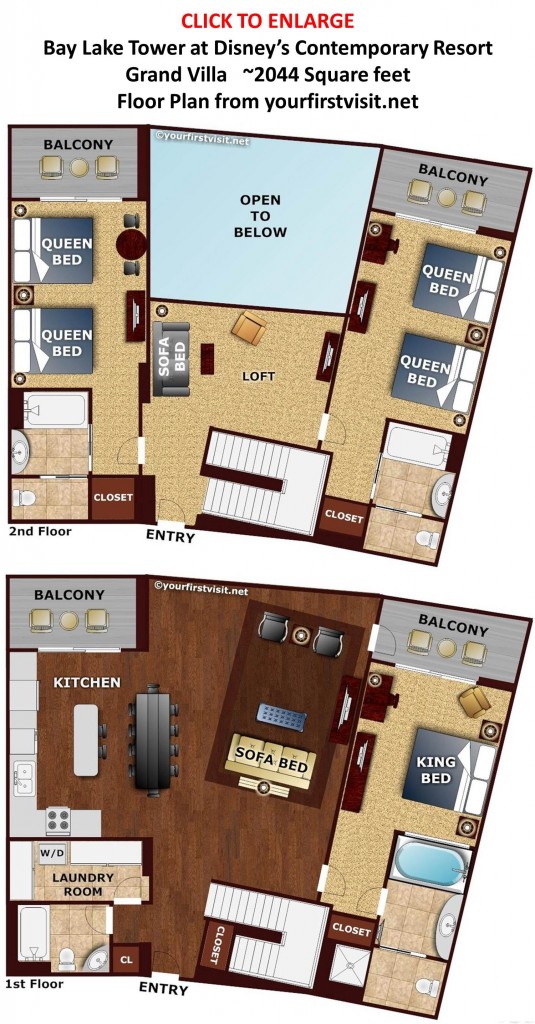 At Bay Lake Tower, Grand Villas are two-story spaces, fronted with a two-story window.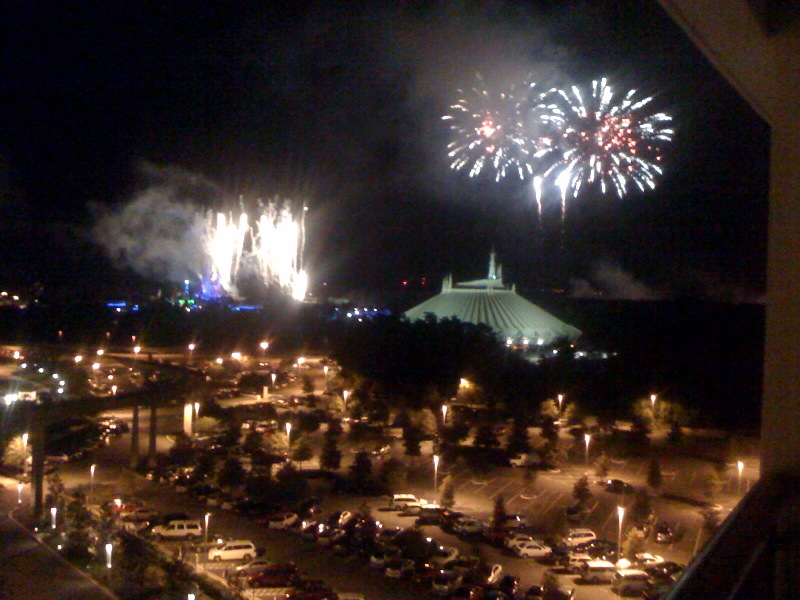 Magic Kingdom views through these windows are particularly spectacular.
The master bedroom, small living room, dining room, and kitchen are on the first floor, and the two other bedrooms are on the second.
The second floor has a small loft sitting area–welcome, given how small the living area on the main floor is.
Although you'll note only 5 beds, there are also two sleeper sofas–one on each floor.
(To each of the capacity figures above, you can add one more kid under 3 at time of check in who sleeps in a crib.)
THE POOL AND OTHER AMENITIES AT BAY LAKE TOWER
This review continues here!
PAGES: Previous |  1  |  2  |  3  |  4  |  5  |  6  |  7  |  Next


Follow yourfirstvisit.net on Facebook or Twitter or Pinterest!!
RELATED STUFF