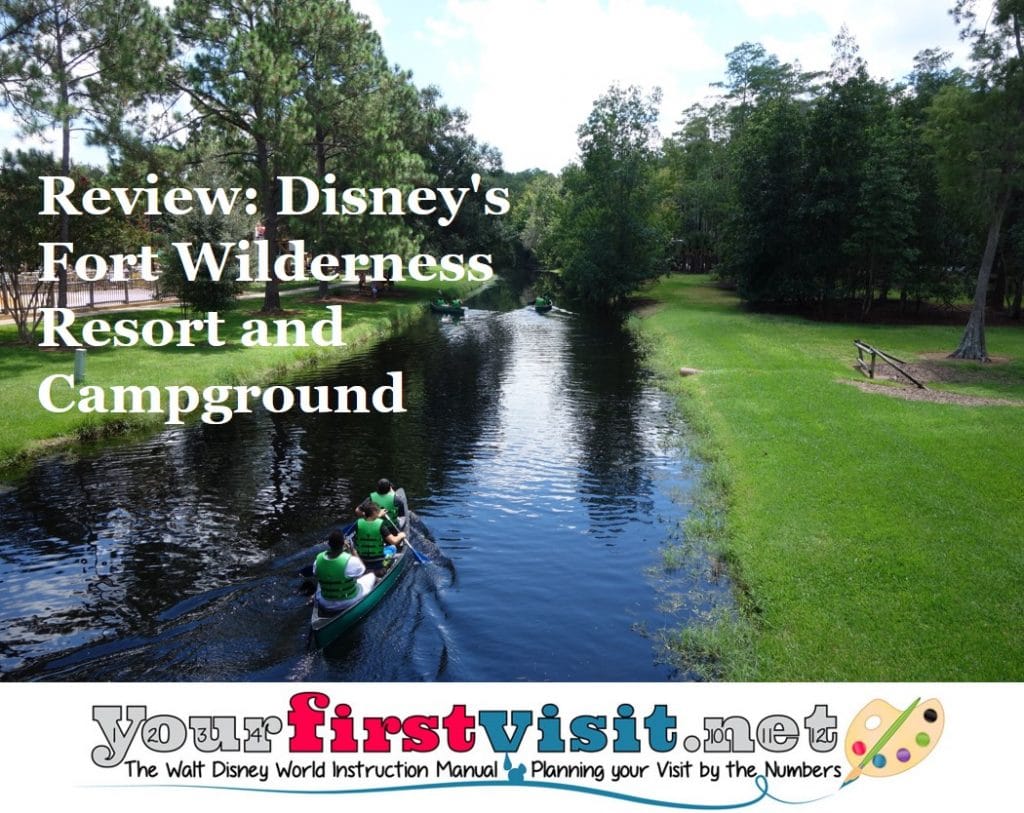 OVERVIEW: DISNEY'S FORT WILDERNESS RESORT FOR FIRST-TIME VISITORS
Note: guests staying at Disney's Fort Wilderness Resort–campsites or campgrounds–are eligible for Disney World's Early Entry program, and for early access to its paid individual system for access to certain rides, but NOT for its Extended Evening Hours.
Disney's Fort Wilderness Resort & Campground has three types of places where you can stay: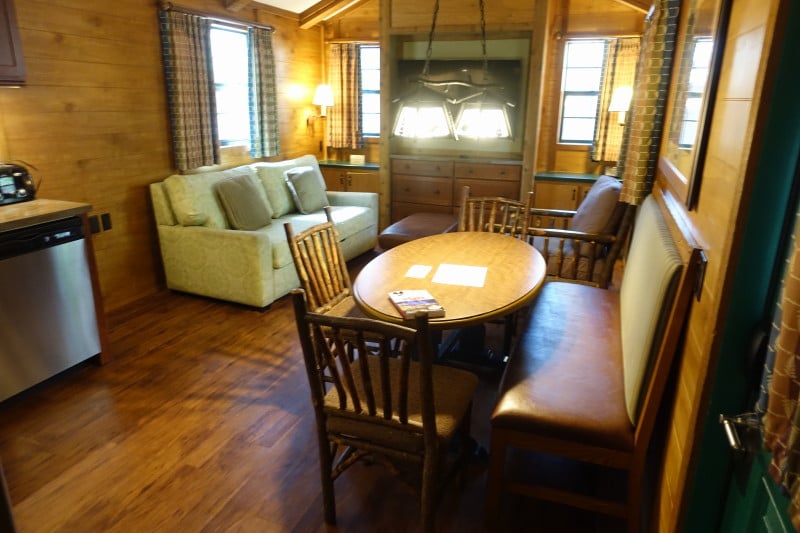 1. Air-conditioned, fully-outfitted cabins with full kitchens (but, after their recent renovation, slightly limited ovens) that sleep six.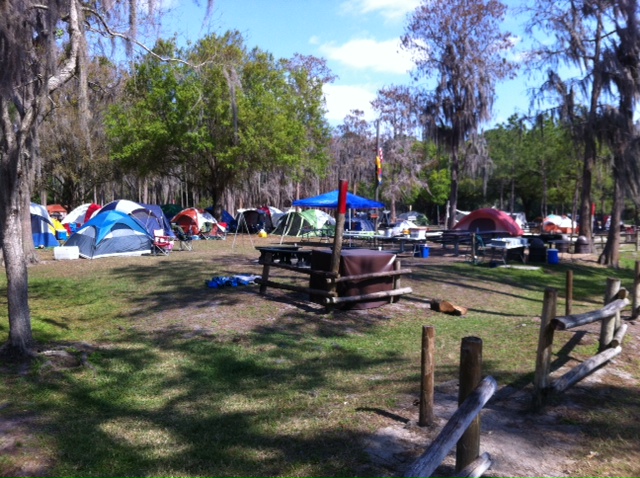 2. Group campsites, which I'll review if I can ever get my scout troop to make the 2200 mile round-trip drive to Walt Disney World.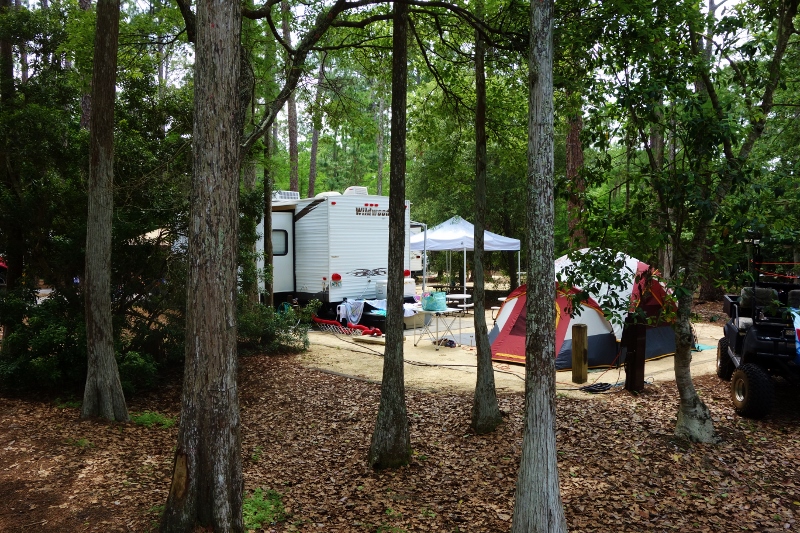 3. Family campsites for both tents and RVs that can be booked for up to ten people.
I've stayed at Disney's Fort Wilderness Resort ten times–six times in the cabins, four times in the campsites, most recently in March 2020.
This review is based on those stays, and includes not only this overview page but also more pages with more detail:
TOPICS COVERED IN THIS REVIEW OF DISNEY'S FORT WILDERNESS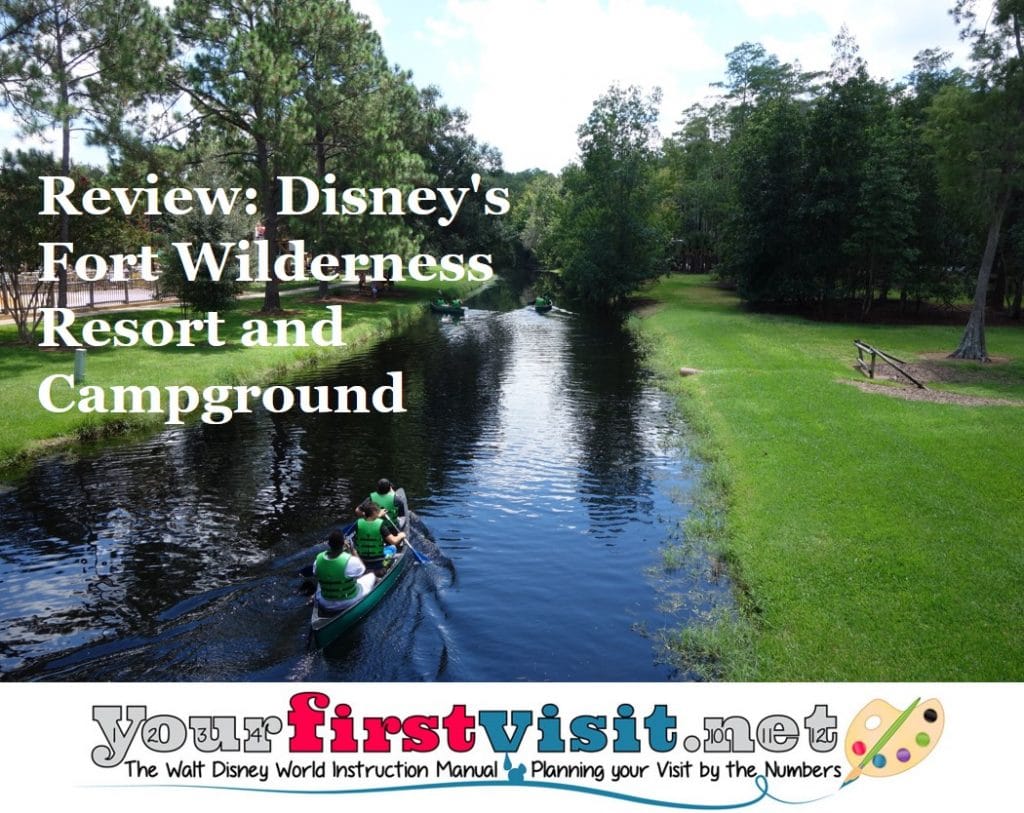 Fort Wilderness has a number of positives.
It is likely the best family campground in America, and the only one within Walt Disney World itself.
In addition to being a Walt Disney World resort with all the benefits that such brings, it contains a wide range of activities from trail rides to a petting zoo to campfire programs and movies.
The main pool has a slide, kids play area and light theming.
Up to ten people can stay in a Fort Wilderness campsite (only 6 in a cabin) and even more in one of the group campsites.
It has fun family dining.
It's inspired some really sound fan sites, especially this forum.
However, for first-timers it brings many negatives as well. As a result, while wonderful for returning visitors who like to camp and for RV owners, Disney's Fort Wilderness Resort is at the bottom of the list of recommended resorts for typical first time family visitors to Walt Disney World.
You can have a wonderful visit at any Walt Disney World resort. To help with making great choices quickly, resorts are ranked on this site for first time visitors based first on their kid appeal, and then on their convenience.
On this basis Disney's Fort Wilderness Resort is the lowest-ranked resort for first time family visitors.
Kid Appeal. The wilderness and backwoodsy theming of this resort, while charming, is so subtle that it will miss most kids entirely.
Convenience. Sites and cabins at Disney's Fort Wilderness Resort are remarkably inconvenient compared to the other Walt Disney World resorts.
While often thought of as out of the way, the resort is actually located just across Bay Lake and Seven Seas Lagoon from the Magic Kingdom. Its inconvenience comes not from its location but rather from the internal bus system that the sprawling resort uses.
To get to any theme park, two transportation actions are required—an internal bus, walk, or golf-cart ride to the appropriate transfer point, and then an external bus or boat to the park itself. This can easily add half an hour or more to daily transportation times—adding up to a lost afternoon or so over the course of an eight-night visit.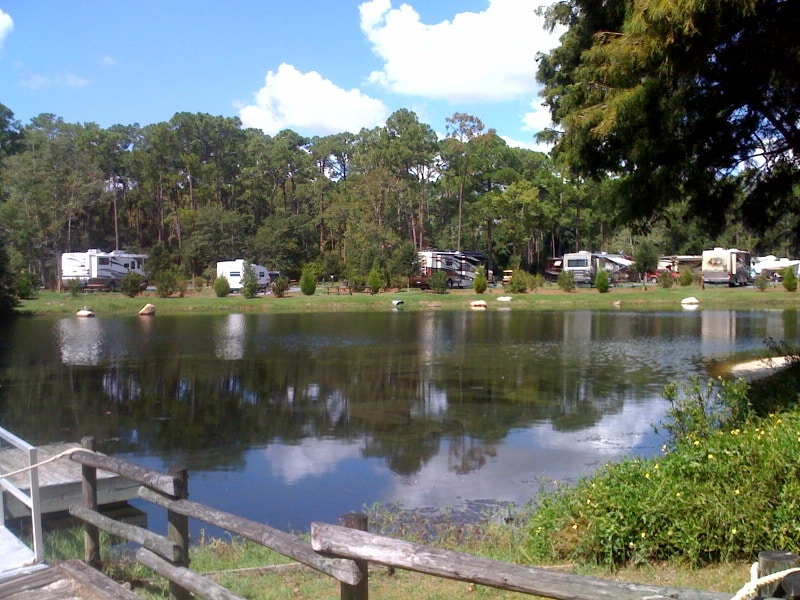 Moreover, simply getting around the seven hundred acre resort–getting to the pool, the shops, the playgrounds–can be a chore.  Even if you have a car, you are discouraged from using it in the campground itself, both officially and by the lack of parking spaces in places you might want to go. There's less than a dozen car parking spots near the Meadow area–and that's about it in the resort proper.
That is, you can use your car to drive to a theme park, but not to drive from your campsite to one of the campground's two stores, its dining facilities, beach, pools or boat docks.
Golf carts are OK to use in traveling around Fort Wilderness resort itself.  Some families bring their own, or rent them–for on the order of $65 a day–at the campground.  Other families bring or rent bikes.
All these options moderate the convenience issues, but not enough to move Fort Wilderness up in my rankings.
CONSTRUCTION IN THE SETTLEMENT AREA AT DISNEY'S FORT WILDERNESS RESORT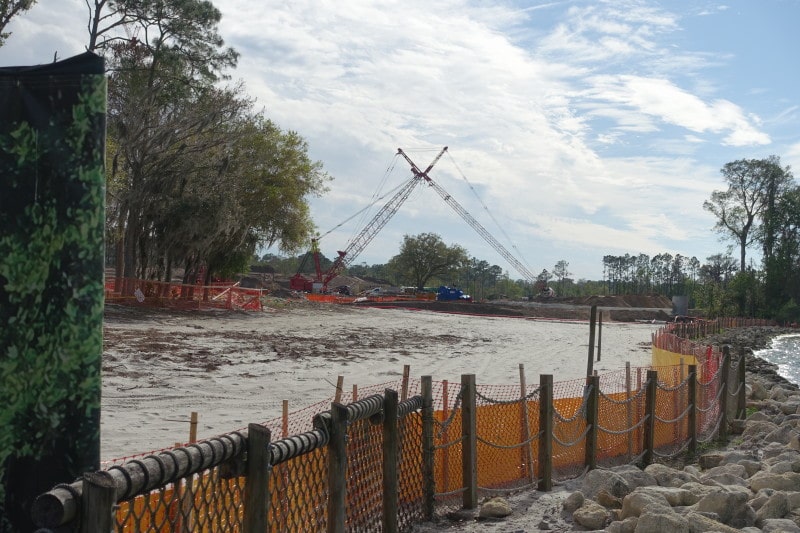 The under-construction new Disney Vacation Club resort, Reflections, has taken out the western area of the Settlement in the far northern area of Fort Wilderness.
Gone–at least for now–are Mickey's Backyard Barbecue, the blacksmith shop, and the pony rides. Instead you get construction walls.
Gone at my last visit, but soon to re-open, is the Tri-Circle D Ranch, where Disney's draft horses are stabled.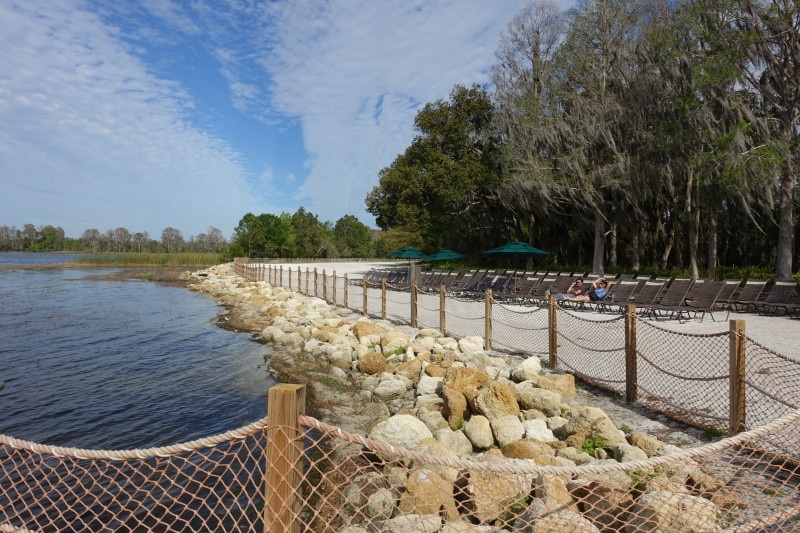 The beach has moved from the western side of the Settlement's Bay Lake shoreline to the eastern side.
ACCOMMODATIONS AT DISNEY'S FORT WILDERNESS RESORT
The two fundamental accommodation types at Fort Wilderness–campsites and cabins–are profoundly different and suited for very different types of travelers.
The campsites are suited for RV owners, or for those who both know how to tent-camp and have a strong gear set including a lot of sand-stakes and guy lines
The Cabins require no camping gear at all–only a willingness to put up with the poor convenience and relative lack of kid appeal of Fort Wilderness as a way to get accommodations for six and a full kitchen
All these options are in loops–the campsites largely in the northern area of Fort Wilderness and more convenient to most of its amenities, and the cabins mostly in the more distant southern part.
OVERVIEW OF CAMPSITES AT FORT WILDERNESS
Campsites are in loops 100-2100, and while all allow one rig or tent plus a second tent (and hold ten people) there are profound differences among them. I'll come back to this in more detail later in this review, but here's the key points:
Some loops are optimized for tent camping and have small asphalt areas and large sand tent pads–loops 1500 and 2000. Disney used to call these "Partial Hook Up" sites, and is now more commonly calling them "Tent or Pop-Up Sites." You can book them for tent camping or for a pop-up or camper van.
Some loops have asphalt optimized for big rigs and (essentially) no tent pads–loops 400-1400.  These sites have longer and wider asphalt, and enhanced shoulder curves to help with the back-in (all Fort Wilderness RV sites are back-in). You can add a tent too, but it is very likely to be on the asphalt, have no staking ground, and limited guying options. So don't. Disney sells two types of these, "Premium Meadow" loops (600, 800, 900, 1000, and 1400), near the amenities of the Meadow area, and "Premium" loops (400, 500, 700, 1100, 1200, and 1300.)
Some loops combine good sized asphalt with a medium tent pad, and are best for those planning both an RV and a tent, or an RV smaller than the largest sizes.  Disney sells these under two names: the "Preferred" loops 100-300 near dining and Magic Kingdom boat transport, and loops 1600-1900, which Disney calls "Full Hook-Up."  In addition, Loop 2100 is also classed as a Full Hook-Up site, but these commonly have a much smaller tent pad than all the other Full Hook- Up sites. There's more on Loop 2100 here.
All campsites come with a picnic table, barbecue grill, water and electricity, and available internet service. Full Hook Up, Premium, and Preferred sites add sewer and cable.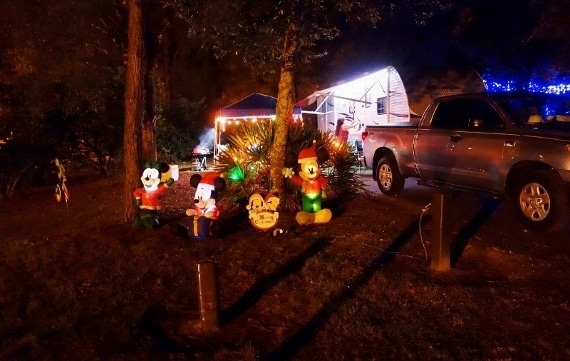 In picking loops, besides their rigs and gear, campers should also consider location–especially if they aren't bringing or renting a golf cart.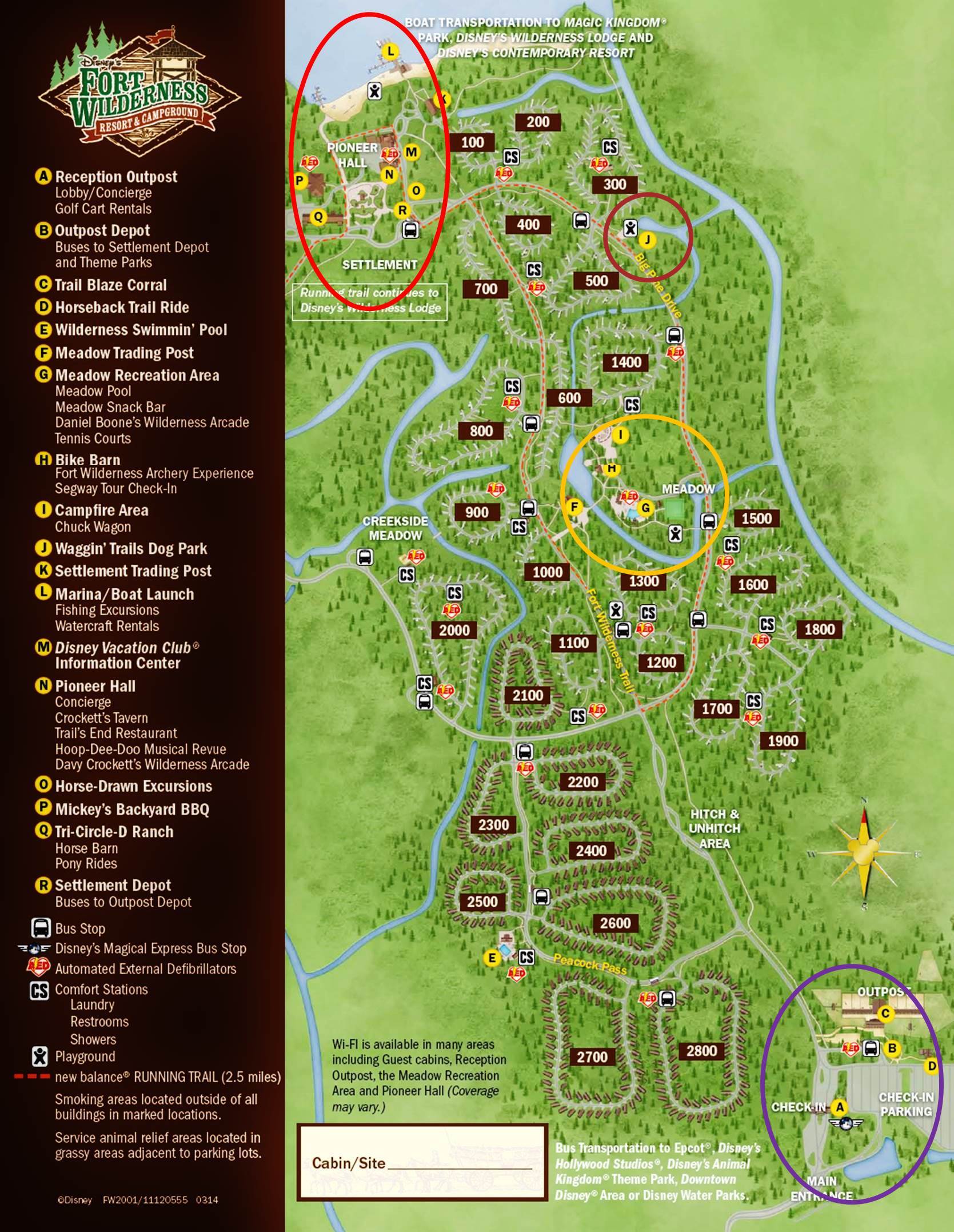 Three location points are worth noting for campers. See the annotated map.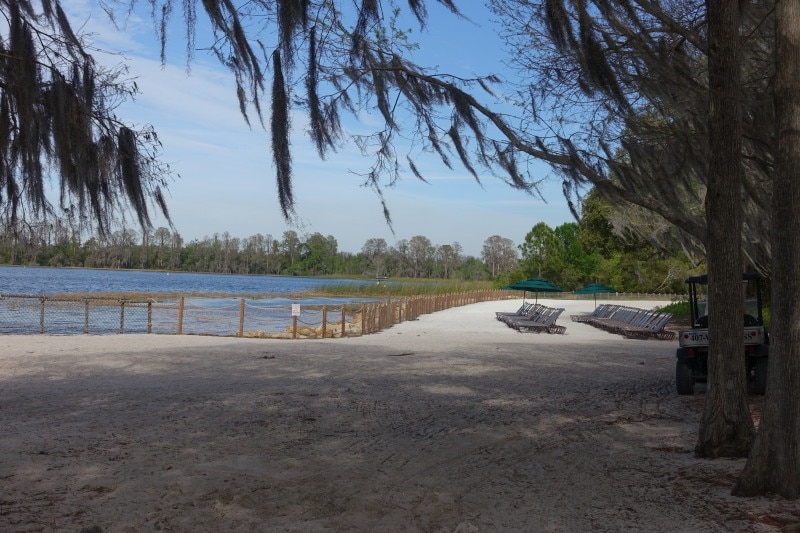 1. Closeness to the Settlement, at the far north end of Fort Wilderness circled in red on the map, where all dining but the Meadow pool snack bar is located, and where you'll find many amenities, the beach, and the boat dock for transport to the Magic Kingdom and (via another boat) to the Contemporary Resort and Wilderness Lodge. The preferred loops and some of the premium loops are near here.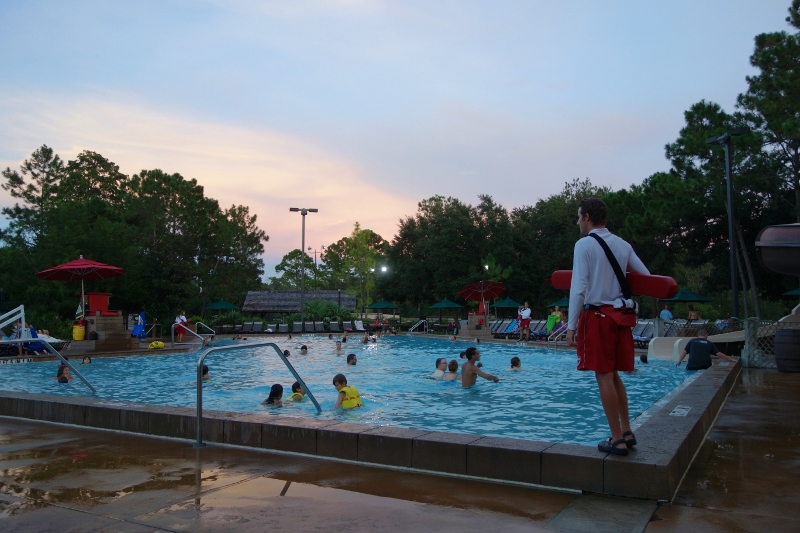 2. Closeness to the Meadow, circled in yellow on the map, where you'll find almost all the rest of the amenities, including the main pool and evening sing-along and character meet 'n' greet, watercraft and bike rental, and movies. Some of all loop types except preferred are near the Meadow. Several premium loops–specifically 400-800 and 1400–are nicely centered between the Meadow and the Settlement.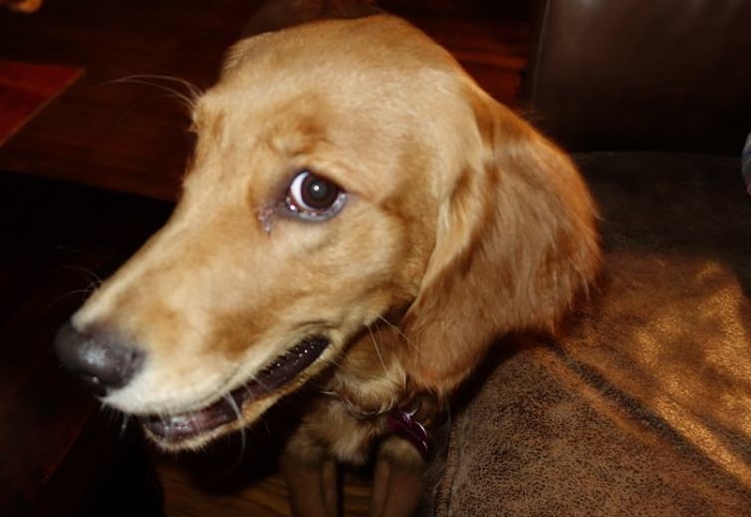 3. Closeness to the dog park, marked in brown on the map.  In a change in late 2017, Fort Wilderness changed from some camping loops being pet friendly to all loops, including cabin loops, being pet friendly. The closest loops to the dog park are preferred loop 300, and premium loops 400 and 500. If your pets are good campers–our main dog the largely useless yellow lab Rory, and our emergency back-up puppy, golden Belle (shown), bark too much for camping–you'll want one of these.
There's much more on the campsites later in this review.
OVERVIEW OF THE CABINS AT FORT WILDERNESS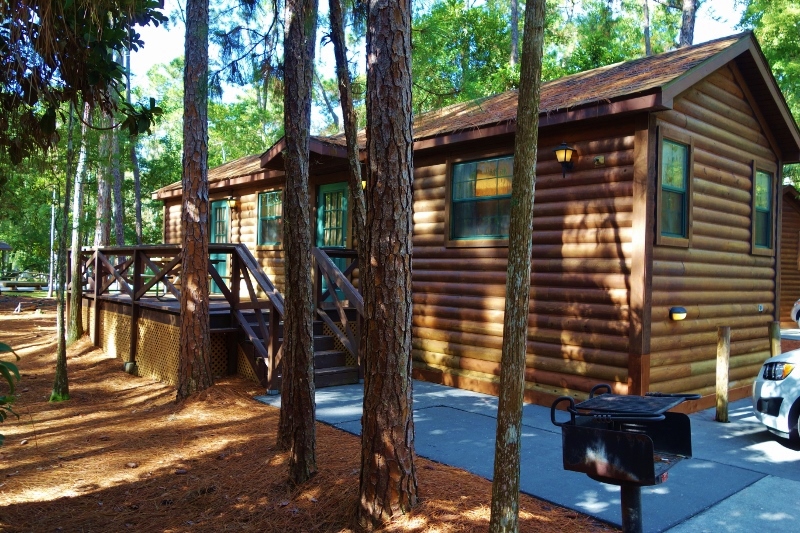 The Cabins are in loops 2200 to 2800, and are distinctive accommodations that really have nothing to do with camping but are in the same resort and share in all of its amenities.
The cabins were last refurbed in 2016. In that refurb the former full-sized Murphy bed was replaced with a queen sized sofa bed, the kitchen was simplified to just two burners and a combined microwave/convection oven, and the full bed in the back bedroom was being changed to a queen. A photo tour of the refurbed cabins begins here, and a 60 Minutes style investigation into their new ovens is here.
Little standalone structures, Cabins sleep six in a back bedroom and the living room, and come with a full kitchen although the oven is a little limited. Classed by Disney as "moderate" resorts, they are the least expensive way to get a near-full kitchen on property.
Here's the floor plan of refurbed cabins: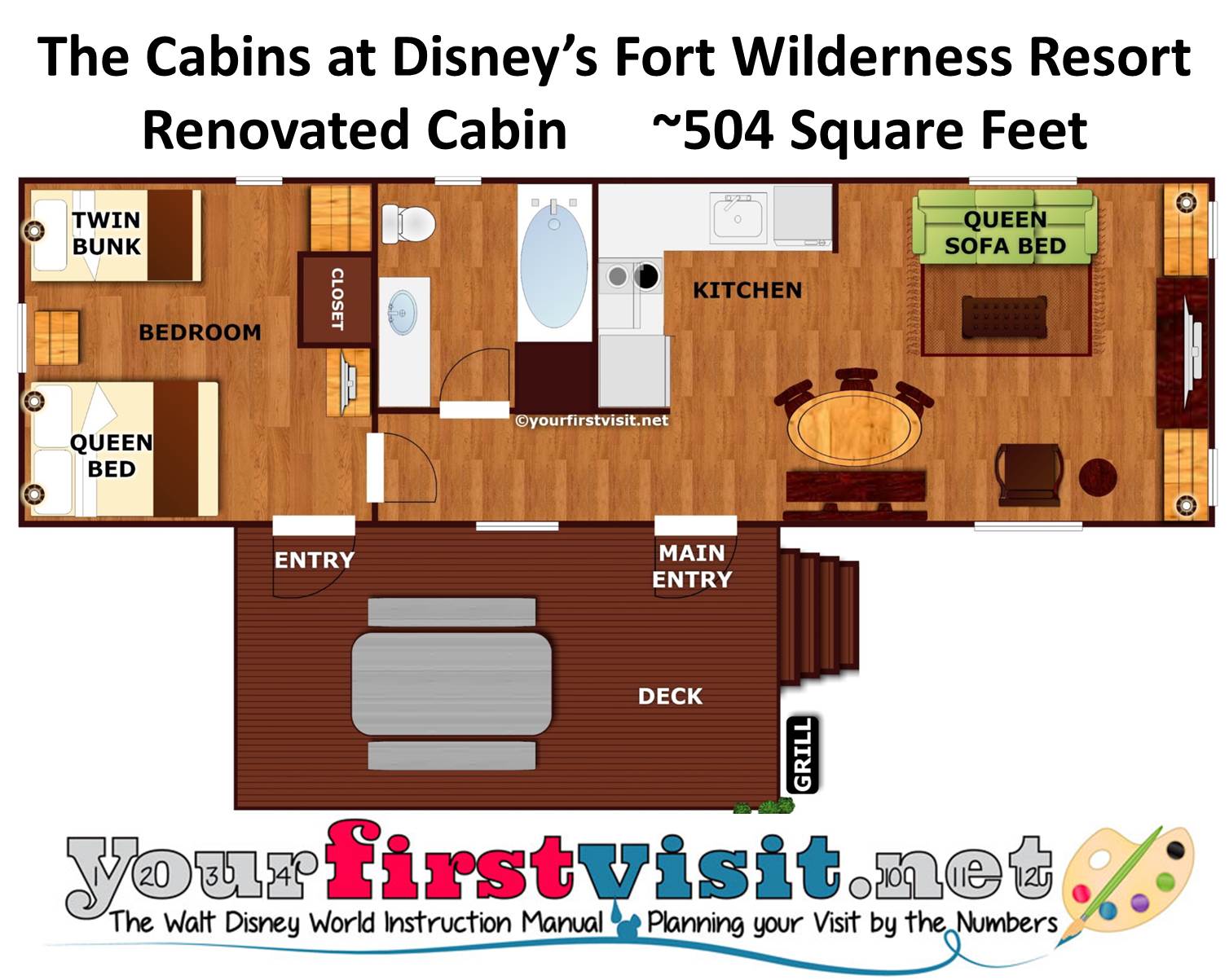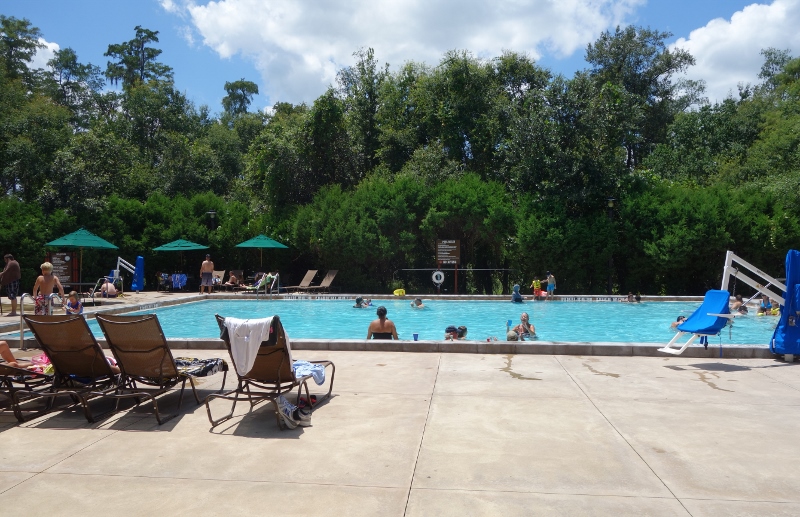 Unlike the campsites, all cabin loops have the same amenities and pricing. They are in the southwest part of Fort Wilderness, and hence far from the Settlement and, in most loops, also not close to the main pool and other amenities at the Meadow–though there's a small pool between loops 2500 and 2700. Loop 2200 is closest to the Meadow.
There's much more on the Cabins later in this review.
DINING, POOLS, AMENITIES AND SUCH AT DISNEY'S FORT WILDERNESS RESORT
Fort Wilderness has as wide a range of amenities as you'll find at any Disney resort except for fine dining.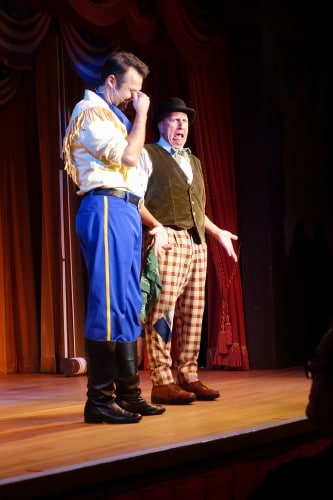 Dining at Fort Wilderness includes the storied Hoop-Dee-Doo Revue, and the under-rated Trail's End, with breakfast and dinner buffet. Food is also offered to go via P & J's Southern Takeout. There's also a bar, Crockett's Tavern.
All these are at the far northern end of the resort, the Settlement. Sandwiches are also available at the Meadow pool snack bar. There's more on these dining options later in this review.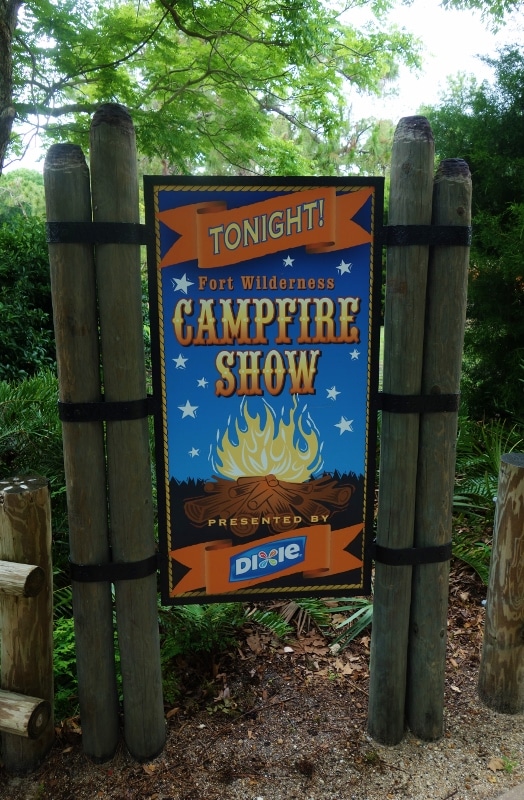 Amenities at Fort Wilderness cover both campground-style activities and traditional Disney resort offerings, meaning it has more going on than any other Disney resort.  Options range from archery to kayaking to sing-alongs and movies under the stars. More on all these is later in this review.
Fort Wilderness has two pools. The main pool is in the Meadow area, and there is a small pool that's a shorter walk from most cabins between loops 2500 and 2700. The last page of this review has more on these pools.
BEST PLACES TO STAY AT DISNEY'S FORT WILDERNESS RESORT
There's much disagreement on the best loops at Fort Wilderness, partly because people use the resort in different ways.
For campsite loops,
If your campsite trip is focused on dining, the Magic Kingdom, or beaches and water sports, then one of the preferred loops 100-300 near the Settlement is best–though tent campers will find themselves in a sea of rumbling RVs.
If your campsite trip is balanced across many parks, and you expect to spend a lot of time at the pool and using other Fort amenities, then a centered loop near the Meadow area is best–this includes almost all the premium loops except 1100 and 1200, tent and pop up loop 1500, and full hook-up loop 1600.
The online check-in form for the campsites lets you directly request a loop, and describe certain features of your rig.
The Cabin loops aren't really near anything useful, but 2200 is closest to the Meadow area.
This review continues here.
TOPICS COVERED IN THIS REVIEW OF DISNEY'S FORT WILDERNESS
OTHER KEY PAGES FOR WHERE TO STAY AT DISNEY WORLD


Follow yourfirstvisit.net on Facebook or Twitter or Pinterest!!