Photo Tour of a Refurbed Cabin at Disney's Fort Wilderness Resort: Kitchen, Living and Dining Rooms
By Dave Shute
(For the first page of this review of Disney's Fort Wilderness Resort, click here.)
A PHOTO TOUR OF A REFURBED CABIN AT DISNEY'S FORT WILDERNESS RESORT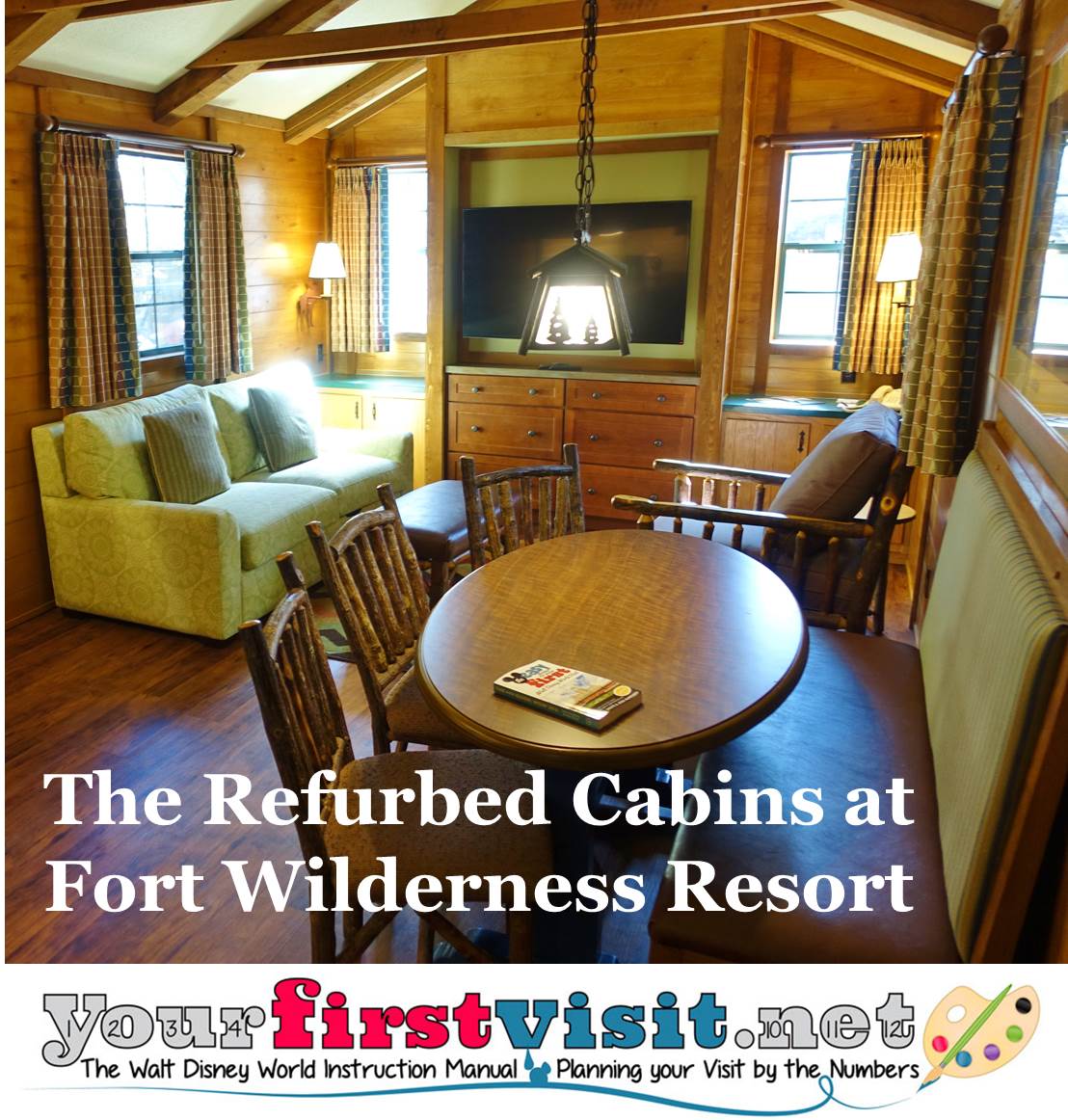 The Cabins at Fort Wilderness have been refurbed, and this photo tour is of one of the refurbed cabins.
All Cabins except those in Loops 2100 were refurbed.  The Cabins that were in Loop 2100 have been removed–this loop has been converted to a campsite loop.
Besides changes to color schemes, the key features of the refurb are as follows:
The full sized Murphy bed in the living room is replaced with a queen sized-sofa bed
The kitchen is  simplified, losing two of the old four burners, and seeing the old separate oven and microwave converted into a single combined object that based on my tests largely works fine as an oven but can't broil and won't deliver oven heat greater than 450 degrees (so no broiling), and
The old full bed in the back bedroom is changed to a queen.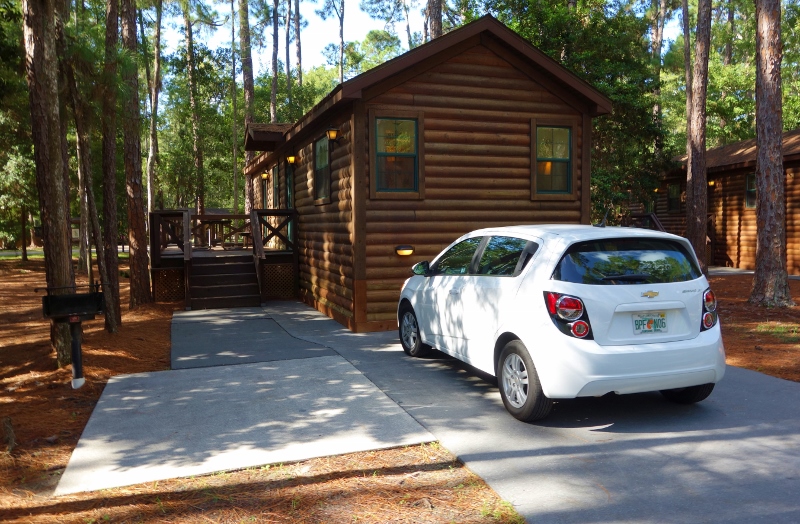 The first thing to note on approaching The Cabins at Disney's Fort Wilderness Resort is that you can park right outside…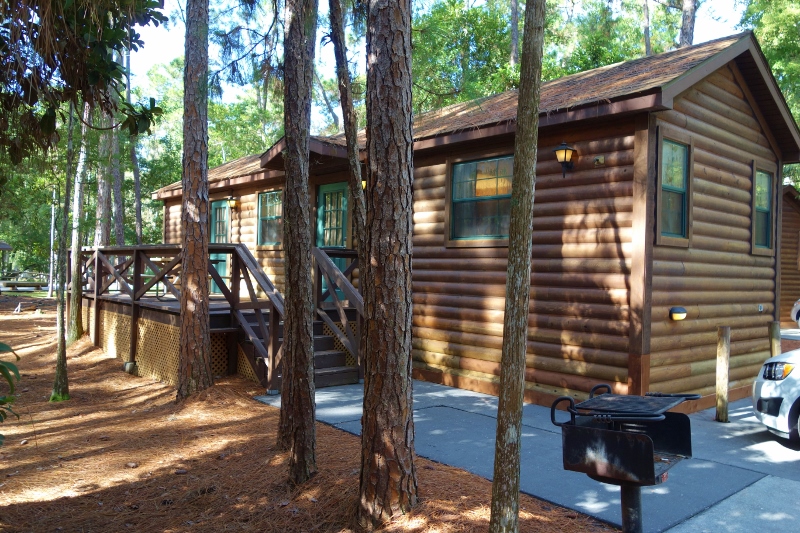 …and that your cabin comes with its own grill. Nothing else at Disney World offers both these amenities except the Treehouse Villas.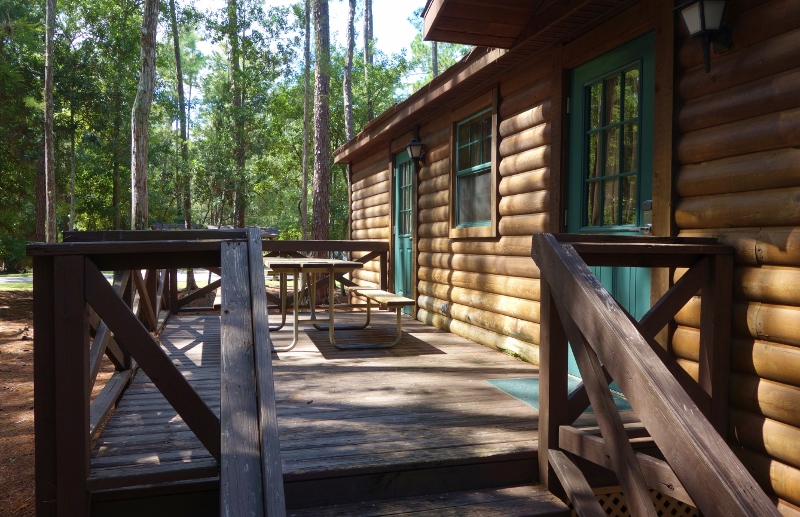 The deck itself is quite large, and includes a picnic table that seats six.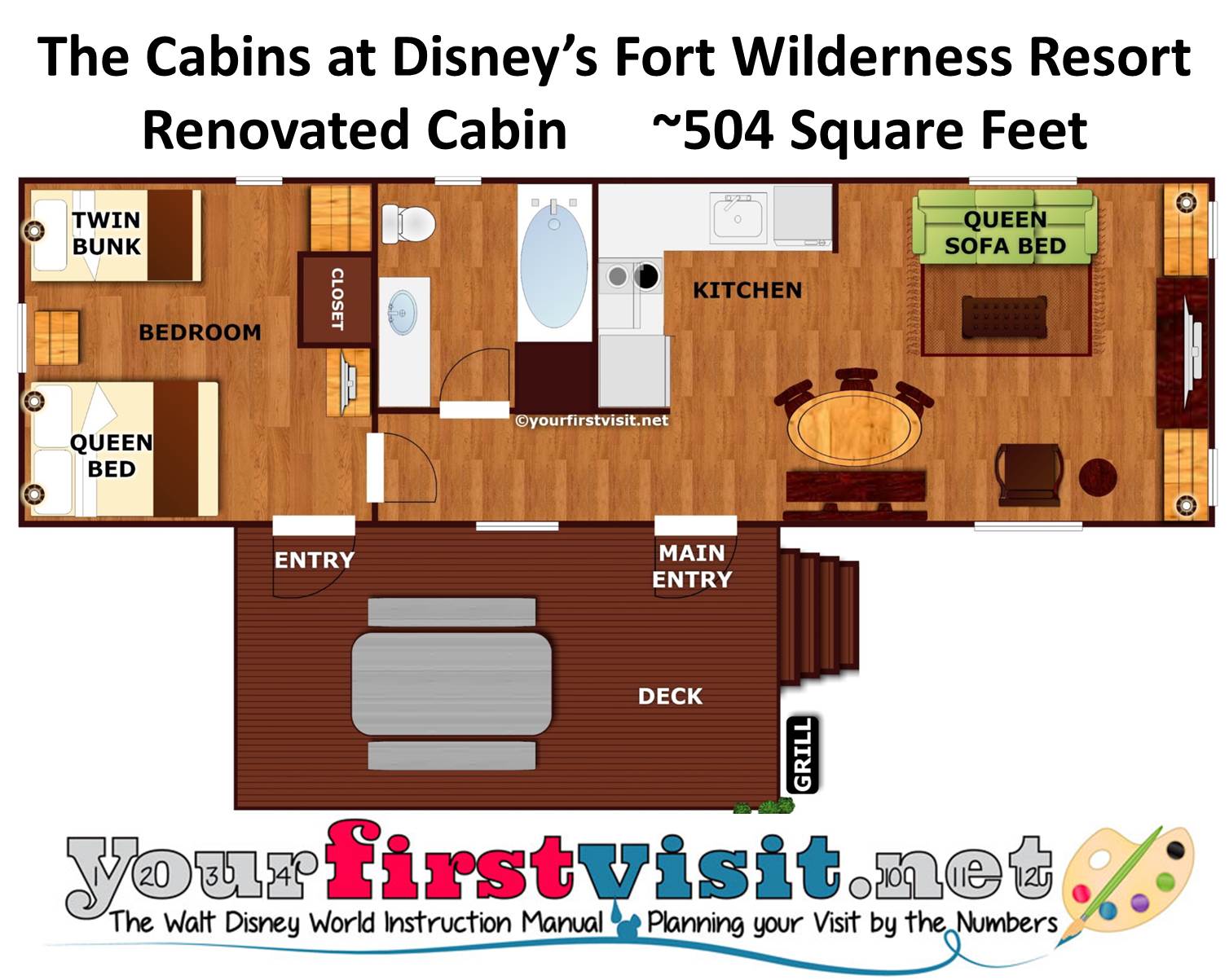 THE KITCHEN IN THE CABINS AT DISNEY'S FORT WILDERNESS RESORT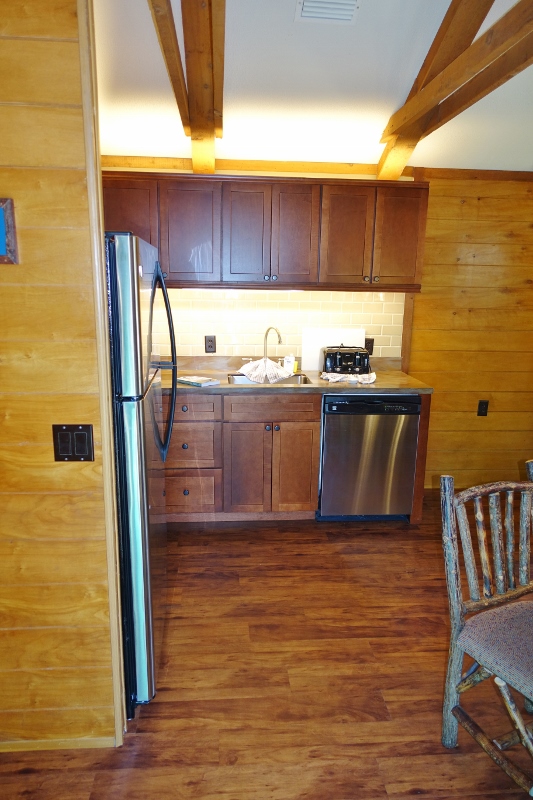 The main door of the Cabins at Fort Wilderness opens directly into the kitchen.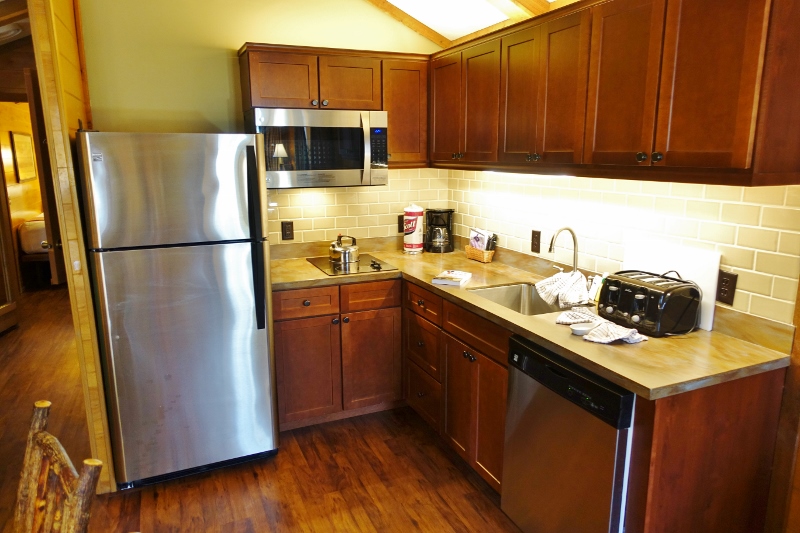 This kitchen has some limits, but is largely functional for prepping, cooking and serving meals.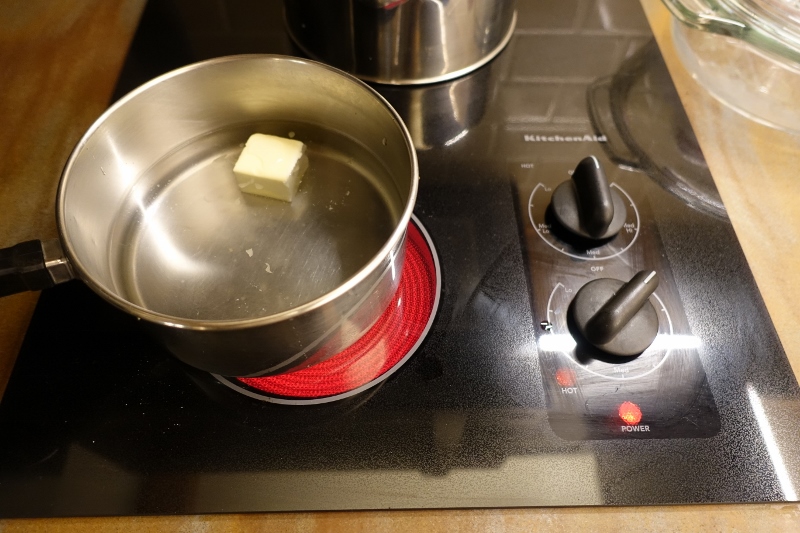 The main limits are having just a two burner stove…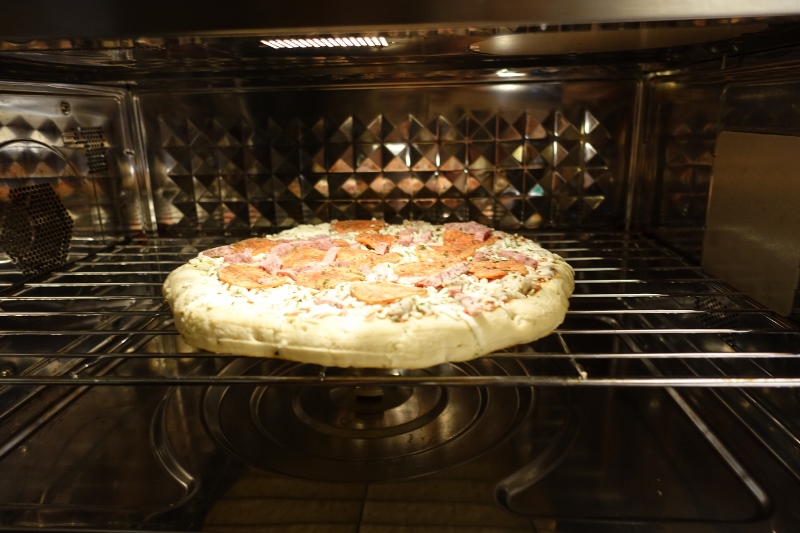 …and a combined microwave-convection oven that can't broil or even go above 450 degrees…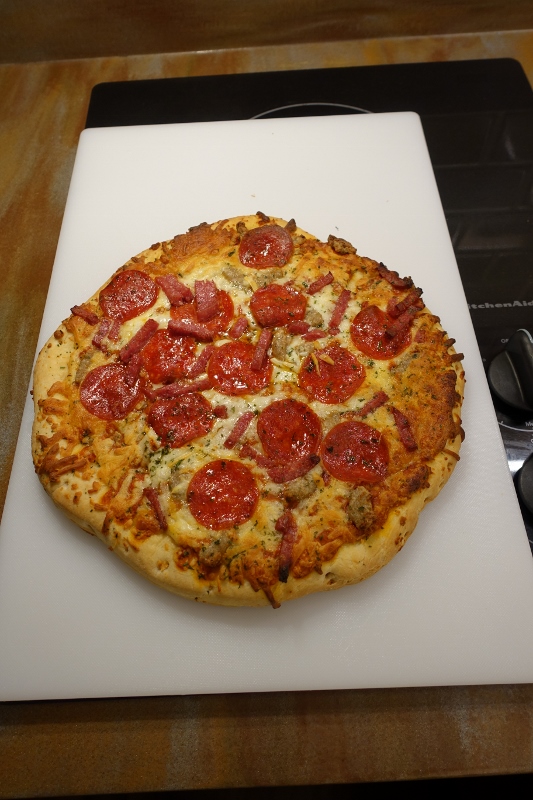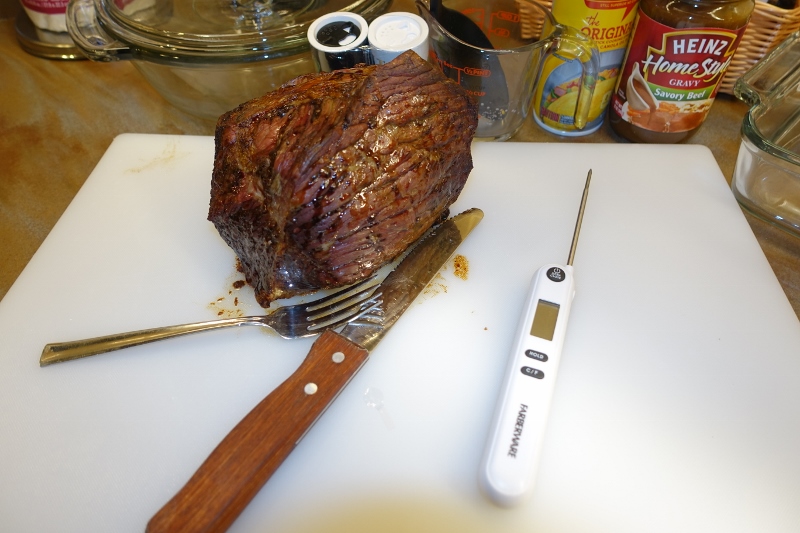 …but is otherwise fully functional as a microwave, and largely functional as an oven. A full report on this new oven in the Cabins at Fort Wilderness is here.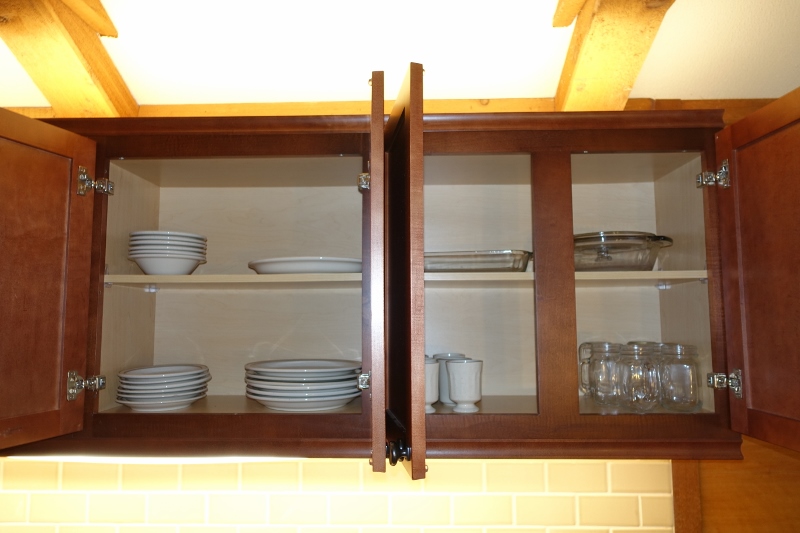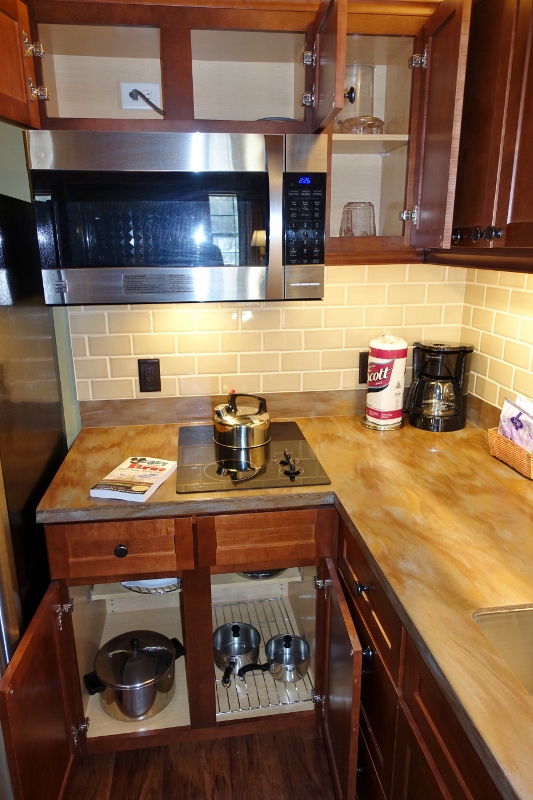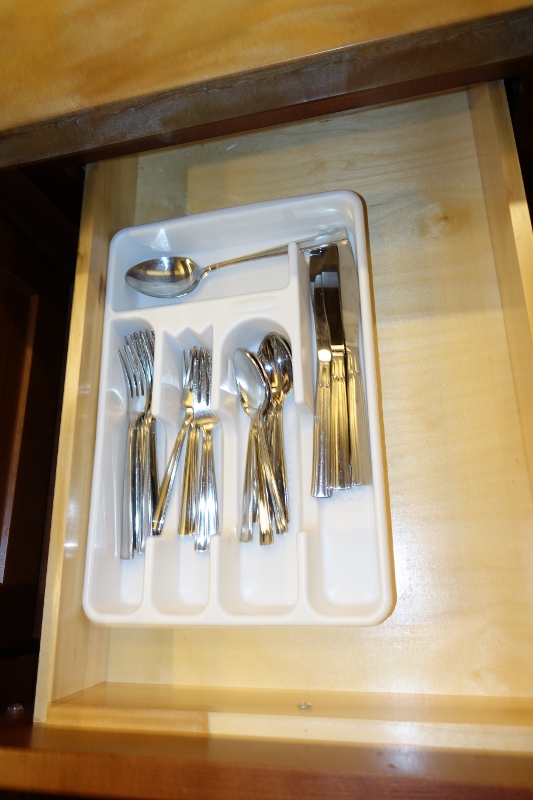 Besides having these appliances, the kitchen comes supplied with the basics you need to prep, cook, and serve meals for a family of six…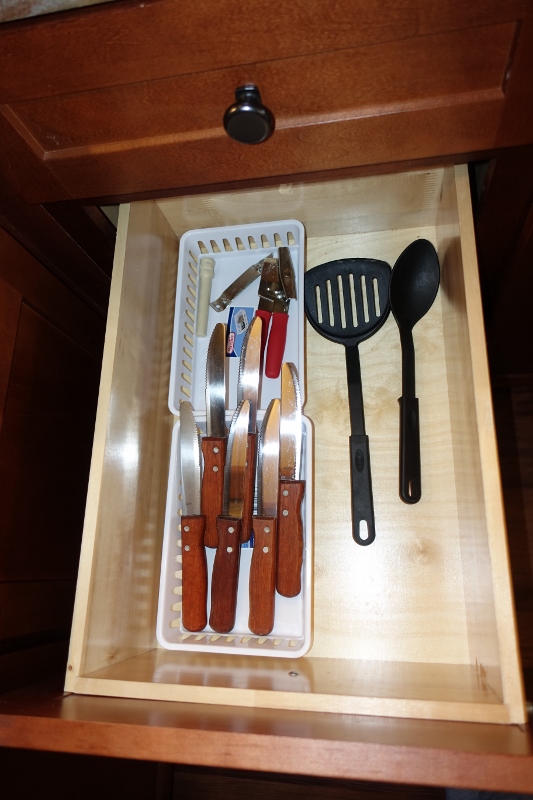 …although tools are limited–no knives other than steak knives, a plastic spatula and spoon, can opener, bottle opener, and corkscrew.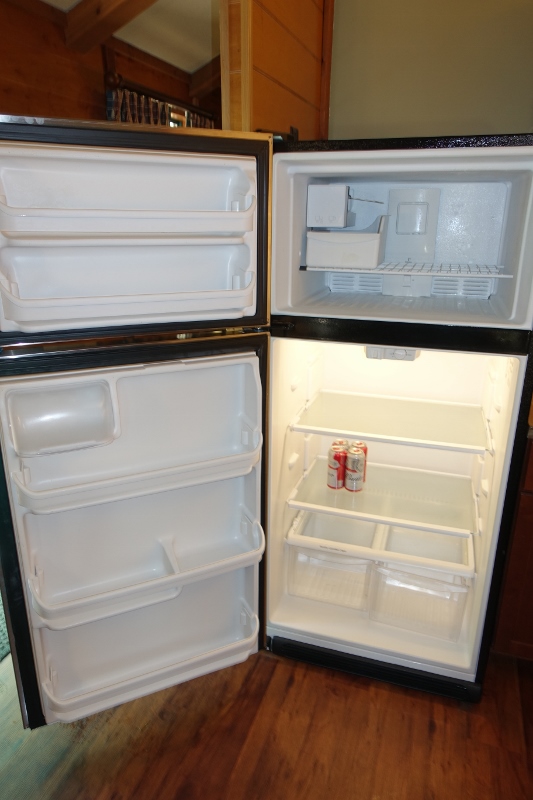 It also comes with a standard fridge/freezer unit, with plenty of capacity.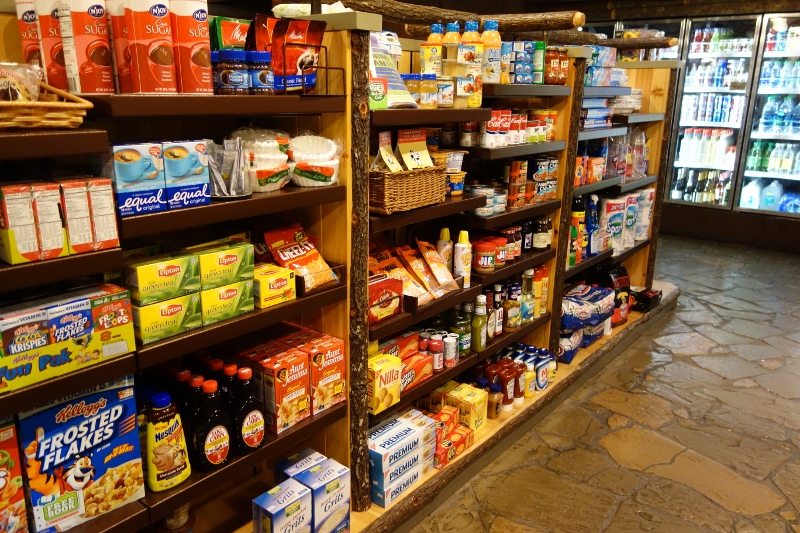 You can stock your fridge from one of the two stores at Fort Wilderness (this photo shows all the brands of my childhood)…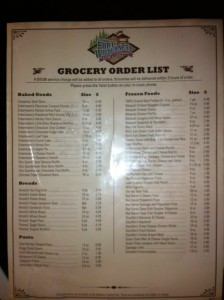 …by calling in an order, and having the campsite staff deliver it; or, least expensively, by driving to one of the many grocery stores within 15 minutes or so of the Cabins.
Counter space here is thin–though there's more than in the un-refurbed cabins–and you really need to use the dining table to prepare any substantive recipe.
There's plenty of food storage space, and you can consolidate the stuff in the kitchen cabinets and drawers to create even more space.
THE DINING/LIVING/MURPHY BED SPACE IN THE CABINS AT DISNEY'S FORT WILDERNESS RESORT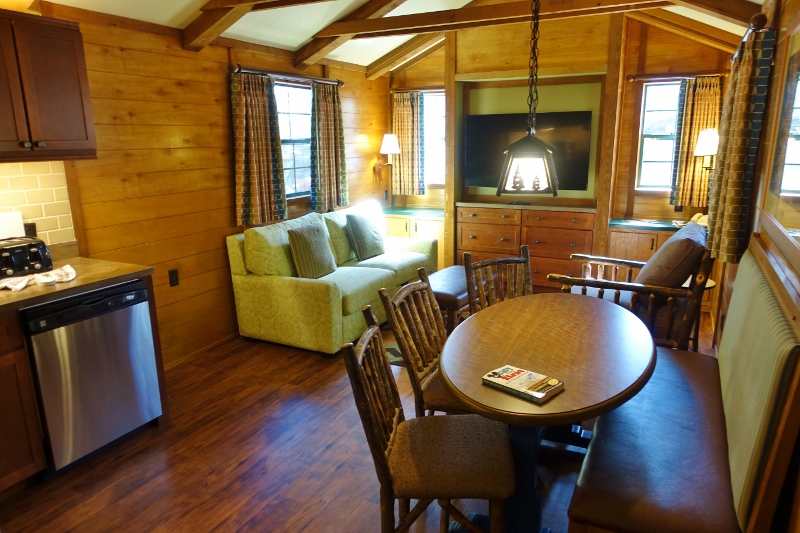 The kitchen shares space with the combined living and dining area.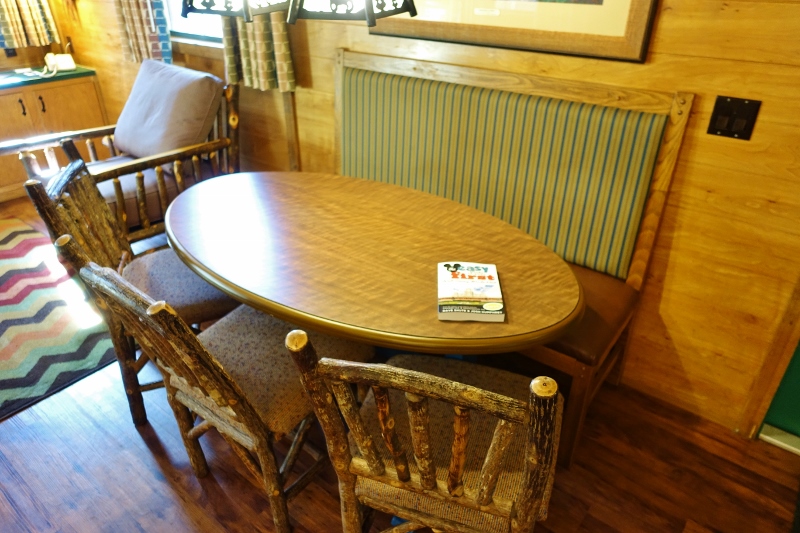 The dining table includes three full-sized chairs and a bench, and easily seats six, if three can fit along the bench.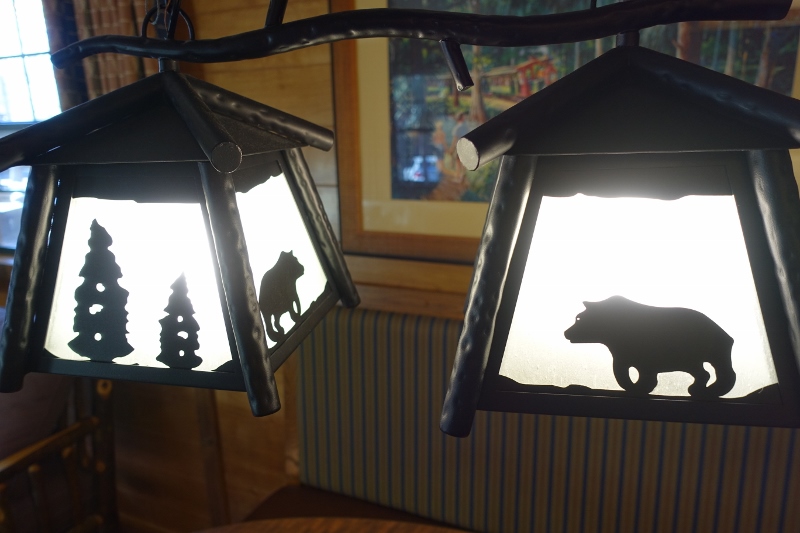 It has these fun lights above…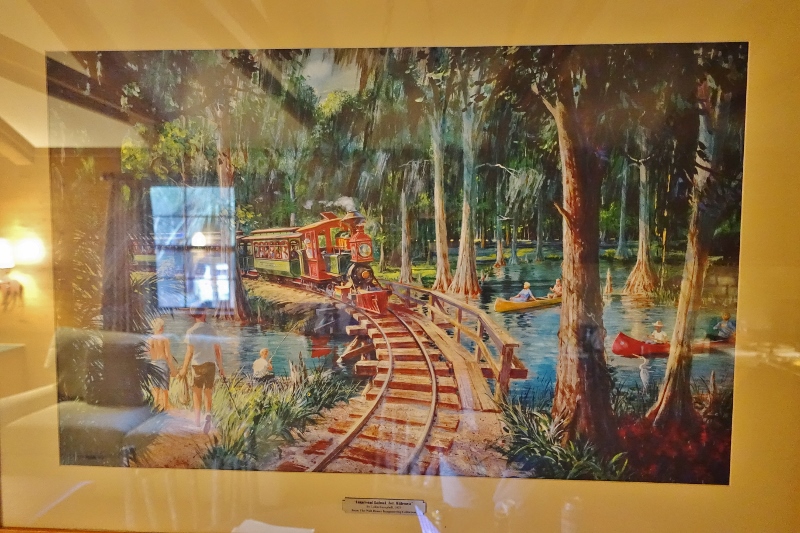 …and this image of the old Fort Wilderness railroad behind it.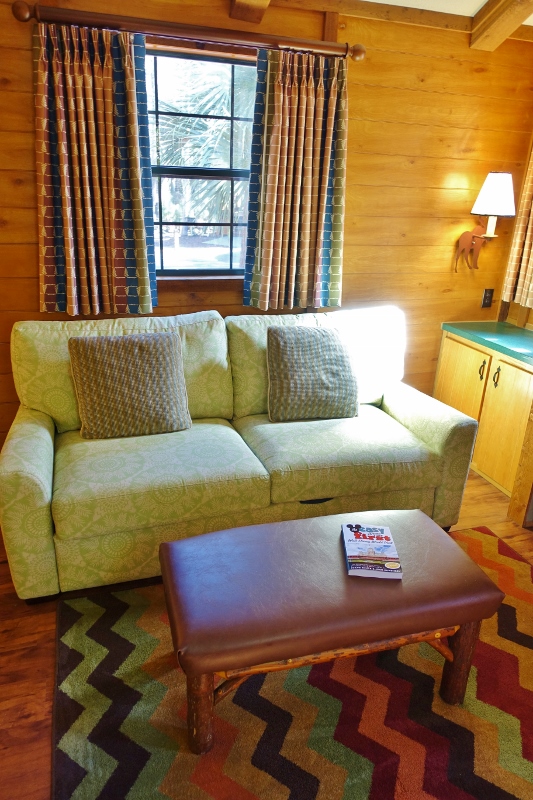 Across the room from the dining table is a couch that seats two or three…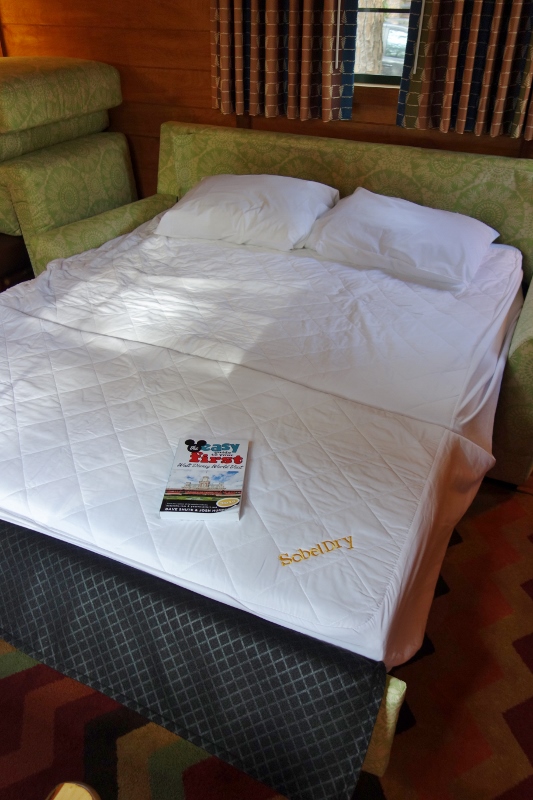 …and folds out into a queen-sized bed.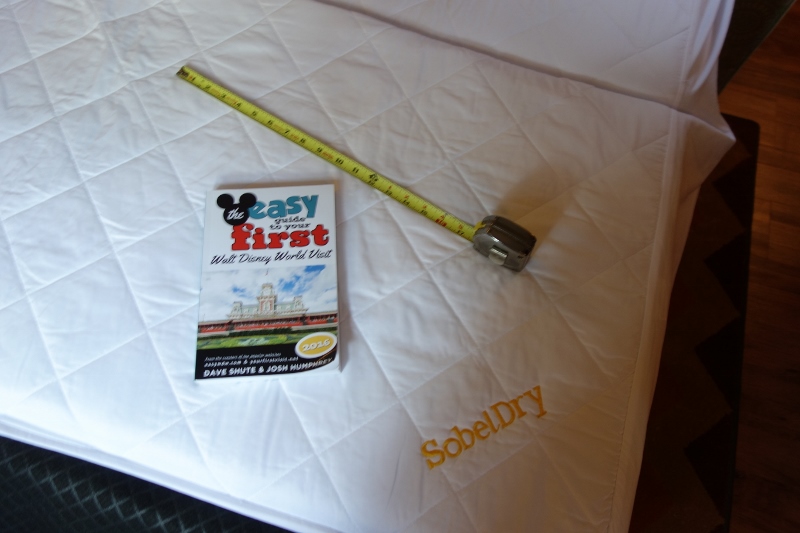 I measured the cushion as 5 inches deep, and slept on this sofa bed just fine. The queen sofa-bed fits the room much better than the old full Murphy bed ever did…and of course a queen is better than a full.
Note that in front of the couch there's a padded object that can serve as either a footstool or a seat.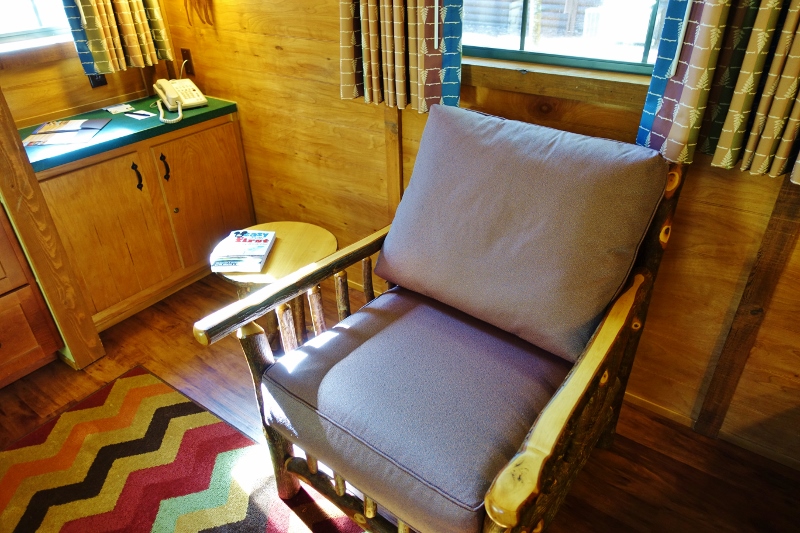 Across from the couch is this easy chair that replaces what used to be a darling set of kid-sized table and chairs.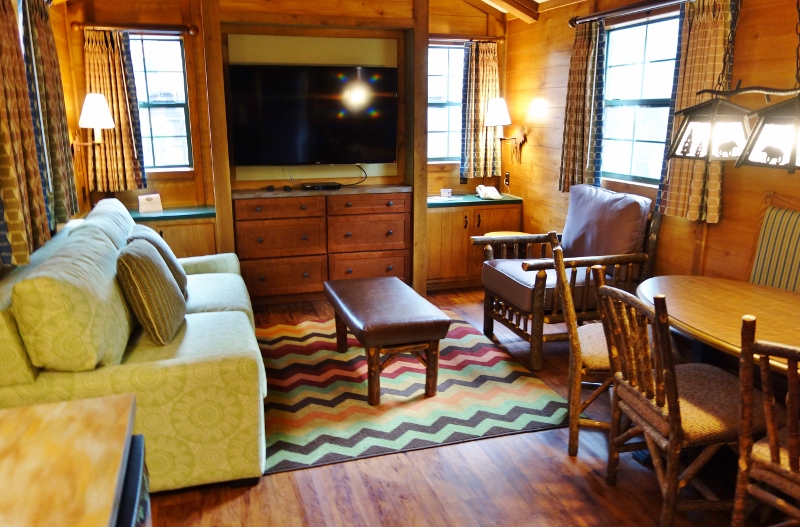 The back wall replaces what used to be a Murphy bed with a TV above and storage below.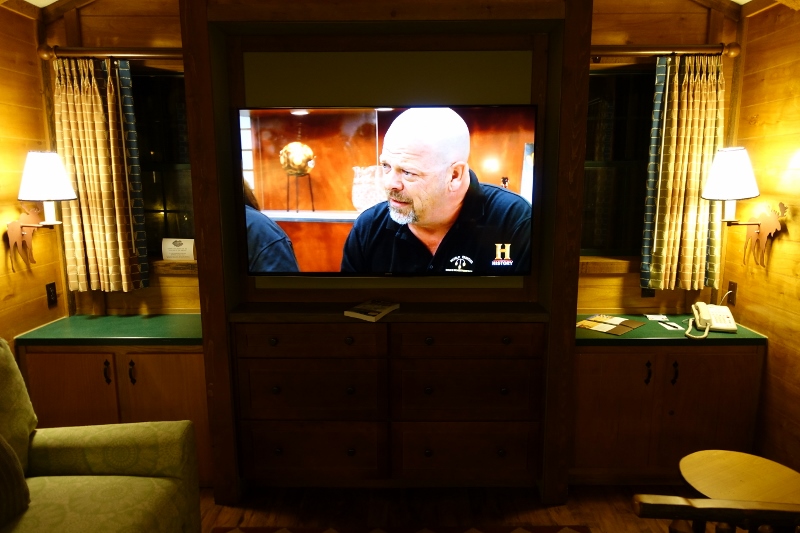 The TV, with a 54″ diagonal, is either ginormous or the expected size, depending on how old you are.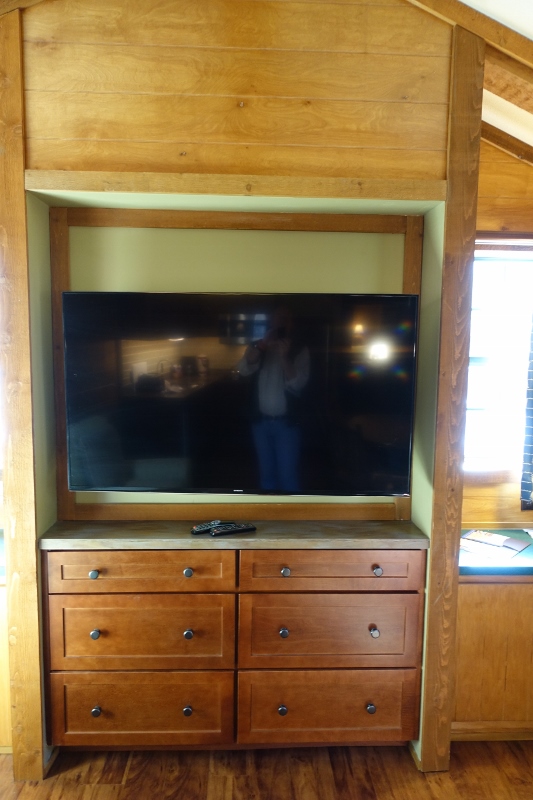 These cabins used to suffer from not having enough storage space for the six people they hold.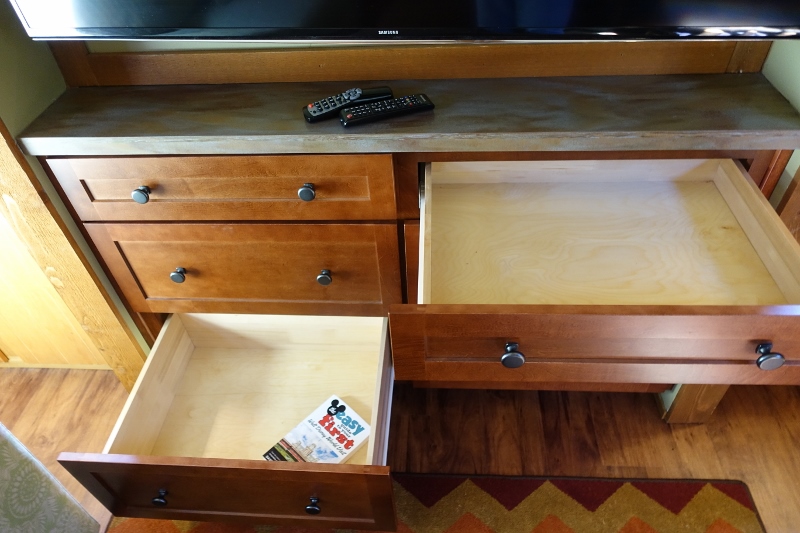 The conversion of the lower part of the old Murphy bed slot into six drawers of storage totally fixes that.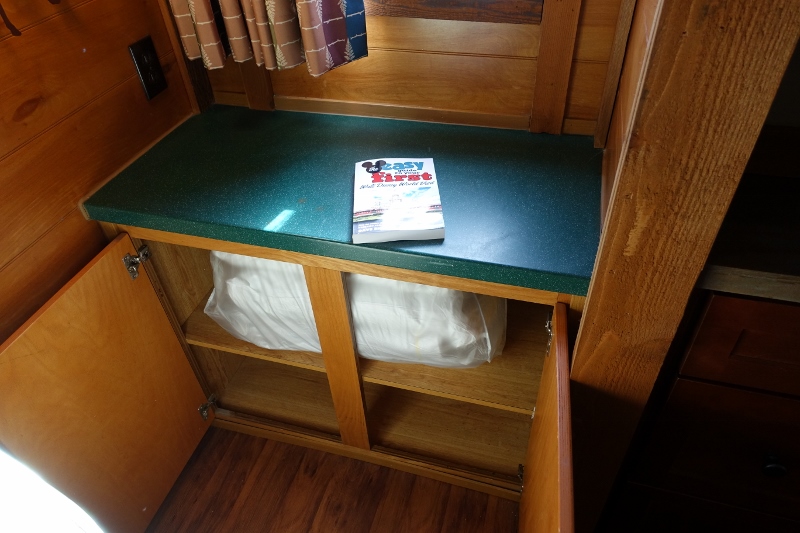 The storage cabinets on either side remain…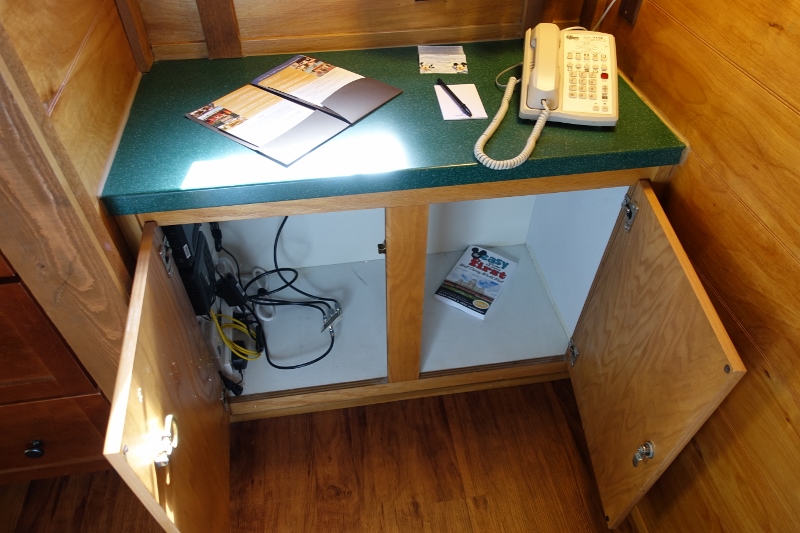 …although the one on the right now contains the electronic gear and has a lock built in that was not locked on either of my stays in these refurbed cabins.  I won't be surprised to find this side locked on my next stay in one of these cute little cabins.
This review continues here!
TOPICS IN THIS REVIEW OF DISNEY'S FORT WILDERNESS RESORT
OTHER KEY PAGES FOR WHERE TO STAY AT DISNEY WORLD


Follow yourfirstvisit.net on Facebook or Twitter or Pinterest!!
RELATED STUFF