Review: Disney's Beach Club Villas, Continued
By Dave Shute
This is the second page of this review of Disney's Beach Club Villas. For the first page of this material, click here.
MORE ON DISNEY'S BEACH CLUB VILLAS
Disney's Beach Club Villas is one of 8 official Disney Vacation Club resorts at Walt Disney World.
However, I count them as ten, because two of the resorts–Saratoga Springs and the Animal Kingdom Villas–have two very different areas.
In order of their appropriateness for first time family visitors to Walt Disney World, they are:
Disney's Beach Club Villas comes in 6th on the list. These resorts are available to anyone to reserve through the regular Walt Disney World website or the resort reservations phone number at 407-939-7675.
They also are available to the general public at great discounts through renting points from a Disney Vacation Club member.
All Disney Vacation Club resorts have studio rooms, One-Bedroom Villas, and Two-Bedroom Villas.
Most have Grand Villas as well.
Disney's Beach Club Villas does not have Grand Villas. The other three room types are covered on this page.
STUDIOS AT DISNEY'S BEACH CLUB VILLAS
At Disney's Beach Club Villas, Studios sleep four and have a microwave and mini fridge.
The microwave is one of several ways Studios are different from regular rooms at the Beach Club.
A second distinction is that the second bed is a full fold-out couch, rather than a queen.
A third is that these rooms sleep one fewer person, and have one less sleeping space, than Beach Club rooms with two queens and a convertible couch (some Beach Club rooms don't have the couch).
The studios are about 30 square feet smaller than standard rooms at the Beach Club, and they feel even smaller than this, as the bath area of the studios (because of the choice of where to put the closet) is larger than that at in the standard Beach Club rooms.
These studios go for about the same price as regular standard Beach Club rooms.  I don't see how the microwave makes up for the smaller living space and smaller second bed, so I can't recommend these rooms over the Beach Club itself for first time family visitors.
ONE-BEDROOM VILLAS AT DISNEY'S BEACH CLUB VILLAS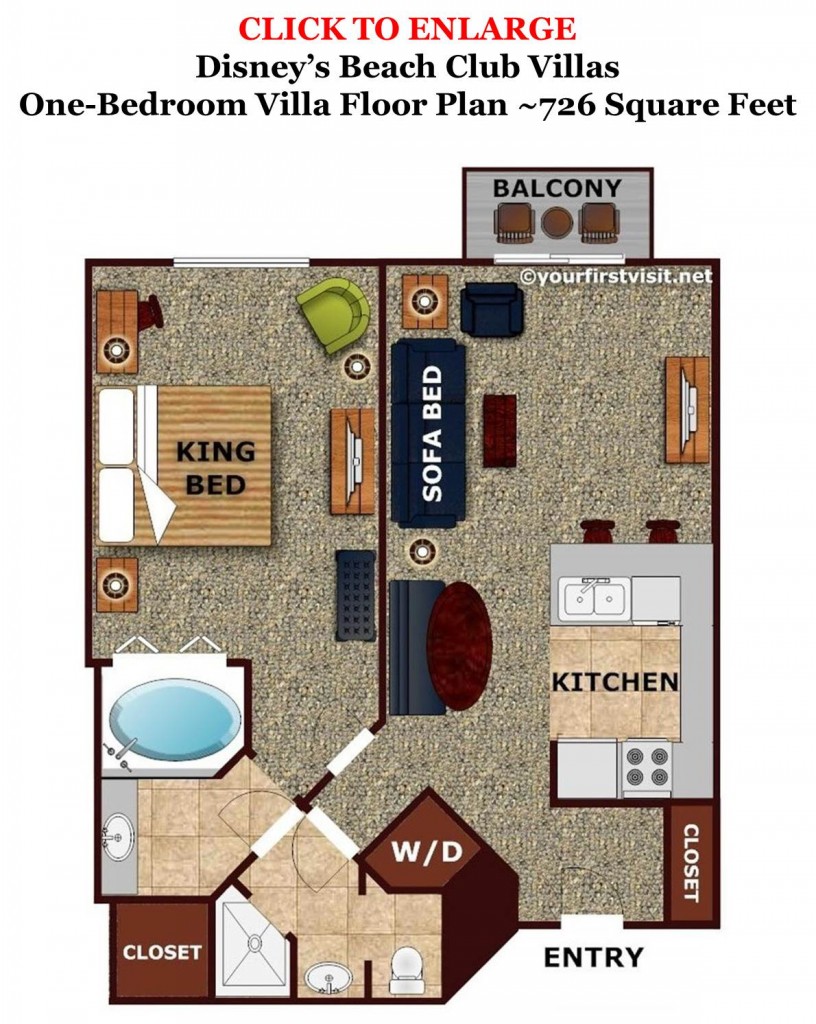 One-Bedroom Villas at the Beach Club have a master bedroom with a king bed.
They have as well a full kitchen/dining/ living space, a washer/dryer, and sleep 4 in about twice the space of a studio.
The two additional sleeping spots are on a good-sized but thin fold-out couch in the living room space.
The bath is shared, with access to it from both sleeping spaces. The kids don't need to enter the master bedroom to get to this bath.
One-Bedroom Villas are among the most comfortable ways to stay at Walt Disney World.
Depending on the price season, these villas are only around 40% more expensive than a standard Beach Club room, for twice the space.
The additional space, full kitchens, and living and dining furniture are hard to beat, even though if you are following one of this site's itineraries you won't be in your room much to enjoy them!
They aren't for everyone…but the value is there if you can afford it and your family fits.
TWO-BEDROOM VILLAS AT DISNEY'S BEACH CLUB VILLAS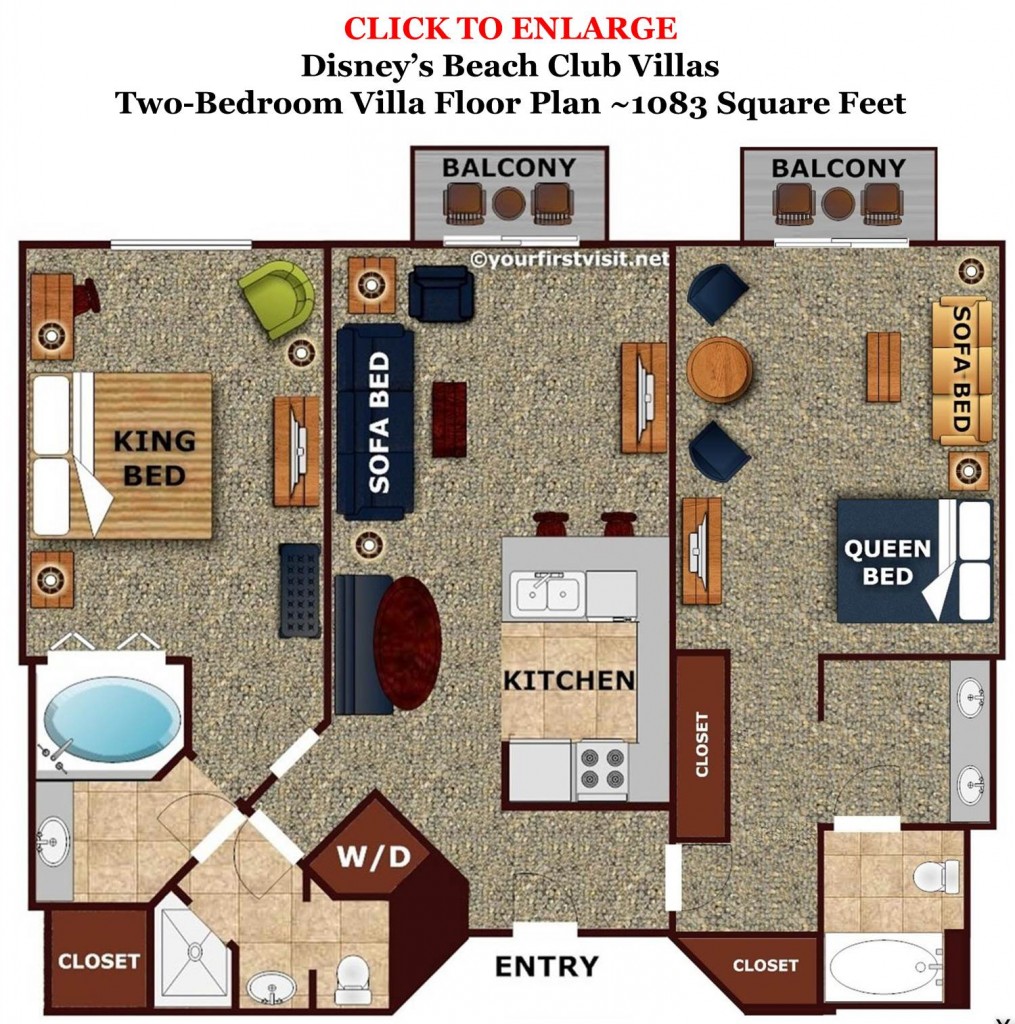 Two-Bedroom Villas add a second bedroom with a queen and a large 2 person sleeper sofa, and another balcony, to the amenities of a One-Bedroom, and sleep 8.
Two-Bedroom Villas can be either cramped or comfortable, depending both on how you use them and what you are comparing them to.
Like almost all DVC Two-Bedroom Villas, in Disney's Beach Club Villas Two-Bedrooms there isn't enough seating space in either the living room or in the dining spaces for all the people these rooms will fit. (Old Key West Resort and the Treehouse Villas are exceptions.)
The living room chairs will seat four to five people, with two more chairs available at the kitchen's breakfast bar.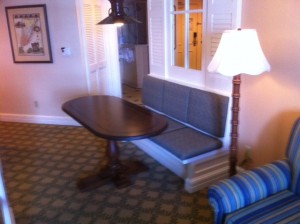 The dining table will seat at most five, taking the two chairs from the breakfast bar and adding them to the three spaces the table comes with.
So if you are filling a two bedroom with 8 people, things can get awkward, especially compared to the ease with which One-Bedroom Villas fit the people they can sleep.
These space and circulation issues are part of the reason why these rooms are only about 50-75% more expensive than One Bedroom Villas, even though they have double the sleeping capacity.
On the other hand, depending on the price season, a Two-Bedroom is around the same price as two standard Beach Club Inn rooms, but provides 50% more space, and, compared to those rooms, all that extra kitchen/dining/living space and furniture.
If your family's sleeping needs will fit in the bedrooms–that is, if you don't need to use the fold-out bed in the living space–Two-Bedrooms are a particularly comfortable option.
(To each of the capacity figures above, you can add one more kid under 3 at time of check in who sleeps in a crib.)
PAGES: Previous |  1  |  2 | 3 | 4 | Next
RELATED STUFF