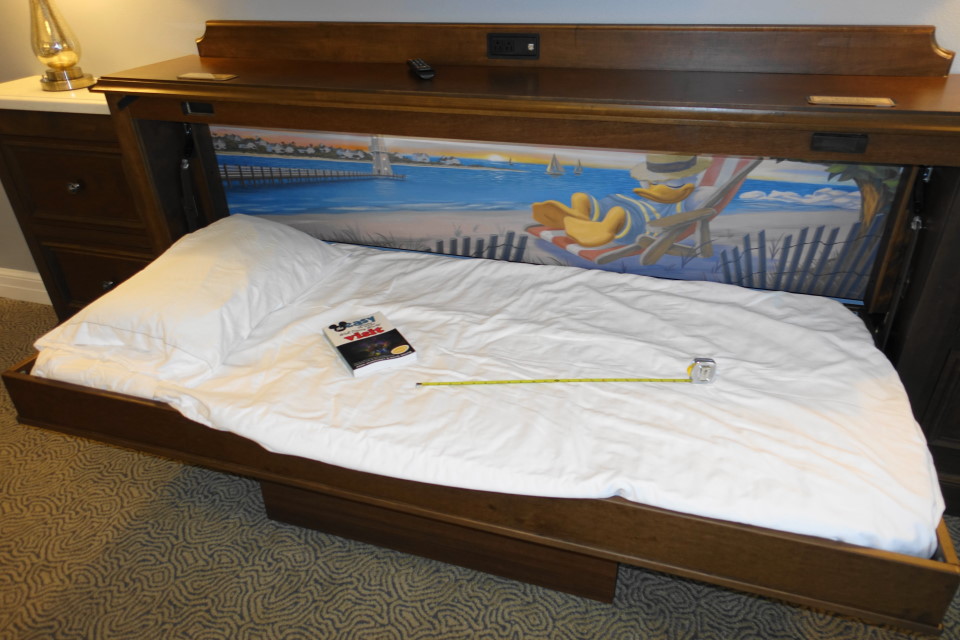 (For the first page of this review of Disney's Beach Club Villas, see this.)
PHOTO TOUR OF A STUDIO AT DISNEY'S BEACH CLUB VILLAS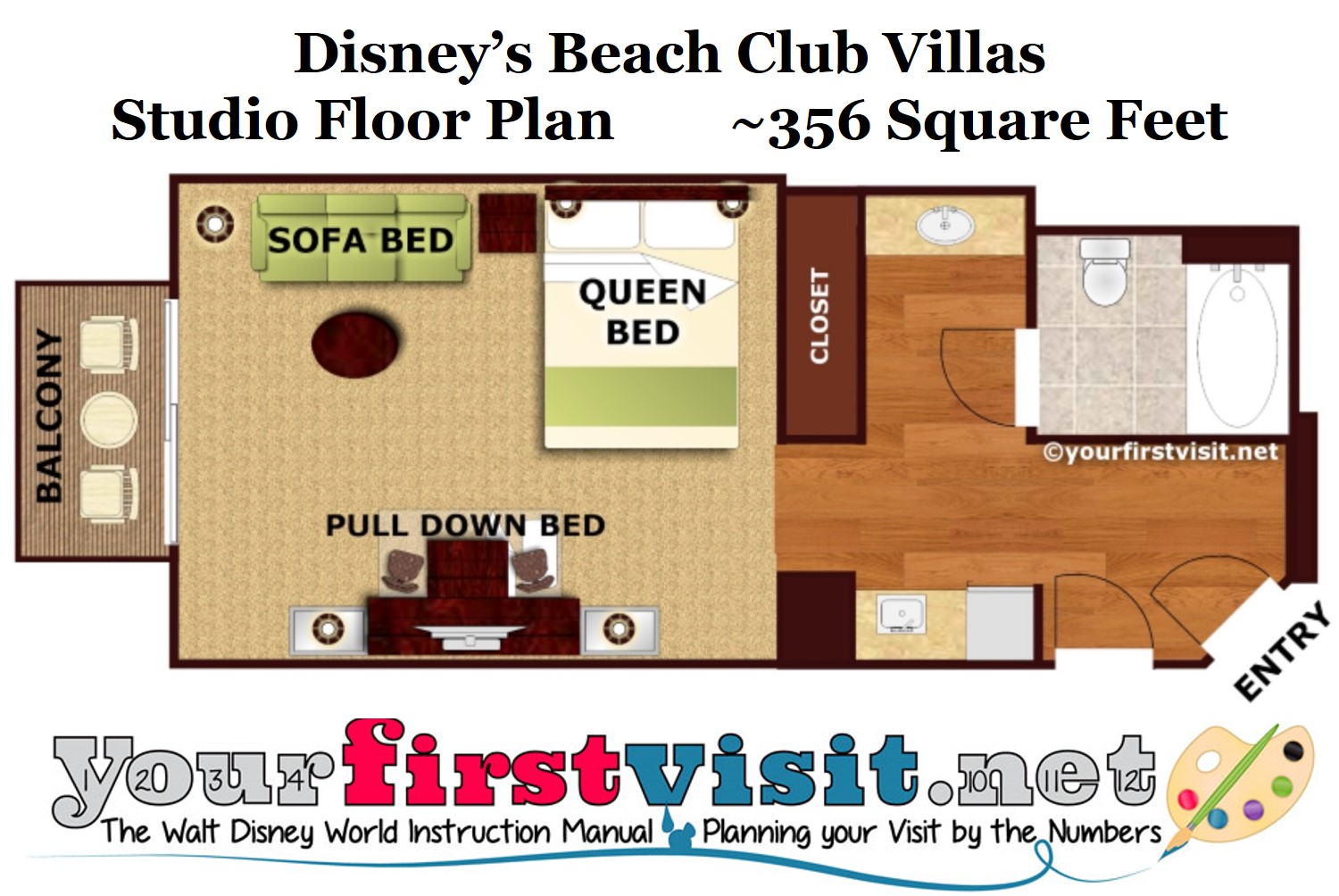 Studios at Disney's Beach Club Villas, after their 2016 renovation, sleep five, on a queen bed, a fold-out sofa bed about the size of a full bed, and a flip-down bed about 75″ by 33″ that sleeps shorter than that.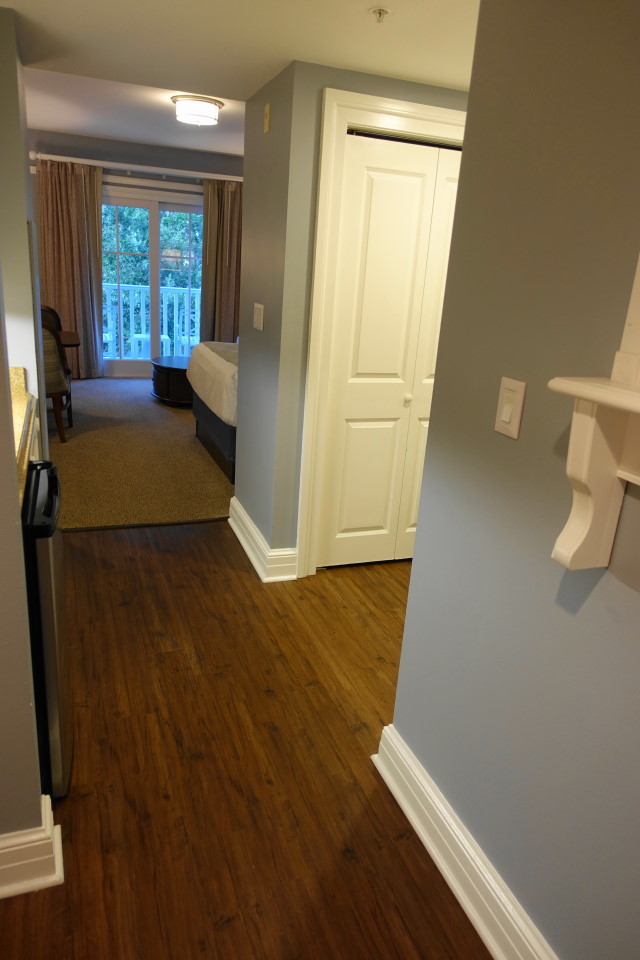 You enter into a hall with the bath and closet on one side, and a kitchenette on the other.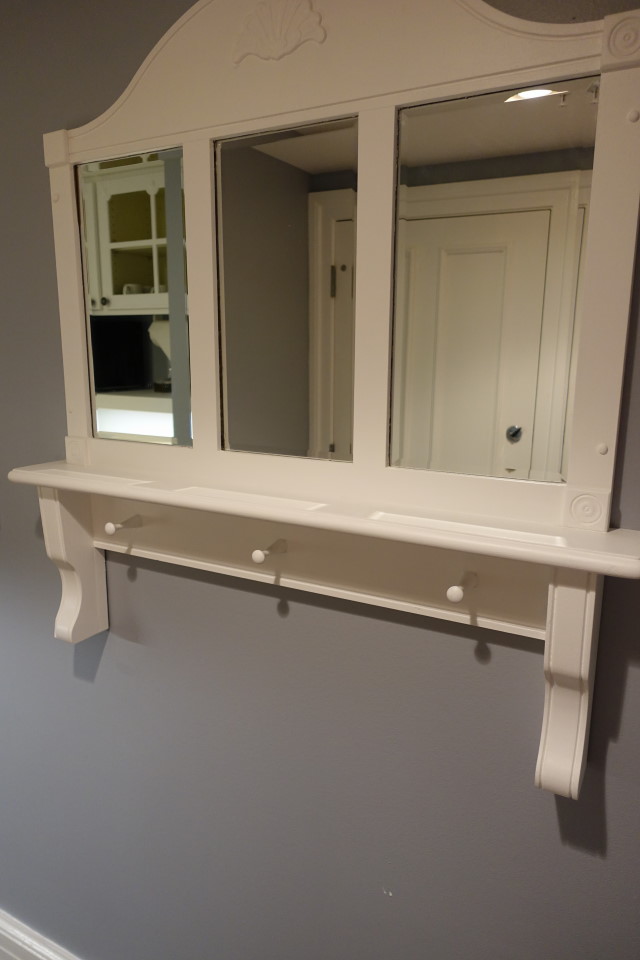 The first item you'll see is this hat rack. The door reflected in the mirror is the connecting door to a One Bedroom Villa.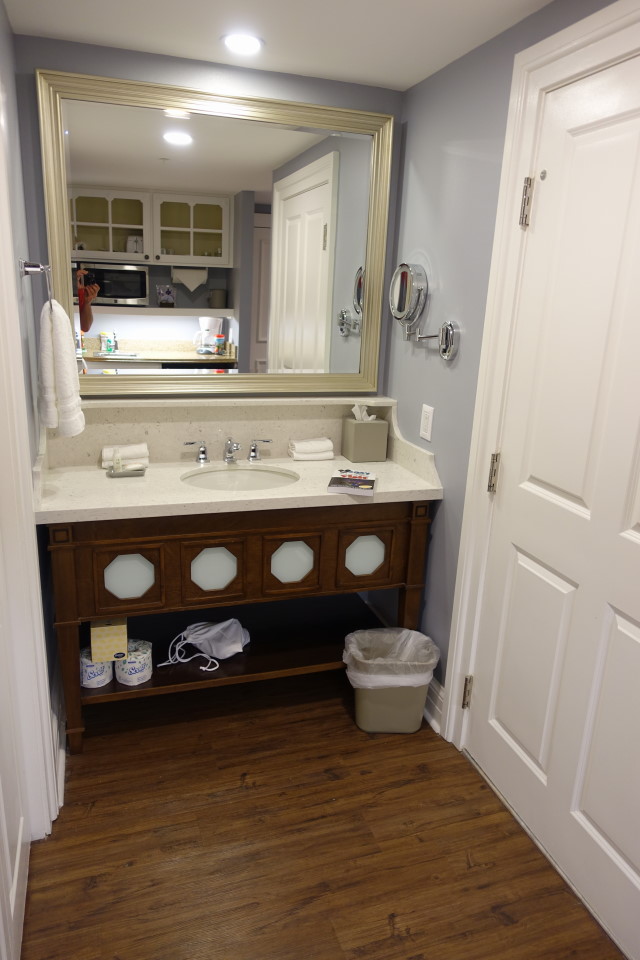 The bath has this open sink area…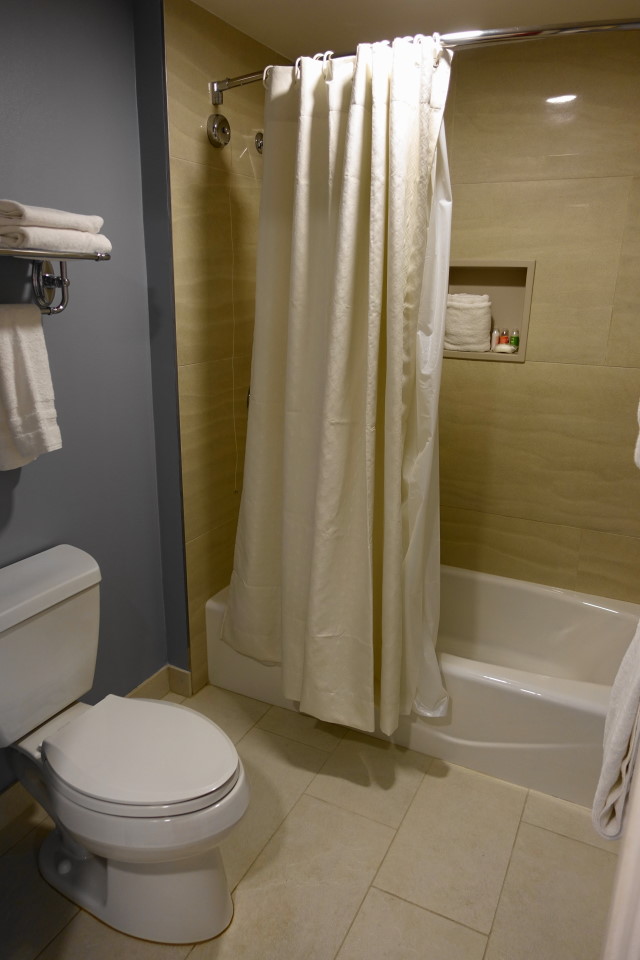 …tub and such in their own separate space…
…and, next to the sink, this closet.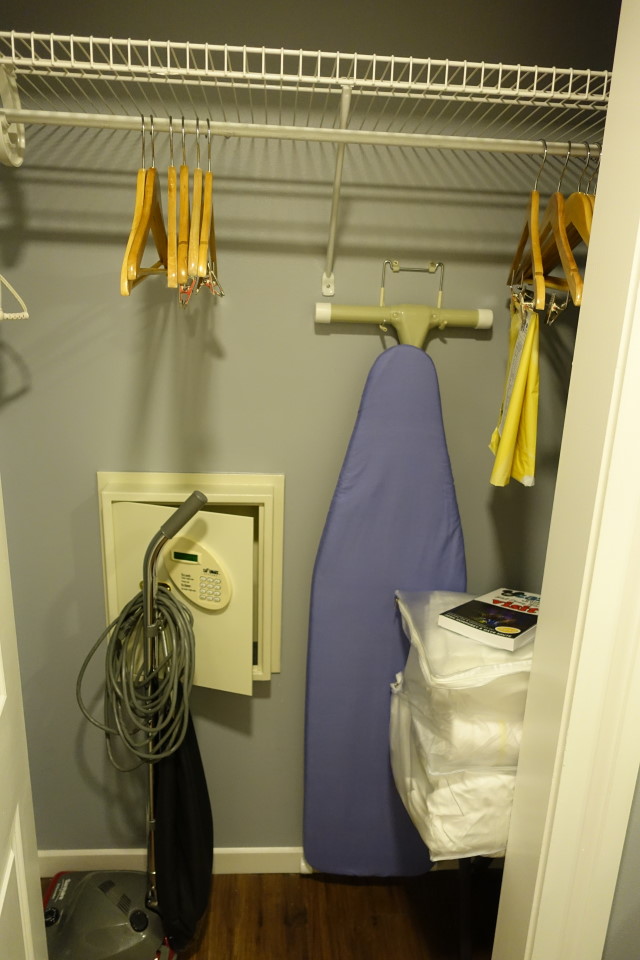 A view inside the large closet–which, given the limited storage elsewhere in the room, would have benefited from shelving.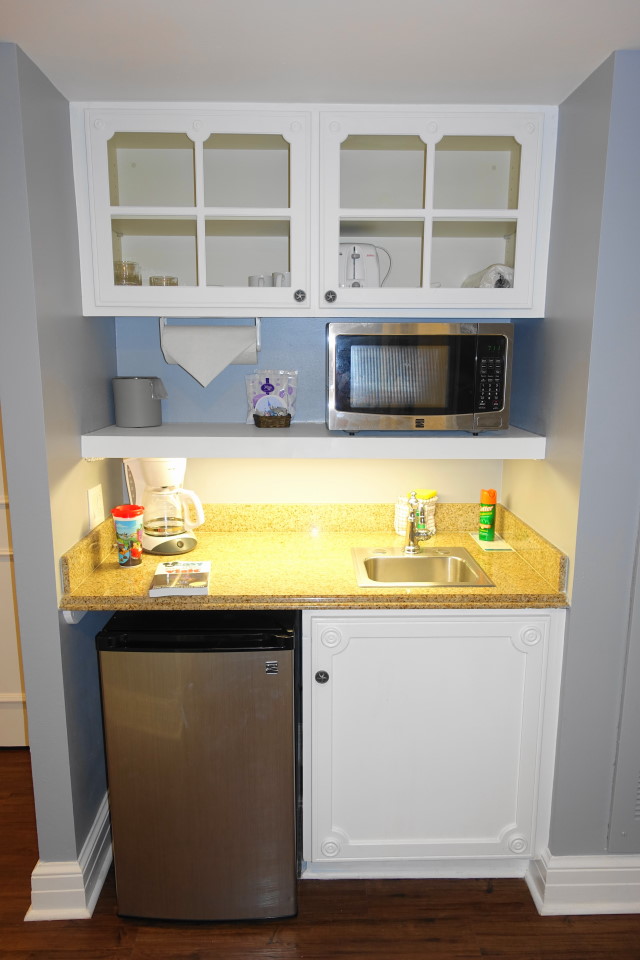 On the other side of the entry hall you'll find this kitchenette. All Disney World deluxe rooms have a mini-fridge and coffee maker.  Studios add a toaster, microwave, and very basic utensils.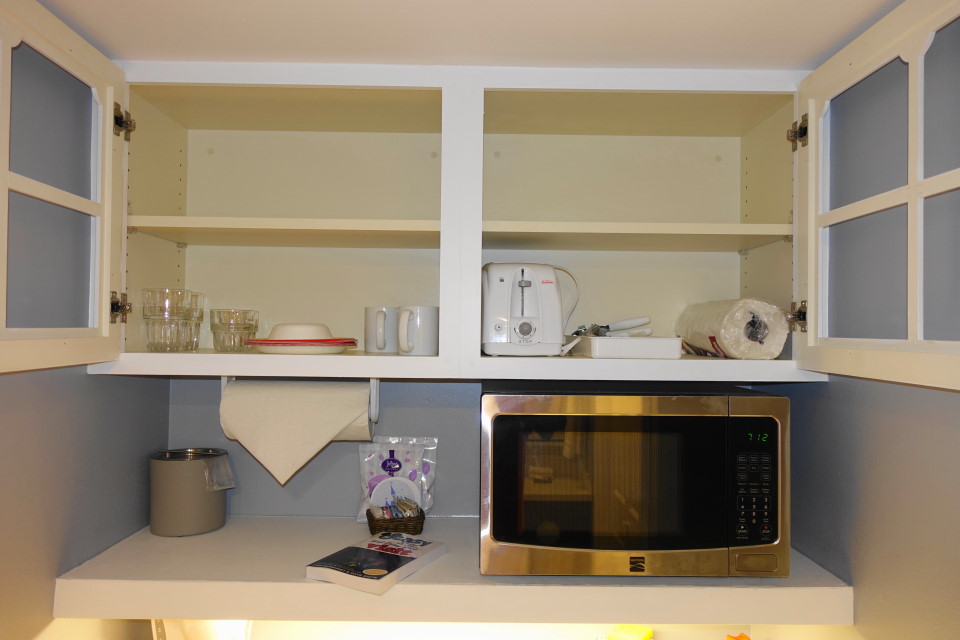 A closer view of these supplies…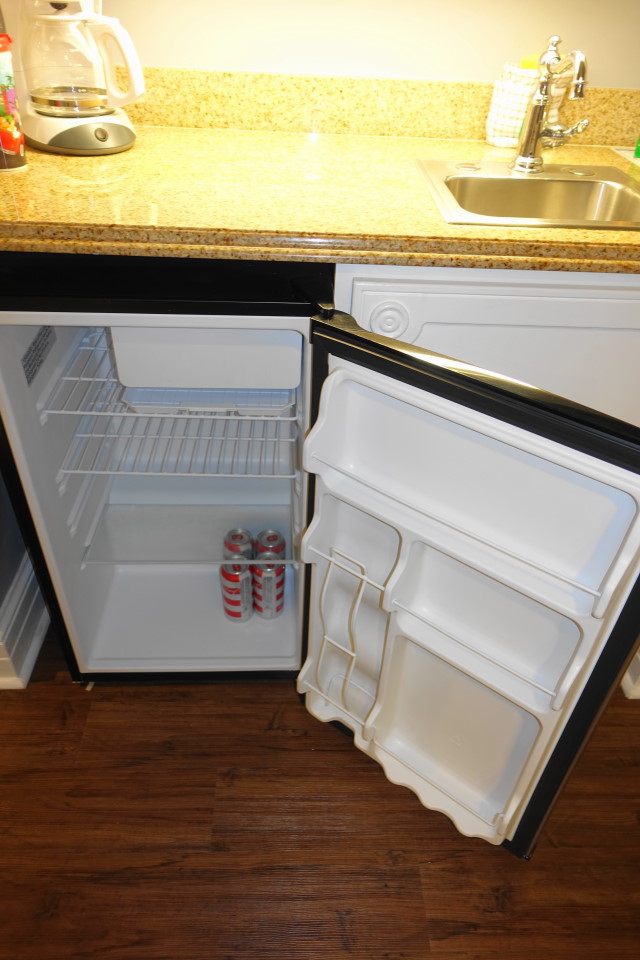 …and of the mini-fridge.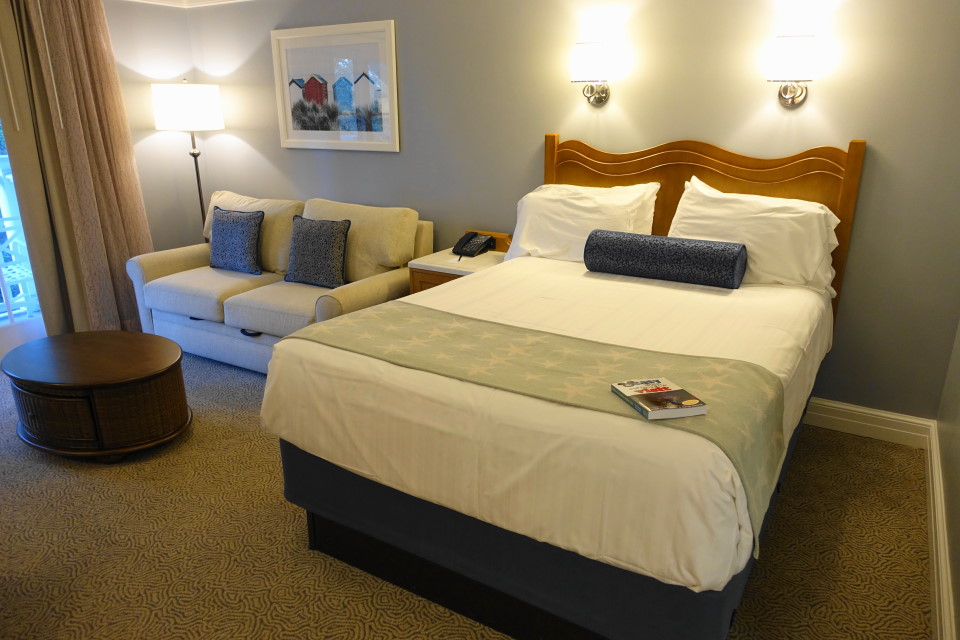 Deeper in the room on one side you'll find a queen bed and a couch.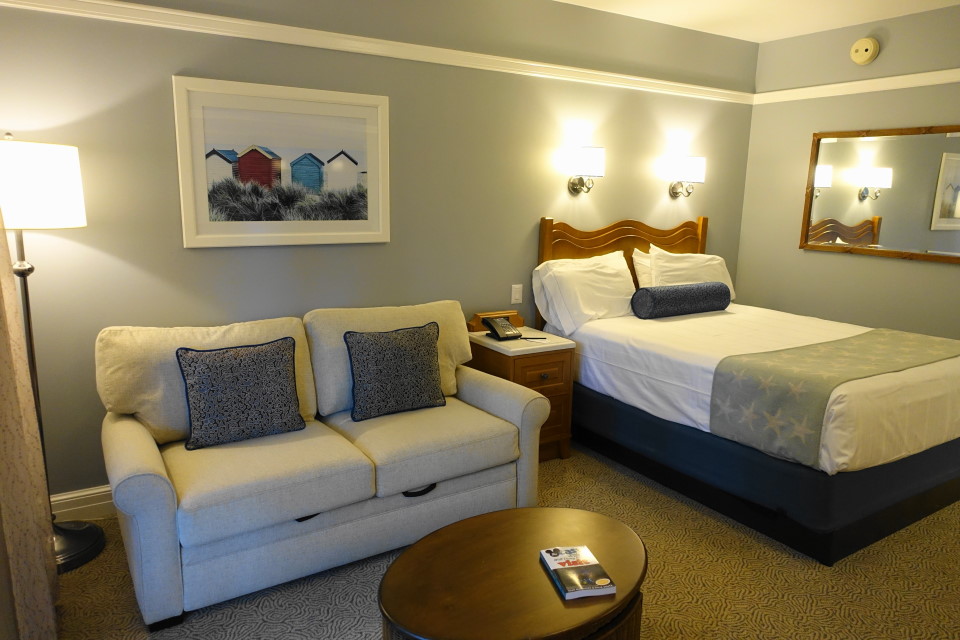 The bed side from the back of the room.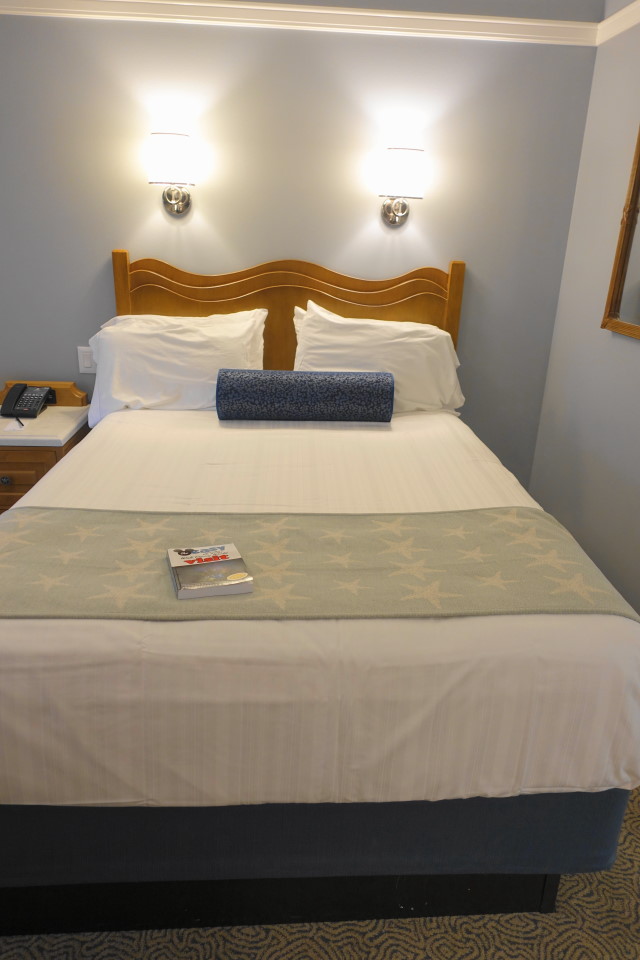 A closer view of the queen bed.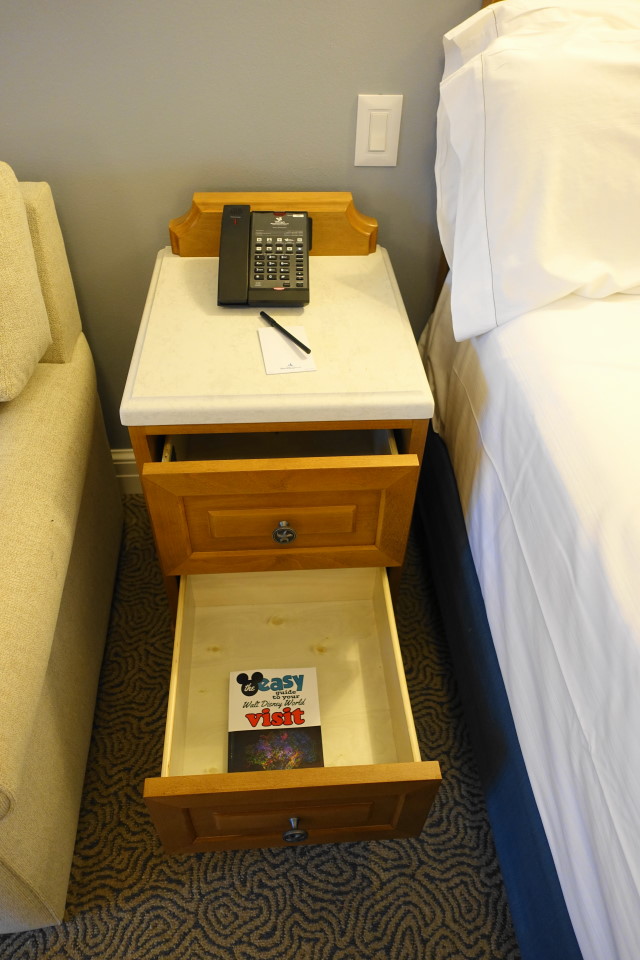 Between the bed and sofa is this bedside table with two much-needed storage drawers.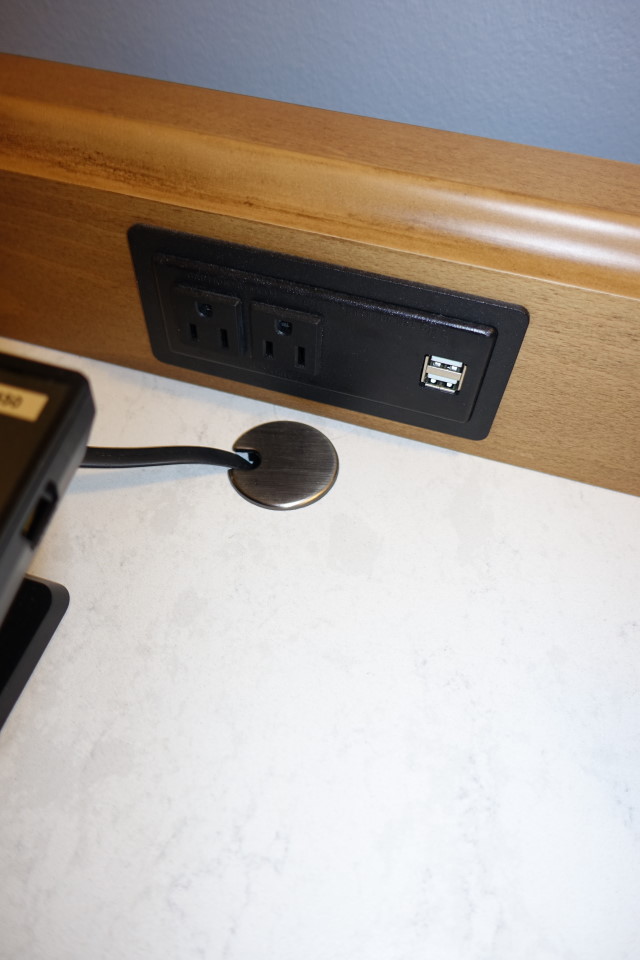 As part of the 2016 refurb many power points were added–there's some on the back of the bedside table.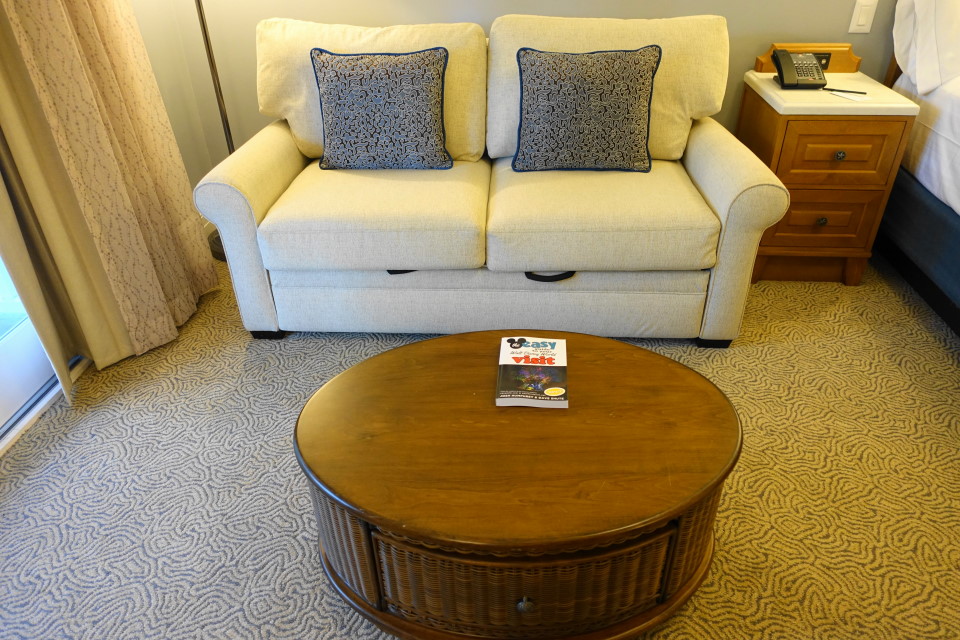 Next on this side is a sofa and coffee table.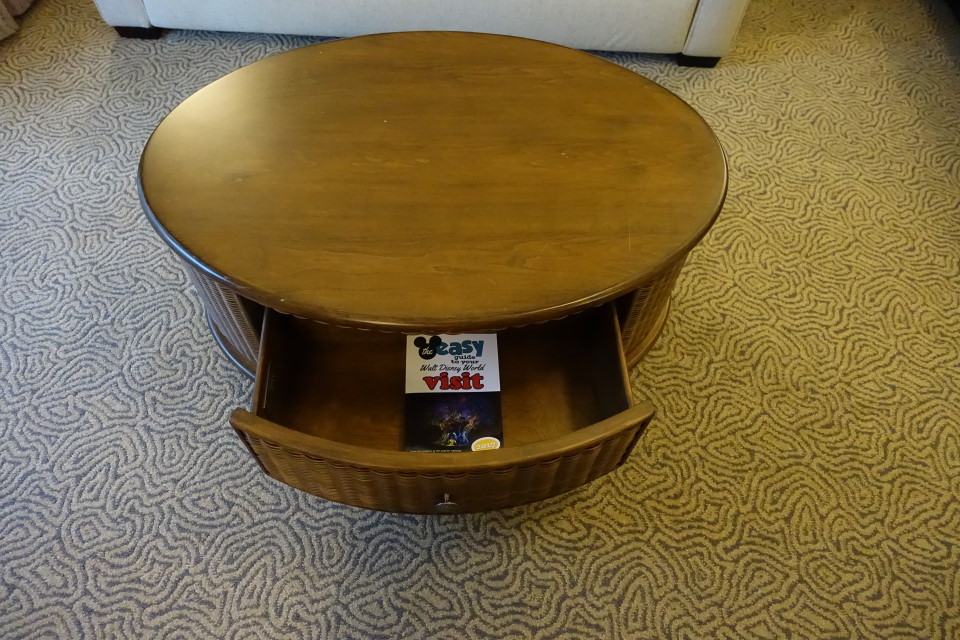 The coffee table has a couple of drawers, one on each long side.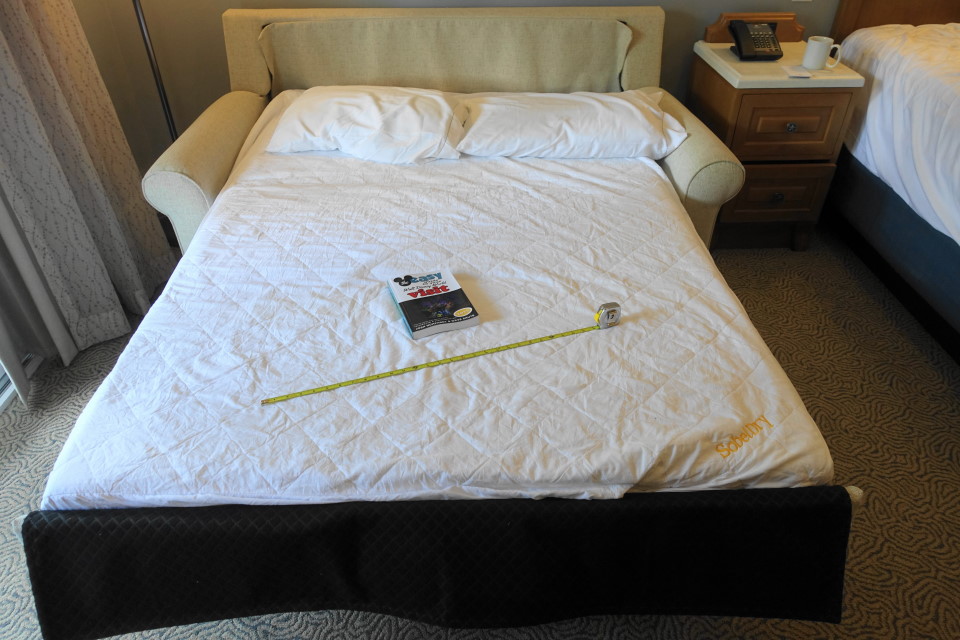 Don't load the drawers with anything heavy, though, as you need to move it to open the sofa bed. I measured the sofa bed as around full size–54″ by 78″, with a four inch cushion.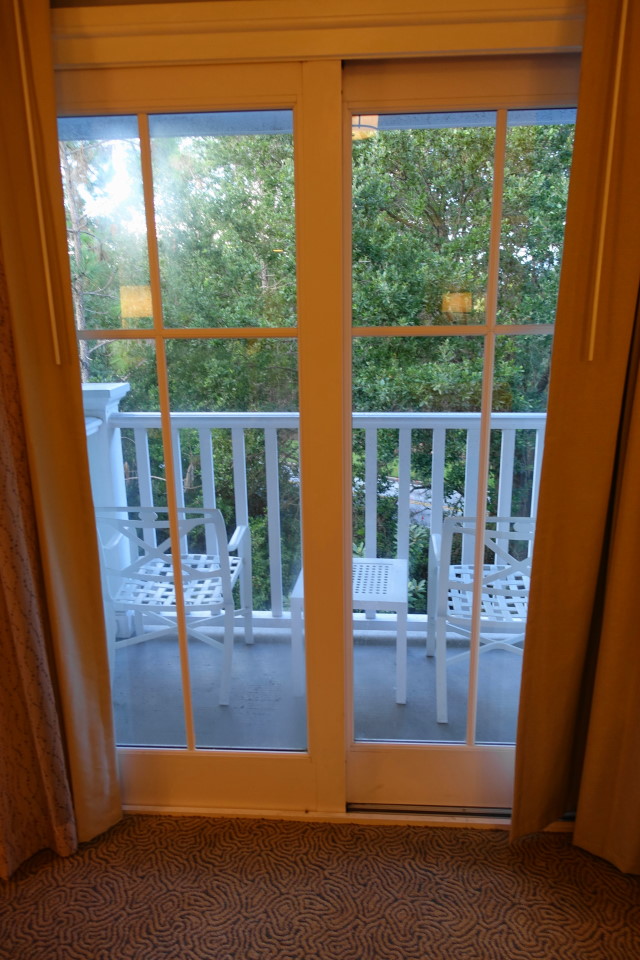 At the end on this side you'll find your balcony or patio.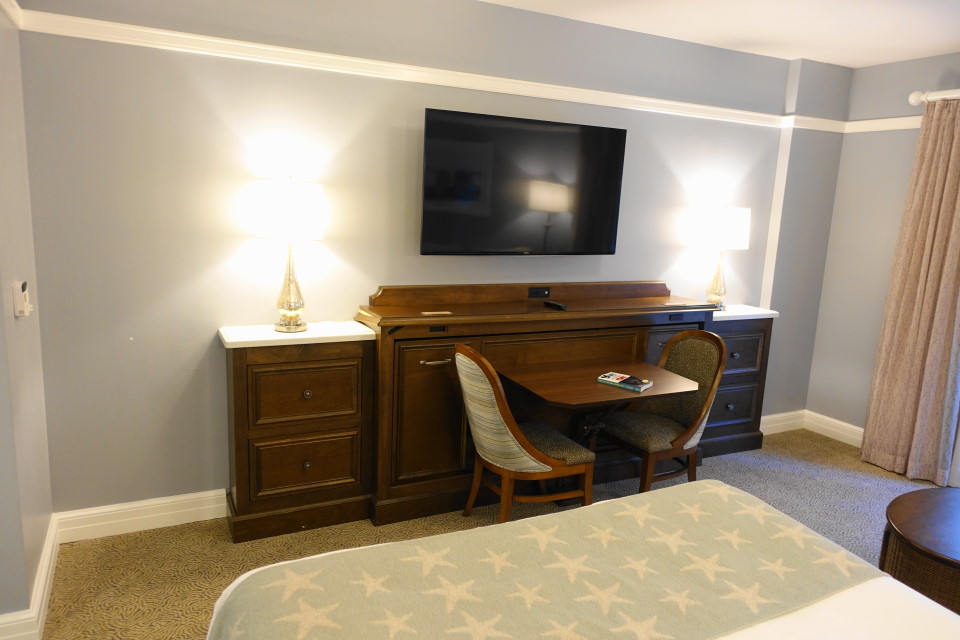 The other side of the room has a long object with a flat-screen TV above and a small table and chairs in front.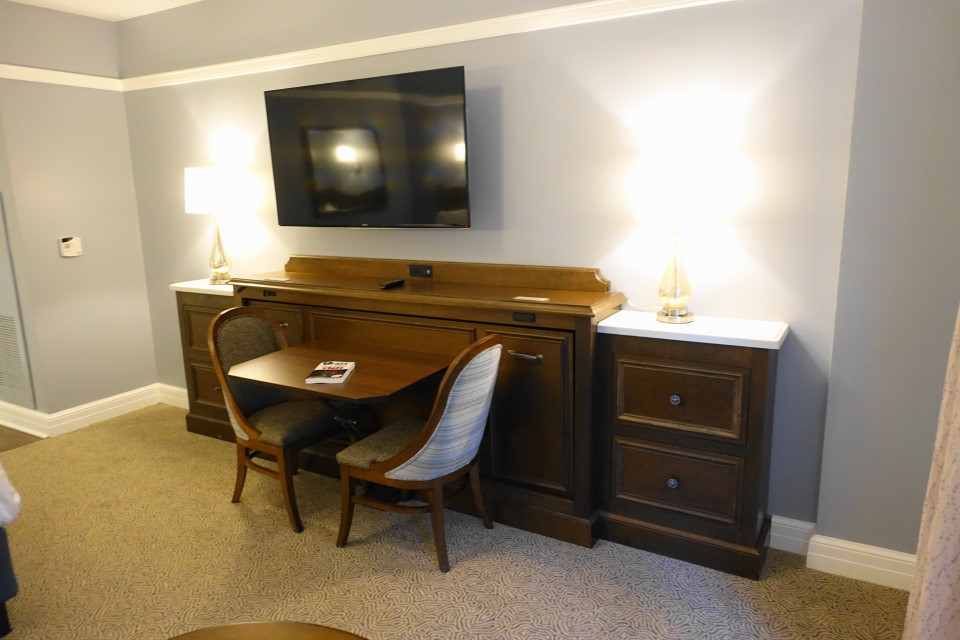 This side of the room from the back.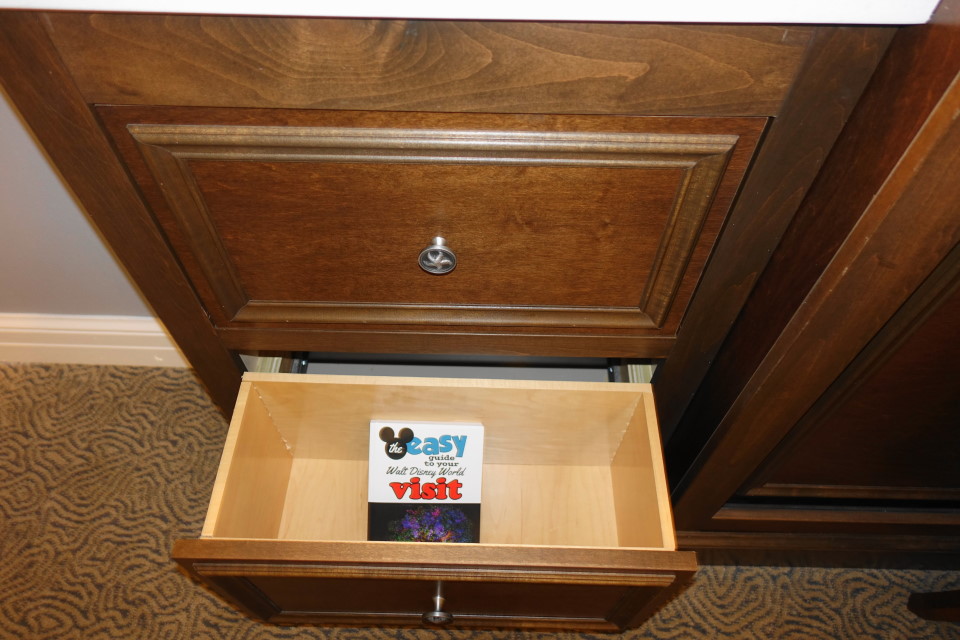 At either end of the long object is a set of two small drawers. That's it for dresser storage, so many families will need to supplement these four drawers with the other drawers in the coffee table and bedside table noted above.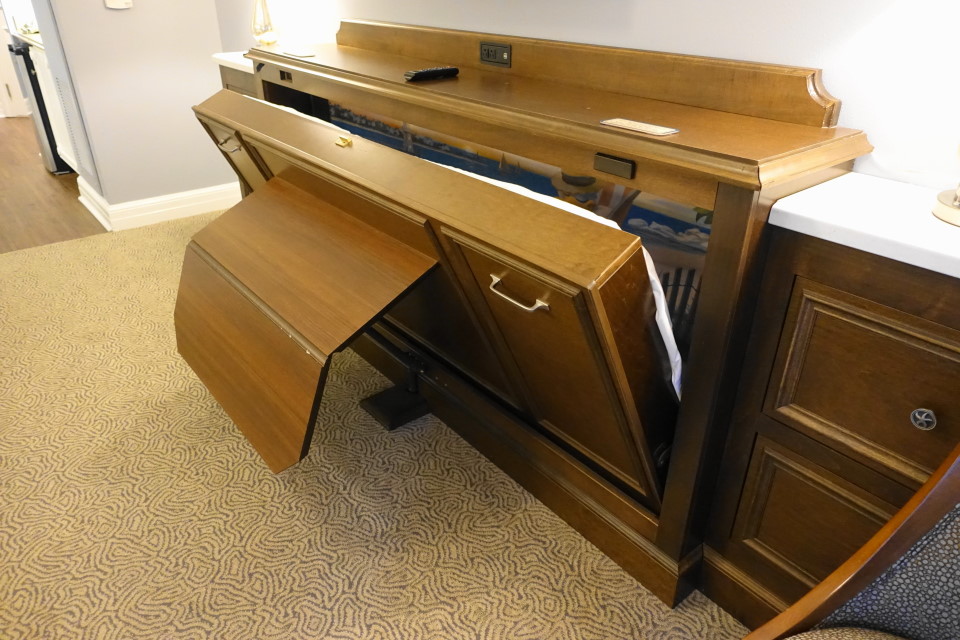 After you move the chairs, the third sleeping spot in the room folds down from the large object, disappearing the table.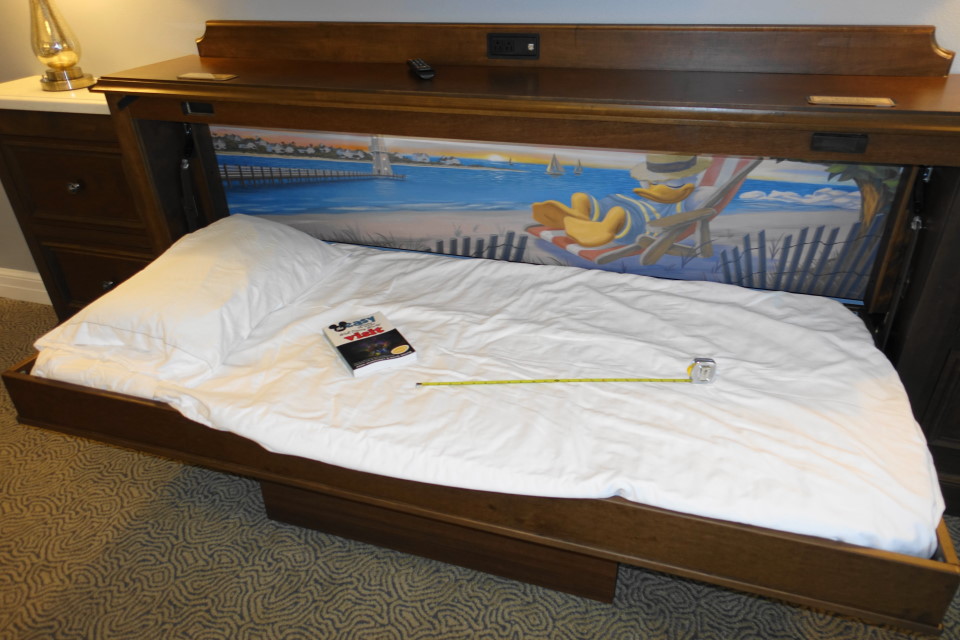 When folded down, you find a bed I measured as 75″ by 33″ with a 3 inch cushion. It sleeps shorter than the 75 inches would imply, as wood framing makes toesies suffer on anyone much taller than 5′ 9″.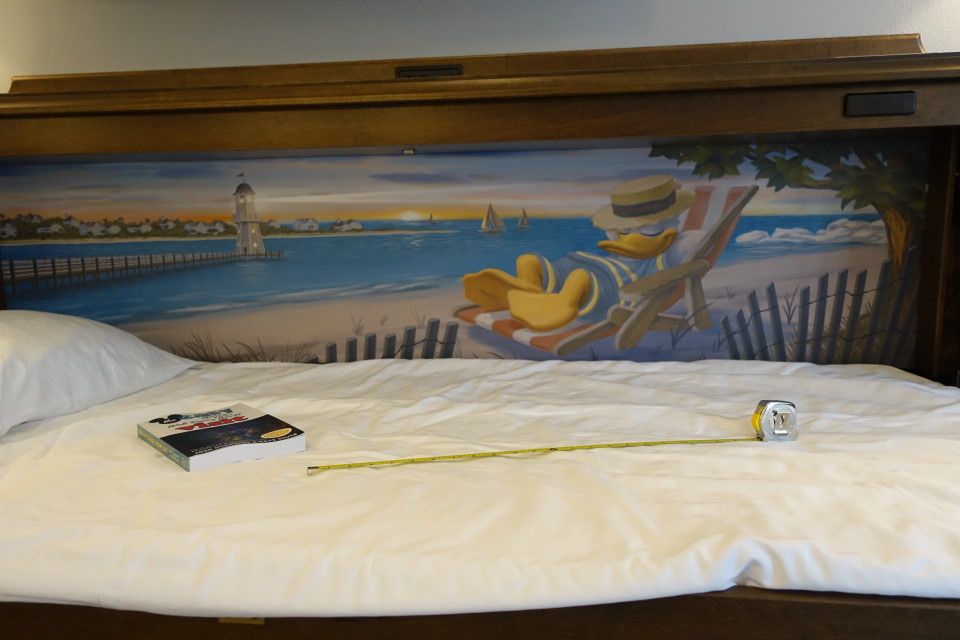 A closer view of the sleeping Donald revealed when the bed is folded down.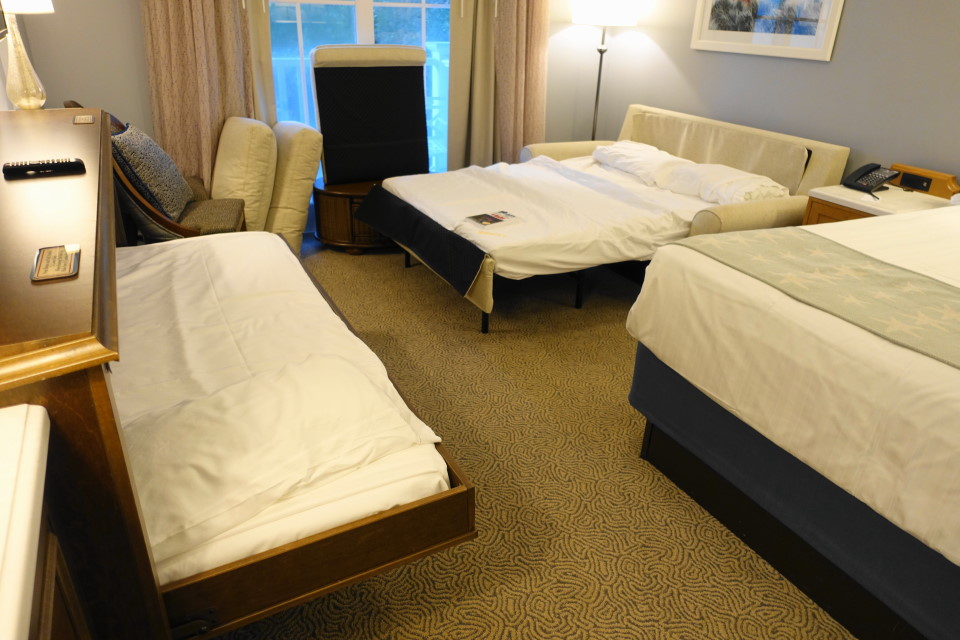 A shot from the entry hall with all the beds unfurled.
This review continues here.




Follow yourfirstvisit.net on Facebook or Twitter or Pinterest!!