Theming and Accommodations at Disney's Port Orleans Riverside Resort
By Dave Shute
For the first page of this review of Disney's Port Orleans Riverside Resort, see this.
THEMING AND ACCOMMODATIONS AT DISNEY'S PORT ORLEANS RIVERSIDE RESORT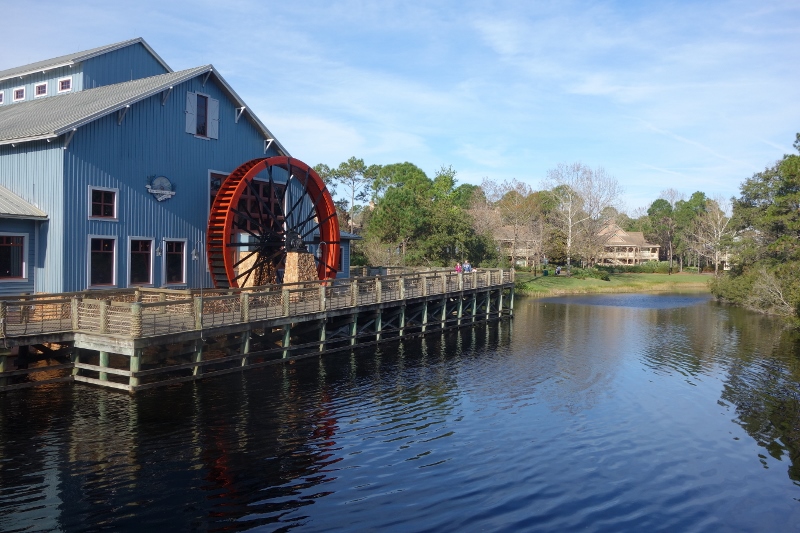 Port Orleans Riverside is one of 5 moderate resorts at Walt Disney World:
The moderates have much more room than the value resorts, more amenities, and (except for Fort Wilderness) much better landscaping. See this for what you get by Disney World price class.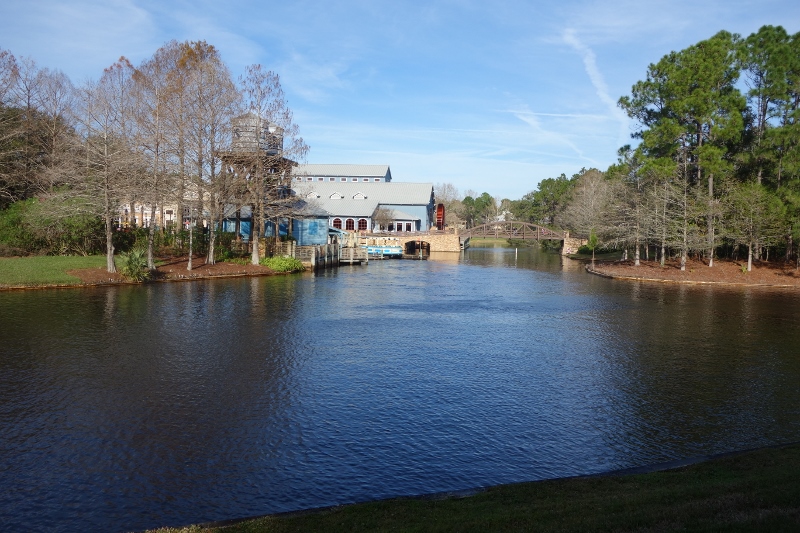 Although the typical moderate rooms, at 314 square feet (the cabins have 508 square feet), look much smaller than the rooms available at the deluxe resorts, differences in hall/entry layout make the living space of the typical moderates much more comparable to many Walt Disney World deluxes than raw square footage would imply. See this for more on square footage and livability.
Disney's Port Orleans Riverside Resort is officially a "hotel inspired by rural Louisiana that flows alongside the picturesque Sassagoula River…" set in a "…time and place where everything seems to move a little slower and simple pleasures flourish like magnolia blossoms in the springtime."
The hotel's more than 2000 rooms are divided into two large sections, Magnolia Bend and Alligator Bayou.
A minor room refurb project kicked off at Port Orleans Riverside in later 2018. Rooms in ALligator Bayou are complete, and Magnolia Bend refurbs are underway–likely to be completed in early 2019. This refurb should have little impact on guests. Look for updates on Andre's PortOrleans.org here.
THE THEMING OF MAGNOLIA BEND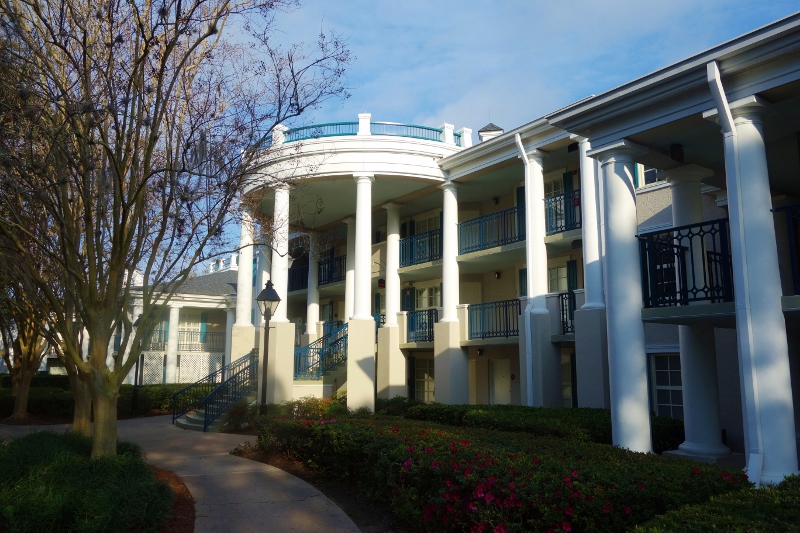 The Magnolia Bend section of Port Orleans Riverside contains four large buildings themed as graceful southern plantation homes, with courtyards, porticoes, grand stairs, formal gardens, and fountains.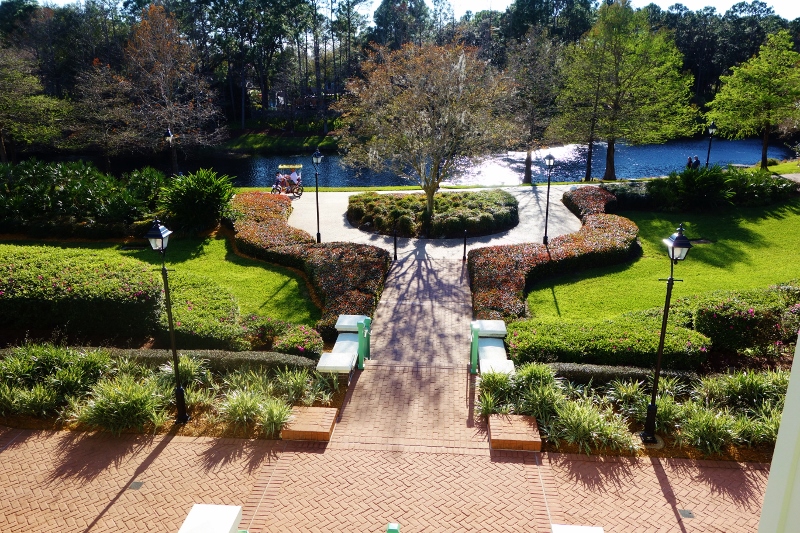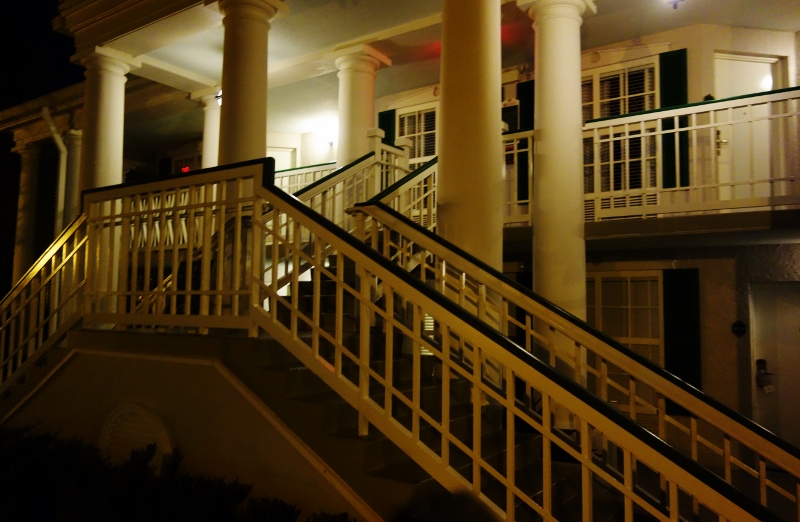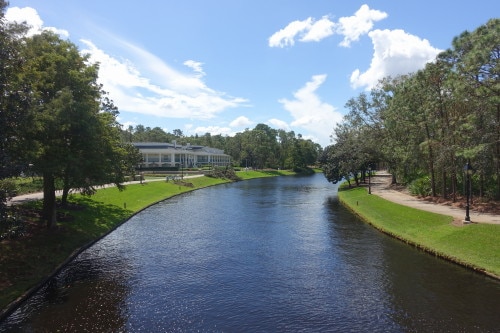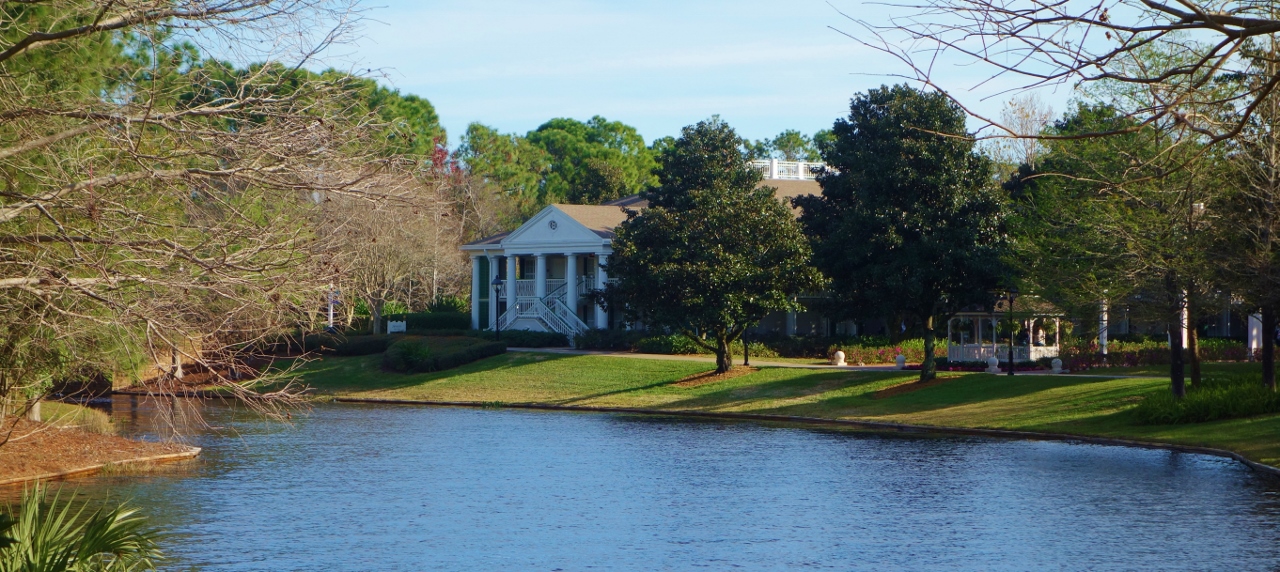 Magnolia Bend is also characterized by vistas and well-manicured lawns.
THE THEMING OF ALLIGATOR BAYOU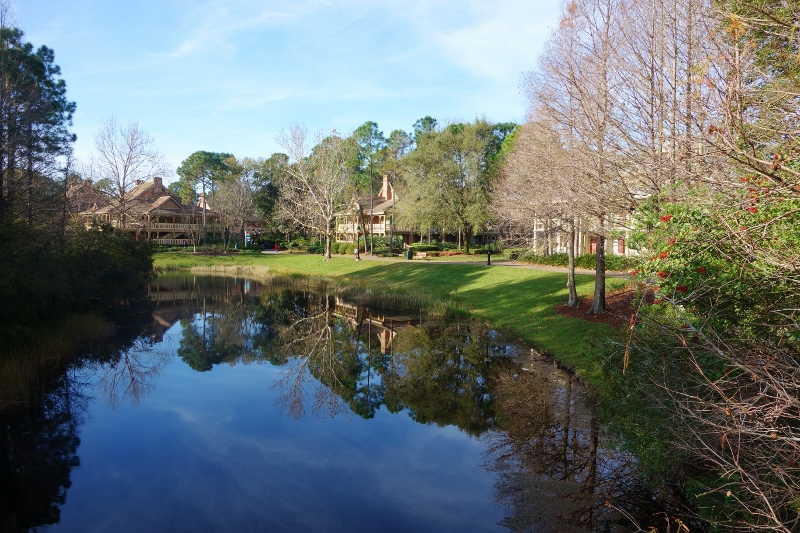 Alligator Bayou is much less formal and much more wild.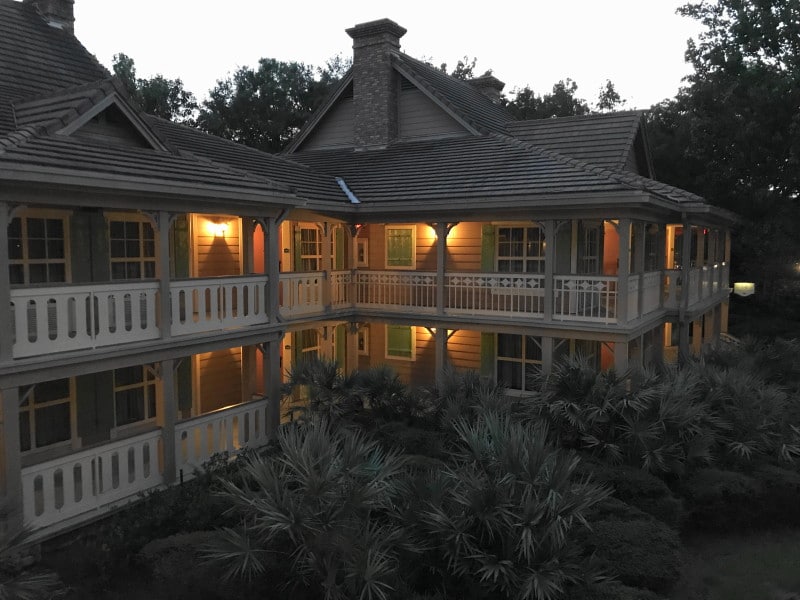 The two-story, no-elevator buildings here are themed as backwoods cabins.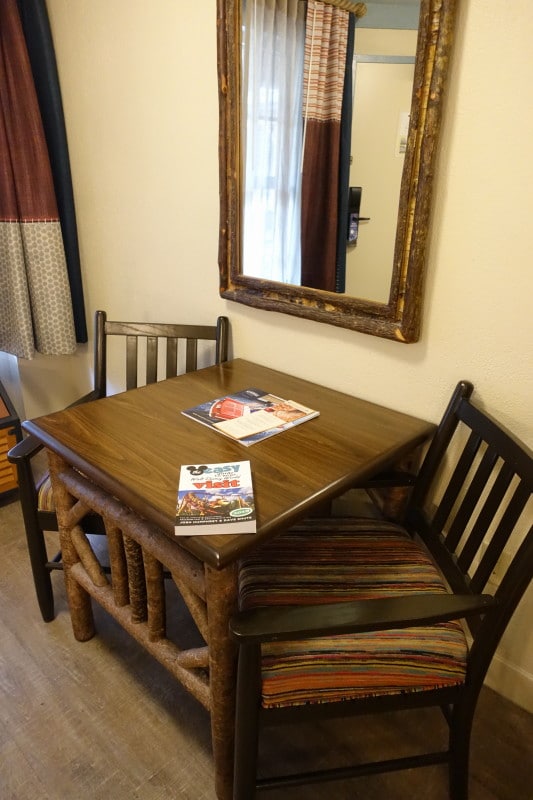 Meant to suggest more distance from civilization, rooms here have more of a hand-built feel…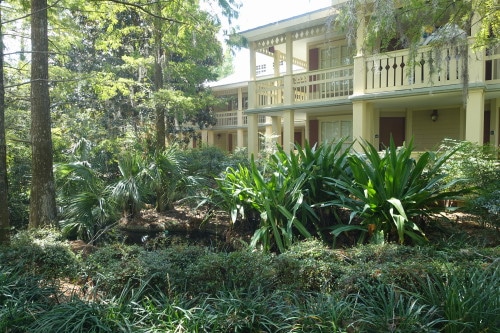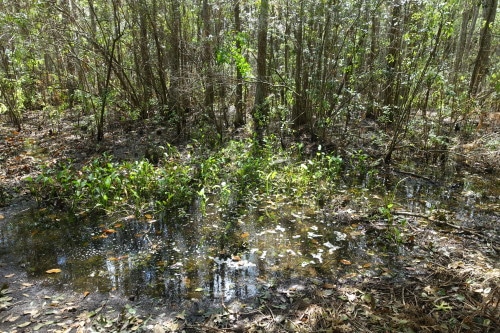 …and the landscaping around them is more wild and swampy….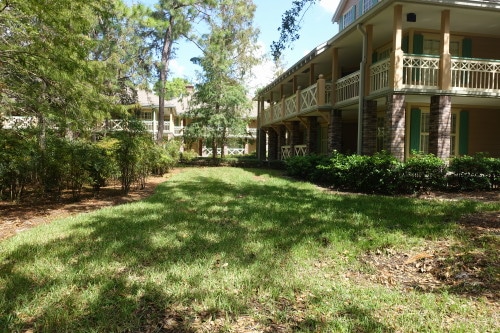 …although there is some grass.
ACCOMMODATIONS AT DISNEY'S PORT ORLEANS RIVERSIDE RESORT
More so than Disney World's other moderate resorts except Coronado Springs, Port Orleans Riverside has distinct areas and room types, with varied pros and cons.
The two areas–Alligator Bayou and Magnolia Bend–have three different room types.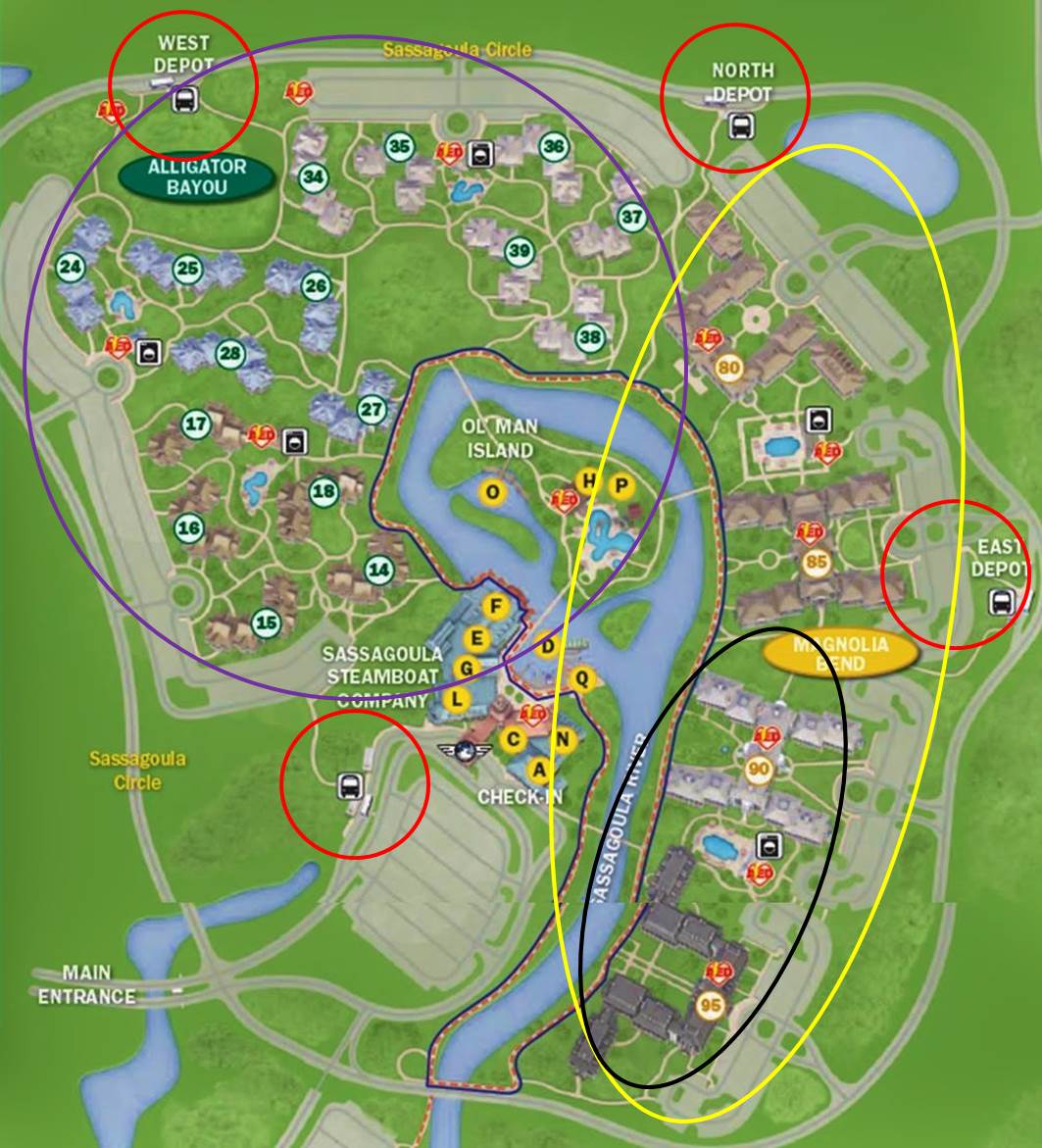 See the map (click it to enlarge it)–whose colored circles I will explain as I go along.
THE MAGNOLIA BEND SECTION OF PORT ORLEANS RIVERSIDE
The Magnolia Bend section of Port Orleans Riverside contains the four large plantation-style buildings circled in yellow at the right of the map,
The two top-most of these buildings are Acadian House and Magnolia Terrace, Buildings 80 and 85.
These two buildings are the most highly recommended among the Port Orleans Riverside options, because of their
Access to bus stops–circled in red
Access to the main pool, on the island at the center of the map over the bridge between them, and
Access to the food court and services, just to the left of the pool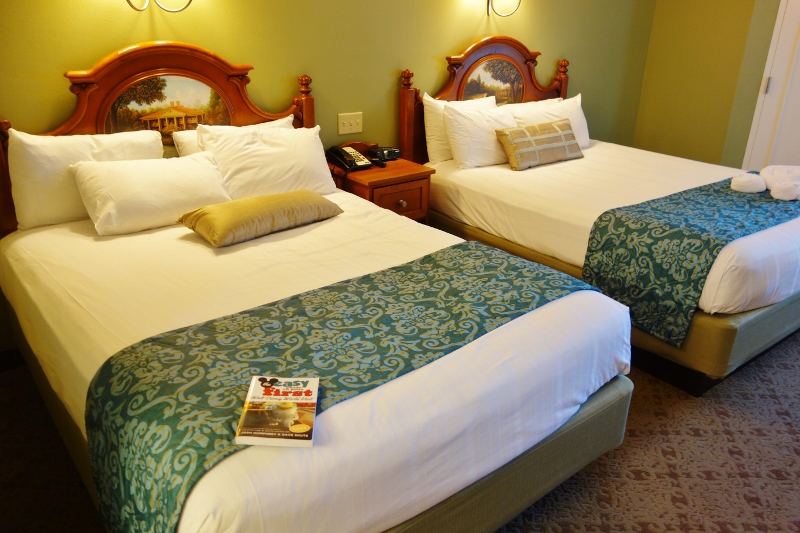 The four person queen bed rooms you'll find here are tied with the rest of the Magnolia Bend rooms for being most livable, and tied with the Alligator Bayou rooms for having the lowest cost.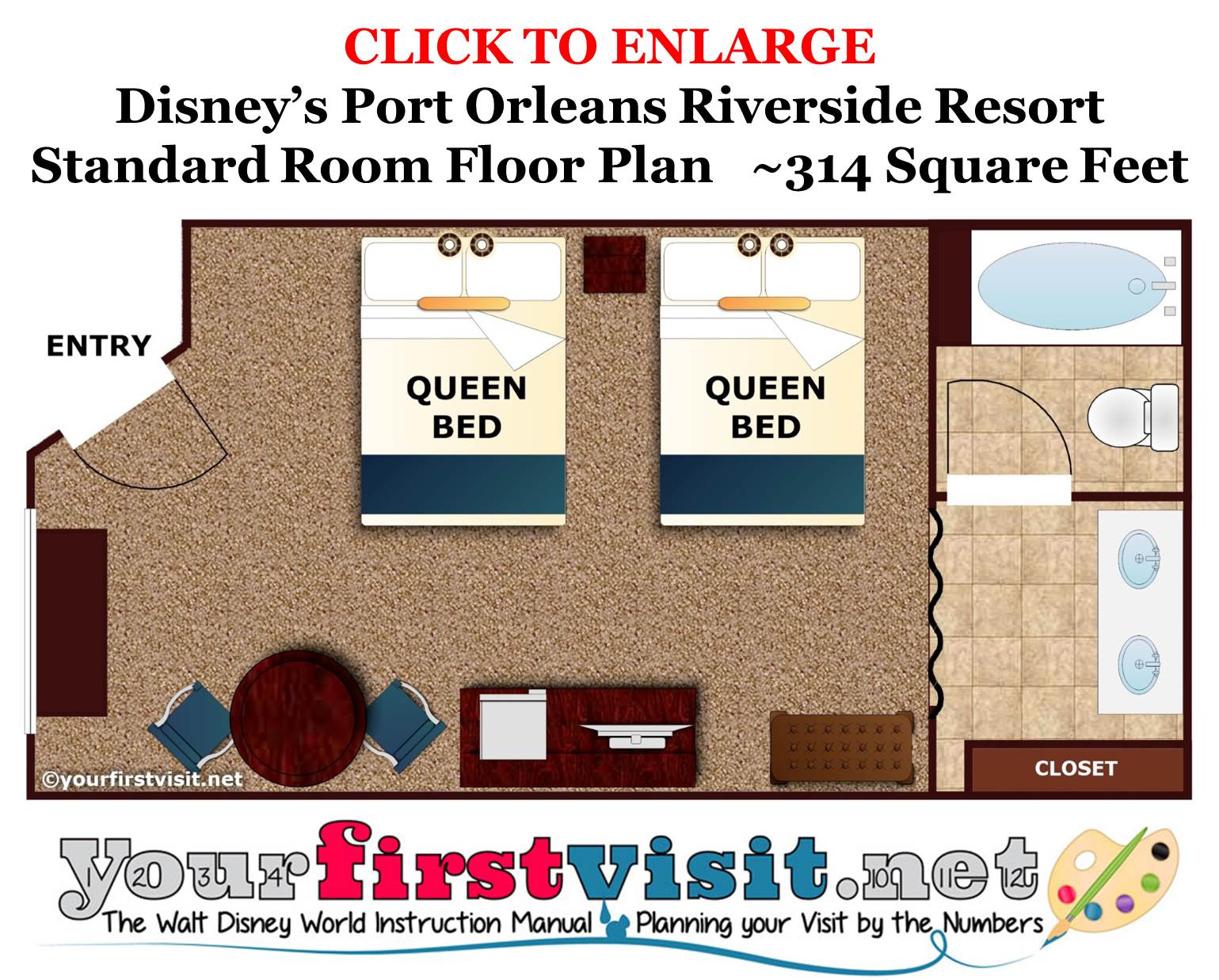 Their floor plans are typical of the moderates. What make them more livable than the Alligator Bend rooms is that they have both more, and more accessible, drawer space. Also available in this section are two person king bed rooms.
For a full review of this room type, see this.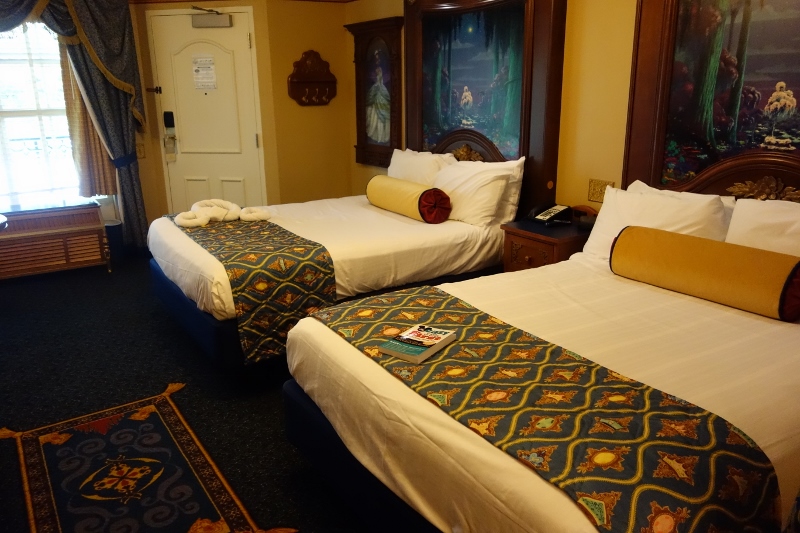 The two bottom-right buildings, Oak Manor and Parterre Place, circled in black, are where you'll find Riverside's Royal Rooms.
The four person queen bed Royal Rooms are distinctively decorated to a Disney Prince and Princess theme, and are higher cost than any other options at Port Orleans Riverside. Their floor plans are very similar to those in the two other Magnolia Bend buildings. No king bed rooms are available in these two buildings.
Families who find the added theming worth the extra ~$50-$100 per night these rooms cost may find them quite pleasant.
The buildings themselves, however, are distant from the main pool and from bus stops.
A detailed review of the Royal Rooms is here.
THE ALLIGATOR BAYOU SECTION OF PORT ORLEANS RIVERSIDE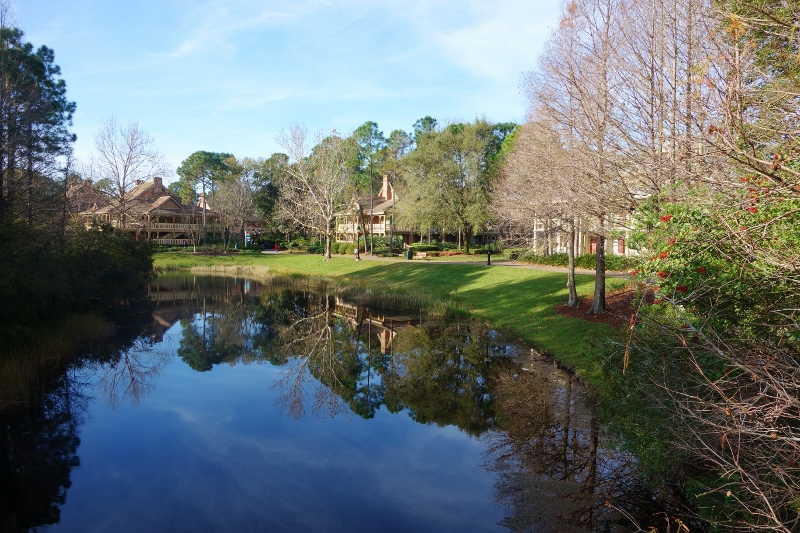 The Alligator Bayou section of Port Orleans Riverside is on the top left of the map, circled in purple. The two-story, no-elevator buildings here are themed as backwoods cabins.
While some of these buildings are quite convenient, e.g. Building 14, many are distant from one, two, or all three of the main pool, central services, and bus stops.
However, these rooms are among the few "traditional" moderate rooms at Walt Disney World that can sleep 5–the only other ones are at Caribbean Beach.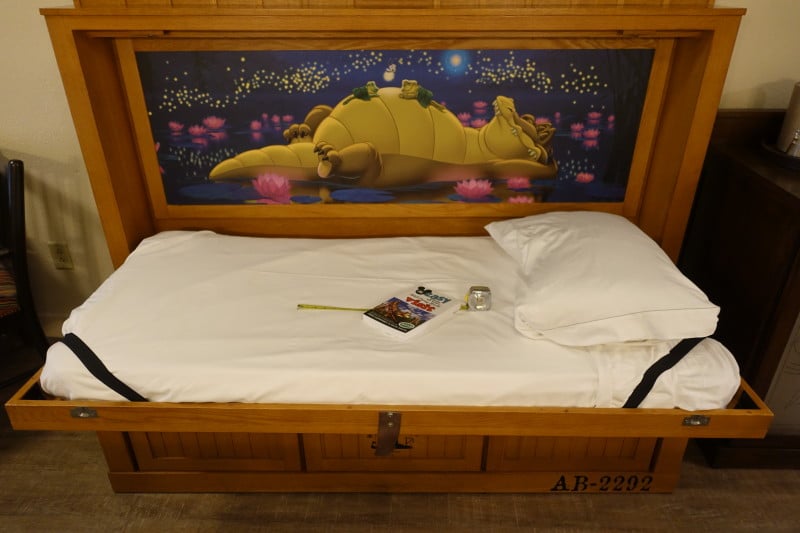 The fifth sleeping spot is in a short (66″) Murphy Bed that drops down from the TV/dresser object. Some Alligator Bayou rooms have one king bed.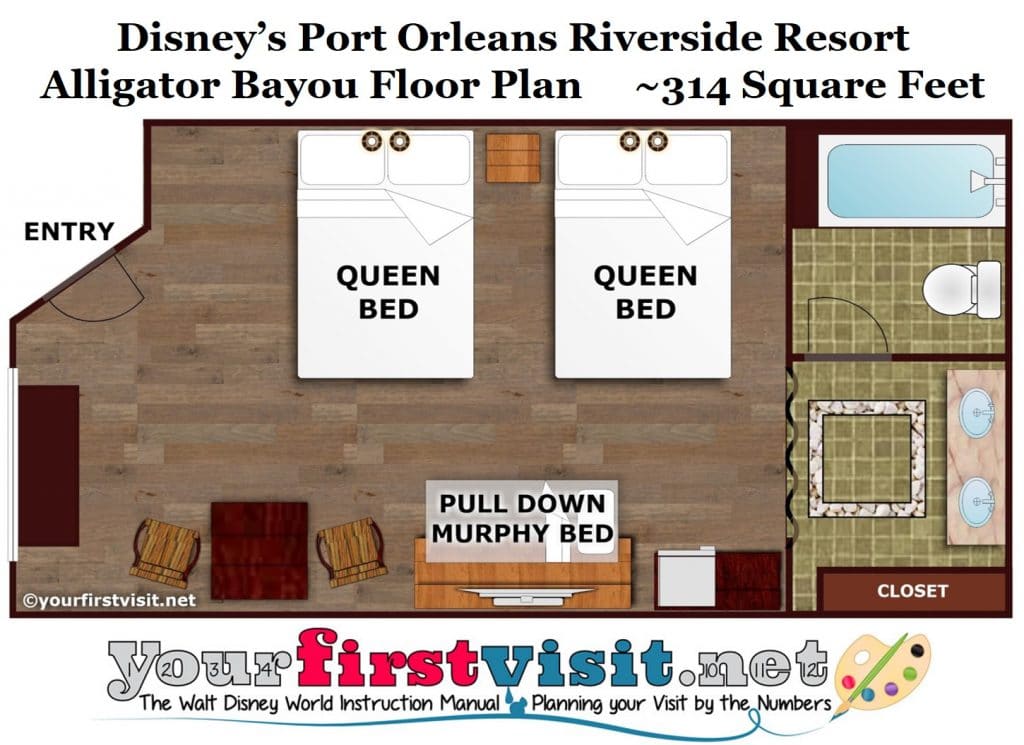 The geometry of the object means that these rooms have both less drawer space to start with, and also that the drawers are awkward to access if the Murphy Bed is in use. The five person rooms at Caribbean Beach have a better design–they both have more drawers, and also some of their drawers remain easily accessible after the bed is lowered.
These rooms are great for families seeking a Riverside room, but needing the extra sleeping spot; otherwise, a room in the Magnolia Bend section at either Acadian House or Magnolia Terrace is a better choice. New in 2019, the three bed rooms in Alligator Bayou are a distinct booking class, so smaller families that want three beds can guarantee getting them.
The Murphy bed is present in all Alligator Bayou rooms, including king bed rooms, except for most accessible rooms, which have two queens.
See a full review of these Alligator Bend rooms here.
King rooms are in a separate booking category.  Beyond that, there are multiple view options you can book–standard, garden, pool and river. And you can also book "preferred rooms," which will put you in Alligator Bayou buildings 14, 15, 18 or 27, all of which are reasonably convenient to Port Orleans Riverside's central services, main pool, and the bus stop outside of the Sassagoula Steamship Company.
King bedrooms might have any view, and preferred rooms will have–because of their location–only standard or garden views. BTW, "standard view" means "parking lot or some other thing that is not garden-like or of water."
BEST PLACES TO STAY AT PORT ORLEANS RIVERSIDE
Andre has lovely detailed floor plans of all the buildings on his masterful PortOrleans.org so you can see your view and other options. His Alligator Bayou building floor plans are here, and his Magnolia Bend building floor plans are here.
If you don't need the extra bed or sleeping capacity, I recommend a standard view (because you won't be in your room much) room in Acadian House and Magnolia Terrace, Buildings 80 and 85.
If you need the extra bed or capacity of Alligator Bayou, I recommend a standard room in Buildings 16 or 17, or a garden view room in Building 38 (there are no standard view rooms on this building).
I'm not keen on the location of any of the Royal Rooms, but many of those in Building 90 Oak Manor are closer to the bus stop and main services than many rooms in Building 95 Parterre Place, which can be up to a half mile away from a bus stop.
This review continues here.
TOPICS IN THIS REVIEW OF DISNEY'S PORT ORLEANS RIVERSIDE RESORT
OTHER KEY PAGES FOR WHERE TO STAY AT DISNEY WORLD


Follow yourfirstvisit.net on Facebook or Twitter or Pinterest!!
RELATED STUFF